Like what you read?
Apply it in practice with Sender.net - the most cost-effective email marketing solution in the market.
Try Sender for free
As the Fourth of July approaches, business owners may feel less than festive. After all, this is when many people disconnect and spend quality time with family and friends.
It's not necessarily the most uplifting time for a business owner—especially if you are in an industry (tourism and travel) where the 4th of July is justifiably celebrated—you likely have many responsibilities that take precedence over holiday activities.
However, the 4th of July reminds us why this country is so great. Incorporating the spirit of Independence Day into your corporate venture can help inspire your team and align your business with patriotism.
In this blog post, you will find 36 Independence Day messages, greetings, and wishes you can send to clients and employees. Stay tuned!
4th of July Business Messages to Clients
During the July 4th period, you may consider launching a special offer or discount campaign. But what do your customers want? They don't just want a great deal; they want to feel good about supporting your business.
If you launch a special offer or discount campaign this Fourth of July, include messaging that makes your customers proud to support you (and lets them know how much money they'll be saving 😉). Below are some inspirational samples you can use:
1. Regardless of your religion, political affiliations, or career, the 4th of July is an occasion to commemorate the contribution of freedom. We, therefore, invite you to celebrate the 4th of July with happiness and enthusiasm. Have a Happy Independence Day!
2. We would like to wish you all a fun-filled Independence Day holiday! May you and your loved ones enjoy this day and remember that it represents everything you constructively contribute to our company, the industry, and, ultimately, the country. 
3. It's the 4th of July, an opportunity to commemorate our freedom. All of us at (company name) wish you a wonderful celebration. Enjoy the holiday, and let it inspire you to continue being a valued member of our nation.  
4. We wish all our customers a Happy 4th of July! On this day, we appreciate the patriotic men and women who fought and sacrificed themselves so that we can enjoy the privileges that America has today. Let's celebrate!
5. On this 4th of July, we appreciate your continued support of this great nation. And as we will strive to serve you better, may our collaboration give light to a greater America!
6. We wish you a happy Independence Day full of glamour and excitement! Remember that without the freedom received on the 4th of July, 1776, America would not be the financial powerhouse we are today. Happy Independence Day! 
7. Today, we celebrate yet another year of Independence! Saluting the sacrifices made by our heroes past. In commemoration, we pledge to never take their efforts for granted and strive for a better America. Happy independence!
8. Thank you for being one of our valued customers. Indeed, it's a special day to celebrate your continuous effort and support. We hope you have a wonderful 4th of July! Happy independence.
9. On this 4th of July, we're grateful for your support in building the success of our businesses and nation. Let's celebrate!
10. The American people are proud to be part of a nation that strives for excellence and honor, and we thank you for your role in making our country a success. Happy 4th of July!
11. Here's to America's freedom! And to you, our esteemed customer🤗 Without you, our contribution as a business to the building of this nation would be insignificant. Happy 4th of July!
12. It's the 4th of July. A great day to celebrate the freedoms we enjoy in the United States, including the freedom to communicate with anyone you want. We hope you have a great time celebrating Independence Day with family and friends. Happy 4th of July from your friends at (company name)!
Also read: 25 Attractive Short Welcome Messages for Customers
4th of July Wishes from Business
On the 4th of July, people are free from work and enjoy the festivities with their family and friends. It is essential you send heartfelt wishes.
Use thoughtful phrases, quotes, and slogans to make the event memorable. And if possible, offer discounts and incentives — the goal is for your company to be in clients' and employees' inboxes with wishes or gifts worth their time. Below are a few examples you can use.
Inspirational Greetings
1. Happy Independence Day to you, our valued customer. May you celebrate this remarkable day with a joyful heart!
2. Happy Independence Day! May your continued hard work and sacrifice take our country to greater heights. From your favorite (company name or niche)
3. Wishing you and your family a blessed Independence Day! May the freedom we celebrate bring you and your loved ones good tidings. Enjoy the holidays.😊
4. Happy 4th of July to you, (client's name). Thank you for being part of our business! May this day bring happiness to your hearts as we honor our heroes who fought tirelessly for our freedom.
5. Happy 4th of July to you! May you have a colorful and safe day as we celebrate our country's Independence Day. Blessings.
For Staff and Employees
1. America is a nation of freedom, justice, and equality. We attribute our business success to employees who give us their best daily. Happy Independence Day!
2. As we celebrate the USA's birthday today, may you also reflect on your commitment to serving this great nation. Thank you for being an American hero. Happy 4th of July!
3. A company's greatest asset is its employees. We value your contribution. Happy 4th of July!
4. Our success is possible because of our freedom of choice. We are proud to come in every day, motivated to make our company the best it can be, and honored to work with you. Have a great 4th of July!
5. Wishing all of our employees a safe and fun 4th of July! Enjoy the fireworks, picnics, and festivities.
Discount offers
1. Celebrate America's birthday with our big sale! Don't wait too long to take advantage of great deals from our stores as they won't last forever!
2. The birth of our nation is an all-time memorable event. We intend to make the memories better by giving your business offers like never before. So celebrate with us by taking advantage of these enjoyable offers!
Business 4th of July Greetings Messages
July 4th is a special day in the United States to honor the Declaration of Independence. The holiday is celebrated by many people across the country with picnics, fireworks, parades, and other outdoor events. It's also a time to reflect on our nation's history and appreciates all we have today.
As your company prepares to celebrate Independence Day, don't forget to send warm corporate greetings celebrating the freedom we enjoy. Below are 12 4th of July messages you can use to stay in clients' and employees' inboxes.
1. Happy 4th of July! Being a part of such a wonderful country gives us so much gladness. We are pleased to share this Independence joy with you!
2. We are greatly indebted to our heroes for making this day possible! Happy Independence Day to all our valuable clients.
3. We delight in celebrating this Independence Day with all our esteemed clients! Our continued unity will take America to higher heights. Happy Independence Day!
4. On this 4th of July, let us bring all our energy and effort together to make contributions that continue to give growth and relevance to America. Happy 4th of July!
5. Let us not tire of giving all we've got to improve our country—sending you the best wishes and wishing you more success this 4th of July!
6. As our nation progresses and thrives through the success of its people, we pray this special day brings you prosperity, love, and fulfillment. Happy Independence!
7. (Name), as we celebrate this heroic day, we hope you have a wonderful time with your family. Happy 4th of July from all of us at (company name).
8. As this special day beacons, let's make a promise to lead our nation to a path of prosperity and peace. May your 4th of July be overfilled with pleasant smiles and blessings. Happy independence!
9. On this day of celebration for the birth of our country, our thoughts are with our customers. (Name), thank you for your loyalty and support over the years. Happy Independence Day.
10. We're sending a big pat on the back to everyone who works hard during the year to ensure this great nation remains in good shape. Happy 4th of July!
11. Congratulations to America on 246 years of freedom. Remember those who made this day possible and all they did to give us our freedoms. Celebrate and enjoy this special day with your families and loved ones!
12. It's independence! A time to commemorate our fallen heroes in solidarity with the great future that awaits us. May this day bring you pleasant smiles and memorable tidings!
Also read: 76 SMS Templates For Every Situation
Happy 4th of July Text Messages & SMS to Customers
As a business, you don't have to overthink your 4th of July messaging—the goal is to send a patriotic text. It can be as simple as "Happy 4th of July! Thanks for being a customer!" or as elaborate as "On behalf of everyone at (your company), may you enjoy pride in our nation on this 4th of July!"
Whatever you do, make sure you keep it short and straightforward. And don't forget to offer your customers incentives or discounts they can share with friends and family!
Anyways, if you've got a large audience or need to send heartfelt messages to many customers, automate the process with software that allows you to send more while spending less.
Best Tool for Sending Messages
Text messaging remains by far the most popular way to send messages electronically. Even with the increasing use of voice chat applications like WhatsApp and Skype, SMS messaging tools stay in high demand because they're quick, simple, and easy to use. Plus, they're also entirely free in most cases.
If you're searching for a reliable SMS service provider for your 4th of July texting needs, then keep this in mind — you need an SMS automation software that makes bulk texting as easy as possible.
Before settling for any SMS service provider, ensure their software can help you effortlessly build, run, monitor, and optimize your 4th of July SMS campaign.
See how easy it is to draft a promotional message within Sender: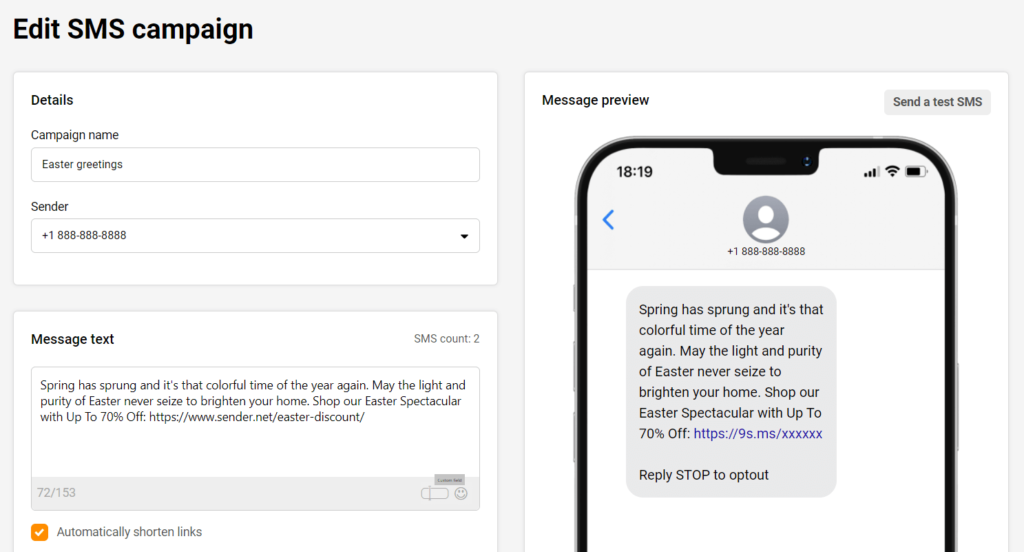 Leverage 4th-of-July SMS Marketing with Sender
Our SMS automation software allows you to send personalized messages at a low cost. You also get a toll-free number and user-friendly list-building tools to create simple and effective sign-up forms. Plus, engaging notification and in-depth segmentation. Get started on your 4th of July (and many upcoming holidays, too!) messaging today!
Importance of 4th of July Greetings
The great thing about the 4th of July is that it can be taken in many different ways. For example, some may feel independent by having the freedom to determine when, where, and how they live; feel independent with the freedom to travel and explore the world, having more financial freedom. Still, as a business, the goal is to be in your customers' inboxes with patriotic greetings commemorating the cheer of Independence and reminding them about your brand. Enjoy the holidays!
Also read:
18 SMS Marketing Statistics You Must Know
What is A2P & P2P SMS messaging?