Rocket-fuel your sales with SMS
Supercharge conversions with this marketing duo — the best combo you've ever seen. It's easy with Sender.
Boost Your Sales Now
SMS marketing has been going through a revival and for good reason.
Turns out, people check their phones increasingly often and they aren't turned away by a marketing message or two. In fact, SMS marketing is quickly becoming one of the most effective marketing channels.
However, developing an SMS marketing strategy requires that the marketer in question write a compelling copy. After all, SMS is all text that is intended to boost sales. A few slip ups or inefficiencies and the ROI could tank.
Therefore, following some proven SMS templates used by other businesses will make the entire process easier and more effective. Picking out the right one isn't as hard as it may seem, as there are enough SMS templates for nearly all use cases available nowadays.
SMS Templates for Marketing
SMS marketing is where the magic happens. As SMS is an incredibly powerful and naturally high ROI channel, utilizing them for marketing purposes is the way to go.
Therefore, a while ago Sender decided to offer not only email but also SMS marketing solution where you can execute your campaigns and compose text messages in a few clicks.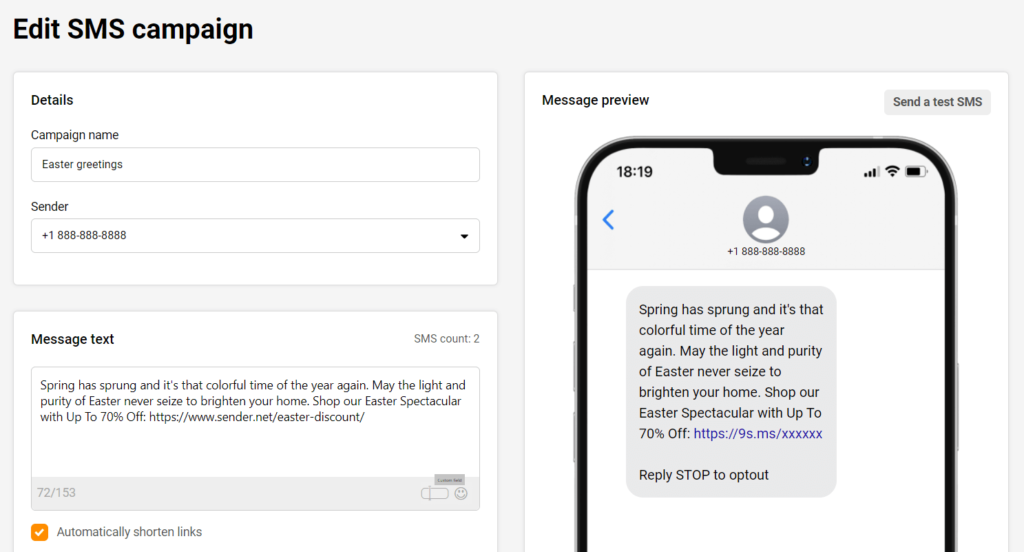 However, writing out the perfect script to send to prospects takes time. Instead of wasting time and opportunities on experimenting, using SMS templates is the more efficient route.
Outside of the time saved by SMS templates, there are numerous other benefits. Primarily, they are tried and tested, reducing the likelihood of sending out ineffective messaging to prospects.
Promotional & Sales SMS Text Messages Examples
Hey, [Name]! It's been a while! Show us this text at the store to get [%] off!
Our [event] sale starts today! Our entire selection of products are [%] off for [duration]. Stock is limited!
Today only! Get a discount [or free shipping] when you visit our store at [URL]. No minimum order!
New stock in! Get 2 for the price of 1 by visiting our store at [URL]. Offer is available online only!
Need a last-minute gift? We've got you covered. Our [selection of products] is [%] off! Get the perfect gift in seconds! Offer is valid in-store only.
Referral Program SMS Templates
Like our service? Invite your friends to join and get an additional discount. Follow the steps outlined in our referral program: [URL].
Want to get more? Refer friends and family to our service for a free [product/service]. Get the most out of [business name]! More info: [URL].
Hey [name], it's time to get even more involved. Refer a friend and you both will receive [%] off! To find out how this all works click [URL].
Hey there! Sharing is caring! Referring a friend, family member, or stranger will give both of you [%] off any order! Get more details [URL].
Want to compliment our business? Refer a friend to make sure they get the same amazing service and earn amazing benefits. More info [URL].
Transactional SMS Text Messages
Welcome aboard! We are glad to have you as a part of our community. Access your newly created account here [URL].
Account created. Your one-time password is [password]. Your account may be accessed here [URL].
Hi, [name]! Your order has been confirmed and began processing on [date]. You can find out all the details here [URL].
Hello, [name]! Your code for 2-factor-authentication (2FA) is [code]. This is a one-time code that is valid for [#] minutes.
Hi. [name]. We have received your inquiry. Your support ticket is [#]. Please do not hesitate to contact us again if any questions arise.
SMS Templates for Business Cases
Certain industries have much greater power with SMS marketing than others. For example, the fitness industry can run extremely effective promotions in all business cases – from clothing to gyms.
However, nearly all business cases can utilize SMS marketing to great effect. Unfortunately, to maximize efficiency, creating a unique SMS message for each business case is required. That means a lot of writing unless SMS templates are used.
Customer Service SMS Text Messaging Templates
Having a few customer service related SMS templates at hand is nearly always useful. Most of these will be automated responses such as status updates, working hour reminders, or feedback requests.
Hi, [name]! We are immensely grateful for your continued interest in our company! We'd like you to help us improve even more by filling out a short feedback questionnaire at [URL].
Hello, [name]. Thank you for reaching out. Unfortunately, our working hours are from 9 AM to 6 PM. We will respond to your message as soon as we get back!
Thanks for contacting [your business name]! Unfortunately, all of our agents are currently busy. We will get back to you within [timeframe]!
Hello, [name]. This is agent [name] from [company]. We are currently working on your order [#] and have changed its status to [status]. Text back if you have any questions!
Payment Reminder Text Message Samples
SMS reminders are an effective tool to increase attendance and adherence to numerous responsibilities. Payments are one of them. People sometimes simply forget to go through absolutely every payment they have to do per month. Sending a reminder is a surefire way to improve the process.
[Name], your scheduled monthly payment will be due on [date]. You can visit our payment portal at [URL].
Hey, [name]! It has definitely been hectic for the past few weeks! We're sure you might have simply forgotten to do the monthly payment for [service]. Use our website to finish the process [URL].
Hey [name], your next payment is due on [Date]. You can make it in person or online at: [Link].
Also read: 14 Reminder Email Examples For Every Situation (Templates)
Welcome SMS Message After Registration
Your account at [brand] has been successfully created! You can log in and edit your profile at our website [URL].
Thank you for registering with [brand]! Your account has been successfully created. Your default password is [password]. You can change it at [URL].
Registration successful! Start using our services by going to our website at [URL]. Text back if you need any help.
Survey SMS Text Message Examples
While businesses are a bit sluggish with survey creation and dissemination, they are an incredibly effective way to collect all-round feedback.
Additionally, sending them gets you more involved and closer to your customer base, allowing for more custom-tailored approaches in sales and marketing.
Hi, [name]! You've recently purchased one of our products – [product name]! Would you mind filling out a 5 minute survey regarding your experience at [URL]? Thanks!
Hey! You've been a valued customer and we greatly appreciate your business. We'd like to make the experience even better by collecting feedback. If you fill out the survey at [URL], we'll give you an additional [%] off your next order!
Hi! You've recently been in touch with [agent name] regarding your order [#]. We'd greatly appreciate it if you would rate the service quality received from 1 to 10 by texting back a number.
Also read: 11 Customer Survey Email Template Example
Call Back SMS Text Message Samples
Moving clients to phone calls may sometimes be critical. Reasons for doing so can range from simple missed calls to unusual activities in regards to their banking or credit cards. Setting up a simple automated SMS message to inform them about the importance of calling back can be incredibly effective.
Alert: unusual activity with [account/brand] has been detected. Please call us back on [phone number] as soon as possible.
It seems that we couldn't reach you through a phone call. Please call us back on [phone number]!
Financial Debt Collection SMS Examples
Dear [name], this is a reminder that [sum] has been due for payment since [due date]. If we do not receive the payment within [days], we will be forced to assign further costs or pursue legal action. [Company name]
School & College Admission Open SMS
Many students see texting as their preferred communication channel (over calls and email). Sending them SMS messages is a surefire way to get their attention quickly and to receive a response as fast as possible.
Thus, for open admissions, the best way to get the most out of a campaign is to send prospective students SMS messages in tandem with other classic methods.
Hi, [name]! We are glad to inform you that admissions at [school] are open! To find out all the details, required documents, and overall process, visit us at [URL]. Admissions will be open until [date].
Dear, [name], we would like to ask you for a completed admission form with the registration fee before [date]. [School name].
SMS Templates By Industry
To maximize the effectiveness of SMS campaigns, each message should be tailored not only to the business case but the industry as well. As mentioned previously, some industries will simply have an easier time building powerful SMS campaigns due to the nature of the business.
However, each and every industry can make use of SMS campaigns. The channel is simply on the rise and retains its effectiveness across industries and year-round. Basically, skipping out on SMS campaigns is shooting yourself in the foot.
Of course, everyone wants better and faster results. Therefore, we decided to create templates for each industry as well as business cases. Most of these SMS templates have been used by other companies in marketing campaigns.
Car Sales Text Message Template Examples
While it may come as a surprise to some, car sales are very conducive to SMS marketing. In the car sales industry, SMS can serve as many messages at the same time. You can deliver product-related information, set up appointments, and do much more with a few short SMS.
Hey, [name]. We're happy to hear that you're interested in [car model]. You can find the full specification and prices at [URL]. If you need more help, feel free to text back and we'll get back to you ASAP.
Hey, it's [dealership name] here. Since you've shown interest in [car mode], we'd like to suggest a short 30 minute appointment at [dealership address]. Text back if you want to make an appointment!
[Name], we'd like to remind you that you've scheduled an appointment at [dealership address] at [date, time]. [Dealership name].
SMS Examples for Real Estate Marketing
Getting your prospects subscribed to real estate news from your company is an incredibly effective way to retain their attention. Back in the day, real estate agents used to deliver calendars with the brand name in order to stay on the mind of a prospect year-round. Now, you can do the same more effectively through SMS campaigns.
Did you like visiting [address]? We have more real estate that may fit your needs! Find out our other similar listing at [URL].
Hello, [name], we're glad to announce we've added many new offerings to our list. Check out our newest additions at our website [URL]! Text us back if you want to schedule a visit!
Good news! Property at [address] has decreased in price from [$] to [$]. Text us or call us back to schedule a viewing!
Loan Approval, Rejection, Offer SMS
Hello there, [name]! We have good news! Your loan [loan name] has been approved by our team. To find out more details visit our office or website at [URL]. [Loan issuer name].
Hello, this is [agent name] from [company]. Your loan offer for up to [$] is ready to be claimed. Visit our website at [URL] to find out more details.
Hello, this is [agent name] from [company]. Unfortunately, a loan for [$] amount had to be rejected for your account. We apologize for any inconvenience caused. For more details visit our website [URL].
SMS Templates for Insurance Agents and Firms
One of the most effective ways for insurance to utilize SMS messaging is to send out reminders about payments and renewals. Again, reminders are a powerful way to give the proper push to clients and keep them engaged in your services.
Hi, [name], it's [insurance company]! We'd like to inform you that your insurance for [service] is up for renewal at [date]. If you want to discuss the rates or change other details, give us a call or text back!
Hey, it's [agent] at [insurance company]. We're texting you to let you know that we've received your claim and we are currently reviewing it. We'll text you back with any updates. If you have questions, call us at [phone number].
Hey! We thought you might be interested in [travel/life/car] insurance! Check out our full range of services at [URL] or text us back. We'll get you covered as soon as we can!
Hotel & Hostel SMS Templates
While emails and phone calls remain the king in the hotel industry, sending out SMS messages can be a much simpler way to deliver information. Additionally, customers generally have an easier time accessing SMS messages from anywhere. They can use the messages as reminders, to resolve disputes, or to double check their information.
Welcome, [name], thank you for opting in to SMS messaging. We believe you'll like your stay at [hotel name]. If any questions arise, feel free to call us at [phone number]!
Good day, [name], we're sending you a text as confirmation for your reservation at [hotel name and address]. Your reservation is from [date] to [date]. If you have any questions, feel free to text us back!
Hello, [name]! Your reservation at [hotel] begins right now! Your departure date is [date]. Enjoy your vacation!
Also read: Email Marketing Strategy for Hotels + 4 Best Examples
Healthcare & Hospital SMS Messages
Unlike most other industries, health-related businesses and government entities have severely restricted possibilities regarding communicating through SMS. No sensitive information can ever be sent through this channel as it is unsecured. However, that doesn't mean SMS can't be used for regular purposes such as appointment reminders.
Hi, [name], this is [medical office]. We would like to send a friendly reminder about your appointment for [service] on [date, time]. Text back CONFIRM your appointment.
[Medical office name]: Hello, this is a reminder that it may be time to renew or request a new prescription. Book an appointment by calling [phone number] or online through [URL].
Hey, [name]! We, [medical office name], would like to follow up after [treatment]. How are you doing? Text us back or call [phone number] to share anything that may worry you. You may book an appointment through a call or [website].
Also read: 27+ Appointment Email Examples
Coaching Classes SMS
One of the hardest things in coaching and teaching is getting people through the door consistently. Luckily, SMS marketing and messaging in general can come to the rescue. Sending out properly crafted SMS messages to both current and potential clients can help with maximizing attendance.
Dear, [name], this is a reminder that you have registered for [course] on [date, time]. Thanks for joining! If you need more information, call [phone number]. [Institution name]
Hello, [name]. We have scored your exam for [course]. Congratulations, your grade is [grade]! [institution name]
Dear, student[s], the course [course name] at [institution] has been scheduled for [date]. Please be sure to arrive on time and good luck!
SMS Messages for Banking
Hello, [name], this is a message confirming that a deposit of [$] has been credited to your account ending in [#] on [date]. Thank you!
ALERT: Unusual activity detected. If this action has been initiated by you, no action needs to be taken. Otherwise, please call us on [phone number] as soon as possible or visit us at our physical location. [Bank name]
Dear Customer, your one-time password is [#]. It will be valid for [#] minutes. Do not share your one-time password with anyone.
Also read: 5 Best Bank Newsletter Strategies + 14 Content Ideas
SMS for Tours and Travels
Unlike other industries, SMS communication in the travel industry is much more common. From tour guides sending SMS to groups to the corporation sending customers the newest deals, text messages seem to have taken hold in the industry. SMS campaigns and marketing opportunities in tourism are truly limitless.
Good morning, [name]! Have you been to [location] yet? Now is the perfect time to book a trip there! If you book a trip in [time limit], we will give you a [%] discount: [URL].
Thinking about your next trip? Text back with [keyword 1; keyword 2; keyword 3] to get the best deals and destinations according to your needs! [Travel company name]
Want to get a better deal next time? Refer [#] of friends to our services and get a [%] discount for a trip! [Company name]
Reminder: be sure to take out health insurance for your trip. If you have any questions regarding your trip, call us on [phone number]. Safe travels! [Company name]
SMS Templates for Schools
As teachers often complain, students and pupils stay on their phones all the time. Luckily, schools can use that habit to great effect by sending SMS messages to communicate effectively with younger people. Additionally, it's equally as effective for communicating with parents!
Dear students, the class [class name] will not be held on [date] due to [Mr./Mrs. Teacher name] falling ill. [Principal name, school name].
Dear parents, [student name] has not attended class [class name(s)] on [date]. Kindly send a leave notification or medical note explaining the absence. [Principal name, school name].
Dear parents, the school will remain closed on [date] until further notice due to [event]. Regards, [principal name, school name].
Dear parents, we'd like to remind you to pay the school fee until [date] for [student name]. [Principal name, school name].
SMS Templates for Ecommerce
Ecommerce is another industry where SMS campaigns and marketing are an incredibly effective channel. One of the primary drawbacks of the other widely used channel, email, is the slow and low response time and sluggish read time. SMS messages are read and acted upon nearly instantly, creating an amazing opportunity to give a customer that one final push.
Hey, [name]. We have gone through a massive restock of everyone's favorite products! Use code [code] to get an exclusive [%] discount on any item! [URL]
Time to start rocking! We will be doing a flash sale for specified items in our inventory on [date]! Up to [%] discounts will be available! [URL]
Thanks for shopping with us, [name]. Our order [#] has been confirmed and will be processed shortly. Track your order's status here [URL].
SMS for Gym & Fitness
As gyms fall under the sphere of the fitness industry, SMS marketing is incredibly effective. Sending out a couple campaigns for marketing or communication purposes is bound to lead to great results. For example, sending out messages that would inform customers that a particular place is approaching its capacity can improve overall business performance, especially since in some countries gyms must adhere to new distancing rules.
Want to get one month free at your favorite gym? Refer a friend to our services and enjoy a month for free! [URL] [Gym name].
Alert: Our gym at [place] is nearly full! We recommend using one of our other locations – [closest other location]. Thank you for understanding, [gym name].
It's time to get shredded! Get started on sculpting your dream body today by joining [gym name/coach name]! More info here: [URL].
Hello, [name], your gym membership at [gym name] will be due for renewal on [date]. You may renew your membership at one of our gyms or by visiting [URL].
SMS for Events & Conferences
Events are all about engagement and staying on everyone's mind, especially if the attendance is free. Turning to SMS campaigns to gain and maintain visibility can significantly boost the efforts from other channels. SMS marketing's quick response and click-through-rate is almost tailor-fit for events as ticket sales are often driven heavily by emotions.
Thinking about [event name]? Take your friend to [event name] and get 20% off! If you bring three friends, all of you will get 50%! Full information and discounts available on [URL].
Thank you for joining [event name]! You can see the full schedule here [URL]. If any questions arise, please call us on [phone number] or text back! [Event organizer]
Your reservation for [event name] has been confirmed! Thank you for taking part. [Event organizer].
Achieve the Best Results with These SMS Templates
We have covered nearly every possible case and scenario for SMS marketing. All you need to do is pick the template you like and start building SMS campaigns. Hopefully, these templates will give you that final push to get involved.
If you're looking for a powerful solution for moving your marketing means to the next level, consider Sender – the world's most affordable and easy-to-use email marketing platform, with all top-tier features, including email, SMS automation.
Start with zero financial commitment, the FREE Forever plan can help you do just that. Send up to 15,000 emails a month to up to 2,500 contacts absolutely free of cost!
Also read: