Rocket-fuel your sales with SMS
Supercharge conversions with this marketing duo — the best combo you've ever seen. It's easy with Sender.
Boost Your Sales Now
Most people think SMS marketing is dead.
In truth, it's exactly the opposite of dead. SMS marketing statistics say that this route might be more profitable than ever before. For example, 64% of consumers think that businesses should contact them more often through SMS.
Therefore, don't sleep on the mobile messaging marketing channel. As it will become clear from this article, SMS marketing has an incredible amount of untapped potential.
In fact, other channels, such as social media, are not overshadowing regular targeted SMS marketing. Those channels are making people check their phones more, increasing the effectiveness of SMS marketing. If that isn't enough to sway your opinion on this channel, the following statistics will.
Top 10 SMS Marketing Statistics
SMS Marketing is Received Positively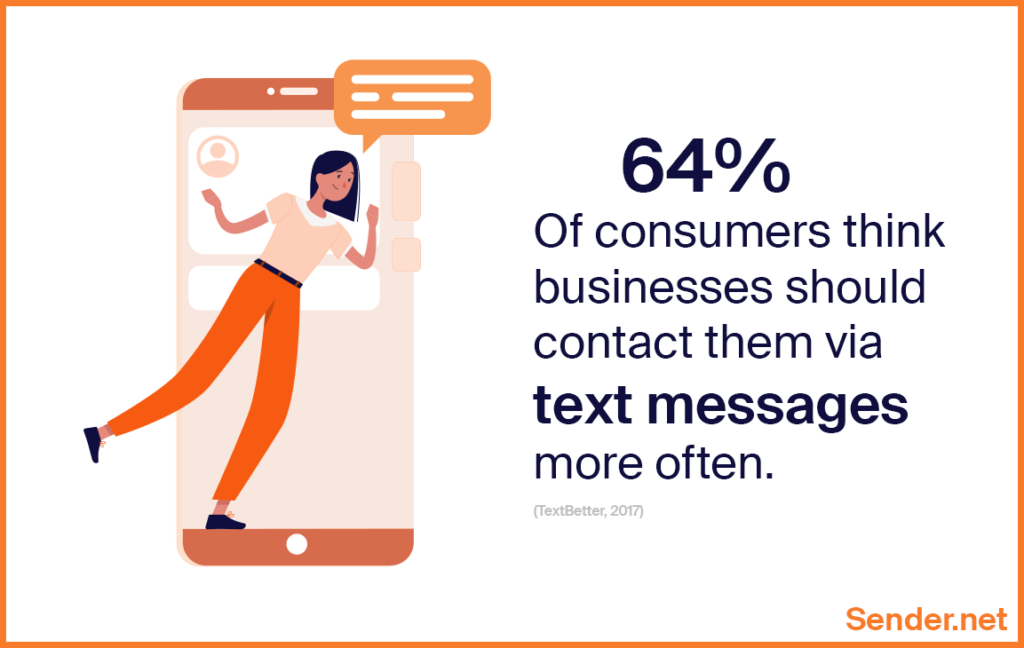 Overall, SMS marketing statistics point towards the conclusion that consumers want more businesses to contact them through this channel.
Without even going in-depth into engagement metrics, it's obvious that it is effective. SMS marketing statistics show that 75% are comfortable receiving SMS messages from brands as long as they opt-in to messaging (by MarketingProfs).
Additionally, 75% users want to receive texts with special offers. Your best bet will be to deliver most if not all promotional and limited-time offers through mobile messaging marketing. Sending promotional offers through this channel has the added benefit of requiring little preparation work as SMS' messages are usually short.
Engagement to SMS Marketing is Through The Roof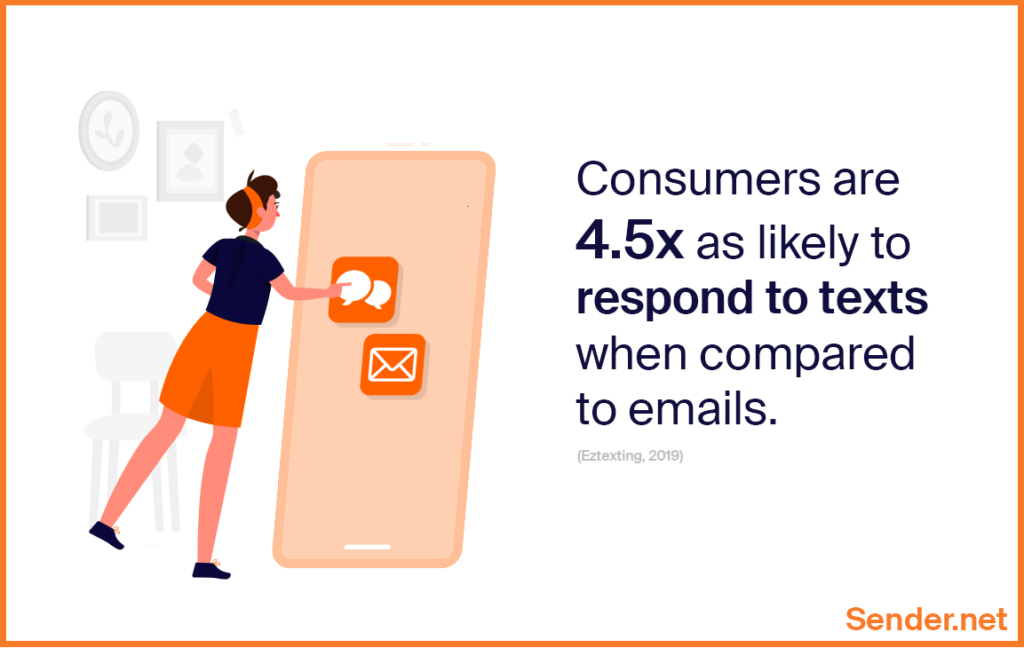 For B2C marketing, SMS is one of the most heavily engaged channels that does not require any additional effort. Facebook, Instagram, and other popular avenues for marketing often require building, maintaining, and engaging an audience constantly in order to retain effectiveness.
SMS usage statistics show that this channel is effective and engaging right off the bat – 82% of people say they open every text they receive and the click-through-rate is 36%!
Additionally, younger audiences engage with SMS messages quickly. Over 83% of millennials open SMS messages within 90 seconds of receiving them. Essentially, you are getting a lot more out of each SMS than every Facebook, Instagram message or email.
SMS is the Preferred Channel by Consumers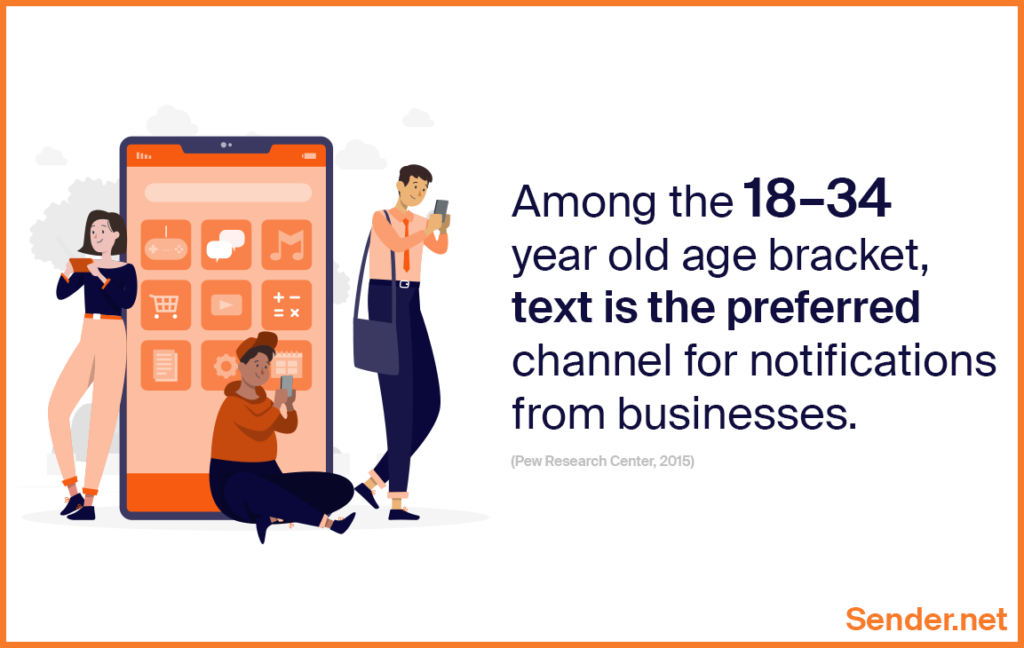 As people move away from voice calls, SMS takes preference over every other form of communication. Businesses, especially those in B2B services, have a long-standing love for emails. However, consumers don't share the same feelings and prefer to receive SMS messages. Consumers are more likely to open text messages before any other form of mobile communication.
It's likely that the text-based over voice-based trend will continue into the future. SMS marketing statistics state that consumers in the US already prefer SMS over voice calls for customer service. If you haven't yet gotten someone to take care of that type of messaging, the best time to begin is right now.
SMS Marketing and Messaging is Effective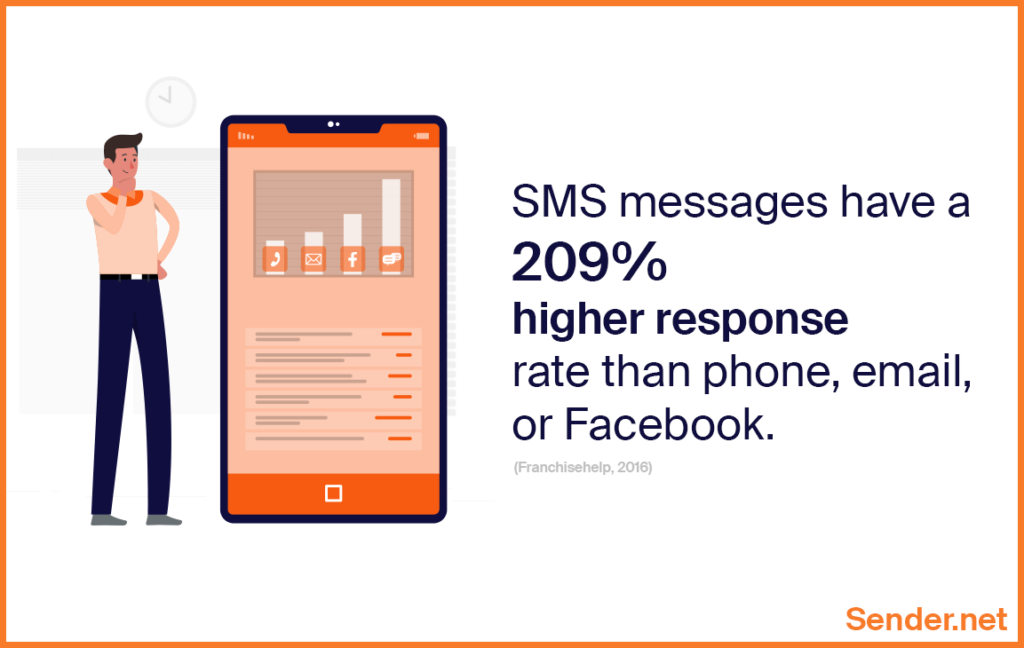 SMS open rates are unlike any other avenue for marketing. No other channel can brag about 98% open and read rates. However, these SMS marketing facts should put the final nail in the coffin. There's no way around it – SMS marketing works and is effective.
Of course, you should always treat SMS as a part of your entire strategy. However, leaving it out because this channel feels "old-school" or "ineffective" is simply factually incorrect. Consumers are basically asking you to send them advertisements through this channel. Over 90% of users who opt-int to receive texts see those messages as "somewhat useful" or "very useful".
SMS Marketing Works in All Industries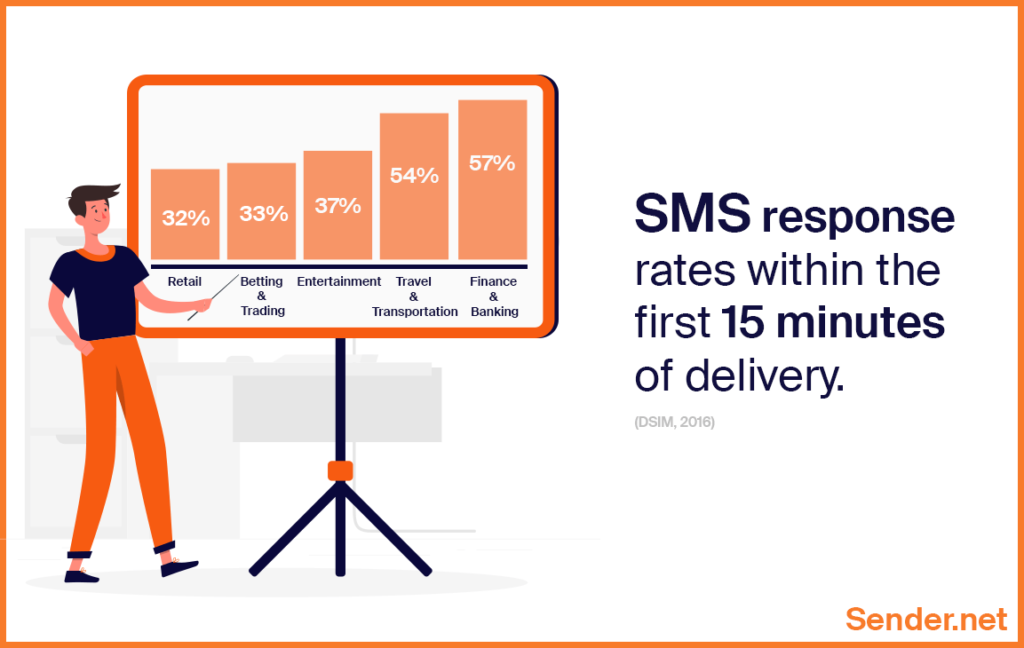 Regardless of what industry we look at, all of them can greatly benefit from SMS marketing. SMS messages have some of the highest response rates out of all marketing channels and in some industries they are nearly unbeatable. These are the SMS response rates within the first 15 minutes of delivery:
Retail: 32%
Betting & Trading: 33%
Entertainment: 37%
Travel & Transportation: 54%
Finance & Banking: 57%
Additionally, other SMS marketing statistics have shown that sending text-based messages increases the likelihood of appointment attendance, money collection rates, etc by around 60%. All of these will greatly improve revenue generation and customer satisfaction.
Smaller ecommerce businesses (e.g. Shopify, Wix-based stores) might be able to greatly increase customer retention rates and reduce abandoned carts by sending out SMS messages to their customers.
After all, 56% of retail customers switched to SMS rather than calling centres. If combined with the preference to receive special offers and notifications through SMS, the power of this channel for ecommerce cannot be overstated.
Importance of SMS is Likely to Increase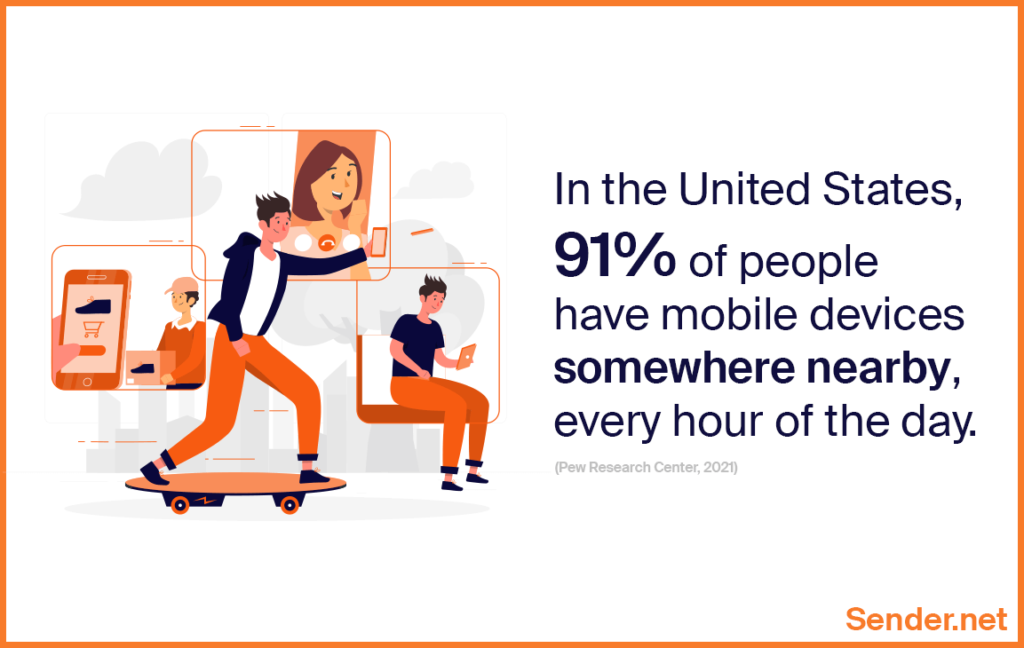 The preference is global. In France, 60% of the population prefer to receive offers via text. At the same time, in the US, over 77% of people own a smartphone (by DMA). As long as smartphones (or mobile devices in general) are not replaced by something else, SMS and text-based communication will remain king.
People have a preference of keeping mobile devices close to themselves. That unintentionally increases the effectiveness of SMS marketing as they nearly always can be pinged. As we know from our own experience, we are very likely to check our phones if a notification is received.
Conclusion
Start advertising with SMS as soon as possible. Many businesses haven't begun utilizing this channel for marketing purposes. Only 39% of businesses use text messaging to communicate with their customers at the present moment of time.
Want to find more ways to optimize your marketing campaigns? Read through our blog to find out how to make emails, SMS, and other channels more effective!
Summary: SMS Marketing Statistics
In case you're looking for every statistic in one place and just want to get all the facts, here they are:
Nearly two-thirds (64%) of all consumers think businesses should text them more often.
¾ of all consumers are comfortable with receiving SMS messages from companies.
¾ want to have their special offers arrive through text messages.
Consumers will respond to SMS inquiries 4.5 times faster than through emails.
82% say they open all SMS messages from businesses. Those SMS have a 36% click-through-rate.
More than 80% of millenials open messages within 90 seconds or less.
Text is the preferred communication channel for people within the 18-34 age bracket.
SMS messages are the most likely to be opened by the consumer when compared to other types of mobile communication.
In the US, SMS are preferred over voice calls for customer support and service.
When compared to phone, email, or Facebook, SMS reply rates are 209% higher.
SMS messages have a 98% open and read rate.
More than 90% of people who opt-in to get SMS communications from businesses, see those notifications as "somewhat useful" or "very useful".
Across industries, SMS messages have high response rates within 15 minutes:
Retail: 32%
Betting & Trading: 33%
Entertainment: 37%
Travel & Transportation: 54%
Finance & Banking: 57%
Sending SMS-based reminders for appointments and payments increase follow-through rates by up to 60%.
54% of retail customers changed from calls to SMS.
In the US, 91% of people always have their phone somewhere close to them. A third of people check their phone first thing in the morning.
In France, 60% of all consumers prefer to get their business offers through SMS.
In the US, 77% of the population have a smartphone.
Also we recommend to read: