Like what you read?
Apply it in practice with Sender.net - the most cost-effective email marketing solution in the market.
Try Sender for free
If you're already using text message marketing, sending out Christmas SMS messages is a great idea.
Not only does it give you a good opportunity for some extra promotion right before the holidays, it also works as a way to thank your valued customers.
As a result, sending out some holiday text messages as part of your overall SMS marketing strategy is worth it. All it takes is drafting up a couple of touching texts and scheduling them.
Yet, writing can still be a pain for many people, especially in December, which can be some of the busiest times of the year. To ease the effort required, we've decided to draft many SMS and MMS messages for your use.
Drafted a beautiful seasonal SMS and want to send it to your clients without worrying? How easy it is to set up an SMS campaign within Sender. You'll be able to send out SMS to any place in the world at any time without breaking the bank. Check out this text messaging service: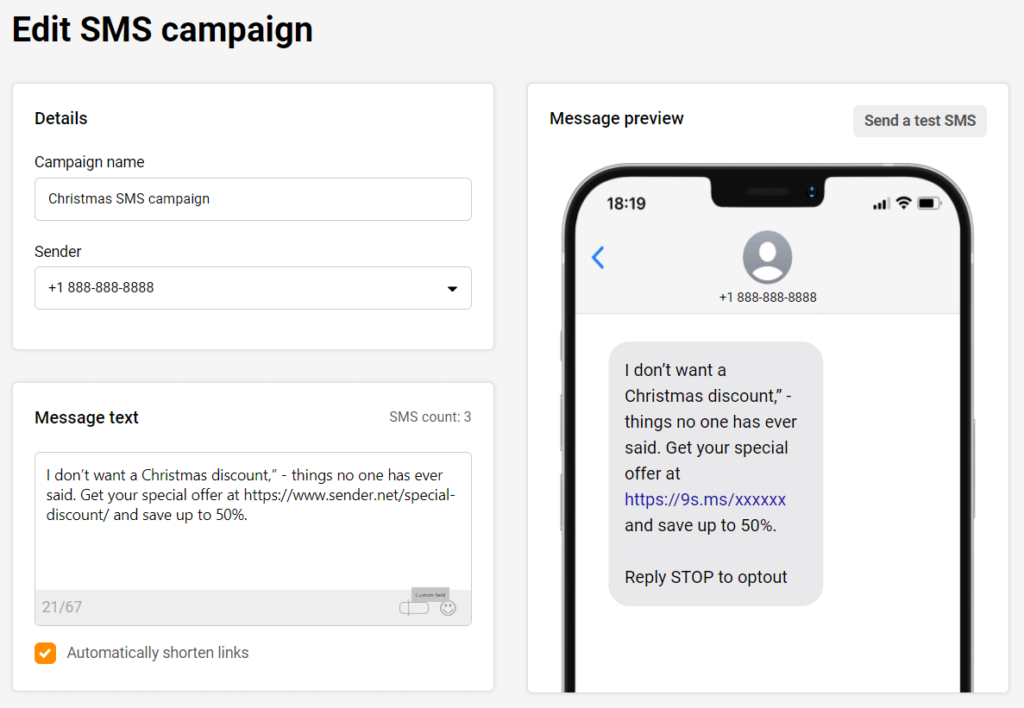 Happy Christmas Holidays Wishes Message to Clients
May your Christmas be bright and cheerful. Happy holidays!
From [brand name] to you – our team wishes you a Merry Christmas and a Happy New Year.
Season's greetings! May you have the most wonderful time during these holidays.
Have the merriest of holidays [brand name]'s wishing you much happiness this season.
Take time out during the rush of the holidays to enjoy the things in life that really matter. Merry Christmas!
Warm Merry Christmas Wishes Messages
These messages apply to absolutely every business. They do work best, however, anywhere where the company might have a closer relationship with its customers. Beauty salons, barbers, and other service-based businesses are best suited to send these Christmas messages to customers.
May the beauty and glamor of Christmas surround you throughout the entire year!
[Brand name] wishes you all the peace and love you desire this holiday season.
We are so grateful to you! Wishing you wonderful memories during this festive season.
At [brand name], we wish you a Merry Christmas and an awesome New Year.
Our team at [brand name] wishes you the merriest and happiest year ever with the most amazing Christmas!
Funny Merry Christmas Message
There's nothing truly better than a good laugh. Sending out funny Christmas messages can have a tremendous effect on the visibility of your brand. There is one caveat, however. Make sure you know your audience well!
Humor can be a double-edged sword. A bad joke can feel disappointing or simply bad. So, if you have at least any minimal doubt about the joke, don't send it!
Finally, be wary of using sarcasm. It's hard to convey over text properly and it can feel insensitive. You don't want your valued customers to feel insulted. As such, only use sarcasm if you want to make fun of yourself.
We have one wish – that your lights may be tangle-free this Christmas! Happy holidays!
Being nice is not enough. Luckily, you were fantastic! Text [code] for some extra discounts!
Christmas costs are piling up quickly! Let us help you out – [URL] gives you [%] off your next purchase.
"I don't want a Christmas discount," – things no one has ever said. Get your special offer at [URL] and save up to [%]!
ERROR: Name not found on Santa Claus's naughty list. Merry Christmas!
To send Christmas text messages to clients, you need an SMS tool like Sender. All you need to do – is import your subscribers and add your message text—everything else Sender will do for you.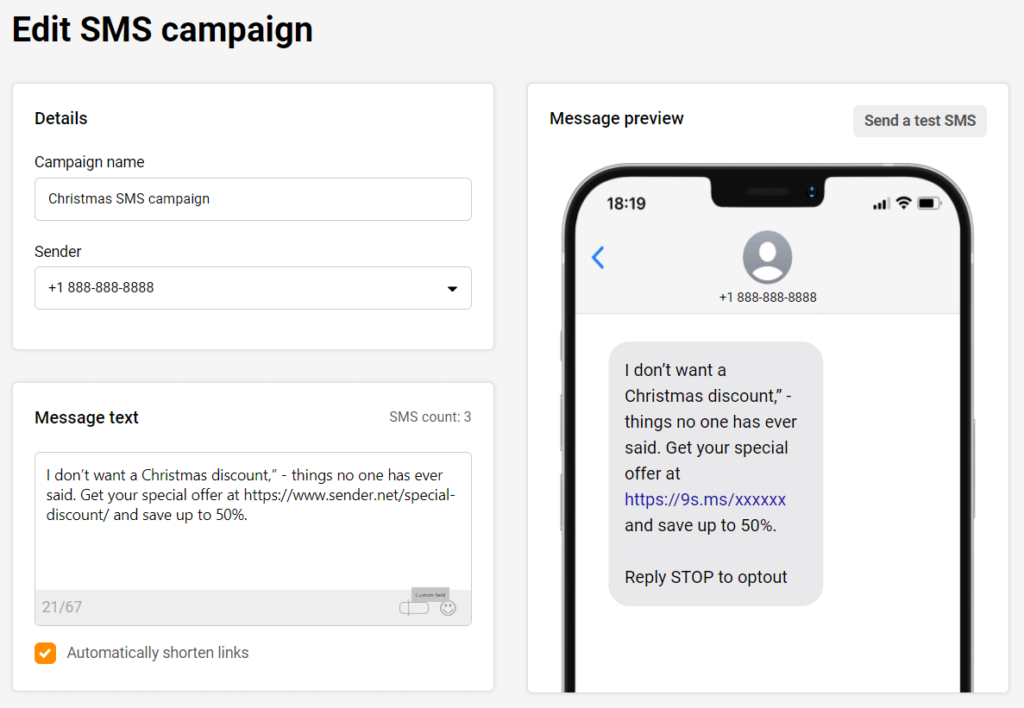 Professional Christmas Text Messages
Sometimes a Merry Christmas business message has to retain a serious tone. Partly serious, at least. Industries like real estate might deal with highly professional clients who expect some level of corporate-level texts at all moments.
Every year at [brand name] is better, thanks to you! All the best, and Merry Christmas!
We look forward to continuing our partnership. Happy holidays and have an amazing New Year.
Have the most splendid Christmas and New Year. Best wishes from your friends at [company name]!
We enjoy our partnership and wish you all the best during the holidays and beyond—your friends at [brand name].
At [company name] we would like to wish you the bright, warm, and happy holiday. Thank you for your continued support!
Season's greetings! Have a happy New Year and a very merry Christmas. Your team at [Company Name].
May warmth last throughout the whole year — Happy holidays!
[Company name] would like to wish you peace and serenity. Happy holidays.
Thank you for your continued patronage. Have the happiest of holidays. [Brand name].
Our team at [brand name] wishes you a very merry Christmas and a happy New Year!
Merry Christmas Message to Client
Working with you over the last year has been an incredible experience—best wishes for a joyous Christmas and a productive new year.
Thank you for being such a wonderful customer. We're grateful for your help over the last year—best wishes for the Christmas holiday.
I wish you a Merry Christmas and a prosperous New Year. Thank you for being an integral part of what we do.
To our favorite client, may your Christmas be bright and joyful.
May Christmas bring you a joyous end to the year, and may our service bring you and your business fulfillment in the coming year.
We appreciate your business and look forward to serving you again in the coming year. May your Christmas be blessed.
Christmas is the most beautiful time of the year, and our thoughts turn gratefully to the clients who've made our year memorable. We say thank you and best wishes for the season in the Christmas holiday spirit.
We want to take this opportunity to thank you for your support over the last year. We're grateful for the opportunity to serve you and wish you a joyous Christmas season.
Customers like you enable us to do business. Best wishes for the holiday season.
As another year comes to a close, we want to take a moment to express our deepest gratitude for your support of our business. We look forward to helping you in the future and wish you a Merry Christmas.
Tips for Writing the Christmas Text Messages for Clients
Sending out Christmas greetings shouldn't be hard. If the samples above didn't fit the themes of your business or didn't seem festive enough, here are a couple of simple tips to make a great SMS message.
Keep it short. Don't go overboard with the copy. People don't want to read long texts, especially if they have no value outside of thanking them.
Aim to be heartwarming. Xmas and New Year are all about being nice and happy. Make sure to deliver those emotions.
Add an offer if you can. It's a business, after all. Your customers might be getting the sweetest messages from you. Adding a discount still doesn't hurt.
Make it seasonal and personal. You don't want to make it seem like a bulk message. Add a name if possible. If not, at least mention the holidays or the season.
Read-test. Once you've finished drafting the message, read it out loud. Does it sound cute? If it does, you can send it.
Send Merry Christmas SMS Messages with Sender
That's all you need to know to start sending SMS messages to clients. Writing SMS isn't hard if you know the basics and have some templates to start off of. After all, you don't need to draft a huge SMS campaign to make it work.
Also read: