Like what you read?
Apply it in practice with Sender.net - the most cost-effective email marketing solution in the market.
Try Sender for free
Roughly 300 billion emails go out each day; yours included!
So we hope you don't blame consumers for not having time to read or interact with your emails. Because indeed, the number of daily emails hitting their inbox is a lot to deal with.
But that doesn't mean email marketing is old-fashioned or ineffective; you just need to learn to reinvent the wheel and stand out. And this piece teaches you 'how.'
Definition of Interactive Email
Interactive email is any email newsletter with elements that attract the desired action.
It doesn't matter whether it's a promotional email, newsletter, welcome email, sign-up email, etc., as far as it contains elements that make consumers 'not just to read, but act,' it's an interactive email.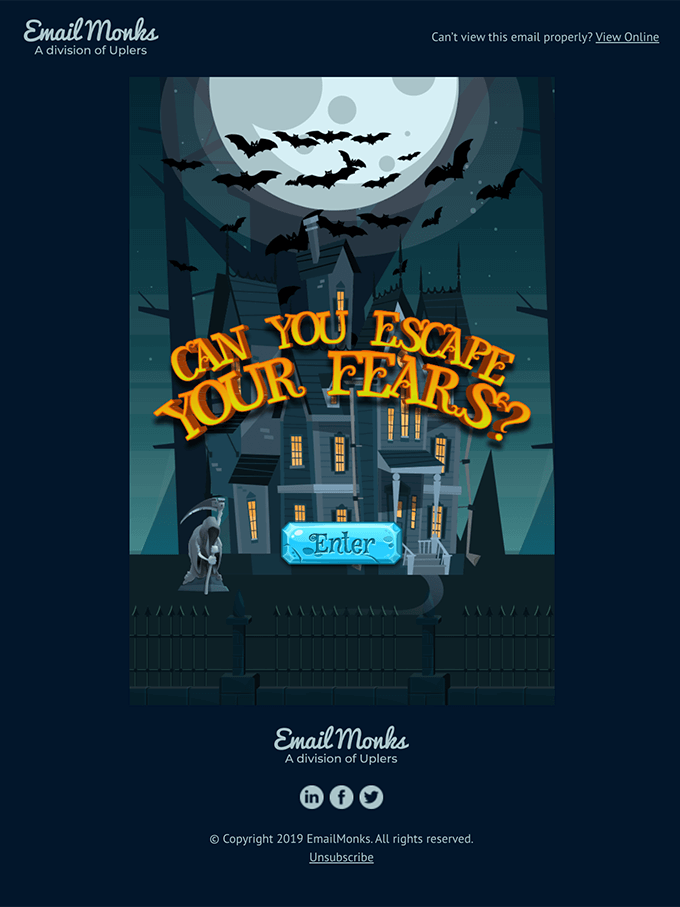 Source: Original Email Monks email
Interactive emails exist to help marketers tip the engagement scale. Wondering how? Let's explain!
Your average consumer receives over 100 emails daily—they are eagerly looking for ways to cut corners and make their buying decision as quickly as possible.
But unfortunately, regular mails can only hype your product and inform people about your store; no guarantee that a simple 'text only' email will make consumers buy what you're selling.
On the other hand, interactive email elements support an intuitive appeal for spontaneous action. It might be a simple 'Yes or No' survey, instant registration for a tutorial or webinar, engaging GIFs, booking a room, taking a quiz, watching a video, etc. The keyword is 'it makes consumers act.'
Also read: 11 Customer Survey Email Template Examples
Key Differences between Interactive and AMP Emails
Now, it's easy to mistake interactive email elements and AMP emails. Again, though, the difference is quite slim, so don't get too bothered if you find yourself mistaking one for the other.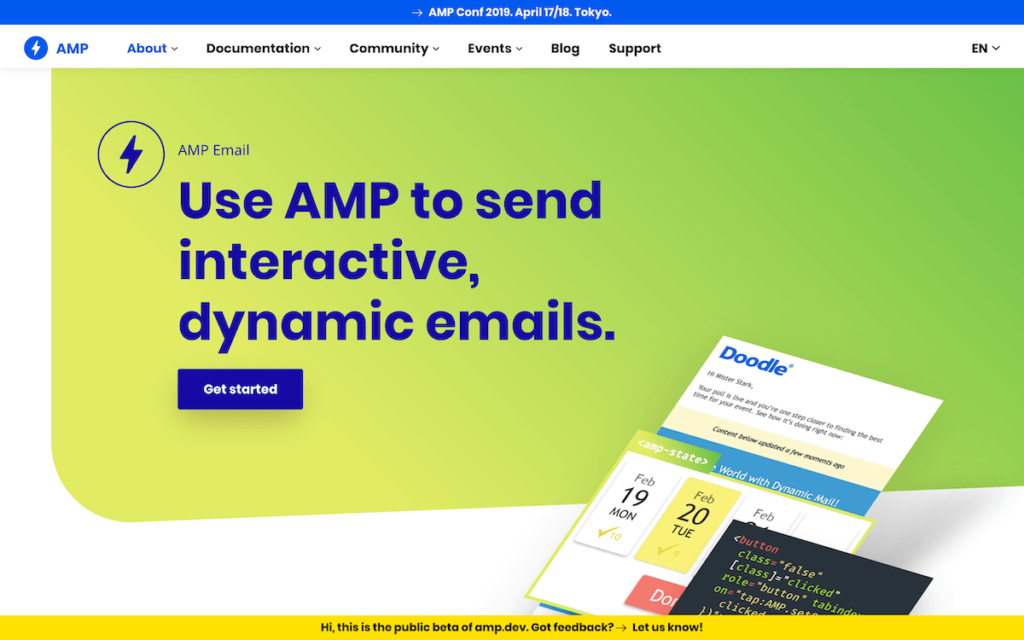 Source: https://cdn1.betapage.co/images/134549793-134549862.png
AMP for email supports engaging emails (including AMP elements inside rich). This email format provides a subset of AMP HTML that allows recipients to interact with an email right inside their mailbox.
| | |
| --- | --- |
| Interactive emails | AMP for emails |
| Interactive emails aren't always AMP emails. | AMP emails are always dynamic and interactive |
| Interactive emails contain pre-arranged information. | AMP emails can contain live, up-to-the-second content—like current happenings of the stock market. |
| All email clients support interactive emails. | Gmail, Yahoo!, and Mail.ru support AMP. Incompatible email clients leave you with an HTML fallback email. |
| Interactive emails sometimes redirect consumers—depending on the action. | Allows consumers to complete the action right in their mailbox—no unnecessary redirecting. |
The differentiation table above brings home a vital point; AMP emails are by nature interactive, but interactive emails aren't always AMP emails.
Talking about similarities, AMP emails and interactive emails exist for a single purpose, to help consumers enjoy a frictionless user experience while taking the necessary action—so they are more like two sides of the same coin.
Interactive Email Design Ideas & Features
Currently, the hype and rush for interactive email are at an all-time high.
Ecommerce leaders, brokers, cloud storage specialists, investors, and even freelancers flock towards this mailing sequence like it's the holy grail of email marketing.
But the thing is, designing an interactive email is not easy or cheap. Without prior experience or an email specialist, you might have a hard time—even with a drag and drop email editor at your disposal.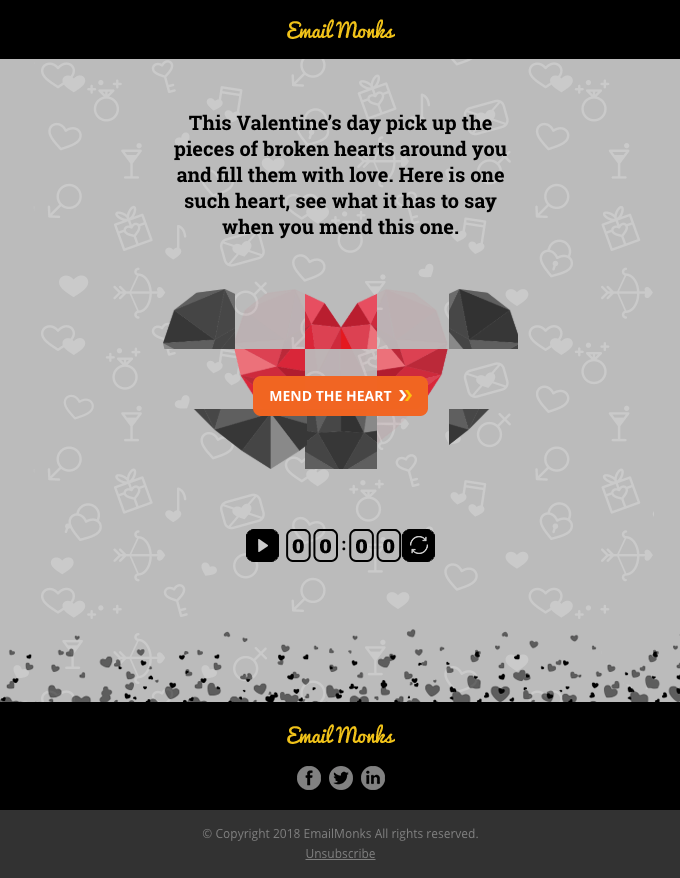 Source: Original Email Monks email
Hiring an email specialist is, at the moment, the best practice.
But suppose you feel you're bubbling with ideas and got what it takes to create an interactive signature email that can engage your audience at scale. In that case, you might want to familiarise yourself with its essential elements.
Primary Features of AMP for Email
Website-like experience within an email
Interactivity
Some of the most sought-after interactive email elements include:
Sliders
Counters
Accordion
Flip and scratch
Graphs
Integrated forms
GIF
Collapsible carousel
Search in email
Fixed CTA
Kinetic email
Full-screen slider
Rotating banners
Introducing any of the above elements to your email campaigns allows subscribers to intuitively boost email engagement, creating room for on-the-spot conversations.
Interactive Email Template Components
You will easily find hundreds of interactive email templates on the internet, but hey, don't get too excited; their reliability depends on how well you use them.
To ensure you're maximizing the power of interactive emails in your marketing campaign, let's look at some of the most popular use cases.
Ecommerce CTA's
Indeed, millions of eCommerce marketers use CTA's in their emails. So it's nothing new, from 'sign up' CTAs to 'Book an appointment and 'Add to calendar' CTAs.
But the thing is, most CTAs used redirect consumers to a different page, increasing sign-up or registration time and making consumers second guess their decision.
And since consumers can't afford redirection time, you need to start using interactive CTAs in your emails. Interactive CTAs allow consumers to carry out the required action right from the inbox. No redirecting fuss.
This 'Thank you mail' screenshot from Dyspatch shows how subscribers can add the webinar date to their calendar—eliminating 'Oh, I forgot' excuses.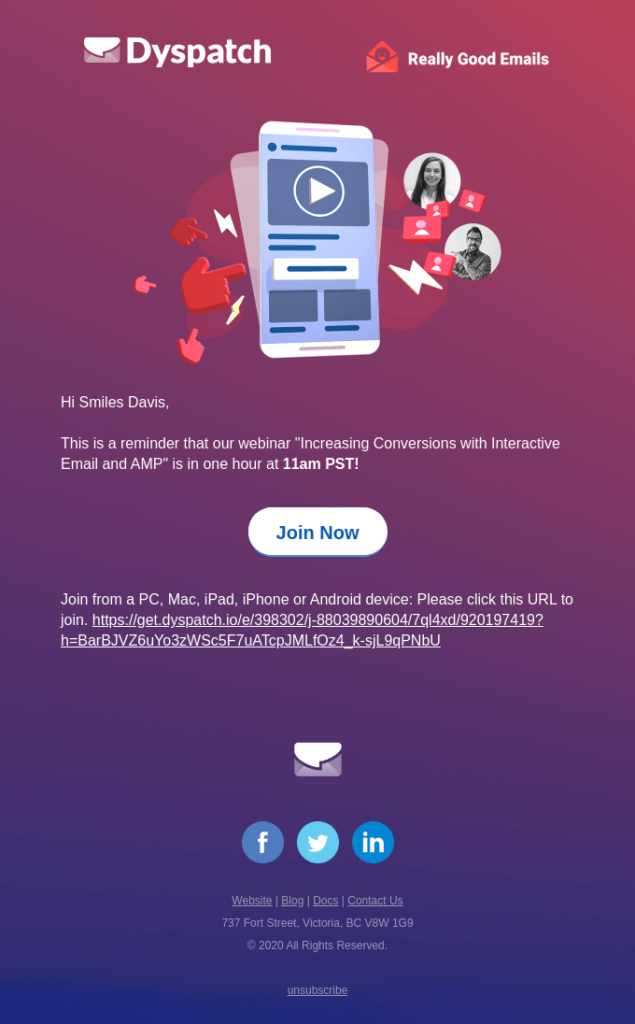 Source: Original Dysptach email
Customer Feedback Email Example
Perhaps, you're still skeptical about requesting feedback from consumers; How can you get customers to provide feedback without feeling sorry for the chunk of time it would take them?
Well, interactive emails are gradually ending the era where eCommerce stores have to rely on written feedback to weigh the authenticity of their product.
With an interactive email, you can customize a results-driven approach that ensures a consistent, repeatable, and high-quality customer feedback experience from your clients over the long term.
Check out how this 'Mack Weldon' interactive email template collects customer feedback easily, speedily, and accurately.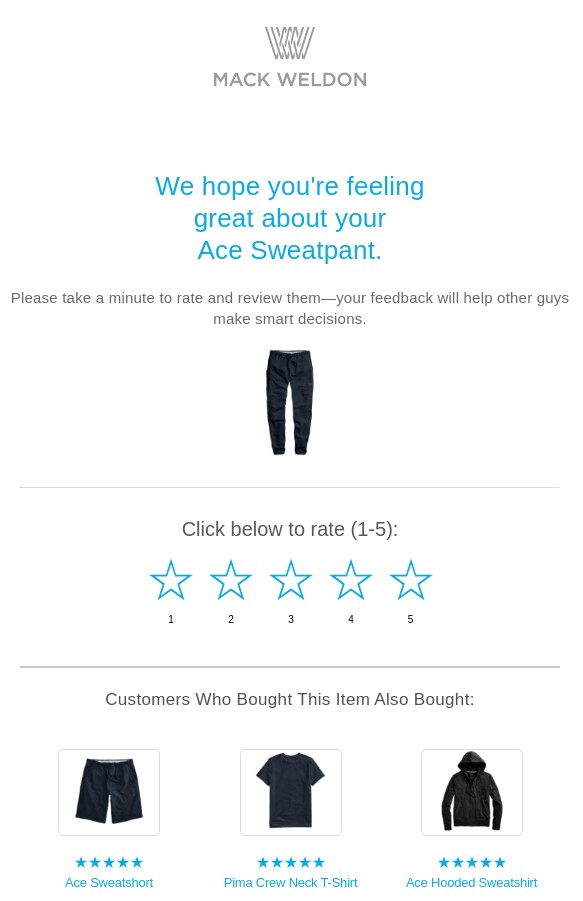 Source: Original Mack Weldon email
Create Interactive Email with Ease
Interactive elements can be found on more advanced email template builders, e.g., Sender's Drag & Drop email builder. For example, with Sender's newsletter builder, email campaigns are easy to design using a smooth-as-butter drag and drop email builder and have advanced interactive blocks, like feedback form and timer.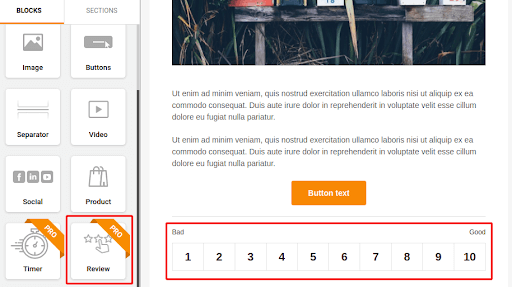 Sender's price tag will not cost an arm and a leg to keep using. Have complete functionality, including marketing automation with 15 000 monthly emails totally free!
Email Preview Content Example
Sometimes, colors make all the difference.
Not all abandoned carts result from consumers' unwillingness to buy. For example, some consumers abandoned their online carts because they couldn't tell if the store had a 'preferred color or varieties' for the product they were looking for.
Anyways, it's time to stop losing customers because the product in your promotional email didn't come in the desired format.
With interactive emails, you can do better.
A well-optimized interactive preview email showcases the product available with a 'right in your inbox' clickable option consumers can use to explore multiple colors.
This google pixel bud A series email perfectly exemplifies the power of interactive preview emails.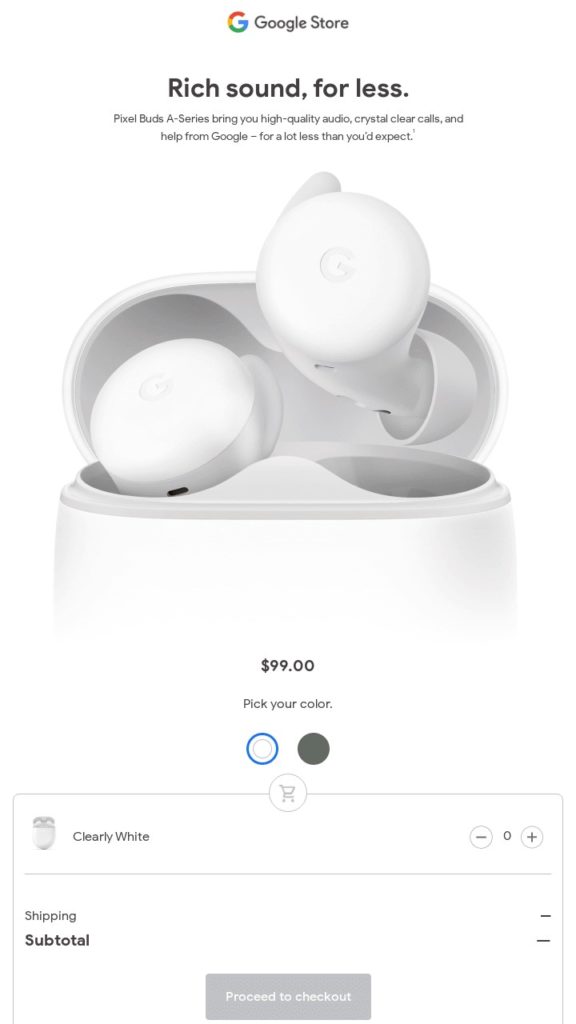 Source: Original Google Email
3 Interactive Email Examples We Love
Customers despise generic, uninstructive messaging in today's world, but many email marketers still rely on them. It's time to let go. Let's look at some of the best interactive emails you'll find on the internet.
Interactive Christmas Greeting Email from Email Monks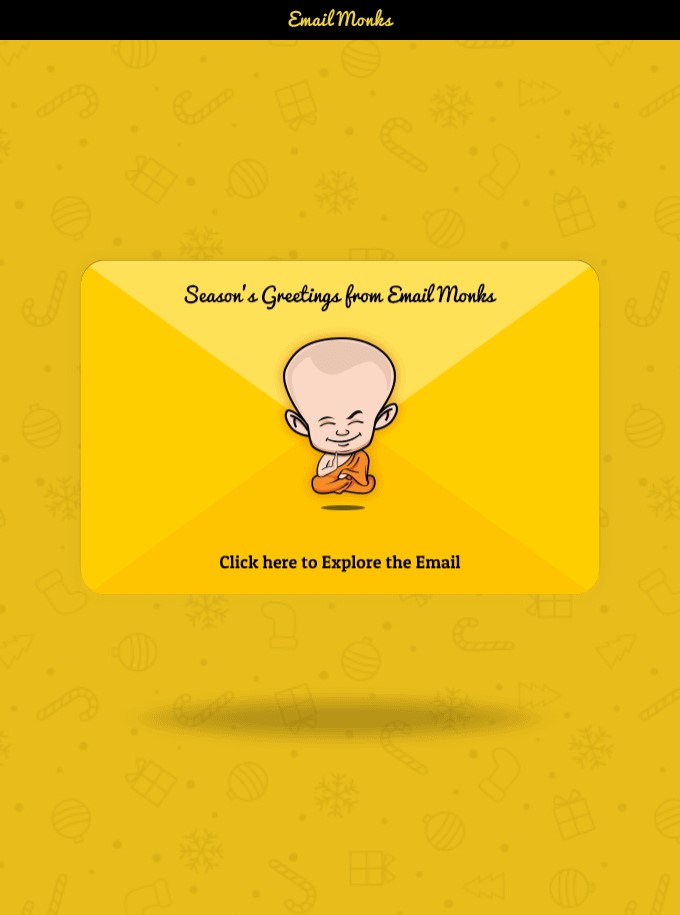 Source: Original Email Monks Email
Interactive HTML Email from Smashing Magazines
Source: Original Smashing Magazines Email
Interactive Newsletter from Email Tees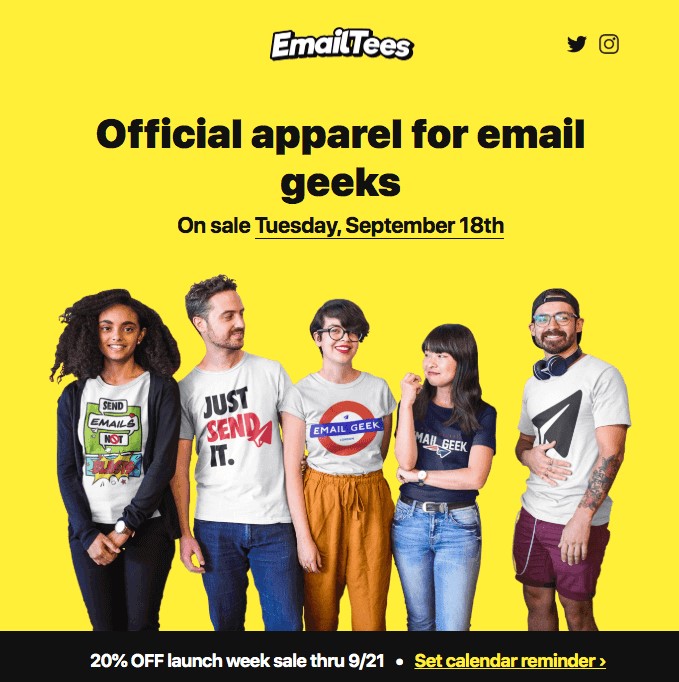 Source: Original Email Tees Email
Step up Over Competition with Interactive Email Marketing
Next time you wonder whether to invest in interactive emails when running an ad campaign, imagine how your subscribers would feel when your ad hits their inbox. Do you want them scouring through multiple chrome tabs to access your offer? If not, reanalyze your budget and opt for interactive emails.
Also read:
Content Contributor – Tobi Cyprain