Like what you read?
Apply it in practice with Sender.net - the most cost-effective email marketing solution in the market.
Try Sender for free
Making a sale is an extremely fulfilling moment. It's the point where you have the chance to show people what your business truly offers.
Once you receive an order online, your responsibility is not only to ship the order but also to interact with them and make sure they are content with their purchase decision.
How you interact with your customers leaves a lasting impression on your brand that can significantly impact your business. 
Hence, there is quite a bit of pressure to make sure the customer is satisfied with the company's product and service.
This is where marketing comes into play again, as you confirm the customer's order via email.
What is Order Confirmation Email?
An order confirmation email is the first point of contact the customer has with the brand after placing an order. This email is a type of transactional email sent to customers after they've made a purchase to verify the details of their order. 
Customers eagerly wait for a confirmation from the brand they bought a product or service as they head over to their inboxes to be assured that their payment is in safe hands, their order has been received, and is on its way to their doorstep. 
Here's a simple email confirmation template from Woocommerce:
<
div class="wp-block-image">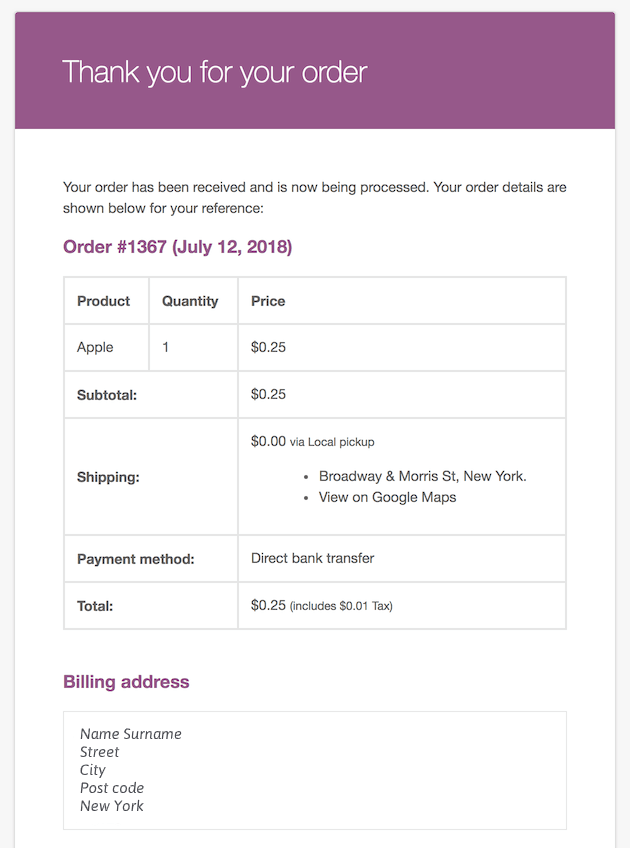 This basic tabular form email template contains all important information about the product, payment method, shipping method, and customer's billing address.
Although the main purpose of an order confirmation email is to ensure that no issue occurred and the order was placed successfully yet, this is where a brand can leverage it by creatively presenting itself and making the most of it.
Your brand isn't confined to sending purely practical and uninspiring emails.
It can rather use the opportunity to reinforce branding through purchase confirmation emails and keep customers coming back for more.
Thankfully, if you are using online e-commerce platforms like Magento and WooCommerce, you can still make the most out of your email marketing by creating stunning emails using powerful tools like Sender.  
With Sender, you can create emails in seconds with zero HTML knowledge.
Sender's easy-to-use drag-and-drop editor will enable you to customize emails for your online brand instantly and help you provide a better customer experience.
You can get started for free as they offer a generous free-forever option to small businesses with up to 2500 subscribers.
In this article, we'll go through 7 order confirmation email examples from leading online brands worldwide. Here you will know why these are good examples and what you can take away from their email templates and incorporate into your brand's email marketing strategy. 
So, without further ado, let's dive in:
1. Amazon — Your Order is Confirmed Email
<
div class="wp-block-image">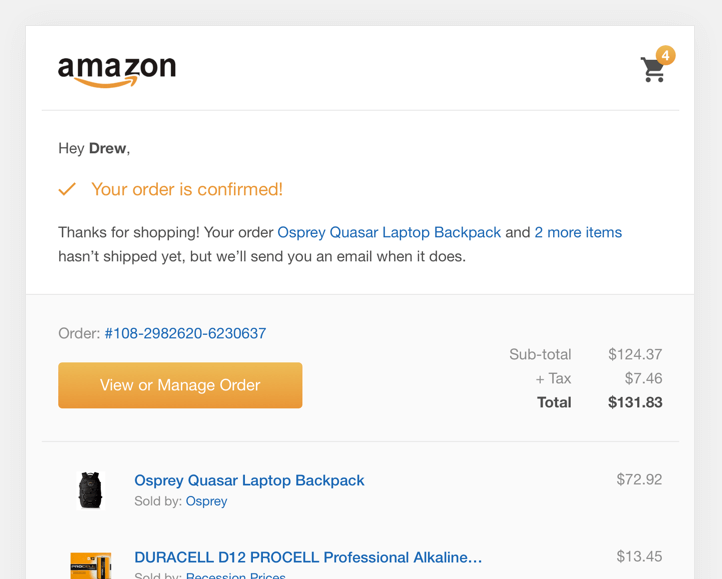 When it comes to e-commerce, you can't forget Amazon. Amazon is currently the leading retail e-commerce business by revenue.
The company has a history of satisfying customers through superior customer service and a streamlined process of shipping products worldwide.
Amazon's email marketing strategy includes simple-looking yet informational order confirmation emails.
The company ensures that its customers know about what they ordered and when their products will arrive and give them the option to view or manage orders. 
Their email sequence includes an order confirmation email, followed by an email with shipment tracking details, so the customers know when their order will arrive. 
2. Gamestop – Thank You for Your Order Email Confirmation
<
div class="wp-block-image">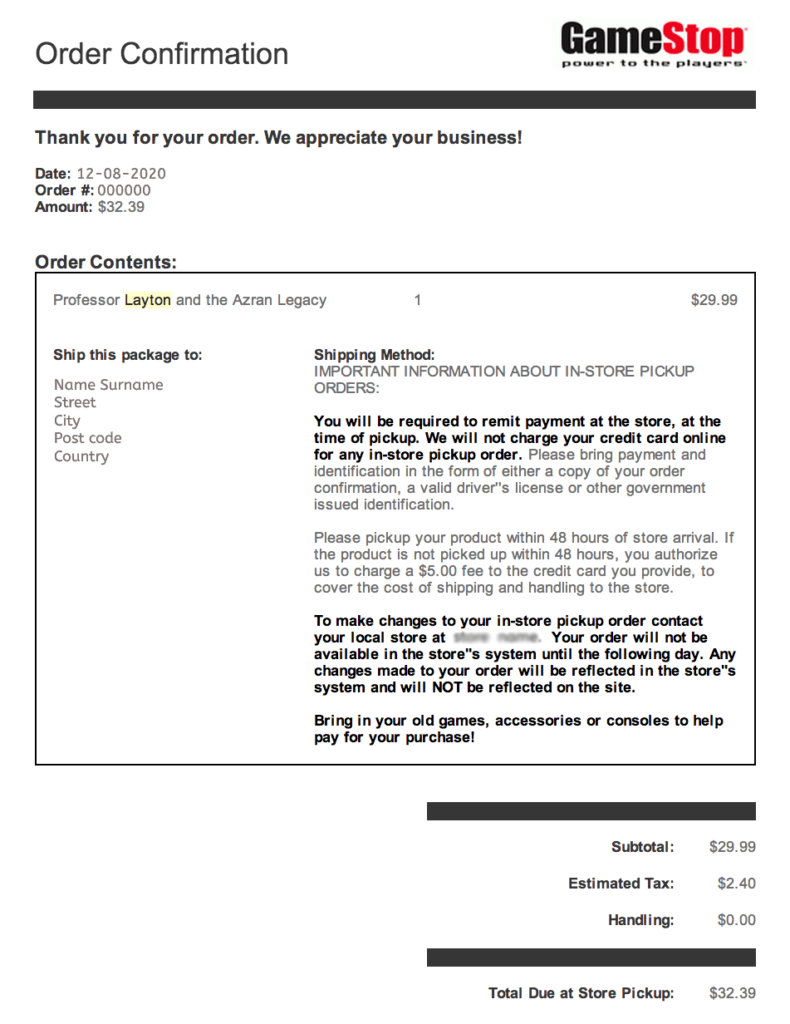 This order confirmation email from Gamestop, although it looks simple and quite text-heavy, it's very effective in providing all necessary information about in-store pickup.
Gamestop made sure to explain in-store pickup timelines and what charges would apply if the item was not picked up within the timeline. This is a good way to prevent any future disputes with customers.
Apart from thanking customers for their orders, this example also features the Gamestop rewards program. GameStop offers PowerUp Reward Points which customers can use for their next purchase. This is an awesome way to keep customers coming back for more, as each purchase gives them valuable power points that they can use to buy new products.
3. Macy's Order Confirmation — Keeps Up the Holidays Shopping Spirits
When it comes to holidays, Macy's makes sure never to miss a shine, and its order confirmation email is a classic example of this.
The eye-catching large red-colored text at the top of the email makes the holiday spirit come alive and builds excitement for what's about to come! 
I really liked the clean white, aesthetically pleasing look of the email with red CTA buttons to check order status.
Macy's has played well with this color so that the customer sees the most critical parts of the email – order details, featured help topics for a pleasant customer journey, and an additional % off for a thanksgiving sale paired with free shipping. 
The email also lets customers view what they bought and offers a 60-minute window to reconsider their purchase decision for a stress-free shopping experience. 
This order confirmation email ends with a list of great things the brand has to offer, online and in-store. Social links, in the end, give customers the option to stay connected with the brand and look out for its amazing offers.
4. Dollar Shave — Order Confirmation Email with Upselling and Cross-Selling

Order confirmation emails are the holy grail of further promotion. If done nicely, you can naturally promote your products in confirmation emails.
Dollar shave has creatively used this tactic to promote its products without looking so salesy.
 The "Toss more in?" section points out related products that customers can add to the subscription box before it gets shipped out. 
We already know pictures speak more thousand words, and that's true in any type of digital marketing too. This email example has strategically used pictures to grab customer attention and increase the CTR (click-through rate) of the confirmation email. 
To add a more customer base, the email includes a customer referral link with a little incentive. Clearly, this order confirmation email is more than just a transactional email. 
5. Airbnb — Appointment Confirmation Email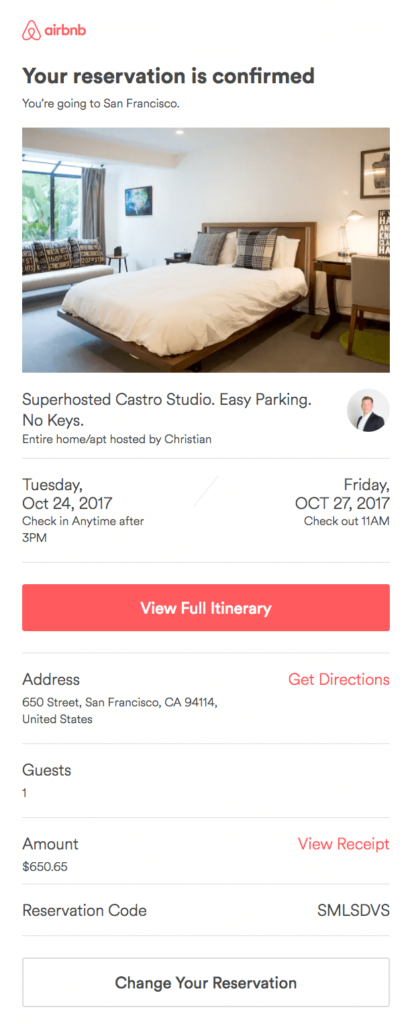 Image source: Airbnb
AirBnB's order confirmation email sets the right amount of expectations for customers. It is essentially the longest email example in our list, but this makes sure to answer all questions before a guest would think to ask them.
It features the host, so customers know whom to reach out to in case of any issues or queries during their stay. It even has the option to view house rules, manual and a contact option to reach AirBnB for further support. 
The email sample also displays the company's referral program, so customers can share their experience with their loved ones and enjoy the reward.
Lastly, there's a cross-sell in the form of Airbnb recommendations about unique things to do during the stay. This uplifts customers' excitement as they explore different activities to do and can plan their stay.
6. Burst — Health Care Product Order Confirmation Email

Burst stays true to its brand in their order confirmation email. Beautiful colors combined with a sophisticated design.
The email design perfectly organizes order information after thanking the customer for their order.
The receipt layout in the email is a simple tabular form that makes customers scan through easily and locate important information about their order.
The little creative elements under the View Order CTA button and 'as featured in' section would definitely grab users' attention and uplevel brand recognition. 
The order confirmation email is followed up by a shipment confirmation email as below.
The email also shows order details and shifts from gratitude to excitement as it features a button for tracking details of the shipment.
7. FitBit — Electronic Device Order Confirmation Email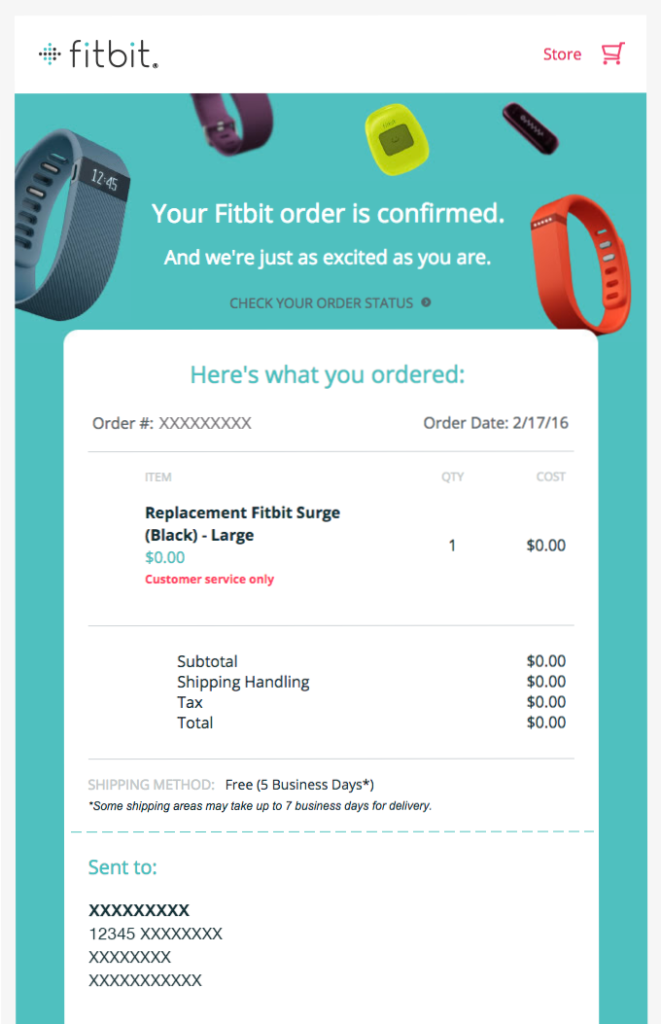 The Fitbit order confirmation sample is an amazing representation of email marketing done well. Their email design is simple, fun, and positioned for the youth.
Their email sequence starts from an order confirmation email that features order details with shipping times, so customers are not left wondering. 
Then, a shipment confirmation email is sent to customers with the line "Are you smiling? You're smiling", which is sure to put a smile and build excitement for the order.
The fun and youthful positioning are reinforced by their email as it further says, "No need to camp out by the mailbox", and features the tracking number.
Why Order Confirmation Emails Matter
As customers, we have all grown accustomed to an overflow of promotional emails, marketing campaigns, and newsletters, which we often don't give any attention to, and they end up in the trash in just a second or two. 
However, order confirmation emails are something different. These emails are an essential part of e-commerce which customers eagerly wait for and have a look at once received.
Order confirmation emails contain valuable information for customers, and thus, these emails significantly outperform marketing emails when it comes to open rates, viewing times, and CTRs.
Here are the top reasons why order confirmation emails matter:
Order Confirmation Emails Provide Assurance
When a customer places an order online, he or she needs assurance that their money is in safe hands and their order is being processed for shipment. And order confirmation emails do just that.
Gets Customers Excited
Order confirmation emails express gratitude and celebrate customers for trusting the business and making a purchase. This builds up their excitement and anticipation of the order they placed and creates an overall positive experience for the customers.
Builds Brand Loyalty
A satisfactory customer experience builds brand loyalty and keeps them returning. You can leverage this and provide customers with information about your loyalty program so they can share your business with their friends.
Makes Waiting Easier
Order confirmation emails make waiting worthwhile as it eases their doubts and concerns about the delivery times, shipping policies, and offer them incentives to look out for when making another purchase. 
Best Practices for Order Confirmation Emails
Besides the right information that needs to be incorporated into order confirmation emails, your online business can follow best practices when presenting and sending purchase confirmation emails to customers to make the most of it:
Make sure the customer receives the order confirmation email right after making the purchase. 
Use and clear, informative, and engaging subject line. 
Express gratitude and celebrate your customers to leave a positive impression. 
Add all the necessary details about the order and shipping process, and don't leave the customers wondering.
Ensure your email design is mobile-friendly.
Test your emails frequently to ensure they aren't in the spam folder. 
Add contact information, so customers know how to reach you if the package is late or missing. 
Stick to the brand's theme and design when formatting the email.
Tell customers about your marketing referral programs, so they can share with their friends and get rewards while they wait for their order to arrive.
Suggest related products that the customer might be interested in, but don't overdo them. 
Invite customers to connect on social media to stay updated on offers and promotions. 
Offer an incentive or a discount to customers for shopping again. 
Ensure the order details take up most of the area in the email and that the promotional sections are discreet.
Learn more about email marketing for your business:
---
About author
Ruchika Gupta is a content writing specialist and person behind the startup Eyanki Media. She is passionate about digital marketing and SEO. She is a natural researcher who likes to explore and learn new things to keep up with the ever-changing digital marketing landscape.