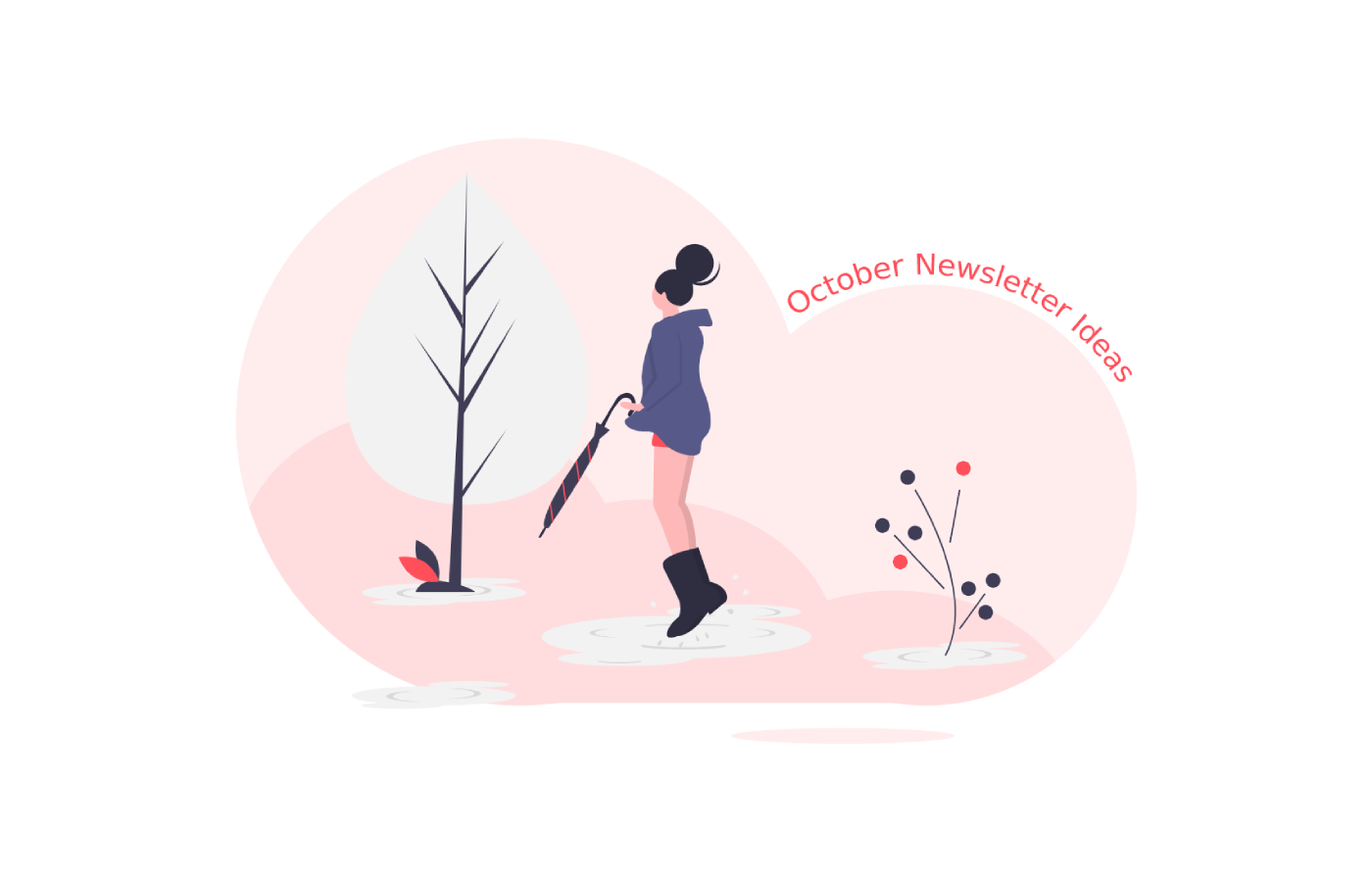 140+ October newsletter ideas
A smart email marketer knows that it's time to think ahead about October newsletter ideas.
And for those who believe that Halloween is the only reason to get in touch with clients, we've put together a big list of exciting and fun events and topics.
Whatever business you're running, there will be email content ideas helping you to reach your customers with great content.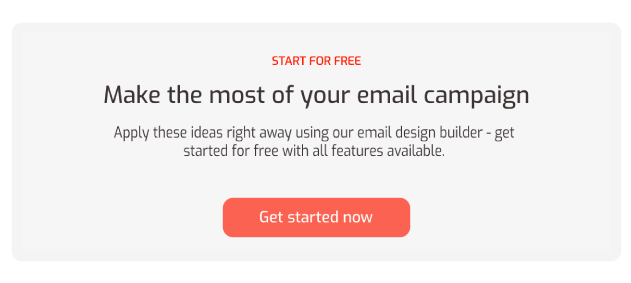 Content menu
October newsletter template
If any of these resonate with your business, plan a promotional email campaign especially if this holiday works with your product or service.
OCT 1:
International Coffee day
International Day of Older Persons
Nigeria Independence Day World
Vegetarian Day
National Homemade Cookies Day

OCT 2:
International Day of Non-Violence
MFG Day
Name Your Car Day
World Smile Day
National Custodial Worker Day

OCT 3:
Mean Girls Day
National Boyfriend Day
Techies Day
World Card Making Day

OCT 4:
World Communion Sunday
National Taco Day
World Animal Day
National Golf Day

OCT 5:
World Habitat Day
World Teachers Day
Do Something Nice Day

OCT 6:
German-American Day
Come and Take it Day
Physician Assistant Day

OCT 7:
Walk to School Day
Bald and Free Day
International Walk to School Day
OCT 8:
World Sight Day
American Touch Tag Day

OCT 9:
Leif Erikson Day
World Post Day
World Egg Day

OCT 10:
World Mental Health
World Migratory Bird Day
International Newspaper Carrier Day
National Motorcycle Ride Day

OCT 11:
International Day of the Girl
National Coming Out Day
It's My Party Day

OCT 12:
Columbus Day
Canadian Thanksgiving
Indigenous Peoples Day
National Farmers Day
Cookbook Launch Day
Old Farmer's Day

OCT 13:
Ada Lovelace Day
International Day of Disaster Reduction
No Bra Day
International Skeptics Day

OCT 14:
Billboard Awards
CMT Awards
National Dessert Day
Emergency Nurses Day
National Take Your Parents to Lunch Day
National Dessert Day
OCT 15:
Global Handwashing Day
International Day of Rural Women
National Pug Day
Spirit Day

OCT 16:
Boss's Day
World Food Day

OCT 17:
International Day of the Eradication of Poverly
National Pasta Day

OCT 18:
No Beard Day

OCT 19:
Evaluate Your Life Day

OCT 20:
World Statistics Day
Brandied Fruit Day
International Chefs Day
National Waiters Day

OCT 21:
Pronouns Day
International Nacho Day

OCT 22:
National Nut Day

OCT 23:
Mole Day

OCT 24:
National Food Day
United Nations Day
World Development Information Day
Make a Difference Day
National Bologna Day
United Nations Day

OCT 25:
International Artist Day
Mother-In-Law Day
World Opera Day

OCT 26:
National Pumpkin Day

OCT 27:
Black Cat Day
World Day for Audiovisual Heritage
Navy Day
National Tell a Story Day

OCT 28:
National Chocolate Day
Plush Animal Lover's Day
Hermit Day

OCT 29:
National Cat Day
World Stroke Day

OCT 30:
National Candy Corn Day
Frankenstein Friday
National Candy Corn Day

OCT 31:
Halloween National Trick or Treat Day
World Cities Day
---
National Work and Family Month
Financial Planning Month
National Stop Bullying Month
National Bake and Decorate Month
National Book Month
Apple Month
Adopt A Dog Month
AIDS Awareness Month
American Cheese Month
Breast Cancer Awareness Month
Caffeine Addiction Recovery Month
Eat Better, Eat Together Month
Emotional Wellness Month
Fair Trade Month
National Caramel Month
National Chili Month
National Chiropractic Month
National Dental Hygiene Month
National Depression Education and Awareness Month
National Dessert Month
National Pasta Month
National Physical Therapy Month
National Sausage Month
Week 1: Get Organized Week
Week 1: Customer Service Week
Week 1: Great Books Week
OCT 4-10: World Space Week
Week 2: Fire Prevention Week
Week 2: Pet Peeve Week
OCT 14-20: Earth Sciences Week
Week 3: Pastoral Care Week
Week 3: Teen Read Week
Newsletter topics for October
1. Apples
October is the apple season, so why not use it to your advantage?
Share your favorite apple recipe to remember the start of the fall season. A varied fruit, apples can be used as part of the main course as well as dessert.
Also, apples have a beautiful lyrical meaning; it is the fruit of science and discovery. If you look at it creatively, then you could easily implement it in your email campaign.
2. National Bullying Prevention Month
Over 1 out of 5 students report being bullied regularly in school.
The yearly campaign attempts to unite communities to educate and raise awareness of bullying prevention.
Hundreds of schools, major businesses, and many celebrities have joined the campaign.
Craft emails about the harmful effects of bullying and show that you care about kids being safe at school, while online, and in your community.
3. Pumpkin Carving
It just wouldn't be October without pumpkin carving.
Share your pumpkin carving safety tips or ideas in your newsletter.
You also have a great reason to host a pumpkin carving contest in your office.
Be creative!
4. Boss's Day newsletter
Remind your clients' to take your boss out to lunch or send a lovely gift.
This holiday originates in 1958 with a lady Patricia Bays Haroski, who was then employed at the State Farm Insurance Company in Illinois.
She chose the date because it was her father's birthday and her boss was her father.
If you have any product or services relevant for this day, make sure to name it.
5. Halloween newsletter
October means gorgeous falling leaves, cooler temperatures, and of course, Halloween!
This spooky and fun celebration is one of the most important holidays for sales.
Customers seem to be quite open-minded in their spending on costumes, candy decorations, housewares, etc.
It's a great time to craft articles and videos around Halloween and have some fun entertaining your target audience. Please include it in your promotional emails.
Halloween is one of the top retail holidays of the year. Christmas is another, and on October 1, there are only 85 days left until the big day.
October is the time to begin holiday season email marketing that includes Thanksgiving and Christmas themes.
Consider collecting ideas from readers about recipes, DIY decorations for the Christmas holidays, and publishing a Christmas shopping guide featuring your products or services, among other suggestions.
Present your newsletter content ideas
Sometimes even though you have a great newsletter topic, it is not easy to present it. Often how you present info makes influence how your newsletter will perform. We give you a few ideas on how to craft your email that converts.
How-to newsletter
Create content that's useful to your target audience, and that helps them achieve something with step-by-step guidance. For instance, your school can offer an article about how to prepare your kid for Halloween?
Your product maintenance advice
Does your product require any maintenance? If so, provide some tips in your newsletter. For example, if you have an Autumn shoe collection, give tips on keeping your shoes clean during the rainy season.
Top 10 lists
Top 10 lists are successful because they're easy to read. Or just to look through and check only the most important parts of the email. Create a list of valuable tips, most popular articles on your blog or money-saving ideas that refer to your business.
Roundup articles and posts
Create a newsletter that gives a roundup of your company's best articles or most popular social media posts. It's a great way to increase website traffic to the content that already exists.
Customer reviews
Collect client reviews about a specific product and share them in your newsletters. Start your email by explaining the product, add a picture of it, and show subscribers what others say about it.
Some of these October email marketing ideas might seem not applicable to your brand or service.
We indeed don't suggest adding irrelevant content or spamming your subscribers Falls promos just for traffic.
Choose the event connected with what you're doing, and develop an unusual way to present it to your subscribers.
Analyze what campaign format worked or didn't work before, and bring in some changes.
Remember that the holidays are all about fun and laughter. So whatever the marketing campaign, make it lively and festive, and don't forget to reinforce your verbal congratulations with a little gift: a free shipping code or monthly subscription would set the mood.
We also recommend to read: