Starting an E-commerce business needs a lot of hard work, patience, and marketing due to the tremendous competition that exists nowadays. It is a given that you absolutely have to make a continuous effort to ensure that your customers complete their purchases, then return for more and continue to shop.
Actually,  one of the best ways to achieve this is to build an email list and to regularly email your customers starting with the welcome email and continuing with abandoned carts, sale reminders and so on.
Persuasive reminder emails increase the interaction and engagement with customers, builds an everlasting relationship and provide E-commerce businesses with an enormous opportunity to win their customers back or to woo potential customers to make a purchase.
This doesn't mean that you have to start sending emails by the dozen to all your customers at odd hours reminding them of a pending purchase or that they can avail a flat 50% discount on wool socks, in the middle of a sweltering summer! Doing this will lead them to never open your emails, move it to the junk/spam folder and in the horror of horrors, unsubscribe from the mailing list!
So, what is the right fix to get these reminder emails delivered to your customers' inbox and drive high engagement? Here are some of the definitive ways to do so:
Craft a Unique User Experience
Customers love to receive high-quality images with content that tells them about products and services that they can put to use. By creating an email that offers them fun, engaging and educational content, you can hope that they click a call-to-action, at the least.
The whole idea is creating a unique user experience for them so that they would love reading every detail mentioned in the email. This, of course, begins with a nifty subject line followed by an attractive body copy.
Take the instance of Flywheel, which sent an email to subscribers asking them for feedback, using short paragraphs and crisp writing. As an added bonus, they're offering gifts for providing feedback. These kinds of emails successfully persuade users to take the desired action. In this case, the desired action is to click the 'TAKE THE SURVEY NOW!' button.

Make The Subject Line Stand Out
You may know the demographics of your customers. But, do you know how their inbox looks like? The answer is clearly, a NO!
In this blind date-like situation, all you have to do is to rely on a stellar subject line, which can make your email stand out from the other emails that clutter their inbox.
Because let's face it, the average e-commerce email open rate is 16.75% and the average e-commerce email click-through rate is 2.32%.
It should be short, succinct and yet, provide them with the necessary details such as:
Insider discount offers

Exclusive weekend sales

Coupons that can be activated via a link in the email

Reduced price of the items in the shopping cart that they abandoned
In short, your subject line should quickly make the point clear without beating around the bush.
LiveChat did it by stating its message in a simple line – 'New pricing plan for $16'. That's all. No bells and whistles here!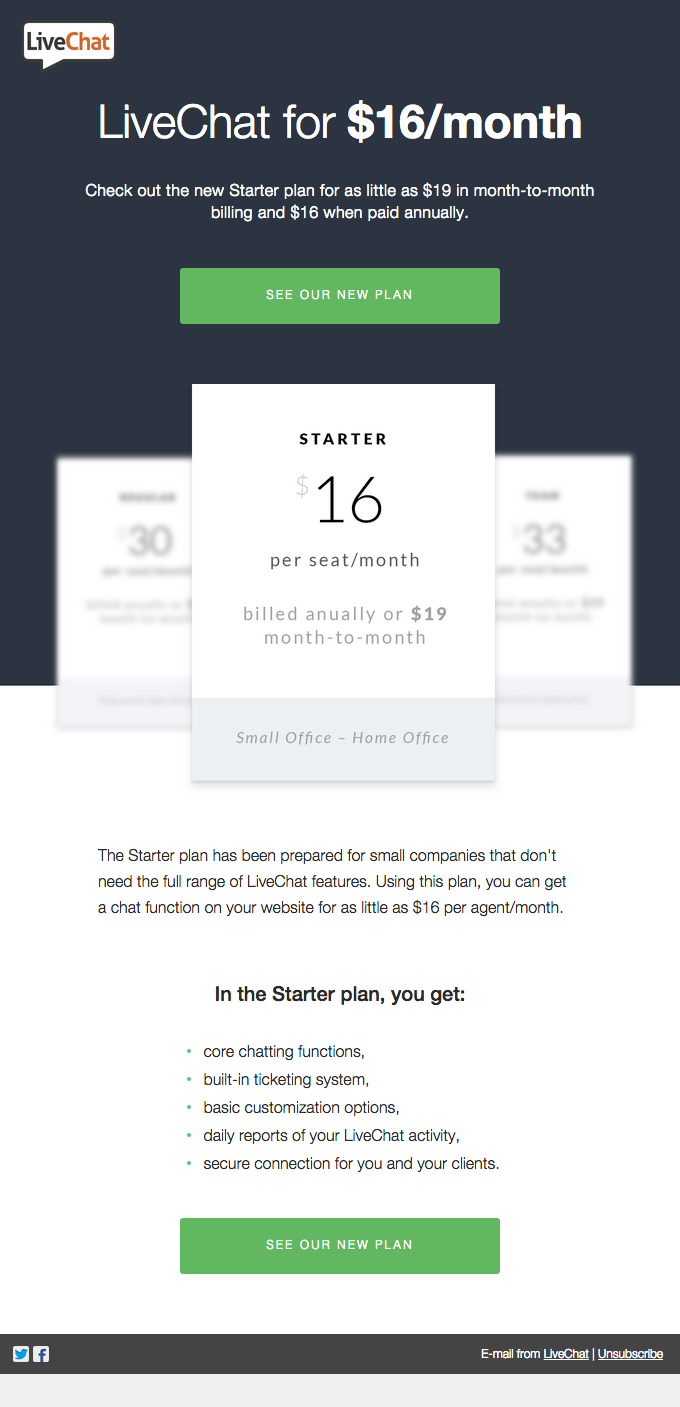 Write a Compelling Copy
The difference between an email that converts and an email that doesn't is usually the lack of a great copy.
Remember, the email's body copy can be your ONLY chance to convince your customers to take a decision in your favor.
Make sure that it is complete with catchy lines, includes vital information and has an image/graphic for more impact. Virgin America did it perfectly in this email: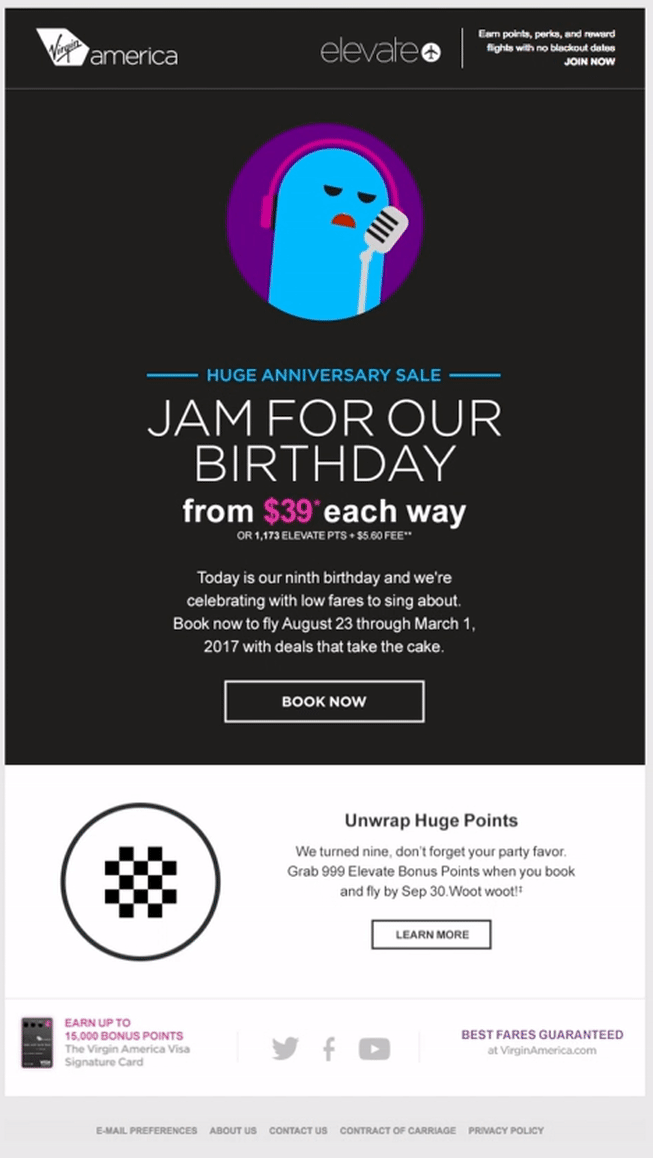 The emotional appeal also works when it comes to sending a reminder or persuasive emails. When you want to send such emails to your customers, make sure that the language in the body copy can influence their thought process. You can include multiple CTAs here, to help them make up their mind. Typeform gets it perfect in this "We missed you" email.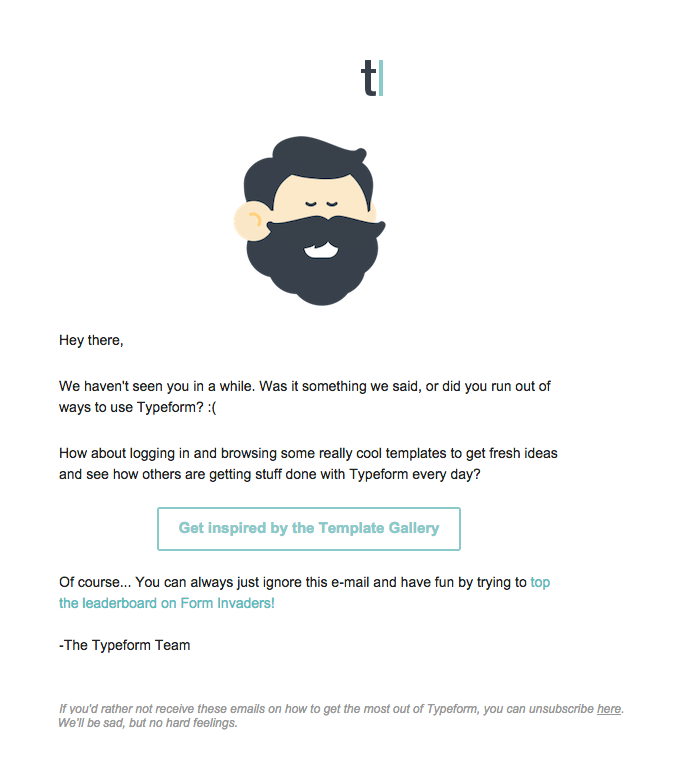 Create a Sense of Urgency
Hurry up!
Get it first!
Go for it before time's up!
Don't wait for it to sell out!
Emails that sound urgent with these phrases are surely helpful in grabbing your customers' attention. They also encourage the shoppers to act fast, lest they want to let go of an amazing shopping experience! Just make sure you're not creating a false sense of urgency because users quickly identify hoaxes and stop associating your sale offers with urgency.
Juniqe here has a simple email that highlights the word SALE on a bright-hued background. Underneath the graphic is the reminder that the sale is only till Monday and provides a voucher code and a CTA button.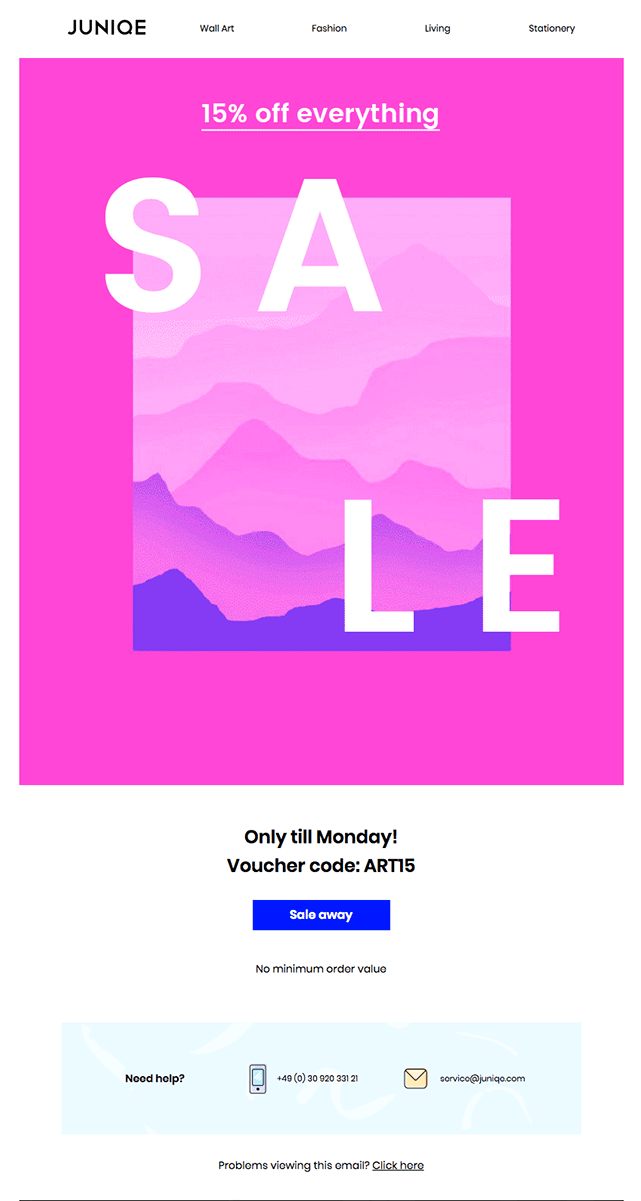 Peel, on the other hand, uses the element of mystery to allure shoppers and make them curious about their "secret" offer. Now that's a temptation that a shopper will find hard to resist!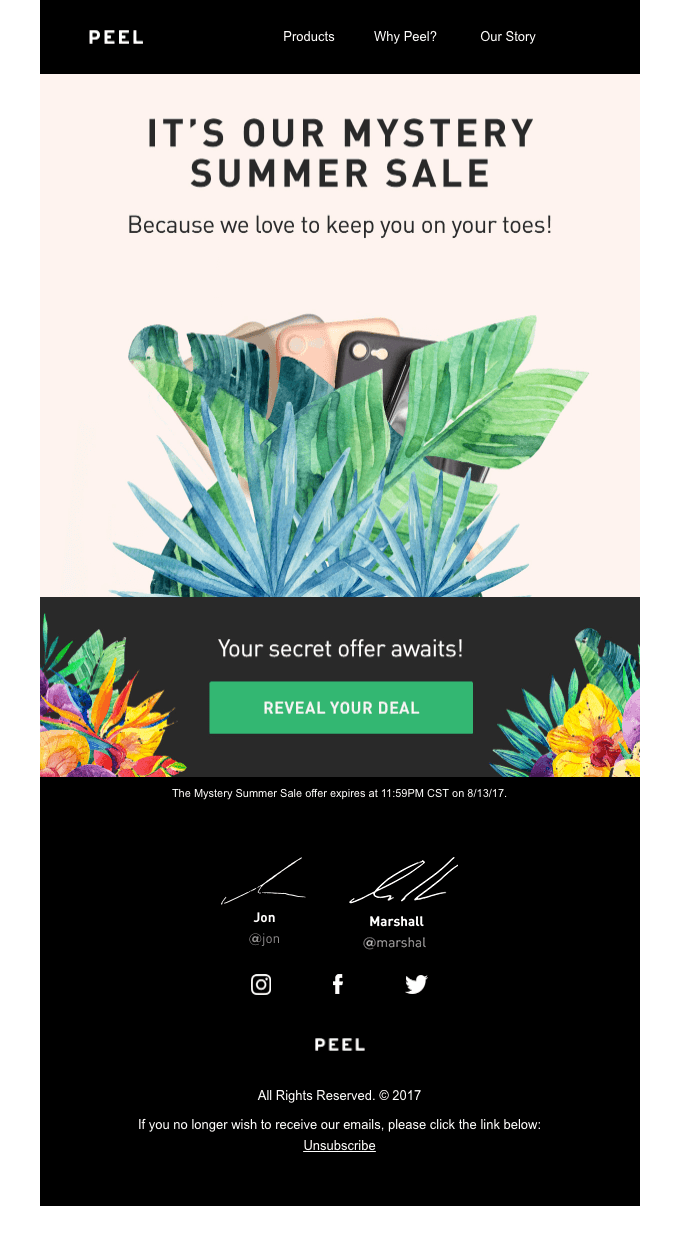 Offer Them Personal Shopping Assistance
Personal shopping assistance makes customers come back for more.
What you can do is provide recommendations of the latest or upcoming trends or new products and services, immediately after your customer completed their purchase. This is because there's rarely a customer who will NOT be interested in new and upcoming products and services if it is related to their favorite gadget, books, fashion etc. Use their browsing and purchasing history to make adept recommendations, which will help them make your desired decision right away!
Dollar Shave nails this act perfectly with its email, persuading the customer to shop even more.

How 'Bout GIF?
It may not always be possible to add GIF to your emails(luckily we at Sender.net provide you with this opportunity). If it is possible, go ahead and give the recipient a pleasant surprise.
Greetabl did it nicely in this email. To demonstrate all their gifting combinations, they've created two GIF images and inserted a plus sign in between. It probably gave their subscribers a ton of new ideas and lead to quite a few successful sales.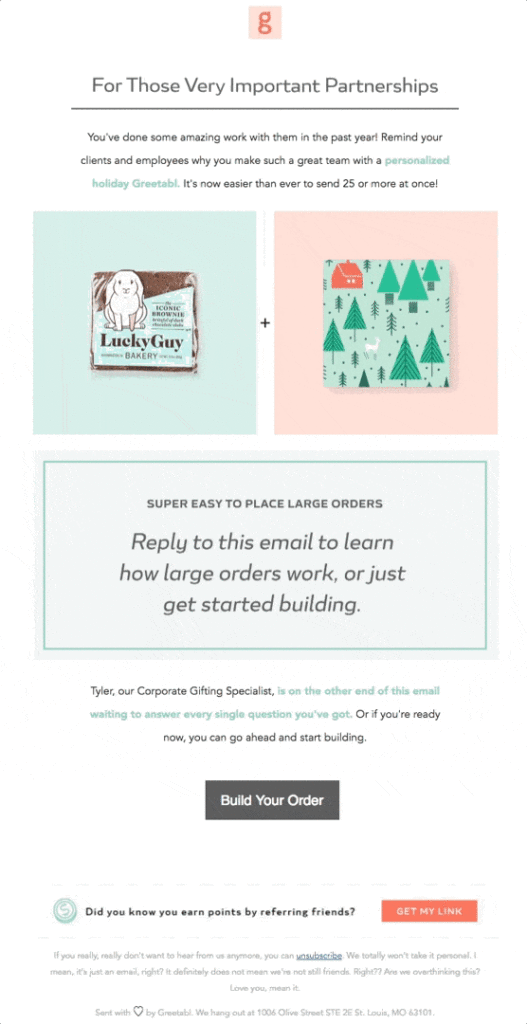 Adhere To Timeliness
The whole crux of reminder emails is to send them on time. For instance, you need to mail them at the right time to remind them about a subscription plan that is about to expire. Similarly, you can email them gifting suggestions around festivals, holidays and other times of common importance.
Avocode provides an example of how to remind customers of their soon-to-end trial. Note the brief body copy that provides all the necessary information and along with the mention of what they will miss if they do not get the paid version by updating the billing info!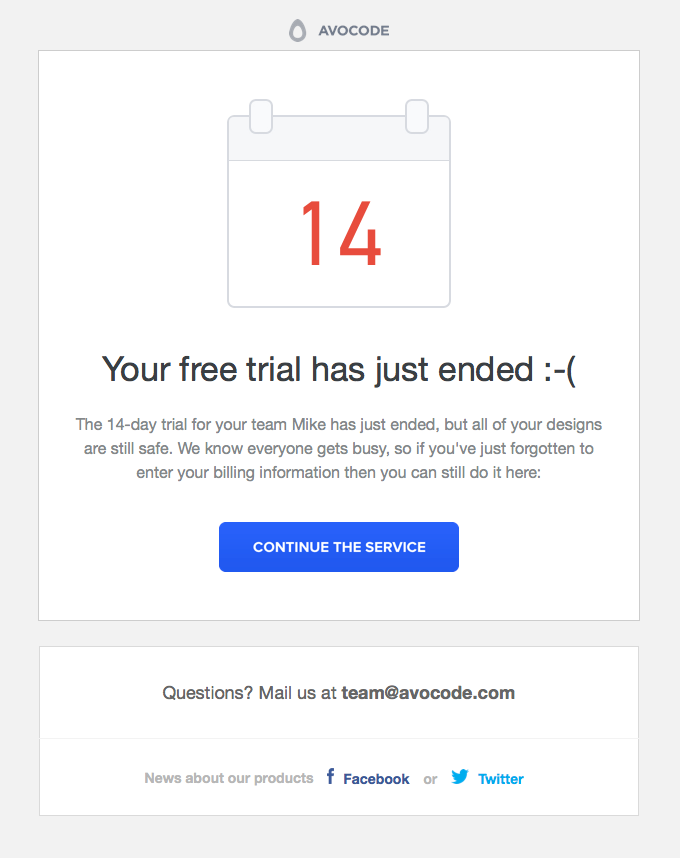 Meanwhile, Fortnum & Mason combines colorful graphics and images with a witty body copy and compels the users to check the Halloween-specific products on its site.

In yet another example, Fossil's very Christmasy email provides its customers an early access to the sales. Also, it takes a step ahead to quickly provide a list of gifting options for Him and Her, making it easier for the customers to grasp the idea and proceed to the next step. The CTAs include shopping for gift cards, the option to pick up the products from a retail store and other options, like gift wrapping.
Quite similar to hitting many birds with one stone, isn't it?

Adopt a Conversational Tone
Nobody likes boring, staple emails that put your subscribers to sleep.
That said, exclude anything that appears to be even slightly boring from your email marketing campaigns and try to provide the information in a fun, engaging manner that will put a smile on your customers' face.
Funny cat GIFs anyone?
For instance, this minimalistic email by Kidly has animated penguins with a simple yet witty text and just one CTA button, which surely looks enticing to say the least!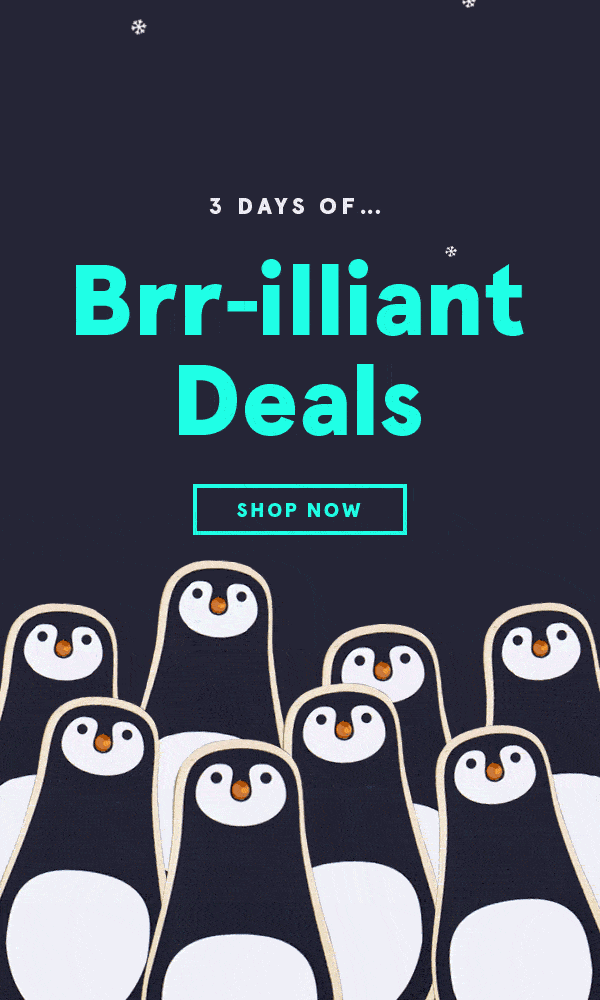 Alternatively, you can also keep the customers hooked by offering a unique, delightful freebie packed in the email that makes them come back for more, such as this brilliant email by Caviar, which offers a unique code for ordering food during the daylight saving time period!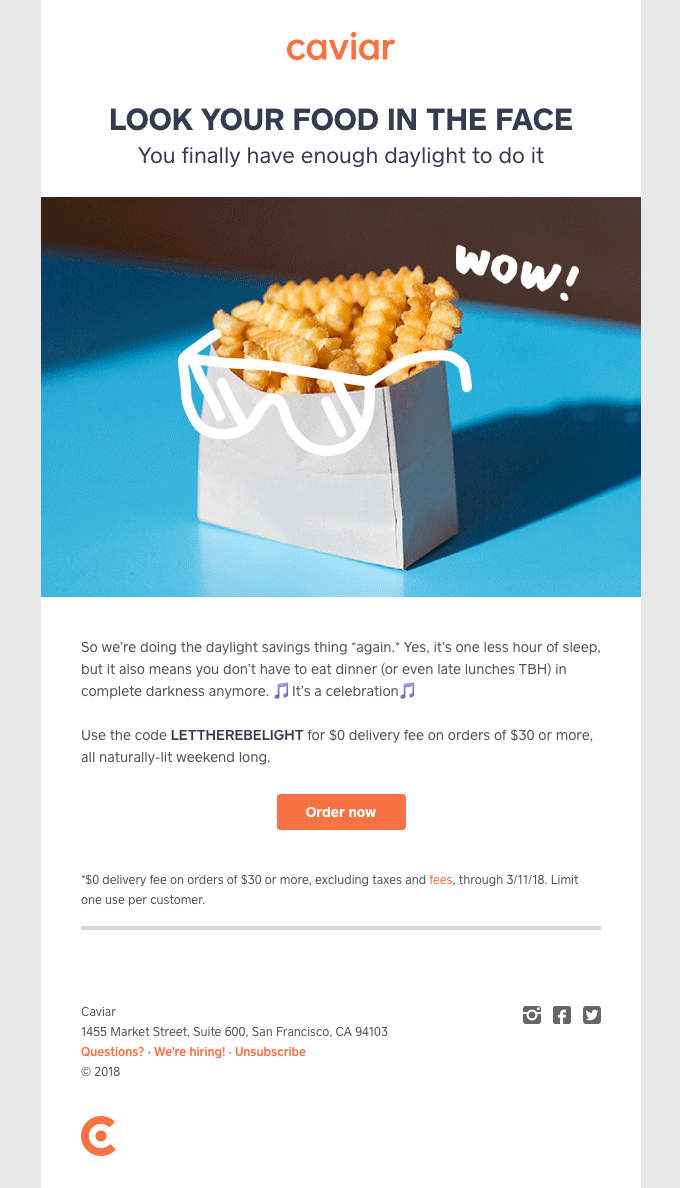 Include The USP's
While reminder emails are meant to make your existing customers return to your website, you can also use them to reiterate your Unique Selling Points (USP's) or to highlight your key services and benefits. This will give them an incentive to try out something new on your site the next time. You never know! Here's an amazing one from VANMOOF.

Ace The Art of the Abandoned Cart Email
Abandoned carts are the bane of existence for most Ecommerce businesses. Did you know that according to Baymard institute, an average of 69.23% of carts are abandoned?
Emails that compel users to complete their purchase are pretty effective and can boost your revenue like never before. According to Getelastic, A whopping 35.3% lead to purchases back on site.
To create a compelling abandoned cart email, make sure that you're specific, authentic, include the brand voice and style, offer incentives and personalize it, as much as you can.
At the same time, you need to display the actual products or product descriptions that were left in the customer's cart. It is essential to keep your call-to-action to a bare minimum, in this case, to avoid distracting the customers and let them focus only on completing the purchase.
In this email from 23andMe, customers are reminded of ordering a kit along with a brief text on why a DNA kit is essential. It can be as simple as that and do the job, too!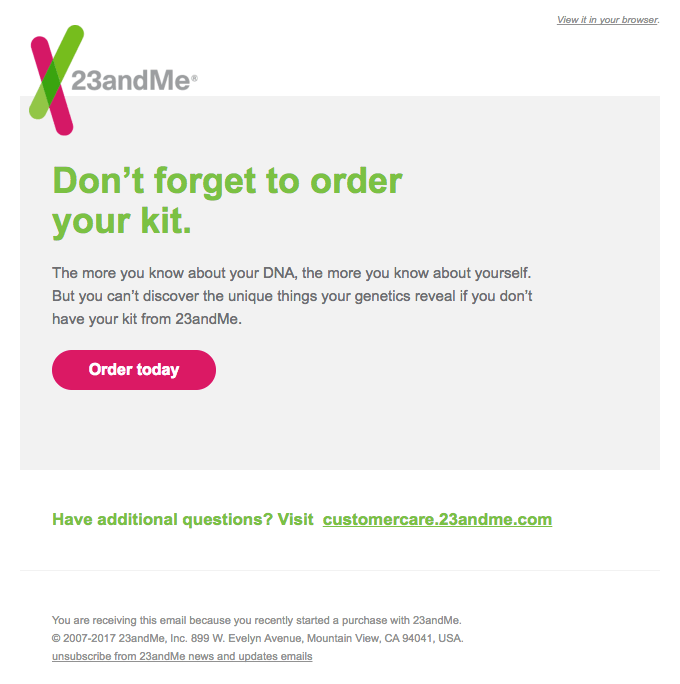 We held onto the best for last. This truly is an example of a magnificent email. It has clear visuals, it's very witty and creative and it sure does turn those abandoned carts into purchased ones.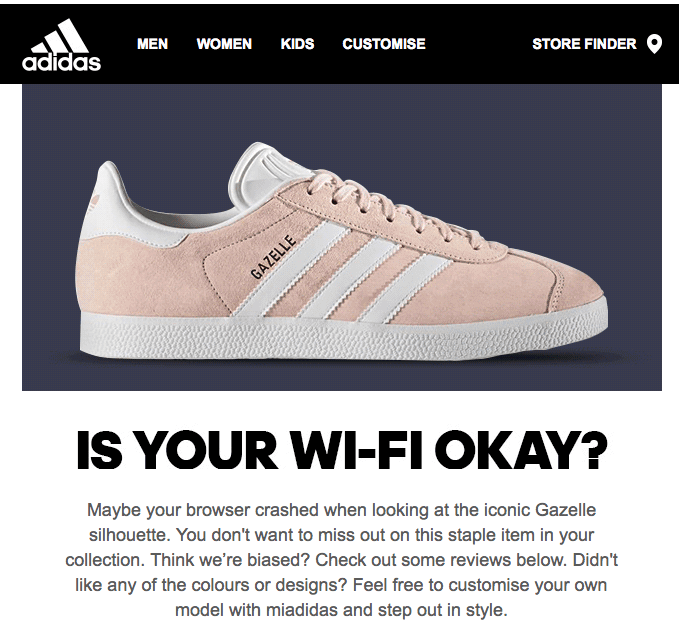 That's it, folks. Here's your dose of ideas for excellent reminder emails. Just make sure to use them. If you manage to implement these, your open rates and conversions will skyrocket, it's a Sender.net guarantee!
Onward & Upward,
Sender.net Team
Post created in collaboration with Zil Parekh
"Zil Parekh is the Customer Sucess Executive at Preceptist, a content marketing agency for SaaS Businesses and E2M, a full service digital agency. She is great at her job; rightfully so because of her love for communication. Her role at her desk and her passion for communication brought her to writing about its various aspects and about the tips and tricks she has learned on her way till date.
Like what you read?
Apply it in practice with Sender.net - the most cost-effective email marketing solution in the market.
Try Sender for free