Black Friday campaigns have been the cornerstone of US-based marketing for many years now.
With the holiday becoming more popular outside of the states, however, digital marketing strategies have to adapt.
If you haven't done any Black Friday marketing yet, we've got you covered. We'll go through the most popular digital marketing channels and supply some Black Friday promotion ideas for each. Take inspiration from these examples boldly and create your own Black Friday promos.
Black Friday Email Marketing Campaigns
Building an email strategy around Black Friday should form the basis of advertising for the entire holiday. People will be rushing to buy products from their favorite brands. They will definitely be looking at their emails for any special offers you might have.
Regardless of the industry you're in, creating deals for Black Friday is the way to go. After all, there isn't all that much to the holiday other than taking advantage of a sale from your favorite retailers.
One key note is to start your email marketing plan ahead of time. Don't drop the emails right on Black Friday. Send them a little in advance to get the customers prepared to visit your store. Most people will be planning their purchases ahead of time, so you don't want to be late to the party.
A Simple Black Friday Sales Email
If you're struggling for Black Friday advertising ideas, remember that you don't have to do anything fancy. It's not Christmas or Easter. Customers don't expect some huge marketing campaign that's branded according to the holiday.
All you need to do, if you want to keep it short and sweet, is to draft an email that has three pieces of content:
Your branding and company name.
An announcement for all the discounts (add a coupon code if needed).
A call to action.
It might seem deceivingly simple, but for the effort required, such a simple email will work wonders. Especially for ecommerce and any other online shopping business, since you're essentially giving the customers what they want in one fell swoop.
Here is an example: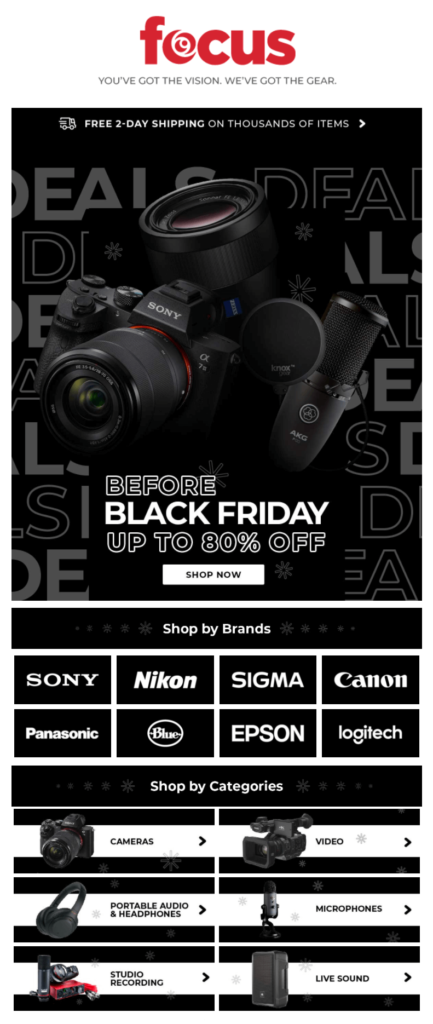 Read more about Black Friday email marketing.
A Free Gift Email
Another simple approach to get the most out of Black Friday and Cyber Monday without working too hard is to create a free gift email. You've likely seen them – buy at our store for X amount and receive a free product.
Building such an email is exactly the same approach as with the simple sales one. Simply exchange the discounts for a coupon code that grants a free item. Set a high enough bar for purchase amounts to avoid bleeding too many of them and that's it.
Read more about Cyber Monday email marketing.
Product Display
Another sales idea we'll propose is drafting an email that shows off all the discounts for the most popular items in your store. Again, the basis of the email is the same. Usually, however, instead of listing only an overarching sale that applies to all items, you list out the most popular products.
Of course, instead of having one call to action, you might need to put in several. Setting up a product display email is a great tactic if you can spare the extra time and resources to pick out the most popular products and draft the email.
Black Friday Newsletter
Finally, if you're already sending newsletters as part of your marketing campaigns, you can use them for Black Friday as well. We do, however, recommend sending an announcement email or teasers beforehand. You have to build the expectation that there will be Black Friday discounts.
Here is an example from Momentum brand, which offers an exclusive discount for their members: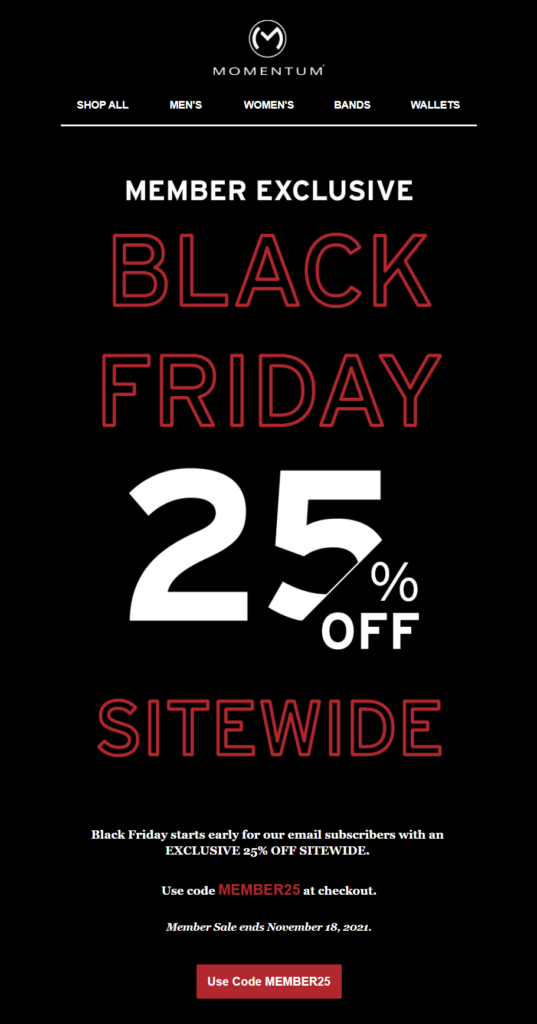 You can craft this email using an email marketing tool like Sender, which has a newsletter builder with all features you need. Here is how it looks from inside: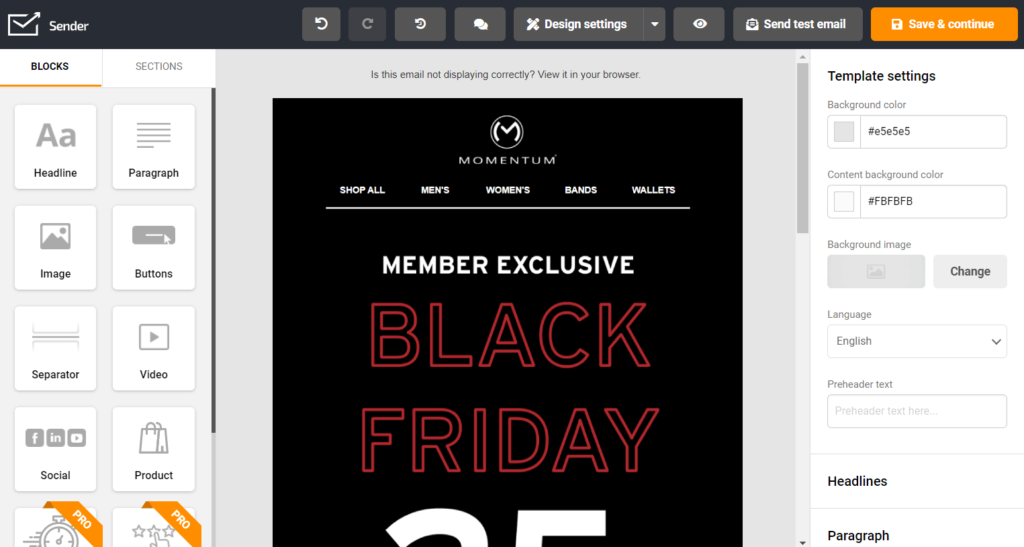 Black Friday Social Media Campaigns
Social media is where a lot of your customers are going to be turning. Research by Hubspot has shown that consumers turn to these platforms for product research. Thus, it's not surprising that brands are utilizing social media for their Black Friday campaigns.
General Social Media Campaigns
You can apply certain strategies that work pretty much on all social media platforms. Of course, you might need to tweak them slightly, especially if it's a professional or B2B focused site like LinkedIn.
Before heading on to the strategies for social media, we'd like to note that we'll skip over the basics such as discounts or sales from here onwards. Sales and discounts work on any marketing channel for Black Friday.
Contests for Social Media Followers and Fans
Social media thrives on engagement with audiences. There's no better way to get a lot of engagement and attention than holding a contest with a giveaway.
Many brands choose one of two routes when creating a contest:
Ask followers to create a specific (usually, branded) image or photo.
Engage with content and use a specific hashtag
Both of the choices are equally as effective. They are better, however, for slightly different goals. For Black Friday marketing, you'll likely want to go with the second choice as you want to draw as much attention to your ads as possible.
Additionally, the second choice requires less creative practice from your audience. Anything that introduces extra effort is likely to reduce the amount of participants. While it may make for some great content, it's not as great for Black Friday as it's not focused on that.
Early Black Friday Deal Announcements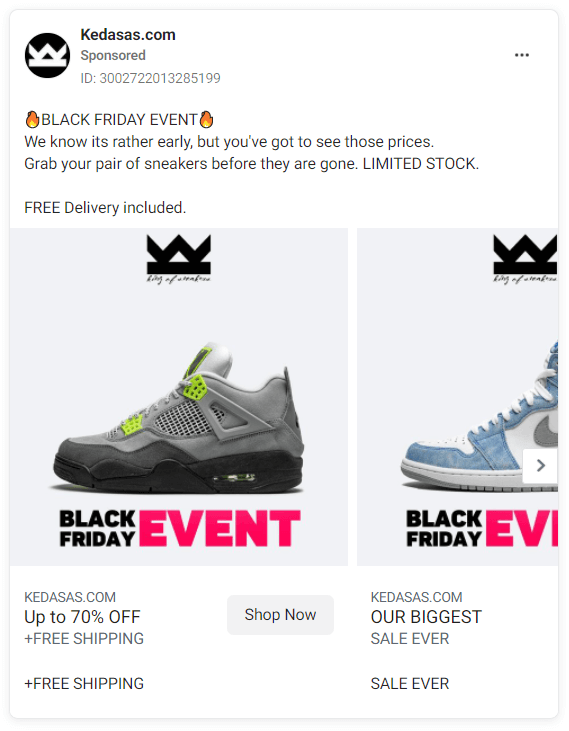 A lot of consumers look for early discounts, especially those who want to avoid crowded spaces or lagging online stores. You can use social media posts to cater to that audience. That audience might even be growing due to the global pandemic that has been troubling the world for several years.
Black Friday Facebook Ads Tips
Start Your Ad Campaign Early
Regardless of the content placed in the Facebook ads, the most important strategy is to start early. That way you achieve two goals – build a remarketing audience and take advantage of lower bid prices.
Usually, holidays are the time when everyone starts rushing the PPC space to grab the attention of potential buyers. As a result, the bids skyrocket. Luckily, you can start early and still get much of the same results without overpaying for keywords.
Don't Change Your Ads During Black Friday
There's always a desire to keep tweaking ads to squeeze out that final bit of optimization. It may work in regular circumstances, however, that does initiate a new learning phase for the algorithm. You don't want to be teaching the algorithm at the moment when traffic and conversions are at their highest.
Black Friday Instagram Strategies
Instagram Black Friday marketing follows a lot of the previously outlined ideas. Contests work tremendously here, especially since the social media platform is so visual.
Additionally, their advertisements overlap with Facebook, so you can apply much of the same strategy as you use there.
Instagram Shopping
Take advantage of the shopping feature. The platform has rolled out a service where customers can buy products without leaving Instagram. IG shopping is a real blessing for any ecommerce or retail business.
You will need to, however, set up images and an entire profile of it. If you have a huge following, however, it's basically like adding an additional front of sales to your business.
Additionally, use your regular Instagram account to prepare customers to visit the store page. You can do this by promoting the early deal announcement ideas mentioned earlier.
Create a Stream of Special Deals
Instagram is all about keeping attention for as long as possible. Dropping one simple post on Instagram isn't going to work. Instead of using site-wide discounts, as mentioned in the email section, try setting up an entire campaign.
Pick the most popular products, which will be discounted on Black Friday. Start at least a week or two prior to the holiday and post one item per day that will have the discount. You may even choose to reveal a special discount code for other items (not mentioned in the campaign) on the final day.
Also read: 19 Holiday Marketing Ideas [Campaign Examples]
Black Friday Promo Ideas for SMBs
Large ecommerce stores and B2C retailers have it easy. They usually have enormous budgets allocated to create discounts, lots of tools to make marketing more effective, and tons of know-how to get the ball rolling.
SMBs have it a lot tougher. If you're running a small-to-medium business, you'll have to use the most successful and best converting promo ideas. There's little room to experiment with design ideas, slogans, or events.
Develop Black Friday Pricing Strategies in Advance
SMBs have to budget themselves more tightly than corporations. In order to make the most out of Black Friday marketing, you first would have to decide how exactly you will approach the process. Instead of firing off site-wide sales, pick out the best candidates for sales and try to measure the impact discounts will have on business performance.
Additionally, that allows you to create multiple layers of sales. Some SMBs choose to do hourly sales by planning discounts ahead of time. That brings a lot of flexibility to the process, because if something isn't working as intended or the costs of running the sales are getting too high, upcoming deals can be cut off without any harm.
Buy More to Save More – Black Friday Upselling and Cross-Selling Techniques
Another way to approach SMB pricing strategies is to use upselling and cross-selling approach. Instead of dropping prices of items right off the bat, a tiered system is created. After reaching a set sum, a small discount is applied.
For example, an SMB could use a pricing strategy that grants 2% discount for each $100 spent up to $500. Discounts like these work essentially like a small sales pitch each time the customer comes close to the sum where they would get a larger discount, enticing them to add one more final item.
Gift Guides To Present Black Friday Holiday
One easy way to get a lot of attention is to create gift guides. A lot of people do their holiday present shopping during Black Friday. If you're anything like anyone else, you know the headache of getting the correct present for someone special.
Creating a gift guide doesn't cost anything outside of a little legwork. They are also very flexible – you can create guides based on themes or centered around particular activities. Of course, the gift guides will be for those that are somehow related to your own business.
Black Friday Marketing Campaign Timing
We've mentioned the importance of starting early several times in this article. There are a multitude of great reasons why you should do so. However, the primary reason is that you're preparing your audience for the sales.
You might have heard the old sales adage that it takes 7 or even more touches before you make a sale. The same goes for holiday marketing. You don't want to drop the discounts, even if they're expected. Some people will have planned their expenses and won't be able to participate. A lot of people will simply miss your message.
Additionally, you shouldn't end Black Friday sales on the dot. A lot of companies choose to extend their Black Friday marketing campaigns to Cyber Monday. It's an effective tactic because it helps those lagging behind and gives more time for people to find your store.
Apply These Black Friday Marketing Strategies and Ideas
Black Friday is an opportunity for all kinds of businesses to boost their sales and drive revenue. If you've never done any Black Friday marketing before, you should be able to now take advantage of the holiday.
Start with some of the SMB and email marketing ideas for a smooth transition. Those are the most cost-effective ways to engage in Black Friday marketing that have a nearly guaranteed success rate.
Want to make sure those Black Friday emails are perfect and help you achieve your business goals? Use Sender to get beautiful templates with a simple drag-and-drop editor, all for free.
Like what you read?
Apply it in practice with Sender.net - the most cost-effective email marketing solution in the market.
Try Sender for free