Capture leads without a hassle
Level up your lead generation with Sender's powerful popups and build your email list like a pro.
Get Started For Free
Many digital marketing experts attribute the success of your email marketing campaigns to the quality of the strategy and its execution.
Sometimes, this discussion can also generously spill over to the size of your email list, meaning you'll have them telling you that the bigger the list, the greater the chances of growing your revenue using emails.
While each element has its place of glory, nothing comes close to dictating the success of your email newsletters and their ability to scale and grow your business like this singular factor — the quality of subscribers on your email list.
Being able to discover and reach a highly engaged target audience that finds your email newsletter relevant is key. Therefore, getting your business' email newsletter signup forms right is essential for attracting the right type of fans.
How can Sender help?
Well, it actually has quite a few different popup and signup form variants for you to choose from, as well as an easy-to-use builder which helps you to craft a high-converting signup form in minutes. What's not to like?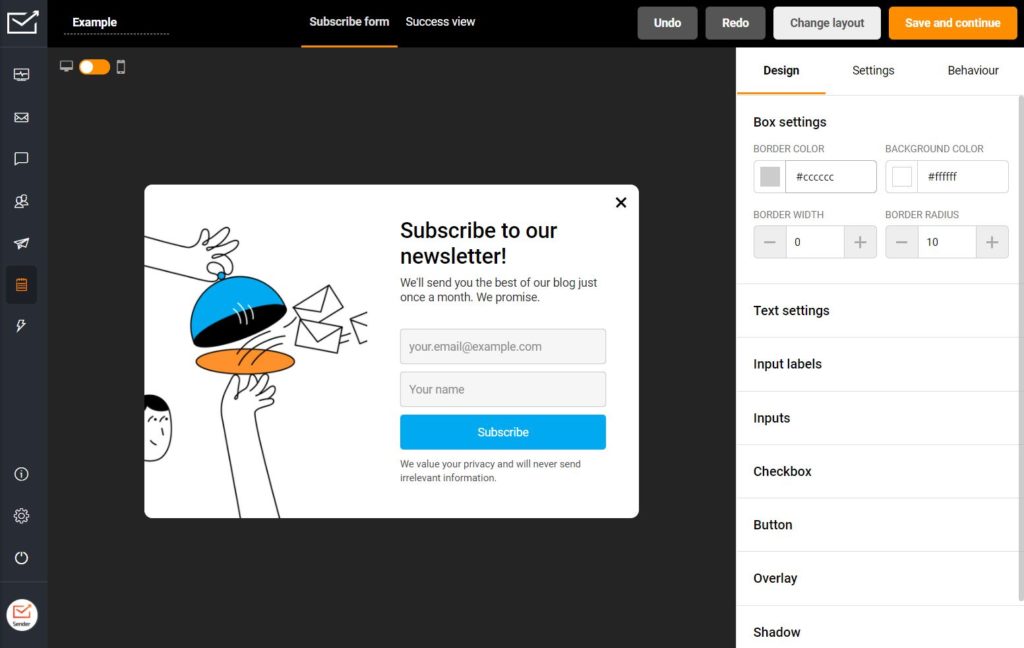 What Makes a Great Newsletter Signup Form?
Do you keep thinking about setting up a newsletter signup form on your website but abandon the thought often? The reasons might be as simple as not having the time or getting confused about what to add to your signup form.
Here are a few tips (and recommendations) on what constitutes a highly converting signup form for your website:
Offer a prize: It's always good to incentivize your target audience. Adding something as simple as a free coupon code for successful email signups (or an extra discount) might push your website visitor to give you their email address.
Clear out the expectations: Tell them what emails they will receive once they sign up. Make sure to clear out the frequency, the content theme, and/or prerequisites, if any. Don't ever make a false promise on your signup form.
Streamline your forms: Your signup forms across the website should share a standard communication. You can't promise a 50% discount at one place and 5% on the other. Make sure there is no discrepancy.
Keep it simple: No need to sound pushy or preachy in your email newsletter signup form. Keep the design minimalist, as people appreciate simplicity.
Add short endorsements or testimonials: If you've social proof (customers appreciating your newsletters), add them concisely to your email capture form. Social proof is known to increase signups and conversions.
Make it clear: Your email newsletter signup form shouldn't feel complicated. Clear out what you want visitors to do — sign up for our newsletter. Don't try to confuse them in the name of creativity. Instead, stick to easy copy and a responsive design.
Best Newsletter Signup Placements
81% of B2B marketers use email newsletters as their primary content marketing tool.
You obviously don't want to be left out and therefore want the highest quality conversions from your email newsletter signup forms.
While the success of these email capture elements does depend to an extent on the type of tool you use (for example, forms vs. popups), where you place them can have a significantly bigger impact on the conversion rate.
Here are the top newsletter signup placement locations:
Header – One of the most popular places to post your email signup form, it presents the following pros and cons:

Highly visible spot;
Catch the reader before they see the content;
Doesn't hinder user experience.
Look at the example below for inspiration:

Floating Bar – A floating bar is a great way to remain available to readers when they need you.

Visually delightful when designed right;
Easily and immediately accessible to readers;
Perfect balance between staying hidden and being intrusive.
Leather shoes and clothing brand Stone and Bones shows us how to keep it beautiful.

Blog Page – Content marketing is one of the most effective ways to turn casual readers into long-term subscribers.

High-quality conversions if you regularly post high-quality content that commands regular readership;
Optimize your SEO to get free subscribers from Google;
Place the form to the side or end of the page to avoid affecting the reading experience.
Below is another excellent example from Stone and Bones again.
Timed Lightbox – This popup appears after a pre-configured period.

Gives time for the visitor to get comfortable with the content before asking them for the email address;
Highly customizable and brandable designs;
Ability to popup after a predetermined time or by the percentage of screen scroll.
Check out below great example by custom merch kit vendor, MomentumBox: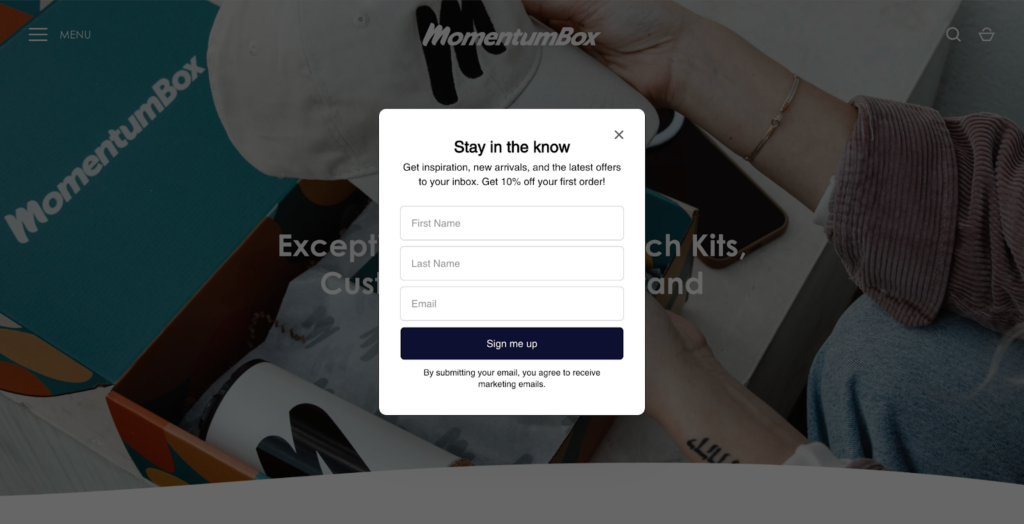 Sidebar – Another popular way of placing your email newsletter signup forms.

Place on either the left or right side of your blog page;
Subtle yet visible way to collect subscriptions;
NerdFitness's example below keeps the form design and overall look on-brand: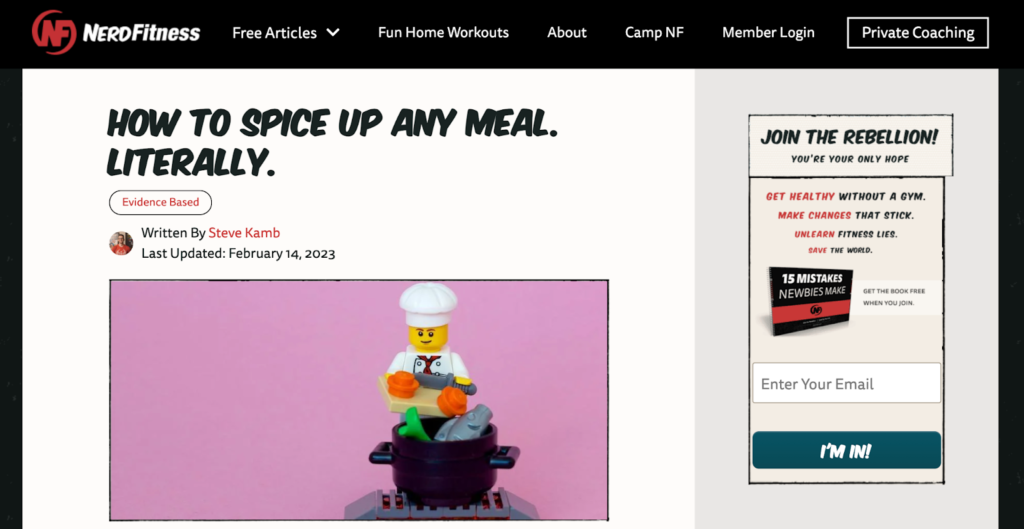 Of course, you can also include your email newsletter signup forms in the footer area of your website as a splash page where you almost force the reader to subscribe before reaching the content.
But these are not high ROI places for conversion and can add some conversions at best and affect the customer experience in worst-case scenarios.
How to Create a Free Newsletter Signup Form?
Creating a signup form is not as hard as you think. In fact, Sender has a drag-and-drop form builder, in-built, that you can even use on a free plan. If you're looking to create your first newsletter signup form, follow the steps below, and you will have a functional newsletter signup form by the end of the day:
Step 1: Choose a Form or Popup Design
The first step is to pick a suitable form design. Before you go there, you need to understand that you can either add an embedded form or a popup form to your website.
Embedded forms are inline forms that you can add to pages, sections, or your individual blogs, while popups can appear everywhere.
Here's how to start.
Open your Sender dashboard, click on forms, and choose your form type. Next, choose your form layout.
If you choose to go with popup forms, you get some variety from the in-built popup form library within Sender. Choose a design template to get started in minutes.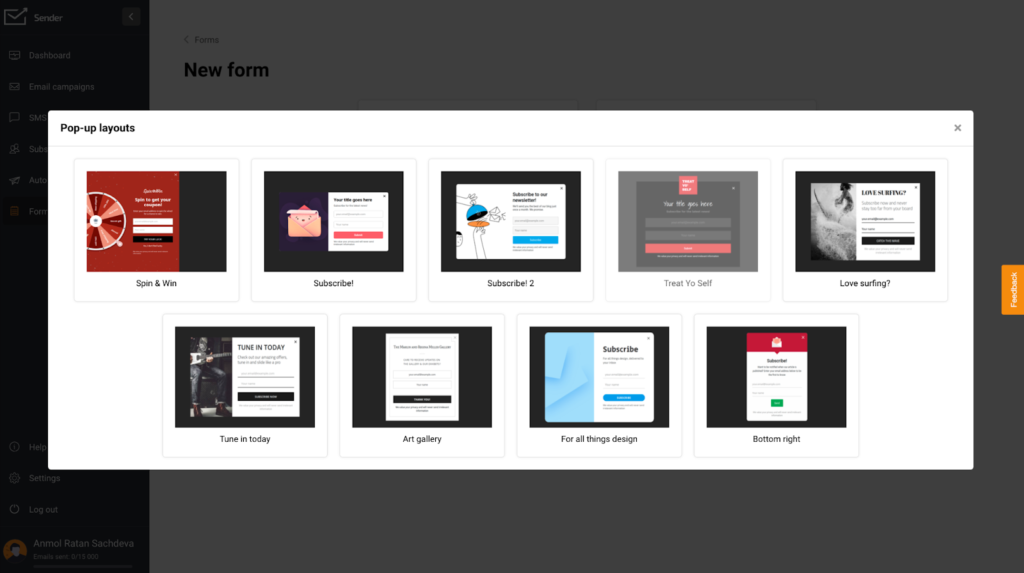 Step 2: Customize the Text and Visuals
Once you finalize the layout and template, it's time to customize your newsletter signup form. Use the drag-and-drop builder within the Sender to customize all the elements, add text, visuals, etc., to make it more native as per your brand guidelines.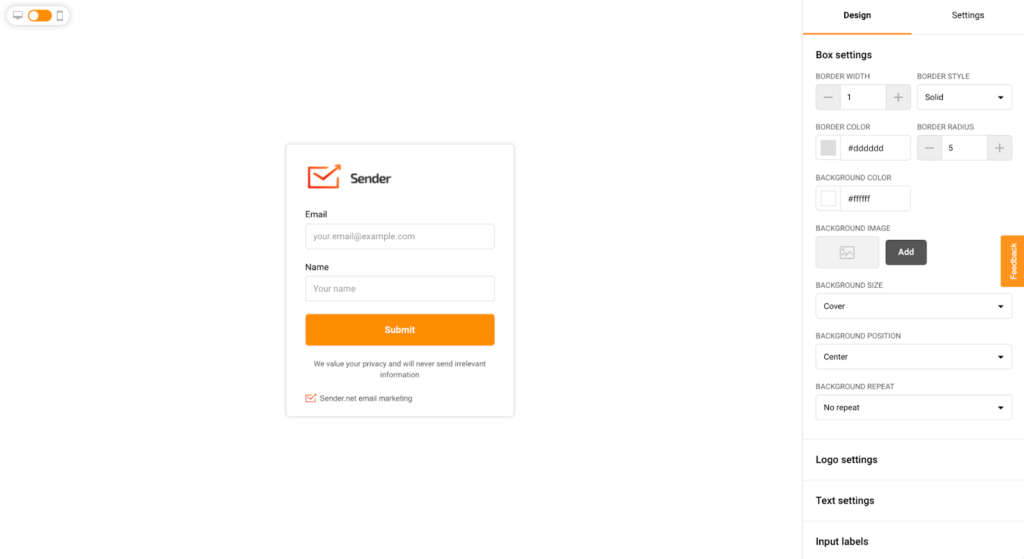 Step 3: Review the Functionality Settings
The functionality settings typically define how you want the form to behave. These differ between a popup and a form embed, but you can find all the settings on the right panel.
Tweak these settings according to your requirements and goals, and you're set to launch your first form on your website.
Step 4: Enable your Email Newsletter Registration Form
The final step is to add your form to your website. Sender makes it easy for you to embed the form if you have a JavaScript-based website or a Shopify store.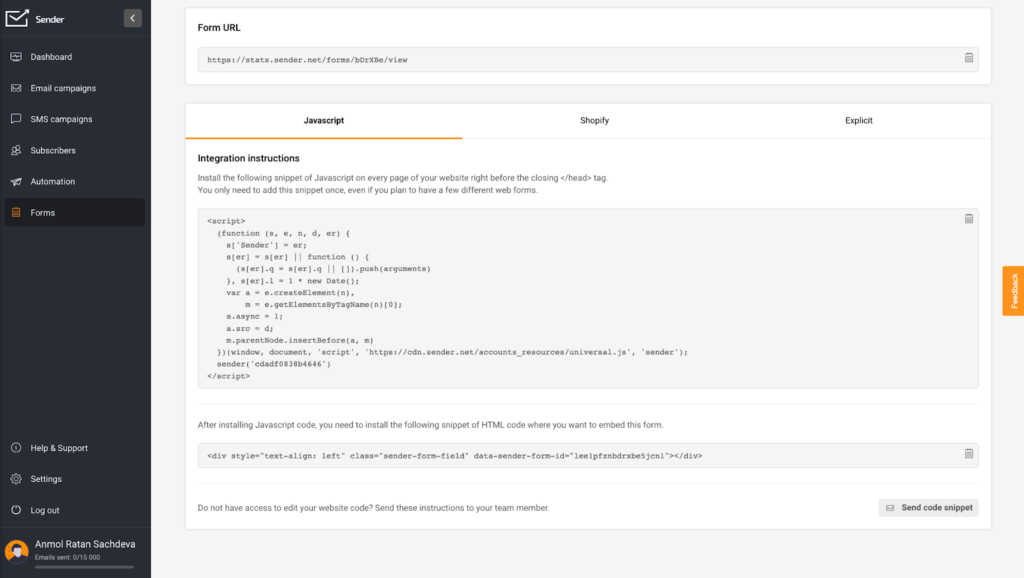 Just enable your form, add the required scripts in place, and you're ready. All that's left to do is keep an eye on your email list growing.
P.S. If you have a Sender's integration for WordPress, Woocommerce, or Shopify, you won't need to add any code, so you're good after step 3.
10 Email Newsletter Signup Examples that Convert
The best way to learn something could be to see great examples of it in action.
Therefore, we collected a few form and popup examples to inspire you to design your own.
Shinesty
Newsletter signup popup forms are known to have a high conversion rate when the offer is contextual and unobtrusive. Shinesty, an eCommerce platform, has killed it in its popup with clever copywriting and a great offer. Have a look: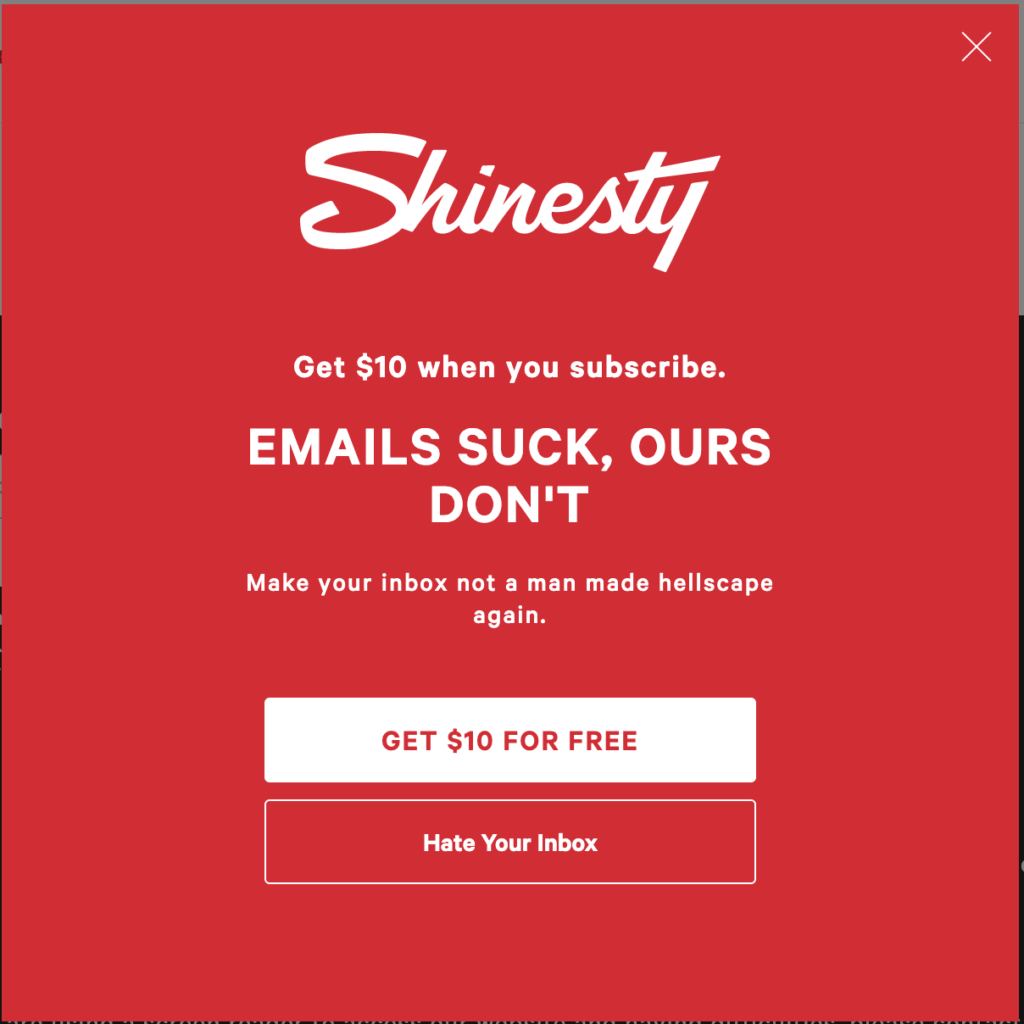 The bold red popup will make readers stop scrolling and read it. The clever copy and an attractive offer will make people sign up. Who would say no to $10 for free? The call to action button placement and the copy there are so click-worthy.
What we love about it:
Make the offer or incentive useful, like real store credits;
Know your customers deeply and use the knowledge to write popup copy;
Employ reverse psychological tactics (like the hate your inbox button) wherever possible.
Recess
Brands employ all sorts of tactics to make visitors interested in what they offer. Who knew you could use FOMO to make users signup for an email list? Recess, the alcohol-free beverage brand, has used a similar tactic in its signup form:
The unique shape of the signup form is definitely a scroll stopper. Plus, see how they've carefully used a FOMO-inspired copy and CTA button to make users sign up. The CTA button is tactical, as everyone wants to be the 'first' to know something new.
What we love about it:
Experiment with unique shapes and layouts;
Add an exciting reason to signup — like exclusive access to deals or special collections;
Write something different than 'subscribe' in your CTA buttons;
RockMerch
RockMerch is an online store specializing in vinyl records, official band merchandise, pop culture merchandise, and rock band-themed apparel and accessories.
Their form below is a good example of how to keep things simple.

What we love about it:
Hard to miss — It's a simple form embedded right in the middle of their website's home page;
The use of on-brand colors adds to the branding element.
Again, some persuasive writing here could boost the number of signups. Instead of saying "Rockmerch Official Newsletter", maybe say "Exclusive Newsletter for Rock Enthusiasts Only". The fact that this is exclusively only for rock aficionados will also encourage them to join.
Midland Radio
Midland Radio is a leading manufacturer and supplier of high-quality two-way radios, walkie-talkies, and related accessories.
Not all email newsletter signup forms must be loud, space-consuming, and on the reader's face. Midland Radio's form is a perfect example of how to create something subtle yet eye-catching and beautiful.

What we love about it:
Eye-catching, mobile-friendly design that's hard to miss on their huge home page, despite its puny size;
Great choice of background image that is fully relevant to their offerings;
Asks for just the email address without being too nosy on other details.
Again, something punchy like "Every month we bring you two amazing newsletters with exclusive subscriber-only offers and cutting-edge updates from our red-hot labs", followed by a CTA like "Join this Amazing Newsletter" would make this stand out even more.
My Seoul Box
My Seoul Box is an online retailer of authentic Korean snacks, drinks, lifestyle, and other culture & pop merchandise, all of which are shipped directly and all the way from South Korea.
Their email collection form is the attractive-looking popup shown below.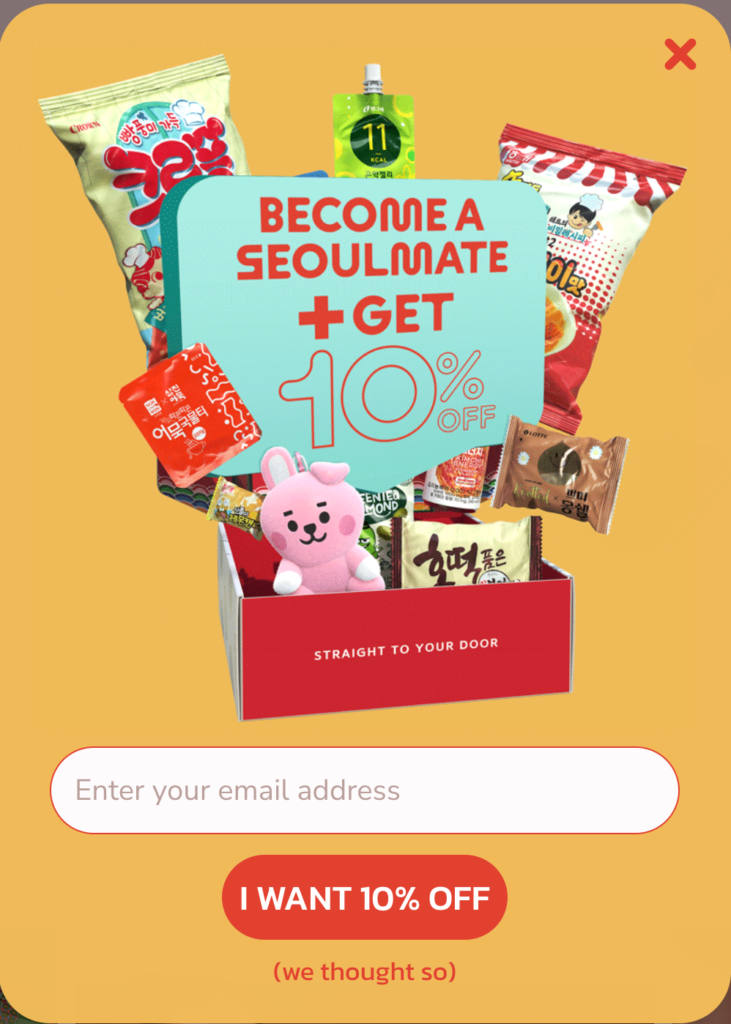 What we love about it:
Great copy in the form of wordplay — "Seoulmate" instead of "Soulmate";
Nice-looking product picture with an unmistakable 10% OFF offer;
Again, the tiny punch of copy below the CTA button is simple yet highly entertaining.
For once, this email capture element looks so on-brand and super-optimized that we wouldn't want to change anything about it except, perhaps, embed it as a form on the same page since some readers can view popups as intrusive.
The Mrs. Book
This example might appeal to your inner minimalist if you're not a fan of loud popups or signup forms. Newsletter signup popups needn't be complicated, and if you have a strong incentive, they'll work towards helping you grow your email list. Take a look at this simple signup form by The Mrs. Book: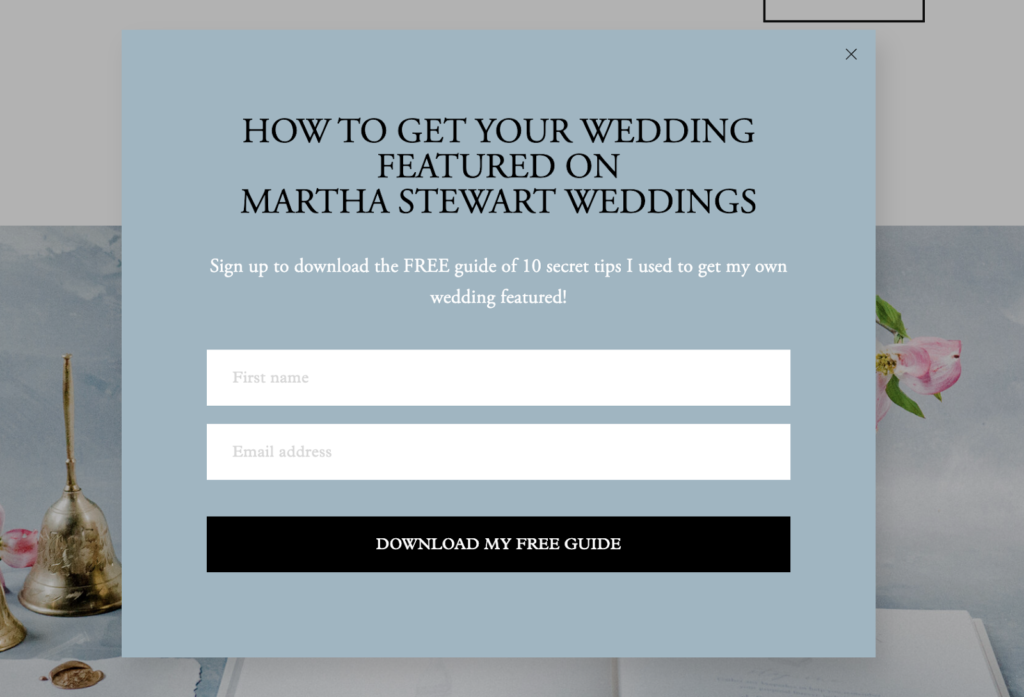 The signup form might look 'standard' at first glance, but the messaging, especially the mention of Martha Stewart, can make any wedding enthusiast stop instantly. Considering the website is in the wedding industry, the chance to download such a guide is a great offer. The color of the newsletter signup popup is also refreshing.
What we love about it:
Add authority and relevance to your signup offer;
Make your CTA button stand out from the rest of the popup;
Add a timer or behavioral attribute to your popups to show them at the right moment.
Too Timid
TooTimid is an online marketplace specializing in privately and discreetly shipping a wide range of adult 'toys' and lingerie.
Their form is definitely one of the more flashy and colorful email newsletter signup forms we've seen in a while.

What we love about it:
A bright and colorful form that is in line with the brand's emotions and products;
A great headline that uses the power word "FREE";
Use of a sub-headline with supportive copy that enhances the headline messaging.
If we could, we'd probably change the typo below the email address box while also changing the CTA to something like "Sssh! Let this be our little Secret!".
Stegmann
Stegmann offers sustainably made, high-quality footwear for men and women, including wool clogs, comfortable shoes, boots, sandals, and more.
Their email newsletter form below is simple yet highly effective in getting conversions.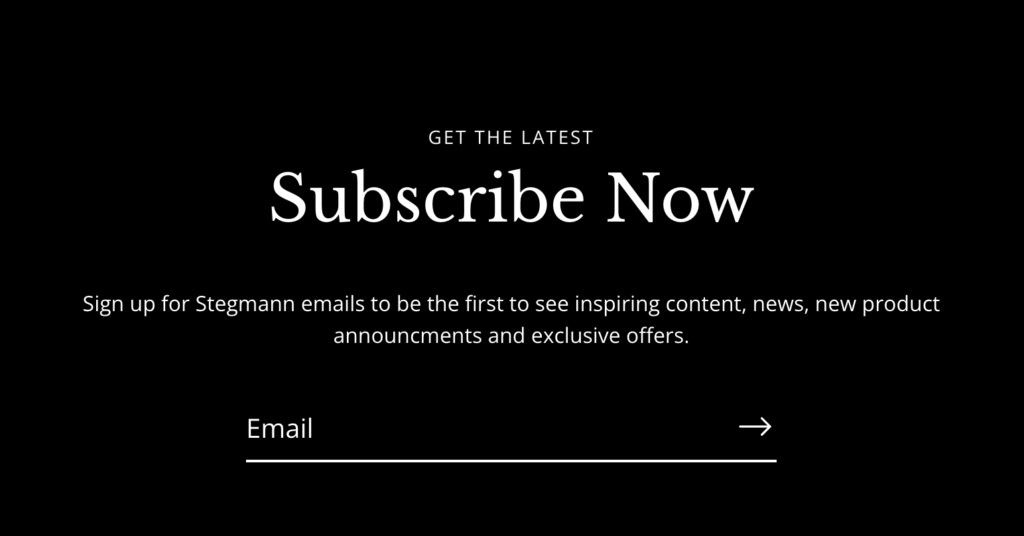 What we love about it:
Great choice of aristocratic black and white colors denoting premium branding;
Simple messaging exhorting the reader to sign up to be the first to know about anything and everything related to Stegmann;
Mobile-friendly, scroll-stopping design with thoughtful typography.
In the quest for a stylish design, they probably missed the opportunity to insert a beautiful CTA like "Join the Legacy", which goes well with their 1888-era-based branding.
Stelton
Everyone in eCommerce has some form of signup form popup on their website. But only a few manage to nail it when growing their email list. Adding a special offer for visitors who choose to subscribe is a known 'tactic' to increase signup rates. Here's how Stelton does that in their signup form: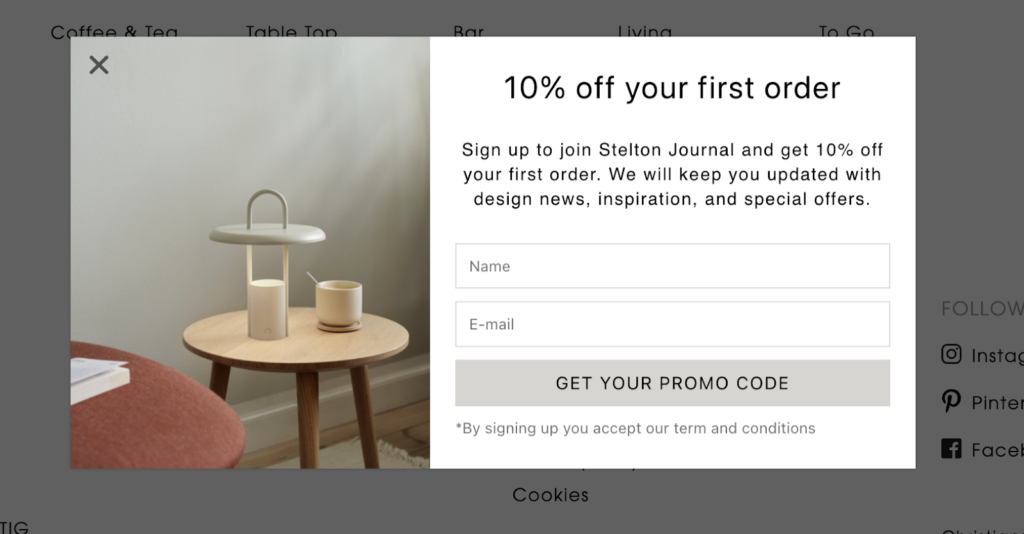 The popup opens when a website visitor clicks on a floating message at the bottom of their screen, which is a fantastic tactic.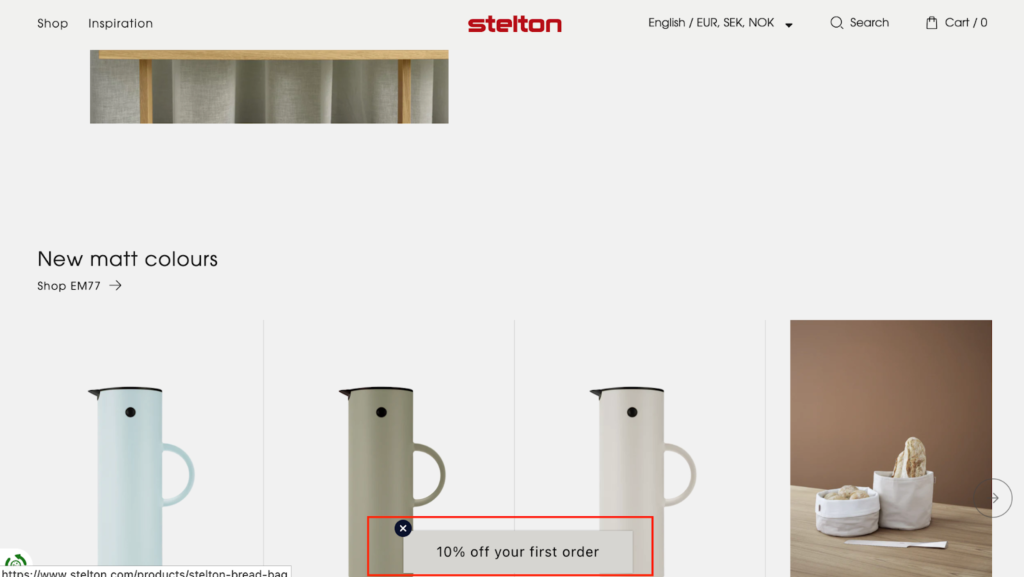 The popup with a prominent header promising 10% off on the first order will lure the prospective buyer. Plus, the way the signup form presented itself (and placed on the website) is worth experimenting with if you're a fan of unintrusive popups.
What we love about it:
Experiment with your signup form placements;
Create a special offer for visitors who are ready to buy;
Keep the layout simple and easy on the eyes.
Stitched Stories Embroidery Kits
Stitched Stories embroidery kits is an online store that offers complete embroidery sets and kits for beginners and embroiderers of all levels.
Their email subscription form, embedded neatly just above the website footer, is as follows: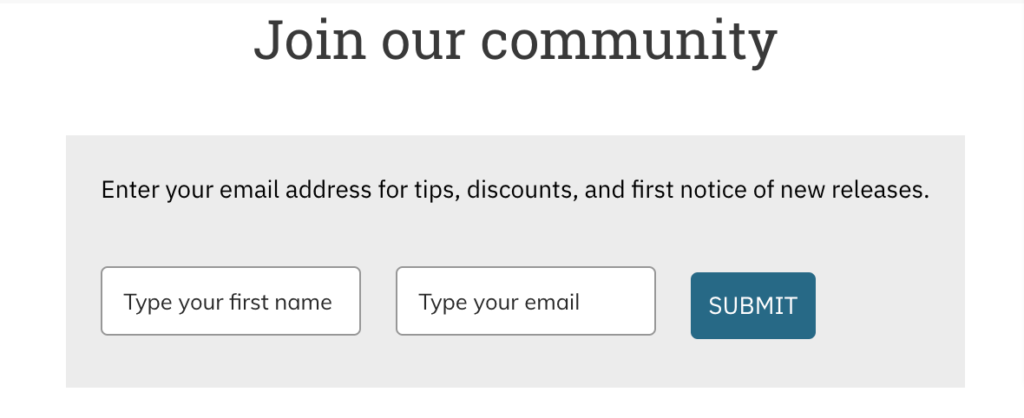 What we love about it:
Simple and neat, mobile-friendly design;
A great headline that encourages the reader to "Join the Community" instead of looking like just another form to surrender their email address to;
Easy-on-the-eye typography that is also highly readable.
In effect, various email subscription form types can be used to capture & register key information of interesting prospects such as name, location, and more.
The forms can range from simple, single-field forms to more complex, multi-field forms. Regardless of which form is used for the opt-in, it must be easy to use and clearly communicate the benefits of joining an email subscription list.
You could be a blogger looking to get organic lead generation from Google or a business owner trying to set up a Wix or WordPress email subscription contact form. The goal is common — to design better email capture popups and form systems that attract your tribe towards your business.
Key Takeaways
Add a newsletter signup popup form to your high-traffic pages;
Never complicate your signup form design or copy;
Incentivize signing up for your newsletter or email list;
Keep experimenting with newsletter signup forms to increase your chances of growing a list.
Also read:
---
Author Bio
Anmol Ratan Sachdeva is a content marketer and small business consultant who has a strong grip on topics like marketing automation, research, email marketing, and content marketing. He loves to write about starting, improving, and growing a business.