Employ your powerful emails
Increase sales and engagement by sending your well-designed emails with Sender.
Get Started For Free
What good is a sale if no one knows about it? For Cyber Monday, email is one of the best tools in your arsenal to letting people know about your sale and getting them to shop it.
It's going to be one of the biggest ecommerce opportunities to date, so you better get ready in a smart way.
Your targets have seen countless ads for Black Friday, Cyber Monday, and everything else already this year.
They're bombarded on TV, social, news sites, and even inside some of the games and apps they play to relax.
Running massive ad campaigns may get you some views, but it also risks being part of that noise.
Email marketing can help you avoid that traffic jam, especially if you're working from lists of existing customers.
You can bank on the relationships you have in place already and reach your most lucrative audience with a short and sweet Cyber Monday email campaign:
Give them a few reminders and offers.
Beef up your retargeting.
Keep things relevant.
Finish with great images.
And then track your success.
It's an easy prospect, but getting it right can be difficult. So, here is our quick guide to help you with those main elements, allowing you to let your creativity fly.
Segment your audience for Cyber Monday deal
First up is segmenting your existing users in your email marketing database.
Slice and dice this list along the lines that make the most sense for your brand, which could be the products people have bought in the past or their orders' general size.
There are nuances to your business that should help guide you to the final selection.
If you focus on subscription products, consider making a list for people who have bought guest subscriptions in the past, for instance.
Create the groups within your email platform and define them for the other people who will work on your campaigns.
Designers and copywriters can benefit from knowing the different angles to take, while sales and support teams will want to know the context surrounding customer questions or concerns.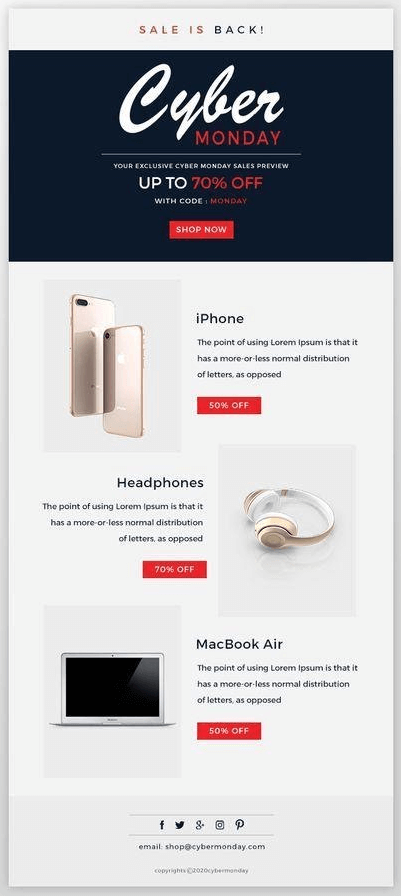 Knowing your audience helps people pick the right products and visuals.
For your big Cyber Monday email campaign planning, write up a specific offer for each group.
Personalize it to their experiences, products, or other ways you divide them. Once you have the big offer, work backward through smaller items and offers to help build them up to the big sale.
Pay attention to the past purchase data you have. Not only does it help guide the offer, but it can provide context around the sale. Membership and loyalty rewards can garner people better discounts because you know they're more likely to be repeat shoppers.
The more significant savings for them increases their lifetime value to you and protects that precious recurring revenue.
An important note here: if you already track which campaigns made specific groups buy from you, save that information. You'll want to use (or at least A/B test) that messaging in your Cyber Monday email subject lines to encourage purchases. That's important because you'll only have a couple of shots on the day itself to send.
We also highly recommend to read:
Determine Cyber Monday email events and goals
After you've got an idea of your email targets and the general offers to make, it's time to determine the different touchpoints and events required to trigger emails.
This is all about thinking about when you want to reach people via email and when is the best time to send Cyber Monday emails.
Look at your sales process and when people interact with you. Find what triggers these interactions and where they align with your normal follow-up steps.
Start with capture, such as on your website to gain a coupon or via social ads.
Build a new initial email just for Cyber Monday that talks about your deals and delivers a discount they can use only on Cyber Monday.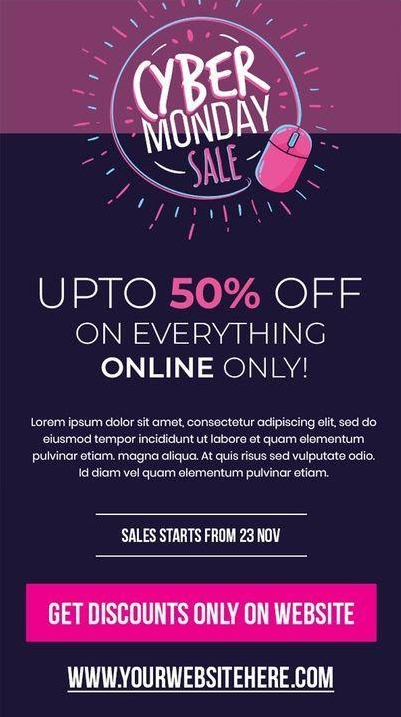 Here's a smart and easy template you can follow.
For your additional emails, think about what customers want from you at a different step in the buyer's journey. Turn each step into an actionable item with a clear email goal.
Meet their demands. So, your informational emails tout products that will be on sale (and you can mention that too).
Giving customers something actionable can help ensure they keep reading the emails you send.
Here are a few Cyber Monday and Black Friday emails to consider:
General announcement for Black Friday and Cyber Monday sales.
Sale reminder the week before.
Sale reminder the day before or the morning of.
Sneak peeks on promotions.
Cart abandonments – get your retargeting ready and include timers specific to Black Friday or Cyber Monday deals, so people are clear when their potential savings is gone.
Special thank-you emails that also include a coupon or discount for additional purchases this holiday season.
December emails about what people may have missed – you can still use "Cyber Monday" and "Black Friday" terms in these last-chance email subject lines.
Think about each email as a possible way to push someone toward a Cyber Monday sale. As you get closer, tout the sales more and try to build scarcity.
Special Cyber Monday visual elements
Your Cyber Monday emails are a specific campaign, so they should look like one.
That means creating a framework and theme that you then adapt to your customer groups or targets.
The items you tout and the images for them should look similar and carry a consistent message.
For example, if you're offering free shipping over $25, visuals should make it crystal clear that the price applies to your shipping requirement.
A straightforward way to do that is to put non-product deals in headers and footers while deals for a product are set across its image.
Visually, you'll want themes to be apparent (think about grouping related products together and using branded or related colors for their information).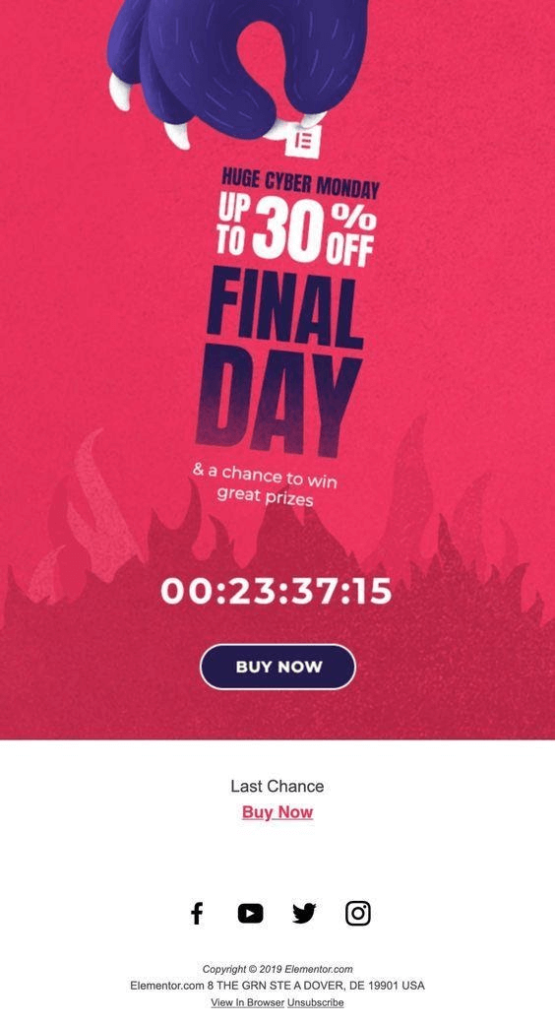 Visuals don't have to be complex to be engaging.
Your developers and designers likely spent considerable time getting your website together for Cyber Monday.
So, Cyber Monday email marketing and designs can reuse many elements from your website, making content creation faster.
Reuse also helps the customer find the specific deal they want once they get to your site.
If you run a small ecommerce shop and aren't a design expert, that's okay!
You can still create compelling images and emails by focusing on clarity and space.
Limit what you put on an image and highlight just a few products.
Get rid of the extra fluff and encourage people to click to learn more.
You can also turn to the text of your emails to drive the message home.
Visuals that duplicate text, like banners, can be great when they're simple and bold.
Speaking of text – and we're about to jump into email copy – don't forget to add alt-text to your email images!
This text will then display if the user has their images off and can help them decide to click.
---
About author
Jake Rheude is the Director of Marketing for Red Stag Fulfillment, an ecommerce fulfillment warehouse that was born out of ecommerce. He has years of experience in ecommerce and business development. In his free time, Jake enjoys reading about business and sharing his own experience with others.