Employ your powerful emails
Increase sales and engagement by sending your well-designed emails with Sender.
Get Started For Free
It's no secret that great Black Friday sales are a strong indicator of a successful holiday season and a profitable year-end for businesses across all niches and industries.
And if the estimated $9 billion turnover during Black Friday 2020 alone is any indicator, we could be in for a double-digit billion-dollar turnover in 2022.
In addition to regular advertising funnels and web assets, email marketing will be the main cornerstone of any Black Friday marketing strategy that aims to maximize this imminent opportunity.
In this quick guide, we'll share the best Black Friday email examples for you to be inspired and get the best results from one of the busiest sale seasons of the year.
Why Black Friday Emails?
According to a PwC industry report, the average American expects to spend about $1300 throughout the entire holiday season.
Therefore, one way to look at this is that not only is Black Friday the biggest shopping day of the year in the United States, but it also kicks off the busiest shopping season.
13% of all retail sales in the US occur between Black Friday and Christmas;
Buyers spent $8.9 billion online during Black Friday in 2021;
33% of shoppers plan to shop online exclusively during Black Friday.
Black Friday shopping is no longer confined to being a brick-and-mortar store event. It has been online for a while now.
So right now is a good time to plan out that magical mail campaign for the Black Friday sale. A standout Black Friday email sequence that'll get your digital cash registers (if there is such a thing) ringing like no tomorrow.
Pre-Black Friday Email Campaigns
In today's world, creating curiosity and building up hype before the actual event is as important as the real event. So, your Black Friday campaigns shouldn't be limited to the actual Black Friday weekend. You can plan teaser campaigns to warm up your audience for upcoming deals. Here are some examples:
Black Friday Teaser – Bumble and bumble.
Haircare specialist Bumble and Bumble's email is purely offer-driven. An element of FOMO (Fear Of Missing Out) has been nicely included right at the top by saying "Ends Today". Also, the email content is minimal but highly relevant.
Visually highlighting the "25% OFF" is a great idea, too, so it keeps the reader's focus on the offer.
We also like how Bumble and Bumble stand out by inserting their values and ethics that point to their concern for the environment by clearly stating that they DO NOT test their products on animals. Instant love!
They could have done better to highlight free shipping alongside the 25% OFF since that is also a desirable component of this deal.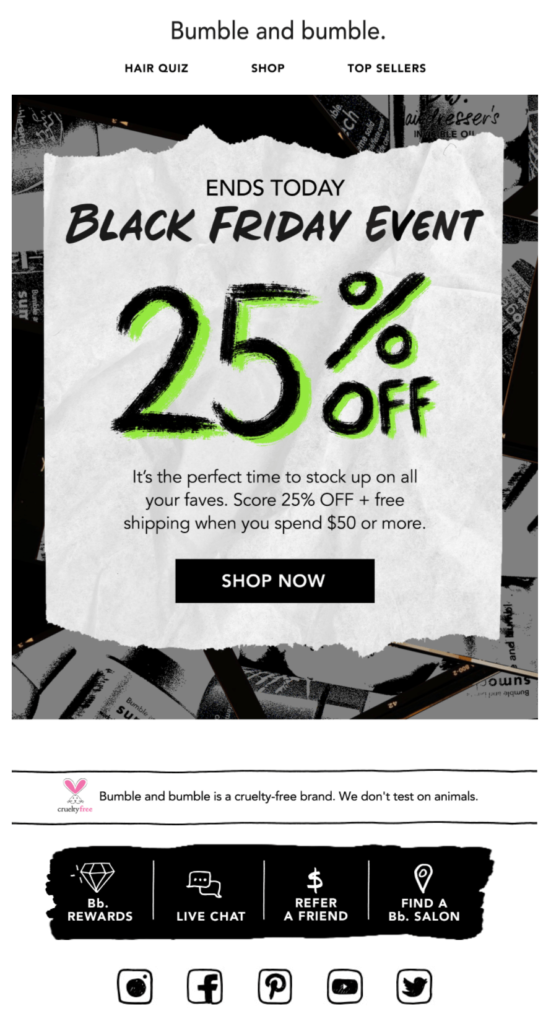 Black Friday Early Newsletter – In Season Jewelry
In Season Jewelry tagline says they are makers of the "Finest Children's Jewelry in the World". The age segments of children they serve are very clear at the top by mentioning the age groups.
The sales copy is neat — 30% OFF. Every. Single. Thing.
Also, the FOMO element is highlighted by the limited period of the offer.
They could have done this better by including adorable pictures of kids wearing their jewelry, which would have automatically made their product more desirable. Alternatively, a picture depicting some of the latest attractive designs would have made this more eye-catching! But we still love it!
Also, if FREE shipping is a thing with their customers (they'd probably know this way better than us), it would be nice to highlight that.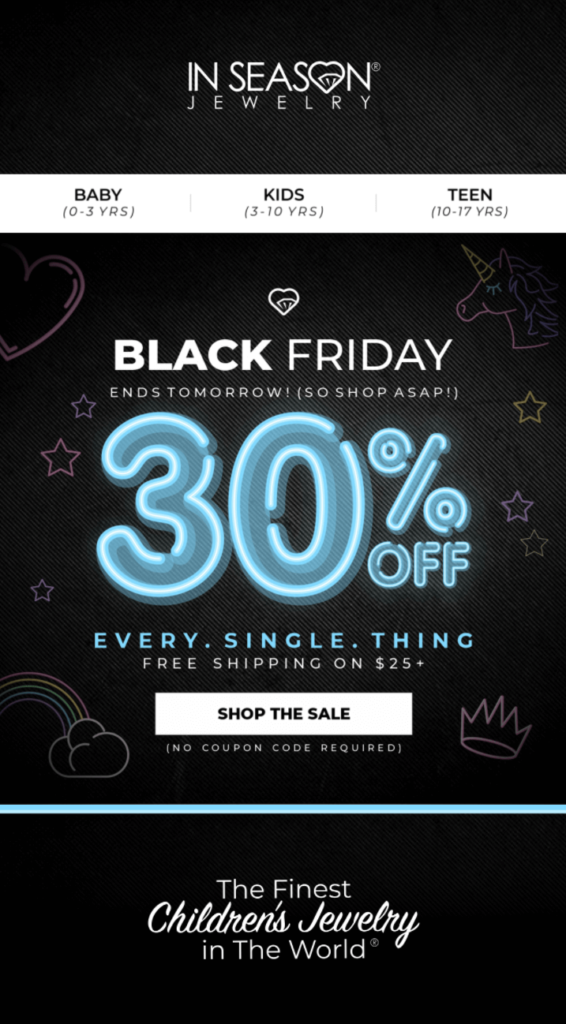 Also read: 115+ Catchy Email Subject Lines (Examples)
Pre-Black Friday Sales Email – Fashion Nova
Sending an email blast announcing pre-sale access to your subscribers is a high-impact tactic. It can make users feel that you value them and are ready to be flexible so that they don't get swamped with offers during Black Friday.
You can plan a pre-Black Friday email for a couple of days or even a week before the event.
The eye-catching email template tells a user that they can get all the Black Friday offers early. Here too, you will see a countdown timer telling that the deals and offers are time-sensitive and the reader should rush to grab them.
The last design block with a prominent 1-day shipping message when they choose to spend at least $100 is a great strategy. This is a clever offer as people will love to get their deliveries well in time for the holidays.
Black Friday Sneak Peak – Michael Kors
Teasing your subscribers by offering an exclusive sneak peek generates interest in your Black Friday deals. You should plan such a campaign in the month before Black Friday. Here's how Michael Kors offers a sneak peek in their email:

The grand product image works as a great hook when you open the email. The conversational email copy is also tempting. Plus, the mention of the special Black Friday deal on the exclusive product will create a FOMO effect in the minds of the subscribers. The CTA is smartly placed for users who can't wait either.
The email is on-brand and gives enough to the subscribers without delving too much into the details.
13 Black Friday Email Examples We Love
We believe inspiration comes in all shapes and sizes. Here are ten of the Black Friday newsletter email templates we love.
1. Black Friday Offer Email to Customers – Hush and Hush
We love this mailer because the plain white and black backgrounds visually enhance some excellently taken product photos. In addition, email text has been kept to a bare minimum. Making your product look desirable to the eyes is a must — especially in ecommerce.
We love the simplicity of the offer too. The best products are clearly laid out, all under a single and straightforward offer — Buy One and Get the Second at 50% OFF.
To create a high-converting Black Friday email, you need to use an email marketing tool that has all the features you need.
Let's take a look at how Hush and Hush email creation looks from inside Sender:
Create emails like this one in easy-to-use drag-and-drop Sender's email builder without any hassle.
2. Black Friday Weekend Deals – Rad Power Bikes
Rad Power Bikes know how to prepare their sleigh in summer for the holidays. They purposely chose a holiday gifting theme for their 'Black Friday Weekend Deals' email.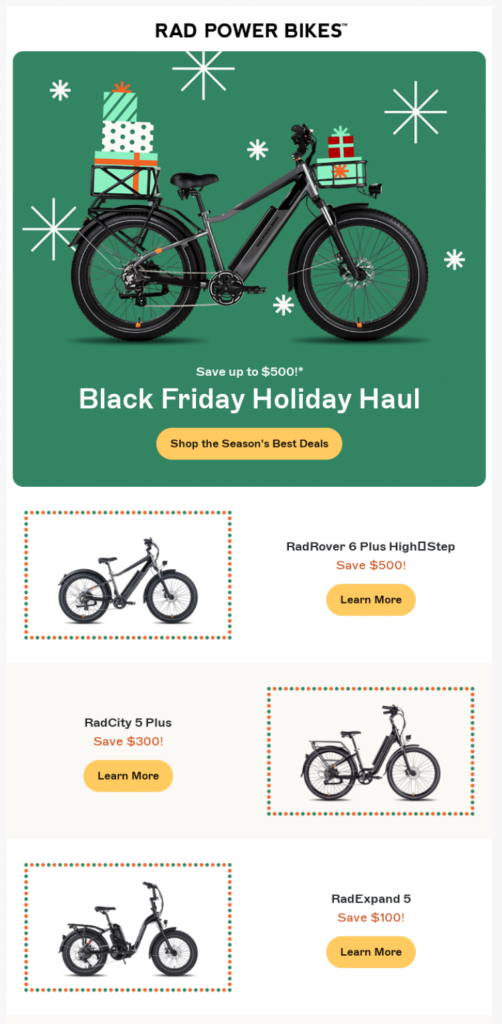 The email announces the savings during Black Friday if someone chooses one of their bikes. The green header background surely makes their product the hero of the email. The holiday elements influence subscribers to get into the Christmas mood without mentioning it in the copy.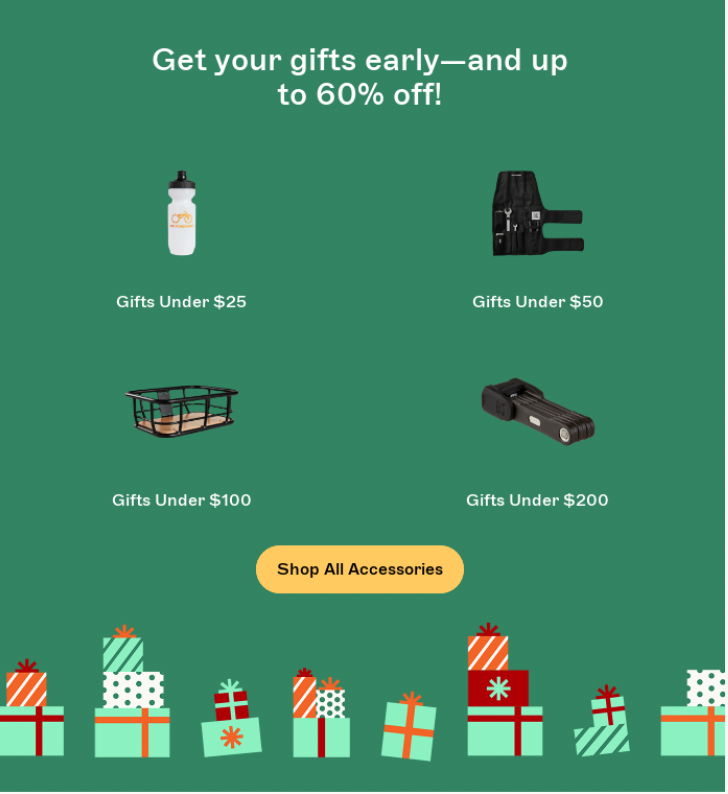 This email is a great example of how to turn Black Friday into something more than 'just discounts' without making users feel left out. The idea of gifting linked to Black Friday savings is a clever move on the brand's part.
3. Attractive Black Friday Email with Coupon Code – Aquasana
We like the bold email design that includes aristocratic black and cool blue. The animation ensures attention. Also, the email copy that says "Best. Friday. Ever" is neat and relevant to this occasion of Black Friday.
60% OFF Sitewide offer apart, other individual offers have been neatly laid out next to simple yet attractive-looking product images with individual call to action buttons right next to them. It definitely makes shopping feel a lot easier.
They could have done better to highlight the promo code "BLACKFRIDAY" with a better background color or bigger font. Also, if this were to be pre-encoded into the button click, the reader wouldn't even have to bother typing the coupon code out to avail of the offer; nothing quite like it.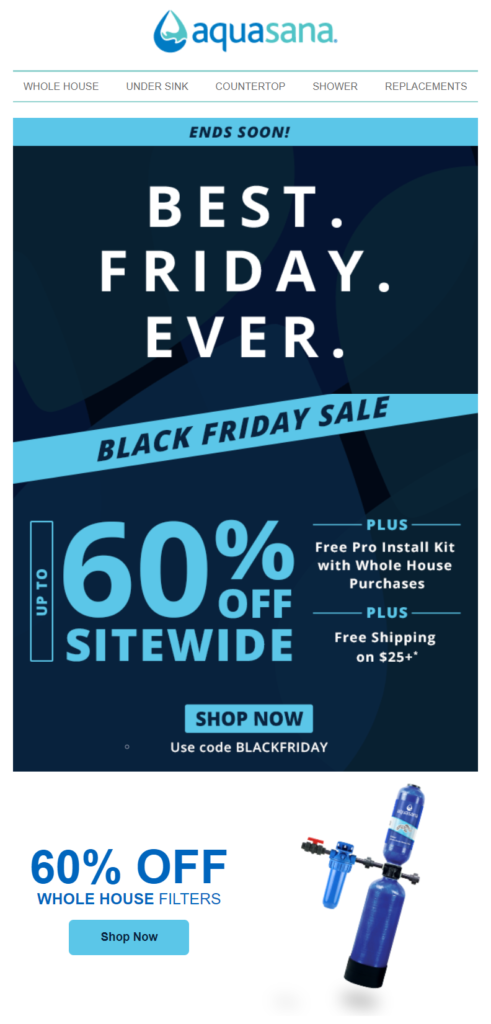 4. Creative Black Friday Sale Email – Timex
In this email, high-quality, creative graphics emphasize the premium brand that TIMEX has grown to become. The offer is clear and crisp — 30% OFF Sitewide.
We also like the fact that they've included two separate CTAs towards the bottom for MEN and WOMEN. FREE shipping is also highlighted at the top.
We wouldn't want to change anything about this one email. Just "send it already".
5. GIF Email – Freshly
A GIF is an instant attention-grabber, especially in the email inbox. Creating an interactive Black Friday email template with a GIF is an amazing idea to stand out and be memorable.
The following email by Freshly — their marketing team has cleverly used a GIF with contextual content to announce their Black Friday sale and special deals on their fresh meal delivery plans: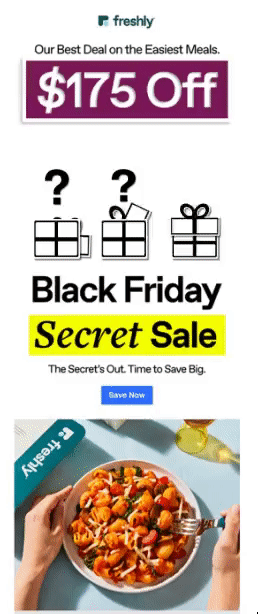 This Black Friday email template should give you an idea of how to create interactive email content to announce your sale.
The GIF of gift boxes with question marks creates intrigue in subscribers' minds about the sale offers. The complementing copy about the secret being out is definitely something that makes an impact. The fresh meal bowl and the $175 off promise will surely make people want to save more click the CTA button and check the Black Friday Sale offers by Freshly.
6. Eblast with Great CTA – HP
Sending an email blast with a strategic CTA can potentially bring incremental sales during the Black Friday Season. You already know how important a CTA is for your email marketing campaigns.
Here's an email by the hardware giant HP that uses clever copy along with an eye-catching visual for the header CTA: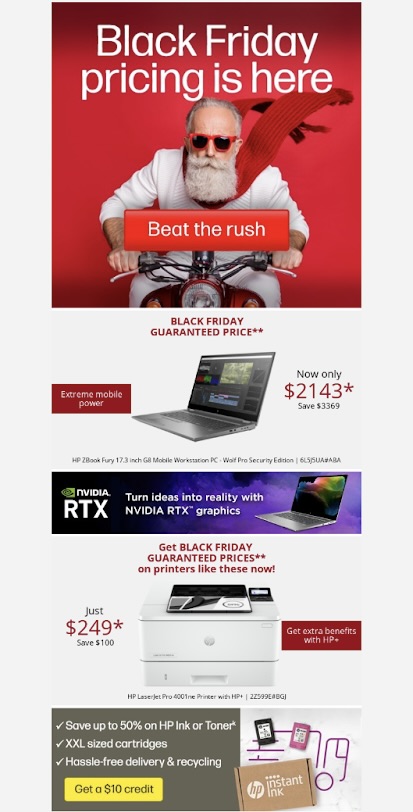 The CTA button on top of the bright visual of grandpa speeding to 'BEAT THE RUSH' is a great example of how tech products can be marketed without boring the audience. If you're in the tech niche, it's a great cue to spice up your email blast visuals with unique CTA headers or clever copywriting to stand out during Black Friday and Cyber Monday Weekend.
7. BFCM Email by Dinnerly
Everyone loves crazy deals — that's why Black Friday is so popular. Right?
Planning an email blast announcing your crazy BFCM deals is surely something you should spend some time on. If you get it right, you can surely register your highest revenue month this weekend.
Remember, it's all about sharing how crazy your deals can get and topping it up with an equally stunning design. Here's an example of a BFCM email blast by Dinnerly.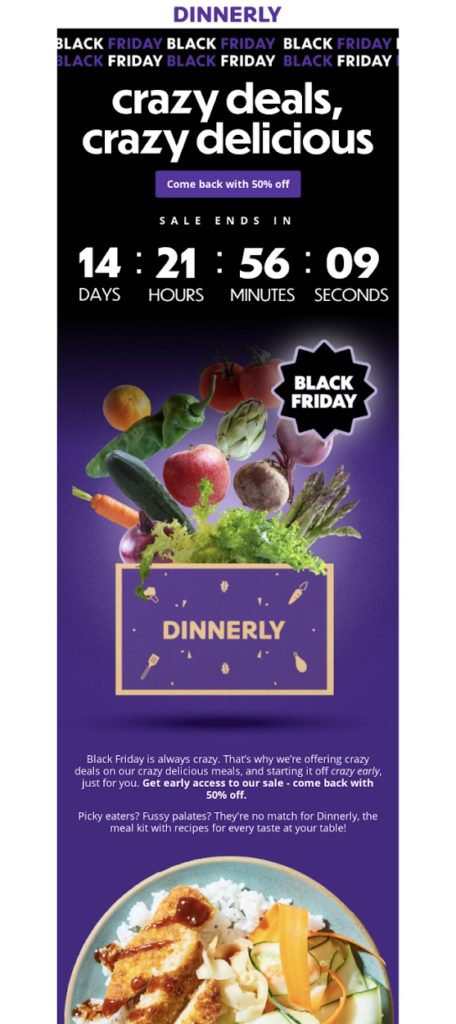 The email by Dinnerly is one of the finest Black Friday email examples, mainly because of its straightforward approach.
The copy announces how everything about the BFCM offer favors the recipient. The countdown timer creates a FOMO effect and reinstates that users should avail of the early-access offers before the sale ends.
8. Checkout Email – Pulp & Press
People splurging on Black Friday doesn't mean you won't witness abandoned carts on your eCommerce store. You'll find more people abandoning the cart during Black Friday, mainly because they expected more discounts or just because they're distracted.
To make sure you don't miss out on potential sales, you need to have a great cart abandonment email template ready for Black Friday. Think of it as a failsafe mechanism that would bring back lost revenue in case your Black Friday offers or emails fail to impress your subscribers.
Here's an example of a Black Friday/Cyber Monday checkout email that will encourage a shopper to give a second thought to their abandoned cart: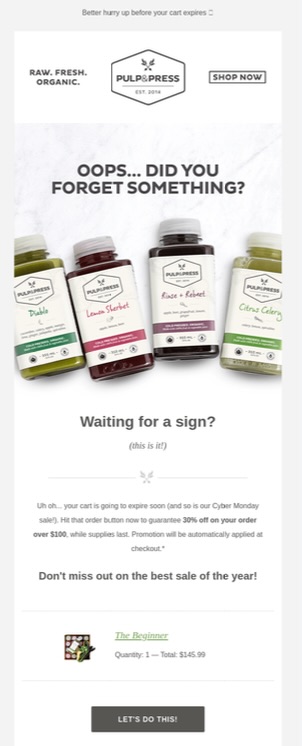 Pulp & Press has used clever copywriting to give a subtle reminder that the special Cyber Monday discount will not stay forever. The headline about forgetting something, followed by the sale price reminder, will grab the reader's attention. The additional offer with a clever CTA button and user reviews will encourage the abandoner to reconsider completing the purchase.
Don't forget to remind shoppers that the Black Friday offer is for a limited time, and they should check out before time runs out, like Pulp & Press during Black Friday. Adding a countdown timer to your Black Friday checkout email is a great way to increase the chances of conversion. You can even offer additional discounts, free shipping, or any other incentive for visitors who abandoned their cart.
9. Black Friday Sale Email – Postable
Your Black Friday sale email is one where you announce your best offer to your list of customers and prospects while hoping to capture their attention and convert it into a transaction before anyone else does.
Postable is a 100% online greeting card design service that allows users to personalize and design highly customized wishing cards for every possible occasion.
When you have a great offer and a loyal audience, you only need a simple design to get your message across.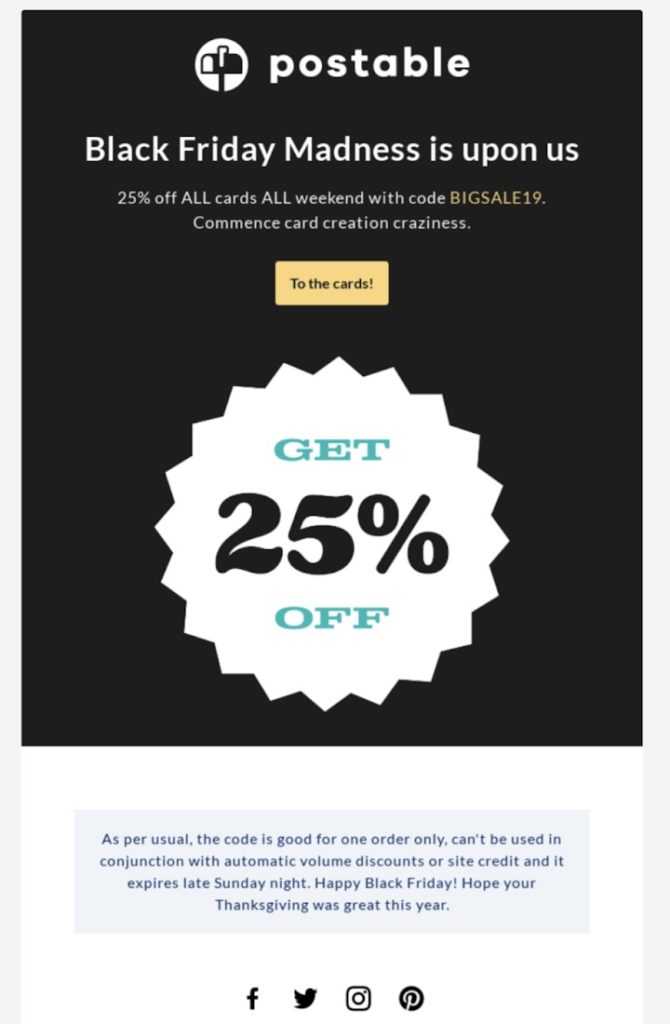 The highlight of their offer is the 25% off being offered on account of Black Friday, and as such, the design amply emphasizes the same.
While the messaging is kept simple and concise, we love the unique call to action 'To the Cards' that is refreshingly creative.
If you're looking for an effective Black Friday sale email design that doesn't take days to design or weeks to get approved, this is definitely one of them.
10. Black Friday Newsletter – Canva
If you're already emailing regular newsletters, injecting some suspense and building anticipation for your upcoming Black Friday sale can get easier.
You could also send out a Black Friday special offer during the BFCM weekend to draw more subscribers' eyeballs to your ongoing sale.
You can't go too wrong copying how Canva does it.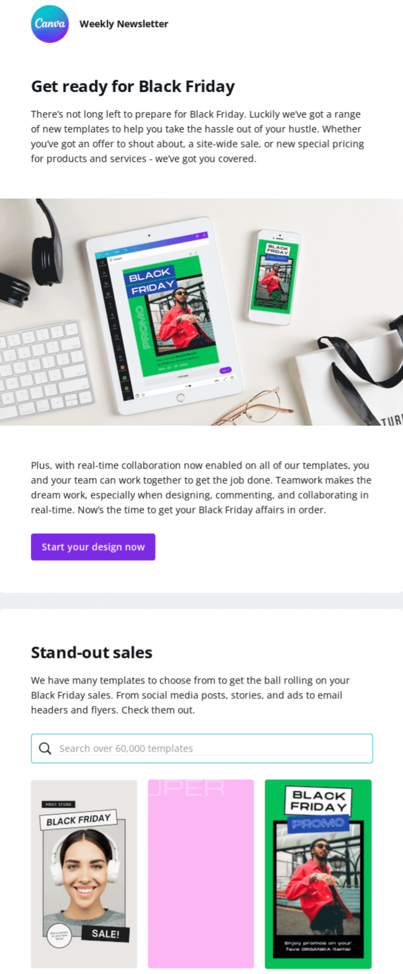 What we really love about this email newsletter from Canva is that it is one of the most non-salesy Black Friday newsletters we have read in a while.
The subject line is kept simple and communicative; no nasty surprises there.
The email then briefly mentions the upcoming Black Friday event and touches upon the need for your business to prepare well for it by designing your promotional templates in advance.
A few scrolls later, Canva makes its irresistible "pay for 1, get 4" offer that is hard to say no to.
Great-looking email design keeps Canva's branding on point while subtly soft-selling its monthly subscription package. All in all, a great example to get inspired by.
11. Black Friday Email Offering Free Stuff – KitchenAid
Not every offer on Black Friday has to be about something Free, but when it is, your offer shouldn't shy from stating so.
KitchenAid is an online ecommerce portal that sells premium electronic and countertop kitchen appliances. We think its Black Friday promotional email is impressive enough for us to take a leaf or two from it for inspiration.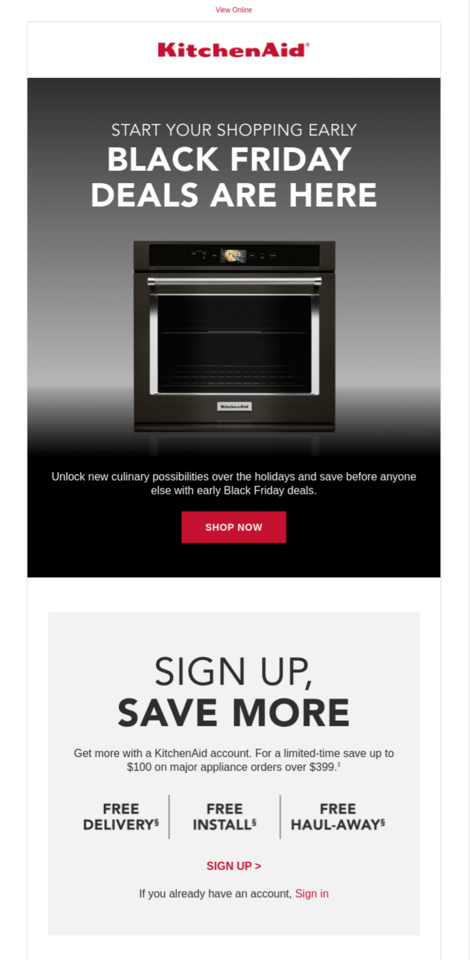 You can't do much wrong when marrying a simple yet straightforward subject line with a high-quality creative of your top product and following this up with a crisp creative that tells the reader what to do. KitchenAid does this with aplomb.
It also makes a compelling subscription offer that provides access to Free installations, delivery, and haul away. Their financing options and a 15-day return policy for major appliances make this offer even more tempting.
The design is kept intentionally clean through good color choices and intelligent use of whitespace, while the choice of font and font size makes the messaging hard to miss.
It's an email we'd gladly click as prospects and customers.
12. Black Friday Teaser Email – Google
According to the National Retail Federation's annual survey of 2021, nearly 49% of shoppers took advantage of early holiday sales before Thanksgiving.
Therefore it pays to go early with your Black Friday promotions.
Creating an intense longing for your Black Friday deals can greatly maximize your results when your sale goes live. And you can do that easily using a neatly written Black Friday teaser email.
Check out Google's Black Friday email below for some neat inspiration.
The subject line is enticing enough to make you open the email, while the visually almost-perfect, homogeneous design holds your continued attention.
This Black Friday teaser email uses the psychological concept of loss aversion by drawing the reader's attention to the money they'd be saving by making promotion-specific purchases during the sale.
The email also very smartly requests the readers to add the Black Friday sale event to their calendars so they get reminded automatically.
It is one of those emails that'd definitely get us clicking and spending for sure, and all of this well before Black Friday.
13. Black Friday Promotional Email – DesignModo
Whether you are only offering FREE shipping for the first hundred buyers or a Buy One, Get One offer to unlimited purchasers over the BFCM weekend, your Black Friday promotional email should make the offer easy to understand and as desirable as possible.
DesignModo is a SaaS platform that helps non-IT-savvy businesses build their own websites and HTML emails using drag-and-drop tools.
They did a great job communicating their Black Friday special offers in the email design below.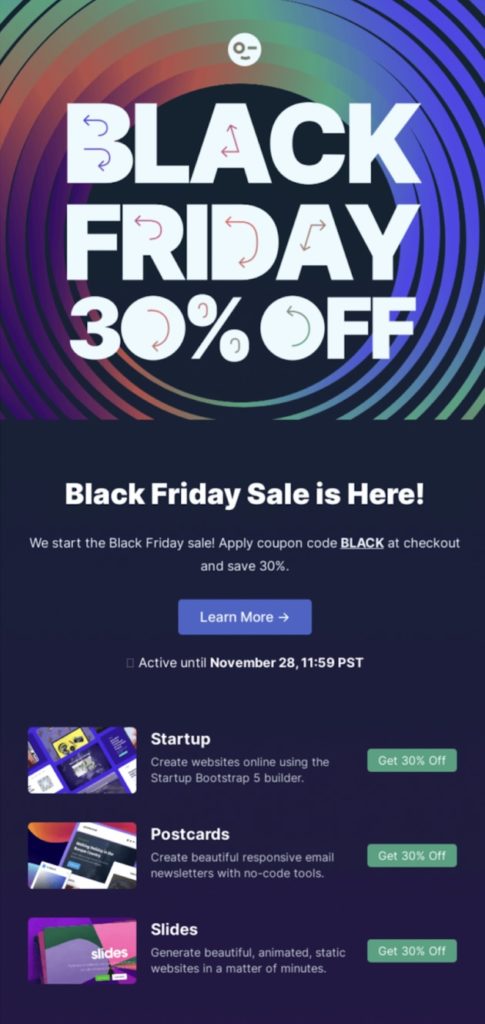 The main creative is eye-catching and is perhaps kept so to showcase their dominance when it comes to all things design. The messaging might not exactly make it to the Black Friday copy ideas swipe file of all time, but it is kept concise to the point where it communicates the deal in as few words as possible.
The attractive layout enhances the excellent choice of colors and typography.
DesignModo also makes it a point to briefly introduce its different product verticals, such as Startup, Postcards, and Slides to readers in layman speak, with the CTA (call to action) conveniently placed next to each one of them.
Crafting the Perfect Black Friday Email Campaign
Ready to rock this Black Friday with emails that convert like crazy? Listen up. First, your offers have to be jaw-dropping. No room for 'meh' deals here. Something so good they can't say no. And hey, it's holiday time, so sprinkle in some festive cheer. Here are some time-tested best practices to create Black Friday emails that convert:
Craft unbeatable offers. Launch your Black Friday offers with a bang! Think of an offer they can't ignore. Your offers should be so irresistible people can't help but click. Don't forget to add a friendly "Happy Black Friday." to your emails;
Segment your email list. Have an existing email list that you nurture around the year? Awesome. Now, categorize and break it down. Tailor your Black Friday emails to fit different customer needs. More relevance equals more sales;
Nail your subject line. Your subject line is the door to your email. It better be inviting. Test multiple catchy email subject lines to see what hooks people in;
Use urgency and scarcity to your advantage. Want to make them act fast? Show them the clock's ticking or stock's running out. Good copy makes this even more powerful. For example, add a limited number of deals or a countdown timer to your showing when the offer will end to your email;
Add eye-catching visuals. First rule of email marketing? Look good. Use jaw-dropping graphics to make people stop and stare.
Optimize for mobile. Nearly 42% of all Black Friday sales were registered on mobiles in 2021. You don't want to miss out on the opportunity. Do you?
Timing is crucial. Early bird gets the worm, or in this case, the sale. Send your email first thing on Black Friday. A "last chance" follow-up later keeps you at the top of their inbox. And yeah, automate it to make life easier.
Key Takeaways
With its Black Friday email examples, templates, and subject lines, we hope this guide inspired you to build your winning email campaigns. At a bare minimum, your Black Friday marketing campaign would do well to stick to the below fundamentals:
The sooner you start preparing for it, the better.
Email marketing will continue to be one of the most effective ways for generating sales.
The most important factor that decides the success of Black Friday campaign would be your offer.
Add elements of urgency and scarcity to spice up your offer and make it even more compelling.
Focus on presenting a great creative showcasing the best aspects of your product or service, then couple it with neat and relatable messaging.
Be sure to cap off any emails you design with one of our subject lines to ensure your precious email gets read.
Tighten up any revenue leakage by optimizing your abandoned cart sequence for conversions with a multi-part sequence including friendly SMS reminders with special time-limited discounts.
Include social media icons towards the footer portion of your Black Friday email to win an extra engagement.
Beat any competition breathing down your neck by pushing an early launch and by extending your sale into the Cyber Monday week.
All the best in executing your Black Friday email strategy!
Also read:
---
Author Bio
Anmol Ratan Sachdeva is a content marketer and small business consultant who has a strong grip on topics like marketing automation, email marketing, and content marketing. He loves to write about starting, improving, and growing a business.