Rocket-fuel your sales with SMS
Supercharge conversions with this marketing duo — the best combo you've ever seen. It's easy with Sender.
Boost Your Sales Now
Recovering abandoned carts is an important part of eCommerce marketing.
Many customers abandon carts for simple reasons. Giving them a small push is all you need.
Marketers have found numerous ways to send reminders about abandoned carts. However, most of them are slow. Now, businesses are looking towards a completely new approach – SMS.
Outside of the other numerous benefits they have, abandoned cart text messages have a quick reaction time. They are sent out and read nearly instantly, according to statistics. That means it would be possible to capture someone who is still thinking about buying the product or service.
Additionally, it's easy to be more personal with SMS. Personalizing marketing messages has always been more effective than sending out blanket ones.
Abandoned cart text messages are based on triggered events, which will make it look a lot more natural and personalized by default.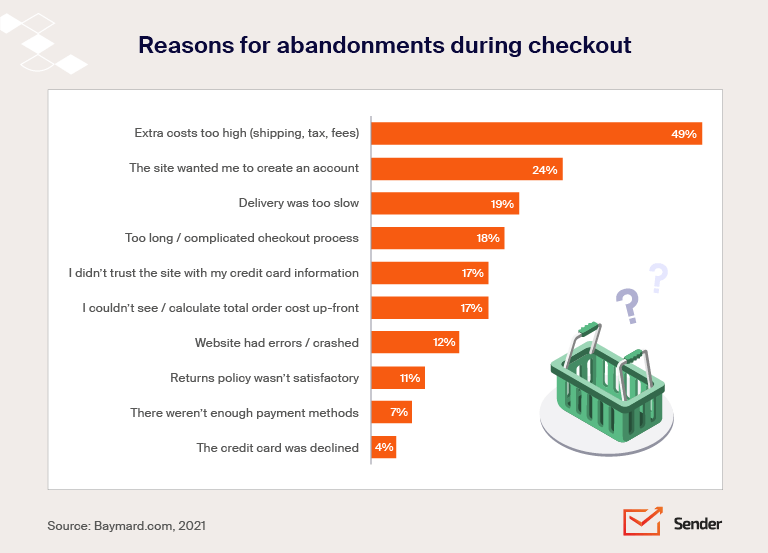 Basics of Abandoned Cart SMS Template
Like with any other SMS message strategy, there are several factors to keep in mind. Unlike emails and other marketing channels, you don't have the opportunity to write as much as you'd like. SMS messages are concise and short and customers expect them to be that way.
Additionally, your copy is everything in SMS cart recovery messages. Since you cannot add any shiny images or formatting, everything rests on the text itself.
In triggered (e.g. abandoned cart SMS messages) messages your copy is even more important as you will be sending them out a lot without personal control over when they are received.
Finally, you should always remember that people need to opt-in to receive marketing SMS messages. Sending even innocuous abandoned cart SMS messages without consent is asking for (legal) trouble.
With the preliminaries aside, writing an SMS cart recovery message follows certain rules and guidelines. Usually, such an SMS message contains: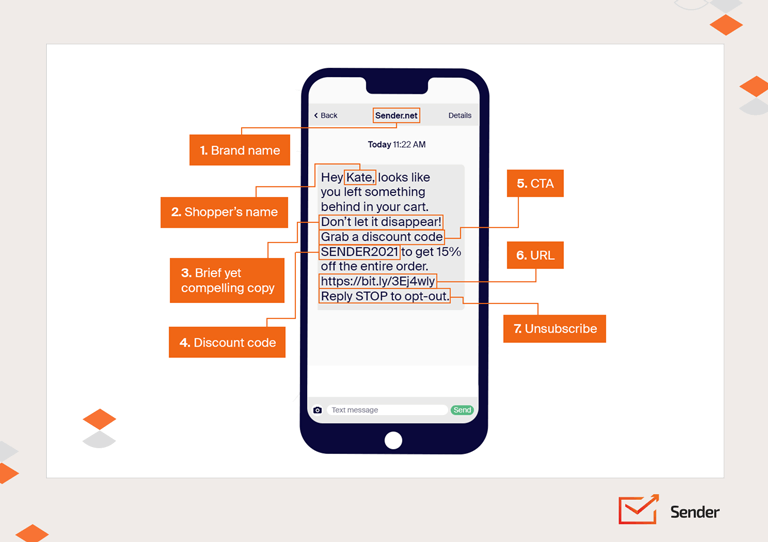 Brand Name.
You always need to introduce yourself, even if you feel it may be obvious what company is sending the message. Adding your brand's name at the start (or at the end) of an SMS message is a good way to make sure your customer knows who they're dealing with right off the bat.
Shopper's Name
While including a name isn't necessary, we've mentioned previously that personalizing marketing messages is likely to get a better end result than blasting generic advertising. Adding someone's name into the text is the easiest way to personalize a message.
Discount Code
If applicable, sending out a small discount code with an abandoned cart text message is likely a good idea. You will definitely attract more attention if your customer can get a small discount.
CTA
Well, everyone who has been in marketing for some time knows – call-to-actions are necessary. SMS messages aren't any different. Always remember to include one in your text message.
URL
Including a link to your eCommerce website is simply a good user experience. You want to reduce the time it takes to return to your website as much as possible, and there's really no better way than a URL. If you can include the discount code in the link – do that as well!
Opt-Out
Including an opt-out opportunity in absolutely every message is not necessary. However, it must be included somewhere, at least in the welcome message. Adding it to another triggered SMS (abandoned cart text messages being one option) is wise.
Keeping all the above in mind when writing your own custom abandoned cart SMS will be greatly beneficial. You might need to tweak and tune some details, however, following the guidelines is highly likely to result in a powerful and effective SMS message.
Abandoned Cart SMS Messages Examples
In case you need a little more help, we've decided to get a couple of examples of abandoned cart messages. If you don't want to go through the trouble of writing a completely new SMS message, take the examples outlined below and tweak them a little bit.
[Brand name]: It seems you forgot something! Your cart is still waiting for payment. Use code [code name] to get a 10% off for the entire order. [link to the abandoned cart] Reply STOP to opt-out.

Hey, [name], it's [brand name]. We've noticed that you haven't finished with your cart. We're looking out for you – use [code name] to get [%] off your order! [URL].

[Name], the awesome products from [brand name] are about to be yours. All you need to do is a few final clicks! Get your products here [URL].

[Brand name]: Hey, [name], we noticed you have left a few items unattended! Use code [code] to get a [%] to finish your order! [URL].

Hey, [name], you might be missing out! You have left a few items in your cart. Time to get those awesome products! Click here to finish your order [URL]. [Brand name].
These five examples and the guidelines above should be more than enough to get started with SMS abandoned cart messages with Shopify or other providers. Just remember to set the right triggers and automate the process, and you'll be golden!
Abandoned Cart SMS
Recovering abandoned carts has always been a challenge that faced eCommerce businesses and marketers alike. Most other channels are, unfortunately, slow, leading to sluggish reaction times. Luckily, SMS messages are here to save the day.
Setting up triggered SMS cart recovery messages will likely lead to great success. If you follow the guidelines and examples we've shown above, setting them up will take just a few moments. Time to take back those carts!
Want to get solutions that will help you set up automated SMS and optimize campaigns? Check out Sender.net, start free, and get the most out of your SMS and Email marketing efforts every day.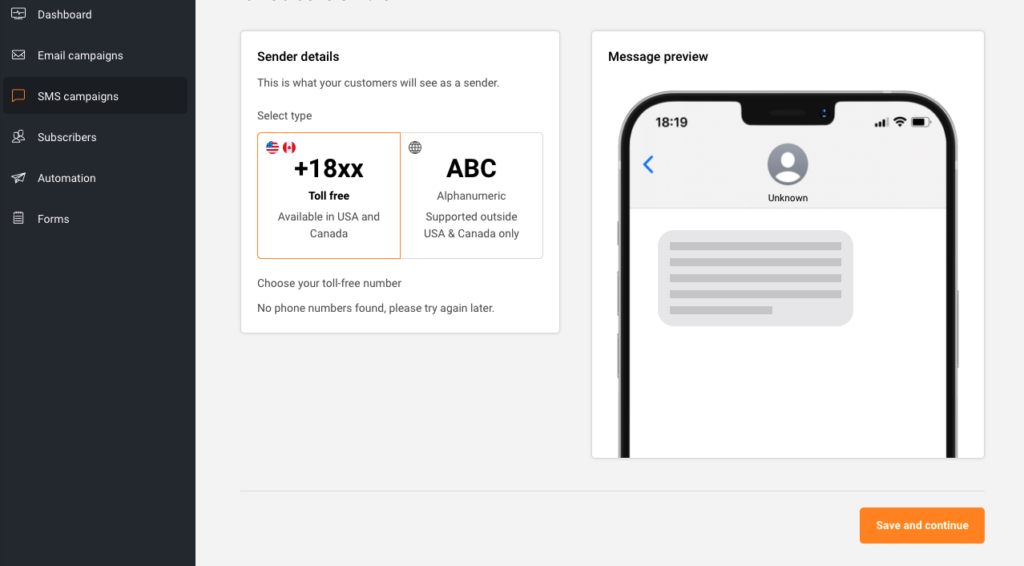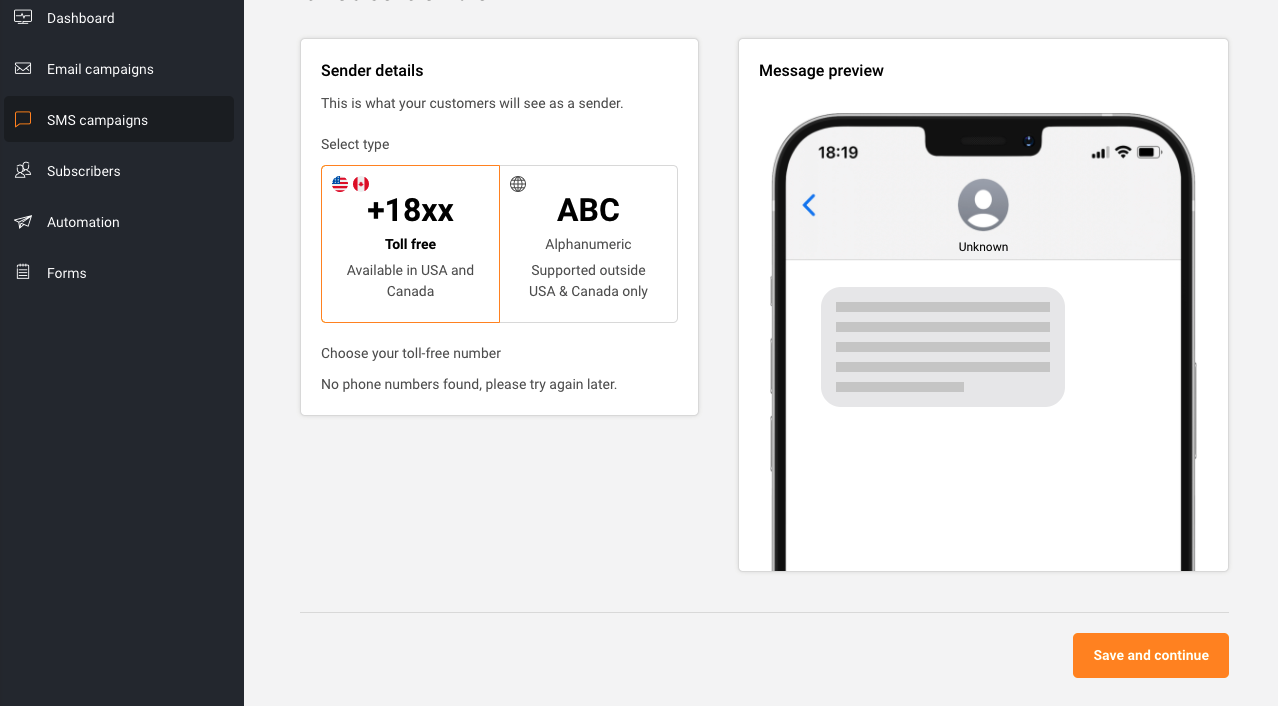 Also read: