30,000+ brands grow with Sender
Join them and unlock the simple way of skyrocketting your sales through email marketing.
Get Started For Free
Abandoned carts are more than missed sales opportunities; they're clues, hinting that you should do more to engage visitors. Not that it's entirely your fault; sometimes customers get busy, life happens, or they simply get distracted. But for you, it's a lost opportunity to increase your sales revenue.
Research suggests that ecommerce store owners register $18 billion in yearly losses due to abandoned carts.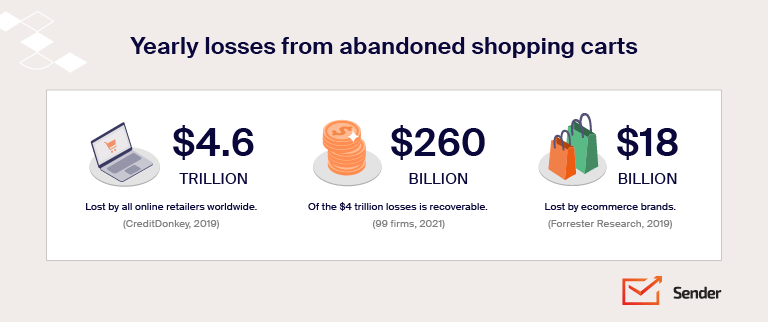 Stay tuned as we'll share the best plugins to recover abandoned carts as a WooCommerce store owner. We'll compare different solutions to help you bring back attention and ensure your customers complete the checkout process. So, let's begin.
What is WooCommerce Abandoned Cart?
You must've seen many abandoned carts when operating a WooCommerce store. It represents a lost opportunity to sell and build a potential long-term relationship with a customer.
You're not just selling products but crafting an experience for your customers as an ecommerce business owner. Your online store is enticing visitors to convert into buyers. But an abandoned cart is the enemy that'll keep you from growing your revenue.
By understanding the reasons behind cart abandonment, you can make necessary adjustments to your marketing automation process and tackle the problem.
Remember that each abandoned cart is a 'call to action'. It's your chance to engage the shopper who abandoned the cart bringing him back to the checkout page.
Why Do Customers Abandon Their Carts?
You must've spent hours figuring out why customers abandon their carts in the first place.
Online shoppers abandon their carts for various reasons, such as unexpected costs, slow website speed, complex checkout processes, etc.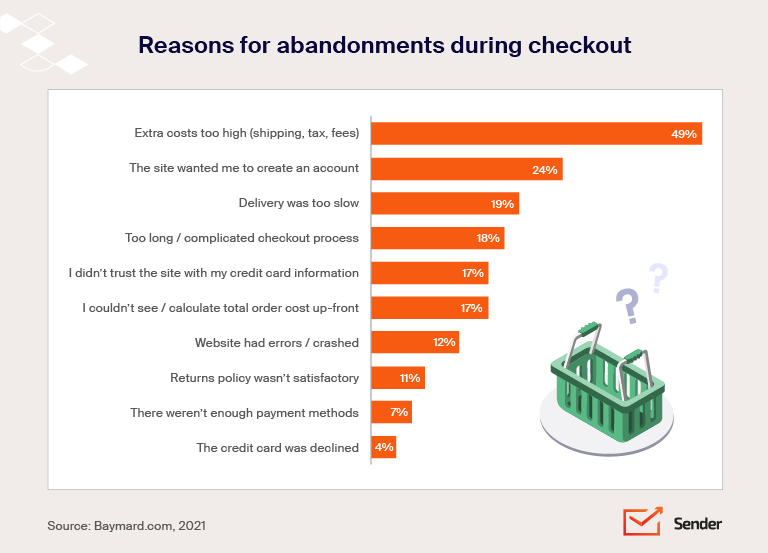 Here are the most common reasons why customers abandon their cards:
Unexpected charges. Shipping charges, hidden costs, tax, or additional convenience fees are the biggest deterrents to a smooth checkout. Most people abandon their carts due to unexpected charges.
Complicated checkout processes. If customers are asked to create an account or fill up a lengthy form, they may become overwhelmed and leave without completing their purchase.
Lack of payment options. Customers may not be comfortable paying with a certain payment method, or the vendor may not offer the payment option they'd prefer. Offering multiple payment options can help customers feel more comfortable, and they'll be more likely to complete their purchase.
Slow delivery. Customers expect quick deliveries. So, if you take a long time (or aren't clear) to deliver the order, most will abandon the cart in the blink of an eye and look elsewhere.
7 Best Abandoned Cart Recovery Plugins for WooCommerce
When you're busy running your store, you need a reliable solution to nudge customers who steer away after adding products to the cart. The following WooCommerce abandoned cart recovery plugins are the best if you want to reclaim lost sales (and bring back customers) from your WooCommerce stores:
1. Sender – Best Abandoned Cart Recovery Plugin
Sender is a powerful marketing automation solution that automates the recovery of abandoned carts. It has a powerful automation builder to help you recover abandoned carts and create data-driven recovery campaigns to woo your customers back.
WooCommerce store owners wanting to run omnichannel campaigns across email and SMS. 
Business owners who want a simple way to recover abandoned carts, follow up, and nurture leads.

Sender is designed for store owners tired of the 'standard' abandoned cart flow. It allows you to create custom flows and personalize them based on the cart value, customer activity, or other attributes. This makes it easy for you to appear relatable, deliver contextual offers, and grab the attention of cart abandoners back.
Bring attention back to checking out using deep behavioral and activity-based triggers to schedule automated cart abandonment recovery campaigns. The automation builder can also set up automated SMS campaigns to remind users to check out.
The powerful drag-and-drop email builder with readymade templates for abandoned cart recovery saves a lot of time. So, you can set up your first abandoned cart recovery campaign within minutes.
Customize abandoned cart recovery reminders based on the customer's behavior and purchase history to add a personal touch. Use the automation builder to set up follow-up campaigns or even send attractive offers after they've left the store to increase the chances of conversion.
Sender integrates seamlessly with WooCommerce making it an ideal choice for your online store if you're tired of dealing with the cart abandonment problem manually.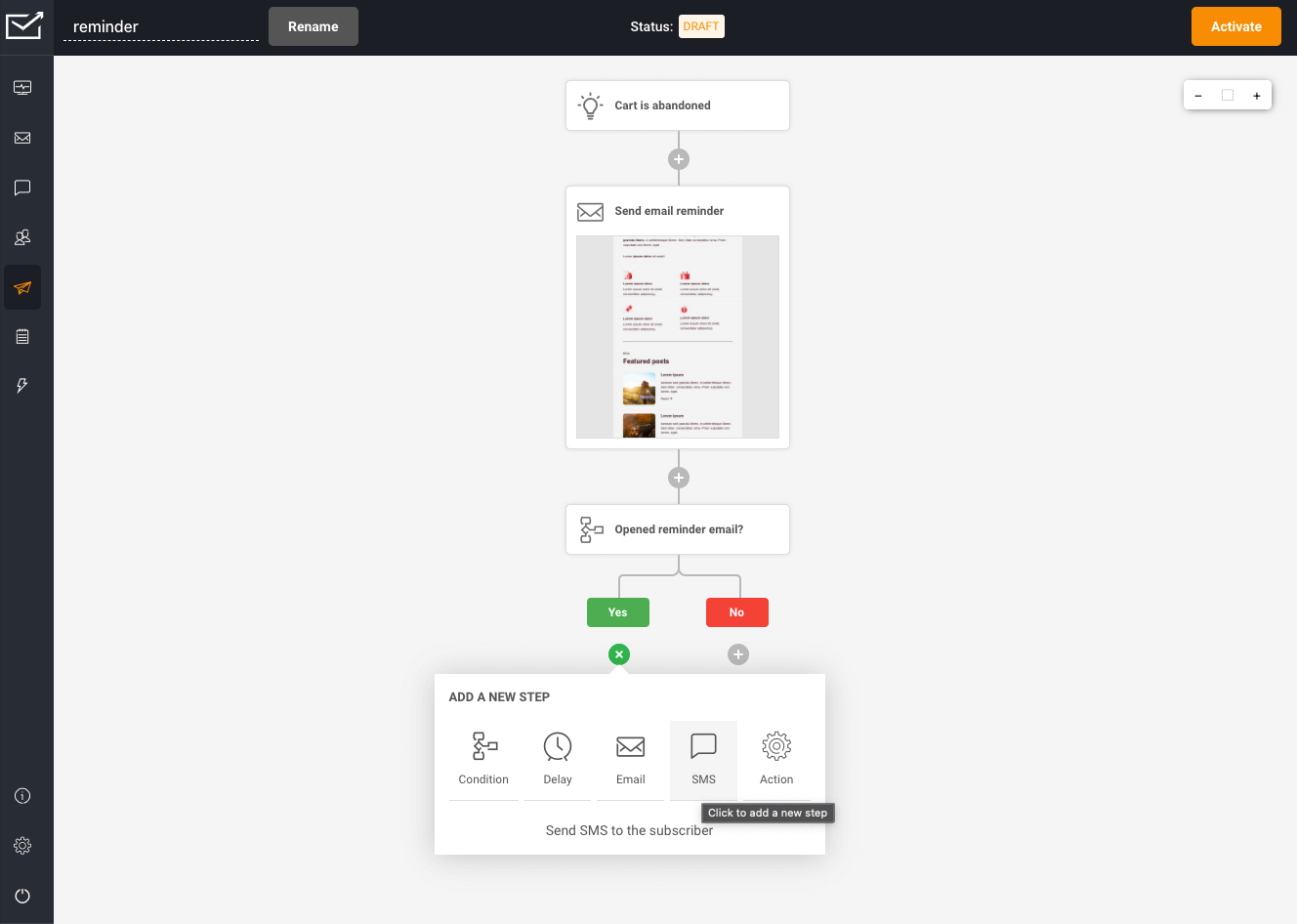 Sender is free for up to 2500 contacts without any feature restrictions. Start automating abandoned cart emails with the Forever Free Plan.
Sender's Key Ecommerce Features
Sender has amazing features that let ecommerce store owners leverage marketing automation and boost their revenue. Some of the best features include:
Email & SMS Automation. Schedule and send omnichannel campaigns on autopilot;
Smart Segmentation. Personalize abandoned cart emails and campaigns through smart segmentation based on personal attributes, activity, and behavior;
Popup & Form Builder. High-converting form and popup builder to capture quality leads;
Drag-and-drop Email Builder. Create engaging email campaigns from scratch or use responsive premade templates to speed up things;
Workflow Automation. Automate and schedule email and SMS campaigns based on behavior or activity like cart abandonment;
Amazing Deliverability. Always land in the subscriber's or cart abandoner's email inbox to ensure your email campaigns are noticed.
Sender Pricing
Forever free plan available for up to 2,500 subscribers and 15,000 monthly emails with no feature restrictions;
Paid plans start at $8 per month for up to 2,500 subscribers. 
---
2. Klaviyo – Great Plugin to Recover Abandoned Carts 
Klaviyo is an ecommerce-first marketing automation tool that easily creates personalized and hyper-targeted abandoned cart recovery campaigns. 
Small business owners looking for an integrated automation solution;
Ecommerce store owners wanting to create custom abandoned cart flows.

Klaviyo's features are designed to be both simple and advanced. You can personalize and automate abandoned cart emails and use the detailed reporting dashboard to find how many abandoned carts are recovered.
Other features include customer segmentation, a drag-and-drop builder, and custom triggers to help you create beautiful and targeted abandoned cart campaigns with ease. 
Klaviyo integrates with all major ecommerce platforms like WooCommerce, Shopify, BigCommerce, Magento, etc.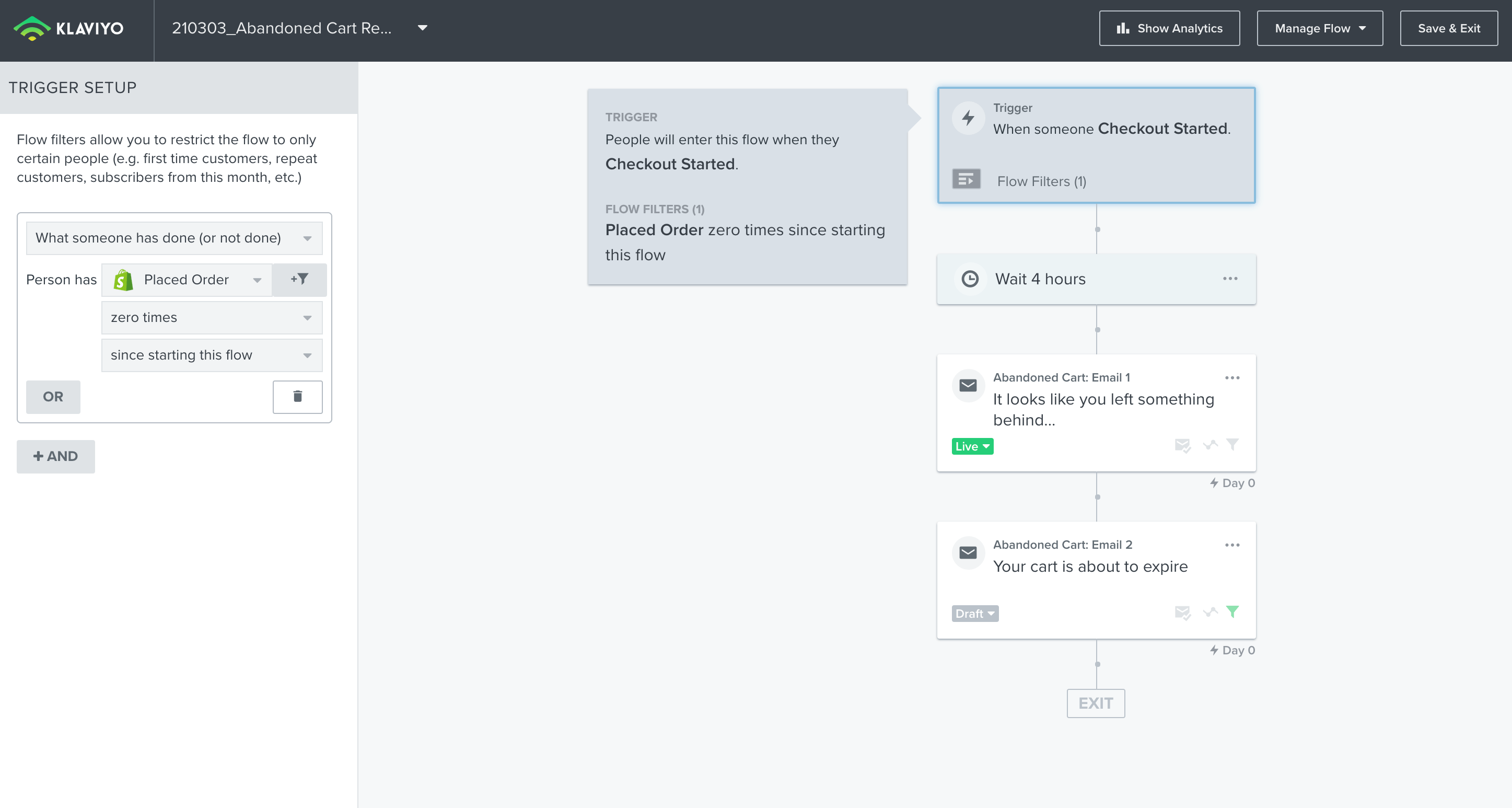 Klaviyo's Key Ecommerce Features
Klaviyo packs a punch when it comes to features designed for ecommerce stores. Some of the best features of Klaviyo include: 
Drag-and-drop Builder. Create engaging email campaigns without coding using the user-friendly email builder; 
Email Marketing Automation. Automate email campaigns using an easy-to-use automation flow builder with premade flows;
Signup Forms. Add or embed compelling and scroll-stopping forms with exit intent behavior on your WooCommerce store;
List Segmentation. Segment your email list based on different parameters and attributes.
Klaviyo Pricing
Free plan for up to 500 subscribers (with feature limits and sending restrictions);
Paid plans start at $45 monthly for up to 1500 subscribers and 15,000 monthly emails.
---
3. Retainful – Marketing Automation Tool with Abandoned Cart Recovery 
Retainful is yet another abandoned cart recovery solution for WooCommerce. It has pre-built workflows to set up abandoned cart recovery email campaigns instantly. 
WooCommerce store operators who don't want a basic abandoned cart plugin for their store;
Store owners who love live cart tracking.
Retainful nudges cart abandoners and entices them to complete the purchase. It's designed to maximize the number of customers that finish their purchase and is incredibly easy to install and set up.
The amount of practical features that it offers is simply staggering. For example, it adds dynamic discount coupons within emails encouraging customers to revisit their abandoned carts.
Detailed insights about the customers who abandon their carts, such as their email addresses, the number of items in the cart, and the cart's content, can be fetched from its reporting dashboard.
Retainful also has customizable email templates for various email campaigns, such as order follow-up emails and special offers.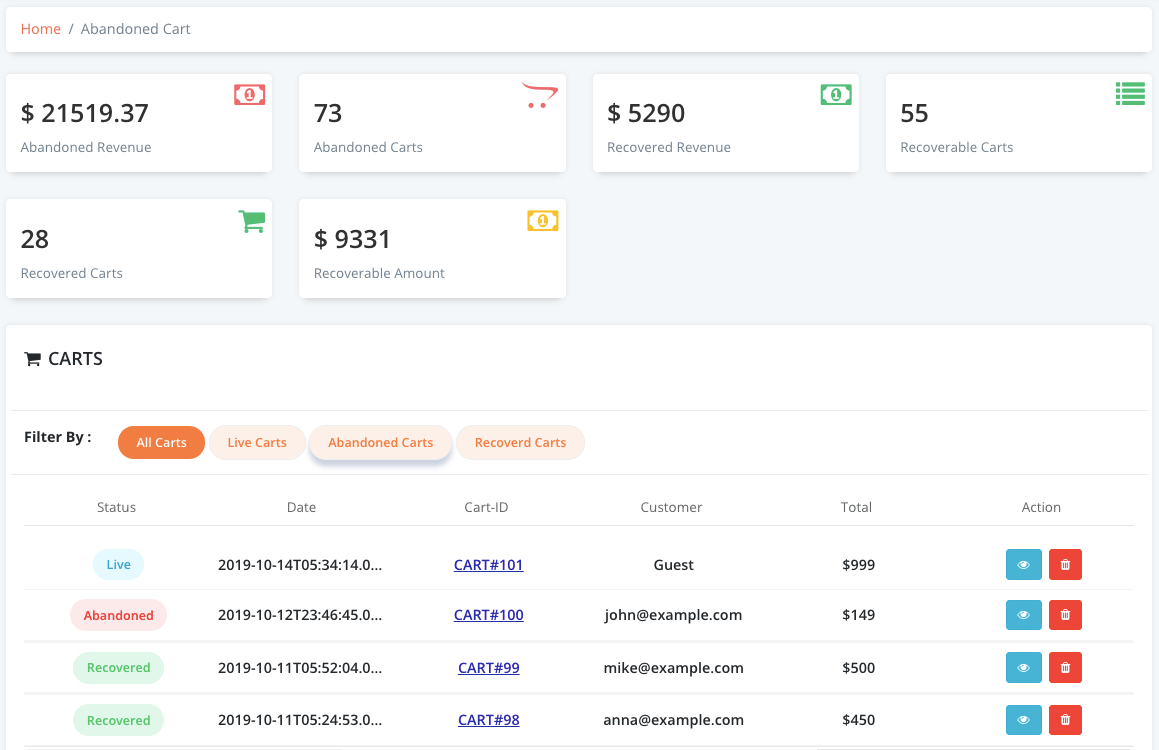 Retainful's Key Ecommerce Features
Retainful is a great solution for triggering automatic abandoned cart emails, welcome emails, thank you emails, and more. Here are some of the best features of Retainful: 
Pre-designed Workflows. Ready-to-use automation workflows to set up abandoned cart recovery campaigns, welcome email series, and more instantly;
Personalization. Personalize campaigns based on customer or subscriber's details, including name, behavior, or online activity;
Dynamic Coupons. Add personalized discount coupon codes to abandoned cart recovery emails to boost conversion rates;
Live Cart Tracking. Monitor real-time insights about abandoned carts, lost revenue, and customer behavior.
Retainful Pricing
Free plan for up to 300 contacts and 500 emails a month;
Paid plans start at $19 per month for up to 2000 contacts.
---
4. WooCommerce Abandoned Cart Pro
Abandoned Cart Pro for WooCommerce is a robust plugin that helps you set up and schedule cart recovery reminders via email, SMS, and Facebook Messenger. It's good for ecommerce stores that run Facebook ads to entice potential customers.
WordPress lovers who don't want to rely on a separate dashboard for abandoned cart recovery campaigns;
Ecommerce store owners who want to chase shoppers across multiple channels.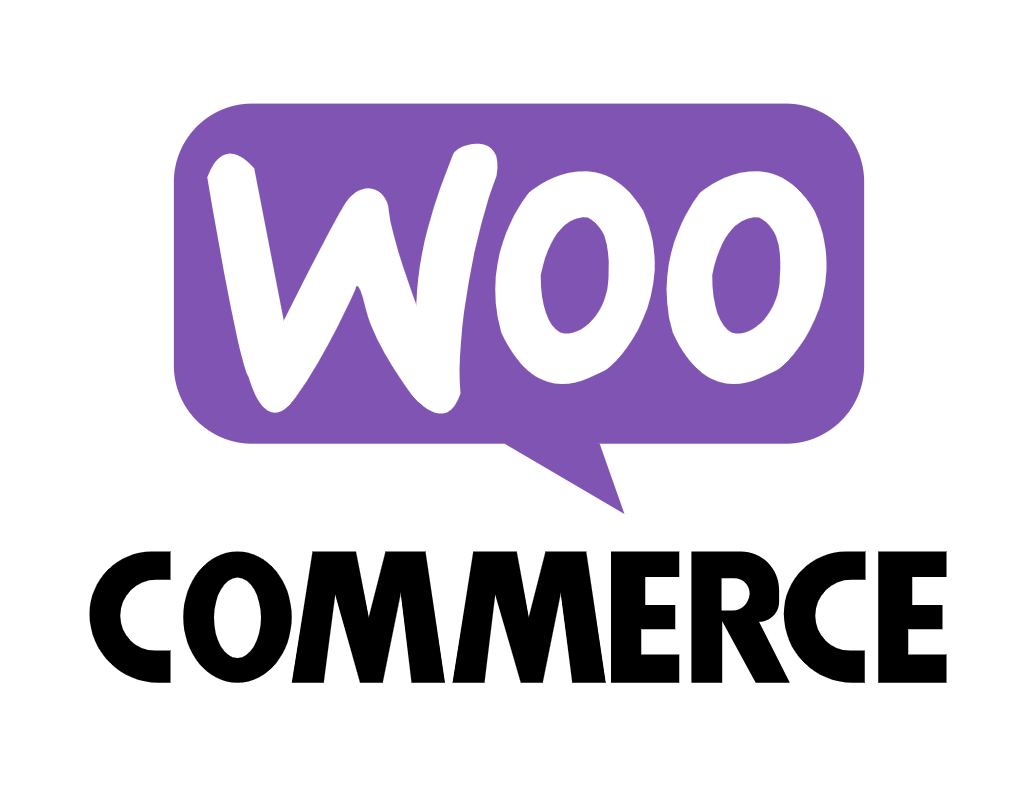 This plugin has all the features to ensure customers return to complete their purchases. It captures email addresses through exit intent and urgency popups to prevent cart abandonment. The automated messaging features allow you to follow up via email, text, or FB messenger. It comes with pre-built personalization workflows and multiple email templates to help you save time.
The analytics dashboard helps track your abandoned cart recovery rate and incremental revenue. It's an excellent plugin to help you recover lost sales and boost your revenue.
WooCommerce Abandoned Cart Pro Key Ecommerce Features
The Pro plugin has several amazing features to help you maximize the cart recovery opportunity. Some features include:
Exit Intent Popups. Automatic popups when users are about to exit after adding a product to the cart;
Urgency Popup Coupons. Auto-apply urgency coupons in-store or within email campaigns;
Timed Messaging Sequence. Send automated recovery emails across email, Facebook Messenger, and SMS;
Rules and Conditions. Pre-defined conditions to deeply retarget cart abandoners;
Email Builder and Templates. Template library and email builder with custom merge tags for personalization;
Abandoned Cart Pro Pricing
Starts at $149 per year for 1 WooCommerce store.
---
5. Hubspot for WooCommerce – Robust Cart Abandonment Management
HubSpot for WooCommerce is a worthy addition to this list. The plugin allows you to connect HubSpot to your WooCommerce store and enjoy the benefits of a free CRM, marketing automation, and other marketing, sales, and customer support features. 
Existing HubSpot customers who also operate a WooCommerce store;
Large eCommerce stores with deep pockets looking to optimize their marketing funnel.

HubSpot offers essential tools to help you build relationships with potential customers and increase sales. Its abandoned cart recovery sequence is powered by deep customer behavior and engagement tracking. This allows targeted campaign creation to lure potential customers back to the site. 
HubSpot offers a robust analytics dashboard, allowing you to understand customer buying patterns better and improve your positioning and marketing campaigns. Data-driven insights allow personalizing email marketing campaigns and targeting those who've left items in their carts. 
Overall, HubSpot for WooCommerce is an excellent option for WooCommerce store owners looking to increase sales and reduce abandoned carts.
HubSpot for WooCommerce Key Ecommerce Features
HubSpot serves a business owner well regarding detailed insights, powerful automation, and CRM capabilities. Here are some of their best features for an ecommerce store:
Automated Campaigns. Discover who abandoned which product and send automated follow-ups;
Drag-and-drop Email Builder. Create responsive email templates from scratch or choose from pre-designed email templates for abandoned cart recovery;
Synchronized Data. Integrate with your store to upload all customer details in the free CRM for nurturing or delighting customers at every stage;
Centralized Tracking. Campaigns are automatically synced to the central dashboard to track performance, see which customers engaged, and the success of a particular recovery campaign. 
HubSpot Pricing
The plugin is free for existing HubSpot/WooCommerce users;
Hubspot's paid plans start at $30 monthly for up to 1000 contacts.
---
6. Abandoned Cart Lite for WooCommerce – Free Cart Abandonment Plugin
This free WooCommerce abandoned cart plugin is quite popular among WooCommerce store owners. It allows you to set up abandoned cart campaigns to recover interest without paying a hefty sum.
WooCommerce beginners who need a simple way to recover carts;
Small business owners who want to recover abandoned carts without paying any money.

The plugin offers 25+ features to set up, schedule, and track abandoned cart campaigns across email, SMS, and Facebook Messenger. It also allows you to send automated email notifications at pre-defined intervals to nudge the prospects. 
You get clear and detailed data about the number of abandoned carts and recovered orders. There's an option to generate and assign customized coupon codes, set up exit intent popups, and capture emails when someone adds a product to a cart.
The plugin is good for beginners starting their ecommerce journey as it has readymade templates to set up a campaign quickly. Using the built-in rich text editor, you can also use HTML templates or customize a template. 

Abandoned Cart Lite Key Ecommerce Features
Abandoned Cart Lite is a free plugin that offers all the essential abandoned cart recovery features you need to get started. Some of the major ones include:
Identify Card Abandoner. Check if an existing customer or a visitor abandons the cart;
Monitor Success. Discover the number of carts recovered and recovery percentage;
Automated Reminders. Schedule automatic cart abandonment reminders;
Abandoned Cart Email Templates. Ready-to-use templates to quickly set up your first campaign;
Email Personalization. Custom merge codes to personalize cart abandonment emails.
Abandoned Cart Lite Pricing
100% free to use. Paid upgrade available as Abandoned Cart Pro for WooCommerce.
---
7. Metorik – Data-driven Campaign Automation Solution
Metorik is a data insights and email automation tool that allows WooCommerce store owners to understand their customers better. It also allows you to run automated abandoned cart campaigns based on trends from your ecommerce store. 
For WooCommerce store owners who want deep customer insights;  
For marketers who love tracking different metrics and building thoughtful customer personas. 

Metorik monitors abandoned carts, finds commonly abandoned products, creates detailed customer profile (based on actions), and nudges them to make a purchase. Metorik also allows you to capture the name and email of the cart abandoner to set up personalized recovery campaigns on autopilot.
It's automatically triggered when a product is added to the cart. View live carts, find real-time data about cart abandonment, and send/schedule automatic campaigns with dynamic discounts, personalization, and unique offers.
The platform also provides detailed information about abandoned cart campaigns' recovery statistics and success. See how many carts were abandoned, checked out, recovered, and more from a single dashboard.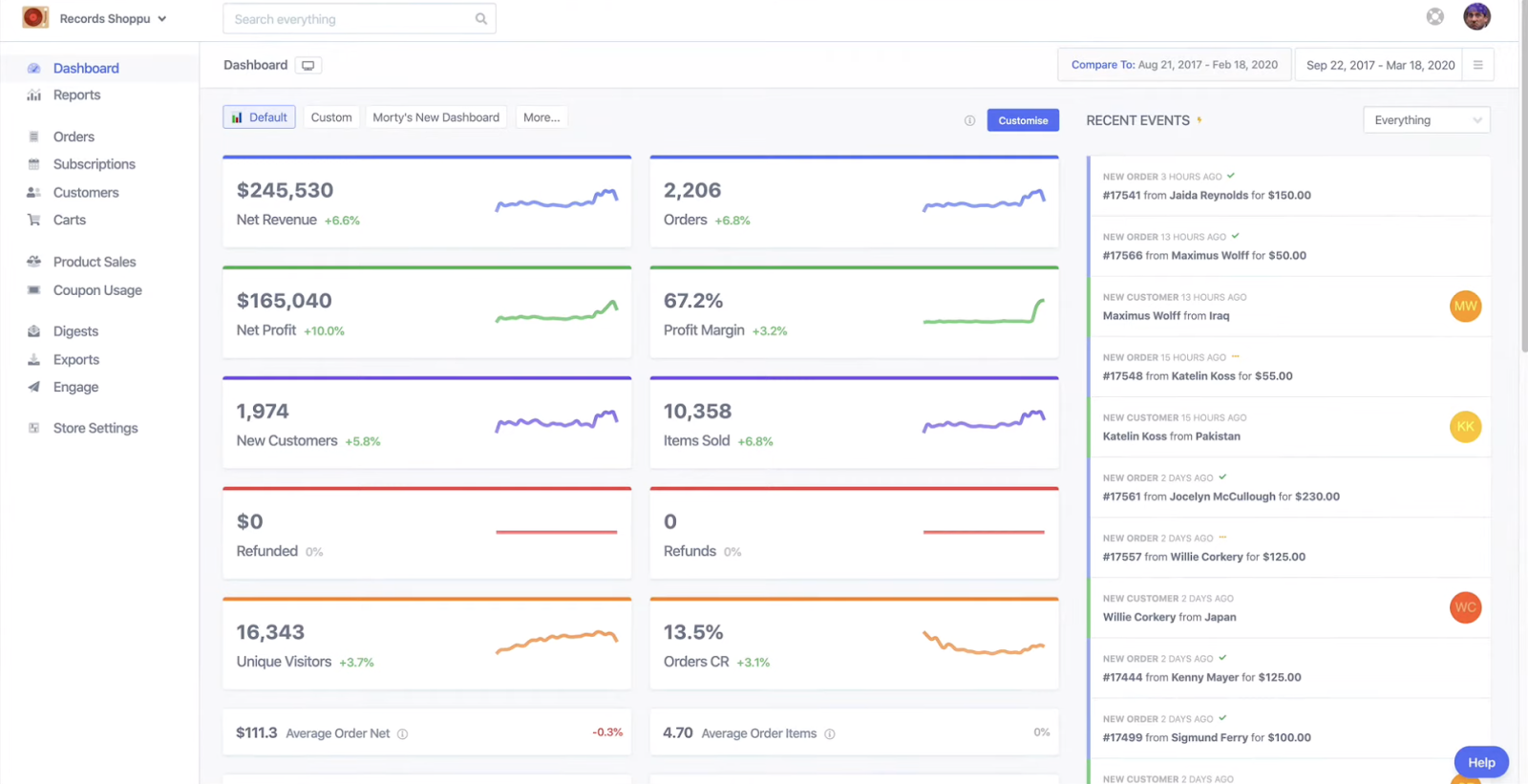 Metorik's Key Ecommerce Features
Metorik has interesting features to help you keep track of your abandoned carts and ecommerce store performance. Some of the best features include:
Automatic Scheduling. Engage cart abandoners at different times automatically to stay on top of mind;
Personalized Campaigns. Personalize emails based on the product, past order history, and spending patterns;
Track Results. See how many abandoned carts were recovered and incremental revenue growth;
Dynamic Coupons. Create unique coupon codes for abandoned cart recovery campaigns;
Live Cart Tracking. Get a unique recovery URL to see items in the cart, potential customer details, emails sent, and more.
Meteorik Pricing
Starts at $20 per month for store owners who receive 100 orders per month;
A free trial plan is also available for testing with limited features.
Strategies to Recover WooCommerce Abandoned Carts
Pumped up to start recovering abandoned carts on your WooCommerce store? Review the following best practices, tips, and strategies to help you increase your recovery rate.
1. Use WooCommerce Abandoned Cart Emails
The whole point of this blog is to help you start scheduling automatic reminder emails to customers who forgot to check out. So, if you're not using abandoned cart emails yet, you should probably start if you'd like to recover lost revenue.
All the plugins mentioned above help you automate the process, persuade potential customers to return to their carts, and make that final click. 
A well-timed recovery email reminds them of the items they've left behind. It should sound like a friendly nudge but shouldn't be pushy. You must personalize the message and subject line and design an engaging emailer to reignite the desire to purchase. If possible, add an incentive like a coupon code or additional discount.
2. Offer a Guest Checkout Option
You should also ensure their checkout process is as simple and seamless as possible. Many customers hate to spend extra time having to enter their information and creating an account to purchase.
Guest checkouts make the checkout process faster and more convenient. It also helps reduce cart abandonment, as customers are more likely to complete a purchase if they don't have to create an account.
A guest checkout option can reduce friction and encourage customers to complete their purchases on the spot.
3. Offer Multiple Payment Options
Not everyone prefers using a credit or debit card for online purchases. Customers want to have the flexibility to choose the payment option that suits them best.
Customers can choose the most convenient option from multiple payment methods like PayPal, Apple Pay, Credit Card/Debit Card, etc.
It will help to boost your store's credibility, enhance customer trust, and reduce apprehensions about checkout. Remember to ensure your store supports secure checkout and display this information prominently on your checkout page to reduce the chances of cart abandonment. 
4. Gamify the Checkout Process
A great way to make the checkout process more engaging and motivating for customers is to gamify it.
Adding a game element like a checkout timer (to get an extra discount) can help the shopper focus and check out faster. Add achievements and rewards points to encourage customers to complete their purchases. Another great idea is to give them the option to spin the wheel for an extra discount if they check out in the same session. Doing so will add fun to the checkout process and reduce your cart abandonment rate.
5. Offer Free Shipping
Free shipping is a great tactic to attract and hook customers. This tactic eliminates a major purchasing obstacle, turning potential cart abandoners into confirmed buyers.
Sweeten the deal, address their apprehension, and encourage them to complete the purchase by offering free shipping.
Free shipping is also a great way to increase the average order value. Customers who receive free shipping are often more likely to add additional items to their shopping cart, which can help increase your profits.
By incorporating this strategy into your WooCommerce platform, you promise value, ultimately encouraging shoppers to cross the finish line of their purchasing journey.
Key Takeaways: WooCommerce Abandoned Cart
Recovering abandoned carts can be a great revenue booster for your growing ecommerce brand. If you are planning to set up abandoned cart campaigns on WooCommerce, remember the following tips and takeaways:
Never ignore or overlook the customers abandoning shopping carts on your WooCommerce store;
Always set up automated email campaigns to recover abandoned shopping carts;
Utilize a marketing automation software or plugin to follow up with customers who have abandoned orders;
Test a WooCommerce plugin using a free plan before adding it to your ecommerce store.
Also read:
---
Author Bio
Anmol Ratan Sachdeva is a content marketer and small business consultant who has a strong grip on topics like marketing automation, email marketing, and content marketing. He loves to write about building, improving, and growing a business.