Turn strategy into action
Don't leave your perfect strategy untapped. Unlock its potential with Sender and see your sales explode.
Get Started For Free
If you're an ecommerce store owner wondering why 3 out of every 4 people who add something to their cart leave without paying you, read on.
In this blog, we address the elephant in the room (aka abandoned carts) and offer insights and some best practices to deal with abandoned shopping carts in your ecommerce store. So, let's get started.
What is Cart Abandonment?
Cart abandonment is when a user adds one or more products to their shopping cart but fails to check out. By adding items to their cart, customers have expressed a clear interest in their products, but something has stopped them along the way.
Shopping Cart Abandonment Statistics
Abandoned carts happen way more often than you can imagine (think 7 out of every 10 visitors). This trend isn't just a minor hiccup; it's a widespread problem that affects most online retailers.
Here are some abandoned cart statistics to further prove that cart abandonment is a significant problem for anyone running an ecommerce store:
Average Cart Abandonment Rate
The average shopping cart abandonment rate across all industries is approximately 70%. This means that only three out of ten online shoppers actually get to the checkout page and complete their purchase. 
In addition, studies have shown that mobile users in the U.S. have higher cart abandonment rates than desktop users. For example, the average abandonment rate for mobile was 86% in the 1st quarter of 2023, compared to 77% on desktops.
That shows the importance of a mobile-friendly and easy-to-navigate website to reduce shopping cart abandonment.
Shopping Cart Abandonment
Ecommerce stores lose about 18$ billion in sales annually because of cart abandonment alone.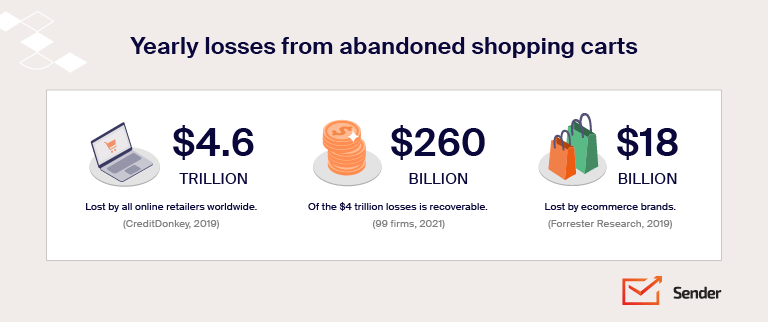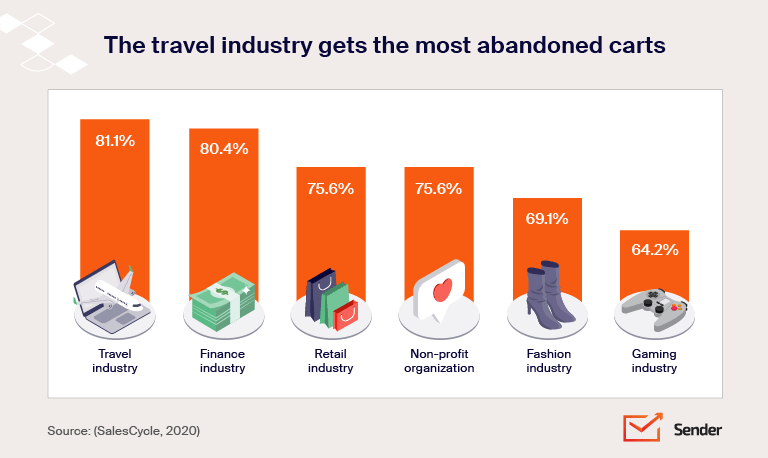 According to the Baymard Institute, nearly half of customers (48%) abandon their online shopping carts because they're surprised by additional costs, such as high shipping fees or unexpected taxes.
That means you should be upfront about extra costs early in the shopping process by displaying shipping fees and taxes on product pages. You can also consider offering free shipping or setting a threshold for free shipping to incentivize customers to complete their purchases.
Other reasons why shoppers abandon their carts include:
Ecommerce sites wanting them to create an account (24%)
Delivery being too slow (22%)
Complicated checkout process (17%)
Following the best practices of form design is an excellent way to ensure a better checkout flow and reduced abandoned carts.
For example, you can use a "full name" field instead of first and last name. You can also eliminate unnecessary optional fields and have shoppers enter their street addresses in one line.
Abandoned Cart Recovery Statistics
The average recovery rates generally fall within the range of 2.3% to 5.4%, indicating that recovering a portion of abandoned carts is an industry-wide challenge.
However, based on that data, a good cart abandonment recovery rate would be any percentage that falls within that range. The exact "good" rate might vary based on industry standards and your specific goals, but a 2.3% to 5.4% range looks like a reasonable benchmark.
You can use the formula below to calculate your abandoned cart recovery rate:
Abandoned Cart Recovery Rate = (Number of Recovered Carts / Number of Abandoned Carts) x 100
For example, if you had 200 abandoned carts and managed to recover 10 of them, your abandoned cart recovery rate would be:
Abandoned Cart Recovery Rate = (10 / 200) x 100
Abandoned Cart Recovery Rate = (0.05) x 100
Abandoned Cart Recovery Rate = 5%
This means you were able to recover 5% of the carts that customers initially abandoned.
Abandoned Cart Email Statistics
Cart abandonment email open rates were pretty high in 2022, with businesses having open rates exceeding 49% and click-through rates of 8.38%. Half of those who clicked on links in the email bought some items.
Part of what makes these emails successful include personalized product reminders and discounts to entice customers to return to the online store.
In addition, sending the email an hour after a customer abandons their cart yields a 16% conversion rate. That's higher than when you send it after:
30 minutes (nearly 15%)
20 minutes (just above 13%)
One day (just above 11%)
Primary Reasons for Abandoned Carts
Watching customers dump carts before checkout can be demoralizing because you're watching profits slip through your fingers. But you shouldn't feel sad.
Instead, you should try to find out the reasons and eliminate those. Fortunately, there's enough research on cart abandonment to help you sort out the issue.
Why Does Cart Abandonment Happen?
For a whole lot of different reasons. Check out the data from prominent ecommerce research and audit agency Baymard Institute on why people abandon their carts.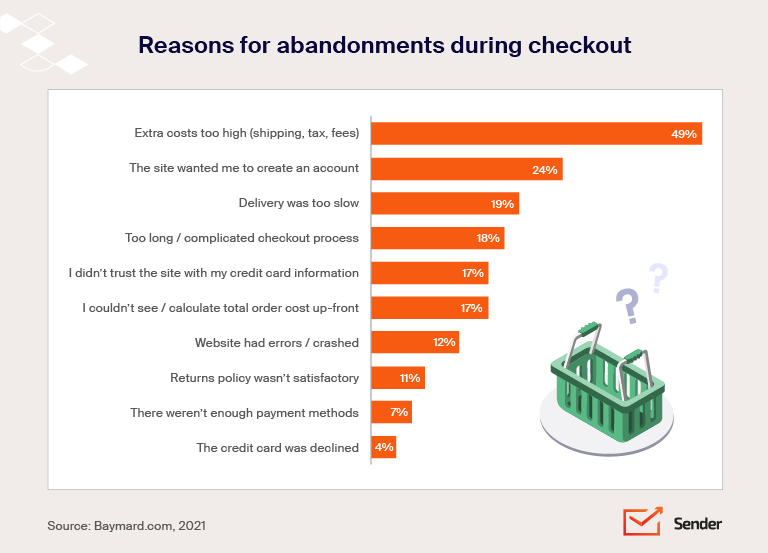 Here are the most common factors that push customers away and make them abandon their carts:
1. Unexpected Charges
Customers hate surprises. And the one unexpected financial surprise people dislike the most is shipping charges beyond what they usually expect to pay or some other supplemental fee embedded in the shipping.
If you can offer free shipping, please do. This is where Amazon did it right. Top members get free shipping.
You will often see the word 'free shipping' at some ecommerce stores, but there are hidden fees that sneak up on you, not showing themselves right before your credit card clears.
This practice is the best way to destroy your customers' trust and send them running to the competition.
2. Invasive Security
Ecommerce is online, and anything online can be penetrated by an evil hacker. Because of this, there are several security firewalls in place to protect the business and the customer.
Captcha was created to check out robots, or automated hack programs, from actual living, breathing humans. It can be very annoying, but it is there to help you.
Even still, too many security measures can frustrate someone enough to send them packing.
Sadly, nothing can be done without exposing your business to extreme vulnerability. You can offer customers the option to save their info on your server to speed up future purchases, but that requires their trust.
Fortunately, security builds trust.
3. Forced Site Registration
Just like the cashier at your local store has to ask you if you want to be on their email list, ecommerce sites like to have email addresses for future ad traffic and customer order invoices.
The problem comes when a client must complete a sign-up to get to the checkout. It takes time, and they must give information that feels invasive. It is even more troubling when there's no "guest" option.
Your customers aren't all the same. Give them a chance to register if they want, but if not, guest checkout is best for privacy issues. It might make them come back just for convenience.
4. Limited Delivery Choices
People want options. Have you ever bought something with a super low delivery cost only to find out it would take a month to arrive?
But the bigger and more significant dilemma was that no other delivery methods were offered, so you were doomed to wait or leave the item and find it elsewhere.
If your ecommerce shop only has several delivery options, which show a long wait time or a high markup on the delivery cost, you ask your customers to seek goods elsewhere.
5. Payment Gateway Failure
They were so close, and then the payment failed. Or did it?
The customer doesn't know. Sometimes it goes through but says it failed. Or it fails for no reason the customer is aware of.
The bottom line is they are leaving and buying it elsewhere. And when they have a whole cart full of your goods, that can sting pretty badly.
Keeping your payment method updated and maintained is a simple solution.
However, if they just have no money and are grasping at straws for one last item before they go into overdraft or max out their credit card, the only thing you can do is let them go.
They don't have the funds to buy it from a competitor anyway.
6. Limited Cross-Platform Access
Walk into a store, a restaurant, or even a casino, and there will inevitably be someone buying something on their phone.
That person at the Lightning Link machine, tapping the spin button without even looking at it, is probably on Amazon, buying shoes or a book.
But if your shop has cross-platform issues, meaning it doesn't work as well on a smartphone as it does on a laptop, then a person can deem it frustrating and unworthy of further attention.
With the convenience of online shopping, when people want to buy something, they expect to be capable of doing it right away.
Lack of cross-platform functionality makes your site look low-end and unprofessional.
Abandoned Cart Recovery Techniques (Best Practices)
In the world of ecommerce, competition creates a power shift in favor of consumers and, in turn, produces a 'war' among ecommerce businesses about who appeals to customers more. Here are some best practices that will help you stand out and win the abandoned cart 'war' in a crowded ecommerce ecosystem:
In the world of ecommerce, competition creates a power shift in favor of consumers and, in turn, produces a 'war' among ecommerce businesses about who appeals to customers more. Here are some best practices that will help you stand out and win the abandoned cart 'war' in a crowded ecommerce ecosystem:
Create Unique, Single-Use Coupon Codes
While a 30% off coupon code in your abandoned shopping cart email is tempting, there's no guarantee that people will redeem it. Even if they do, you might not find out which email (or customer) worked for shopping cart recovery. To improve your abandoned cart strategy, you'll need a unique coupon code that only applies to a specific product, group of products, or target audience segment. 
A good strategy is to create a unique abandoned cart discount code that expires after a single use. This creates a sense of urgency (and FOMO), driving users to complete the purchase and prevent misuse.
There are two main ways to create unique coupon codes. First, you can use a random string generator tool. Such tools can provide unique codes, which you can then paste into the coupon field of your abandoned cart email template. However, this method isn't recommended if you plan to send a high volume of abandoned shopping cart recovery emails.
Instead, you should use a database solution. These solutions enable you to store the results of previous email campaigns, which you can later reuse and integrate into your next email campaign. 
If you're using a database solution, you can leverage the information in these emails and imply behavior segmentation to personalize the offer. For example, you can discount all users who abandoned their cart for product X within the last ten days. You can also use data to personalize the offer and improve customer experience. 
Personalize Your Coupons
Personalizing coupon codes is a great way to connect with customers and complete their purchases. The main objective behind personalization is to show that you care for their needs and provide value-added benefits to the customer.
Personalized codes can be tweaked per the user journey and streamlined to suit a customer. It's a good practice to use different coupon codes for every abandoned cart email and send one or more emails with a personalized code on the same day.
You can personalize your coupon discounts to individual customers based on what they've previously purchased. This increases the likelihood that the customer will actually use the coupon.
Also read: Ecommerce Personalization — Your Guide to Examples, Practices
Create a Sense of Urgency
The online world is full of procrastinators because the internet user comes across millions of information in minutes. And if they feel like they have all the time in the world, they're more likely to drag their feet to take action. No matter how mouth-watering your promotion may seem.
So, what do you do? You make them feel they will miss out on something huge if they don't take action in the following hours, days, or weeks.
You can create a promo code with a timeframe for its users to create a sense of urgency. Better put up a countdown timer showing how much time they have left to use that promo code. Or you can use clever copywriting like some of the abandoned cart email examples we shared above to create a sense of urgency. This will increase your campaign effectiveness and help you recover more carts.
Gamify Your Abandoned Cart Emails  
Who doesn't love games? Putting your prospects to the test with games is extremely rewarding to recover abandoned carts.
Humans are competitive by nature and love to win a prize. With a 'reward' attached to a gamified email, any recipient will want to participate.
You can gamify your emails by creating contests about "checking out within the next 10 minutes", or the first "100 checkouts will win a special gift." 
Such gamification attempts also improve engagement and build personal relationships. But remember to add the game terms and conditions to your email to avoid any trouble.
Use a Creative Email Design That Triggers Curiosity 
If your website has an abandoned cart recovery flow, use a creative abandoned cart email design to trigger curiosity in your prospects. An interesting visual element, an interactive button, a short video, or a call-to-action button can be great triggers for your customers.
Make sure that your email design is visually appealing. People tend to keep reading an email if the design is excellent. Remember, a great design aesthetic can say what a thousand words can't. So, incorporate creative designs and graphics to make your email memorable, invoke curiosity and drive action.
Create a Compelling Email Copy
Persuasion doesn't only come through captivating visuals but also with powerful words. An excellent shopping cart abandonment email combines a catchy subject line, good product images, an intriguing offer, and clever copywriting.
You can create compelling email content for your abandoned cart recovery emails by focusing on the product benefits or the offers a recipient is missing out on by not checking out soon.
Also, remember that the cart isn't a confirmation; it's just a small milestone. So, instead of asking users why they didn't complete the order bluntly, ask what more they want to know that will make them buy from you.
Schedule Your Abandoned Cart Emails
A typical abandoned cart recovery campaign is a series or sequence of messages/emails sent to the customer based on their actions. Hence, timing is highly crucial for such campaigns. Randomly sending out emails won't guarantee a recovered cart. If you send them too soon, you might put your prospect off, and if you delay the mail for too long, you might lose a prospect. Balance it up through these intervals:
Send the first email within an hour of the abandonment;
Set up a follow-up email scheduled after 10-12 hours.
Schedule the final reminder after 24 hours.
All this requires a lot of time, and you need to do more than just keep sending emails manually every time someone abandons the cart. But when using the right marketing automation platform that offers cart abandonment solutions, you can schedule an email campaign to follow up with them.
Sender is a marketing automation software that helps you schedule emails and set up automated email follow-up and abandoned cart email campaigns.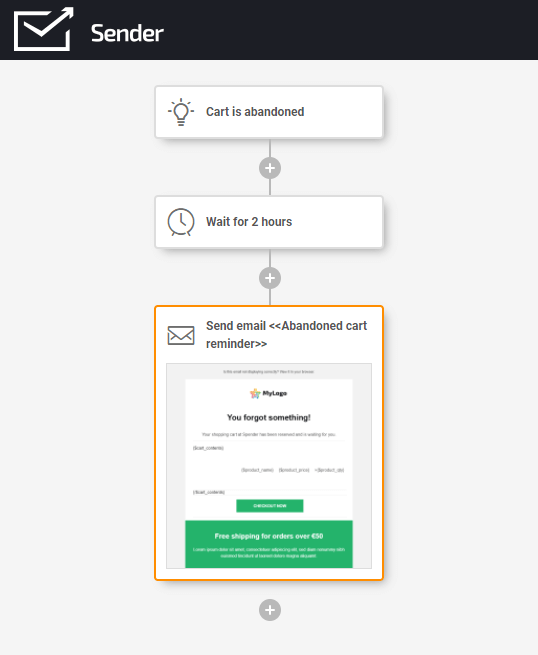 Also read: Friendly Reminder Email Templates: 18 Samples You Should Try
Best Email Marketing Practices to Reduce Cart Abandonment
Abandoned cart recovery is reaching out to potential shoppers and gently nudging them to complete their checkout. Shopping cart recovery is a way to get back already interested 'hot' prospects who are already halfway through.
While there are a number of cart abandonment solutions doing rounds in the market, the easiest way to do it would be to send out cart abandonment emails. When done right, abandonment recovery emails can convert up to 10%.
Cart abandonment emails are a drip sequence of emails triggered when a prospect abandons their checkout.
Designing an email template for abandoned cart situations doesn't have to be as painful as learning HTML or coding. Also, none of this has to be done manually or repeatedly.
You can easily create an array of cart recovery email templates using professional-grade email marketing tools and set them up on automated drips.
While the average ecommerce email open rate is around 42%, cart abandonment email is a different beast altogether: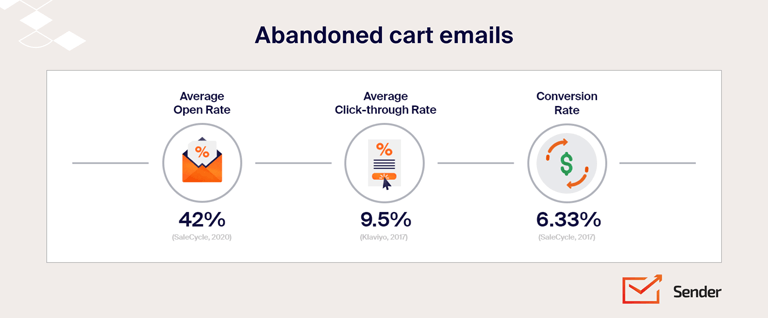 42% Opened the emails
9.5% of these Clicked through the links
6.33% of these completed their purchase!
If you are not sending out cart abandonment emails, you leave money on the table. Who wants to do that in an extremely competitive market? So we suggest you start planning your abandoned shopping cart email sequence, as it's super easy yet very effective.
Key Takeaways
Use abandoned cart emails to recover lost sales and show potential customers that you care;
Schedule your abandoned cart emails strategically to get the best results;
Always send informative abandoned cart emails that intrigue users and compel them to return.
---
Author bio
Anmol Ratan Sachdeva is a content marketer and small business consultant who has a strong grip on topics like marketing automation, email marketing, and content marketing. He loves to write about starting, improving, and growing a business.