Profit from your knowledge
Apply email and SMS marketing strategies you already know to see the best results with Sender. It's free. It's easy.
Get Started For Free
Ecommerce email marketing is critically important for building an ecommerce business. But how to get started with it? Read on to find out.
According to Neilsen Norman Group, most website visitors will leave your site within the first 10-20 seconds if you don't have a great value proposition. And even if you have a great product and an exciting value proposition, the average user will stay for 4-5 minutes before they are off to your competitor's website. That means you must have a great hook and engagement strategy that captures attention and converts them into followers in a world with an increasing attention deficit.
The following guide offers the basics of building a powerful eCommerce email marketing strategy to hook, engage, and convert visitors into customers.
What is Ecommerce Email Marketing?
There are more than 12 million eCommerce websites globally. It's quite a competition out there.
Naturally, you need something to convince people to buy from you. Nowadays, you can't simply rely on TikTok and other social media alone. And email marketing constantly proves to be a viable alternative in this scenario.
According to the latest ecommerce email marketing statistics, welcome, abandoned cart emails, and personalization can skyrocket engagement and conversion rates. In fact, you will:
Email marketing is the way to go if you want to make your eCommerce business profitable. The reasons vary from being able to nurture leads personally to hyper-targeting using customer segmentation and more.
What's more? You'd think that ecommerce email marketing should be complicated since it's so beneficial and cost-friendly. The truth is that it can be super simple, especially with today's most email marketing services' features like smart segmentation, automation, and drag-and-drop builder, there's little to no reason not to invest in eCommerce email marketing.
Easily do everything from collecting leads, executing SMS & email marketing campaigns, and setting up the automation to analyzing results. Everything — without a hassle with Free Forever plan.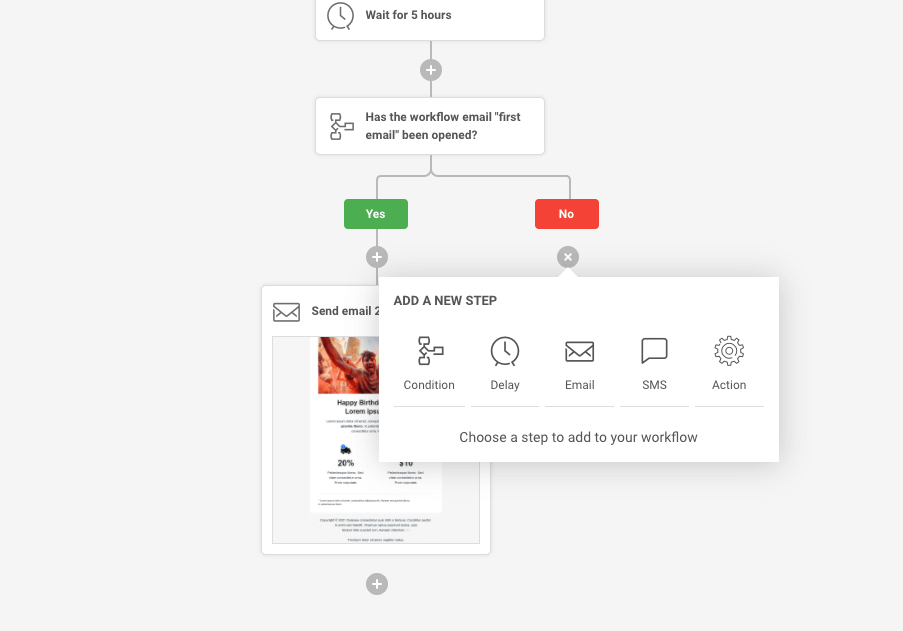 Now that you know the 'why' behind launching your first campaign, let's look at a few campaign types you can plan quickly when starting an eCommerce business.
4 Types of Emails for Ecommerce Email Campaigns
You've got a lot of things on your plate as an eCommerce business owner. Naturally, you don't like wasting time. While your email marketing strategy requires deep planning, research, and brainstorming, here are a few email types you can add to your email marketing plans right away:
Transactional Emails. These are emails you send out after someone transacts on your website, such as making a purchase. Transactional emails share crucial information about their order, thank them for buying, or encourage them to buy more. Transactional emails typically include the order number, shipping details, payment receipt, and relevant links.
Promotional Emails. Promotional emails are used to keep in touch with visitors who have expressed interest in your product or service. They generate sales through carefully crafted emails to create trust, increase conversion rates, and make people buy from you. These emails aim to inform the customer about your products or services, keep the customer informed on special offers and promotions, and solve issues with the customer service department.
Trigger Emails. Triggered emails refer to those that are sent to people based on specific behavior, online activity, or actions they take while interacting with your brand. For example, if someone buys something, you can automatically reach out to them with a thank you, discount, or promotion offer. Behaviorally triggered emails help nurture prospects, move them further into the buyer's journey, and build relationships.
Reengagement Emails. Reengagement emails are used to re-engage with users who have stopped using your product/service or responding to your offers. These emails help build rapport and strengthen relationships with existing customers or email subscribers. They can be triggered manually or automatically based on some conditions. For example, a purchase might trigger a reengagement email with a discount coupon for the next purchase.
Are you looking for examples to get inspired? Head to the next section for examples of all these eCommerce email marketing campaign types.
Best E-Commerce Email Marketing Strategies
If you've been thinking about growing your website for a while and searching for the best eCommerce email marketing strategies for inspiration, you've come to the right place. We've compiled some of the best email campaign strategies for you to get started quickly. Here, take a look:
1. Create a Branded Email Design
An email design reflects the brand you want to project to your prospects. It's the face of your brand and the one thing that will connect to them. Make sure it represents your brand and conveys a sense of your company's personality.
Your audience will identify your brand by how you present yourself and your business. A branded email design is a simple but effective way to create a brand recall. An effective design will help create a recall in the minds of your customers and make you memorable.
Here's an example from Casper: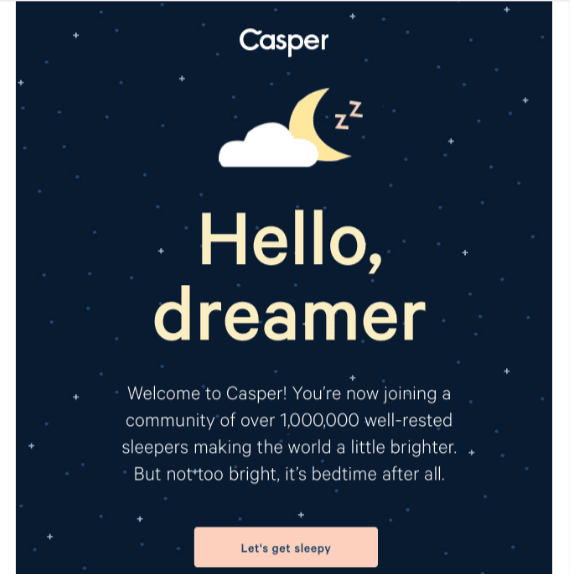 Here are a few tips for creating a branded email:
Use the same layout across all your email templates. ​This makes it easier to align your design with your brand and marketing messages.
Avoid unnecessary elements like vague infographics, stray illustrations, or flashy animation.
Designing a branded email with relevant components will help your new customers quickly identify and engage with your emails.
2. Always Use a Clear CTA
The best eCommerce emails have a strong CTA. In other words, the email must tell your subscriber what they need to do after reading it. The CTA should move the reader further into the buyer's journey.
Here's an example: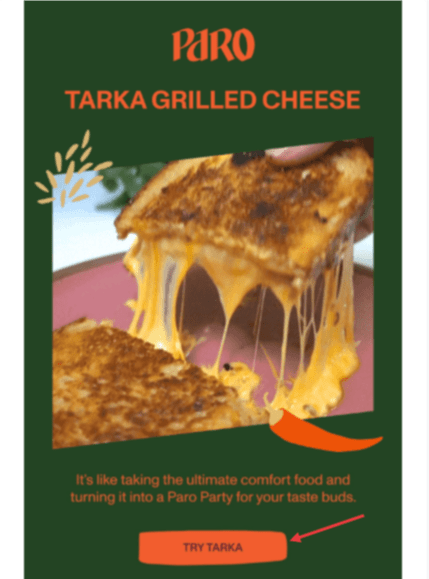 Let's say you have an offer designed to convert a long-time subscriber into a paying. You can set up an autoresponder with an attractive deal or offer and a CTA to encourage customers to avail of the 'one-time' deal.
You can also use a CTA to drive the subscriber to take another action within your email. For example, if you want them to read the latest blog, you can add a CTA that will take them to the appropriate section of your website.
Never leave them wondering what they should do after reading your email.
3. Use Responsive Email Templates
Responsive email templates are the best way to create an awesome email experience. Not only do they look amazing across different devices, but they are also better able to adapt to the screen size.
They are a critical tool for eCommerce marketers to boost engagement as most people choose to check their emails on their smartphones nowadays.
You can use a drag-and-drop email template builder to create responsive emails quickly. Such templates will help you save time and avoid the hassle of promising an intuitive user experience across all devices.
4. Run A/B & Split Tests
A/B testing and split testing allow you to see how different combinations of subject lines, colors, copy, images, etc., perform and determine the winner in terms of conversions. It's the best tactic to help you identify the best-performing email that engages your subscribers.
By running different versions of an email campaign, you can learn more about what works for your audience and which version converts the best.
To run an A/B or a split test, have two versions of your campaign – one being the original and another with some element of your email changed.
For example, if you're running an eCommerce campaign, you can split-test different variations of your product images to find the best image that increases clickthrough rates. Similarly, you can split-test different subject line variants and preheader text to see which combination makes most users open your email.
5. Reward Your Loyal Customers
If your subscriber base has been built over time and is loyal to your brand, reward them for being valued customers with an incentive or special offer. This offer will encourage customers to open your emails and buy again when done well.
The key to successful customer loyalty programs is making them appealing, accessible, and valuable. Implementing an omnichannel approach is an excellent way to ensure you get the best results from your loyalty program. You can send regular SMS and emails throughout the week to make sure they avail of the incentive.
When done well, rewarding will increase the chance your emails get opened and responded to, which is vital for converting prospects into loyal customers.
6. Send Sneak Peek Emails
Sneak peeks are a great way to get customers excited before a big sale day. It gives you time to capture the customers' attention and convert them into paying customers when the sale goes live.
Sneak peek emails often come as a surprise, and who doesn't love surprises? For example, sending a glimpse of the upcoming Black Friday deals.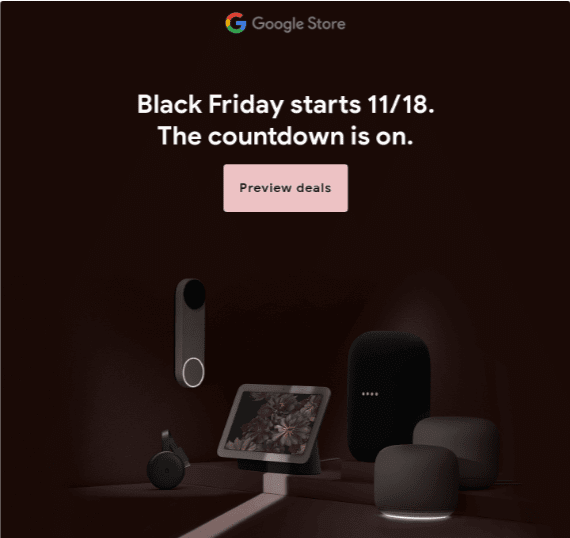 Here are a few ideas to send a sneak peek email:
Add an offer or discount code within the email body;
Share exclusive, behind-the-scene preparations as part of the email campaign;
Create landing pages and direct your CTA to the landing page for customers to get more 'insider' info about your big sale.
7. Send Emails Based On Customer Behavior
Everyone loves personalized connection and attention, including your customers. So, your emails should always focus on sharing relevant stuff your customers are already looking for.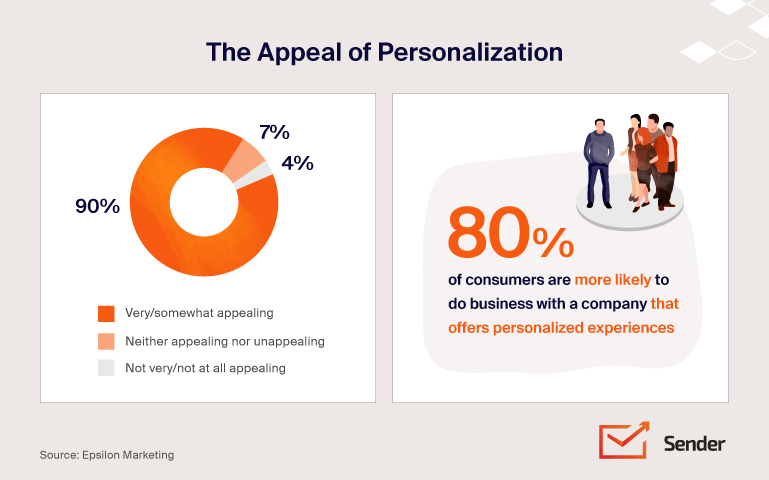 Using behavioral triggers to schedule automated campaigns is a great way to improve your email marketing ROI.
Triggered emails are sent automatically based on certain conditions or how customers interacts with your ecommerce site. They can send follow-up emails, set up cart abandonment reminders, or share limited-period offers based on customers' previous actions.
Such emails capture the attention of your potential customers, increase engagement, and encourage repeat purchases. You get brownie points for sharing relevant, on-time, and contextual information, increasing your brand value.
8. Schedule 'Thank You' Emails
Your customers want to be acknowledged — for their likes, clicks, purchases, and more. Sending a thank you email after an interaction, transaction, or customer referral is one of the best ways to make them feel valued and strengthen your relationship.
You can set up autoresponders to schedule thank you emails in advance. But make sure to personalize these emails by being warm, humble, and fun. You can use segmented lists to personalize your 'thank you' email.
For example, a 'thank you' email to someone who signs up for the first time to your newsletter should have a personalized coupon code to encourage them to purchase. You can also schedule a thank you email for people who refer your brand to their friends or family.
9. Ask for Feedback After Purchases
Getting customer feedback for reviews, testimonials, before-and-after pictures, and/or a case study is important. It's also important just so you can interact with each customer on their level of satisfaction, so you can make any grievances right and improve the quality of your service for the future.
Future customers always look for peer reviews of your company and the products you sell. A follow-up email campaign to get this feedback from buyers is important as it will add credibility to your eCommerce store and brand offering.
The great idea is to set up an automated email sequence that thanks the buyer for the purchase and simultaneously asks for a review.
10. Send Weekly Newsletters
In addition to asking for feedback after purchases, consider starting a weekly newsletter for your subscribers. Your weekly newsletter may include special offers or discounts, value-added content, and more.
You can design an email newsletter template and schedule it to be sent automatically every week or month. This will help you stay in touch with your subscribers, create a brand recall, and drive sales on autopilot.
10 Ecommerce Email Examples
Let's now look at 10 eCommerce email templates and examples to give you ideas on how to design your own email campaigns.
Welcome Email Template
Welcome emails are a great way to start a relationship on the right foot. Think of it as a chance to create a solid first impression. Think of welcome emails as a part of your user onboarding process that will compel them to try you out. Take the following email by Tea Collection, for example: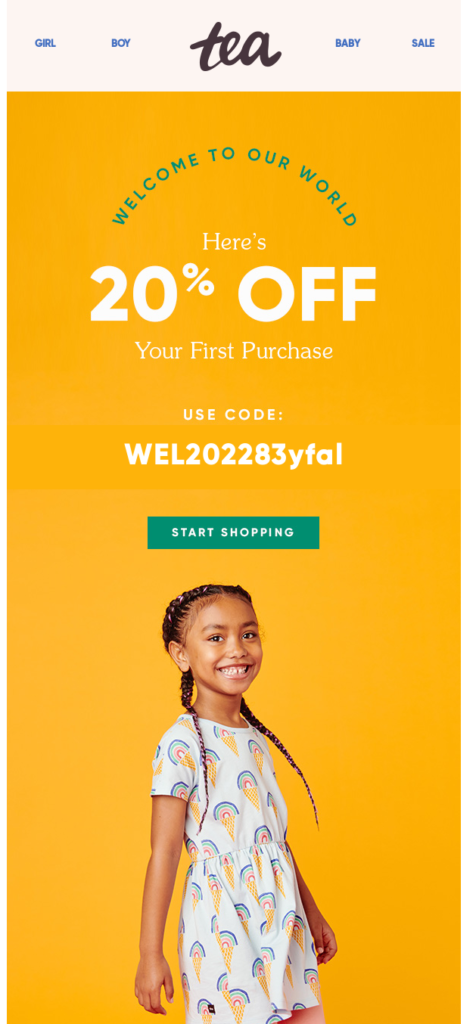 Notice the vibrant color theme with a discount coupon highlighted right on top. This tells that the brand cares about the new signup and wants them to try the product. The subject line (Welcome to Tea! Get 20% off) and preheater text is equally compelling.
Key Takeaways
Use a vibrant and inviting color theme;
Offer value upfront (discount offers, exclusive deals, or downloadable);
Showcase your offerings in your welcome email.
Lead Nurturing
Sometimes, potential customers need an extra push to buy something from you. In other words, they need to be nurtured before they can trust you. Lead nurturing emails are widely used by creators who sell online courses or other digital products, and it's a great way to show that you're credible, helpful, and can solve their problems. Take the example of this great lead nurturing email by Ace & Tate:

The brand offers prescription and non-prescription glasses and accessories. The email showcase how they're available at all steps, sharing helpful articles, useful stuff, and assistance on how to find the perfect (and accurate) eyewear for yourself. Email is the epitome of how to be helpful without being intrusive.
Key Takeaways
Extend a helping hand that takes the potential buyer further into the buyer's journey;
Share useful tips, helpful articles, and personalized assistance wherever possible;
Use simple copywriting to persuade users and show that you care for their well-being (or pain point).
Reengagement Emails For Inactive Users
No matter how good you're at emails and creating a solid value proposition, some subscribers would stop buying from you, not open your emails, or engage with you after a point. When Netflix, being so popular and hypnotic, can't stop people from inaction, you can't imagine doing so too. Here's a re-engagement emailer from Netflix:
The email tries to lure inactive users into subscribing to the paid plan of Netflix. The header – Let's reunite, along with an inline form to rejoin, is an excellent attempt at reducing the number of steps it takes to return.
Key Takeaways
Make it easy for customers to come back to your brand;
Remind them about the reason why they loved you in the first place;
Try to create an interactive emailer, which simplifies conversion into an active subscriber.
Cross-selling Emails
Cross-selling campaigns are similar to upsell campaigns, but instead of trying to persuade them to 'buy more, cross-sell campaigns are designed to share contextual recommendations that would complete their recent purchase. For example, an email sharing the trousers that would complete the 'summer look' after someone buys a shirt from your online store. Take a look at the following email by Timberland: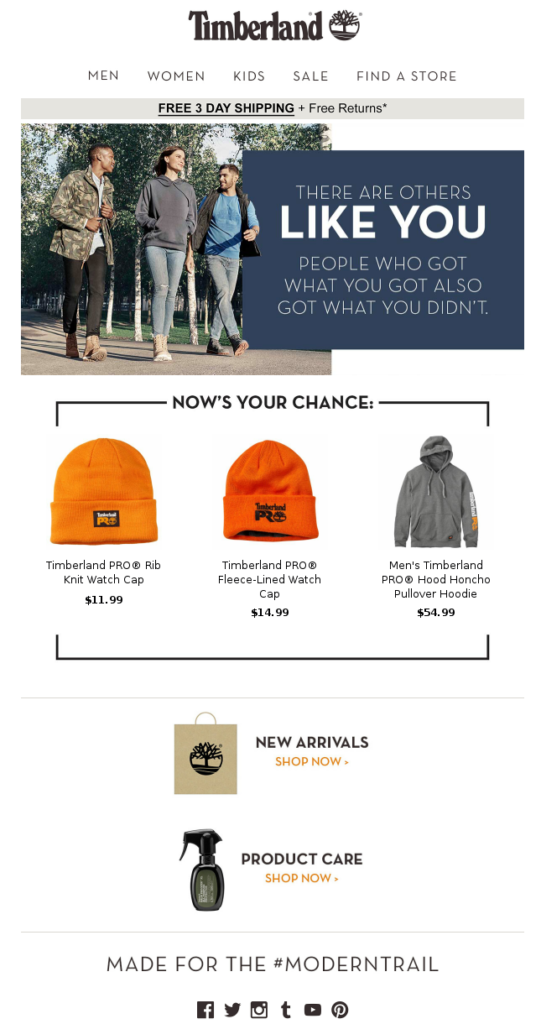 The email opens on a relatable note and shares what can be exciting for the user. It's contextualized based on recent purchases and shares complementary products that might be relevant for the recipient.
Key Takeaways
Always share personalized shopping recommendations within cross-selling emails;
Provide an incentive or discount coupon, if possible.
Upselling Emails
Upselling emails are a great way to increase customer lifetime value. These emails try to persuade users to buy more from your brand. Dollar Shave Club has been acing the upselling game with their thoughtful emails like the below: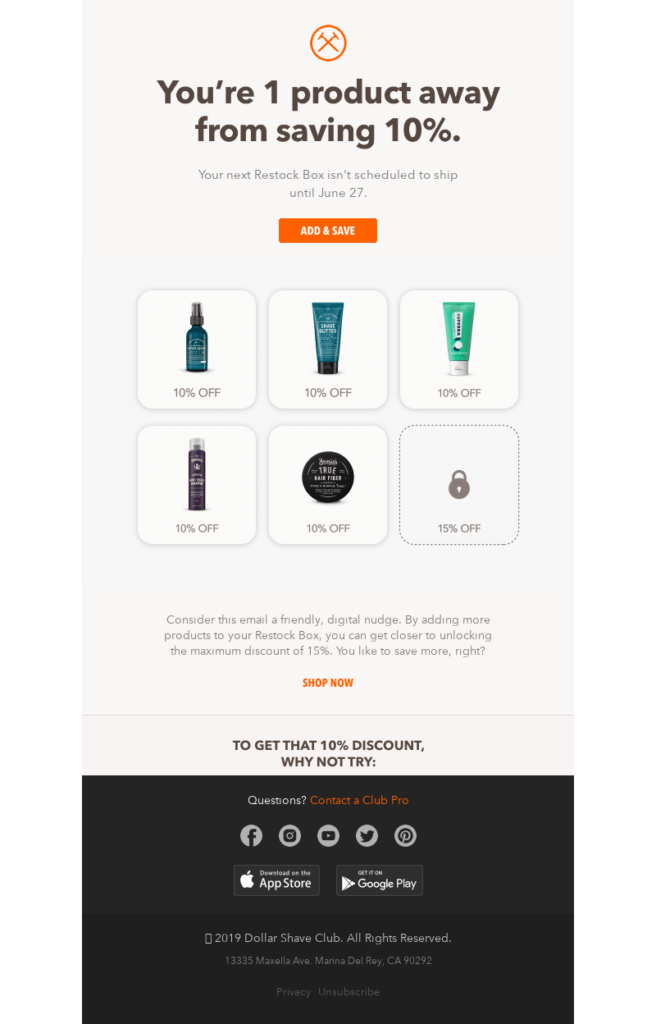 The email's subject line — Don't forget your handsome discount — is tempting. The headline extends the 'alluring offer' to add one more product to get an extra discount—a clever move to incentivize buying more from the brand.
Key Takeaways
Be natural and contextual in trying to upsell an offering;
Always add 'options' to give users a chance to browse the different buying opportunities;
Bundle the upsell offer with an incentive to buy more.
Abandoned Cart Emails
People live busy (and distracted) life and sometimes forget to check out because of the Insta notification or an important call. Your abandonment cart emails should remind them to check out. Take this engaging email example by Varley:

The email's subject line – 'Quick, before it's gone is an excellent example of creating a FOMO + urgency effect all at once. The simplistic email design with an exclusive offer and an option to talk to customer care are definitely impactful.
Key Takeaways
Use urgency to your advantage;
Keep the email design simple with a spotlight on abandoned products;
Give the option to connect with customer care in case of queries;
Share your exclusive deal or offer in case they want to come back and buy from you.
Win-Back Emails
Winback emails are an attempt to bring attention back to your brand. Most consumers forget about your brand after a while. A win-back campaign helps remind them about you and is a great chance to register repeat sales. Take the example of this wingback email by Sunbasket:
The email copy with a subtle tone of 'nostalgia' and 'craving' is on-point. The header 'cook with us again' aims to remind the reader about the joy of using the brand's product. The exclusive offer with a contextual is an excellent attempt at encouraging the user to click the link.
Key Takeaways
Remind them about the reason why they signed up in the first place;
Add an exclusive or no-brainer offer to come back;
Use contextual CTAs and email copy to encourage clicks.
Also read: 10 We Miss You Email Template Examples & Subject Lines
Order Confirmation Emails
Order confirmation emails are to reassure the customer that everything's fine. These emails are a great way to create an impression that you pay attention to detail and set expectations on the right foot. Look at the following order confirmation email from Harry's: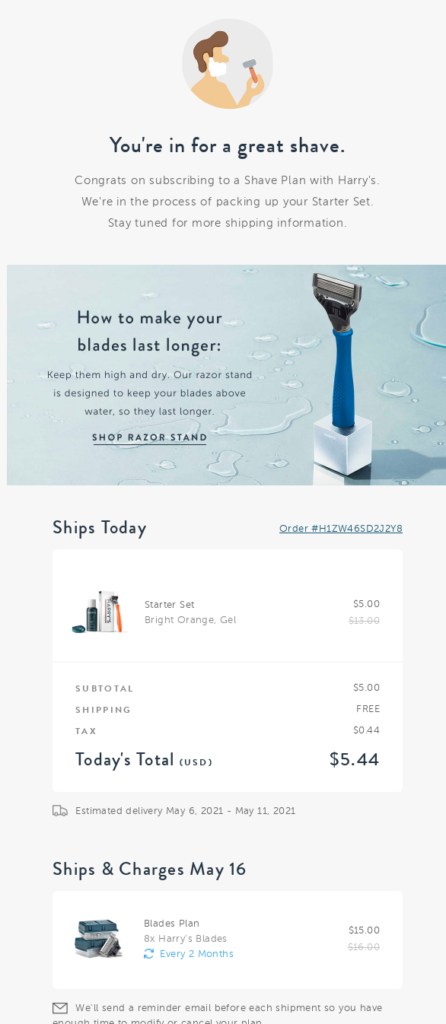 The subject line (introducing your shave plan) and the header are good examples of how you should introduce things to your buyers. The email also has shipping details and a special 'tutorial-type' blog to ensure the product lasts longer.
Key Takeaways
Be direct and clear about order number, shipping dates, and key information;
Introduce them to other offerings (or upsell) within your order confirmation email;
Use a simple yet powerful subject line.
Survey Emails
Surveys are a great market research tool to know what your customers want. And what's a better way to know what they want than asking them directly? Survey emails are meant to gather insights, like the following email by ryka: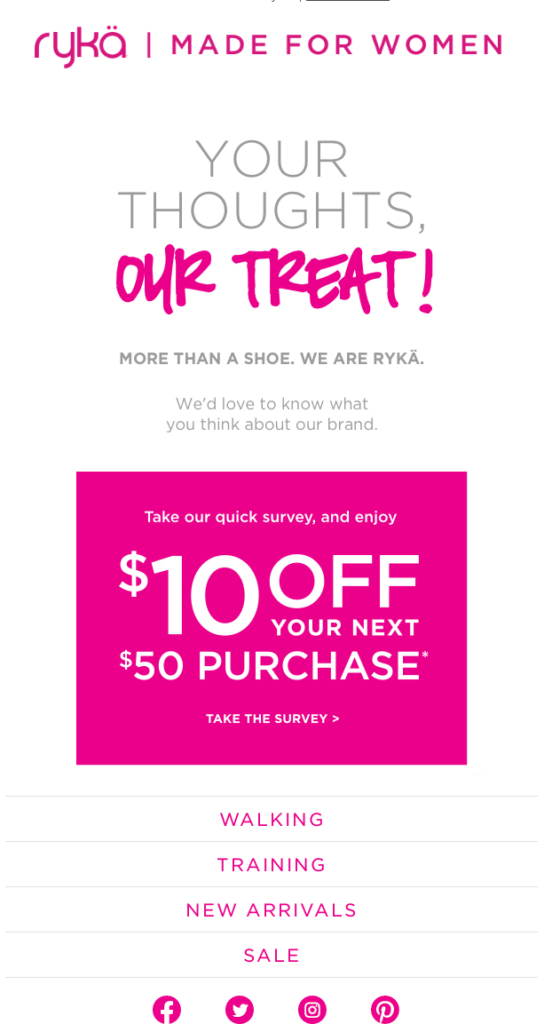 The email is refreshing, thoughtful, and on-point. It also shares a special incentive – $10 off on the next purchase for everyone who completes the survey.
Key Takeaways
Incentivize survey responses by sending a discount voucher or coupon code to successful respondents;
Be clear and upfront about what the survey is about;
Have an engaging email copy + CTA to encourage readers to participate in the survey.
Discount Email Template
Discount emails are promotional emails where you share information about your eCommerce store's latest sales or discounts. Look at the following example by Nine West:

The email headline and subject line's reference to a limited-period mystery sale creates a FOMO appeal. The straightforward CTAs with contextual email copy encourage users to check out the deals on the website.
Key Takeaways
Add a FOMO appeal to your subject line and email header;
Use smart copywriting to persuade users to click your CTAs;
Share 'exact' discounts or deal offers within the emails;
Add terms and conditions, if any, within the footer of the email.
Also read: 10 Flash Sale Email Examples
Ecommerce Marketing: Key Takeaways
Email marketing is one of the most profitable channels for eCommerce businesses;
Create automation sequences based on behavioral triggers for welcome emails, thank you emails, follow-up emails, etc.
A/B test your campaigns wherever you can;
Use personalization in all your eCommerce email marketing campaigns to improve your open rates and clickthrough rates.