Like what you read?
Apply it in practice with Sender.net - the most cost-effective email marketing solution in the market.
Try Sender for free
Imagine you want to buy a brand new laptop for yourself. You go to your favorite online store, choose a model, type in the order details, and complete the payment. But, for some crazy reason, there's nothing in your inbox.
No order confirmation. No payment confirmation. Nothing suggests that you just made a purchase.
A situation like this rarely happens but shows how important transactional emails are. Online payment confirmations, order confirmations, and password recovery emails are examples of transactional emails.
If you feel like getting straight to the point, here's what I'll cover in this guide:
What is transactional email?
Why transactional emails are important for your business?
Let's begin.
What is Transactional Email?
A transactional email is sent to a user to inform them about the completion of a certain process or action. It requires complete email automation because the success of a process often depends on the speed of their delivery. That's why transactional emails are also called "automated" or "action-triggered."

The most common examples of transactional emails are:

password recovery notifications;


shipping confirmations;


order confirmations;


newsletter subscriptions (website registration confirmations);


account-related notifications and alerts.
They differ from marketing emails in that they're triggered by the user's events or actions on a website, app, or service rather than by a marketing campaign. Also, they're more personalized to the recipient's needs and are delivered shortly after they complete the action or trigger an event.
That's why transactional emails generally enjoy a much higher open and click-through rate.
Why are Transactional Emails Important for Your Business?
In addition to serving their role of helping people complete orders, registrations, etc. these emails also: 

increase customer engagement. By including relevant website links, you can encourage more people to engage;


improve brand recognition. Each transactional email has brand elements to foster recognition of your business by those who receive them;


stimulate additional sales. By sharing more deals and ads in emails, you can raise awareness of your offers;


increase customer trust. Transactional emails allow people to complete actions quickly and securely, so they foster an image of a reliable company.
To know the whole range of transactional emails, let's review the most common types in more detail.
4 Types of Transactional Emails + Examples
1. Email Subscription Confirmation
Email subscription confirmation email does exactly as its name suggests. It serves as a means of confirming the subscriber's email address after they have typed it in an email newsletter subscription form. 
Here's an example of such an email from Figma.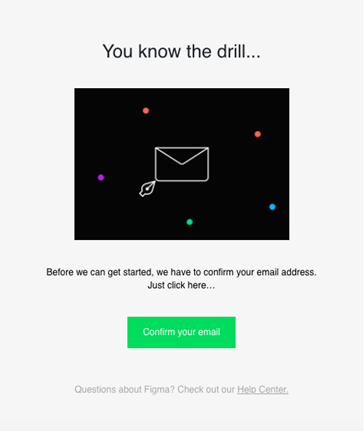 Email confirmation is a necessary practice to filter out bots and confirm real subscribers. That makes them very important to ensure that your email newsletter reaches your target audience.
Here's why this email is great:
it has no additional marketing messages;
the link to action completion is given in a beautiful, distinct CTA ("Confirm your email");
it provides the link to Figma's help center in case the recipient needs some assistance;
the copy is simple and quite engaging.;
The confirmation emails also help you to track your marketing email list-building efforts. The larger the list, the more chances to increase sales you have.
Read more: How to Build Your First Email List (8 steps for Best Start).
2. Order Confirmation Email
This email is sent to a customer after they've made a purchase to verify the details of their order. In other words, it confirms that the transaction has taken place.
Here's an example from Amazon.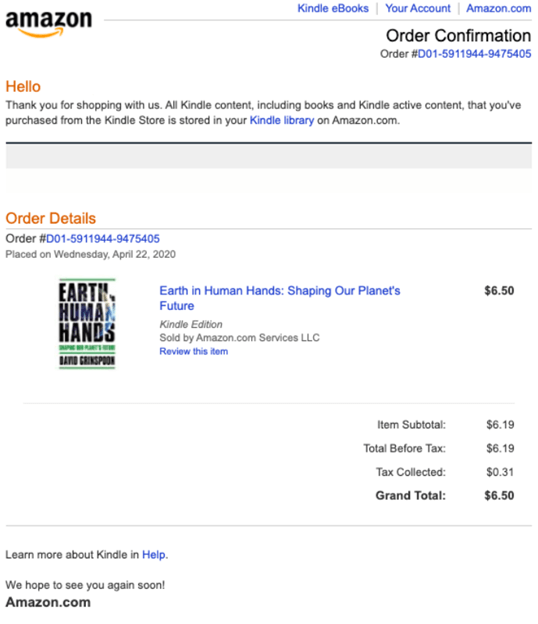 Needless to say, order confirmation emails are a must for eCommerce email marketing to provide information about purchases to customers.
This email is great because:
it provides essential information about the order: number, date, contents, price, and other details;
it offers quick access to help options;
it contains links to the order confirmation page on the seller's website;
it has navigation options (the link to the customer's profile, the product page, and the seller's homepage).
Also read: 7 Order Confirmation Email Template Examples
3. Password Recovery Email
Websites send this email when users need to set up new passwords for their accounts. Obviously, they're critical to ensuring a positive customer experience and keeping their data secure.
Here's an example email, courtesy of Holland & Barrett.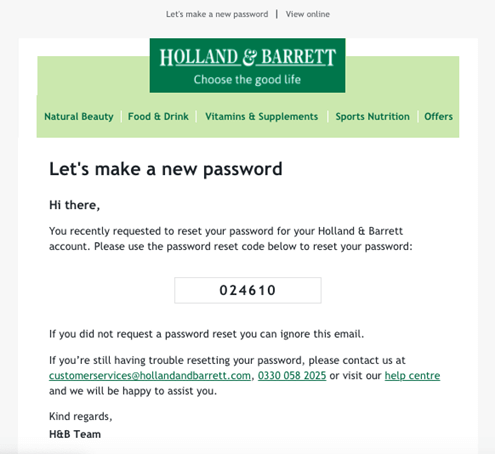 Here's what makes this email great:
a clear explanation of how to proceed with the password recovery;
the password reset code stands out from the rest of the content;
links to multiple customer support options in case the recipient has troubles with the password recovery.
4. Unusual Account Sign-in Alert Email
This email falls into the category of account-related alerts. Its purpose is to notify the recipient of any unusual activity on their account. However, account-related notifications also serve as a means to communicate any user activity.
In this case, the email from Amazon alerts the customers about a sign-in from an unknown device.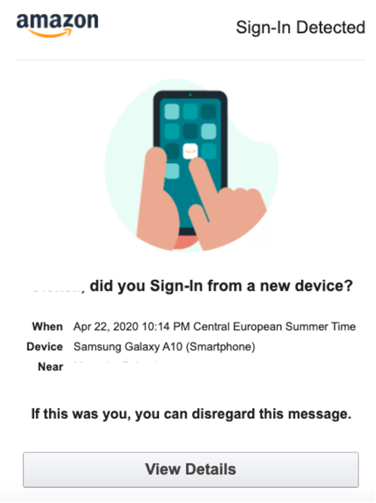 Account-related emails like this are crucial to keeping customer data safe and secure.  
The example is great because it has:
a clear explanation of the security event;
details of the sign-in that can help the user understand if it's a real issue;
a link to a page with more details about the event.
As you can see, each type is personalized to help the recipient address one specific issue. High relevancy and personalization.
4 Ways to Increase Customer Engagement and Sales with Transactional Emails
As mentioned, transactional emails can help online businesses increase customer engagement and stimulate sales.
Here are four ways to do that.
1. Include Website Navigation Options
The website menu in the header provides a way to access your store. For example, the email below notifies that the password was changed.
The end of the security process means the recipient can proceed to the site by clicking on the brand's logo or navigation options.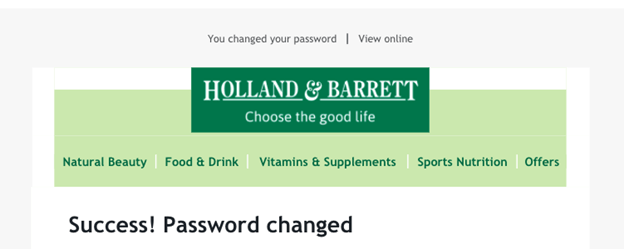 2. Encourage to Connect on Social Media
As many as 90 percent of people buy from brands they follow on social media. Your business should also share the links to branded social media accounts to help your subscribers stay in touch with you there.
Here's how Uber does it in a password recovery email.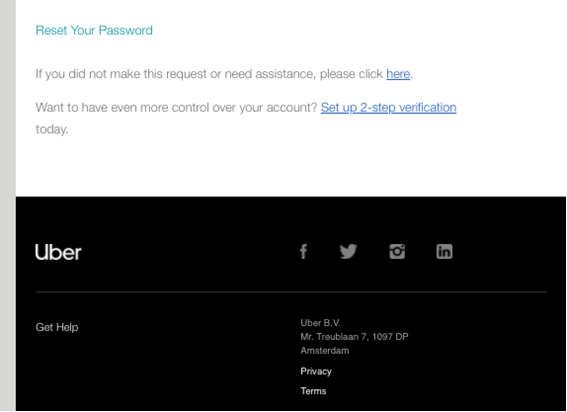 Try including the links in the email footer like that.
3. Promote Your Mobile App
Does your brand have a mobile app? Or maybe you've updated an existing one recently?
If the answer to either of these is "yes," then try including an app store button in transactional emails to encourage people to download it. 
In this password reset email below, Stitch Fix adds a button to the App Store. The text that follows the button also encourages the recipient to try the app.
Try including buttons to app stores at the bottom of transactional emails, too. Even though the email above has only one button, feel free to add Google Play and Windows Store links if you can.
4. Provide Customer Support Options
In addition to website menu links, you should also experiment with adding support navigation options.
For example, in this email below, Pro Scooters shared links to the returns, shipping, handling, and privacy policy, terms of use, support phone number, and email.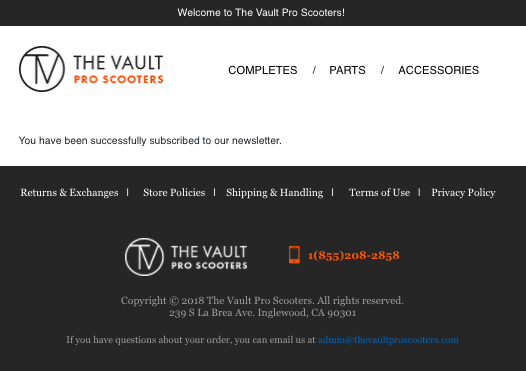 Including these links to payment-related email campaigns would be a good idea to help customers get acquainted with your returns and other policies.
How to Get Started with Transactional Emails?
Transactional emails are essential for good communication throughout the customer journey with your brand. You can keep your leads and customers informed about their actions and generate engagement and sales.
To send transactional emails, you need a powerful email automation solution like Sender.net, which ensures high deliverability and is GDPR compliant.
You can sign up for a free account and send out up to 15,000 emails per month. Or, take a look around Sender's blog for more email marketing tips to increase your ROI.
Also read:
---
About author
Aaron Swain is a writing specialist who is currently working in the writing service reviews company OnlineWritersRating . He is passionate about marketing and SEO. He expands and improves his skills throughout the writing process to help and inspire people.