Employ your powerful emails
Increase sales and engagement by sending your well-designed emails with Sender.
Get Started For Free
You've seen them. You've got them. Chances are you've already created them. Let's dive deeper into the world of ecommerce newsletters!
Newsletters are an integral part of email marketing strategies. Keeping your subscribers updated on your brand's ins and outs is an excellent tool for boosting engagement, driving sales, improving company image, nurturing customer relationships, increasing retention, and so on. But only if they're good.
Wouldn't it be nice for your email newsletter to be the one that 90% of Americans are subscribed to? Here's where this hands-on blog post comes to your help. We've collected awe-inspiring ecommerce newsletter examples, compiled a list of content ideas, and thrown in the best practices for good measure. Continue reading!
What is an Ecommerce Newsletter?
An ecommerce newsletter is an email that online businesses regularly send to their subscribers (daily, biweekly, or monthly). It usually serves a few purposes:
Promotes new products;
Keeps updated on company news;
Informs about sales or special offers happening.
But mainly, the importance of a newsletter in ecommerce is based on engaging customers and building brand loyalty by encouraging repeat purchases that drive sales.
What makes a newsletter great? It has to be interesting, captivating, and functional. Unfortunately (or luckily – it depends on how you look at it), bright colors and a tidy structure don't make the cut anymore. That's why brands constantly think about how to stand out from the crowd and offer fresh ecommerce newsletter content. Be it surprising images, creative copy, or never-seen-before offers that engage and solve subscribers' pain points.
Let's see what clever marketers thought of below!
9 Best Ecommerce Newsletter Examples
Most digital marketing strategies find good use of ecommerce newsletters. So, it's no wonder there's more than one great example of them.
Look at some of our favorite newsletters from successful email marketing campaigns and get inspired to craft one by yourself:
Nike
Subject line: Better Than Roses ❤️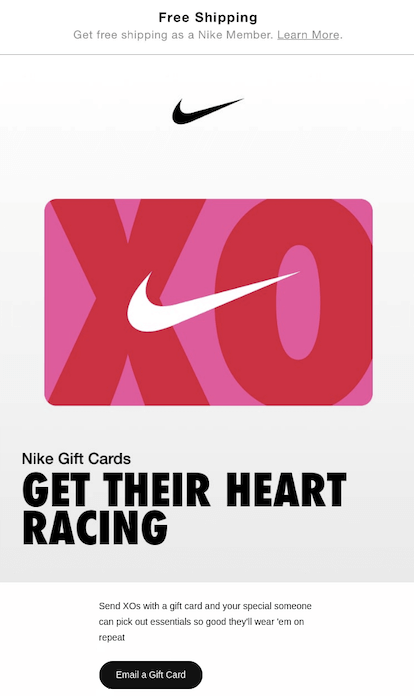 A sign of a good newsletter is the value given to the subscriber. Customers love exciting content, life-changing tips and tricks, or, like in Nike's case – an idea of what to give a loved one for Valentine's Day.
Before crafting a newsletter email template, consider how it could enrich your subscribers' lives. Even better if it's your product that can help with it.
What we like:
The product is presented as a solution to a pain point;
The occasion is cleverly connected to the brand's specifics – sports;
A clear CTA (Call-to-Action) motivates you to visit the ecommerce website without delay.
Ritual
Subject line: It's what's inside that counts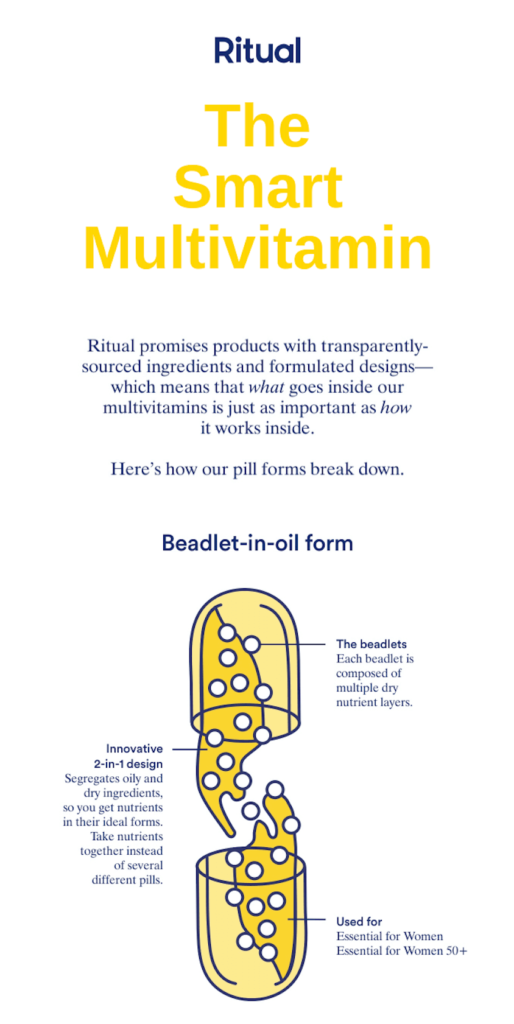 If done right, product announcements can become the exciting ecommerce business news your newsletter subscribers are waiting for.
Before the official launch, start building anticipation – create a template hinting about something special soon. When it's time to reveal it, put all your efforts into making a splash. Think of an attention-grabbing subject line and showcase the new product with eye-catching visuals. Be keen on the most intriguing details about the novelty, and once you have your customers hooked – lure them into buying it with a motivating CTA.
What we like:
The header text manages to convey why the new product is so exciting in just a few words;
Rather than showing a product package that says little, the content illustrates what's inside it and its impressive features;
Highly visual newsletter immediately arouses curiosity.
Want to create newsletters that your subscribers will be eagerly waiting for? With Sender, it's breezy!
AIGA
Subject line: Big Data's Biases, and the Artists and Designers Filling in the Blank Spots
If there's a perfect place for your brand to show your expertise, it's newsletters. Keeping subscribers in the loop on the most significant industry news ensures continuous engagement.
AIGA, the professional association of design, saw value in the weekly newsletter and created a digest, 'Eye on Design,' where the brand shares articles and opinions on topics hot in the designers' world. This helped shine the light on their work and create a close connection with their target audience.
What we like:
Creating a newsletter template with a title and reoccurring design saves time and ensures it stands out in the inbox;
The summary of the newsletter content saves the reader's time;
Each email's topic is briefly described allowing the recipient to choose what interests them quickly.
Graza
Subject line: AUGUST IN THE GRAZAVERSE

Valuable Tips and Tricks is another newsletter content goldmine. Showing new ways to use your products and providing solutions to common problems caters to subscribers' interest and grows your brand's image.
Graza, an olive oil company, releases a monthly newsletter on how to use their products unexpectedly and always takes advantage of encouraging customers to buy and try them.
Pro tip: Creating a template with a customizable design and copy helps keep the newsletter consistent.
What we like:
The newsletter theme is topical – ice cream for summer;
Fun copy makes the eye-catching newsletter easy to read;
Product placement feels natural.
Recess
Subject line: Our first ever clothing collab (with extra vitamins)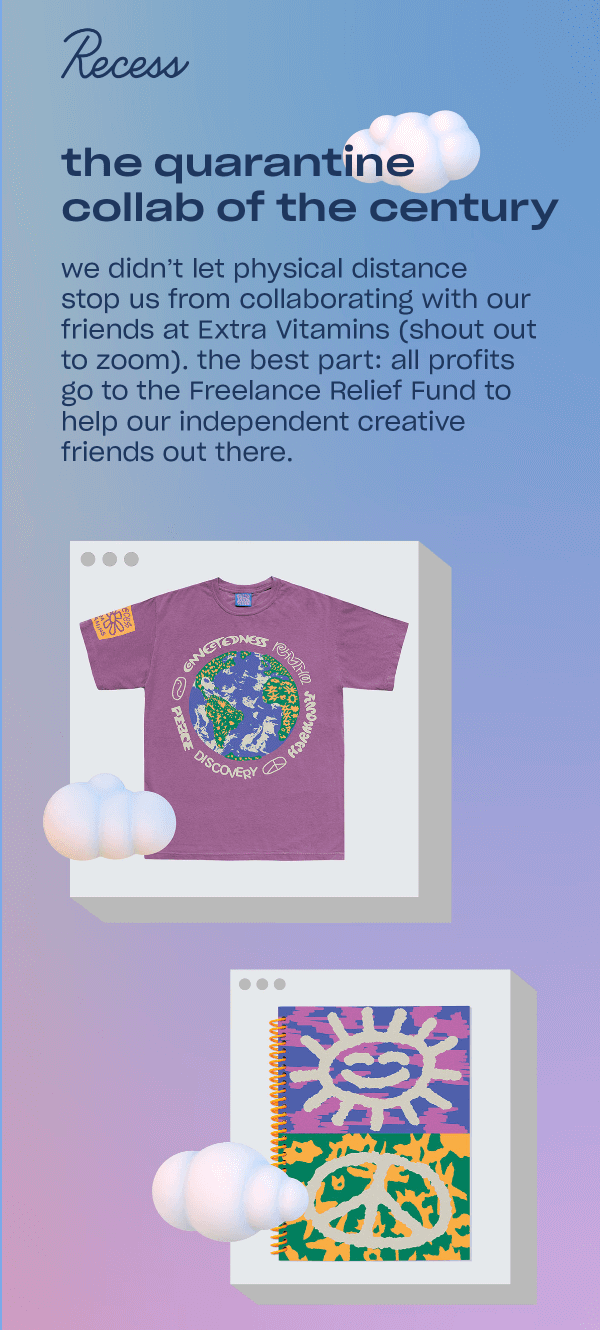 Two are better than one. That's why brand collaborations continue to attract attention. Combining ideas, products, or services often create unique, limited-edition products exciting to both brand's target audiences.
Benefit from this opportunity in your newsletter: highlight the partnership, tell how it came to be, and end it with an exclusive offer to create a sense of urgency. Or take an example from Recess and do it for a cause.
What we like:
A short copy manages to give the reason for the collaboration, give a shout out to the other brand, and explain the good intentions behind it;
The charity cause works as an additional incentive to buy an item;
The newsletter template is branded so as not to confuse;
The collaboration pieces are shown in high-quality images making them and the email look more eye-catching.
Ashley & Co x Cure Kids
Subject line: A Colab that Cares – Ashley & Co x Cure Kids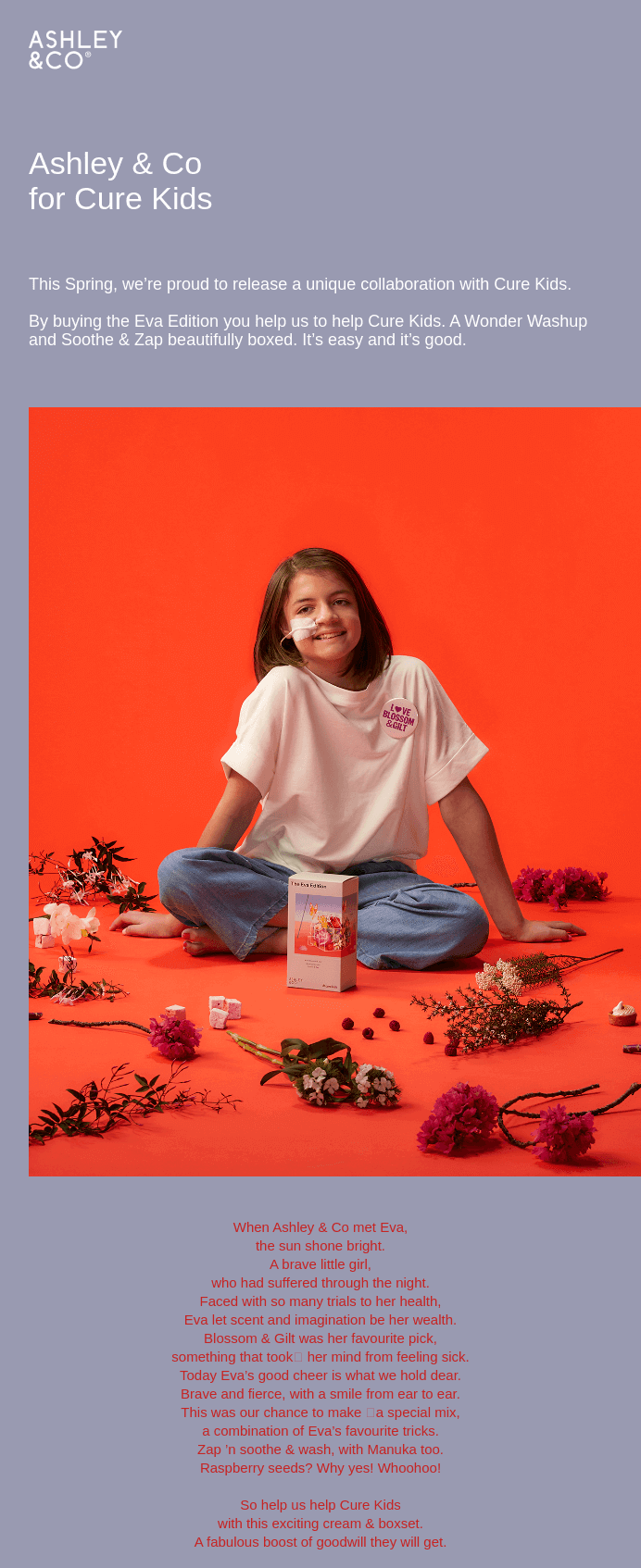 According to 40% of businesses (we guess that the other 60% simply haven't tried it yet), partnerships with charities are essential to their business agenda. Aligning your brand's and charity's interests and know-how helps to achieve common goals and shine a positive light on your image. But it doesn't have to be just two of you.
In the Shopify newsletter, inform your audience about the cause and invite them to join. Such meaningful work together creates strong relationships that you won't find elsewhere.
What we like:
Putting a face on the cause makes it more transparent and increases engagement;
A simple way to help ensures that more customers are willing to do it;
Honest storytelling makes the brand look more 'human' and approachable.
Also read: 8 Best Email Marketing Apps for Shopify in 2023 (Free & Paid)
Endota
Subject line: A new look for endota to continue to nourish and nurture you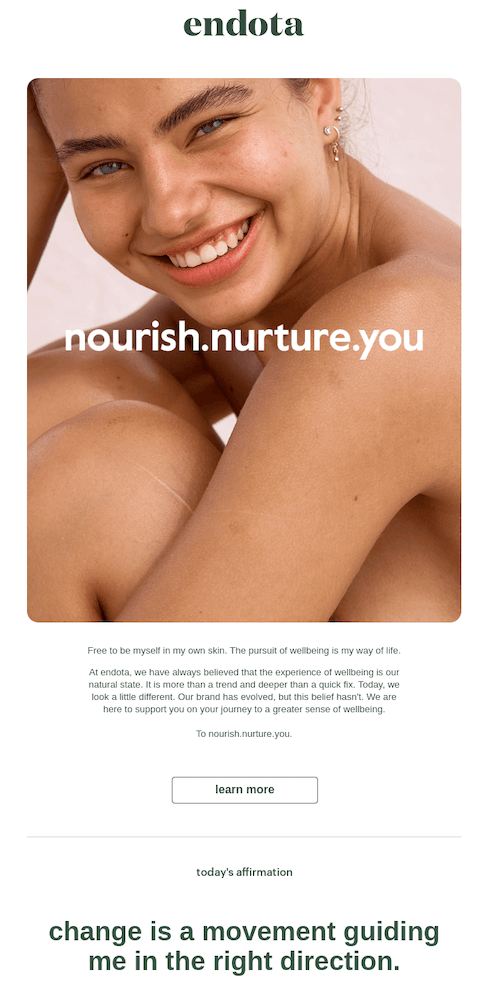 A good brand is a constantly evolving brand. Let your subscribers follow your journey and notice the improvements. Share rebranding news to create transparency and inclusiveness. Make the subscribers feel like insiders, and in return, be appreciated for your honesty and openness.
The fresh look or feel of your brand also builds excitement and anticipation. As the saying goes: out with the old, in with the new!
What we like:
The rebranding is used as a metaphor for self-nourishment – very in theme with the brand values;
Rather than explaining the whole rebranding process in one newsletter template, it gives a reason behind it and invites to read more on the website;
A picture of a smiling person sets up a positive mood.
Martie
Subject line: 🥳 📦 The wait is finally over, Martie is now shipping to you!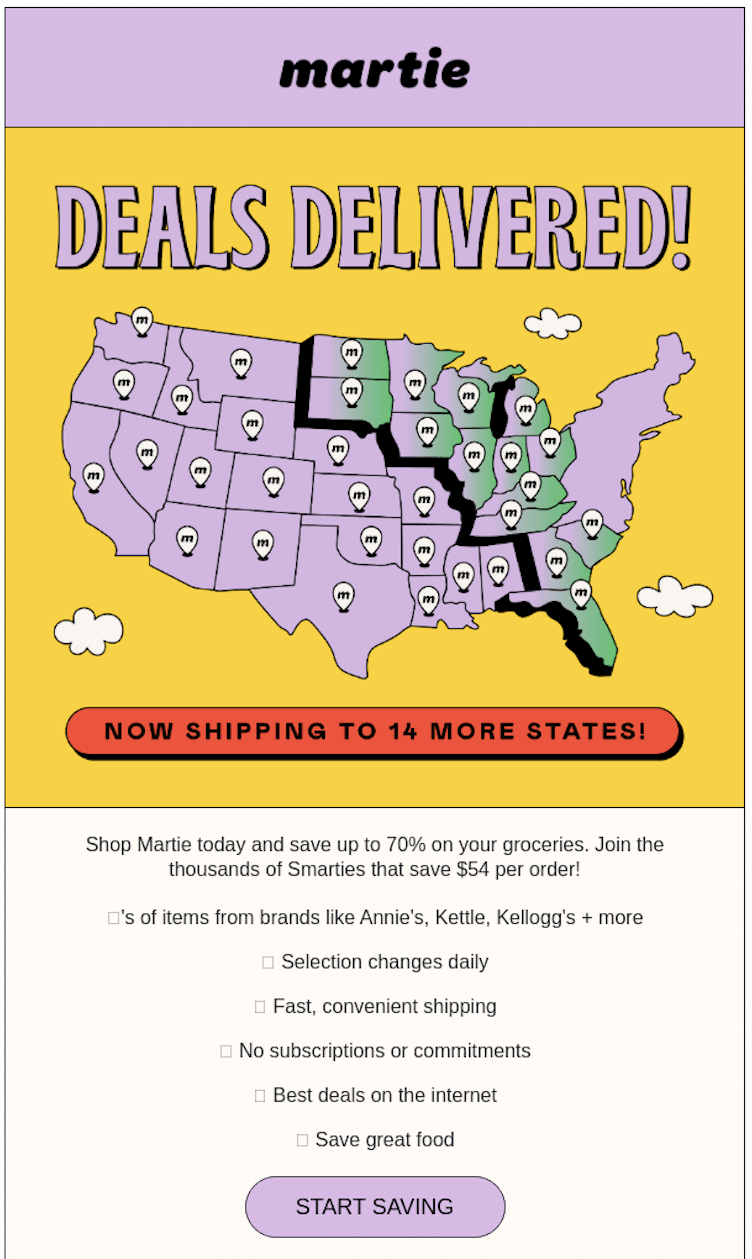 Newsletters can be an excellent medium for informing customers about exciting brand news. After all, you're doing it for them.
What could be the news beneficial to the subscribers? A release of a new collection you've been working on. New features added. Significant milestones. Awards and recognitions. Or, like in Martie's case – company expansion.
What we like:
The illustration helps simplify the idea behind the newsletter;
The brand uses this opportunity also to remind the subscribers of their perks;
The template CTA talks about value to the customer, motivating them to click it.
Shuka Design Bureau
Subject line: Ye Pitfalle of Overthinking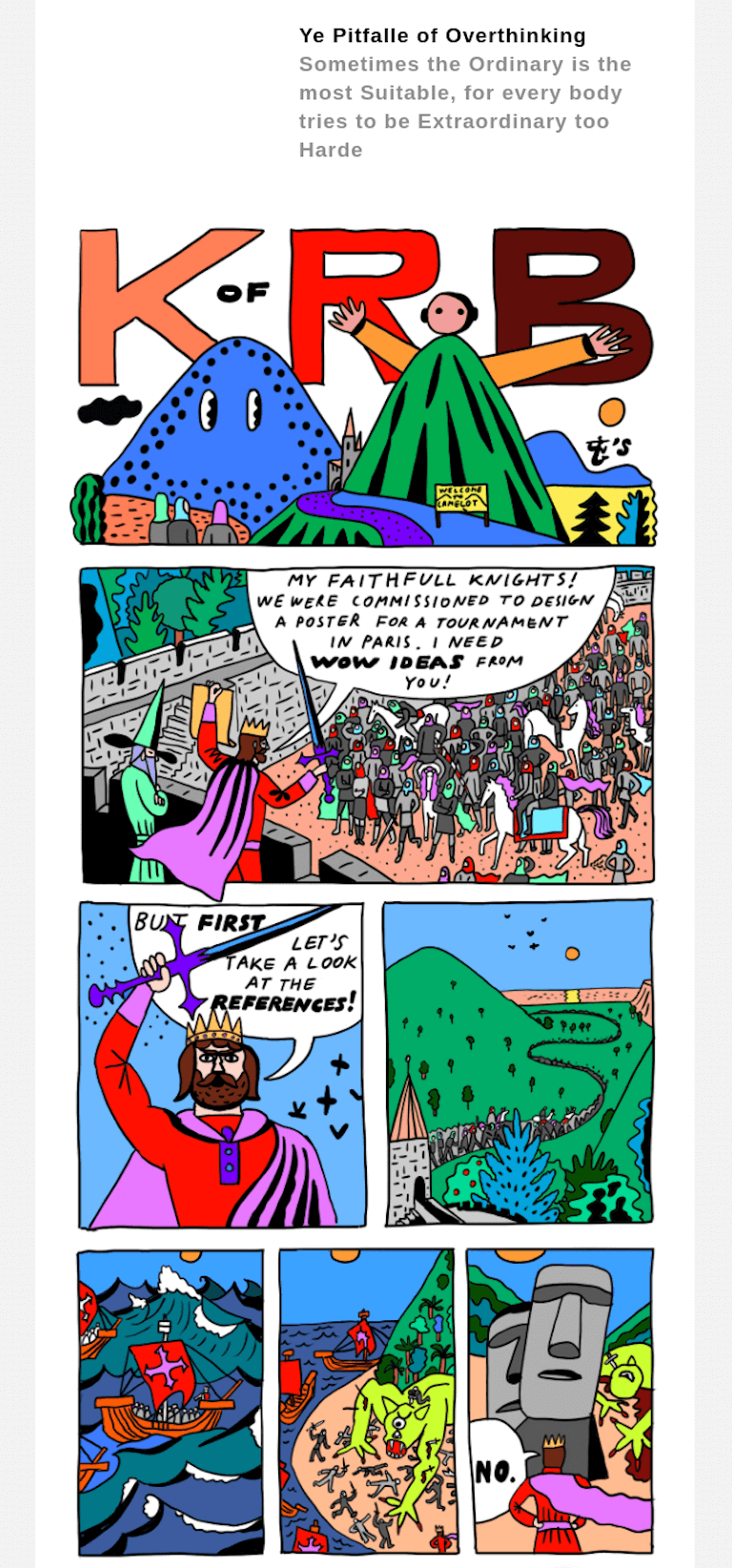 You don't have to fill the newsletter with words. Surprising, right?
Though good content is always the top priority, it doesn't mean that its presentation cannot be played with. It's even encouraged. Shuka Design Bureau's template proves that creativity goes a long way offering the subscribers not just another email but a cherishable masterpiece that can be read and reread one too many times.
What we like:
A newsletter made as a comic strip is sure to stand out;
It not only informs the reader but also promotes the artist;
Even if the information becomes irrelevant, such a visually pleasing newsletter still keeps its value (you can find all the past issues on the brand's website!).
7 Ecommerce Newsletters Ideas
Now that the ecommerce newsletter muse has visited your office, let's walk through ideas to include in your masterpiece:
Customer Testimonials and Reviews
Nobody likes those bragging about themselves, and brands are no exception. Yet, it's quite a different story when it comes to genuine customer testimonials and positive reviews.
Subject line: We're starstruck ⭐️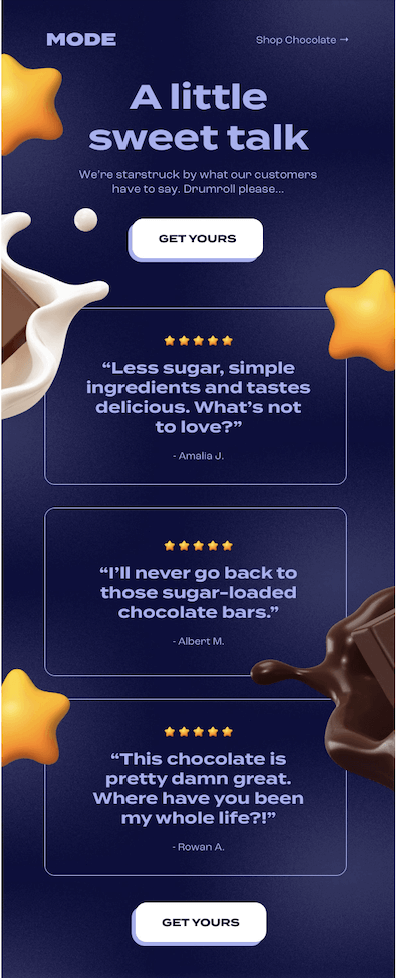 The testimonials are a great source of social proof and credibility for your products. We, human beings, tend to trust those similar to us, so positive reviews can quickly eliminate doubt and encourage us to buy.
Hearing personal stories and experiences from real people can also create an emotional engagement with your products and become a part of this positive experience.
What we like:
The testimonials are short and visual, passing the positive message in seconds;
The ecommerce newsletter design and structure ensure it's easy to read;
The brand shows its gratitude to the customers by making their opinions feel valued;
CTA nudges the reader to try out the product and make sure of its' proven awesomeness.
Also read: What is Testimonial Advertising? Definition, Examples & Strategies
Seasonal and Holiday Themes
Who could've thought that a good old calendar ever become a never-ending source of inspiration for ecommerce newsletter ideas? We're talking not just Christmas, the 4th of July, and Thanksgiving:
Subject line: Up to 50% off wardrobe wins 🚀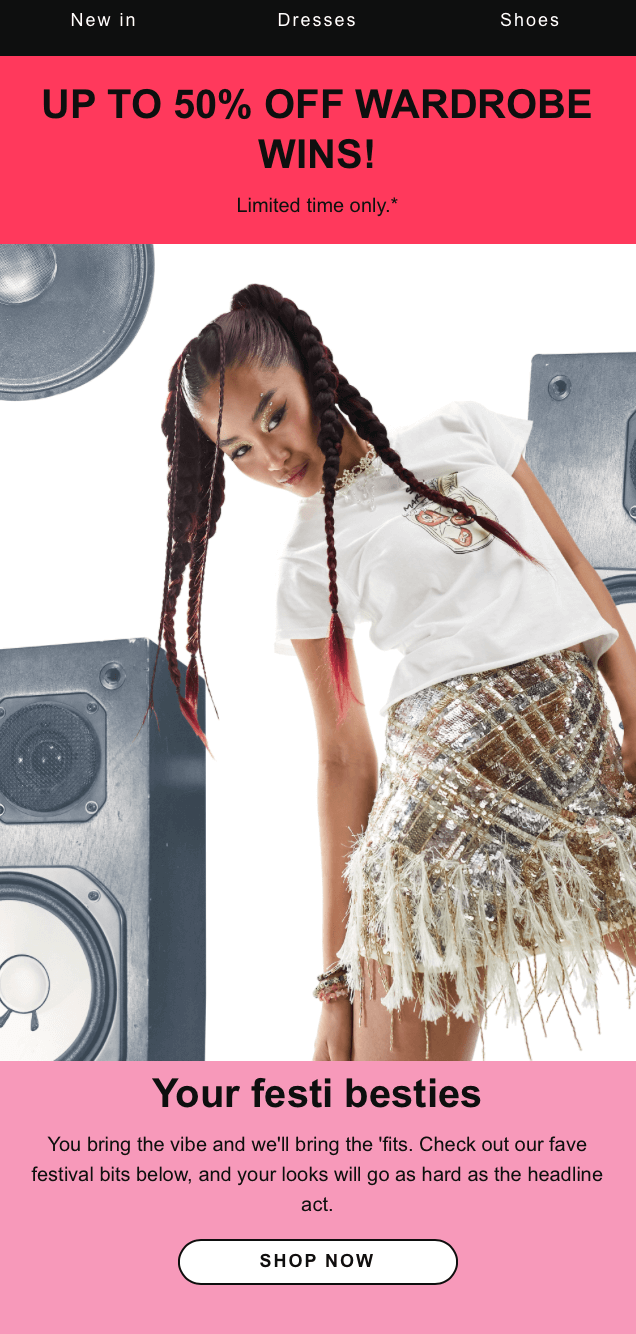 Around the big holidays, your subscribers expect to get festive-themed email content (preferably with a pleasant offer attached), so sending one is a no-brainer. The problem? At the same time, other brands will be bombarding your customers' inboxes threatening to take you out of the picture.
One evident solution to this is creating stunning content that stands out. The other – choose a quieter time (in ASOS case – the summer festival period) and take advantage of the element of surprise.
What we like:
The seasonal theme of the content hits the bullseye of what the customers are thinking at the moment;
It looks more like a style guide than a newsletter for an ecommerce website;
The images work as a source of festival outfit inspiration (aka additional motivation to buy);
Thanks to a friendly tone and slight humor, the offer feels inviting rather than pushy.
Storytelling and Behind-the-Scenes
We're all curious about what's behind the curtains. So, let your subscribers take a sneak peek at your brand's day, and you can be sure they'll be coming back for more.
Subject line: A behind-the-scenes look at The Equity Issue 🎨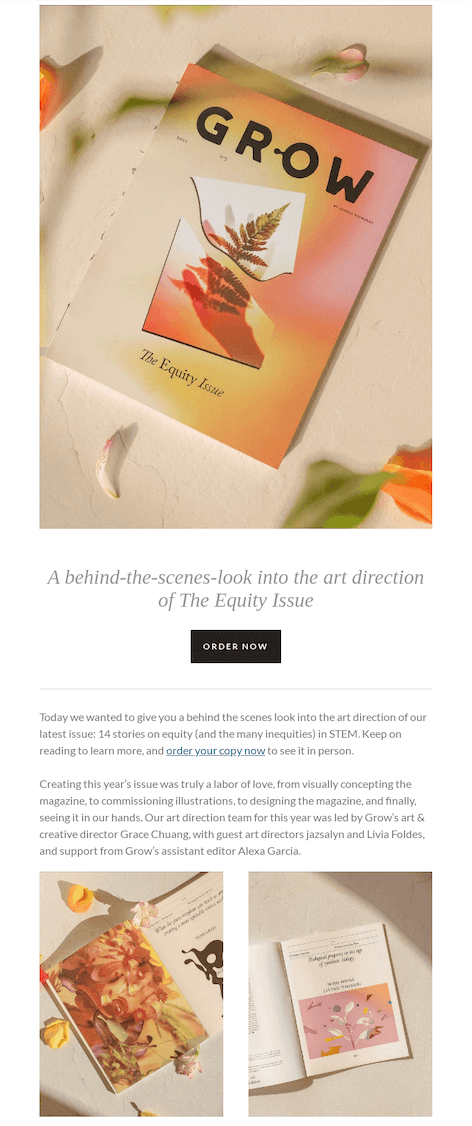 Storytelling is as old as the world, and for a good reason – it masterfully resonates with the audience creating strong emotional connections. Use this power to your advantage and share stories of the brand's journey to engage and connect your customers with the brand's values. Tell them about your fantastic team, show how your products are made, or invite them to visit your company's past.
What we like:
A sneak peek into the creation process helps to highlight the exclusive product;
Besides storytelling, the behind-the-scenes serves another purpose – to educate customers;
The newsletter is both visual and textual, creating an immersive experience.
Interactive Content
Interactive content is an excellent remedy for the 'I've seen this before' thought about an ecommerce newsletter. An immersive experience is sure to boost engagement, and the fact that the reader doesn't need to leave their inboxes increases the chances that they'll act according to your plan.
Subject line: Quiz: Which shower scent fits you best?

By adding some interactive magic, you allow your subscribers to personalize their experience and, in return, leave a lasting impression, accelerate the customer journey, and keep them coming back for more. You neither need to think of some incredible interactive feats, as a visually pleasing, witty quiz can do the trick.
What we like:
Describing product features through quiz answer options highlights them and accelerates customer's decision-making;
Only three questions and beautiful illustrations ensure that the recipients will want to engage in the quiz;
Plan B is provided in case the interaction doesn't work – the users are invited to discover the scents on the company's website.
Curated Content
A curated newsletter is like a playlist of your favorite songs; here, you put all the best content from other brands (shocker!).
Subject line: I don't want to be the best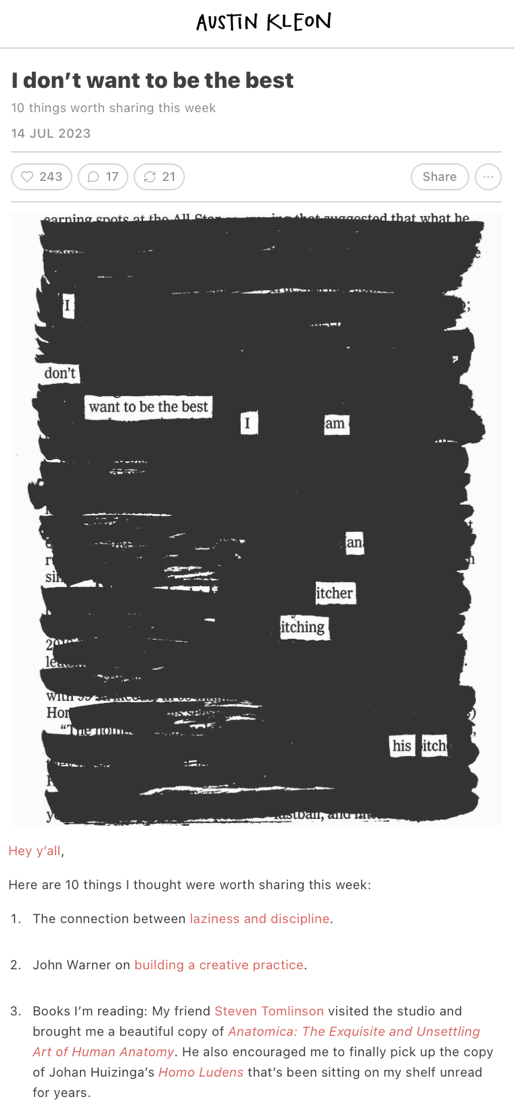 While using the content created by others looks counterintuitive, you're showing that your expertise goes beyond your company. After all, you must sift through tons of industry-related material and extract the essential information. This creates a picture of an authority, a thought leader if you prefer. And in return, it sparks word-of-mouth among interested subscribers, further increasing your brand awareness and the number of prospects.
What we like:
The structure of each newsletter is strict, but the content is always unique, resulting in readability and interest;
The author gives commentary on each content piece showing his knowledge;
Highlighted links encourage curiosity and increase user experience.
Rewards and Loyalty Programs
The person who thought of reward programs should've received a reward himself/herself! They do a lovely job at fostering loyalty and encouraging repeat purchases. But only if the customers are reminded and motivated to participate. Here's where ecommerce newsletters come into play.
Subject line: Star Days is here ⭐️ to celebrate you

If you've decided to make rewards and loyalty programs a part of your ecommerce newsletter, don't take it as interesting per se. Ensure you include something compelling! For example, notify about exclusive offers available only for loyal customers. Or, announce that only for a limited time, loyalty points are worth more (and thus should be collected more).
You may also grow your loyal customer base by offering the current ones to invite new ones and, in return, offering some exceptional perks.
What we like:
The limited-time rewards program has a distinguished title that the customers will be able to recognize in the future;
The reason for partaking in the rewards program is listed and clearly explained;
The loyalty program members are given several ways to participate, increasing the chances that they will.
Also read: What is Customer Loyalty? Definition, Programs & Tips
User-Generated Content (UGC) Showcase
Aren't your customers wonderful? Share this sentiment with your subscribers – include in your newsletter UGC showing what impressive things your customers have done with your products.
Subject line: ✍️ 3 illustrators walk into a bar.

User-generated content adds the factor of authenticity to the claims about your products' benefits. By showing real people using it and its positive results, it convinces others to buy and try it. Even better – the content stays versatile and original while captivating the attention of those looking for 'the unfaked'.
What's more? Featuring your customers shows a new level of appreciation, fostering loyalty.
What we like:
The newsletter has its title, giving it more authority;
Showing which products were used to create the masterpieces shows their value;
Providing the author's social media accounts shows appreciation for their work;
Offering customers to be featured by tagging the brand further enhances the brand's visibility.
How to Create an Ecommerce Newsletter?
Now that you know what to include in an ecommerce newsletter, let's go through 5 essential tips:
1. Understand Your Target Audience
Stand in your subscribers' shoes and consider their interests, wants, or needs. Your newsletter should include valuable content that answers them.
2. Put Together a Schedule
Depending on the content volume you have to offer your subscribers, decide on the frequency of your newsletter.
With Sender, you can easily craft eye-catching emails ahead of time and schedule them to be sent out – all that can be done in minutes!
3. Invest in an Intriguing Subject Line
Crafting a compelling subject line is crucial to grab your readers' attention and entice them to open your email. Keep it short, playful, and intriguing. Use words that evoke curiosity or offer a benefit, and ensure it reflects the content inside to deliver on your promise.
4. Prioritize Relevance and Quality
By sending well-crafted content that matters to your audience, you'll keep them returning for more. Think personalized product recommendations, valuable tips, and engaging stories—all wrapped up in a friendly and captivating tone.
5. Define Your Goal
No ecommerce email, including newsletters, feels complete without a CTA. Include one to invite your interested subscribers to your website, social media account, or external website.
Key Takeaways
Ecommerce newsletters are a fantastic way to reach subscribers regularly and create meaningful connections that tend to last. Here are a few takeaways to help you start your successful newsletter journey:
In email marketing strategies, newsletters are crucial for boosting engagement, driving sales, and nurturing customer relationships;
Great newsletters are fascinating, captivating, and functional, with unique content and offers;
Examples of effective newsletters include product promotions, company updates, industry insights, curated content, user-generated content showcases, and more;
Tips for creating an ecommerce newsletter: understand your audience, establish a schedule, craft intriguing subject lines, prioritize relevance and quality, and define clear goals with compelling CTAs;
Including user-generated content, rewards, loyalty programs, and behind-the-scenes stories can further enhance the effectiveness of ecommerce newsletters.
Also read:
---
Author bio: Vesta Oldenburg is a content writer specializing in email marketing strategies. In her daily work, creativity intertwines with a strategic mindset to create content that captivates its readers.