Like what you read?
Apply it in practice with Sender.net - the most cost-effective email marketing solution in the market.
Try Sender for free
An email marketing affiliate program is a great way to make money for those well-versed in the industry. CPA (cost per action) networks are often an essential part of income for affiliate marketers who spend most of their time finding customers for the promotional products offered by specific companies.
Affiliate networks, however, are a mixed bag. Some of them have exceedingly complicated terms and requirements and aren't that great for those earning money through referral codes. So, we decided to list the best affiliate programs to join that pay the most without having complicated terms and conditions.
Best Email Marketing Affiliate Program — Comparison Overview
Here's the list of the best email marketing affiliate programs you can find.
Sender – Best Overall Affiliate Program Provider
Sender is an email and SMS marketing provider with both paid and free plans. They offer various features, including drag-and-drop editors, a template library, and various integrations with popular services such as WooCommerce, WordPress, Cloudflare, and many others.
Unique features:
30% recurring commissions with monthly payouts.
Tons of payment methods (Bank transfer, PayPal, and others).
Lifetime cookie duration.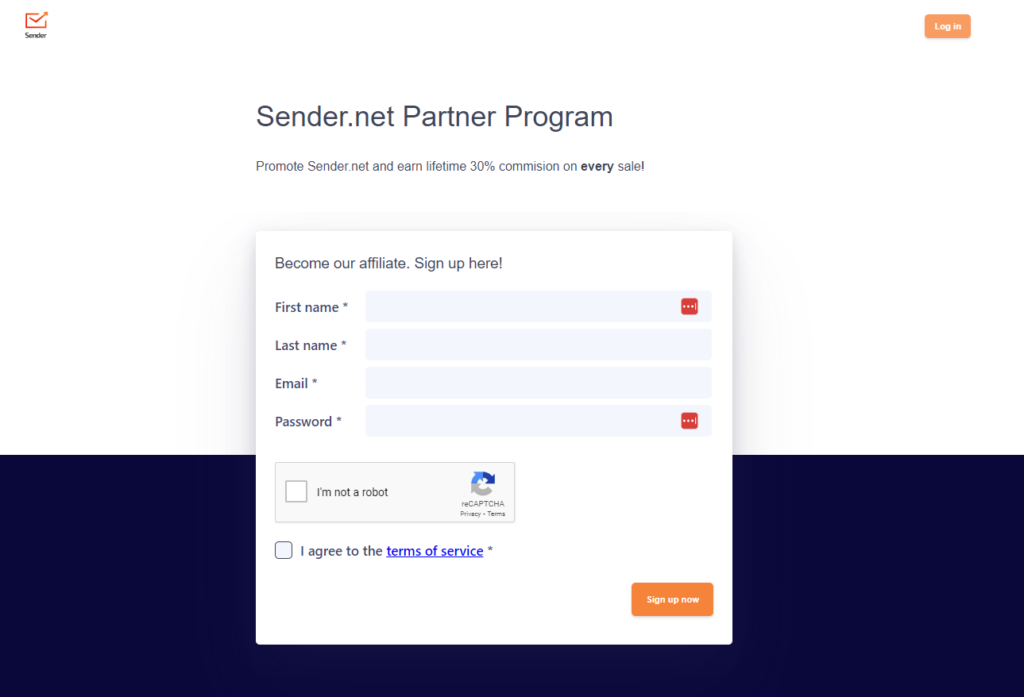 Sender's affiliate program is perfect for bloggers, PPC marketers, social media managers, and nearly everyone else. It's extremely simple, well-structured, and with frequent payouts.
Two of the best features are the cookie duration and variety of payments. For the former, cookies last a lifetime, meaning you'll always be able to get a commission for your sales. Many competitors, for example, only have cookie durations of 90 days or so.
Additionally, the variety of payments, which includes bank transfers, low payout requirements, and monthly frequency, all lend to credibility and ease of use.
Signing up for Sender's email marketing affiliate program is extremely simple. All you do is fill out a small form and set up your account. It even gets verified automatically, so you don't have to wait until someone from the team gets to your application.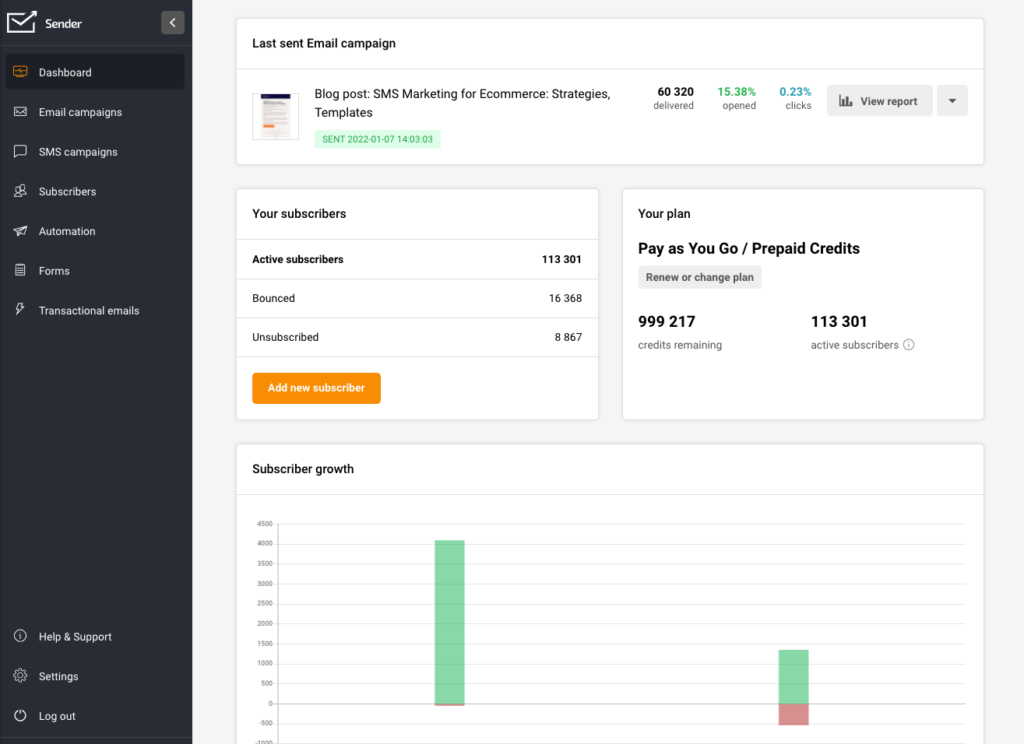 Sender's product is highly advanced, making it easy to sell to the target audience. Being one of the leading email marketing providers, they have everything companies of all sizes need, from SMBs to global enterprises.
Sender Key Features
The platform supports complete automation for both SMS and email marketing. Numerous other features, such as the template library and data analytics, aid in optimizing and speeding up business processes.
Drag-and-drop email editor that anyone can use.
Intuitive user interface that makes managing campaigns and analyzing data easy.
Advanced personalization is made available through customer segmentation. 
Complete automation with behavior and event-based triggers.
Sender Pricing
Free for up to 2500 subscribers with almost all features available;
Paid plans start at $8 per month.
---
Mailchimp – Best for Mailchimp Users
Mailchimp is one of the email marketing giants as it's one of the most well-known companies in the industry. They have all the necessary bases of email marketing covered. In fact, they have so many features that listing and describing them all would take a separate article.
Unique features:
$30 bill credit per referral.
Added to your paid plan automatically next month.
Lifetime cookie duration.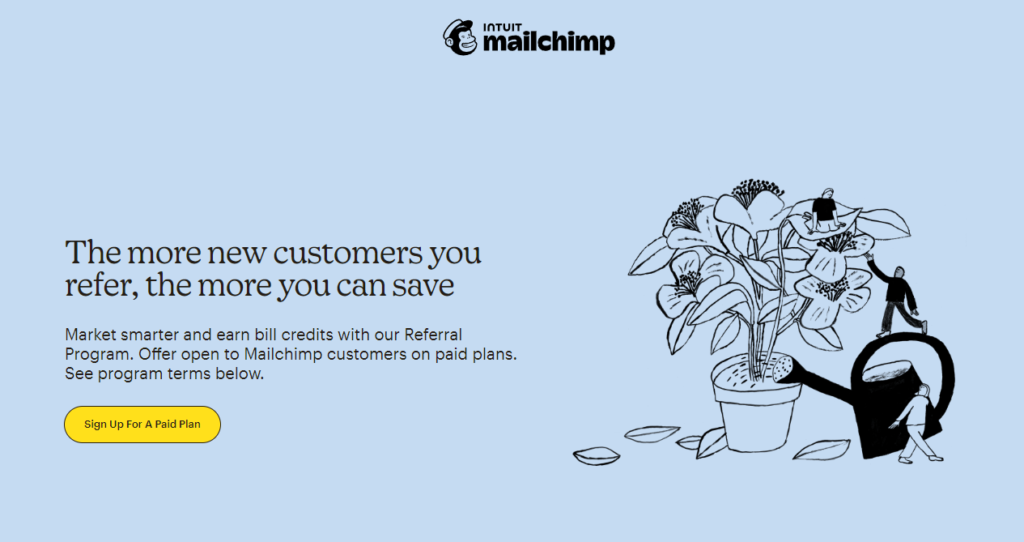 Unlike many of its competitors, Mailchimp opted to go for a referral program that does not provide actual payouts. It's incredibly easy to set up for their users, and it discounts paid plans, so the network is perfect for those using Mailchimp's services.
Each Mailchimp user can add a special banner to every email they send through a handy dashboard. If someone clicks on it and buys a paid plan, the referrer gets a $30 credit for their next bill.
As such, the referral system is extremely simple. While it may not be worth it for those who aren't sending affiliate marketing emails through Mailchimp, it's a solid program otherwise.
Mailchimp, while being one of the leading enterprises in email marketing, is most often used by smaller businesses such as startups and NGOs. It's also a decent choice for email marketing beginners just looking to start in the industry.
Mailchimp Key Features
Maichimp has everything necessary for most email marketing beginners, advanced users, and even experts. Their key features for the platform are:
Drag-and-drop email builder.
Multiple user seats for enterprise plans.
A/B testing.
Basic segmentation and email personalization. 
Pricing
Free plan for up to 500 emails per day.
Paid plans from $14 per month (500 subscribers).
---
Sendinblue — Best for Bloggers
Sendinblue is an all-in-one marketing solution with a focus on emails and SMS. They provide various features that help businesses optimize their email campaigns, such as in-depth data analytics, A/B testing, and many others.
Unique features:
€5 commission per signup, additional €100 if the referral buys a paid plan with monthly payouts.
PayPal or Bank transfer payouts.
90-day cookie duration.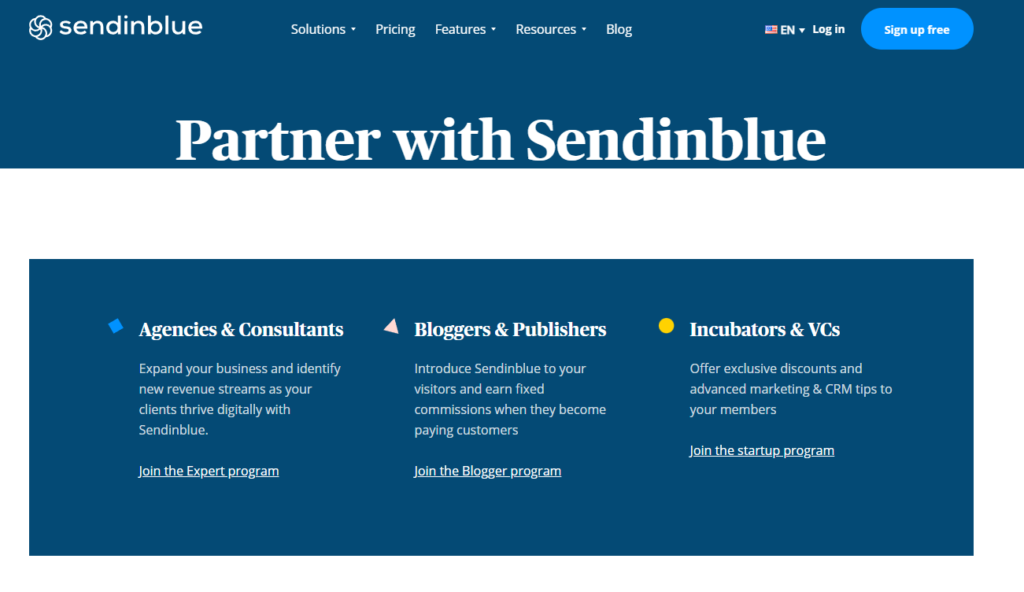 Sendinblue offers a more extensive partner program; however, two of the options have little to do with CPA networks. They are mostly intended for startups or agencies.
Their "blogger program" is what serves as the affiliate network. Sendinblue's offer is great as they offer payments for free subscribers, which isn't all that usual in the industry. For anyone who buys a plan, an additional €100 is issued.
Minimum payouts are clearly perfectly tailored to paid subscribers as if you manage to get one through the email marketing affiliate program, and you can instantly request a payout, which will be issued next month.
Unfortunately, there's a slight drawback as the cookies last only 90 days. While it's fairly standard in the industry, there are definitely affiliate programs out there that give you a better deal on cookie duration.
Ultimately, Sendinblue has a top-notch affiliate program with only one minor drawback: cookie duration.
Sendinblue is a common choice among growing companies that want to quickly scale up their campaigns and fix transactional email sequences. They have extensive features for both, enabling businesses to really squeeze out every bit of optimization.
Sendinblue Key Features
Sendinblue has numerous benefits that can be used by both sole entrepreneurs and large email marketing teams. In fact, it's often best employed with other software as some of its key features are:
Seamless CRM integrations.
Great at transactional email automation.
Easy-to-add popup forms.
Intuitive email campaign management.
Pricing
Free for up to 300 emails per day.
Paid plans from €19 per month (20 000 emails/month).
---
Constant Contact – Best for Starters
Constant Contact is a long-lasting email marketing solution provider that's tailored more toward small businesses, solo entrepreneurs, nonprofits, and other non-corporate organizations. They also have social media and SMS marketing solutions, making them a little more flexible than other providers.
Unique features:
$5 commission per trial signup, an additional $105 if the referral buys a paid plan with monthly payouts.
Numerous affiliate networks.
120-day cookie duration.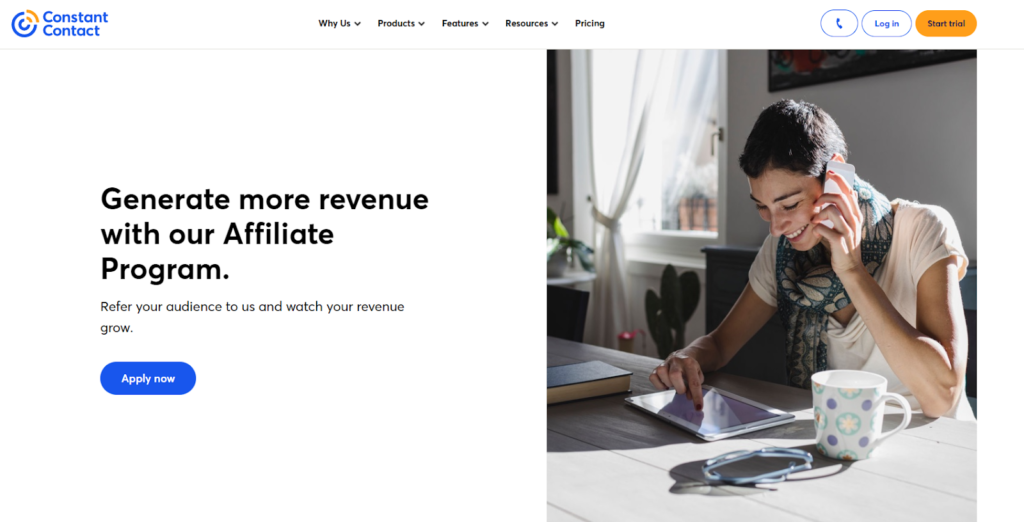 Constant Contact is a little harder to describe as they're in agreements with various affiliate networks. While it gives flexibility in payouts and payments, it's a mixed bag for all participants.
Luckily, they do provide some great deals throughout the program. First, you can get a total of $110 for each signup if the person gets both the trial and a paid plan, which is quite a decent amount compared to some providers.
Additionally, they bumped up the cookie duration numbers a bit, going from the industry standard of 90 days to 120 days. While it's not a lifetime duration, it's still quite a bit as they'll last you for four months.
Finally, you'll likely have to opt for the affiliate network that delivers payments in your preferred method. Constant Contact is signed up with CJ Affiliate and Impact Radius. With the former, you can get paid by check or direct deposit, while the latter can issue payments through PayPal.
All in all, it's a decent program that's made a little confusing by the various affiliate networks. Other than that, the offer is great for anyone looking to get started with affiliate marketing.
Constant Contact is great for those who want to manage many things under one system. They have integrated email, SMS, and social media marketing with various automation features to boot, making them slightly more overarching than some competitors.
Constant Contact Key Features
Constant Contact brings together many disparate features, making it a great choice for various businesses, from NGOs to corporations. With Constant Contact, you will get:
Event marketing with automated registration forms and communication.
Hundreds of email templates.
Targeted landing pages and popup forms.
Pricing
60-day free trial.
Paid plans start from $9.99 per month.
---
AWeber – Best for the Most Active Marketers
AWeber is an all-in-one marketing solution that includes emails, SMS, push notifications, various ecommerce integrations, and much more. They heavily invest in training materials and customer support as some of the features can be less intuitive but powerful once you get the hang of it.
Unique features:
30% – 50% lifetime commissions, depending on the number of paid referrals during a trailing 12-month period.
PayPal and Stripe payment methods.
$25 minimum payout.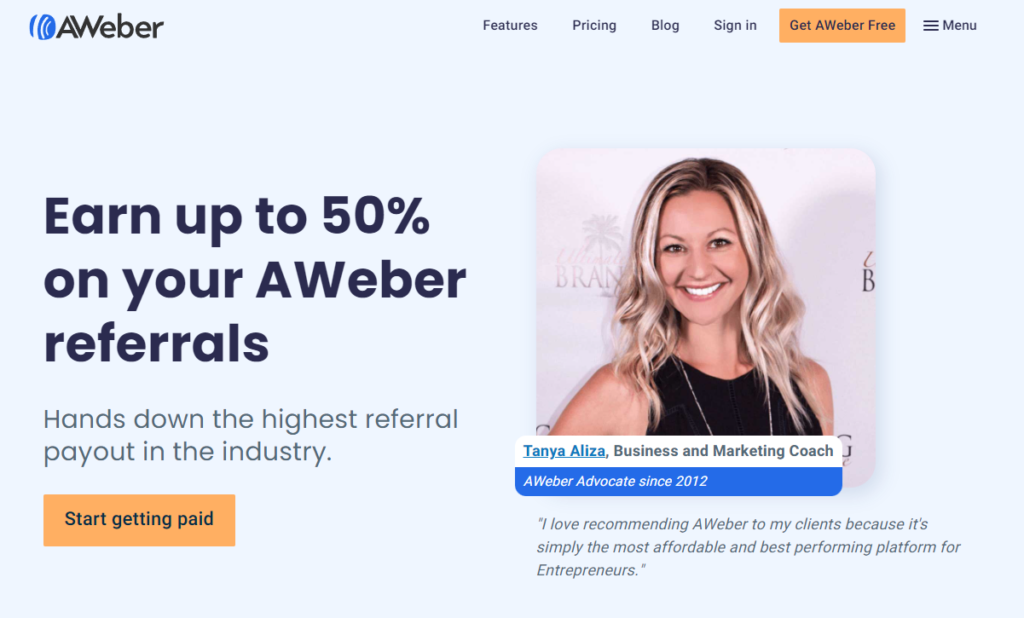 AWeber is a strong contender for the best affiliate program to join as they barely have any drawbacks. They pay some of the highest commissions while having an extremely low payout threshold.
Affiliate marketers can get up to 50% per paid account if they reach 50 or more referrals during a trailing 12-month period. While the commissions are fairly large, it's one of the programs where you have to be much more active to maintain the high rates, making it less suitable for more passive marketers.
Additionally, the minimum threshold is just $25, about a quarter of the industry standard, bringing it to the top spot in that category. All the payments are issued through PayPal and Stripe, making the program a decent choice for most people.
Finally, the cookie duration is the standard 90 days, which is neither amazing nor bad. So, AWeber definitely offers a strong affiliate program for those who can be active with the company and achieve those 50% commissions.
AWeber is great for both advanced and beginner marketers as they have lots of functionalities that can be used in campaigns of varying complexity. They are mostly focused, however, on smaller businesses, as integrations with huge tech stacks are not their strong suit.
AWeber Key Features
AWeber makes it easy to get an overall view of your email marketing channel, which they do through the various features they offer. With them, you can get:
A large library of email templates.
In-depth campaign reporting with data analytics.
Various email marketing automation features.
Pricing
Free for up to 500 email subscribers.
Paid plans start from $16.15 per month (if billed annually).
---
GetResponse – Best for Multitaskers
GetResponse is a fairly comprehensive marketing solution that includes automation, landing page creation, email marketing, sales funnels, and a few other important areas. It's great for those who want something more than an email marketing solution.
Unique features:
Two affiliate programs.
33% commission or a $100 flat rate, depending on the program.
Check, ACH, Eurotransfer payment methods.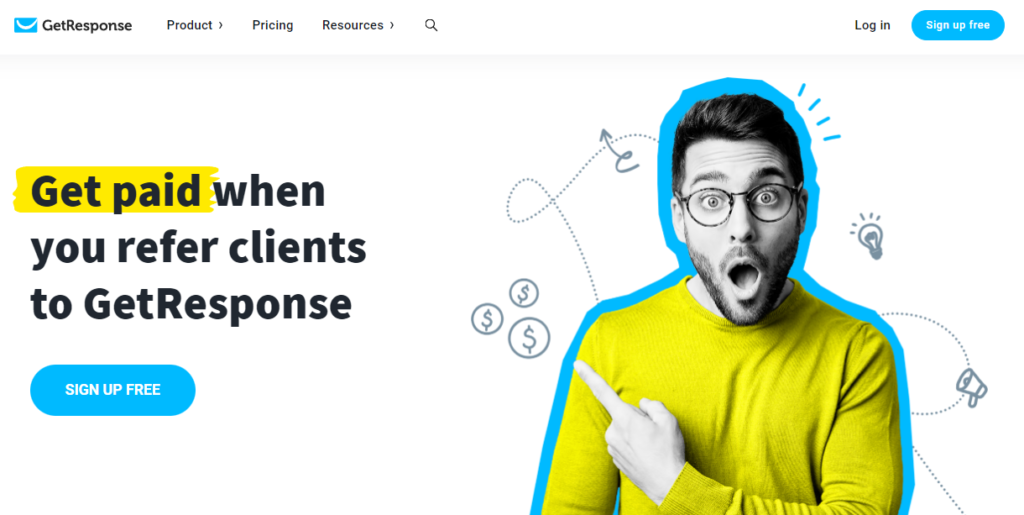 GetResponse's affiliate program is a unique one that companies offer in the email marketing space. Unlike most companies, GetResponse actually has two affiliate programs.
Both have some consistency within them – you get a minimum payout range of $50, cookies last 120 days, and payments are issued monthly. Additionally, you can get paid through a check, ACH, or Eurotransfer.
Yet, there are important differences between the programs. There's a bounty email marketing affiliate program, which grants you $100 for each referral. On the other hand, you can pick the other email marketing affiliate program, which gives you a 33% commission.
Most interestingly, however, you can register for both at once. So, there's no reason not to have an account with both. The only decision you have to make is which one to push more, but that can be figured out with some data.
So, the uniqueness of GetResponse lends itself well to people who like tracking data and optimizing campaigns. While the offers might not be groundbreaking, you can pick the better one to ensure better returns.
AWeber is a premium email marketing provider with many automation features; however, the platform costs quite a bit more than most competitors. As such, it's best used by those who can afford to use all the added automation and data analytics.
AWeber Key Features
AWeber is highly focused on large teams and companies that can use advanced features that may need additional expertise. With them, you can get:
Advanced email automation.
Sales tracking and in-depth campaign analytics.
A/B testing.
Pricing
Free for up to 500 subscribers.
Paid plans start at $16.15 per month.
What is an Email Marketing Affiliate Program?
Email marketing affiliate programs are a system implemented by companies that allow you to send URLs with referral codes and earn a commission for each subscriber. As you may have seen, the terms and conditions may differ heavily across providers.
Some companies offer to pay you for any subscription, but most will focus only on paid customers. After all, there's usually not a lot of benefit from a trial or free customer, so most commissions are for paid users only.
Additionally, email marketing affiliate programs can often be initiated by email marketing solution providers as they have a greater incentive to implement such systems. Although you can find affiliate programs for nearly any larger company in existence. Even if one doesn't exist, you'll likely be able to negotiate one personally as long as you can bring in paying customers.
How Do Email Marketing Affiliate Programs Work?
Usually, you'll have to register either to the company's program directly or sign on to an affiliate network. The latter are businesses that collect and aggregate affiliate programs and provide various services related to them.
In most cases, the registration won't be automatic, as you'll have to get verified by the company or CPA network. Some exceptions, such as Sender, verify your account automatically, so you can get started as soon as you register.
Once an account is active, you usually get some branding materials (e.g., logos, slogans, banner ads, etc.) and a referral link with your unique code. Then, according to the terms, you market the company with the URL provided. Once someone signs up through your URL, the company knows the person came through you.
In email marketing affiliate programs, emails are an essential part of the process. Most companies will allow other methods, such as PPC ads, social media, and other channels, so you don't have to be limited by emails.
Finally, according to the commission and payout structure, you either get paid automatically upon reaching a threshold or request to get paid manually. Companies will distribute payments according to their terms, which is usually once every month.