Employ your powerful emails
Increase sales and engagement by sending your well-designed emails with Sender.
Get Started For Free
Year after year, email remains one of the best promotional channels. Here are a few email marketing stats that will blow your mind:
There will be around 4.3 billion email users in 2023 — half of the world's population.
Almost 340 billion emails were sent daily in 2022.
With that in mind, you need good-looking and eye-catching newsletter popups to leverage this effective marketing channel and generate leads.
But why do effective popup designs matter? Catchy email opt-in popups help increase sales as they focus the target audience's attention toward the conversion action.
That said, popups can annoy website users if used incorrectly and inefficiently. Visitors simply hate any form of online advertising. That's why your popup design is crucial.
We've collected newsletter ideas from leading brands in numerous niches to boost your imagination and learn from the best. Explore and enjoy!
Types of Newsletter Popups
There are typically four types of newsletter pop-ups. They include:
Standard email popups.
These are signup forms that fade or slide over the website content, requesting the visitor's email address. They include a call to action (CTA) and a catchy graphic or image.
Fullscreen email popups.
These forms are similar to standard popups and appear suddenly on the user's screen, completely covering the screen.
Sidebar.
It appears on the right or left side panels while browsing the website. It's the most used type of email popup because of its non-intrusive nature.
Sticky bar.
These are subtle email popups that "stick" at the top or bottom of any webpage. They typically remain on the page as users scroll to keep your promotions on the visitor's mind.
Capture leads without a hassle and in style! Create eye-catching popups and convert visitors into subscribers with Sender's popups builder.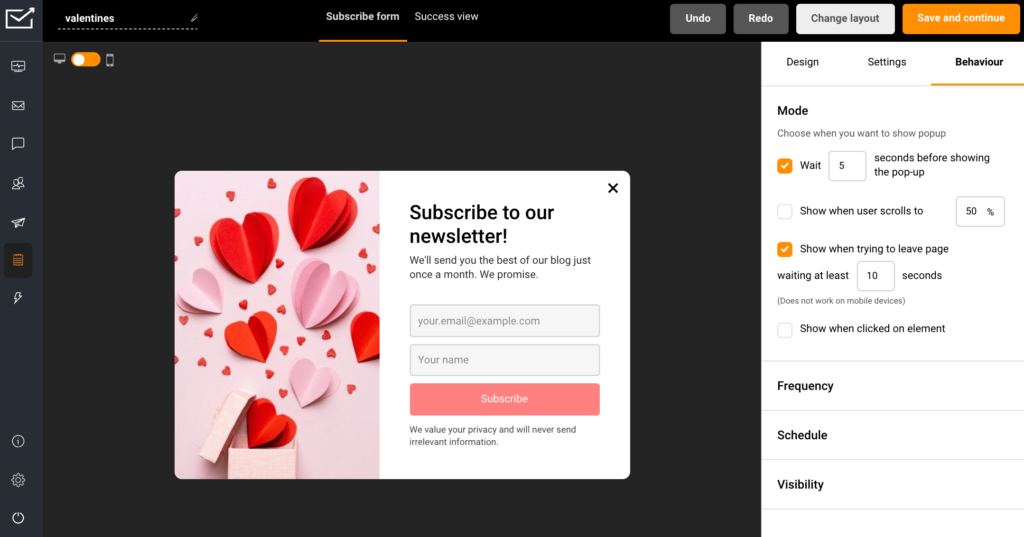 20 Newsletter Popup Examples We Love
Now, let's proceed with the 20 most effective email popup examples we love, which you can use to inspire your own.
1. Varley — Offers 10% Discount on Your First Order
Varley is an activewear brand that designs quality clothes and accessories for women in various settings, such as yoga, training, and running.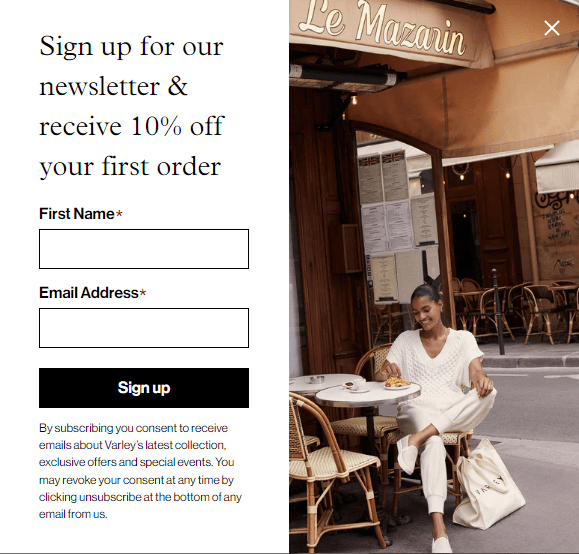 Its simple but classy lightbox popup appears when you visit Varley's landing page. The black and white color scheme and the image complement the overall design, and the popup message offers a 10% discount on your first order for subscribing to their newsletter.
What we love:
Simple and attractive popup design;
The image and the black-and-white color scheme complement the overall design;
Compelling 10% discount to subscribe to the newsletter.
2. Dolce & Gabbana — Stripped Down Design
Dolce & Gabbana is an Italian luxury fashion brand that sells clothing, fragrances, footwear products, leather goods, and accessories to customers worldwide.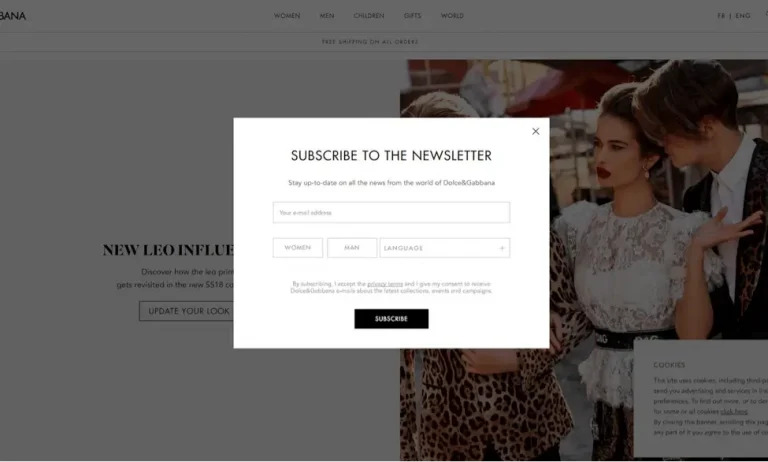 This Dolce & Gabbana newsletter pop-up asks for your email, gender, and language, but the design is so simple that it looks like it's only asking for your email address.
What we love:
Stripped-down design that makes it simple to follow through;
A black-and-white color scheme complements the overall design.
3. Kensie — 10% off Your First Order
Kensie is a lifestyle brand that sells trendy and edgy clothing and footwear for the modern girl.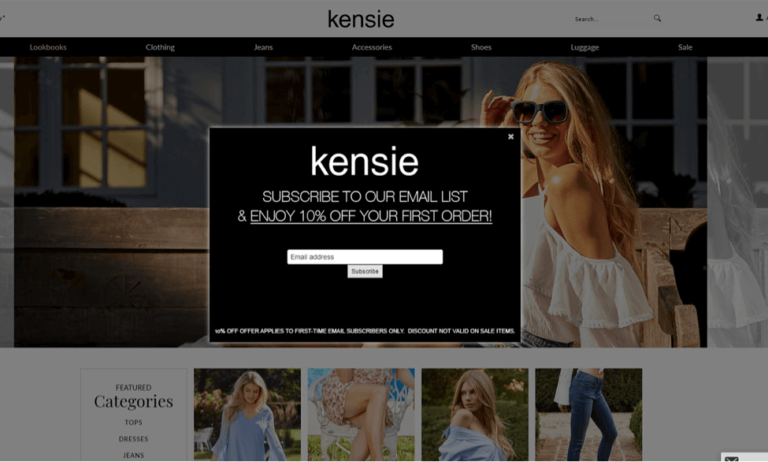 Its lightbox popup features a 10% discount on your first order in exchange for your email. The plain text has a beautiful modern glow, making the popup feminine and stylish.
What we love:
10% off the first order for subscribing to the email list;
A modern glow that makes the pop-up attractive.
4. Your Guitar Academy — Offers Two Guides for Free
Your Guitar Academy provides online and private electric and acoustic guitar lessons for beginners and pro guitarists. They have more than 800 professional guitar lessons in stunning HD video.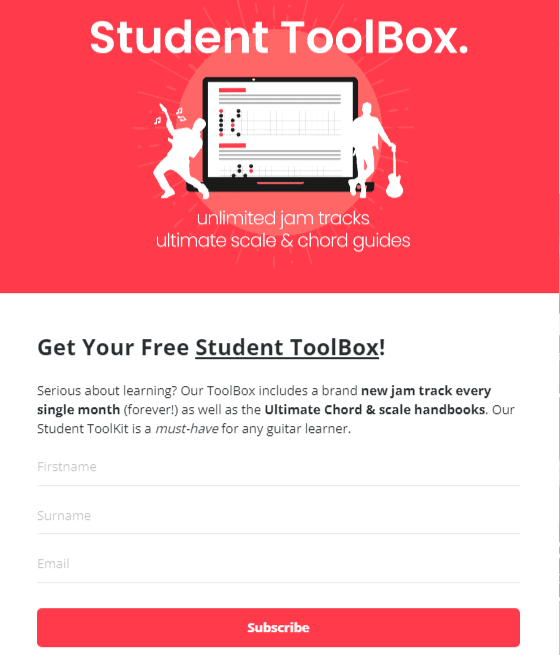 In this email popup example, your Guitar Academy offers two guides for free just for subscribing through the banner: New jam track every single month and Ultimate chord and scale handbooks. The design is also simple, with attractive colors (red and white) that match the brand's color scheme.
What we love:
Simple design with attractive colors that match the brand identity;
Two free guides for subscribing to their newsletter.
5. Tommy Hilfiger — 20% off Your First Purchase
Tommy Hilfiger is one of the world's leading designer lifestyle brands that sell various products for men, women, and kids.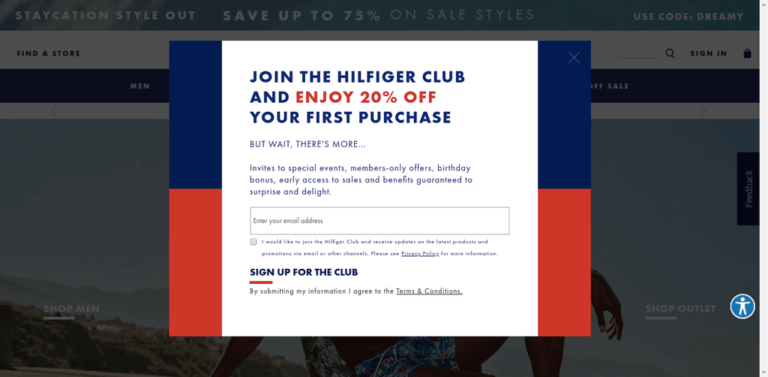 Its email subscription popup is appealing due to the traditional blue, red, and white colors and a good-looking font.
It also invites website visitors to "sign-up for the club." You're not just giving out your email address; you're joining a private group, getting 20% off your first purchase, and gaining access to exclusive benefits.
What we love:
Compelling 20% off your first purchase;
Traditional blue, red, and white colors and a good-looking font;
Clever invite to visitors to "sign-up for the club."
6. Bruno Magli — 15% off Your Next Order
Bruno Magli is an Italian luxury brand specializing in shoes and leather products for men and women.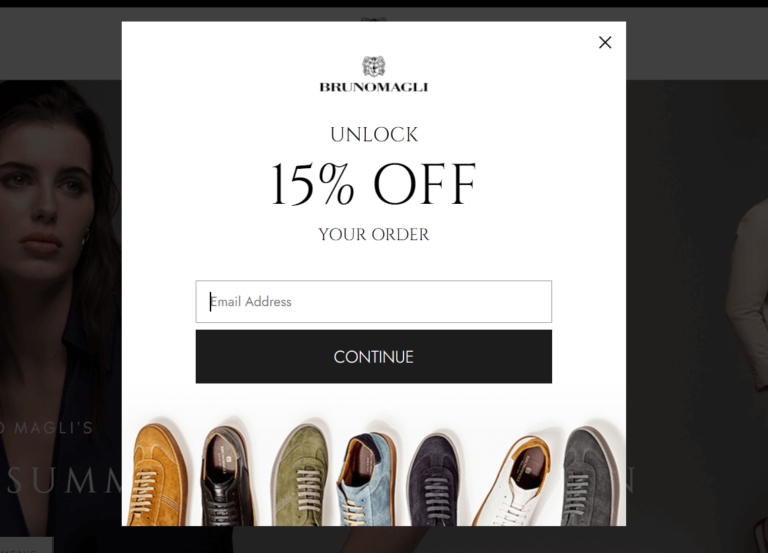 Its black and white popup is simple with concise copywriting that says just enough about the incentive for new subscribers: Unlock 15% off your order.
It also has a professionally photographed image of luxury shoes to draw attention to the popup.
What we love:
The black and white popup is simple with concise copywriting;
Compelling 15% off your order;
Professionally photographed images of luxury shoes.
7. Tim Ferris — Offers an Ebook
Tim Ferriss is an American entrepreneur, author, podcaster, investor, and lifestyle guru. He's best known for his 4-Hour self-help book series —The 4-Hour Work Week, The 4-Hour Chef, and The 4-Hour Body.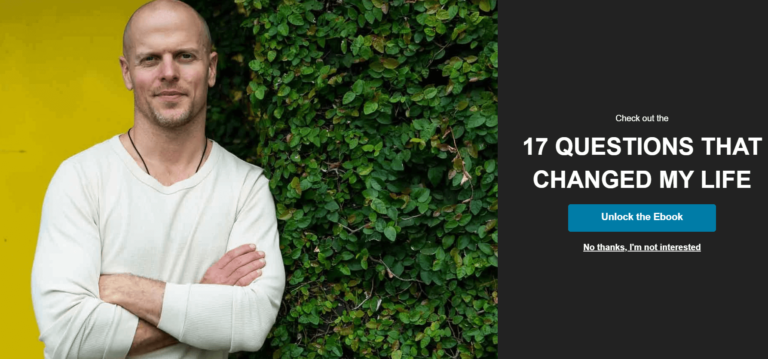 Tim Ferris has a cool popup that occupies the entire screen. At the time of writing, the author provides new subscribers with an ebook on changing the flow of their lives. Who can say no to that?
What we love:
The popup occupies the whole screen;
A compelling offer that gets the visitors' attention.
8. Ulta Beauty — Latest Sales, New Arrivals & Special Offers
Ulta Beauty is an American beauty brand.

The brand's email bar follows a classical design with a pink and white pattern. The popup is simple, brightly colored, and has an excellent position — the bottom of the page in the form of a window.
What we love:
The design is simple and straight to the point;
The popup appears from below in the form of a window;
It has bright, attractive colors.
9. CoSchedule — Offers Forever Free Calendar
CoSchedule offers a marketing calendar that allows marketers to see, schedule, and share all their marketing activities in one place.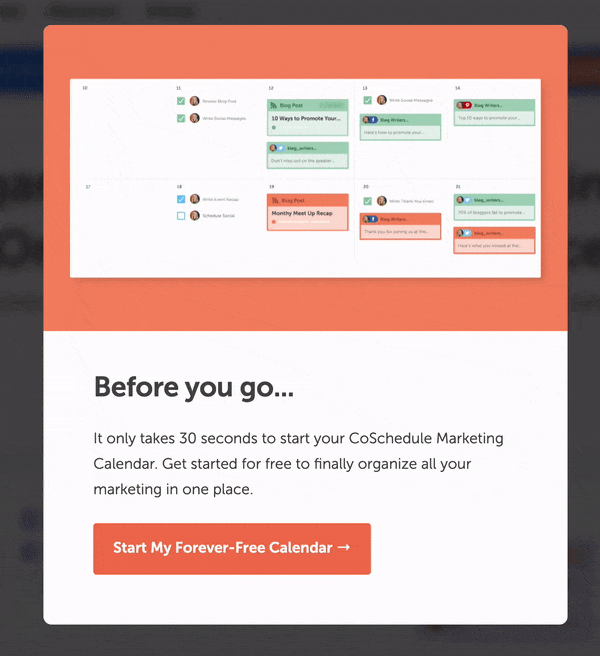 The interactive email popup is animated and well-designed and displays when visitors are about to leave the page. It's also simple, classical, and written in a beautiful font.
In exchange for a subscription, CoSchedule will teach you how to grow your business and create a free marketing calendar.
What we love:
The popup is animated, well-designed, and engaging;
The CTA is compelling, with a great offer.
10. Marks & Spencer — Offers Rewards and Exclusive Offers
Marks & Spencer is one of the largest British multinational retailers selling clothing, beauty, food, and home products.

The email newsletter popup is straightforward and allows customers to get rewards and exclusive offers in exchange for sharing their email addresses.
What we love:
The popup is simple and straightforward;
It offers exclusive offers and clear instructions.
11. Woven Store — 10% off Your Next Order
Woven Store is an online store that sells clothing, accessories, and lifestyle goods to its customers (mainly women).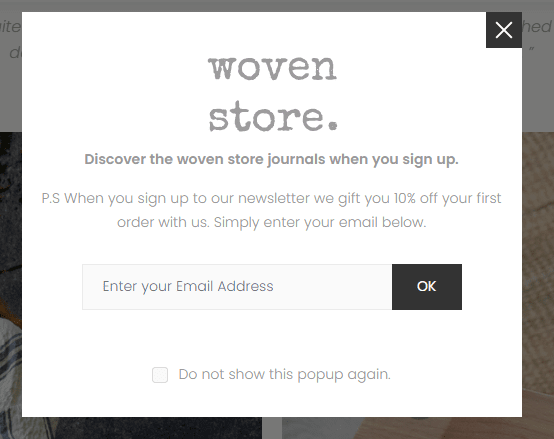 The newsletter popup conveys the message quickly, which is essential for engaging potential subscribers. The use of fun fonts also enhances the visual appeal of the popup.
What we love:
The popup conveys the message fast;
It offers 10% off your first order;
Playful fonts make the popup visually appealing.
12. Squat Racks Canada — $50 off Your First Order
Squat Racks Canada is a company that sells gym equipment.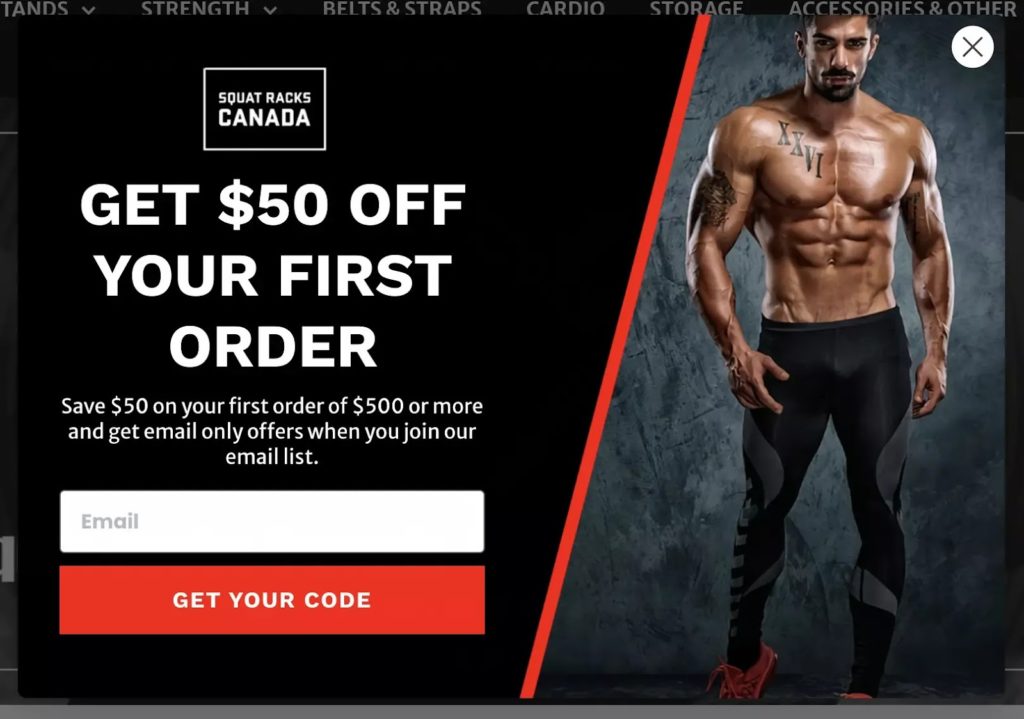 The popup uses contrasting colors and a fit man to attract attention. The email popup occupies half of the screen and offers a chance to get $50 off the first order on the website.
What we love:
Contrasting colors and an image to attract attention;
The email capture form offers a massive $50 off your first order.
13. Mala the Brand — Access to New Products and Special Promos
Mala the Brand is a candle company that creates handcrafted candle products, including the fireside, winter candle bundle, and matchbox.

The email popup is fresh, sketch-like, and written in friendly language using a machine-printed font. It also assures skeptical visitors that the newsletters won't contain any spam.
What we love:
A friendly language that gives visitors assurances;
A machine-printed and sketch-like font that makes the popup unique.
14. The New Yorker — Offers Four Newsletter Choices
The New Yorker is an American weekly magazine known for its literary fiction and poetry, in-depth articles, sophisticated tone, and famous cartoons.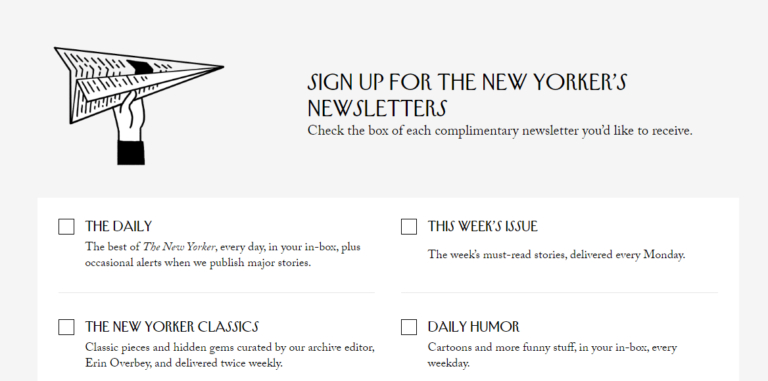 One of the most trusted newspapers has a superb and stylish email popup with a branded font. The popup also offers visitors a choice of which newsletters they want to receive.
What we love:
It has a branded font that makes it unique;
The popup offers visitors four choices on which newsletter to receive.
15. Wix — Offers the Latest Content on Creating and Marketing a Website
Wix is a software company offering cloud-based web development services and helps users create mobile sites and HTML5 websites using drag-and-drop tools.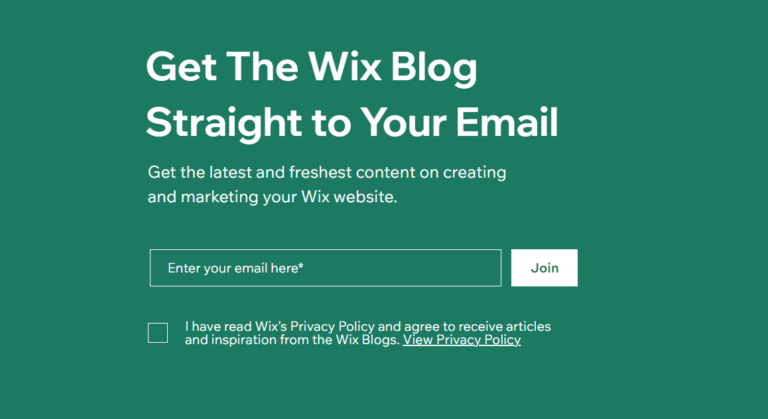 It's hard to miss Wix's email popup, thanks to its bright green color. You only need to share your email address to join Wix's blog, which offers valuable and up-to-date articles.
What we love:
The bright green color makes the popup attractive;
Simple design with minimal information required.
16. Ollie — 60% off Your First Order
Ollie is a US-based pet health brand that offers baked, fresh and other healthy food products specifically for dogs.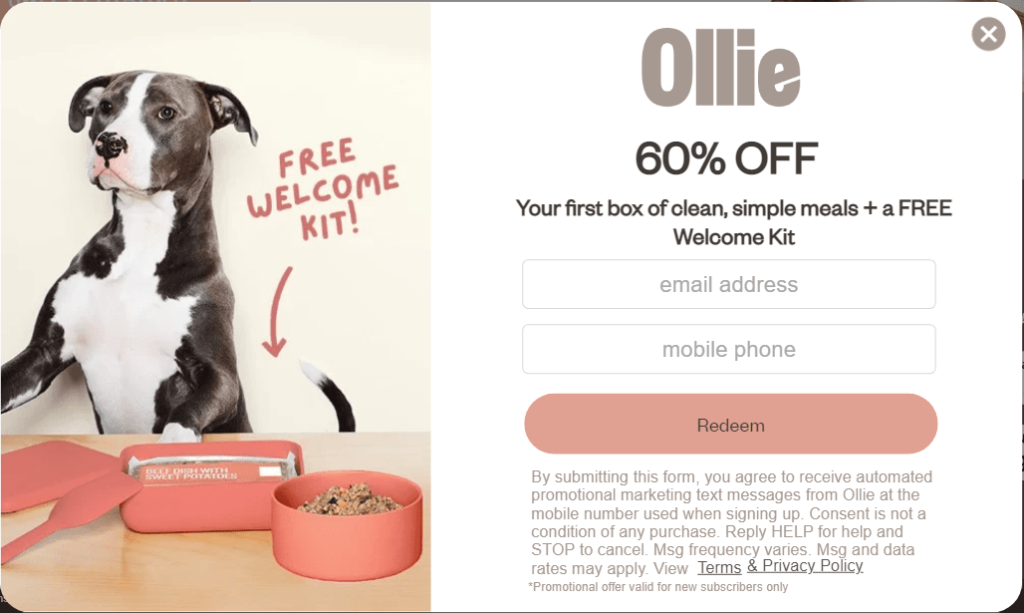 The elegant email popup uses bright colors and a cute dog pic to capture the audience's attention. The popup occupies most of the screen and offers a deal that's difficult to ignore: a 60% discount on the first order plus a free welcome kit.
What we love:
Bright colors and a dog pic to attract target visitors;
A generous offer of 60% discount on the first order.
17. Restated Vintage — 10% off Your First Order
Restated Vintage is an online store specializing in vintage clothing from the 80s and 90s for nostalgia fans worldwide.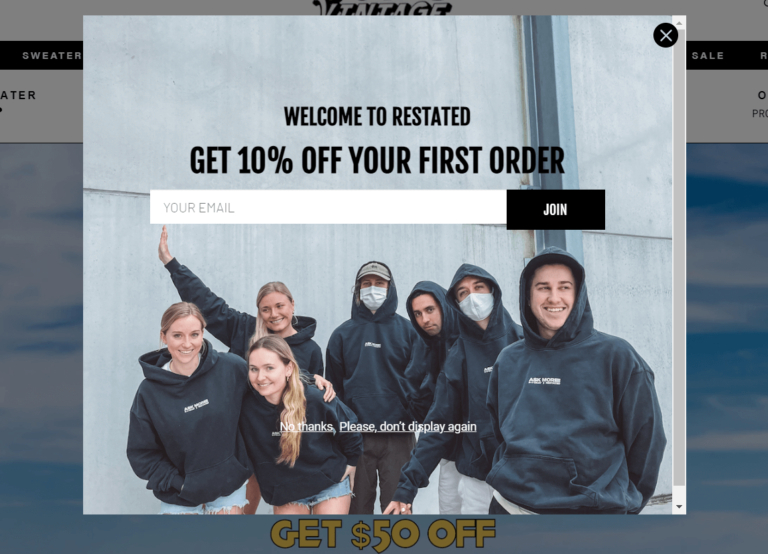 The email popup has attractive and happy people to welcome new visitors and offers a 10% discount on the next order. All you need to do is enter your email address and sign up.
What we love:
The email popup has attractive and happy people who invoke the desired positive emotions from website visitors;
Offers a 10% discount on your first order;
The design is simple, allowing the focus to remain on the 10% offer.
18. ColourPop — 15% off Your First Order
ColourPop is a makeup brand famous for its affordable pricing.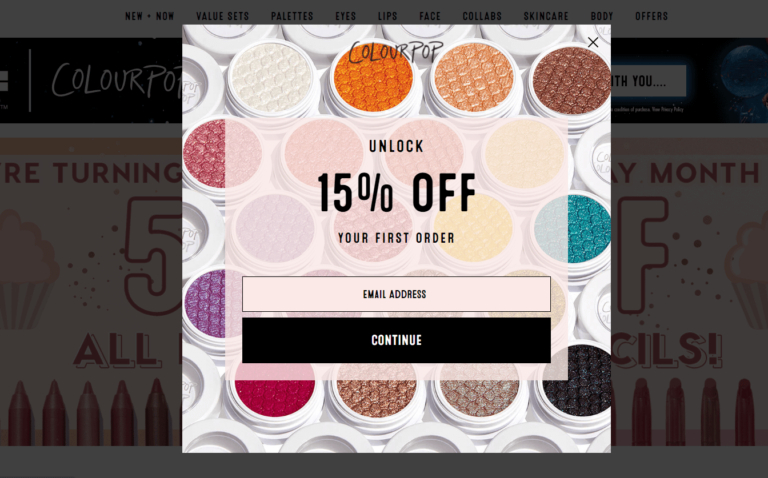 With the help of this juicy email popup, users can enter their email and get 15% off the first order, as well as other special promotions. The popup is also luring in all its brightness.
What we love:
The bright colors make the popup attractive;
It offers a 15% discount on your first order.
19. Uniqlo — £10 off Your First Order
Uniqlo is a Japanese casual wear clothing store and brand that creates affordable, basic designs that appeal to their audience.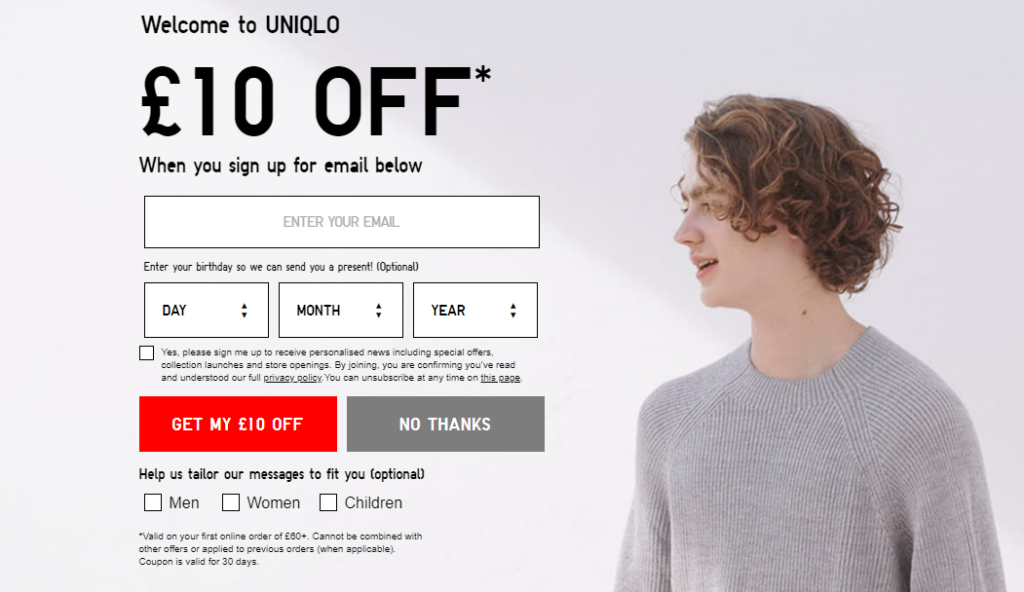 The popup is simple but effective and doesn't contain unnecessary details. It offers an optional field to enter your birth date to receive a present. You also get £10 off by entering your email address and choosing your gender.
What we love:
Simple but effective design;
£10 off your first order;
Optional field to enter birth date and receive a gift.
20. Framebridge — Give 15%, Get $15
Framebridge is a startup company that offers an online custom framing service.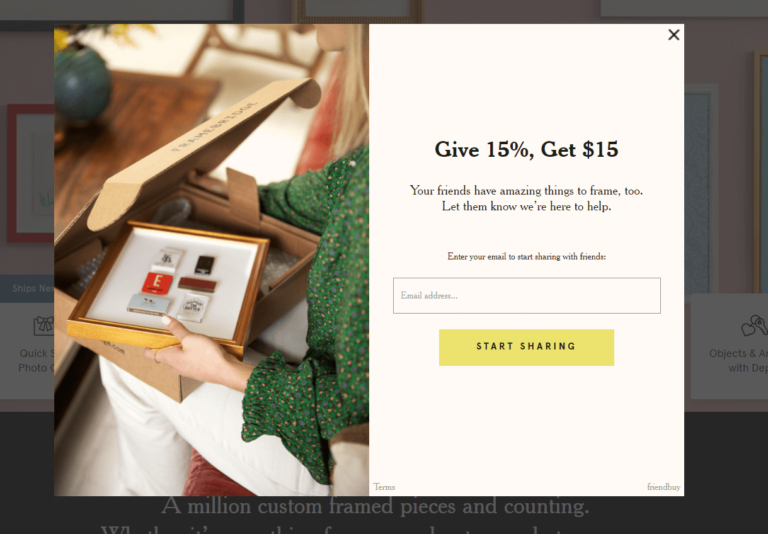 The popup's tone makes the yellow 'Start Sharing' button stand out. The email popup also gets straight to the point and offers a discount with clear terms and promises: Give 15%, get $15.
What we love:
Simple design with attractive colors that make the CTA button stand out;
The popup offers clear terms and promises.
8 Tips for Effective Newsletter Popup Designs
Add a short title and text.
In the lightbox popups, brevity is your best friend. To create compelling text for a popup, formulate a valuable action for the user. For example, we advise highlighting the first sentence as a headline because a larger font catches the eye.
Add a catchy picture.
A small bright image will draw attention and illustrate your offer. It's good to add a picture when you offer a lead magnet. For example, you can show which item will be discounted, or you can go further and add GIFs or short video clips. To add interactivity to your popup, use free video editors.
Adjust adaptability.
Remember that a significant part of the traffic comes from a mobile audience. Therefore, the popup window should fit entirely on the smartphone screen so users can easily view it. Also, closing the popup shouldn't be difficult.
Adjust the mail input field.
Make a convenient mail input field in your popup form. The field should be wide enough and have some domain options, so it's less likely that the subscriber will make a typo in the domain part of the address.
Create a clear call to action.
The users need to understand what actions are expected of them. Formulate the phrase on the button based on the text of the email subscription popups. It should be its logical continuation:

Subscribe to the newsletter – then put Subscribe. If you download a guide to the basics of Internet marketing – then put Download.
Follow the simplicity and usefulness concept.
Don't overdo it with the number of elements and text. The fate of a popup is determined in seconds: the simpler and more valuable your sentence is, the faster it can be read and understood.
Make the popup responsive.
The user will be sure that the form works as it should. After filling out and submitting the form, something should happen. For example, thank the user for the address and say the first letter will arrive in a few minutes.
Don't remove or hide the window; close cross.
It's annoying when it appears only after some time, or you must look for how to close the popup.
Key Takeaways
In summary, here's what we've covered:
Creating newsletter popups isn't hard, and the popups can be an excellent instrument for improving customer engagement and driving new clients;
The four types of newsletter popups include standard email popups, fullscreen email popups, sidebars, and sticky bars;
20 stunning newsletter popup design examples to inspire you to build your own. Get familiar with these examples and choose the one that suits your business best to make your 2023 email marketing strategy solid and effective.
Also read: