Like what you read?
Apply it in practice with Sender.net - the most cost-effective email marketing solution in the market.
Try Sender for free
Year after year, emails remain one of the best promotional instruments. Here are only a few email marketing stats that will blow your mind: around 4.3 billion email users will be in 2023, which is half of the world's population. In 2022, almost 350 billion emails will be sent every single day!
Along with UI/UX design, functional WordPress themes, and engaging content, you need good-looking and eye-catching newsletter pop-ups.
Why do effective pop-up designs matter? First, catchy pop-ups help increase sales as they focus the target audience's attention in the direction of the conversion action, which is confirmed by many cases. On average, the conversion rate for email subscriptions through pop-ups is 5.1%. This means that out of 100 people who see a pop-up on your site, you may receive 2-3 email addresses. The most effective one is the pop-up with a discount offer – the conversion reaches up to 7.65%.
One way or another, pop-ups:
attract subscribers;
report the news;
provide technical support;
show ads;
receive requests from clients.
However, there is also a negative statistic – if used incorrectly and inefficiently designed, pop-ups make users feel annoyed when they visit the site. They simply hate any form of advertising.
That's why design is important. We have collected newsletter ideas from leading brands in numerous niches to boost your imagination and learn from the best. Explore and enjoy!
Before We Start – a few Words on Pop-ups Types
All pop-ups are divided into two main types: hello-board and page-stop.
Hello-board covers part of the screen and can appear on any part of the page. For example, this type of pop-up is often displayed as a narrow bar at the top or bottom of the site. This type doesn't block the site's functionality, doesn't interfere with browsing, and is easy to close.
At the same time, page-stop pop up in the center of the screen or closes most of the page. The visitor cannot skip it until they perform the target action or close the window.
If you feel tempted to start creating pop-ups and grow a subscriber list, try Sender. Its in-built email design tool makes it a breeze to build pop-ups quickly and efficiently using simple drag-and-drop editing. Also included are responsive and high-converting pre-designed templates that make it extremely easy for you to send emails.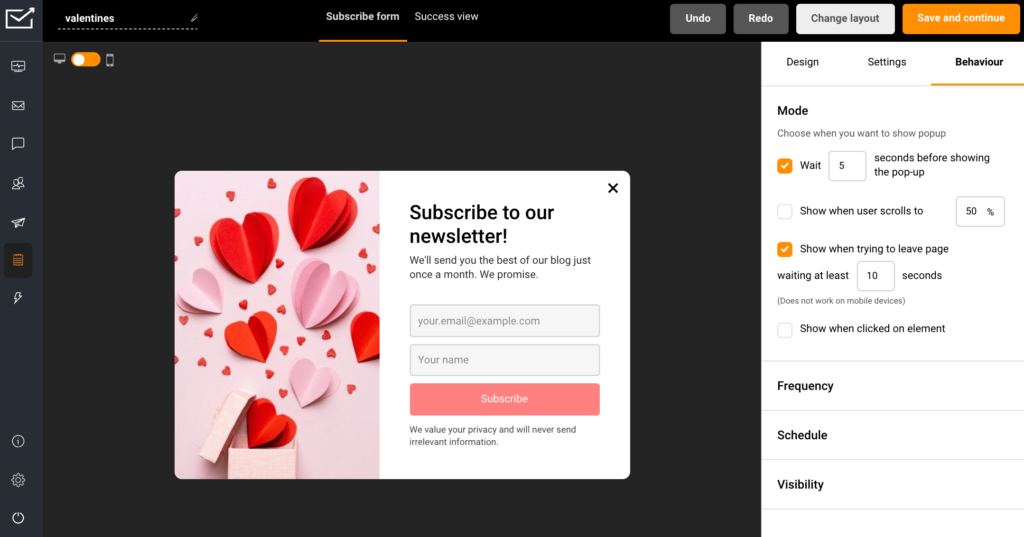 Take Sender for a spin before shifting over and starting with zero financial commitment, the FREE Forever plan can help you do just that. Send up to 15,000 emails a month to up to 2,500 contacts absolutely free of cost!
Users' hello-board type annoys users less than page-stop since they are less intrusive and can be ignored. However, this kind of pop-up is unsuitable for collecting leads or redirecting users to a landing page. Instead, most users will close a site that has not yet provided any useful information but already requires some action from them.
At the same time, page stops are considered more effective because they force users to stop and read the information. According to Optimonk, the conversion rate of page-stop pop-ups is 14.4%, while the simple pop-up with a discount offer and catchy pic gets only 11.09%.
Now let's proceed with the powerful and most effective use-cases.
Varley
Their simple but classy lightbox pop-up appears on display as soon as you visit Varley. The black and white color scheme complements the overall design, and the pop-up message offers a 10% discount for subscribing via email.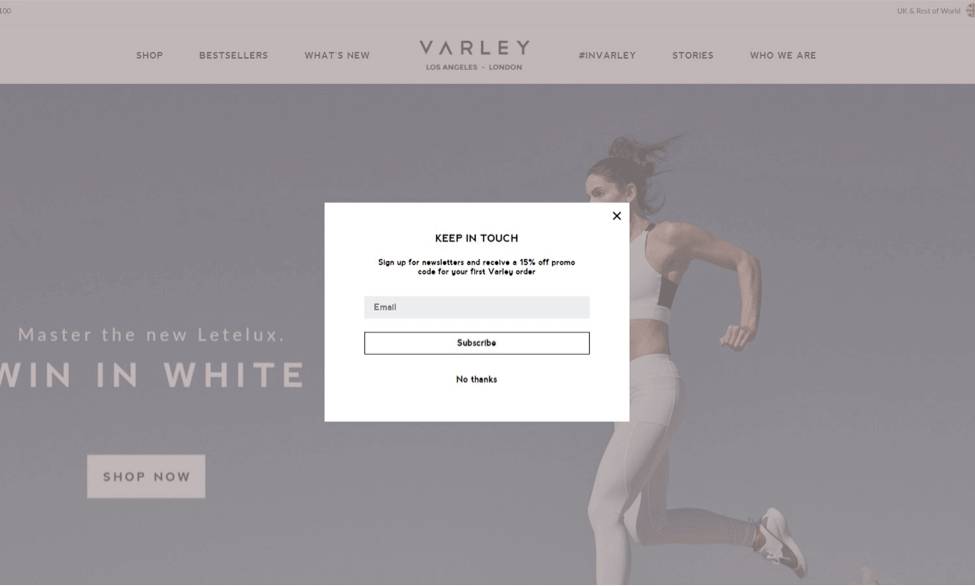 Dolce & Gabbana
A famous brand offers you to stay up-to-date with the news and launches of Dolce & Gabbana by subscribing to the email newsletter. There are three input fields of average size: email, gender, and language.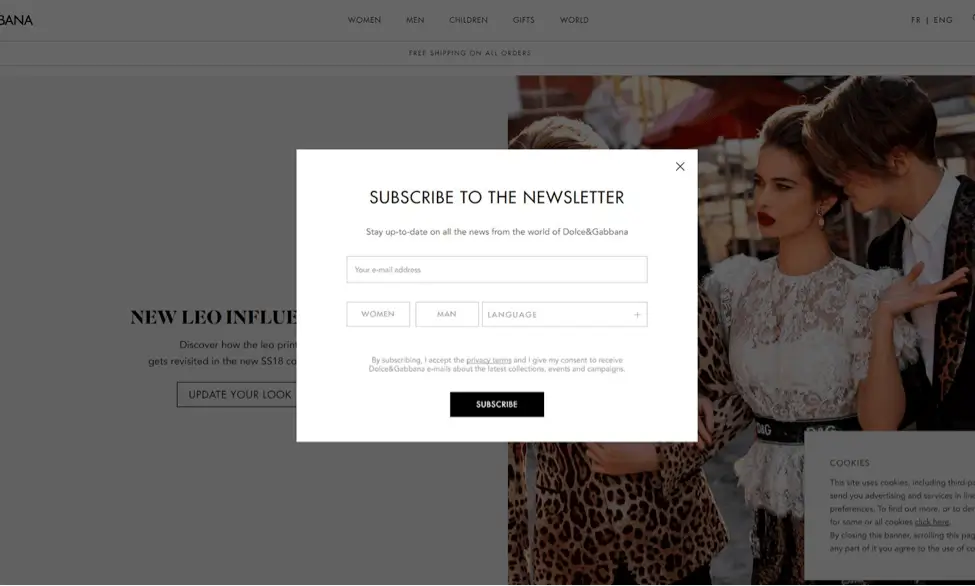 Kensie
A creative fashion store offers customers 10% off their first order in exchange for an email subscription. The text is plain but has a beautiful modern glow which makes the pop-up feminine and stylish.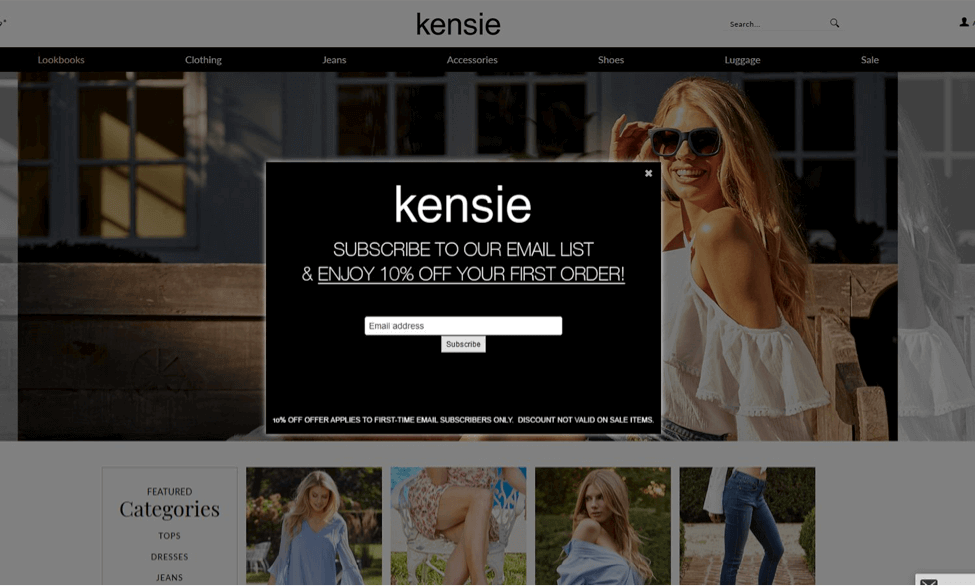 Your Guitar Academy
The first thing visitors see is a CTA button in a contrasting color which is a great trick. Your Guitar Academy also offers to get two guides for free just for subscribing through the banner.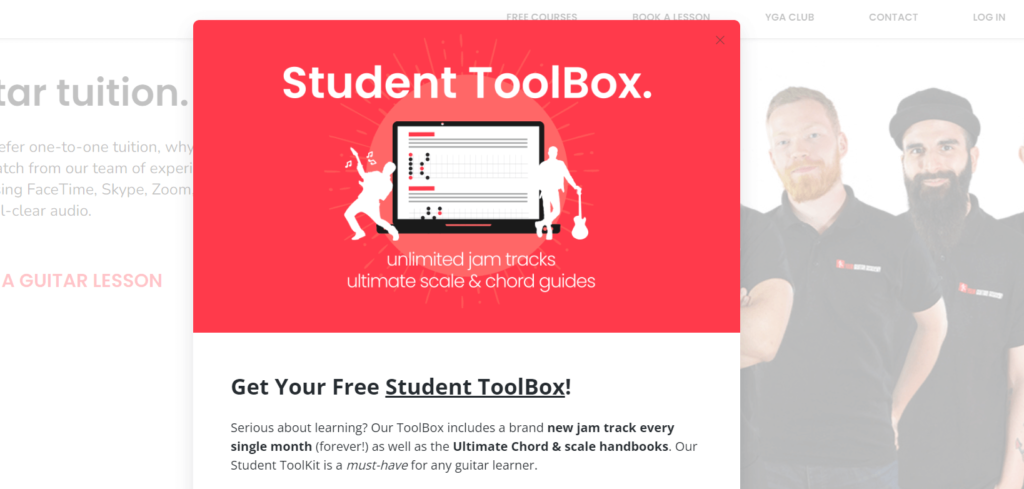 Tommy Hilfiger
Their email pop-up is very appealing thanks to the traditional blue, red, and white logo, good-looking font, and an attractive offer – joining the Hilfiger Club, getting 20% off the first purchase, and other benefits.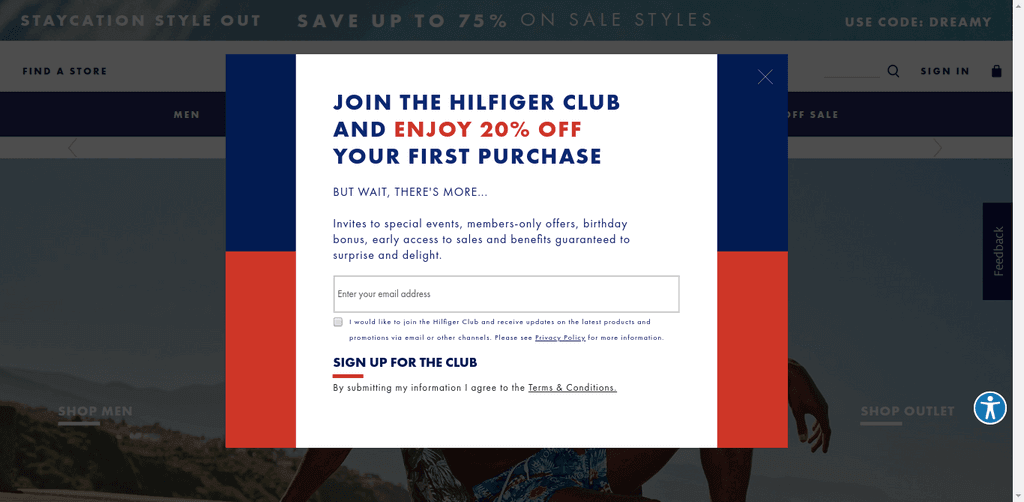 Dip & Doze
To grow the email list, this brand uses appealing sand and gray colors and rewards visitors with a 10% discount on the first order. To subscribe, they only ask for your first name and email.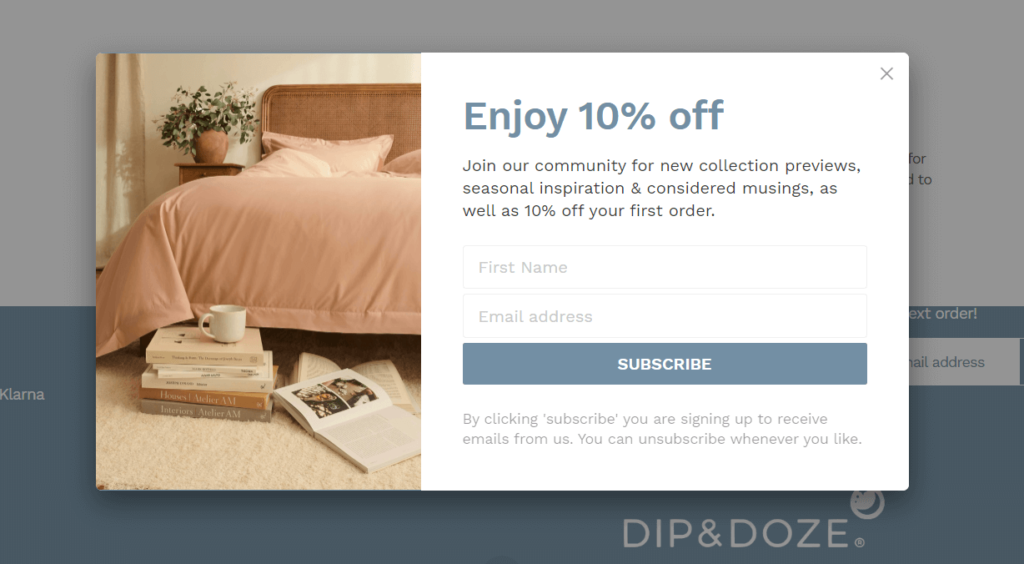 Bruno Magli
A great choice of colors and a professionally taken photo of luxury shoes attract attention to the pop-up. It, in turn, offers to sign up for exclusive rewards including 15% off your next order.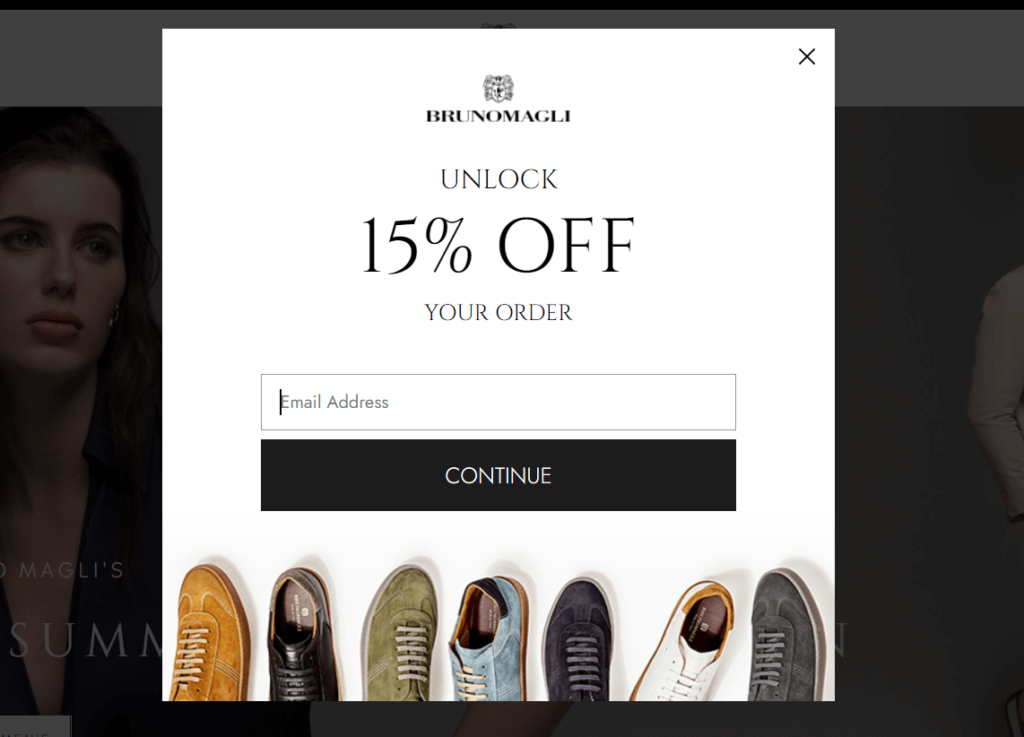 Designmodo
Designmodo uses less aggressive techniques and has a popular built-in popup. It's quite small and located on the left of the screen. By joining the subscription, visitors receive articles, free perks, and special offers through email.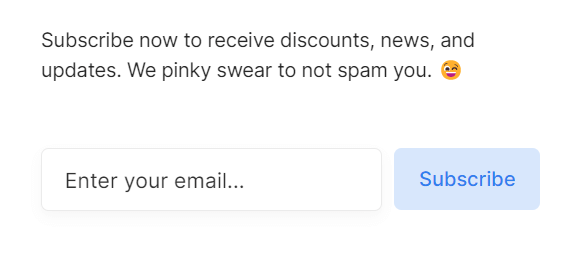 Marks & Spencer
An absolutely simple newsletter pop-up gives customers an opportunity to get rewards and exclusive offers in exchange for sharing a few details, namely, an email address.

Tim Ferris
Tim Ferris has a cool pop-up that occupies full screen. At the time of writing, the author offers new subscribers a guide on stuff that can help in changing life flow. Who can resist?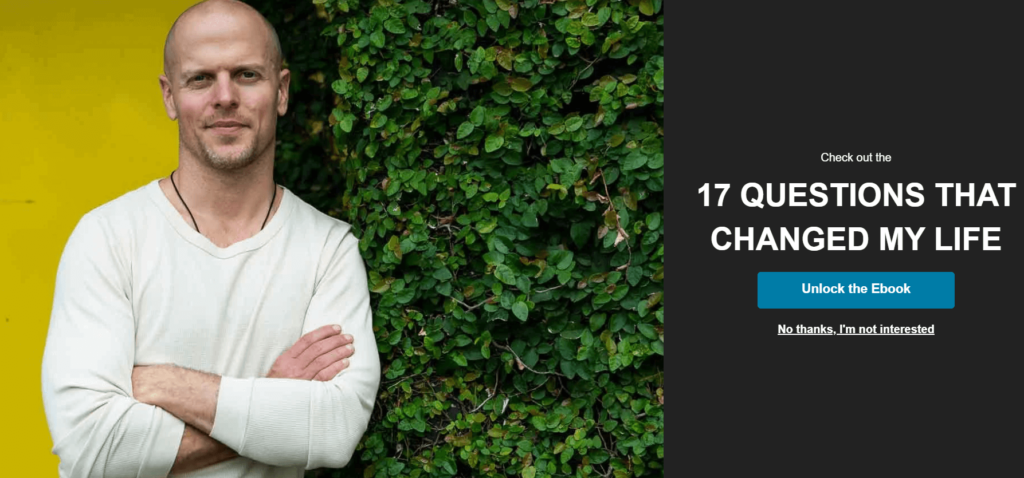 Pipsnacks
This brand decided to experiment with the popup, and the result turned out just great. It appears on the left of the webpage bottom and doesn't interfere with the bright and fine-looking pictures in the background.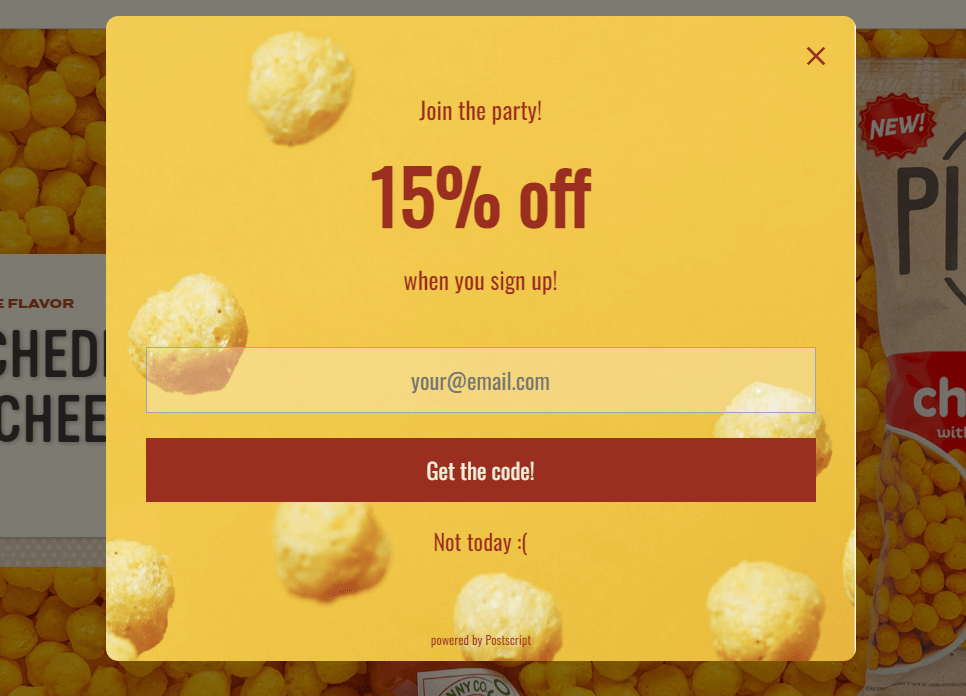 KlientBoost
If you are an ecommerce company and need marketing help, KlientBoost knows how to generate leads. Their newsletter pop-up has a nice cartoonish design and absolutely stunning humor. It gives out a free proposal on marketing tips that you'll receive on a regular basis.

Ulta
Beauty heaven follows a classical girlish design with a pink and beige pattern. Their pop-up is also rather sweet and unusual – presented at the bottom of the page in the form of a window.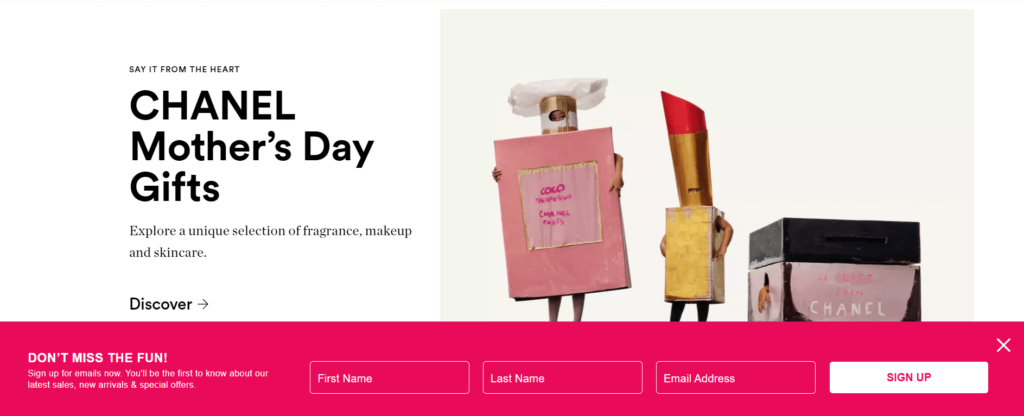 MeUndies
Apart from standard ads and techniques, this clothing brand offers quite an interesting color scheme. Their pop-up provides a 15% discount in a bright and fellowish way.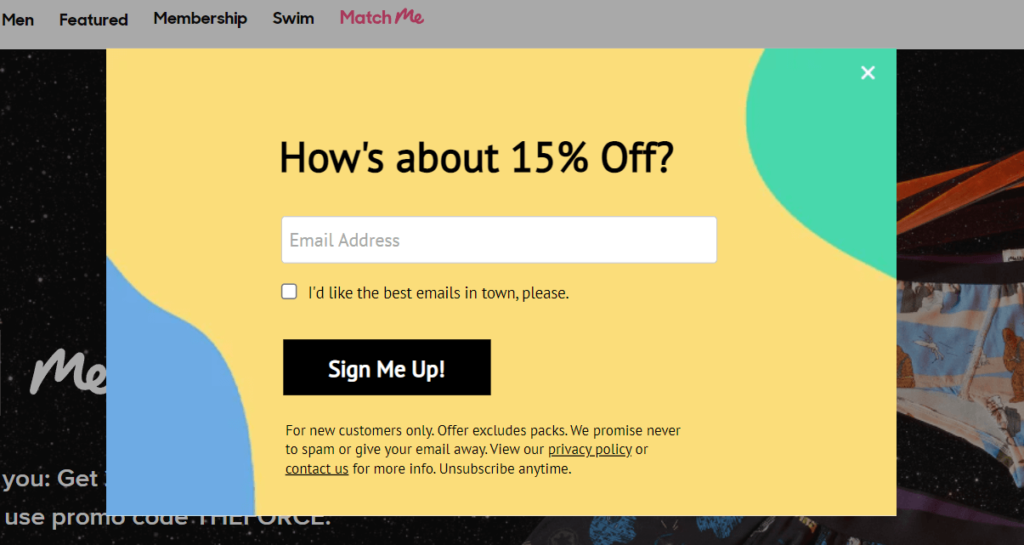 ColourPop
With the help of this juicy popup users can enter their email and get $15 off the first order, as well as other special promotions. We really like the fact that the popup is luring in all its brightfulness.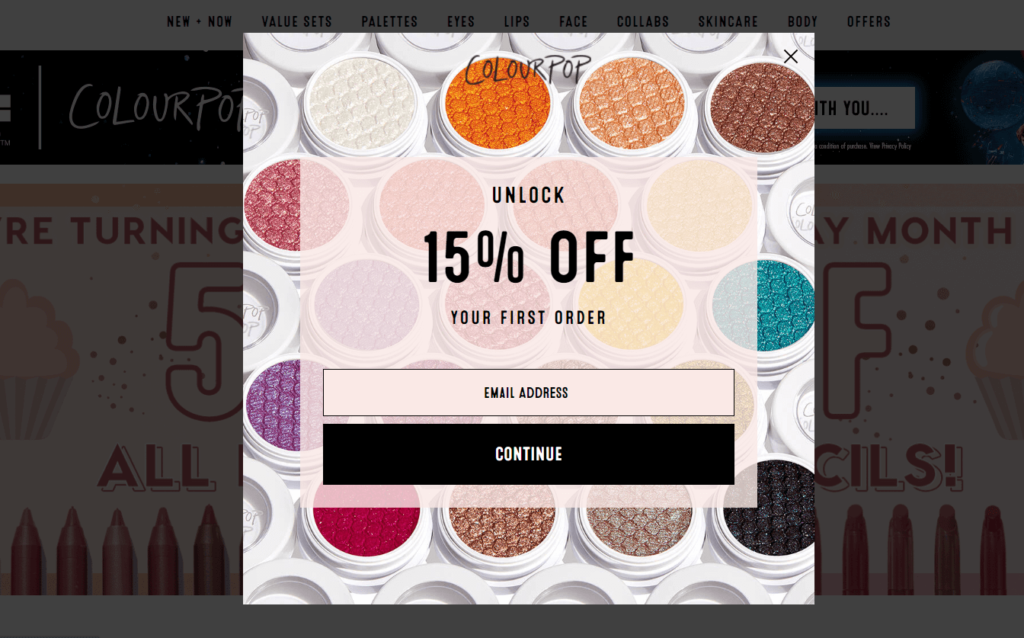 Squat Racks Canada
One of the ways to attract attention is using contrasting colors and handsome men, and this brand knows it. Their newsletter pop-up occupies half of the screen and offers a chance to get 10% off the first order on the website.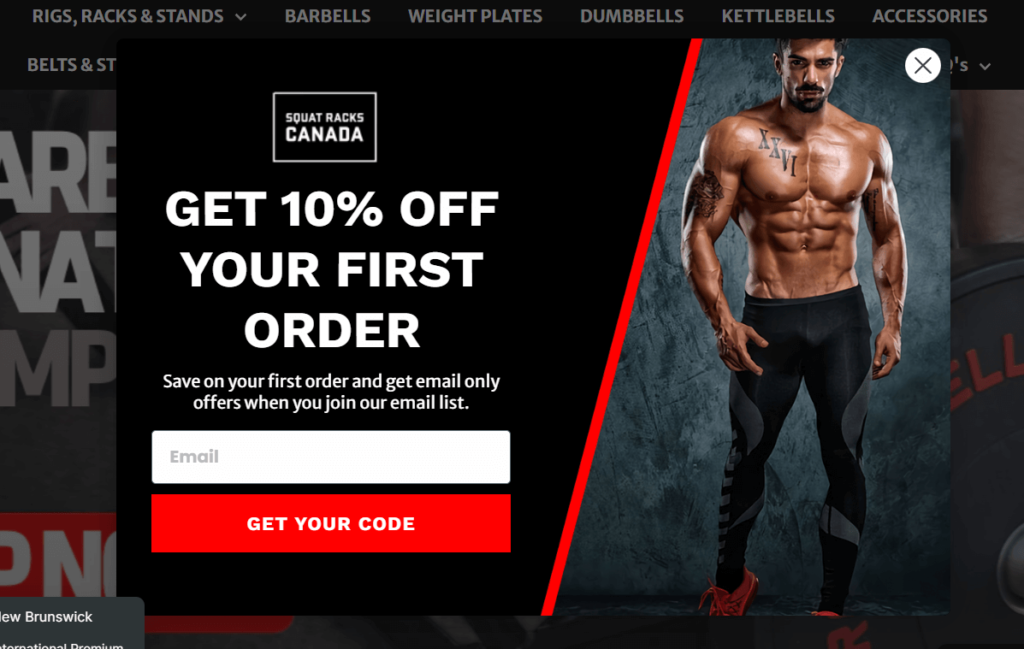 DigitalMarketer
Another good example of thoughtful pop-up design is DigitalMarketer. For signing up, they offer access to weekly news and tips on how to boost the company's growth or the list of powerful blog post ideas. What's great about this is that the pop-up is located in the bottom line and doesn't interfere with the homepage.

Uniqlo
A simple but effective pop-up doesn't contain unnecessary details. By entering your email address and choosing gender, you get $10 off.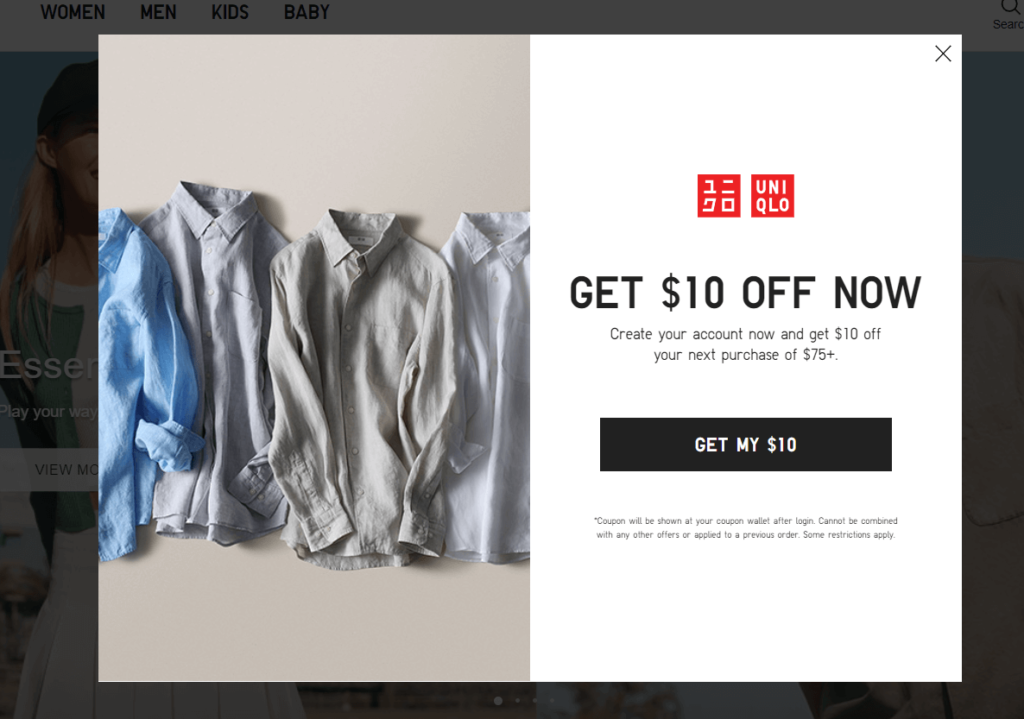 Restated Vintage
Attractive happy people welcome new visitors and offer a 10% discount on the next order along with early access to daily drops. All that is needed is to enter your email and sign up.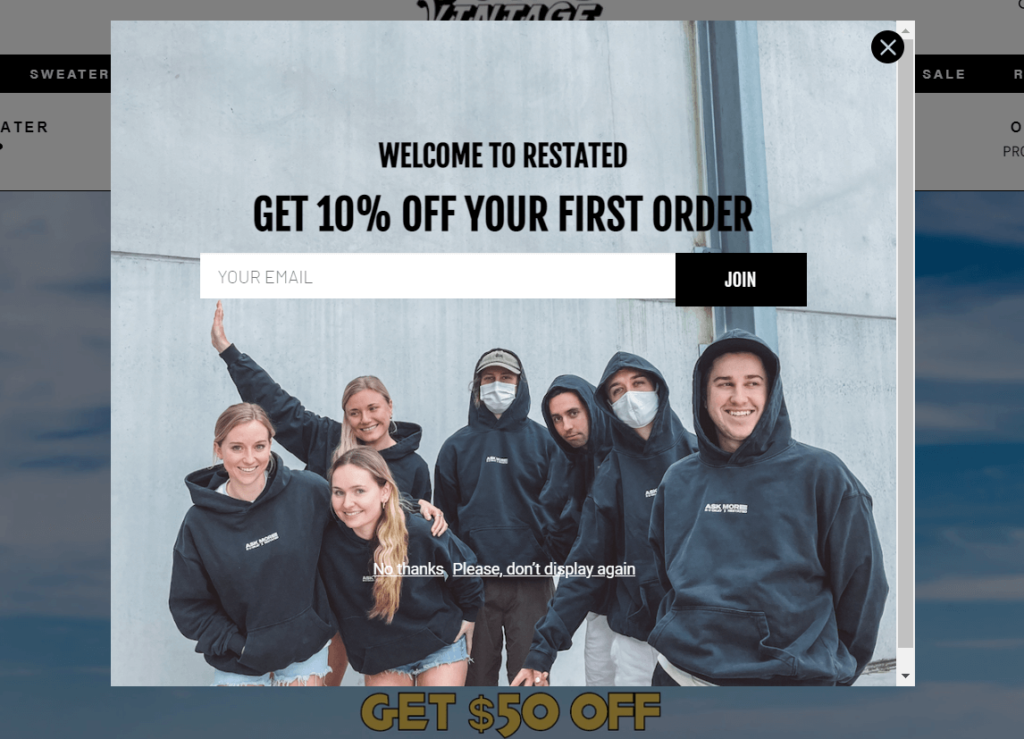 Packed Party
Their multi-color heading looks quite weird but modern. The bar doesn't occupy much space and offers visitors to enter their email addresses and birth dates. In exchange, Packed Party offers 10% off.

SitePoint
This brand uses a classical approach and offers visitors free stories and gimmicks for developers for subscription and other perks. The pop-up is clear, bright and well-structured.
eMarketer
This newsletter doesn't occupy most of the screen, and it's a plus. However, it may be a bit dull to comprehend. By providing your business email, you can get a myriad of must-read articles, charts and stats for industry decision-makers.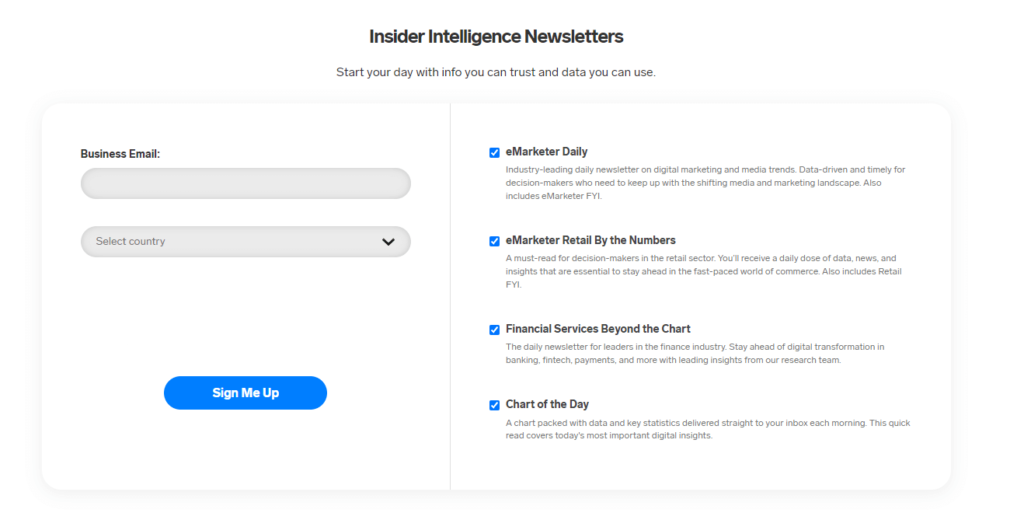 Middle Finger Project
Their pop-up is rather interesting and surely stands from the rest. It's bright, colorful, and offers you to follow the gut and do something crazy in the upcoming year.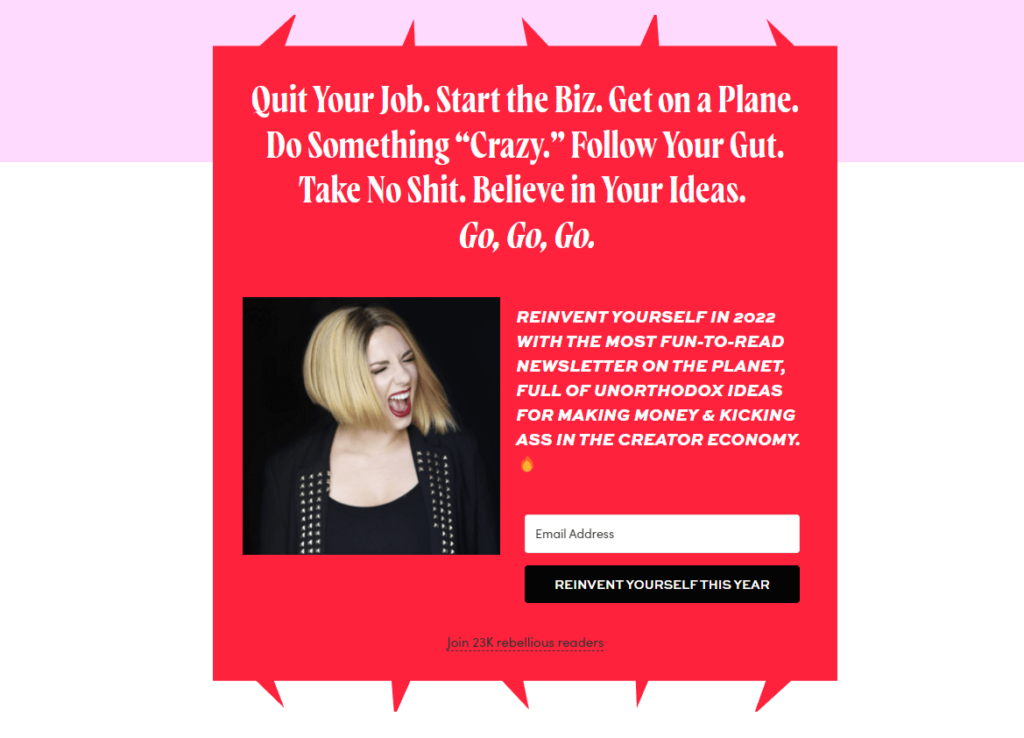 CoSchedule
It's not surprising that content marketers know everything about ads and self-promotion. And their pop-up proves that! It's plain, classical, and written in a beautiful font. In exchange for a subscription, they will teach you how to grow your business and create a free marketing calendar.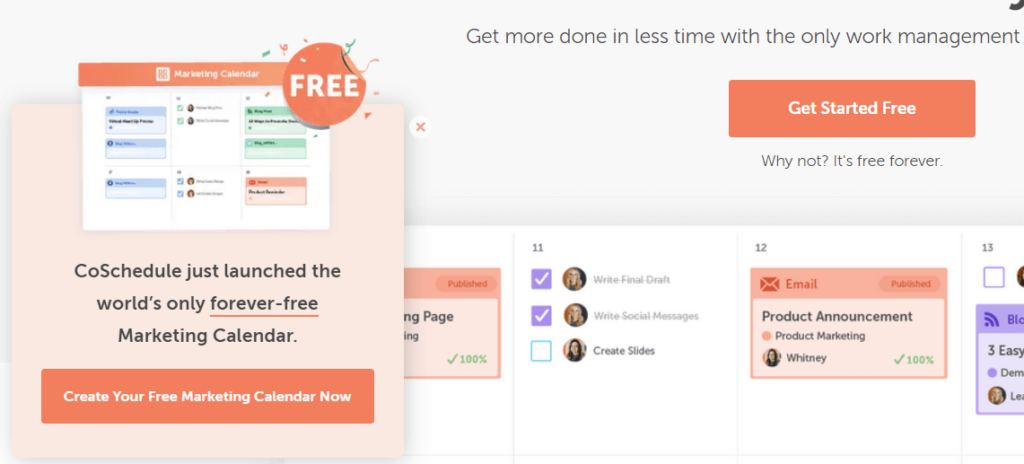 Framebridge
Tender tones of the website make the yellow Sign Up button stand out. They also get straight to the point and offer a 15% discount without unclear terms and promises. Visitors like it when their feelings are valued.
Indigo
Their Stay in the Know call promises visitors lots of pleasant moments, especially when a discount and special offers are added. Before subscribing, you can also get familiar with their Privacy Policy and Contact Details.

Mailgun
Another brand that doesn't want to interfere with its visitors is Mailgun. Some may say that their pop-up is too small, but it's cute and easy to find on the left of the screen. By subscribing, you get new posts without delays.

2X eCommerce
It's always a pleasure to surf the websites of marketing specialists. 2X eCommerce pop-up is bright and contrasting; it's convenient and offers visitors real value – exclusive growth strategies and tactics.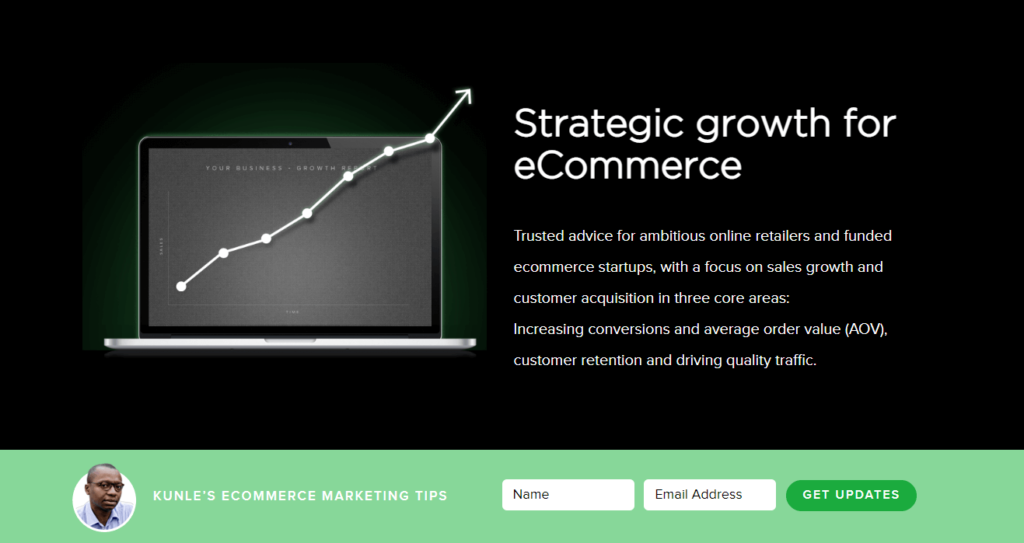 Close.io
This blog has done a good job by using a modern minimalism style. By subscribing, users get a 14-day free trial without a need to indicate credit card details.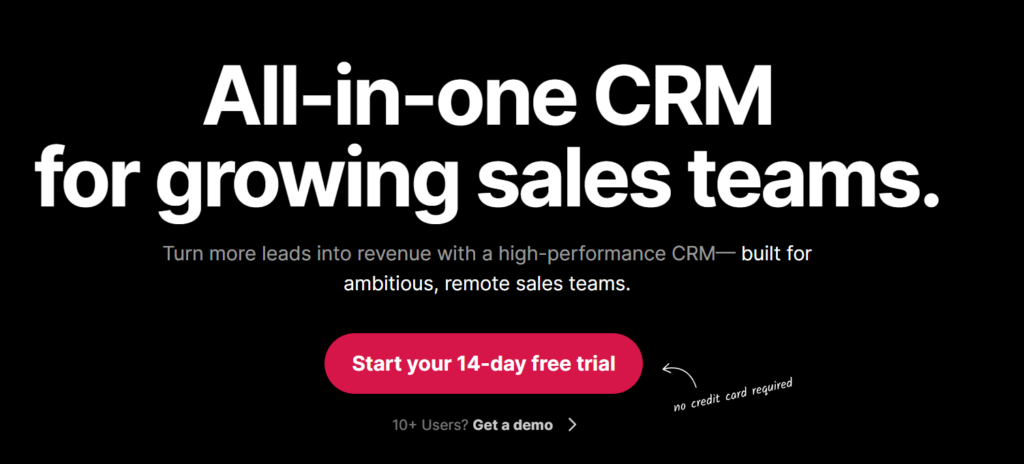 Ollie
They use branding and bright colors as well as yum food pic to catch the attention of the audience. The pop-up occupies most of the screen and offers a deal that's difficult to ignore: a 60% discount on the first order.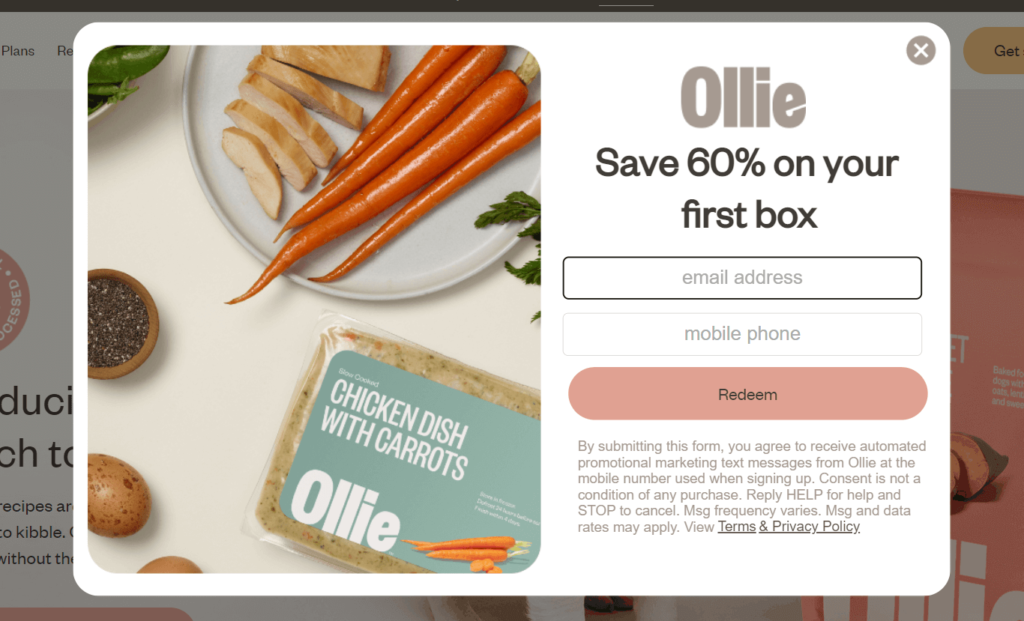 Wix
Although Wix.com contains lots of information, their pop-up can't be missed thanks to the bright green color. To join the blog with useful and up-to-date articles, visitors should just enter their email.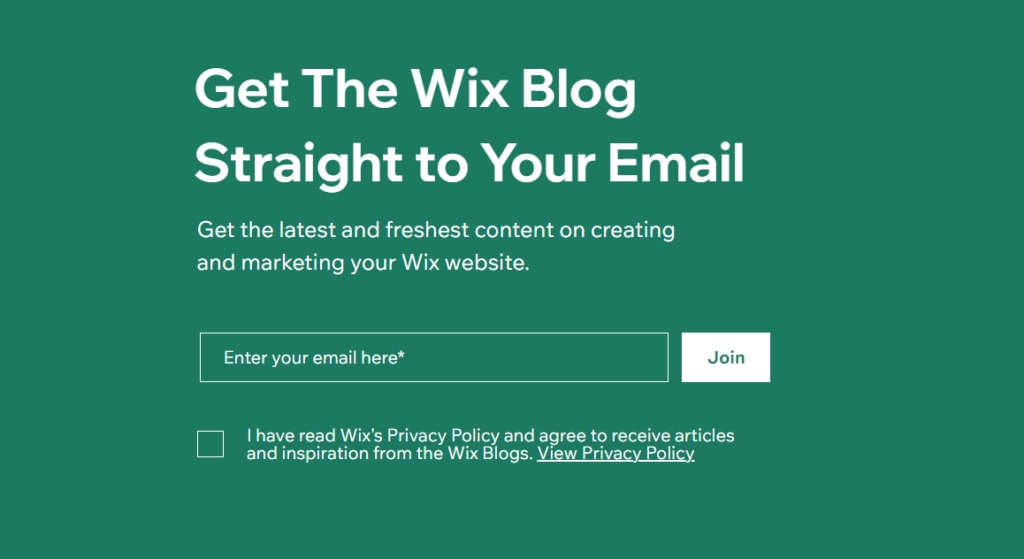 The New Yorker
One of the most trusted newspapers has a great and stylish pop-up. By using their branded font, The New Yorker offers a subscription to a newsletter with a great choice of content.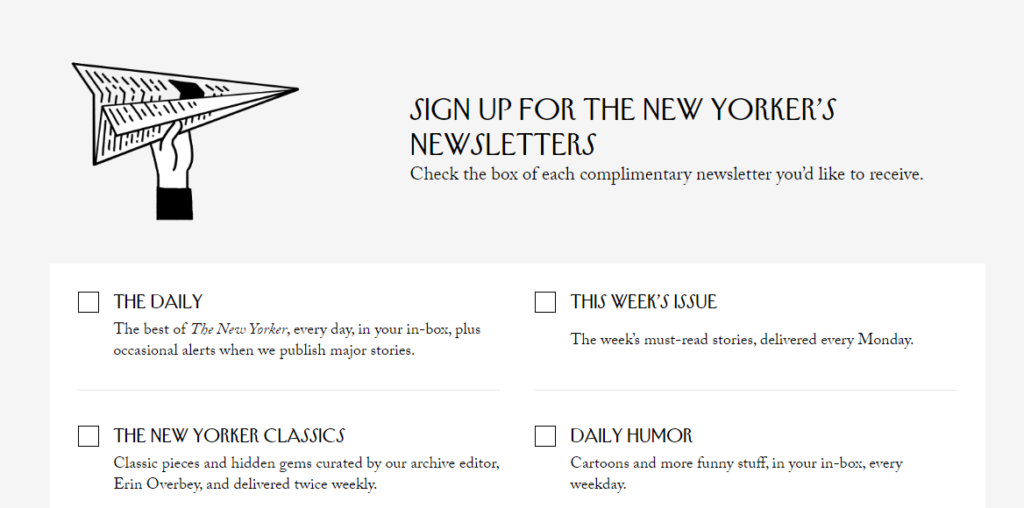 Mala the Brand
Their popup is fresh and sketch-like. It's written in a friendly language and uses a machine-printed font. Skeptical visitors are assured that the newsletters won't contain any spam.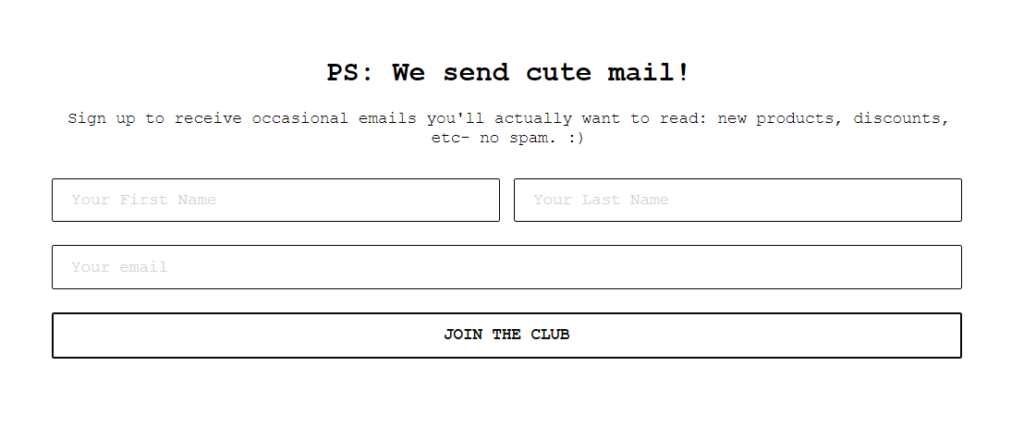 Mic
A super stylish Mic.com has various pop-ups depending on the pages you are surfing. This adds a personalized approach and allows targeting specific categories of visitors.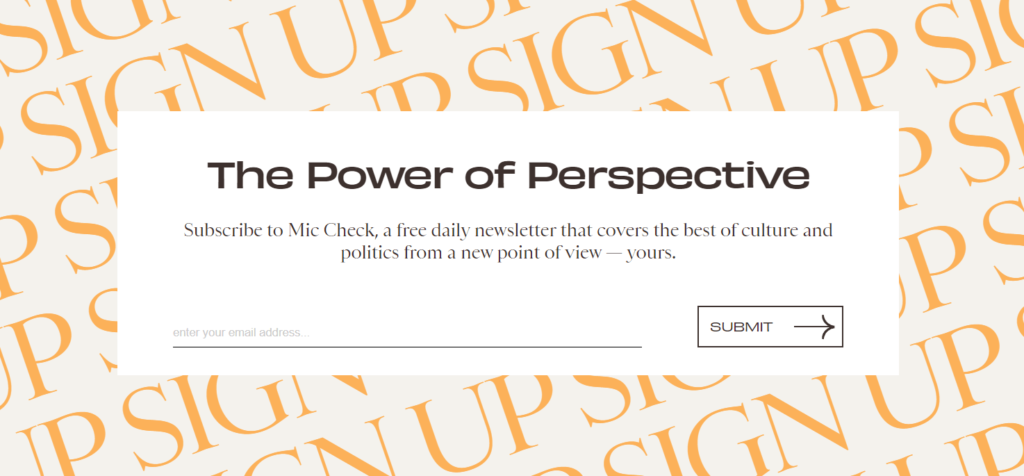 100% Pure
They have an interactive two-staged popup with bright colors and a great design. In exchange for your subscription, customers receive a 15% discount and newsletters on the topics that they choose.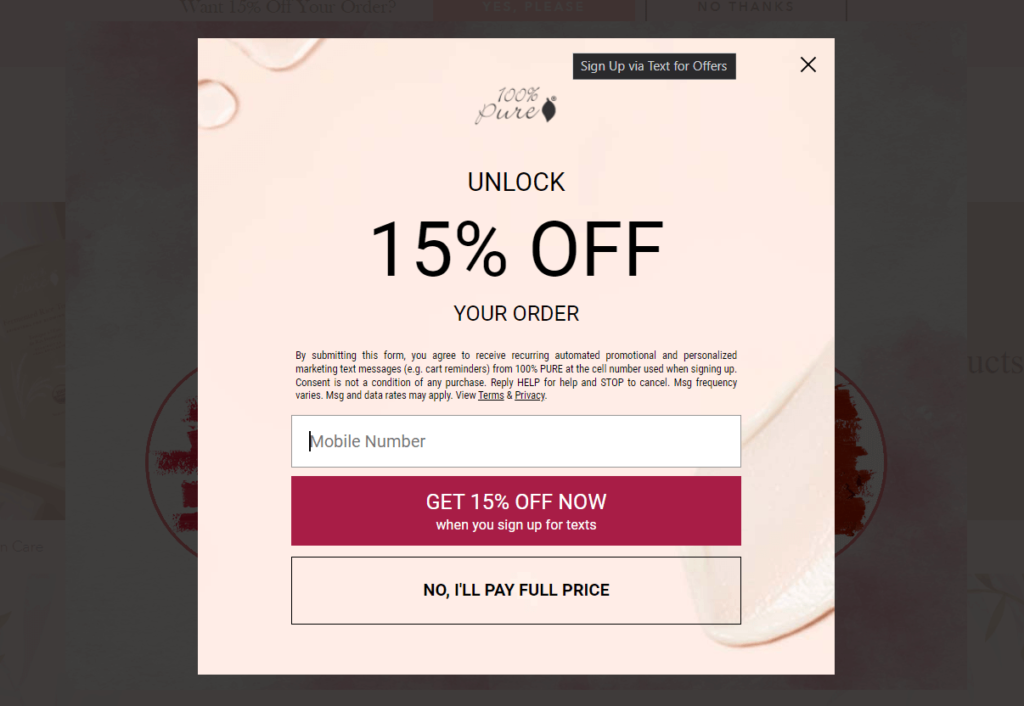 Digiday
Fans of black and white pop-ups will surely like this one. Nothing superfluous – just information on the features of exclusive membership in exchange for a subscription.

Paddywax Candles
The design of this popup blends well with the website itself. It also doesn't interfere with the page itself, nicely sliding from the left corner. The language is informal, and the discount is quite pleasant – 10% off the first order.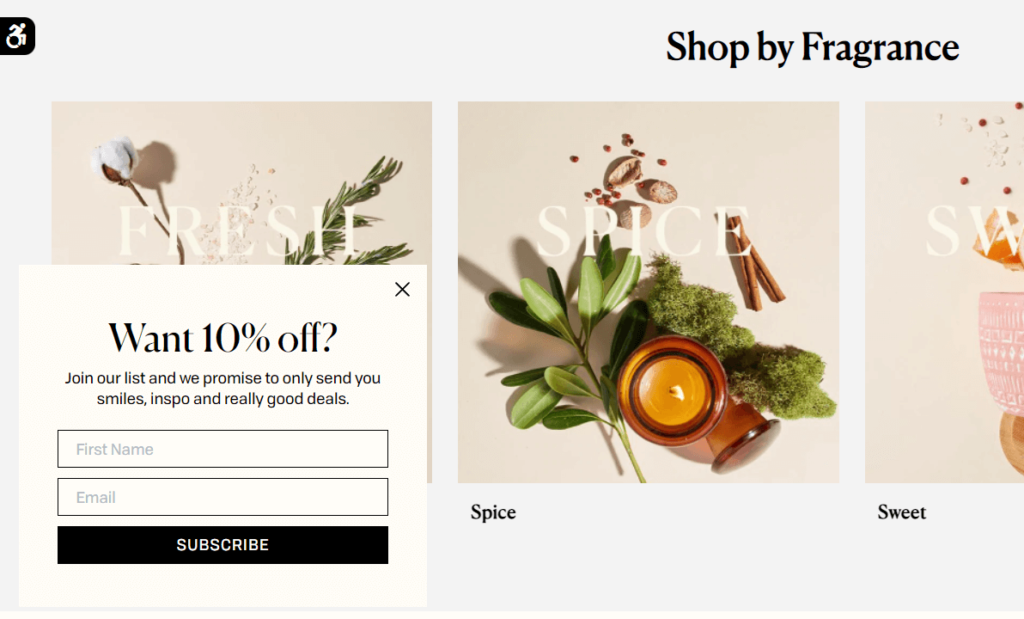 Emailmonday
Their pop-up contains a photo of Jordie, the webmaster which builds trust with the audience. Add a friendly personal introduction and a few surprises (like coding Html emails), and get a great newsletter design.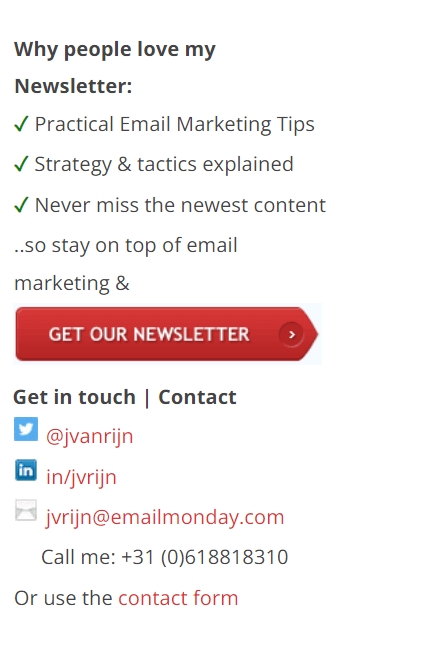 Structube
A big text with a bright sofa pic doesn't offer anything in return for a subscription. However, you'll always have a fresh catalog with the brand new interior stuff.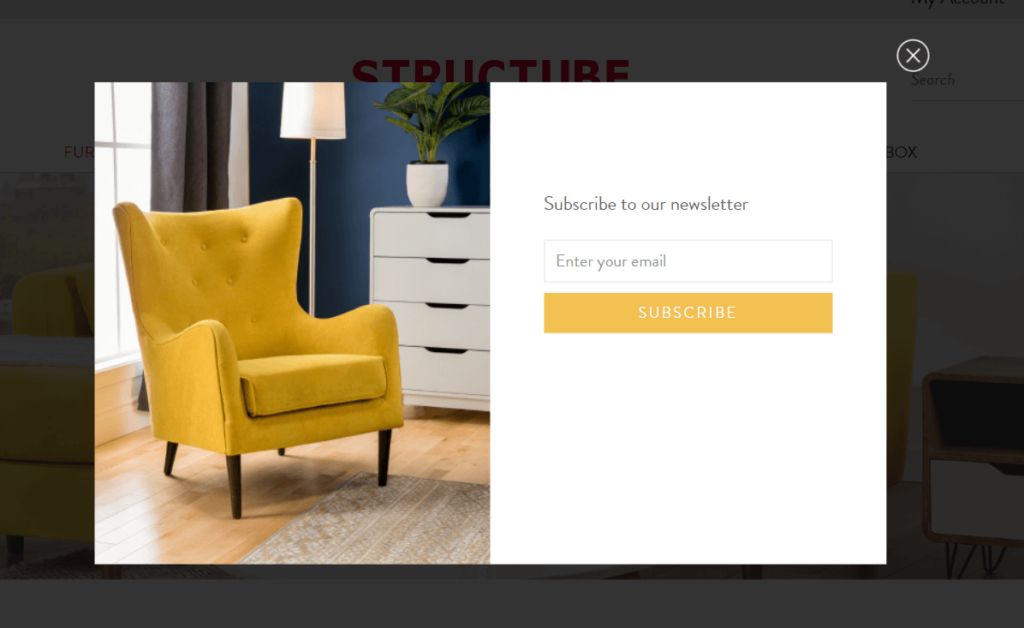 Wovenstore
This newsletter popup gets the message across quickly, which is a must to engage potential subscribers. The use of playful fonts makes the popup even more visually appealing.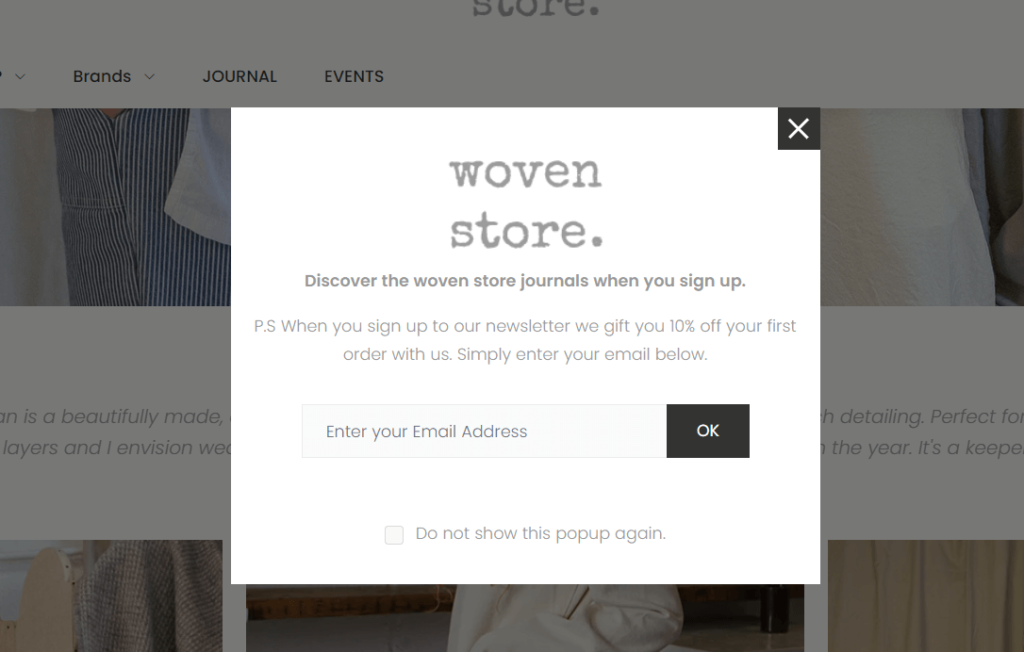 8 Tips for Creating Popup Designs
Add a short title and text
In the popup, brevity is your best friend. To create compelling text for a popup, formulate a valuable action for the user. For example, we advise you to highlight the first sentence as a headline because a larger font catches the eye.
A small bright image will draw attention and illustrate your offer. It's good to add a picture when you offer a lead magnet: for example, you can show which item will be discounted. Or you can go further and add GIF or short video clip. To add interactivity to your own pop-up, use free video editors.
Keep in mind that a significant part of the traffic comes from a mobile audience. Therefore, the popup window should fit entirely on the smartphone screen and be easily viewed. Closing the popup shouldn't be difficult.
Adjust the mail input field
Make a convenient mail input field in your popup form. The field should be wide, large enough, and have some domain options. So it is less likely that the subscriber will make a typo in the domain part of the address.
Create a clear call to action
The user needs to understand what actions are expected of him. Formulate the phrase on the button based on the text of the popup; it should be its logical continuation:
Subscribe to the newsletter – then put Subscribe. If you download a guide to the basics of Internet marketing – then put Download.
Follow the simplicity and usefulness concept
Do not overdo it with the number of elements and text. The fate of a popup is determined by seconds: the simpler and more useful your sentence is, the faster it can be read and understood.
Make the popup responsive
The user will be sure that the form worked as it should. After filling out and submitting the form, something should happen. For example, thank the user for the address and say that the first letter will arrive in a few minutes.
Don't remove or hide the window; close cross
It's annoying when it appears only after some time, or you have to look for how to close the popup.
Final Thoughts
Now you know that creating newsletter pop-ups isn't tricky, and they can be an excellent instrument for improving customer engagement and driving new clients. Just get familiar with the examples above and choose the one that suits your business the most. Then, make your 2022 email marketing strategy as solid and effective as never before!
Author Bio:
Helen Medynska is a content marketing writer and lifelong learner who is passionate about creating useful and digestible materials for those who want to make their lives better. Having degrees in marketing and philology and an interest in education and technologies, Helen knows exactly how to motivate people for achievements and maximize their potential. After reading her posts, you will discover lots of practical tips that can boost your personal and professional life.