Employ your powerful emails
Increase sales and engagement by sending your well-designed emails with Sender.
Get Started For Free
Introduction email subject lines are often the first thing your recipients see.
A catchy line increases the likelihood that your email will be opened and read immediately.
However, writing a good introduction email subject line can be tricky. You don't want to come off as spam or overly salesy because this can decrease email deliverability.
In this guide, we'll discuss the importance of writing an introduction email subject line and how to deliver the best greetings for any audience type to guarantee your message is delivered.
What is Introduction Email Subject Lines?
When you draft an email, what's the most important part that you spend the majority of your time focusing on? Is it the message, or is it the subject line?
While the content of your email is certainly important, it means nothing if your email isn't opened to begin with.
Big companies and small business owners alike rely on email marketing for a majority of their messaging. Unopened emails can hurt your bottom line or lead to miscommunication within your organization.
Because of this, it's important to deliver an email with a subject line that will get you noticed (and not deleted). But tread carefully here, as being too creative or spammy could also get you deleted.
Some emails end up in spam folders because of their subject lines and content. Email service providers have filters to remove their emails and not allow them to reach the receiver's inbox. This affects heavily on email deliverability and could result in confusion and latency in communication. Making sure your SPF records are up to date improves your email deliverability.
Also, don't forget that segmenting and personalizing your subject lines is crucial nowadays, as no one wants to open emails that are generic and don't match their needs. With Sender, you can do that in minutes without any hassle. Check how easy it is to segment your subscribers…

…or personalize your emails and subject lines: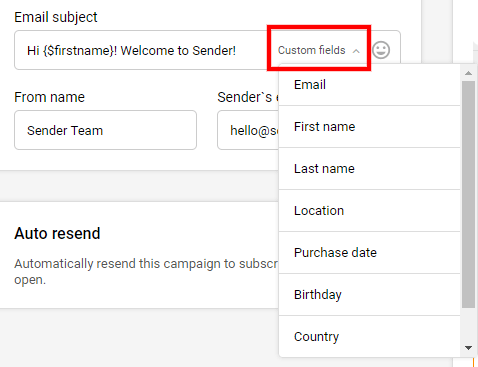 Introduction Email Subject Lines Examples
Introduction email subject lines can vary depending on who you send them to. They can be funny or professional. However, the best intro or title is quick and to the point.
Sending an email to corporate or your CEO might require a different subject line than a follow-up email you send a potential employee for an interview or as part of a B2B marketing email.
In this section, we'll provide examples of subject lines that you can use and tips for creating custom lines.
Self-Introduction Email Subject Line Examples
Self-introduction email subject lines are the perfect place to introduce yourself briefly. This is where you need to let the reader know why it's important for them to open your email.
Here are a few examples of each:
To Colleagues
Introduction from (insert your name and title here)
(CEO's name) recommended that you read this
(Company's name) employees, please read regarding (subject matter)
To Companies
Inquiring about (insert industry here) opportunities
(insert name here) recommended that I contact you
Referral from (insert name here)
(insert name) recommended that I reach out to you
For Interview
Seeking an interview with (recipient's name here) for (position here)
Interview request with (recipient's name here) from (your company here)
(recipient's name here), schedule an interview with us!
I found you through (insert network here)
Business and Company Introduction Email Subject Lines
Business and company email subject lines may need to be more professional, but that doesn't mean they must be boring. Here are some examples you can use:
Meeting Introduction
Scheduling a meeting for (details here)
Please join us for a meeting (where and when)
Thank you for scheduling a meeting with (name here)
Sales Introduction
Quick question about (insert subject here)
We have X in common
We have an answer to (insert question here)
Are you interested in (details here)?
Let's chat about (details here)
Virtual Introduction
Hi, (Name): I think you'll find this interesting!
We have some great info about (subject matter)
Let's collaborate!
Introduction to Supplier
This is (name) from (company) following-up
Touching base about (subject)
Nice to meet you at (event here)!
Continuing our conversation about X
Referral Program Introduction
Met you at (details here)
(Insert name) suggested I contact you
(Insert name here) loves us and thought you might too!
Fellow (company or school name here) grad!
Product Introduction
Announcing (product here)!
You've never loved your new (product here) so much!
Is this the hottest product on the market right now?
Onboarding Introduction
Welcome, (name)! Let's get started
You're family now! Click to get started
You're here! Let's begin!
Welcome to X! Let's get right to it!
Brand Introduction
X product is here. Get yours now!
Say hello to X!
Our newest product launches today!
Get X before everyone else does!
Project Manager Introduction
Hello from (company name)
Have you considered (product details or service here)?
Can I interest you in (details here)?
Interested in (details here)?
New Account Manager Introduction to Customer
Pleased to be your new (insert title here)!
Let me know how I can help with (insert details here)
Reaching out on behalf of (company here)
Project Manager Introduction
Have you heard about (details here)?
Reaching out on behalf of a new position
Introducing myself on behalf of (company name here)
Cold Introduction
Looking for a better way to (details here)? Let's talk!
Let's talk about (details here)
Can I help you with (details here)?
(Name here), how can I help you with (insert problem)?
A Formal, Polite Introduction
Please allow me to introduce (details here)
Introducing (details here)
Reaching out on behalf of (name)
Achieve the Best Open Rates and Engagement Using Sender
Sender has all features you need for marketing. Picture a platform that combines multiple marketing channels like email and SMS, plus various tools such as marketing automation, popup builder, advanced subscribers management, and so on.
Starting from email design-builder to creating a branded and personalized emails.
Track whole your contacts: who opened emails, who clicked on your links, and more.
Send automated emails & SMS, and follow-ups.
High email deliverability to ensure your email goes to the primary inbox.
Popup builder with few clicks integration.
Advanced reporting & Powerful CRM with refined segmentation.
And much more.
If you are someone who wants to take it for a spin before shifting over from your existing email tool or want to start with zero financial commitment, the FREE Forever plan can help you do just that. Send up to 15,000 emails a month to up to 2,500 contacts absolutely free of cost!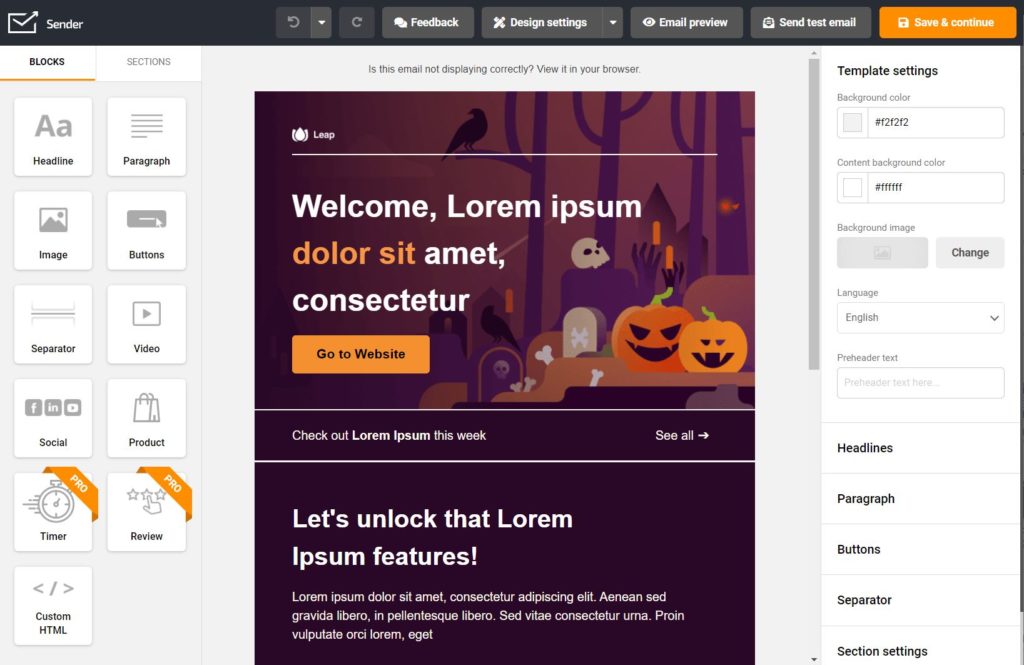 Tips for Writing Introduction Email Subject Lines
Don't worry. There're tons of tips and tricks on how to write the best subject lines, you can make them better even with the help of an AI content writer, it's not hard at all!
You can write your own introduction email subject line by being specific and letting the reader know why you are writing. Keeping your subject lines short is also a good idea. 
Here are some more tips to follow to write the perfect subject line:
1. Address Your Subject Line to a Person's Name
Be personal in your subject line by using the recipient's first name. This shows the reader that you're sending a personalized note and not just mass emails.
Recipients are more likely to open an email if they think it comes from someone they know. Using someone's first name is also a good way to indicate that the recipient is important to you as the sender!
2. Use Your Connections
As the saying goes, it's not about what you know. It's about who you know! A good way to ensure that your email will be opened is to use the name of someone you both have in common.
A referral is the best way to get someone to open your email. This lets the reader know that they have a personal or professional connection to you and that your message is worth reading.
3. Don't Make a Demand or a Request
For the most part, people are busy. They don't need another assignment or someone telling them what to do.
Recipients will cringe if you email them with a subject line asking them to do something, like provide their feedback.
If getting feedback is why you are sending someone an email, ask politely! Saying something like "Would you please take the time to review X company?" sounds much better than "Please review us."
4. Keep it Short
Don't try to pack too much into your subject line. This is what the message of the email is for.
Your subject line should be short and to the point. Adding too many words is a good way to make the reader think they are being spammed!
5. Be Clear About Why the Reader Should Open Your Email
Readers will open emails that are relevant to them. So give them a reason to open your email. Make them ask themselves, "What's in it for me?"
For example, if someone sends you an email that says, "X sent you money," you'll probably be more eager to open it than one that says, "Check inside for a special gift."
Keep Your Introduction Email Subject Lines Clear
A proper subject line can differ between a recipient reading your email or trashing it as soon as they get it.
You can increase your chances of reading your target audience by keeping it short, using personal or professional connections, and being clear about the message's intentions.
Also read:
---
About author
Araz Guidanian is part of the content team at EasyDMARC . She writes about domain and email marketing protection. EasyDMARC offers phishing protection with DMARC, DKIM, and SPF checker.