Profit from your knowledge
Apply email and SMS marketing strategies you already know to see the best results with Sender. It's free. It's easy.
Get Started For Free
Even though they were originally invented with good intentions, the average internet user still hates popups. And for good reasons, too. Traditional popups can sometimes be intrusive, mobile-unfriendly, and spammy.
However, when you consider that the highest-performing popups convert at an average of nearly 10%, you know that they're definitely working.
So the answer definitely lies in making popups more engaging and contributive to the reader experience.
One of the best ways to do that is by creating a spin-the-wheel popup!
In this guide, we share everything about spin-the-wheel popups we know so your business can also benefit from creating fun experiences for visitors that ultimately translate into high-quality leads in the pipeline.
A quick look at some basics first.
What is a Spin the Wheel Popup?
Popularly also called a "wheel of popups" or "promotion wheels", a spin-the-wheel popup is a special type of interactive form that invites visitors to engage by spinning a virtual wheel for a chance to win a prize giveaway or get a special offer.
At its simplest, a visitor inputs their email address and clicks on the wheel, which then starts spinning. After a few seconds, the wheel stops spinning and randomly points to a prize or offer marked on the board surrounding it.
Why Use Spin the Wheel Popups?
You might be thinking: but why should I use a spin-the-wheel popup if I can use a simple popup? Well, we gathered the main reasons:
Increased engagement. Spin the wheel popups provide a fun experience that can capture the visitor's attention and encourage them to take action;
Higher conversion rates. By offering your visitors a chance to win a special offer, spin-the-wheel popups can gamify the lead generation process and motivate the visitors to take the desired action;
Improved lead generation. Collect emails and other valuable information from prospects to funnel them into buying journeys with minimal resistance;
Better brand awareness. Promote your brand and help increase awareness among existing and potential customers;
Enhanced customer retention. Not just prospects, you can even offer exclusive deals to existing customers to make them buy more from your brand;
Blue Ocean advantage. By offering a unique and intriguing experience, a spin-the-wheel popup can help you stand out from the rest of the businesses by differentiating your brand.
A well-designed winning wheel popup is like having a lead generator on autopilot. Let's take a quick look at how to create a good one that works.
How to Create a Perfect Spin the Wheel Popup
While there may never be such a thing as the perfect popup, a well-thought-out, and creatively designed spin-the-wheel-popup can come pretty close.
Here are some pointers on how to get it right:
Design. Keep the design of your spin-the-wheel popup visually pleasing to give it maximum chances to capture eyeballs. However, it's equally, if not more important, to ensure that all of your popup designs are in line with the rest of your brand look and aesthetics. As a general rule, use bold colors and high-quality graphics to make your spin-the-wheel popup stand out.;
Messaging. It's important to funnel your spin-the-wheel participants through a predecided sequence of messages (emails or SMS) to ensure their nurturing and progression through the sales funnel;
Timing. Display your spin-the-wheel popup too soon, and it'll likely irritate users. If you display it too late, your visitors might have already left the site. Try and maintain a delicate balance here;
Prizes. Ensure that the rewards or incentives you're offering are appealing enough to your target audience. Some ideas: include exclusive free trials, different discount steps (that're usually not available on your store or website), or any other perks that are perceived as valuable by your audience;
All-Inclusive. Over 60% of website traffic comes from mobile users. Therefore, it is crucial to design a spin-the-wheel popup that looks and works great on smaller screens, including mobile phones and tablets.
That's how to design a spin the wheel popup that works. Now, let's look at some great examples of real world popups that captured our attention.
How to Add A Spin to Win Wheel Popup to Your Website
Adding a spin the wheel popup to your website, landing page, or blog can be super easy or hard, depending on the platform or app you are using.
Here's how you can do it inside the Sender platform, 100% free of cost, within 5 minutes or less:
Step 1: Create a New Form
Log inside your Sender account and click "Forms" -> "Create a new form".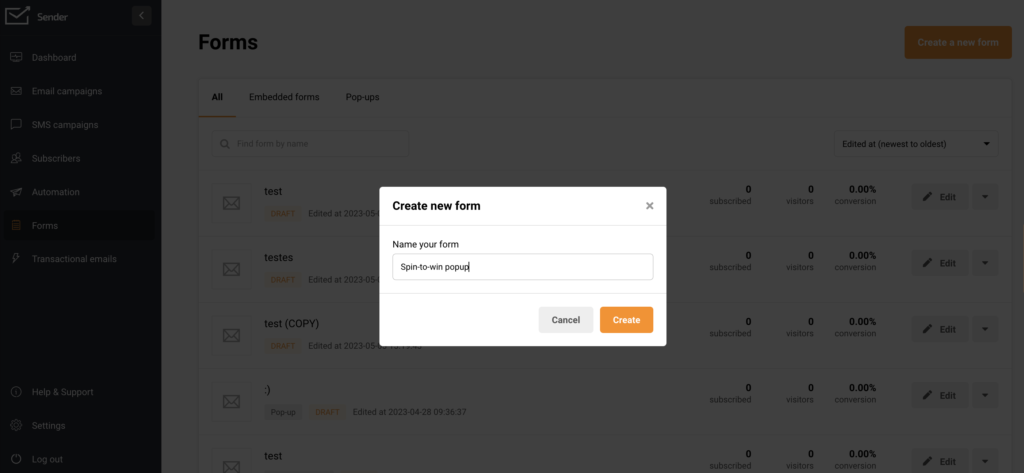 If you don't have an account yet, you can sign up for Free Forever plan and create unlimited popups, email campaigns and automation workflows!
Step 2: Choose the Correct Form Type
Choose the type of form as "Spin-to-win wheel".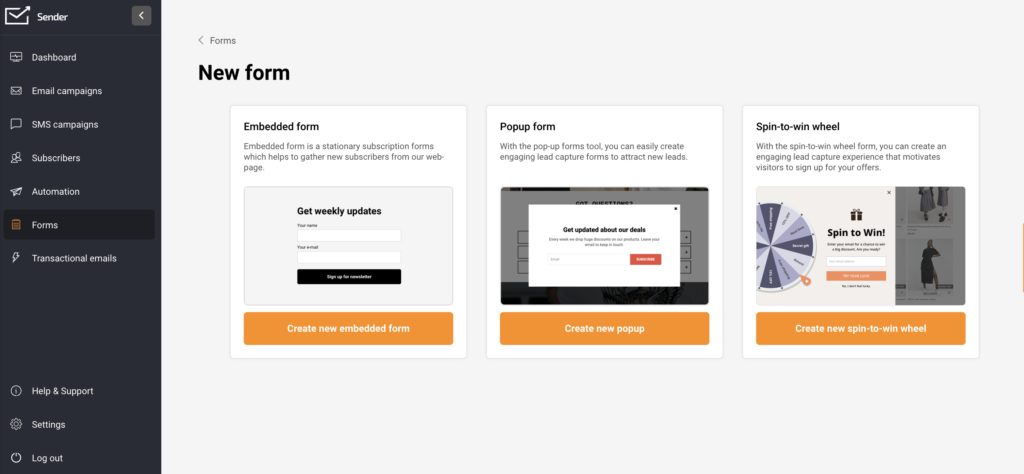 Step 3: Choose Template and Design the Form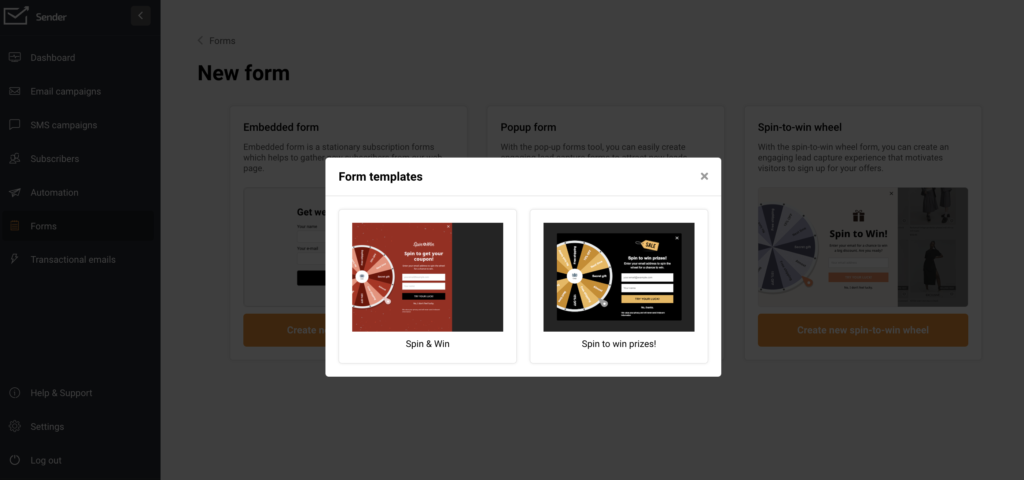 This is the default look you'll get on your spin to win popups if you don't change a thing. But in all likelihood, you would want to customize it to your branding and messaging.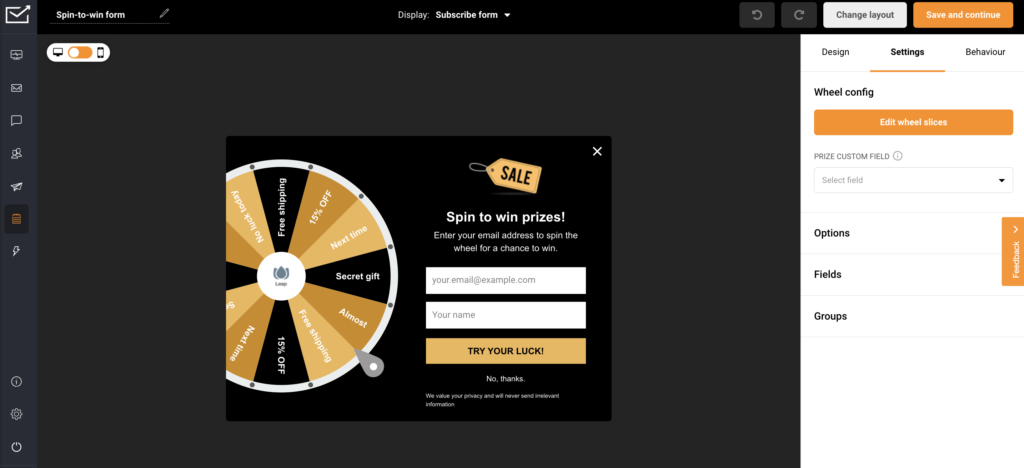 That can be done conveniently using the Design, Settings, and Behavior tabs on the right side of the screen.
Step 4: Customize the Wheel
The "Design" tab allows you access to features that help you change the look and feel of the popup including colors of various elements, logos, background images, the CTA button, text content, font styles, and more.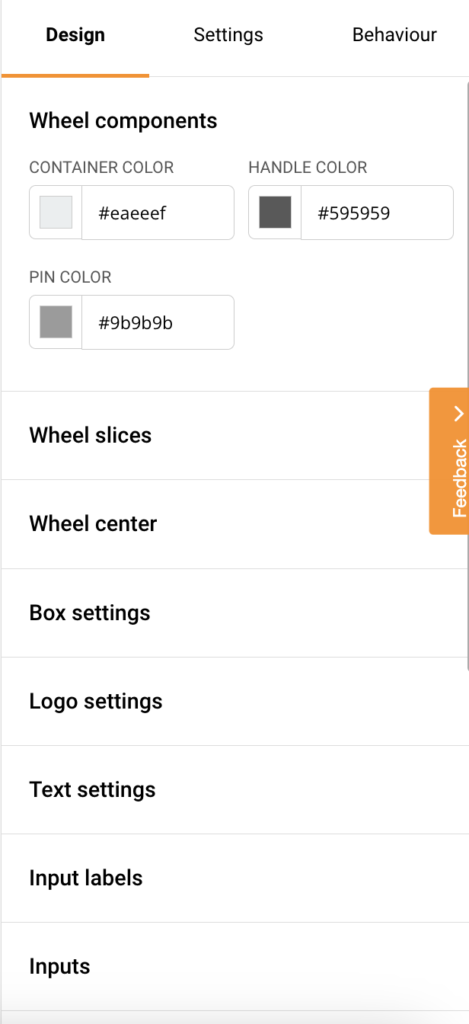 While the "Settings" tab allows you access to features such as google Recaptcha, redirection after form submission, which fields are to be included, and most importantly the configuration of the wheel slices to reflect your offer and prizes.
Click "Edit Wheel Slices".
This will bring you to the screen where you can customize your wheel.
Step 5: Customizing Your Wheel Slices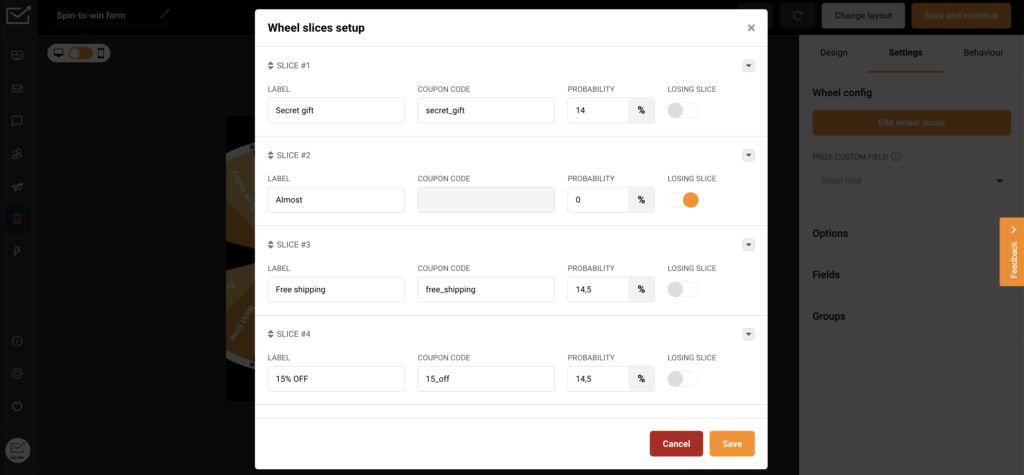 Use the downward-looking arrow to the right side of each slide to duplicate or delete the same. If you'd like to add a new slice, use the "Add another slide" button towards the bottom.
You can have a minimum of 4 and a maximum of 12 slides.
Here are some of the fields explained below:
Label: This is the slice name as visible on the wheel to the user;
Coupon code: Every slice must be set up with a coupon code. E.g., for 15% OFF, you could set it up as 15OFF;
Probability: A value between 0 and 100% indicates the chances that this particular slice is selected. The sum total of all the wheel slices must be 100%, not less, not more. If it's not, you'll get a quick notification toward the top;
Losing slice: Should be set to active when it's considered a loss. Set the probabilities for such slices low (5-10% thereabouts) to ensure that most readers have a higher chance of winning, more often than not.
After you're done making all the changes, hit the "Save" button.
Step 6: Configure Popup Behavior
This is where you get to specify when the popup will be shown to the end user.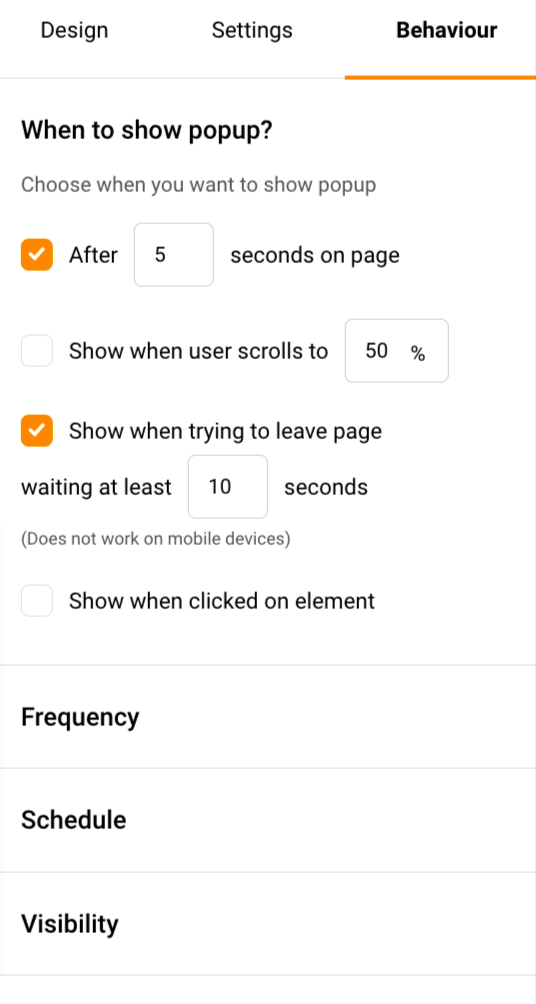 You can either set a fixed delay after which the popup will be shown to the end-user or require them to scroll a specific percentage of your website or blog page before it is displayed.
You can also enable showing the spin the wheel popup when the user tries to exit your site. This can be a great way to gather leads by interesting them before they hit the close button of their browser tab.
Step 7: Preview and Publish
Hitting "Save and continue" will automatically enable and publish the form.
Click "Actions" -> "Preview" to see what your form will look like to the rest of the world.
Once satisfied, copy and paste the Javascript code into your website or landing page by following the instructions provided to make it LIVE for everyone visiting.
And that's how you create and publish a spin-the-wheel popup inside Sender's easy-to-use popup maker platform.
5 Spin the Wheel Popup Design Examples
Below are examples of Spin the wheel popups we created using our own tool to inspire you.
1. Black Friday Popup Wheel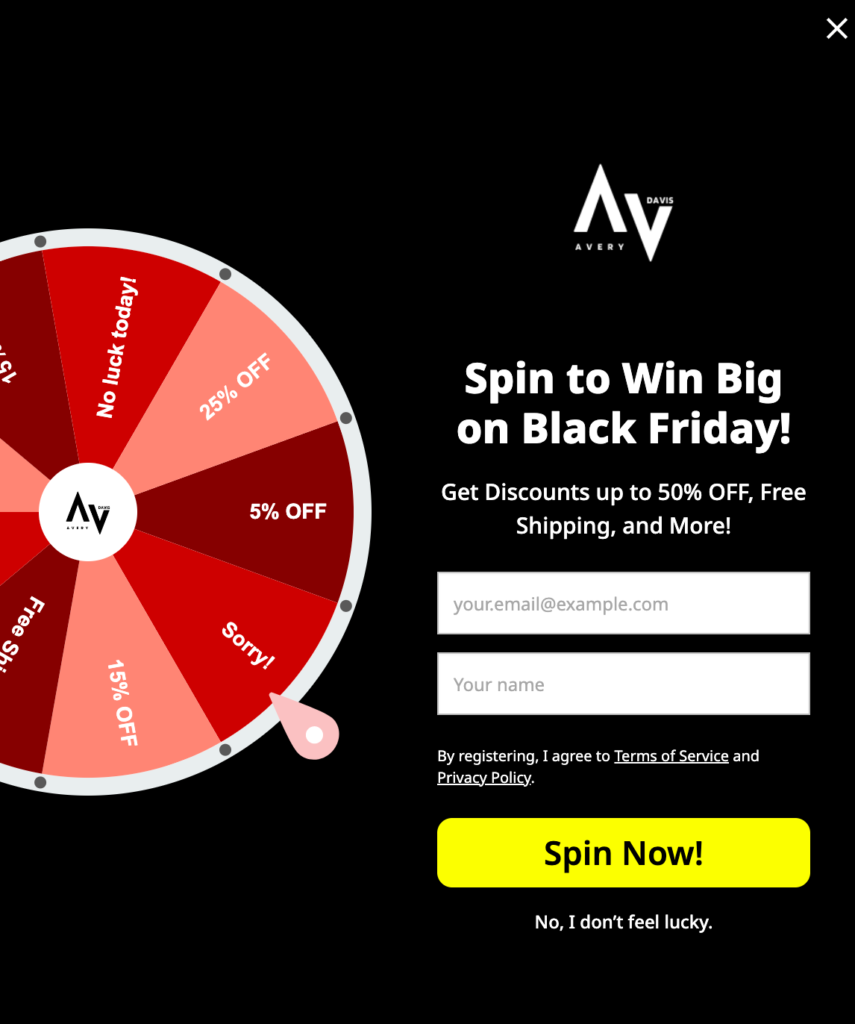 Your Black Friday spin the wheel popup doesn't have to be anything fancy but feel free to be guided by your creativity while designing your wheelie popup.
In this case:
We chose a black background to keep it congruent to the occasion;
Branding has been kept on point by including a logo both above the main headline as well as inside the center of the wheel (you can set this up inside Sender in simple clicks);
The headline is clear about the benefit;
The subheadline specifically mentions some of the prizes to make it even more enticing;
The wheel slices were set to: 5% OFF, 15% OFF, 25% OFF and no discounts;
The prominently sized and colored call-to-action (CTA) button ensures that the reader doesn't miss taking action. At the same time, the exit text ("No, I don't feel lucky") is kept deliberately small and non-distracting.
2. Easter Sunday Discount Spin the Wheel Exit Popup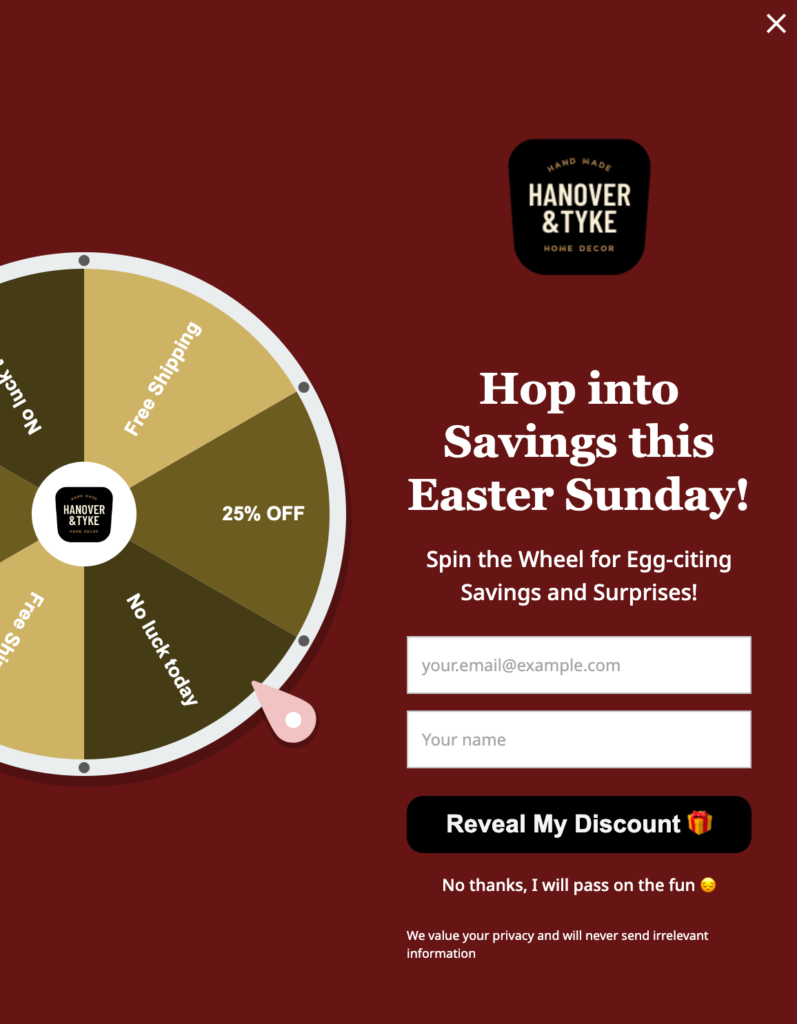 Easter Sundays give you a great mid-of-the-year opportunity to go wild with your sales promotions.
In this spin the wheel popup designed specifically for Easter Sunday:
The headline makes both the occasion and the benefit known to the reader, which will then compel them to read on further;
Notice the use of pun and wordplay in both the headline and subheadline. The idea is to keep it light, humorous, and in line with this joyous occasion;
Wheel slices were set to 25% OFF, Free shipping, and No luck today at different probabilities (we'll show you how to do this in the next section, not to worry);
Using emojis in the submit as well as the exit text, keeps your popup lively and more prone to engagement;
Last but not least, what we've not done here, but you could, is include a nice little background image that's relevant to the occasion. This could make your spin the wheel popup even more attractive to view.
3. Mother's Day Wheel of Fortune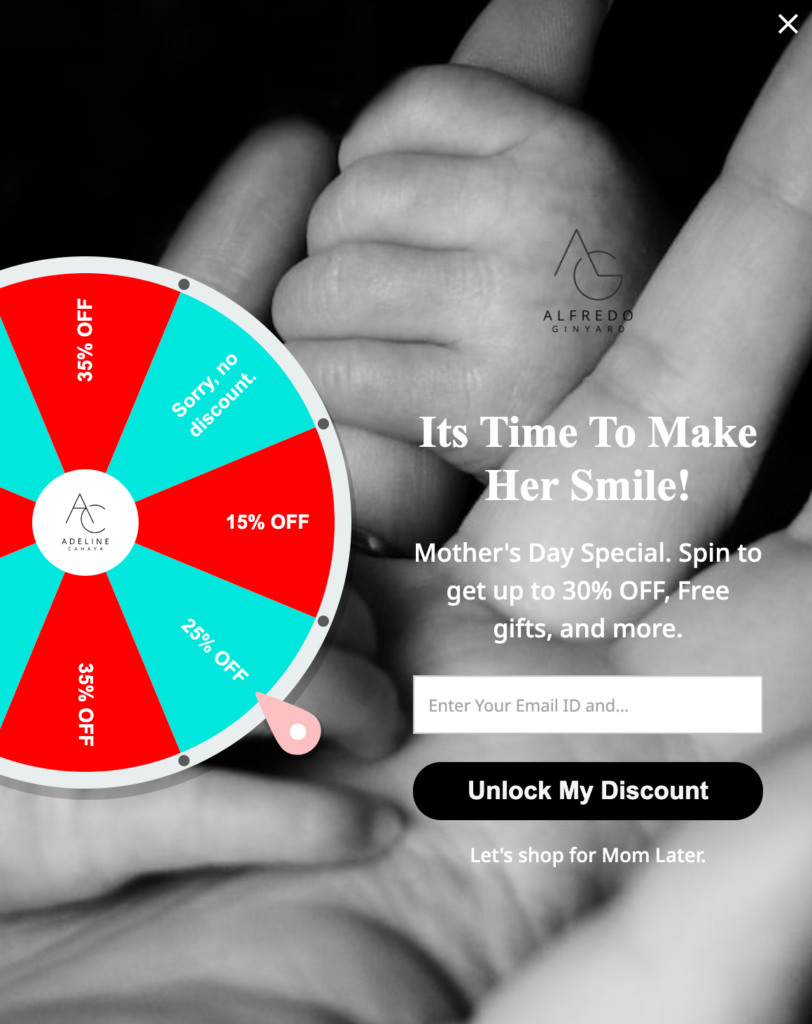 Mother's Day is a highly anticipated occasion for many people worldwide, providing an excellent opportunity for ecommerce stores to showcase their products and services.
With the right marketing strategies and promotions, online businesses can leverage this holiday to increase sales and customer engagement while celebrating the special women in our lives.
In this special popup wheel we created for the occasion:
The headline is emotional, making the reader wonder to whom we're referring;
This leads to them reading the subheadline, which makes it clear that this is a sale on account of Mother's day, and it also briefly mentions the benefits of sharing your email address to get a chance at spinning the wheel;
Branding is conveyed through the use of the logo above the headline (you can easily adjust the size using a simple slider inside the settings section) and the center of the wheel;
We've included a relevant and emotive background image that adds context and meaning to the popup;
The wheel has been set up with a simple 2 colors (red and blue) to bring it into prominence, especially against the black and white background;
Wheel slices were set to: 15% OFF, 25% OFF, 35% OFF and No luck; but you are free to set it in accordance to your offers of the day;
Finally, we decided to collect only email addresses, to keep it simple. However, you may want to collect their date of birth, first name, or location to be able to personalize this information in the future sometime.
4. Independence Day Spin to Win Popup
As an ecommerce store, Independence Day is a great opportunity to attract new customers and boost sales. To take your promotions to the next level, consider using spin to win popups that create a sense of excitement and urgency that can motivate customers to purchase.
In addition to increasing sales, spin to win popups can also help you grow your email list and customer engagement.
By offering a discount in exchange for their email address, you can build a list of interested customers to target in future promotions.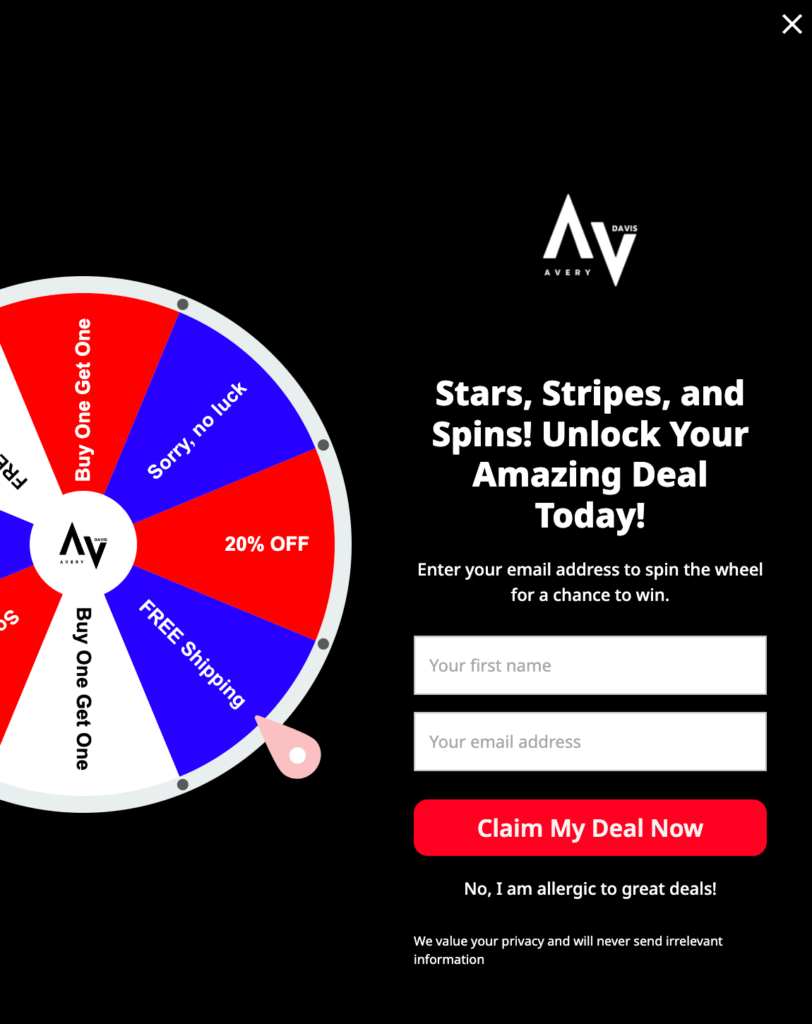 In this spin to win popup:
The headline takes an indirect and fun approach to announce the Independence Day sale;
The wheel's design is kept in line with the red, blue, and white colors of the American flag, making it unmistakably attention-catching and relevant;
The wheel slice values were set to: 20% OFF, FREE shipping, Buy One Get One Free, and Sorry, no luck.
The call-to-action button is prominently designed with a bright, attention-catching red color with straightforward messaging, encouraging the click;
The exit text — "No, I am allergic to great deals" — has been kept light-hearted and fun.
5. Real Estate Popup Wheel
Yes, you read that right. You can use a spin the wheel popup for almost any business, including real estate.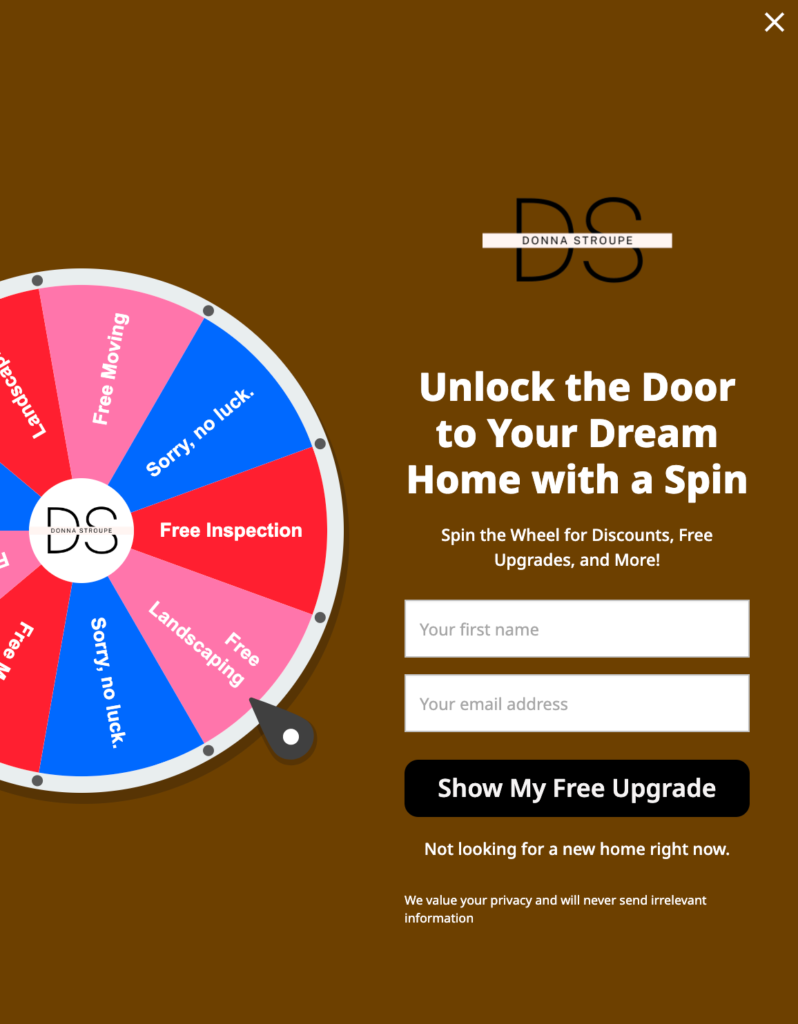 In this particular spin the wheel popup:
The headline plays with words to get the attention of prospective home buyers;
Wheel slice values were set to: Free landscaping, Free moving, Free inspection, and Sorry, no luck;
The exit text is thoughtfully composed to let those not looking to buy a new home disqualify themselves.
All in all, you should and must adapt a spin the wheel popup to your business scenario so that it does the job of building your email list in a non-intrusive, fun, interactive, and engaging manner.
How a Spin the Wheel Popup Can Help You Grow Your Business
A simple spin-the-wheel popup can be a powerful alternative to traditional popups in helping you:
Capture visitor's attention to convert them into prospective leads;
Collect and segment customer data based on engagement;
Promote brand awareness;
Encourage customer retention;
Create an engaging and interactive experience to improve engagement and motivate action.
And the best part is that all this will get done while making your business stand out from the competition in an entertaining way.
Now is about the right time to include spin-the-wheel popups into your customer acquisition strategy. You are almost guaranteed to create a memorable experience for your customers while ultimately driving more revenue and growth for your business.
Also read: