Like what you read?
Apply it in practice with Sender.net - the most cost-effective email marketing solution in the market.
Try Sender for free
Acquiring customers is different from keeping them.
While one message can convince customers to buy your products for the first time, retaining them takes more than that. Businesses must build lasting relationships with their customers in today's increasingly competitive world.
Relationship marketing is helpful in both B2B and B2C settings and ensures that the business constantly engages the customers at every stage of the buying process. This article discusses the meaning, importance, examples, and strategies for companies looking to build lasting relationships with new and existing customers.
What is relationship marketing?
Relationship marketing is a mix of marketing tactics companies use to build lasting customer relationships. It involves methods for improving customer experiences and focuses on attaining long-term customer loyalty by getting customers emotionally involved with the business.
The main goal of customer relationship marketing is to ensure and sustain repetitive sales by building customers' confidence in the product. It's a complete departure from transactional marketing, which doesn't pursue the customer after the first transaction. Instead, in relationship marketing, the purpose is customer retention by prioritizing customer satisfaction over sales.
The growing use of the internet has led to the development of several types of relationship marketing that any business should pursue. Companies may use social media platforms, email, text messaging, or websites in the online space.
Importance of Relationship Marketing
There are many reasons why relationship marketing is essential to any business today. Here is why you should try it:
1. Building Customer Loyalty
Building long-term relationships with customers ensure a personal connection with clients. As a result, customers have a sense of ownership, which pushes them to keep buying your brand.
But what kind of product and brand relationship is good for fostering customer loyalty? It's an all-encompassing strategy that involves relating well with customers, treating them well, and providing excellent products and services.
One of the best ways to nurture your relationship with customers and prospects is through newsletters. Occasional newsletters let them feel special and boost engagement. If you're looking for a tool to help you do that and much more, Sender is your savior. Send automated emails & SMSes, personalize them, segment your audience and – we almost forgot – use bunch of newsletter design templates!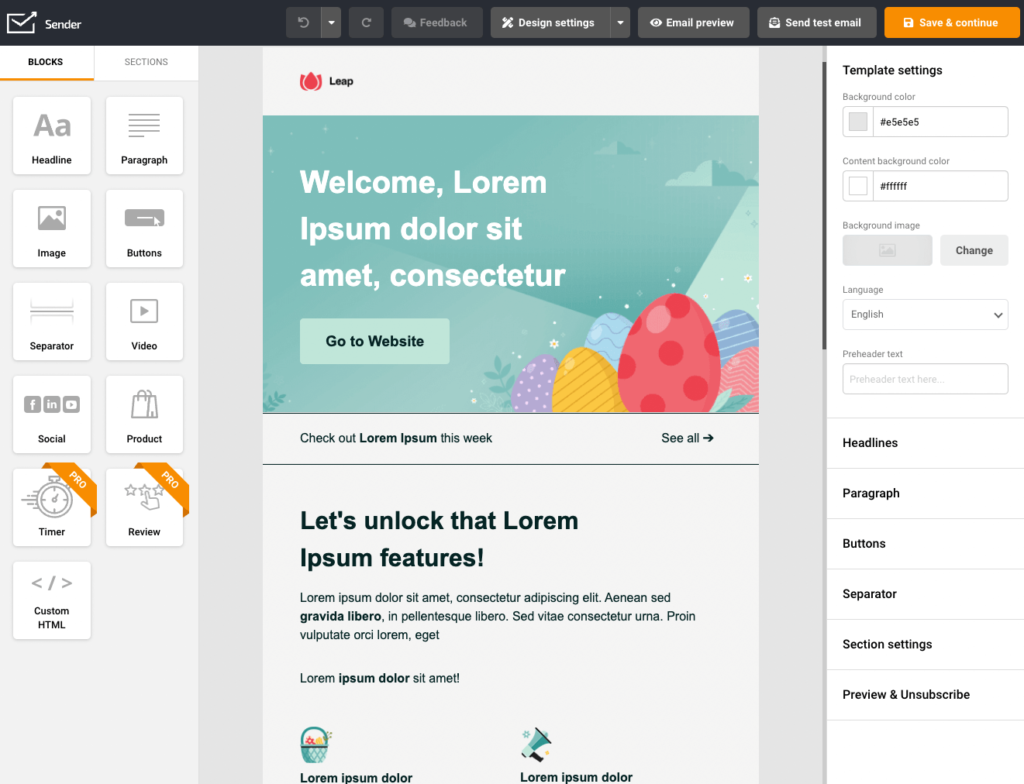 2. Improved Feedback from Customers
Establishing mechanisms to get positive or negative feedback from your customers is important. It would help make it easier for customers to contact you with compliments or complaints enthusiastically.
You'll undoubtedly receive positive feedback if your relationship with customers is good. The way to do that is through relationship marketing by establishing mechanisms for efficient communication between customers and your sales representatives.
3. Business Sustainability
Brand relationship marketing is one of the best ways to make your business profitable for the long term. It is a sustainable way of retaining your position in the market by retaining old customers and attracting new ones through reliable referrals.
4. Improving Customer Experience
At every level of relationship marketing, the critical concern is giving customers an excellent experience with the business's products or services. The customers visiting you should always be willing to come back for more.
Customer experience begins from when the customer encounters a sales agent to the delivery of the product and beyond. That's best handled through relationship marketing, ensuring one-on-one interaction between the business and its customers.
5. Improved Sales from Customer Retention
The main goal of customer relationship cultivation is to improve sales and profitability. Relationship marketing ensures the retention of old customers and the attraction of new ones through organic referrals.
Relationship Marketing Examples
Several brands have embraced the concept of relationship marketing in their work and achieved impressive results. Here are some examples that quickly come to mind:
Customer Relationship Management of Amazon
It is not by accident that Amazon has become the top ecommerce marketplace worldwide, covering the U.S., the U.K., Europe, Japan, Canada, and Australia. The company has a thoughtful approach to reaching out to its customers.
Image source: Amazon
Here is how Amazon effectively utilizes relationship marketing in its work:
Data-Driven Results: Amazon has an algorithm that captures customers' interaction with the platform and displays products based on their interests.
Responsive User Experience: The ecommerce platform is easy to use as customers have no difficulty browsing their favorite products. Customers with complaints can get quick answers to their questions.
Convenience: With Amazon, customers can shop virtually from any location so long as they have an internet connection. Once you click and pay for a product, you can sit back and wait for it to be delivered to you.
Feedback: On the Amazon website, customers can share their experiences by leaving behind detailed, honest reviews. Those who come later can gauge the product's effectiveness based on the manufacturer's description and the reviews.
Starbucks Customer Loyalty Strategy
From a humble business, Starbucks has revolutionized how people get their cups of coffee. The company showcases its well-known cup of coffee in its social media posts on Facebook, Twitter, Instagram, and Pinterest.
That's accompanied by catchy taglines like, "Inspiring and nurturing the human spirit – one person, one cup, and one neighborhood. After reading that, you can't help but fall in love with a Starbucks cup of coffee.
Image source: Starbucks
Besides, the company takes every opportunity to send out emails to inform its customers of the latest product offers and launches. They use social media platforms to contact their customers and answer questions.
T-Mobile Relationship Marketing Campaign
T-Mobile, one of the leading telecommunications companies in the U.S, has set out on an aggressive relationship marketing campaign that eliminates mobile service contracts to attract millennial customers. The company has experienced improved customer engagement and satisfaction, resulting in business referrals.
Image source: T-Mobile
Participants in the program have received weekly rewards and thank-you gifts from T-Mobile. Through the T-Mobile app, customers got opportunities to redeem rewards, resulting in enhanced engagement.
Coca-Cola Relationship Communication with Customer
Coca-Cola reaches out to its customers through heartfelt, memorable messages. It focuses on presenting the brand as a perfect refreshment for happy moments. In its advertising campaigns, Coca-Cola uses messages about family and friends.

Image source: Coca-Cola
But it's not just on messaging that Coca-Cola manages to stand out from the crowd. It has an elegantly designed bottle that one wants to share with others. Besides, buying and consuming a soda evokes fond memories.
Relationship Marketing Strategy
There's no unique product in the current business dispensation. In most cases, customers have to deal with the same product with slight variations. Therefore, businesses should be strategic in delivering products that attract customers and make them want to buy again.
Here are strategies for effective relationship marketing for businesses:
1. Relationship Email Marketing Strategy
Networking with your prospective and existing customers starts with focused email marketing. The goal is to help customers know, like, and trust you. While email marketing is a standalone strategy, we can break it into several parts as follows:
Welcome Email: When a customer signs up for your mailing list, send a welcome email, setting clear expectations. Tell prospective customers about your business and what they can expect from it. Inform the reader that you are ready for any questions they might have.
Newsletters: Newsletters make part of the regular communication you should send to your customers. Whether weekly, fortnightly or monthly, it is a great way to provide informative, creative updates. You can use newsletters to inform customers about your products and the industry.
Promotional Email: Promotional emails are focused on offering prospective and existing customers reduced prices or new product announcements. The objective is to encourage current customers to purchase again, increase brand awareness, or convert leads.
Blog Post Emails: An email may include the entire post or its link. You can increase website traffic and engage with customers personally through this approach. Apart from informing and entertaining visitors through blog posts, you can optimize them for given keywords discoverable by search engines.
Lead-Nurturing Emails: With this kind of email, you can cater to the needs of your leads at every stage of the sales funnel. It focuses on the specific needs of every lead, dividing the sales process into manageable bits. After highlighting the customer's needs, the email shows them how the business can address them.
2. Customer Relationship Management (CRM)
CRM solutions are concerned with helping businesses record personal information, purchases, and other details from customers. CRM in advertising allows companies to prepare targeted messages that address customers' needs. As a result, the business builds better relations with the customers.
3. Relationship Social Media Strategy (YouTube Included)
Relationship marketing can also involve reaching out to your customers through social media. Whether it is on Facebook, Twitter, Instagram, YouTube, and LinkedIn, social media provides tools to connect with the customer personally.
You can use social media to share stories, answer questions, and build brand awareness. It is also possible to listen to your customers' concerns, feedback, praises, and anything they say about your product.
4. Relationship Text Messaging Marketing Strategy
Apart from email addresses, you can ask your website users to provide their phone numbers when they sign up on your website. You can then send periodic messages to customers to remind them of existing products and inform them of new offers and deals.
Be sure to get the customer's consent to receive text messages to remain within Federal Communications Commission (FCC) requirements. Don't bombard users with too many advertising messages, and keep them short when you send. Besides, you can add value by including a promotion, sending texts at the right time, and giving users the option to unsubscribe.
Also read: What is SMS Marketing? Definition, Best Practices, Examples
5. Relationship Marketing on Website
Having a website is the best strategy for everything you can do online. A website helps inform your customer through blog posts and provides product landing pages through which they can interact with your business.
At its basic, the website should serve your specific needs. Your website is discoverable on mobile devices and desktops when optimized for search engines. It should provide information about the business and answer customers' frequently asked questions.
Build a Stable Relationship with Customers
Now that you understand how relationship marketing works with insight on how it can float your sales boat, nothing can hold you back.
To begin, we recommend you explore simple and cost-effective relationship-building channels like emails and SMS. That way, you can test the waters, edit, and iterate your relationship-building strategies—till you get the right marketing mix—without outbidding yourself.
Also read: