Profit from your knowledge
Apply email and SMS marketing strategies you already know to see the best results with Sender. It's free. It's easy.
Get Started For Free
Email has been one of the best marketing channels for many years now. But did you know that sending notifications via email can help you improve your customer relationships?
As mobile device penetration has increased phenomenally, sending email notifications means directly communicating with customers on the go.
You can use notifications to alert customers of new updates, send them the best offers, or nudge them to give you a moment out of their busy schedules.
Let's review the best email notification examples, use cases, and best practices to help you plan yours.
What is an Email Notification?
We all love to be notified about updates from friends and social media platforms. Similarly, customers appreciate regular updates about their accounts, orders, or subscription.
An email notification is a single email, usually triggered by a user activity or a company-wide event. The primary goal of an email notification is to inform, not promote.
An email notification is an email a business sends to inform subscribers about updates or changes to a service or website.
For example, it could be an update about a feature update, information about a user account, billing or charge confirmation, or any regular updates. You can also send email notifications about terms of service changes, possible security breaches, welcome messages, social media engagement, etc.
Why Should I Send a Notification Email?
Consumers expect more convenience and personalization in their online experiences nowadays. They are very picky about their choices based on the brand experience.
From banks to SaaS businesses, small eCommerce stores, and Fortune 500 companies, almost every business sends an email notification to keep consumers informed. Here's why you should think about sending email notifications, too:
Improves Customer Retention
Customer retention is the ability to retain a customer over a specified period. Thankfully, email notification promotes customer retention. Sending regular email notifications helps you keep your customers engaged, making them feel appreciated and answered.
Regular email notifications also help keep your brand on top of your mind, which increases the likelihood of repeat sales, increasing customers' lifetime value and boosting revenue.
An email notification also creates room for customer loyalty. Simply put, once you can retain customers with timely information, they will easily influence consumers in their circles to buy from you.
Updated & Informed Customers
Consumers love it when they're in the know. They love being the first to learn about new products and services and appreciate it when you go the extra mile to keep them informed.
Email notification allows you to constantly and consistently keep customers informed and updated about exciting features, new products, service changes, etc.
8 Types of the Notification Emails
Notification emails are one of the most important ways to ensure constant engagement. These emails are a way to connect with users, telling them that they are valued. They inform users about upcoming events, activities, changes, new product launches, etc.
Send out different types of email notifications like the following:
Activation Emails
Account activation emails verify subscribers' email addresses and ask them to activate their accounts. Basically, these emails are nudging the user to move further into the buyer's journey. Usually, these emails inform them of their choice to sign up for a store and encourage them to explore your store further.
Welcome Emails
Welcome email notifications are for customers who have just created an account. These emails are the best way to help users get off to a good start. Think of them like the first impression — you want to ensure it lasts. Your welcome email should be short enough to prevent boredom and long enough to inform your audience adequately.
Activity Email Notifications
Activity email notifications remind users of their recent activity (or inactivity) on your website, eCommerce store, or mobile app. Basically, users get activity email notifications when they do something like:
Filling out a form;
Clicking a link;
Buying a product;
Sending you the feedback;
Downloading a file;
Accessing gated content, etc.
Reports Email Notifications
Apart from sending new product alerts to consumers, e-commerce marketers also send out regular reports and analytics, sometimes. For example, a notification containing a detailed summary or overview of the activities on the platform in a particular time period.
Two-Factor Authentication & Password Resets
An email notification can be sent when a customer requests a password reset. The password reset email is one of the most common notifications. Notifications emails are also sent when the customer has enabled two-factor authentication on their accounts and tries to access it from an unknown location or device.
User Invites and Shares
If you run a B2C social platform, you can encourage users to share content and invite friends to try your app. Also, you can send out this type of notification email to invite colleagues to join a project or work with your team.
Security Change Email Notifications
Updating users when their login details or account information changes build rapport and make users develop trust and confidence in your product. For an intuitive experience, personalize your brand's security change email to provide details on the location and address of the new login.
Email Notifications Alerts
Alert email notifications warn or remind users of an important update or situation. For example, securing their login information in case of a security breach. Notification alerts via email are considered serious emails that are mostly scheduled in critical situations.
How to Send Notification Email?
If you plan to send email notifications to your customers or audience, the best way is to sign up for Sender. Sender offers the easiest way to create, schedule and send email notifications. And you can do it completely free!
Here's how you can set up Sender for sending email notifications:
Step 1: Sign Up and Go to 'Automation'
Go to Sender.net and signup for a free account. Check the left panel and click on 'Automation'.
On the next screen, click 'Create New Workflow' in the top right corner of the screen.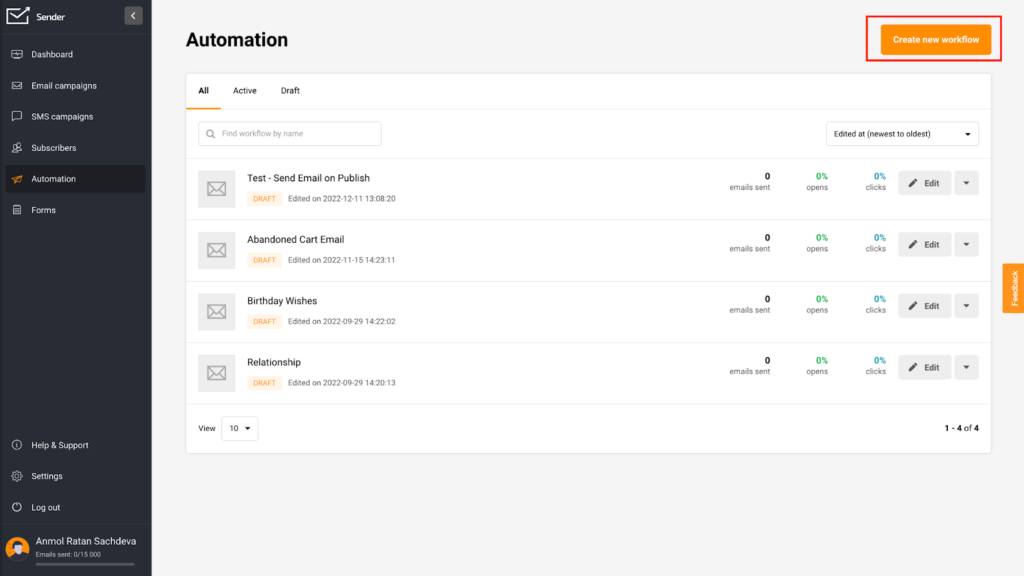 Step 2: Set a Name and Choose a Trigger
On the next screen, set a name for your workflow automation. Your name should be contextual to your use case.
Write a name and click on Create. On the next screen, pick a trigger from the available pre-made triggers.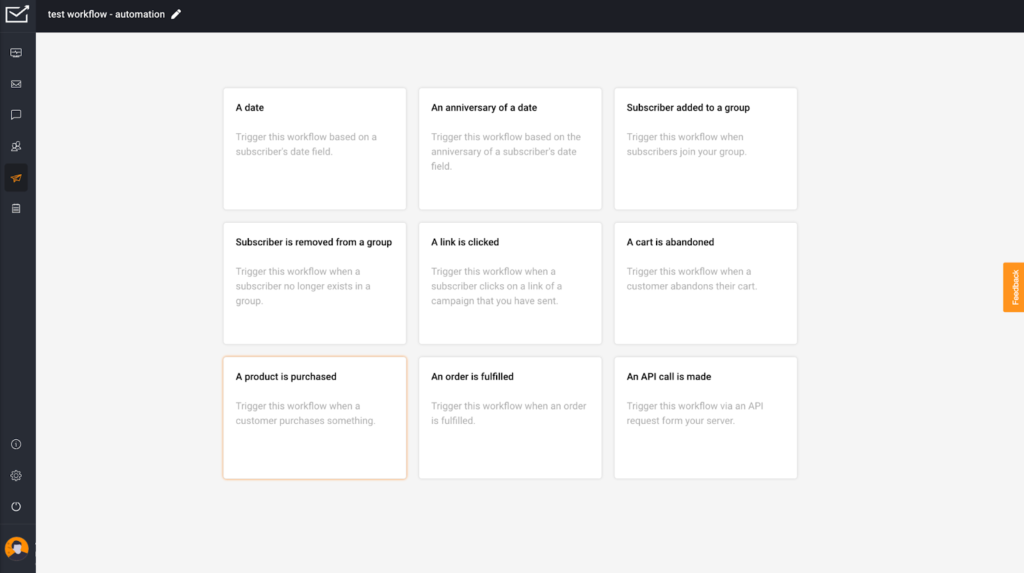 For example, if you want to send an automated birthday wish to your subscriber, click on 'A Date.' On the next screen, set up the automation trigger conditions on the right-hand panel.
Every time the trigger condition is fulfilled, the automation flow starts on its own, which in this case, is a date.
Step 3: Add a Step to Your Automation
After you set up the trigger, the next step is to choose what you want the automation to do; in this case, set up an automated email notification. Click on Email on the popup.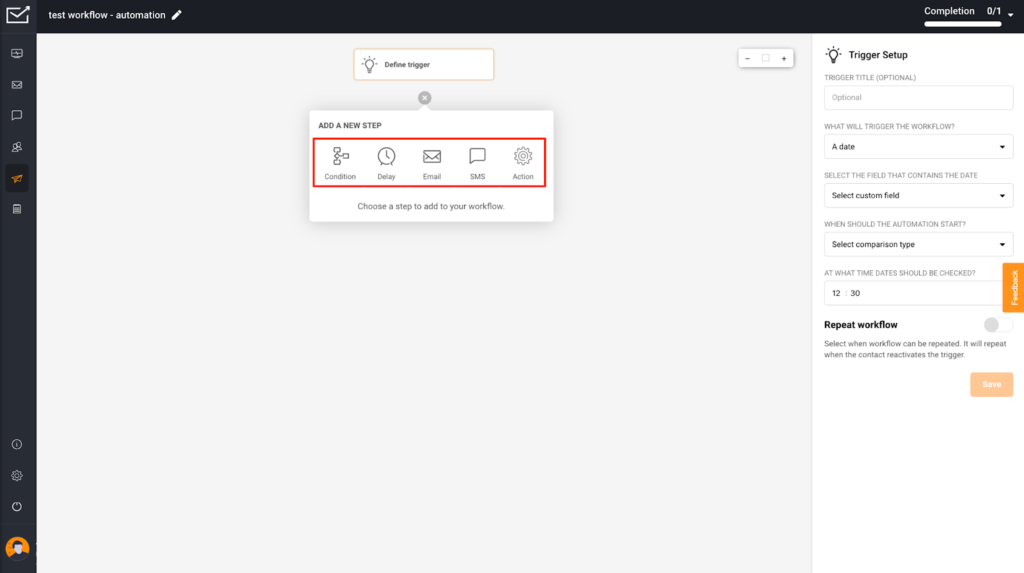 After you click on Email, you will see the left panel that allows you to add the content you want to send as an email to your audience on fulfilling the condition set in step 1.
You can create a simple email and customize the content and design according to your requirements. You can even select an email template to speed up the email creation process using Sender.
Create the email according to your requirements, and when you are done, click Save.
Step 4: Activate Your Automation Workflow
With that, your email notification is ready. However, you may define how and when the mail delivery will happen. Additional measures like action, condition, and delay are necessary—depending on a user's previous activity. Once you are happy with the content, conditions, and other nitty gritty, click on Activate on the top panel.
Congratulations, your first automatic email notification is ready!
Sender is an omnichannel service that provides a high-class automation feature for all your email notifications. Sender also allows you to create omnichannel campaigns across email and SMS to set up compelling customer journeys and nurture campaigns.
Email Notification Design Templates
Creating a notification email is not as hard as you think. While you can always send a text-based notifier email to your customers, adding a responsive design to make it look more professional is always a good idea.
If designing feels like a lot of hassle, here are a few design samples from popular brands and startups:
Moment — Order Reminder Notification Email Examples
This email notification sample reminds iPhone 13 owners to buy a new case. It has a simple CTA, 'Find Your Case.' Have a look: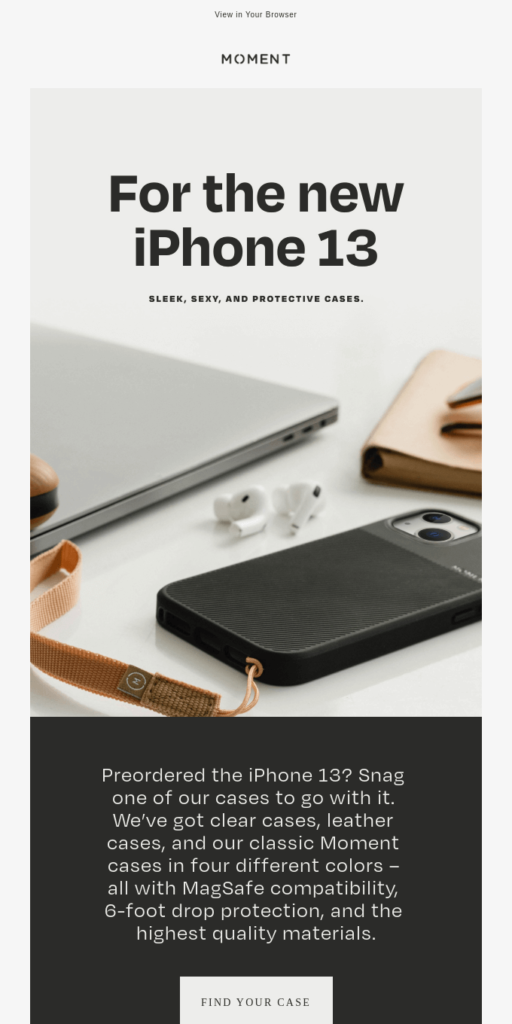 Google Assistant — Feature Introduction Notification Examples
This email notification from Google Assistant notifies subscribers to check out the latest podcasts on Spotify. The simple CTAs suggesting ways to try the feature, like "Play a comedy podcast." nudges the user to try out the new voice feature.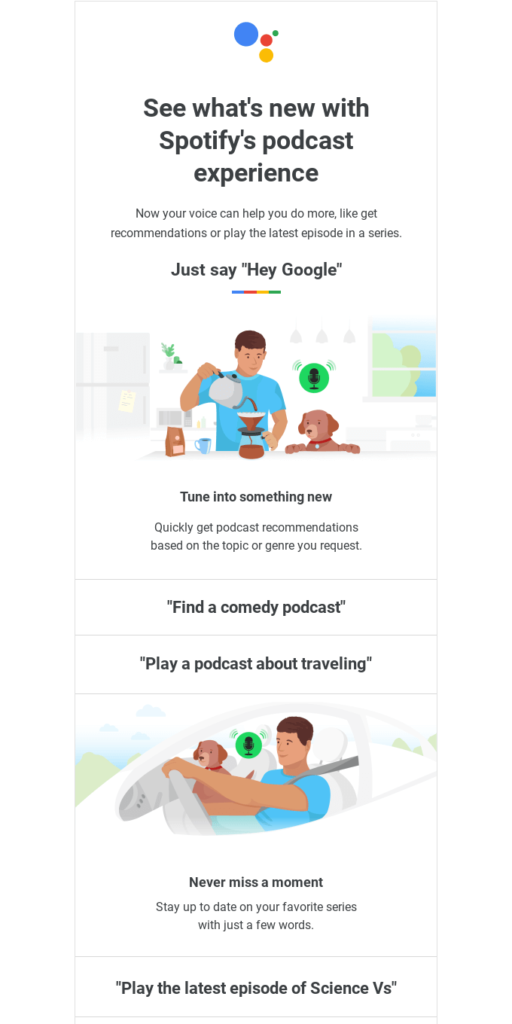 YouTube Premium — Free Gift Redemption Notification
In this email notification, Google notifies subscribers about its YouTube Premium subscription's free cloud storage services. This email is sent to existing subscribers, asking users to "Redeem Gift.", which is a great CTA example.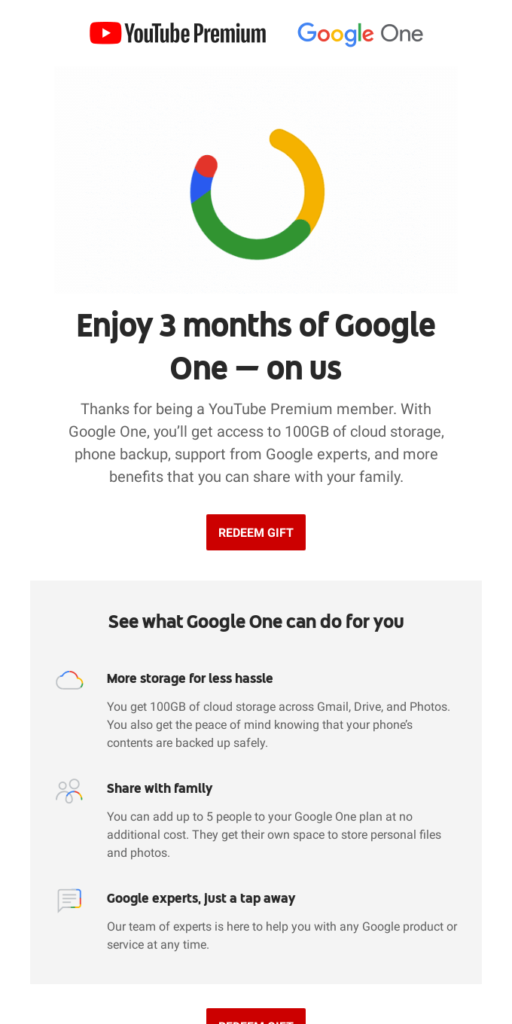 Uber — COVID-19 Safety Notification Email Example
Uber had to convince their customers about their safety measures post-COVID. The following email notification is the perfect example of how a business can simultaneously inform and reassure customers of their best services. Have a look: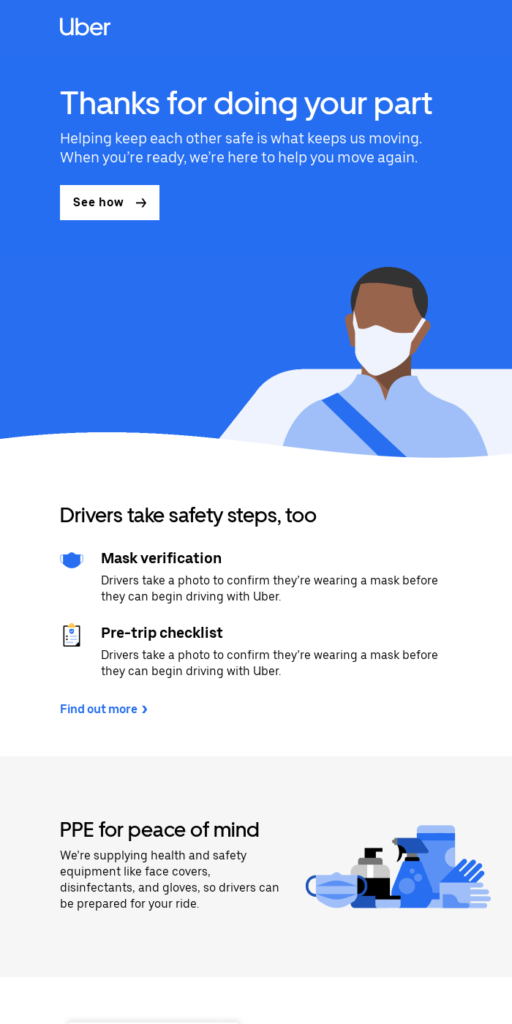 Netflix — New Show Launch Update Notification Example
The email notification from Netflix informs the subscriber of a new release called 'High Score' on the streaming service. For a streaming service, such reminders are an important engagement metric to remind users to return. The email has three CTAs, 'Play,' 'My List,' and 'View All TV Shows and Movies,' to give users an adequate choice on what to do next.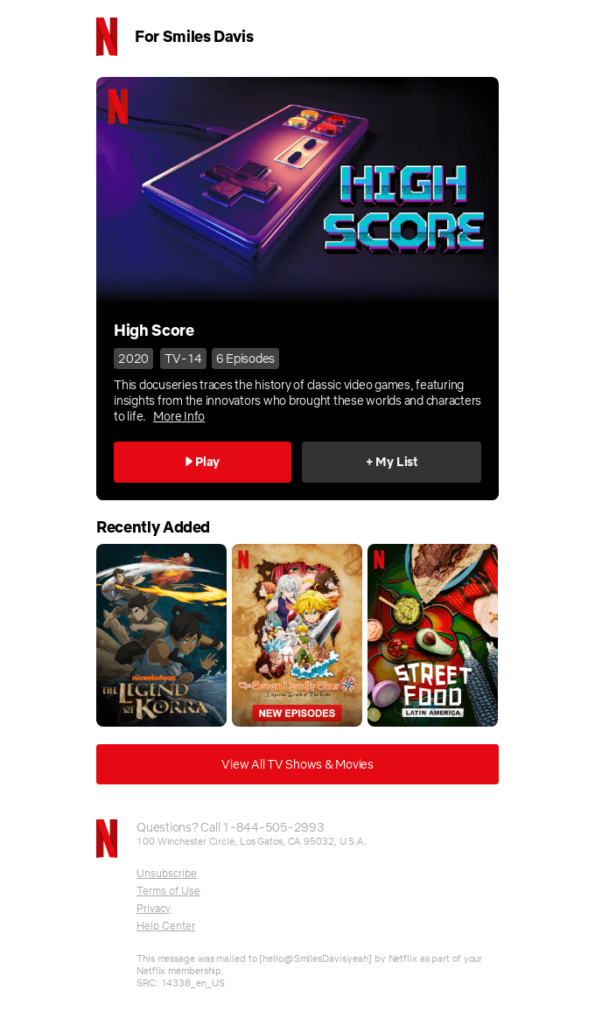 Amazon — Order Delivery Email Notification
With this email notification, Amazon informs a client of the delivery of ordered goods. The email has a survey link with direct CTAs to share their experience instantly — 'It was great' and 'Not so great.' The final CTA encourages the user to follow up on the delivered package.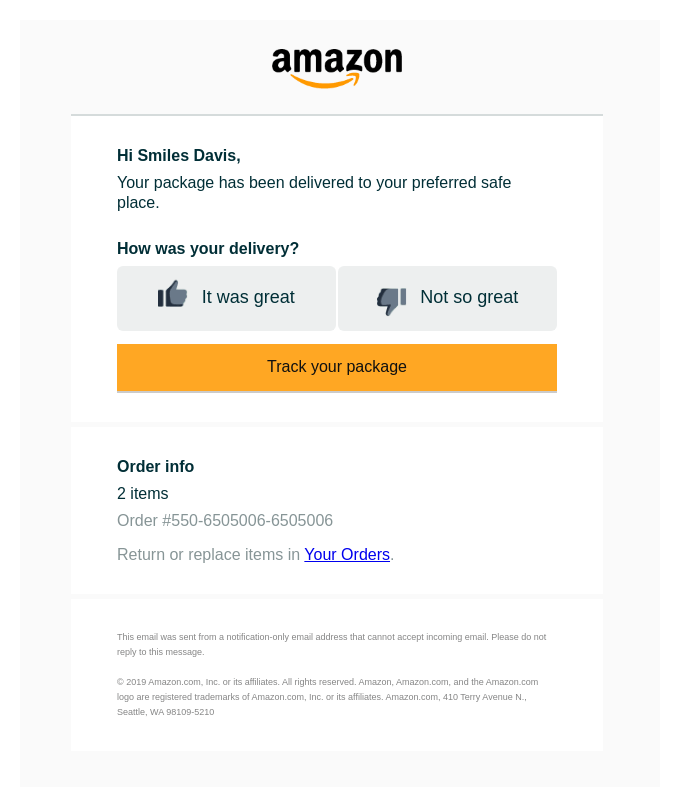 Also read: 11 Customer Survey Email Template Examples
Notification Email vs. Push Notifications
You must be wondering how email notifications are different from push notifications. You're right — both email and push notifications allow you to send instant messages simultaneously to multiple subscribers. But they don't serve the same purpose.
Email notification generally implies sharing content with consumers without requiring further action. On the other hand, push notifications act as a 'middle man,' always trying to get users to click on your CTA. Here are the basic differences:
Tolerance Threshold: Emails have a higher tolerance threshold, meaning subscribers (even inactive subscribers) are not likely to unsubscribe from your email notifications. But excessive push notifications might prompt a user to unsubscribe or add you to the notification settings blacklist.
Length: Email notifications are lengthier as there's no limit on email length. But push notifications are limited to 50 characters for the title, 125 characters for body text, and max one image.
A/B Test: When running A/B tests with push notifications, you have limited variables. So polishing web push notifications is easier because of the limited content. An email notification is hard work to polish due to too many variables.
Effective Best Practices for Email Notification
Every marketer desires for best results — maximum opens, more engagement, and interactions. While it's good to desire but you must be willing to put in the maximum effort by following some best practices.
Basically, you need to guarantee timely delivery, promise readable and interactive content, and more. Here are some best practices and email notification tips to help you with mail notification campaigns:
Focus on Subject Lines: Your email subject line is your customer's first look. Make sure to create an attention-grabbing subject line that makes them stop and click on your email to read more.
Add Clear CTA: A notification should have a clear call-to-action related to the email's main idea. Anything contrary can leave your subscribers confused and distracted. For example, your CTA could be 'Answer the Comment' or 'Join the Conversation.'
Use Personalized Content: Email personalization is the best tactic to improve open rates. Regardless of your product, you can personalize the subject line and create unique content for subscribers based on a custom field. The idea is to create a message that resonates with the reader.
Automate Your Email Notifications: Email notifications should be sent and delivered instantly. So, you should always plan to automate the notifications to inform the customers about a change in seconds. Any delays can hamper your chances of the best results.
Key Takeaways
Automate your email notifications using a marketing automation solution;
Make your mail notifications relevant to your user journey and goals;
Personalize your mail notifications by segmenting your user base and audience.
Also read: