Rocket-fuel your sales with SMS
Supercharge conversions with this marketing duo — the best combo you've ever seen. It's easy with Sender.
Boost Your Sales Now
Everyone has received an SMS notification, even if you don't know what it means. For example, if you've had a message come in that someone has logged in to your account or changed something in some app, you have received news through SMS notification.
Businesses have plenty of reasons to use them every day. Primarily, they are used to deliver updates and notify users about significant changes. However, push SMS and notifications have great marketing use cases and benefits.
Let's look at how you can leverage it to delight users, promote your offer, and more in this blog.
What is an SMS Notification?
SMS notifications are text messages triggered when an event happens in an application, eCommerce store, or website. For example, you might get a security notification from your bank when someone tries logging into your account.
Since everyone spends much time on their mobile phones nowadays, several brands and businesses use SMS notifications for marketing purposes. They offer great open and click-through rates, which makes it increasingly beneficial to add them to your omnichannel marketing strategy.
You can send SMS notifications through various apps or the native text messaging software inbuilt into iOS and Android. However, companies generally pick bulk SMS notification service providers to deliver SMS alerts rather than sending text messages manually. These providers deliver notifications through an SMS gateway, which provides excellent deliverability.
When it comes to great email & SMS deliverability, Sender is the best choice to execute an SMS campaign.
Set up automatic SMS notifications in just a few clicks and be assured of deliverability.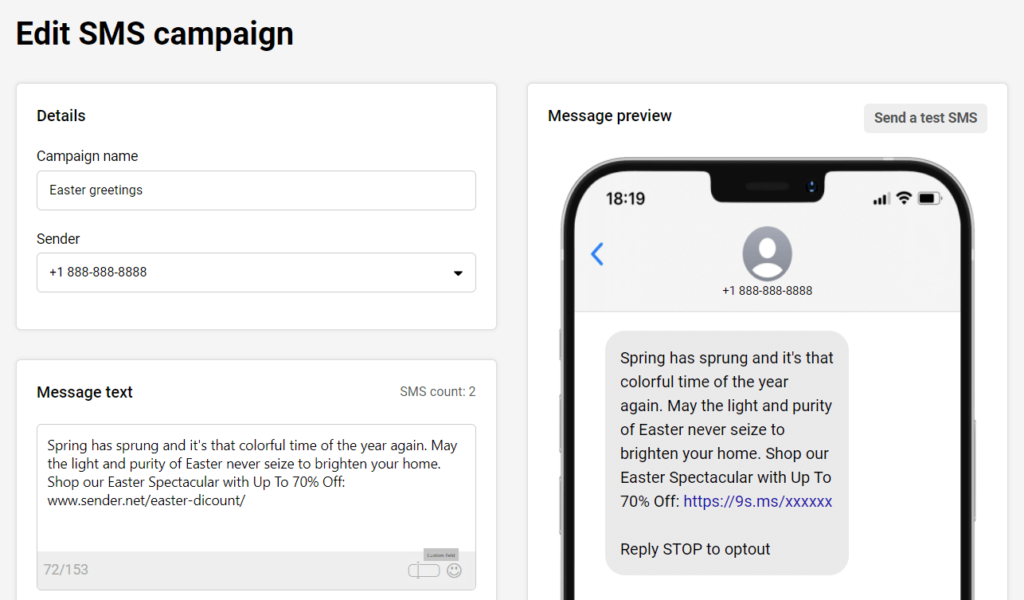 Are SMS Notifications Effective?
Do people really read texts? You might question whether it's wise to open up a new marketing channel. Well, according to the most recent industry statistics by G2, SMS has a lot of potential and preferential benefits when it comes to marketing. Here are some:
60% of customers read SMS messages and notifications within 5 minutes of receiving it;
33% of recipients react to CTAs within SMS, and 47% of them end up buying something;
78% of mobile phone users use their phones primarily for sending, answering, and checking text messages;
61% of smartphone users spend more time texting nowadays compared to 2020;
54% of customers prefer receiving promo SMS, but only 11% of businesses use SMS as a marketing medium;
66% of customers like to receive service-related SMS notifications, but only 23% of businesses send SMS notifications;
59% of consumers prefer receiving direct SMS notifications from a brand than downloading a separate app for communications, offers, or notifications.
So, you see, short message service (SMS) is preferred by customers and, interestingly, an underrated channel for business owners. Most businesses and marketers forget about using SMS as a marketing tool. So, you can be the first mover and take all the benefits of leveraging text messages. 
SMS vs. Push Notifications: Key Differences
SMS and push notifications have one crucial thing in common – both engage on the user's mobile phone with timely messages. However, there's a difference in the way they do it. Let's take a closer look:
Benefits Offered by SMS Notifications
Besides the apparent benefits of message notifications as a powerful and underrated marketing medium, there are some direct benefits, like a speedy response.
For example, email marketing has a much longer turnaround time simply because few people open their mailboxes that often. SMSs and texts are always responded to quickly.
Also, if you see the statistics mentioned above — most people prefer and engage with texts better. All this promises great advantages of using SMS as a notifier and marketing channel for your business, like:
How SMS Notifications Help Business Growth?
Businesses can send marketing messages and notifications to boost engagement rates. Most businesses have been pushing security and transactional alerts via SMS for the longest time. But SMS marketing is slowly gaining momentum, considering the great engagement levels of SMS as a channel.
The reasons are pretty evident. For one, people are on their phones almost all the time. So there's almost a guarantee that the customer will read all the notifiers you send via SMS. Additionally, 59% of customers prefer receiving direct communications like SMS from a brand in 2023.
But what to write in SMS text messages and, more importantly, when to use SMS notifiers. Let's look at the burning question.
When to Use SMS Notifications?
SMS notifications work really well in time-sensitive situations such as transactional alerts. But there's a lot more to SMS as a channel.
For instance, you utilize SMS notifications to run flash sales or send limited-period discount coupons. Basically, you can use SMS notifications whenever you want your customers or audience to know about something quickly.
Here are a few use cases of SMS notifications:
You can also use SMS to ask them to share their opinions, remind them of things they forgot, or regularly check their interests. The possibilities are limitless when you think of it that way, as you get an almost instant response.
SMS Notification Text Examples
To better understand how SMS notifications work, we'll draw upon a few examples from famous brands and businesses. After going through these examples, you'll notice one trend – SMS marketing campaigns aren't different from regular marketing campaigns. You just need to be really precise in your messaging.
Flash Sale Alert SMS by Meet Blume
Sending a time-sensitive flash sale SMS is a great way to drive engagement and traffic. The marketing team at Meet Blume probably got the memo when they crafted this no-nonsense flash sale SMS reminder.
Blume: WHIRL FLASH SALE! Packed with Hyaluronic Acid, Prickly Pear Seed Oil + Aloe Juice, this light and fluffy moisturizer will nourish all summer long. Buy one, GET ONE FREE until midnight with code: FREEWHIRL. [link]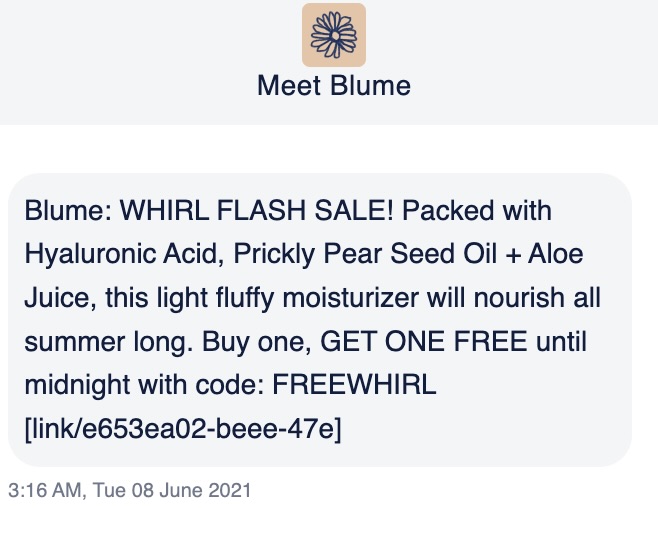 The simple, non-pushy tone and a time-sensitive promo code would have worked wonders to make their flash sale a huge success. The clever placement of all-caps text within the SMS surely would have grabbed eyeballs. You can also send a similar SMS to your audience whenever you plan a limited-time offer.
Birthday SMS Promo SMS by Jennifer Miller Jewelry
Sending a personalized birthday greeting via SMS is a great idea to make your customers feel loved. Jennifer Miller Jewelry used birthdays to reach out and delight its users.
Jennifer Miller Jewelry: Happy Birthday, Jessica! 🎉Sending a little sparkle your way ✨Enjoy 20% OFF on your next order. Just use code: HBDMC7HL2X& within 7 days! 🎁 [link] xo Jen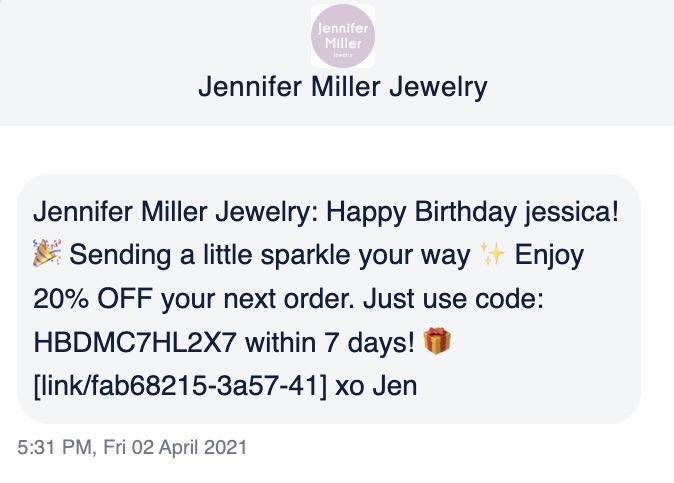 The personal touch here is on point. The SMS starts with the first name and is signed off as if sent by a friend. Plus, the contextual birthday offer would surely make readers curious about what's in store for them at a discounted price—a good way to make them feel loved, appreciated, and valued.
Promo SMS by Domino's Pizza
Restaurants can use SMS in multiple ways. SMS campaigns can send booking confirmations, share discount offers, and notify about takeout deliveries. Domino's uses SMS to promote its time-sensitive offers. Have a look:
DEAL ALERT! 49% off all menu priced pizza when you order 4-9PM with Domino's Carside Delivery. Code [code]; [link]. Reply STOP 2 opt out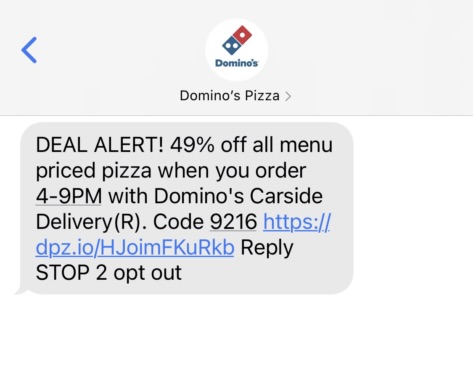 The simple SMS with a straightaway benefit for the customer is an on-point promotional tactic. Plus, the time sensitivity will make a reader act on it quickly, increasing the conversion rates from this SMS campaign. 
Getting Started with SMS Notifications
With the world quickly shifting to mobile-first, now is the best time to include SMS messaging in your omnichannel strategy.
As 90% of all mobile users open and read text messages within 30 minutes after receiving them, sending out as many as possible might be tempting. However, to reach maximum effectiveness, careful preparation is a must. Here're the top SMS marketing tips to have in mind:
Receive consent first. Before sending out SMS messages, you need permission from your contacts to receive them. The most popular way is an opt-in checkbox on a sign-up form in your app or website.
Offer an easy way to opt out. This is as important as getting consent. You may include an unsubscribe link in the SMS message or information that they'll unsubscribe if they send back a unique code.
Be concise. As with any other type of content, the shorter, the better. To keep your recipients interested in what you have to say long enough, stick to up to 160 characters in your SMS message.
Speak in your brand voice. The tone of your SMS messages shouldn't differ anything from your other communication pieces. Keep it consistent to get noticed and build trust with your customers.
Analyze the results. As with any marketing campaign, analyze which messages worked and which did not. Take such things as sending out time, text, and offer into account and use the insight to better your SMS marketing results.
Key Takeaways
Add SMS to your marketing mix to increase engagement and conversions;
Create thematic and real-time SMS campaigns that pique curiosity, informs users, or send real-time updates;
Always personalize your SMS campaigns to make customers feel valued;
Use marketing automation tools like Sender to schedule your SMS messages.
Also read: