Like what you read?
Apply it in practice with Sender.net - the most cost-effective email marketing solution in the market.
Try Sender for free
SMS marketing has been experiencing a renaissance.
Most marketers have seemingly forgotten the channel ever since smartphones appeared. However, as recent statistics show, SMS marketing might just have an incredible ROI. That is primarily due to the insane SMS open rates.
In fact, while in this article we'll only go over SMS open rates, all of the statistics uncovered so far seem extremely promising. It seems to be well worth investing in, regardless of industry or budget constraints. As you will be able to see from SMS open rates, it's hard to go wrong with this channel.
Read vs Open Rate
Before continuing, there's an important distinction to be made between SMS open and read rates. These are not the same as with emails. In fact, the distinction is a bit simpler.
Read – the amount of people who have received the message (and, usually, the accompanying notification with the preview text).
Open – the amount of people who have opened the text message.
Marketers are usually used to the definitions used in emails. However, since there's no need to track a pixel for open rates (such a tool is integrated into SMS), the statistics acquired are a lot more accurate and less prone to being muddled by outliers.
However, unlike with emails, SMS marketing maintains incredible statistics in both areas. Of course, the read percentage will be huge by definition unless the recipient list has a lot of dead numbers. But what about the lauded open rates?
SMS Open Rates Statistics
Depending on who you ask, SMS open rates will hover from 90% to 99%.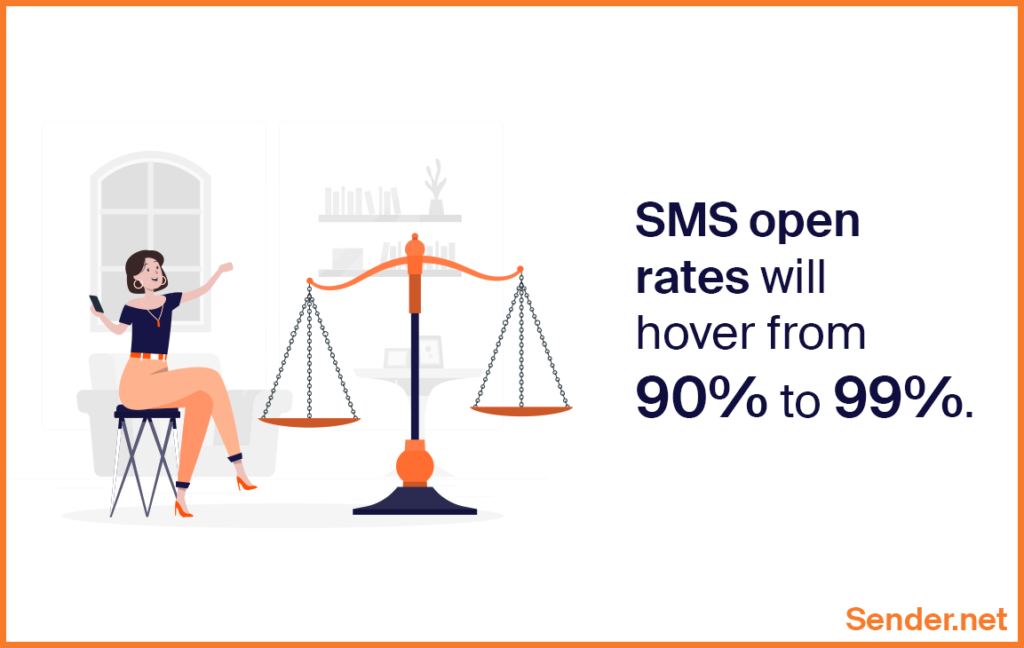 In fact, 90% of SMS are opened within 3 minutes. The remaining percentage points depend on the timeframe as 99% are opened within 20 minutes.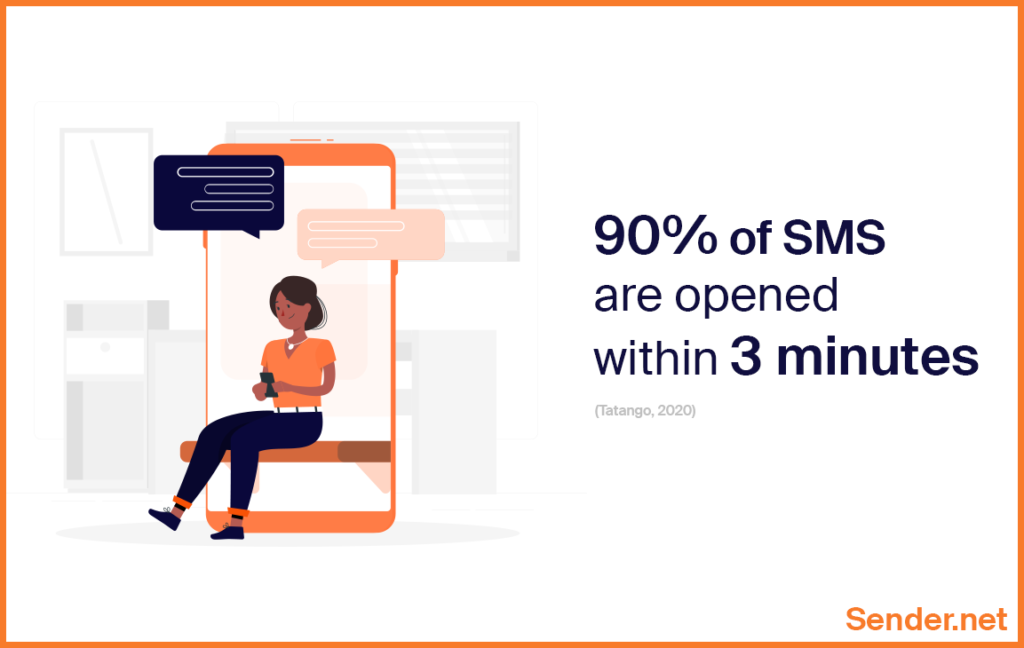 Yet, these are averages. That means there are still a few ways to optimize open rates. Primarily, users will be most enticed to open an SMS if the preview text in the notification catches their eye. Starting out with a greeting and following up with the most important keyword(s) (e.g. discount) is a good way to get the message opened.
However, while absolutely mind-boggling, open rates are not the end of the story. Click-through-rates are often what's important. These, unfortunately, are quite a bit lower. CTR is estimated to hover around 5% to 10%. Yet, it's worth mentioning that, in comparison, emails have an average click-through-rate of 2.5%.
Additionally, some marketers say that SMS open rates bring with them a certain negative. People check their phones often and unsubscribe more often when compared to emails.
However, that's only important if fluffing up the numbers is important. People don't unsubscribe from emails as often because they tend to eventually just ignore them. Yet, they're still a dead lead. In fact, it's often better to have more accurate statistics in general.
Thus, SMS open rates are tremendous with an amazing click-through-rate. When compared to another traditional marketing channel like emails, they blow it out of the water. However, just like emails, they do have their requirements before you can harness the power of SMS open rates and marketing in general.
SMS App Open Rates
Many people shun the native messaging applications installed into iPhones and Android-based phones. They turn to apps like WhatsApp, Viber, and others. While these apps provide additional support for both users and marketers, the statistics are just slightly worse.
According to research, the average read rate of WhatsApp messages is 80% for the first 5 minutes. However, over time the most important metric, open rate, evens out with SMS by reaching 99%.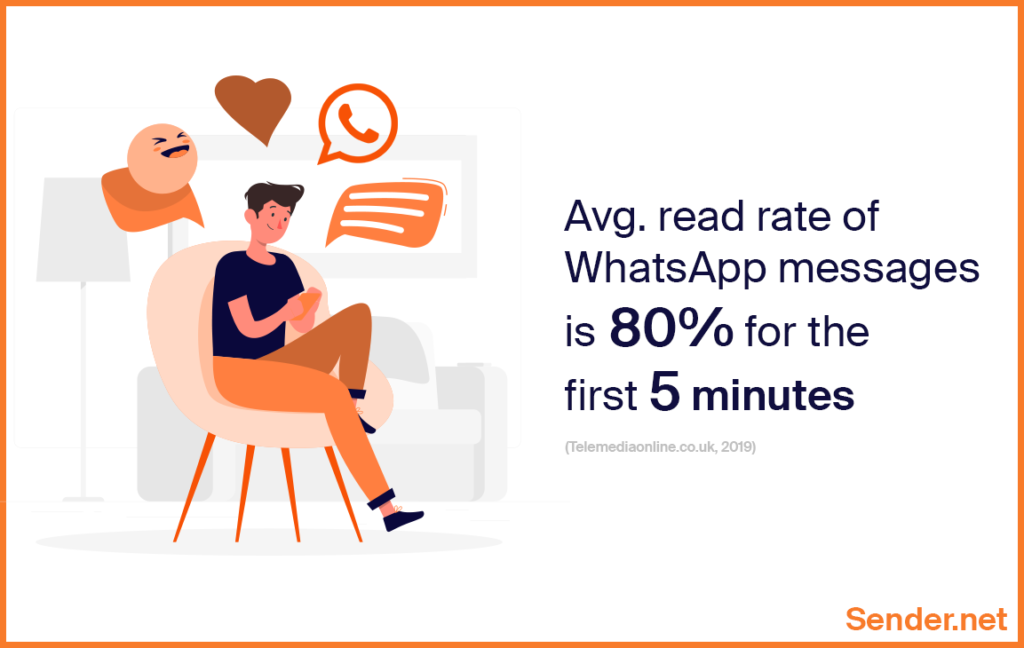 Viber has a similar track record of open rates eventually reaching up to 99%. However, purportedly, their click-through-rates are significantly better, which would make it the preferred marketing app.
In fact, these messaging apps almost always beat out other direct communication methods for marketing purposes. Tools like automated messengers or live chats to direct customers may have lower overall effectiveness when compared to SMS apps.
Regardless, the messaging application of choice makes almost no difference to your marketing efforts. Thus, text messages remain an incredibly powerful channel. In fact, messaging apps might even be more useful as they usually allow for longer messages than regular SMS.
Overview: SMS Open Rates
There's no way around it. Implementing SMS marketing is a sound decision. It can cover several important aspects of business – from a supportive role for emails to deliver time-sensitive messages. SMS can cover a lot of ground and deliver great results regardless of the approach taken.
Want to find out how you can benefit from email and SMS marketing even more? Try out the Sender free plan to get your campaigns optimized, delivered, and acted upon better than before!