Like what you read?
Apply it in practice with Sender.net - the most cost-effective email marketing solution in the market.
Try Sender for free
That email marketing works; we all can unanimously agree upon that. But email marketing is only as effective as the strategy behind it.
A "spray and pray" approach to emails where you permit yourself to blast your "value newsletter" subscribers every week or every day has diminishing returns over time. You are just hoping they take action, cross the line and buy your product.
On the other hand, personalized marketing is winning, where each subscriber is led along their journey at their own pace.
Already thinking of applying this principle to email marketing? Then, all you need is an "email trigger."
What is an email trigger, and how can it help your business?
Read on to understand the ABCs of email triggers (you will see this being referred to as 'triggered email marketing', too) and how they can help your business get more ROI from its email marketing efforts.
What is a Trigger Email?
The weekly or monthly newsletters you send to your list are email blasts. Although it does include elements of personalization (first name, city, etc.), it is a fairly generic message and has limited impact.
Besides, it does not apply to every situation where an email needs to be sent out.
In contrast, triggered email campaigns are a set of one or more emails sent automatically to specific recipients based on the actions (read 'trigger') they take (i.e., behavioral). 
These triggers or actions could include signing up for a newsletter, making a purchase, coming off the holiday season, or leaving an ecommerce store without paying for your cart items.
Trigger-based email marketing campaigns fire emails automatically based on specific customer data or actions, whereas marketing emails can be sent anytime.
Why are Trigger Emails So Important?
Triggered emails provide the following benefits to your email marketing campaigns:
Higher Engagement—Since emails are sent to subscribers based on their actions, this is a very potent and highly relevant form of communication.
Timely Communication—Sometimes, emails need to fire instantly. For example, how long will you make an ecommerce store customer wait for a copy of the invoice in their inbox?
Personalized buying journeys for new customers—because not everyone is ready to buy right now.
Increased Sales & Revenue—a combination of personalized triggered campaigns leads at their own pace leads to more leads and higher conversions.
Steep your Brand awareness—stay top of mind at all times and let the prospects soak it all in before you give the clarion call to buy.
Effective Trigger Email Marketing
Due to the fact that they are immediate and relevant both, trigger emails have the highest performance (open and clickthrough rates) among all other forms of email marketing.
"Automated emails have a 70.5% higher open rate than regular emails"
"Marketing automation can increase revenue by 34%"
If you are looking to construct high-ROI email marketing campaigns, email triggers will play a major role.
Types of Triggered Emails
Depending upon the optimal action for which an email needs to be sent out, multiple types of use cases exist for trigger emails.
1. Welcome Trigger Email Example
Welcome email definition could be – an email trigger that fires when someone subscribes or attains membership.
The email should be friendly, welcome the reader to your world, set the right expectations, and, more importantly, educate them about the next step forward.
For example, like the one below.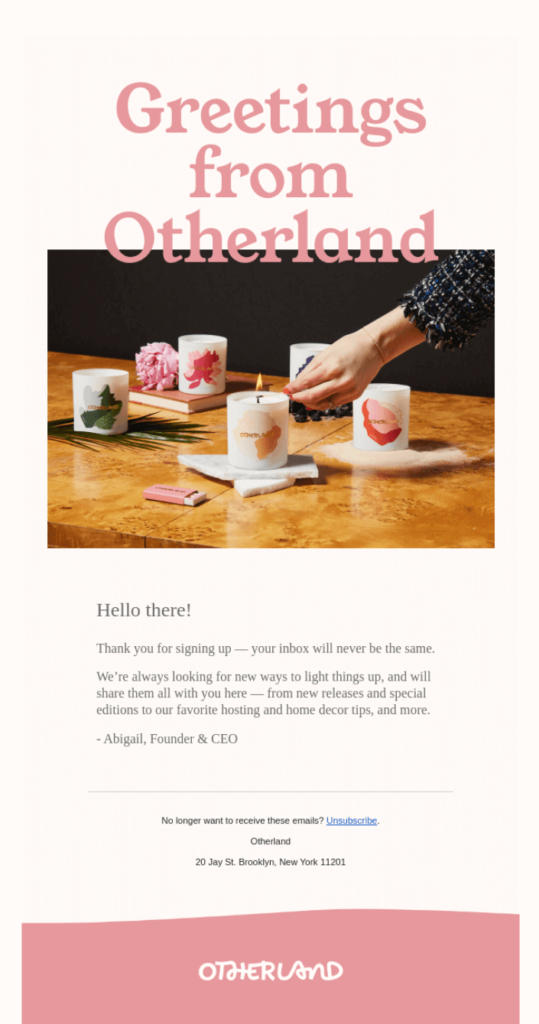 Source: original Other Land email
2. Abandoned Cart Trigger Email Example
This automated email triggers when a shopper adds items to their cart but leave without completing checkout for some reason (life happens!).
Of course, this is straight-out a loss of revenue since the shopper had clear intentions to buy.
The idea is to send a reminder email an hour or two after the abandonment event has occurred, one email a day after, and a final email two days later.
You can see how it looks down below.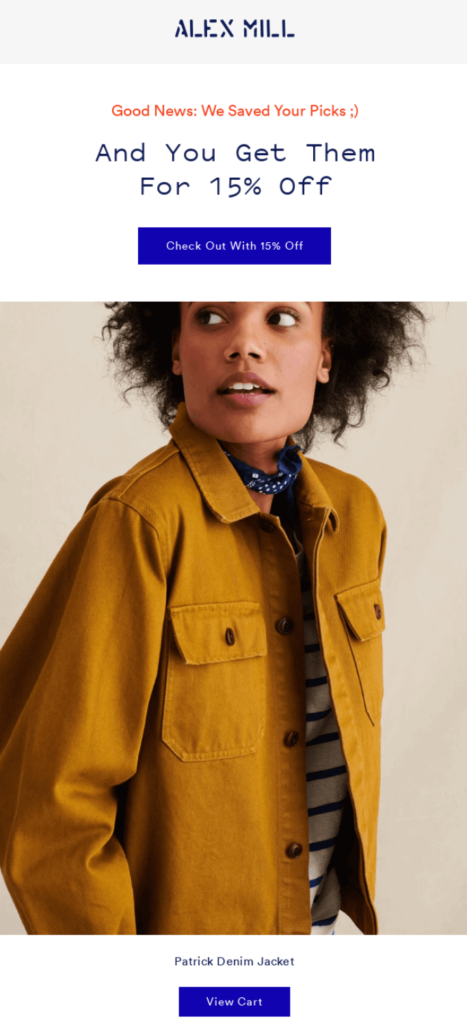 Source: original Alex Mill email
3. Re-engagement Trigger Email Example
If someone were buying from you before or was engaging with your brand over emails but has stopped showing love now, a win-back or re-engagement email sequence would be the best way to woo them back.
The idea behind such targeted emails is to offer a tempting discount, a great offer, or something of such value that the subscriber is forced to engage with your brand again.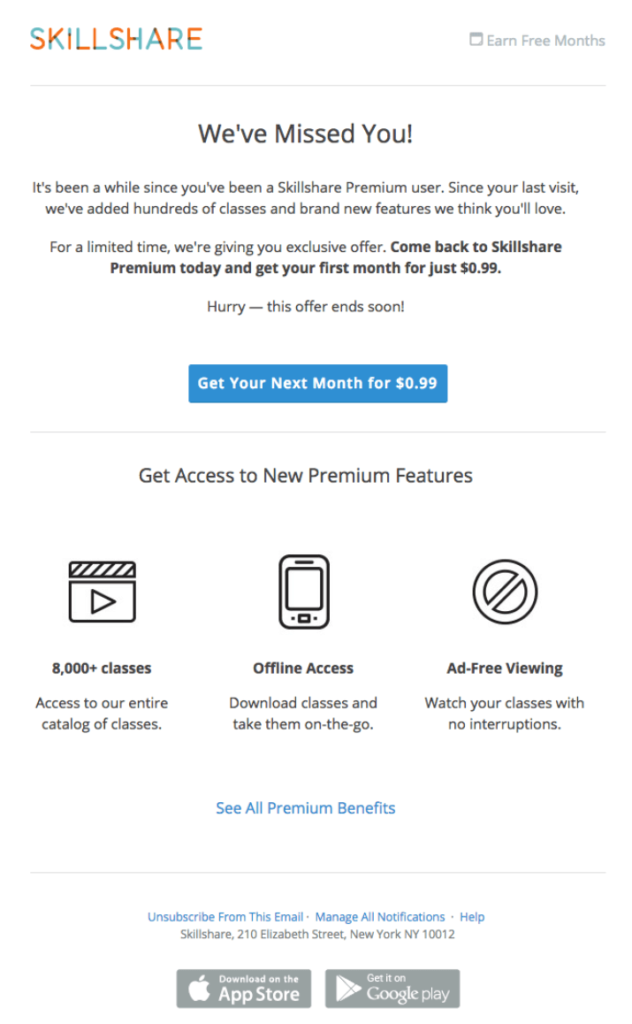 Source: original SkillShare email
4. Transactional Trigger Email Example
If you have shopped online, you've seen these types of transaction emails in your inbox. Also called confirmation emails, it's used when you want to acknowledge an order, confirm a payment, provide Shipping details, or confirmation—usually triggered when the subscriber purchases something.
Source: original Huckberry email
5. Date-Based Trigger Email Example
This email fires when a particular date is matched. Use this to wish your subscribers on the most important days of their lives (birthdays, anniversaries, or the date their dog gave birth to its first litter and so on).
Date-based trigger emails are also referred to as a milestone email trigger since you could also send special offers for existing customer and prospects who have crossed a particular milestone with your business—for example, completion of their first year of subscription.
The underlying aim is to create an upbeat vibe and stay top-of-mind on their happy days.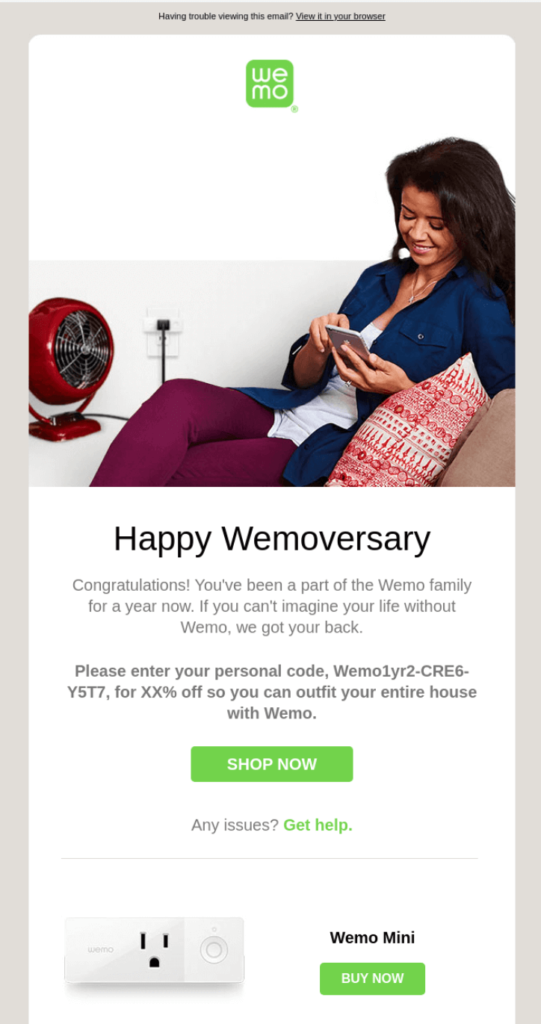 Source: original Wemo email
Triggered Emails Best Practices
We recommend the below step-by-step approach to create high-performing trigger emails for your business.
Ensure high-quality input. Understand your Buyer Persona well. To whom are you selling? And, these people you are looking for, what are they looking for? As in life, so in email marketing. Ensure extremely targeted opt-in forms and popups that ideally attract only your right audience. For example, if you have an audience that is interested in signing up for free stuff and you want to set them up for a high-ticket product sale, any guesses as to whether you know which direction this one's headed in? Not everyone goes into a single giant list. Maintain separate lists if you have to.
Segment your lists based on demographics (location, gender, age) or engagement with your business.
Decide your goals for the triggered email campaign. 
Will it be a visit to a landing page, registering for a webinar, or an out sale? Once your objectives are clear, it becomes easier to align every tiny aspect of this email campaign toward that one goal. It also tells you whether the campaign is successful or not.
Create an outline of your customer's buying journey and map out the various touchpoints where email communication can do wonders. Now, compose highly relevant and topical emails for the above touchpoints.
Ensure that the creatives, copy, and content of each email are alignment with the overall triggered email campaign goals.
Ensure that each email includes vital elements of personalization.
Place a highly visible and personalized CTA (Call to Action) inside each and every email.
Ensure high-quality copy and content inside each and every email.
Choose the correct type of Trigger for your campaign inside your email marketing tool. 
Monitor and track key parameters such as Open rates, Click-through rates, click to open rates, and Unsubscribe rates.
Be open to testing out every single aspect of your email—send days & times, CTA, copy, design, and just the overall performance. Then, keep optimizing based on feedback based on the results.
Right Tools for Trigger Emailing
Not all email marketing tools are created equal.
When looking to incorporate email marketing automation in the form of triggers emails, you are generally looking for an email marketing tool that is:
Easy to set up one time and even simpler to use daily with a minimal learning curve.
Compelling; you want a high-performance tool that provides you with high investment returns.
Capable of being set up in a step-by-step manner for simple and complex email automation requirements.
Affordable—so you are not paying an arm and a leg to watch the magic unfold.
Integrations to powerful ecommerce platforms such as Shopify, Woocommerce, and more!
Sender can do all of this with two more bonus benefits:
Manage email as well as SMS campaigns inside the single dashboard. Yes, you can send bulk or personalized messages from the same simple interface from which you manage your emails.
Friendly support from Product experts over chat precisely when you need it—Now!
Still on the fence? Get started with the FREE FOREVER plan, where you can test the tool or even grow your business without paying a cent. Keep in mind; Sender isn't limiting feature access for small users.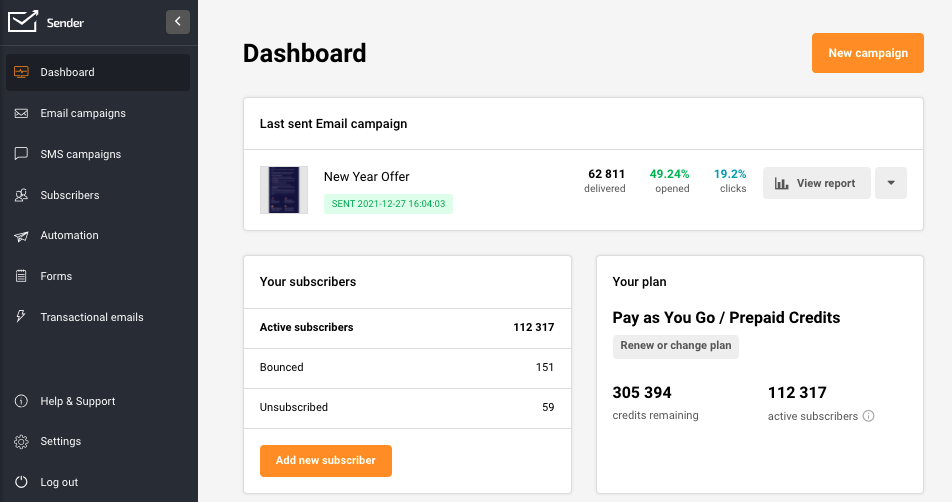 Sending a Trigger Email
Setting up a trigger email with Sender will take you less than a minute to execute. The whole process is intuitive and user-friendly; however, the support team is always one click away if you get stuck.
Each automation sequence starts with a trigger. Then, select the most suitable for a given task and move on to the next step.

Example of a Configured Trigger Email Workflow inside of Sender.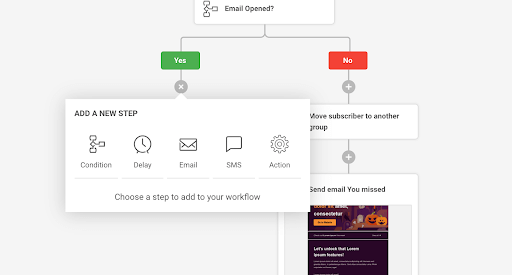 Like playing the big game of complex automation? Here's a dedicated guide on the omnichannel automation feature.
Step-up & Outdo Ordinary Trigger Based Marketing
Generally, trigger emails have the highest open and clickthrough rates among all forms of email marketing since they are more relevant. It's because they are more focused on an action that the user has just taken.
Therefore, it is time to welcome the true power of marketing automation and let trigger emails take the main stage in your email marketing strategy.
Author Contributor – Santosh Balakrishnan