Turn strategy into action
Don't leave your perfect strategy untapped. Unlock its potential with Sender and see your sales explode.
Get Started For Free
Just about everyone and their dog are talking about email automation these days. As a result, in 2023, the most automated channel was email marketing, selected by 63% of marketers.
So, where does this fad come from? And is it here to stay for long? Our verdict — definitely, yes.
Email automation is an irreplaceable tool to send personalized and automated emails to the target audiences at the right time. For marketers and business owners like yourself, it means a stronger connection with your prospects and customers.
This article is dedicated to throwing light on everything-email automation. Read on to learn all the ins and outs of implementing this email strategy in your marketing efforts.
What is Email Automation?
Email automation works wonders in streamlining your email communications. Using specialized software, you can set up pre-defined sequences of emails that are sent automatically to specific recipients based on certain triggers (user action or a predetermined time delay).
For example, let's say you're hosting a webinar. You only naturally want to send an email welcoming those who signed up. And, just before the event – an email reminder nudging them to log in on time.
Or take an ecommerce example. When a user buys a product from your site, wouldn't it be nice to slide inside their inbox with a product recommendation based on the initial purchase a couple of days later? You get the point.
Automating these types of email workflows saves you loads of time and effort. Once you set it up, you can forget to send each email manually. Meanwhile, the recipients get a timely and suitable response to their actions.
This is a simple example of an automated sequence created with Sender's drag-and-drop workflow builder: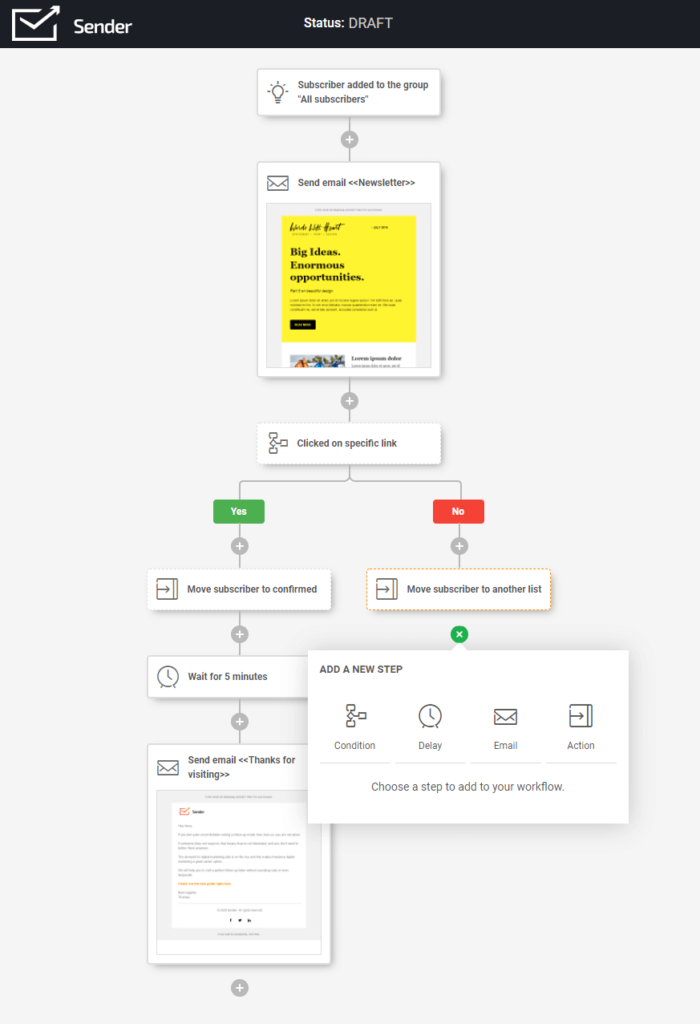 So far, it sounds good? Let's talk about how different automation tools can enhance your team's productivity, increase customer engagement, and contribute to the overall growth of your business:
Sales Email Automation Tools
Sales email automation tools are the trusty sidekicks for sales teams trying to engage with potential customers and close deals (so, all sales teams). These tools lay the stress on personalized communication and nurturing leads throughout the sales process.
You can leverage these tools to track your interactions with prospects, send follow-up emails, and schedule reminders for essential tasks.
Indeed, a magnificent helper in keeping your leads warm and guiding them through the sales funnel into your customer club.
Marketing Email Automation Tools
Marketing email automation tools assist you in reaching a broader audience and nurturing customer relationships.
Creating automated email campaigns, segmenting your audience based on their behavior and preferences, and sending automated emails to different emails – there's little they can't help you with.
You can use these bad boys to send out newsletters, product updates, promotional offers, and whatever your audience engages with. Staying connected with your existing customers and building a loyal base can be easy.
How Does Email Automation Work?
Once you choose a good software, implementing an email marketing automation strategy is as easy as a walk in the park. To create automated email workflows, you need to think of triggers and corresponding email responses.
Here's a video on how you can easily create your first automated email marketing campaign using Sender:
Just in case, there's also a short recap:
Pick an email marketing tool. Look for human-friendly tools with an effective automated workflow builder, such as Sender.
Build and segment an email list. You can upload a list of existing customers or build one using lead generation forms. Segment the subscribers based on different features.
Select triggers. Triggers can be actions made by the user or conditions. They are used to trigger the start of or a step in the automated campaign (e.g., a welcome email send-out when a visitor subscribes).
Build automation workflow. One by one, set up triggers and automated actions (usually automated emails) to respond to them.
Create an email campaign. Build the automated emails – choose a premade template or start from scratch and add your branding, captivating images, compelling copies, a powerful CTA (Call-to-Action), etc. Once done, activate the marketing automation.
Monitor the results. Follow the stats of the campaign consisting of automated emails separately. Draw insights and use them to optimize your automated email campaigns.
If you need a little motivation to start crafting automated email campaigns today, keep reading for some (but far from all!) reasons to do it.
Benefits of Email Automation
What is the best way to silence a smart marketer? Ask them about the disadvantages of email automation. There's simply none.
On the other hand, there are plentiful benefits to your email marketing strategy. Here's what might interest you as a busy marketer or business owner:
Save time
If you shudder at sending each email manually, email automation is for you. It allows you to do it quickly and efficiently without strict supervision, meaning you have time left for more attention-sensitive tasks.
That's not all. Reducing the (often distracted) human factor in repetitive tasks reduces the room for error. No error, no time spent in fixing it.
Create a better customer experience
The number one reason to make automation a part of the marketing process? According to 43% of marketers, it's improved customer experience.
Reaching out to your customers with compelling messages (irresistible incentives, helpful reminders, or onboarding content) at the right time is as simple as pie with email automation.
Leverage keeping regular contact with your audience to strengthen relationships, improve retention rate, and boost lead generation.
Optimize costs
While all the benefits listed here directly add to cutting losses for your business, it's not the end of all ways email marketing automation can increase your revenue.
One of which being abandoned cart recovery campaigns. If a prospect puts items in the cart and leaves without paying, you lose revenue. But an automated email can remind them to return and go through with it.
In addition, you can also upsell and cross-sell. Include recommendations based on your customers' search history in the automated emails and persuade them to buy.
Increase customer retention
Increasing customer retention by a mere 5% can increase profits up to 95%. How do you do that? With email automation, of course:
Schedule your messages to ensure regular communication with your customers;
Automatically reach out to customers who haven't bought your products in a while and offer them an incentive to come back;
Personalize your messages for inactive customer groups and remind them about yourself through new product announcements, exciting company news, or engaging events.
Improve segmentation
Automation tools allow you to segment your audience by location, purchase history, or engagement level and target your messages precisely, making your email marketing campaigns more relevant and effective.
That doesn't sound like much? Well, email marketing automation also provides dynamic segmentation that adapts in real time. As your subscribers' preferences change or they take specific actions, the automation system can automatically update the content they receive. This way, you can maintain a tailored and up-to-date approach, demonstrating your care to the audience. You get an increased engagement rate, open rate, conversion rate, and click-through rate.
Provide personalized customer experience
With 96% of businesses saying that personalization improves email marketing success, you might think about how to hop on the personalization train. Well, grab an email marketing automation ticket!
You can create tailored email campaigns that resonate with your audience by utilizing data-driven insights and customer behavior. Personalized emails lead to higher engagement, increased open rates, and stronger customer loyalty, ultimately delivering an exceptional and customized experience for each recipient.
Email Automation Examples
It's clear that email automation ticks all the boxes on the 'best email marketing practices' list. Now let's see a few examples of how it looks in real life:
Welcome Email
A welcome email is the first email you send to your subscribers after they sign up for your email list. The welcome message makes the new members feel valued and provides them with information on how to get started with your brand. Look at it as a kickoff of a long-term relationship with your customer.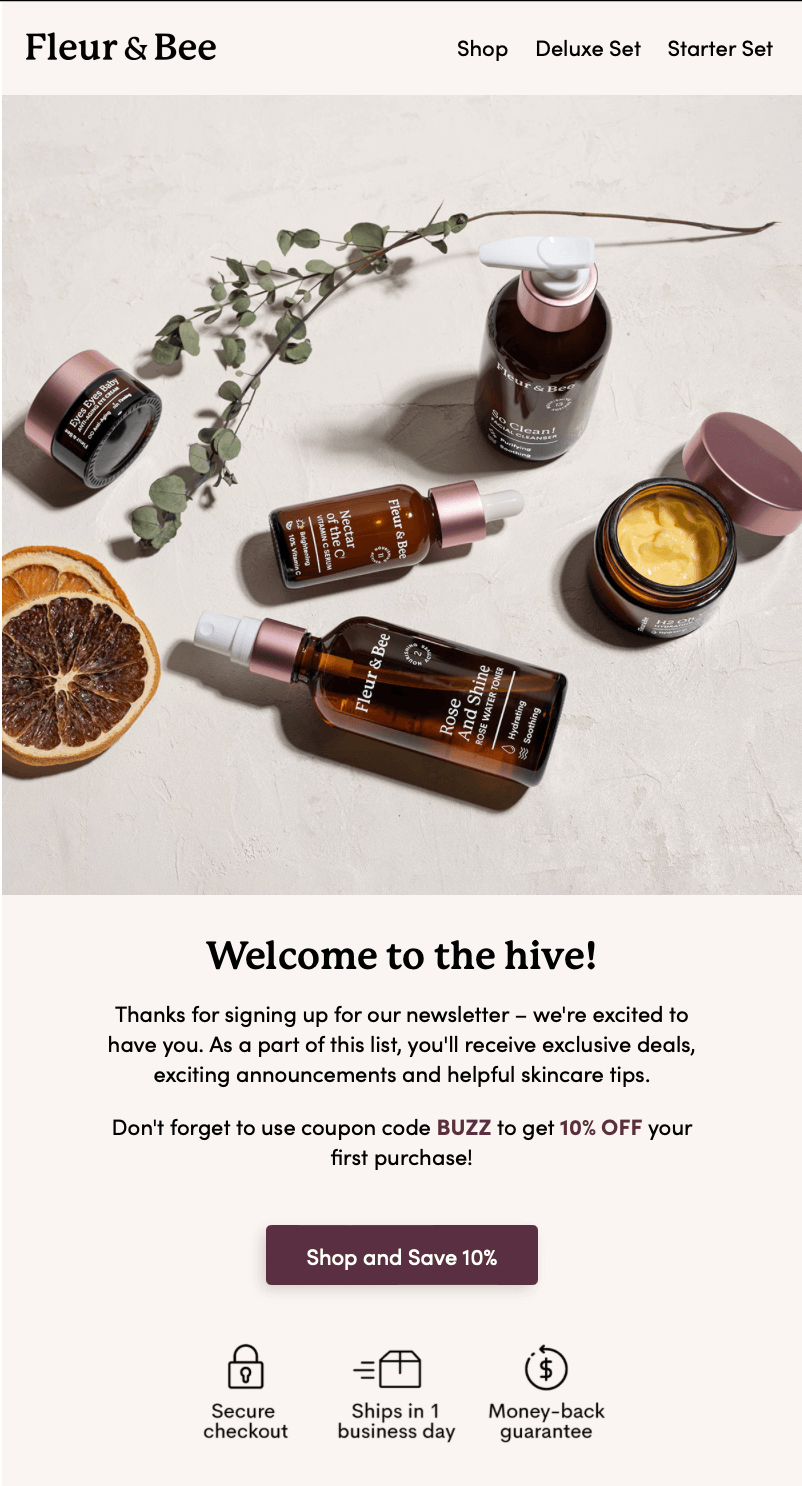 Automation trigger: New subscriber
Pro tip. Use the welcome email to paint a picture of your brand:
Introduce your brand;
Write in your tone of voice;
Mention what the recipient might expect from you.
Abandoned Cart Recovery Email
An amount equal to a small country's GDP (that's $260 Billion!) is lost yearly due to abandoned carts. But not all is lost; some of it could be recovered with abandoned cart emails. Reminding the customers about the abandoned items and incentivizing them to buy them – it's that simple.

Automation trigger: Abandoned shopping cart
Pro tip. To maximize your chances of returning customers, include a unique, single-use coupon code in the abandoned cart email that only applies to a specific product or target audience segment.
Order Confirmation Email
While order confirmation emails might look dispensable for you, your customers are eagerly waiting for them. It's reassuring that their details and money are safe and the order is coming. Here's what to include inside:
items purchased;
the total amount;
shipping information;
other relevant information.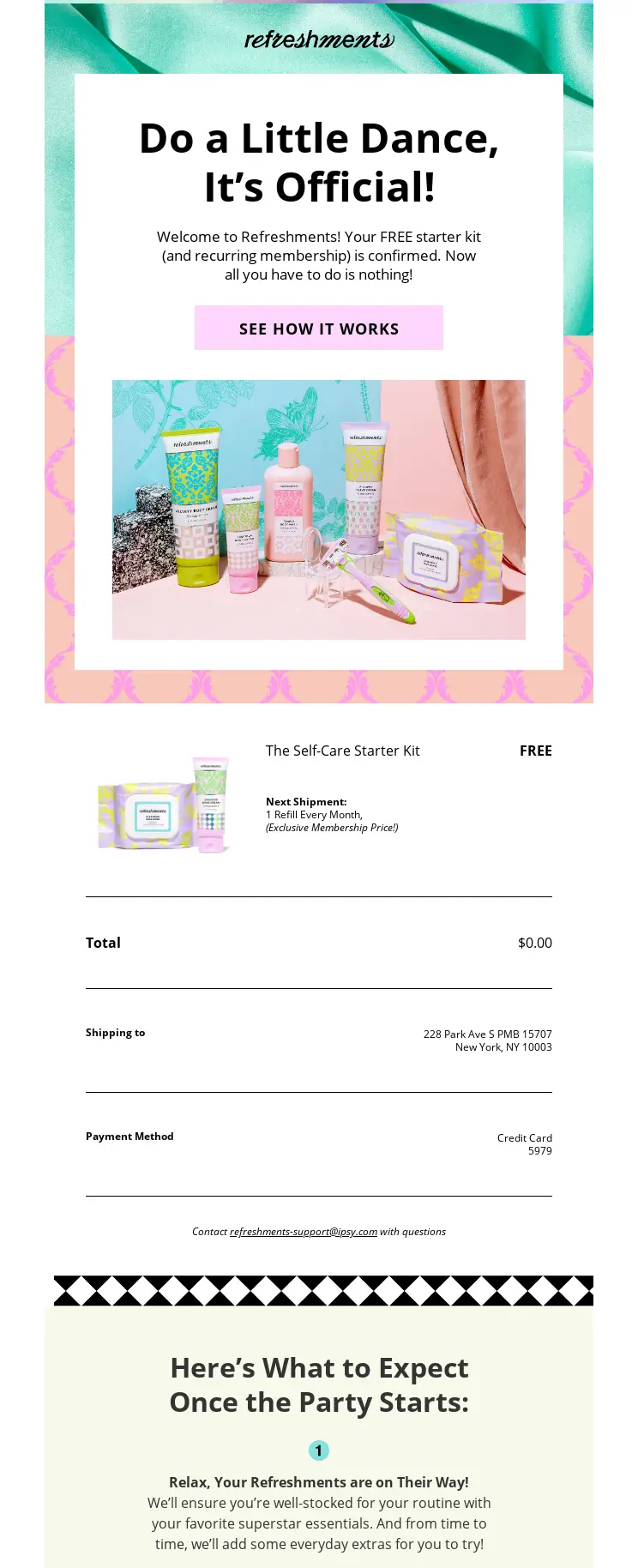 Automation trigger: Placing an order
Pro tip. Take advantage of the order confirmation email to encourage your customer to refer. For example, include a discount code for their friend's first order.
Re-Engagement Email
You send re-engagement emails to customers who have shown some interest in the past but stopped opening your emails or visiting your website in a while. The email aims to catch them before they are fully disengaged by reminding them about your products.
Automation trigger: Not engaging for X days
Pro tip. To motivate re-engagement, leverage past positive interactions between the customer and your brand. For example, remind them why they chose your product in the first place.
Product Abandonment Email
Catch even more of your prospects into the sales net by targeting not only those leaving items in the cart but also those just eyeing certain products. The product abandonment workflow ensures that registered customers are reminded of the products they are interested in, softly nudging them to buy.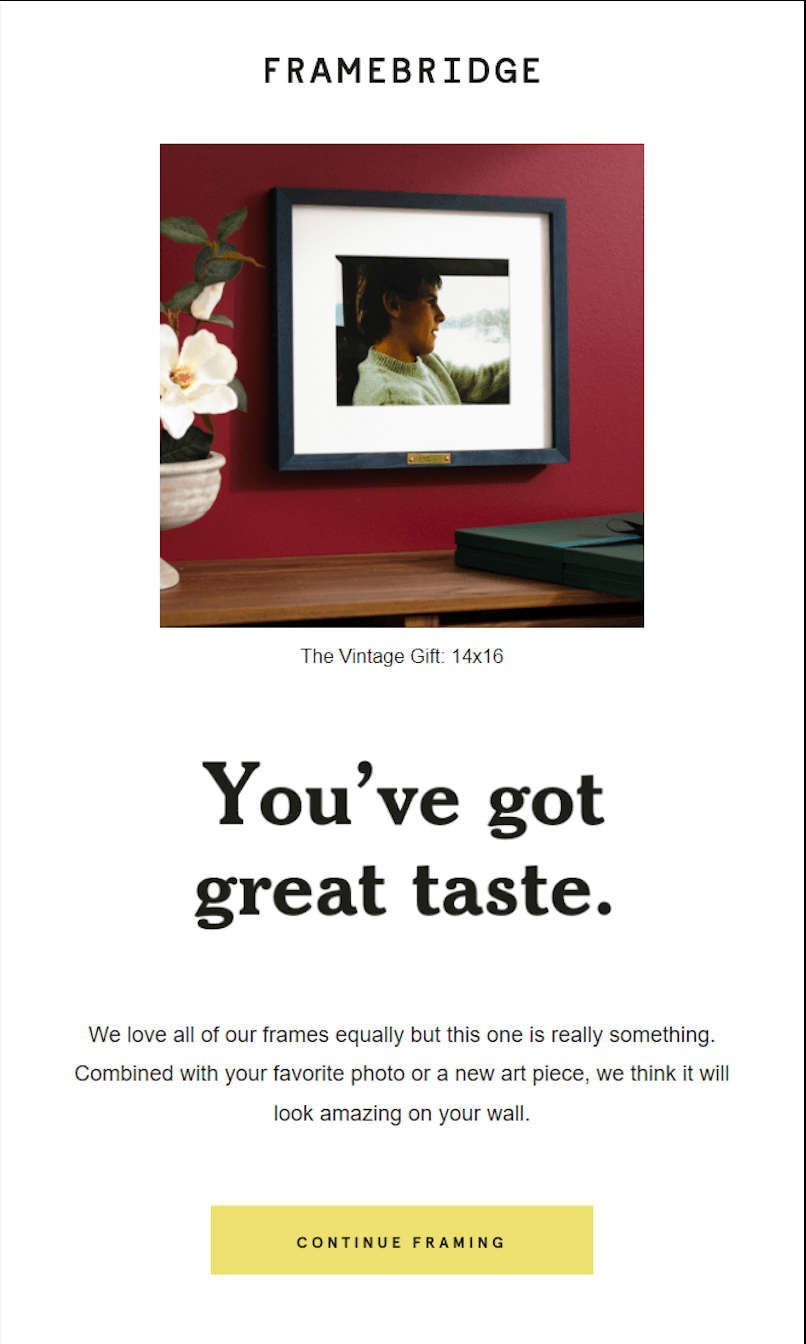 Automation trigger: Visiting a product page without buying
Pro tip. Show not only the products the recipient has viewed but also related recommendations. There's a chance they didn't find what they needed, but you actually have it.
Gather Feedback
The best way to know what your customer thinks about your product or your brand is… to ask them. Yep, that obvious.
A review email is an excellent finish to your automation sequence. Sent out a few days after the product was bought, it asks the customer to share their experience.
A review is an invaluable source for valuable insights and can be used as a testimonial to promote your products.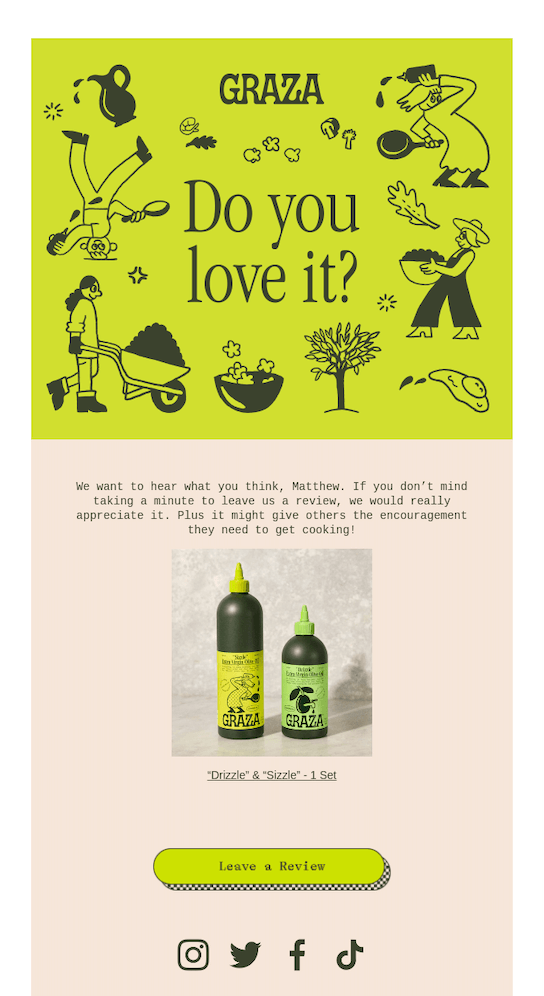 Automation trigger: A product was bought X days ago
Pro tip. Making the review process as simple as possible for the user decreases the chances of leaving it. For example, you can include an interactive review block in the email, so the customer wouldn't have to open another window to leave their review.
If measuring satisfaction and gathering feedback is your main goal right now, make sure to check out this article: Measure Satisfaction: 9 Survey Email Templates & Examples
Win Back Lost Customers
Automated winback emails aim at customers who haven't interacted with your brand in any way for an extended period. They warmly welcome and nudge them to return by offering an attractive incentive like a special offer or exclusive discount.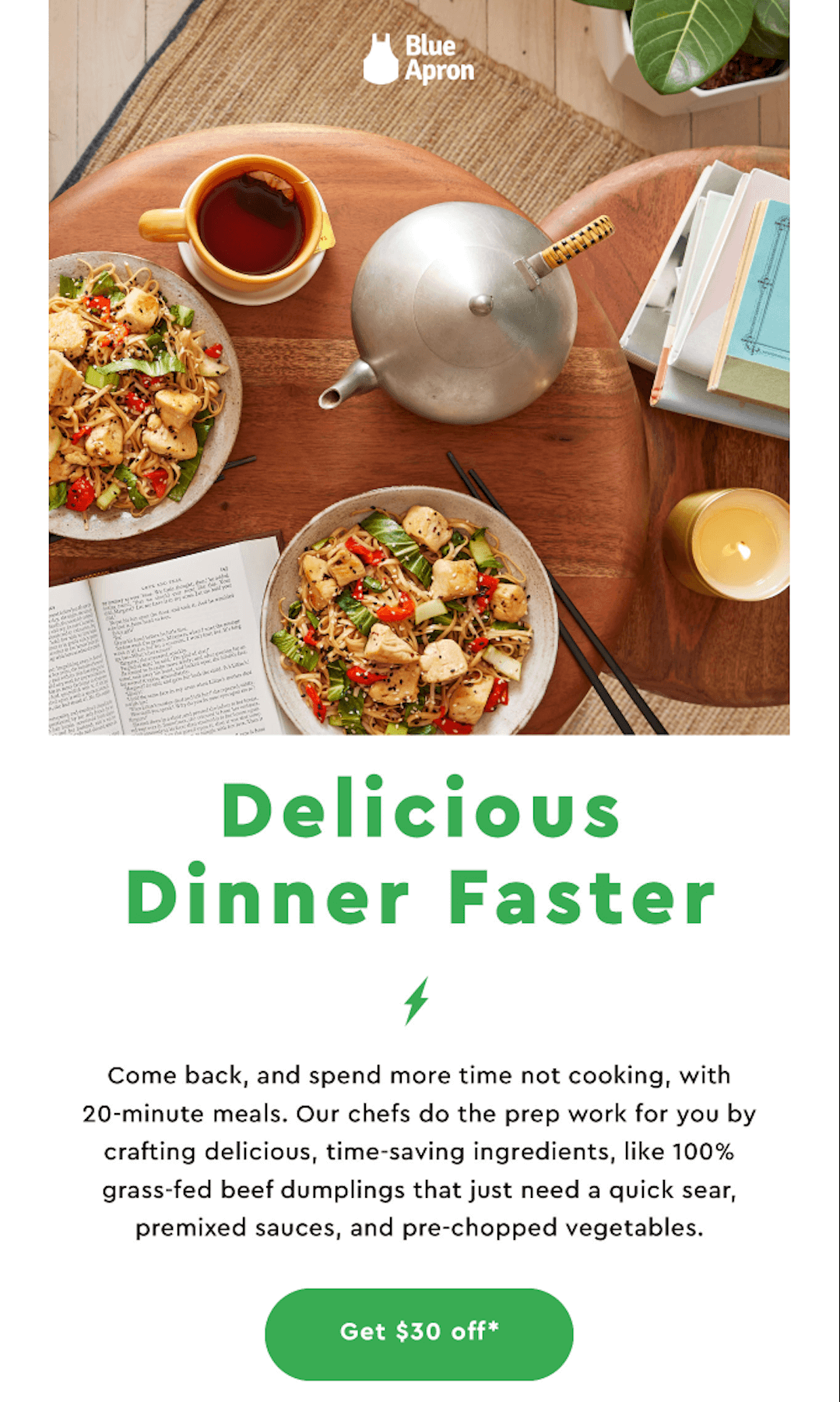 Automation trigger: Being an inactive customer for X days
Pro tip. Don't let your arms down if the first email in the winback sequence doesn't work. Send a 'last chance' email focusing on the value of your offer and remind of the time limit to use it.
Email Marketing Automation Tools
Given how competitive the market of email marketing automation tools is, some might promise you the world. So, it's important to choose wisely. Here's our list of the tools most worth your attention:
1. Sender – The Best Marketing Automation Feature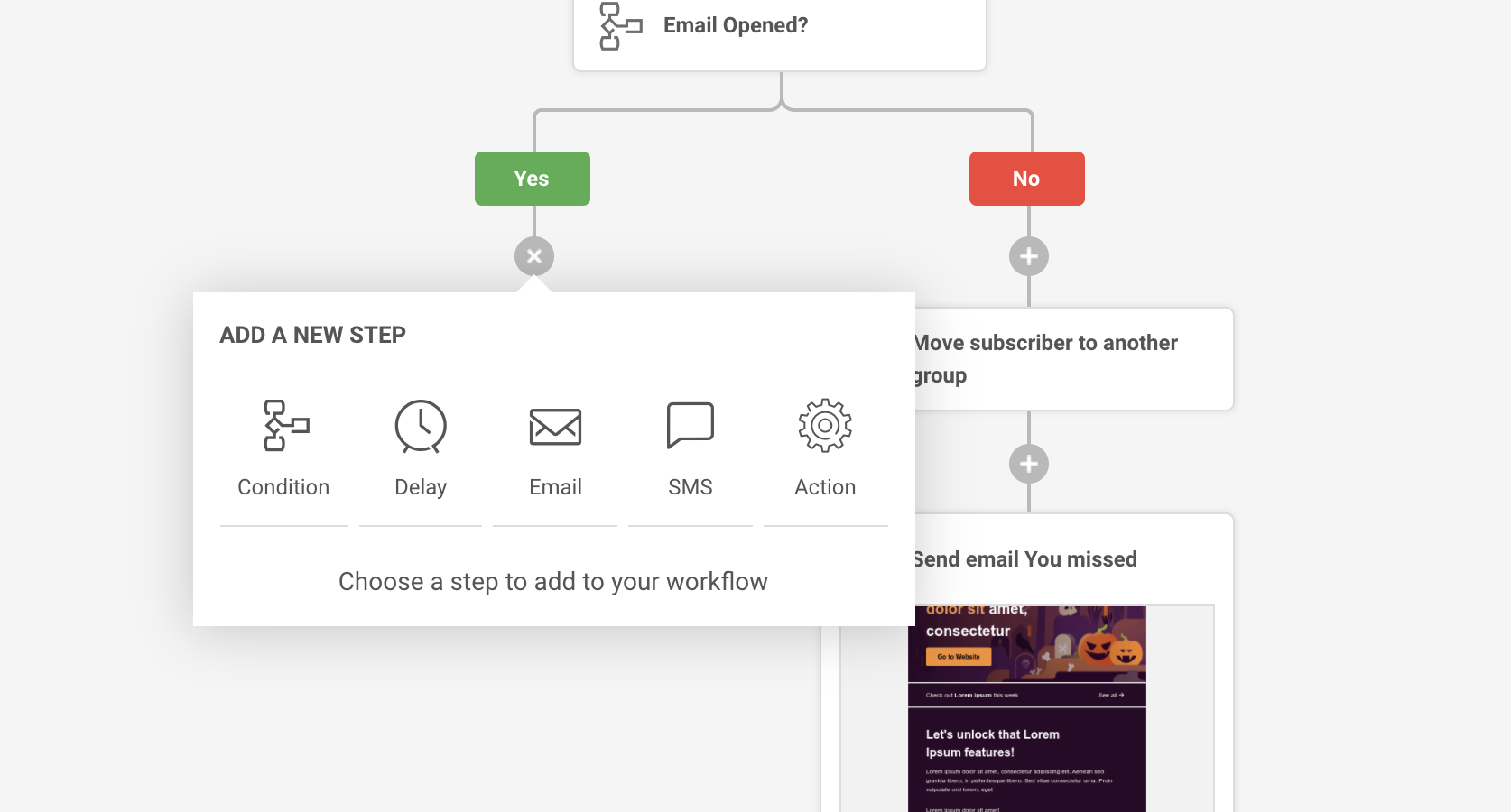 It does everything an email automation software should do slightly better than others. Easy to use and feature-rich, it also supports SMS campaigns.
So the next time you think of "high-conversion" instead of just an auto email responder (another fancy term for email automation), you should think of advanced SMS automation and perhaps a mixture of both.
Integrations are available to connect with Zapier, Magento, WooCommerce, WordPress, PrestaShop, and other platforms, including advanced API. You will be able to send highly converting newsletters that grow your business.
Unique automation features:
Smart email & SMS automation;
Drag-and-drop automation sequence builder;
Pre-built automation workflows;
Custom triggers;
Live reports.
Pricing:
Forever-free pricing plan for up to 2,500 subscribers with zero restrictions and feature limits;
Paid plans start at $8 monthly for sending up to 30,000 emails.
2. DRIP – The Best Email Marketing Automation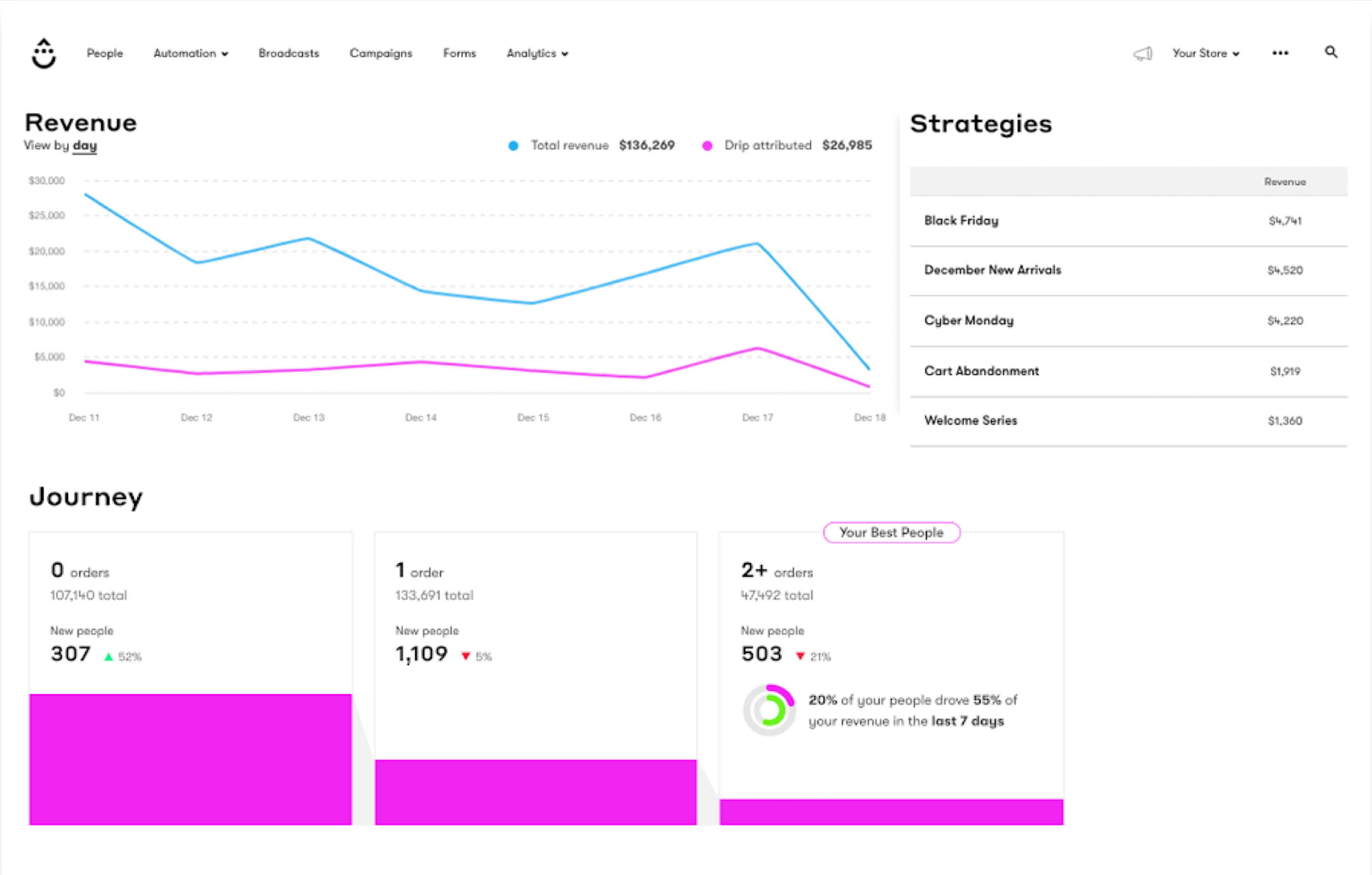 DRIP's focus on advanced automation and personalization allows businesses to create sophisticated email marketing workflows. The platform offers a powerful workflow builder for creating complex and highly customized automation sequences. Its segmentation options are also pleasantly surprising, enabling precise targeting based on specific criteria, such as demographics, behavior, or engagement.
Unique automation features:
Visual workflow builder for creating complex automation sequences;
Personalization features for dynamic email content;
Behavioral tracking and segmentation for targeted campaigns;
Integration with ecommerce platforms for automated sales funnels;
Robust analytics and reporting.
Pricing:
Free 14-day trial is available;
Paid plan starts at $39 per month for 2,500 subscribers and unlimited emails.
3. HubSpot Email Marketing – The Best CRM Features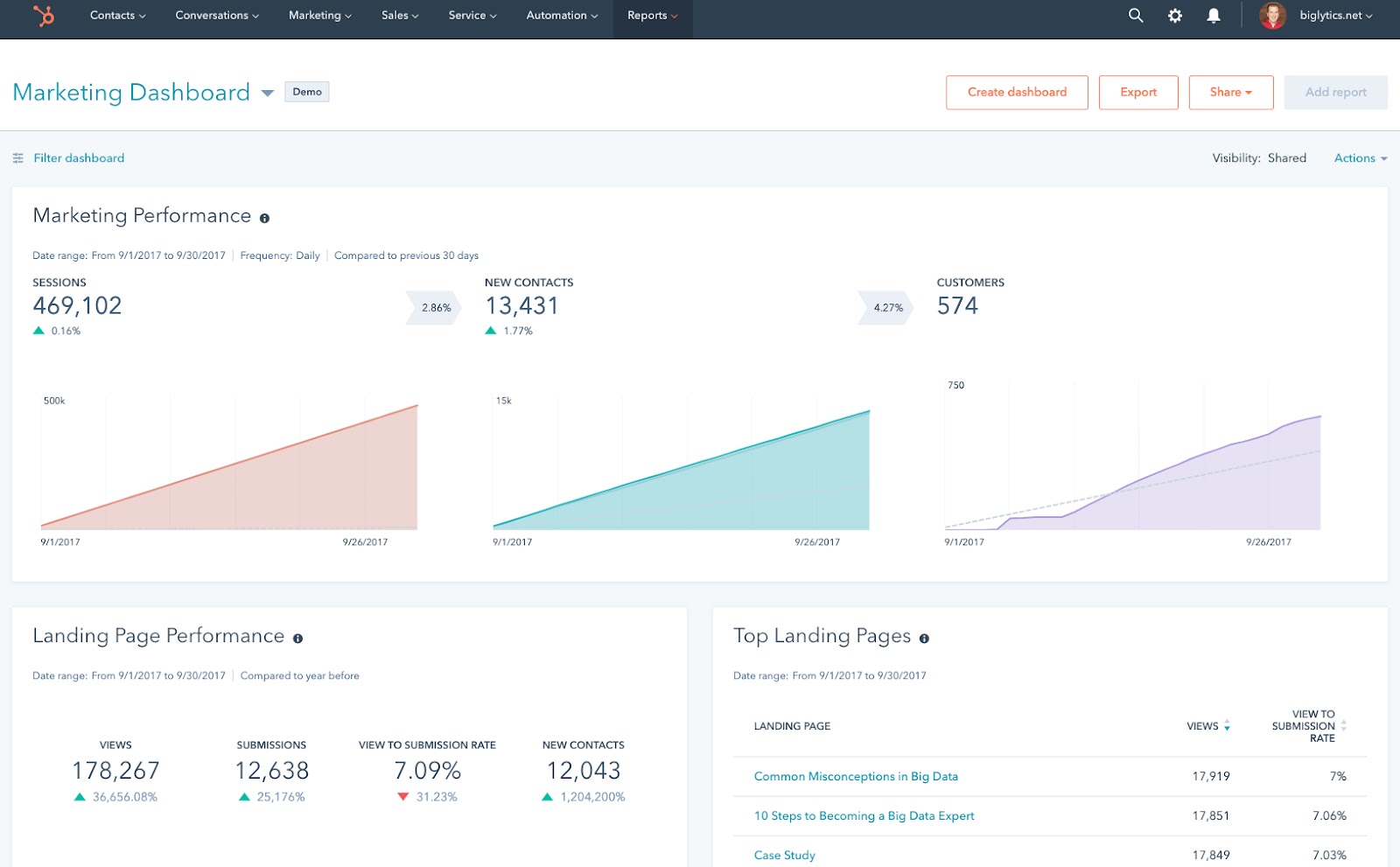 Hubspot's content-driven marketing is so good that they end up being everyone's first choice for free and basic email automation needs when starting.
Primary use cases for Hubspot include inbound marketing and CRM features built to serve a hungry and crowded sales pipeline. So, whether you need to send a simple thank you email or set up a recurring email marketing campaign automation, HubSpot is up to the task.
Unique automation features:
Robust automation capabilities;
Complex workflows editor;
Contact management and segmentation;
Personalization and dynamic content;
A/B testing.
Pricing:
Paid plans start at $18 per month for up to 1,000 email subscribers;
Limited-time free trial is also available with feature restrictions.
4. GetResponse – Marketing Platform for Freelancers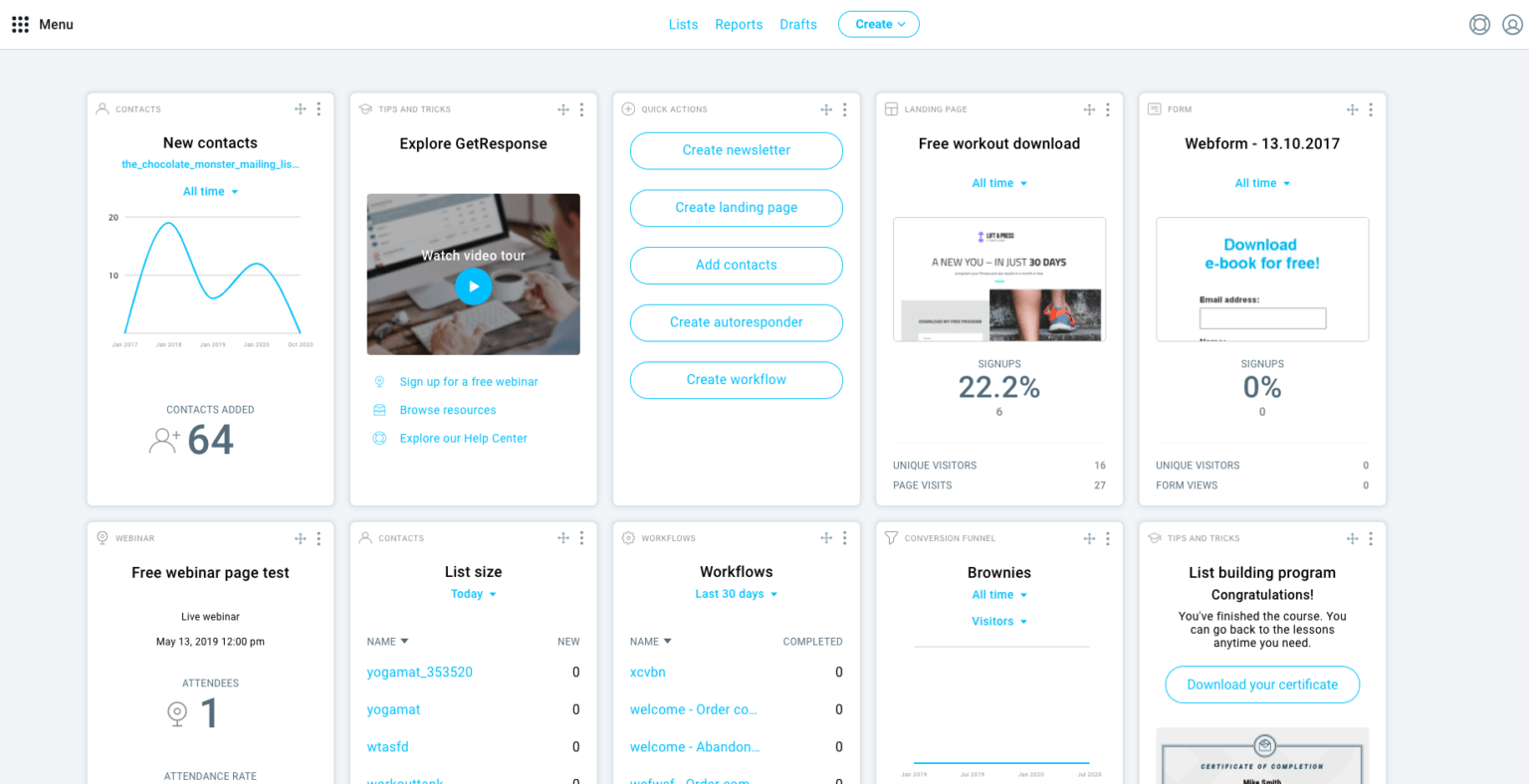 GetResponse is a feature-rich marketing automation tool offering novel features still rarely encountered in other specialized email automation softwares.
Freelancers, listen up! Adding to the bunch of already serious automation features, GetResponse also includes live chat, a webinar hosting tool, and an AI-powered website generator.
Unique automation features:
Advanced segmentation feature;
Prebuilt workflows;
AI subject line generator;
Easy autoresponders set up;
Detailed email campaign analytics.
Pricing:
Free 30-day trial;
Paid plans start at $14/month but only provide basic segmentation, and email automation is strictly limited to autoresponders.
5. Brevo (Sendinblue) – Marketing Platform for Smaller Businesses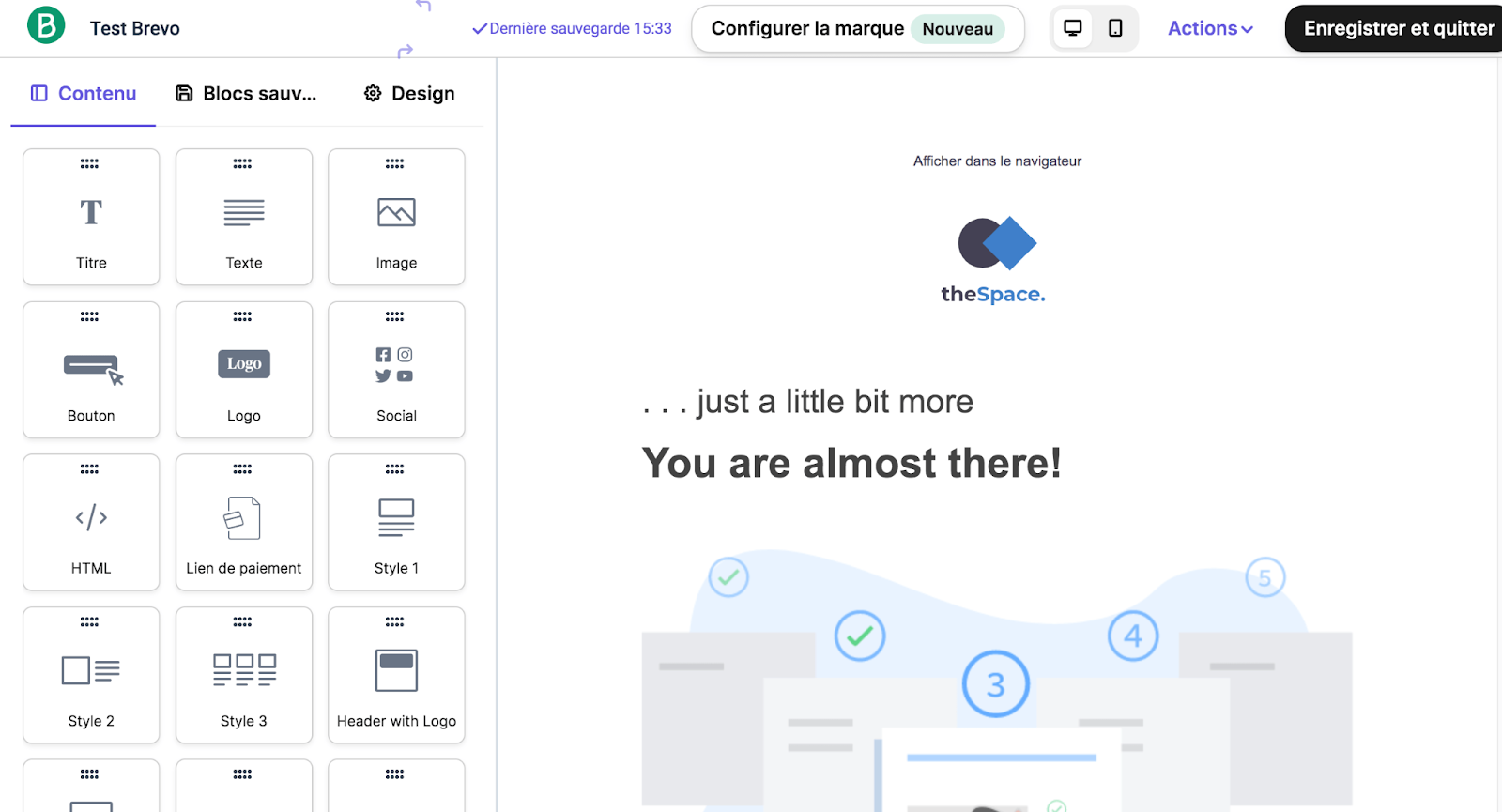 If you come from a small-to-medium business (SMB), Brevo's marketing automation software might have already been on the radar. Offering rich email automation features, it also makes linking to your website breezy using API, SMTP Relay, or a plugin. You don't need to monitor purchases; the platform automatically sends an email with order confirmation details.
Unique automation features:
A selection of prebuilt workflows;
Dynamic content and smart recommendations;
One-click integrations for WordPress, Shopify, Prestashop, and Zapier;
Extensible API allows to create custom plugins for unique triggers;
High email deliverability.
Pricing:
Free for up to 300 email send-outs per day;
Paid plans start at $25 per month.
Email Automation FAQs
What is email automation workflow?
Think of an email automation workflow as your assistant that sends emails on your behalf, all based on specific triggers and conditions. With email automation, you can be sure that your subscribers get timely communication that feels personalized and engaging.
For instance, when someone signs up for your newsletter, the automation welcomes them with a warm and friendly welcome email. Without you lifting a finger! Later, the workflow can automatically send follow-up emails to keep your audience interested and informed.
Why do you need email automation?
From ecommerce to service-oriented startups, businesses across various industries can reap the benefits of email automation. Here are some advantages it offers:
The workforce is no longer preoccupied with manual email sent-outs, resulting in lower costs;
Automating the sending and replying process saves time;
No more routine emails allow better focus on business strategy implementation;
Scheduled welcome emails immediately warm up new leads;
Automated email sequences ease leads' journey through the sales funnel;
No matter how extensive is the email list, each subscriber can receive a personalized message;
Setting up an automated email sales funnel costs a fraction of the cost compared to other channels like PPC and social media advertising;
Targeted, personalized messages sent at the right time increase customer retention rates.
---
Author bio
Vesta Oldenburg is a content writer specializing in email marketing strategies. In her daily work, creativity intertwines with a strategic mindset to create content that captivates its readers.