Like what you read?
Apply it in practice with Sender.net - the most cost-effective email marketing solution in the market.
Try Sender for free
Just about everyone and their dog is talking about email automation these days. Is it being overrated as an email marketing strategy?
If not, then what real-world business problems does it solve? And what email automation use cases are possible for e-Commerce businesses?
We throw the spotlight upon all of these and much more in this article.
What is Email Automation?
The best definition would be – email automation is the process of sending emails automatically based on a trigger. This trigger could either be a user action (i.e., the user does something) or a predetermined time delay.
Now, why automate the sending of mails when we can do it manually?
Now, it is no secret that email marketing works. Period. Think about it, what's not to like? Low-cost and High ROI (Return on Time, Money, Effort Investment)!
But simply sending out broadcast email newsletters to your entire list does not solve every business problem.
For example, let's say you are hosting an e-learning course that people sign up for. It is only natural that you send them all a welcome email the moment they sign up.
And then another email a week later, maybe, softly nudging inactive users to start logging inside their course portal and making good use of it.
An ecommerce example would be when a user buys a product from your site. Now, wouldn't it be nice to slide inside their inbox with a "people who bought that bought this too recommendation" a couple of days later?
Or sending out timely birthday wishes to your prospects and customers—blog updates. You get the point.
The fact is that far too many business scenarios exist that need automated email reminders and communication to go out to a user to improve their experience of prospecting or using your product. At scale. Something that's not possible manually using Gmail or Outlook!
Email automation solves this problem for us. Think of it as an automated email-sending system.
For instance, for the e-learning example above, you could set up an automatic welcome email sequence to go out to new subscribers the very second they sign up.
How Effective is Email Automation?
Statistics talk for themselves here:
Automated email marketing generates 320% more revenue than non-automated emails
Source: emailbroadcast.com
We hope it's enough for you to keep reading and digging in deeper.
Benefits of Email Automation
For a business, staying connected to its customers is non-negotiable. But this doesn't simply mean bombarding their inboxes and feed with what-have-you.
It's more important to be there for them when they need you. Email automation helps you communicate the right information at the right time. Doing this can have almost magical benefits, including:
Nurturing ensures a great user experience leading to enhanced brand loyalty.
Maintains top-of-mind recall space for your brand inside your prospect's heads.
Allows for a deeply personalized journey for each user, leading to higher engagement and vastly better conversions, for example targeting people based on their behavior, preferences, or previous sales. This hugely increases relevance.
It helps avoid leakage of sales revenue through optimizations. For example, cart abandonment emails as explained below.
Improves conversions through both potential as well as existing customers.
An Automated email campaign provides prospects and customers with a consistent brand experience.
The whole process is fully automated and does not require manual intervention.
In short, email automation helps you generate more leads, increased sales, and better ROI from your email campaigns while maintaining top customer satisfaction and saving you tons of time and effort.
7 Must-have Automated Email Flows for Ecommerce Businesses
Exist a lot of email marketing automation strategies and flows. The most relevant ones for e-commerce businesses are described below.
Welcome & Onboarding Emails to New Subscribers
Whenever you sign up for anything online, you expect an acknowledgment from the business you just gave your email address to.
The onboarding welcome email is that all-important piece of communication that sets the right expectations among the subscribers and shows them the next step forward.
It also offers an excellent opportunity for a warm business introduction to help subscribers understand how you can help them.
Your welcome sequence could be single welcome newsletter automation thanking the user for their interest, OR your automated welcome email could be a part of a drip campaign involving a series of emails taking the reader through a journey.
Your welcome series emails need to be to the point, and the content (or text content) oriented towards the immediate benefits of associating with you. These can be formal or informal, depending upon your niche, level of membership, and overall brand tone.
Whether you are a SaaS company or an ecommerce business, automating this welcome mailer is critical because it needs to go out the moment a new member signs up.
A great example of an onboarding email by the green environment startup, Stripe Climate.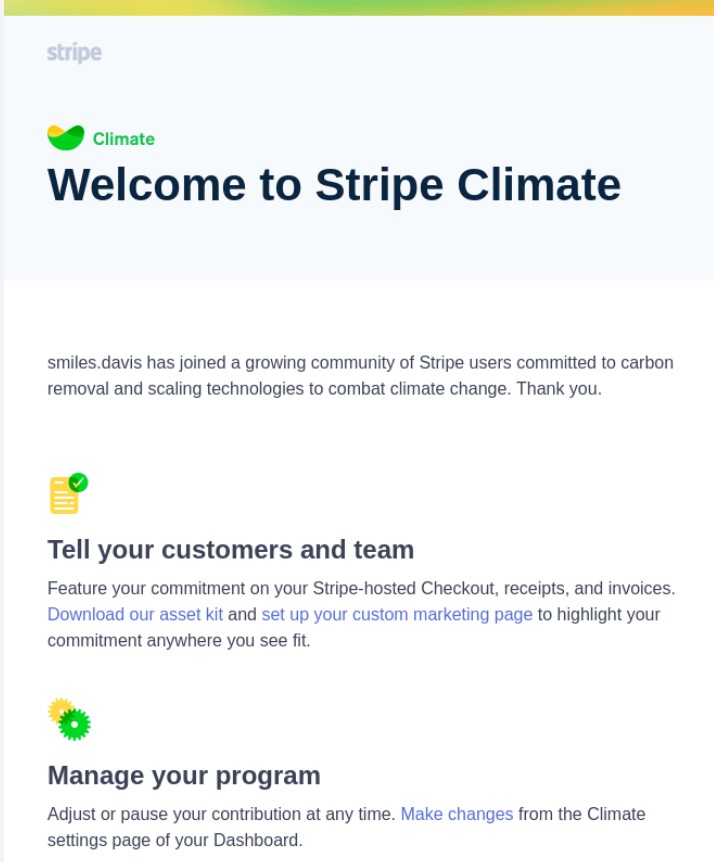 Source: original Stripe Climate email
Also read: 25 Attractive Short Welcome Messages for Customers
Abandoned Cart Email Automation Flow to Fix Revenue Leakages
Shoppers abandoning carts before completing payment is a major source of revenue leakage for eCommerce businesses. Reasons range from trust issues and lack of friendly payment options all the way to hidden costs and extra shipping fees.
If the reason for cart abandonment is clearly understood and it's something the ecommerce business can address, then an automated email sequence could serve them some friendly or funny copy to get them back on your site and transacting away happily.
E.g., an email offering FREE shipping or an extra discount.
Best practices dictate that this be a series of emails instead of a single reminder.
For example, you could send the first email about 2 hours following the abandonment. The second reminder email could be after about 12 hours and the last after 24 hours.
While this is an excellent idea for getting customers back to your online store, you have to be mindful of GDPR recommendations and guidelines while doing this though.
A nice way to implement this is as shown below by furniture and clothing ecommerce store, Bombinate.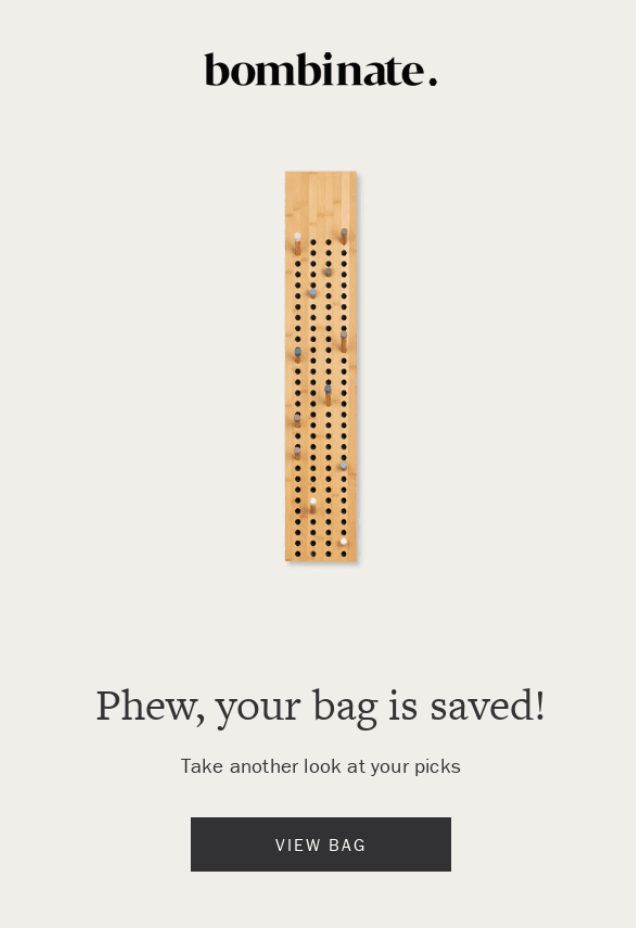 Source: original Bombinate email
Also read:
3. Automated birthday greeting email
A fantastic way to claim a special place inside the hearts of your prospects. You surely would be in their thoughts on days. Show them that they matter and make them feel like a superstar.
This could be a happy birthday email or anniversary wishes sent as an SMS message. Ensure you ask for important dates in the prospect's life at some point in your signup forms.
Personalize it while keeping it professional and classy.
Do it right, like fitness technology major, Fitbit, below.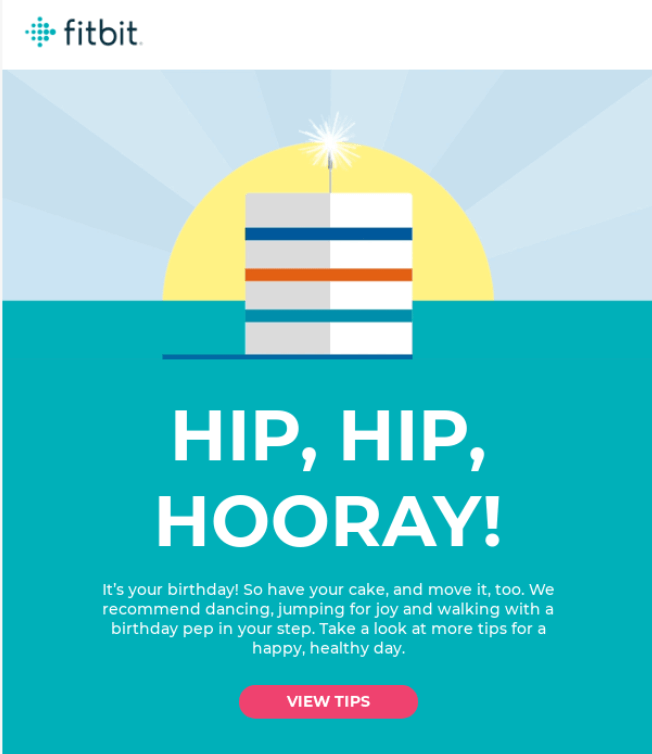 Source: original Fitbit email
4. Win Back Email Automation Flow
Also called a re-engagement email flow, this can be used to "revive the dead" customers that have stopped buying from you. The idea is to give them something so enticing that they must reconsider your business again.
Best examples of win-back campaign email series would be introducing exclusive loyalty programs, top discount offers, smart recommendations (based on prior purchases).
Businesses often see this as an inseparable part of a successful email marketing strategy since it is easier to reengage existing and prior customers than to attract and convert new ones using marketing.
GoDaddy does a decent job of this.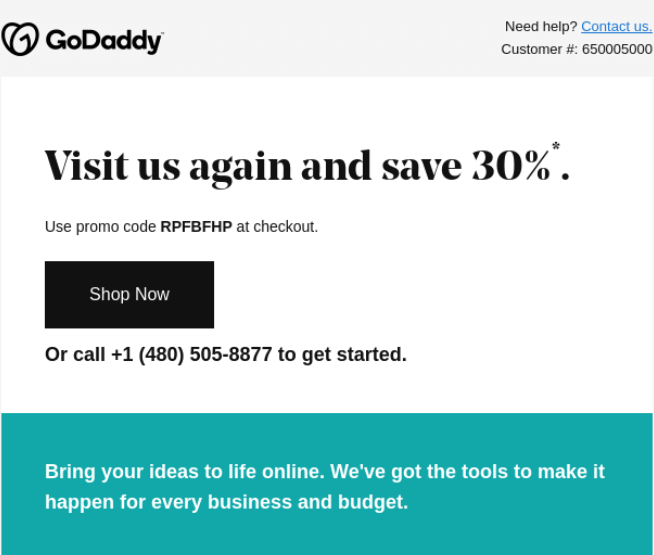 Source: original GoDaddy email
Also read: 20 Abandoned Cart Emails Templates & Best Practices
5. Order Confirmation & Shipping Tracking Emails
It fosters trust when within minutes of placing an order and completing checkout at your favorite online store, you get a lightning-fast email from them thanking you for the payment and confirming the purchase.
Businesses can take this a level further by intimating the customer through an automated email when their product is packed and ready for dispatch. And another email to the buyer containing the shipping confirmation, tracking details, plus the ETA for delivery.
Trust is the foundation of any ecommerce business online, and you can easily establish that with your customers with something as simple as a message in an email.
Online clothing store Roark sets the tone.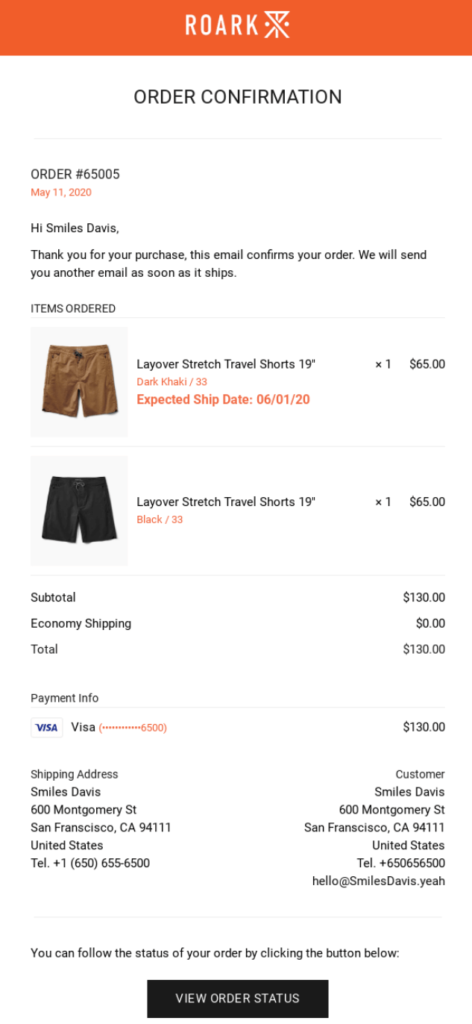 Source: original Roark email
Also read: 12 Order Confirmation Email Template Examples
6. Customer Feedback Emails Automation Flow
All leading online ecommerce stores that care about customer service run a customer satisfaction survey.
A satisfied customer will always come back for repeat purchases and even go as far as to refer our business to other customers' word-of-mouth.
Whether the product was bought at an offline retail store or through online shopping, gathering reviews or even attempting to collect customer feedback is crucial.
This will inform us about our processes and the overall customer experience (Cx).
User-generated content can be great social proof for other users looking to buy the same product.
An automated email workflow requesting the user for a review or filling up questionnaires and setting up to go out after a predetermined period is an effective way to get this done.
Here's an example by MeUndies on keeping it short and friendly.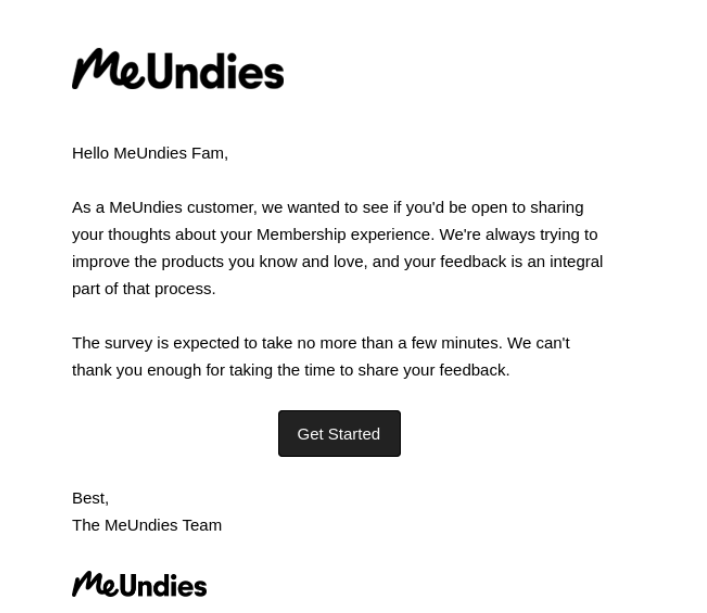 Source: original MeUndies email
7. Product Recommendation & Upsell Email Automation Flow
Sending personalized product recommendations or suggestions based on what the user had already purchased before or browsed just now is an excellent recipe for higher conversions.
We aim to use email automation to instantly send customers emails and products that will be relevant and interesting to them.
Online cloud storage vendor WeTransfer does it in the style below.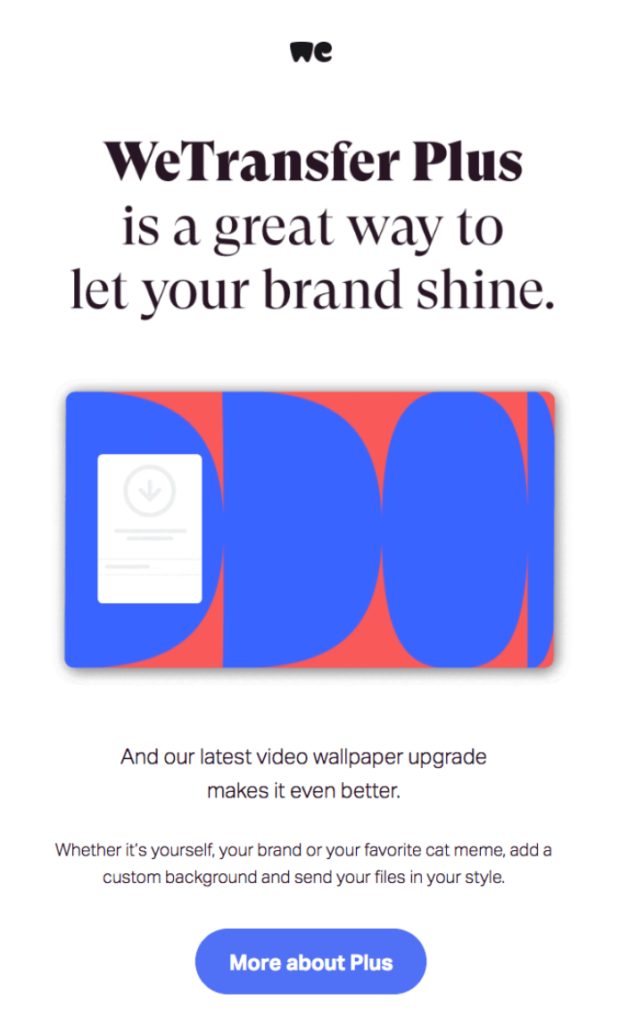 Source: original We Transfer email
How to Choose the Best Email Automation Tools
Choosing an email automation tool is difficult—especially given the massive influx of many SaaS companies working hard to produce excellent software.
As a user, you would lean towards the following general features as a must-have in any email automation software you choose.
Ease of use—Are you able to whip it out without hesitation and get the job done? If yes, bingo.
If not, it may lack intuitive design or workflows – maybe the UI, UX, or both suck. A complex learning curve can put off most users because, ultimately, the tool has to work for the business requirement and not the other way round.
In-built support for most common types of email automation, including welcome emails, abandoned cart emails, re-engagement or win-back emails, post-purchase follow-up emails, Referral emails, Discount emails, Date triggered emails & more.
Availability of a rich library of editable, responsive, and visually optimized email newsletter templates that are easy to modify and publish in one go.
Adopted by & regularly used by a large set of running businesses at scale, indicating trust and confidence in the product.
While quite a few email automation softwares do these, we think the following stand out regarding how effortlessly they do it.
It does everything an email automation software should do slightly better than most. Easy to use and full-featured, it comes with in-built support for SMS campaigns.
So the next time you are thinking "high-conversion" instead of just the auto email responder (another fancy term for email automation), you also should think of advanced SMS automation and perhaps a mixture of both.
And all of this at surprisingly affordable plans, including a FREE FOREVER plan that allows you to keep sending a maximum of 15,000 emails to up to 2,500 contacts every month for a lifetime! No feature restrictions whatsoever.
Integrations are available to connect with Zapier, Magento, WooCommerce, WordPress, PrestaShop, and other platforms, including advanced API. You will be able to send highly converting newsletters that actually grow your business.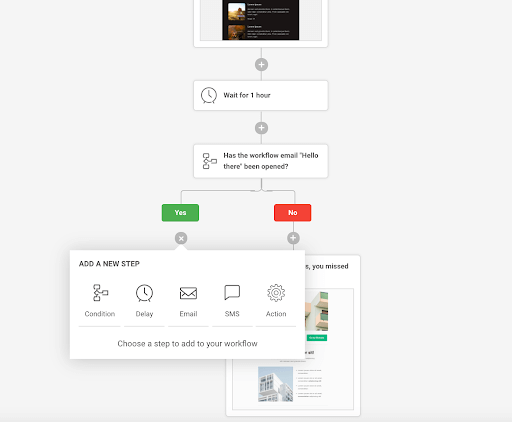 MailChimp offers a high-quality AI-powered all-in-one Marketing platform that supports a range of marketing automation requirements.
Examples of email series (or automated emails sequences) that you can send out on behalf of your ecommerce business include abandoned carts, birthday emails, automated emails to new subscribers on your blog, including any other custom workflow you might need.
While it allows automated emails to be sent out reliably, its biggest disadvantages relate to a less-than-intuitive (sometimes confusing) interface and the lack of support for sending SMS messaging to your customers.
Hubspot's content-driven marketing is so good that they end up being everyone's first choice for FREE and basic email automation needs when starting.
Primary use cases for Hubspot include inbound marketing and CRM features that are built to serve a hungry and crowded sales pipeline.
Whether you need to send just a simple thank you email or set up a recurring email marketing campaign automation, HubSpot is up to the task.
Sending automated emails for various use cases can be a breeze with Hubspot, even with their FREE tier, which works great if you only have a basic workflow in mind. But expect things to get a lot more complex and expensive as your requirements increase.
Constant Contact is one of the oldest email marketing tools (we are talking 25 yrs+), Constant Contact offers solid email automation features at affordable prices. As a result, your drip campaigns are easy to set up and even simpler to optimize and maintain.
Send out automated email series such as an abandoned cart, abandoned checkout, a welcome sequence with simple one-click editing.
Despite the long years of experience, their system and designs are outdated. The whole platform lacks innovation.
Master Email Automation Flows
Email automation is the process of putting your email marketing strategy on steroids. So much you can get done in an automated fashion, and get done well, that it cannot be put on the back burner anymore.
Every business that lives in constant denial that they are better served by at least one email automation sequence will end up being conquered by the competitor who actually implements them. Sender got you equipped with advanced multi-channel automation – start today.
Content Contributor – Santosh Balakrishnan