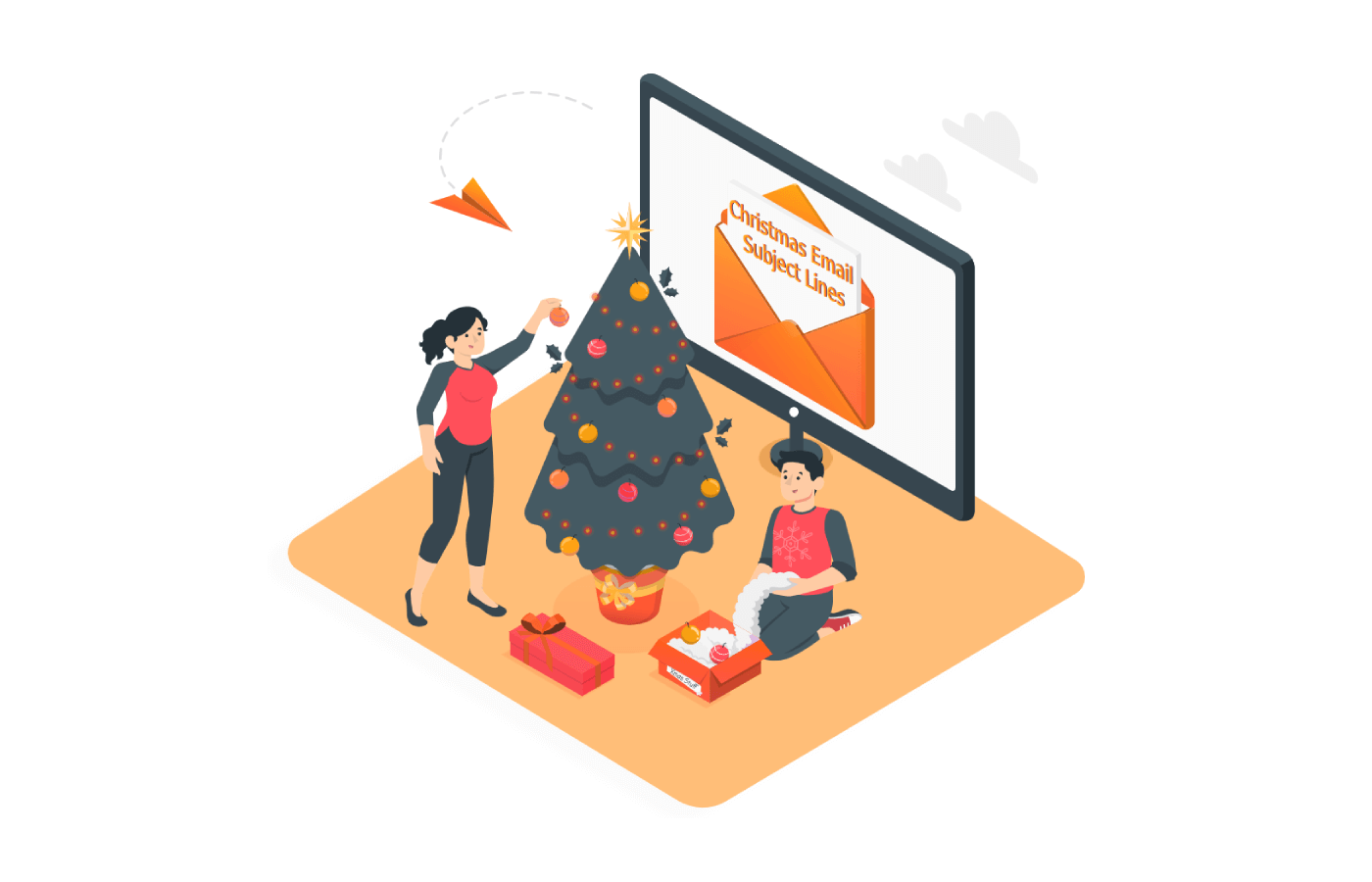 6+ Powerful Christmas Email Subject Lines
It's finally here! Christmas time! And now that the holiday season is here, consumers will be busy searching, shopping, and giving.
As for marketers, they see Christmas time as a great opportunity to gain more revenue. One of the ways that marketers will do this is through email marketing.
However, with email marketing comes some challenges that might put a lump of coal in marketers' stockings.
One of the challenges comes from trying to come up with an attractive email subject line that goes well with the holiday season.
If a subject line isn't good, then recipients will skip the entire email, and the message will get lost in the flood of emails in one's inbox.
So, if you really want to catch people's attention in their inbox with an attractive subject line, then stick around!
Here are 6 of the best Christmas email subject lines to starting using, now that Christmas is here!
Choose the best Christmas subject line for your email
We describe every subject line to make it easier to choose the right one for you.
1. Want It By Christmas?
First of all, people are already shopping and waiting for their gifts to arrive via mail, Fedex, etc.
However, before delivery is discussed, there's the question that needs to be asked by you, the emailer: "Want it by Christmas?"
Subject lines that mention "delivery by Christmas" (or a variant of it) creates a promise that customers will get certain gifts by Christmas if they order them now.
Since customers are normally interested in last minute offers and urgent delivery, it's great to create urgent shipping possibilities in your subject lines.
2. You Got A Present! [Insert emoji]
Who doesn't like getting presents? By letting recipients know that they received "a present," you'll most likely get them to click on your email.
Plus, don't shy away from using holiday emojis in the subject line. These small icons help subject lines stand out, and make the message feel positive with Christmas cheer.
Most popular emojis for Christmas you can use in your subject line:
⛄ – Snowman.
❄️ – Snowflake (not recommended if your audience living in countries where there is no snow).
🦌 – Deer.
⛪ – Church. Recommend adding this one if it is an invitation to visit a church, also we recommend to read 8+ Church newsletter ideas.
🌟 – Glowing Star.
✨ – Sparkles.
🎁 – Christmas presents. Recommended to add this one, if you want to send Christmas discount for your customers.
🔔 – Bell.
🎅 – Santa Claus.
3. Up To [# %] Off Great Gifts For Everyone On Your List (Including You)!
Plus, who doesn't want to save money? Basically, sales and discounts are the draw, when getting people's attention with a subject line.
As long as you get to the point with what you will offer to your customers, you're giving them a reason to shop from you.
By offering them incentives like discounts, offers, freebies, etc. you're assuring customers that not only will they find gifts to buy, but that they'll also save money doing so.
4. Need Last Minute Gift Ideas?
Email recipients are more likely to pay attention to urgencies or scarcities, rather than a casual email.

says Jessica Reynolds, a marketing blogger at Origin writings.
With a 'Need a Last-Minute Gift Idea?' subject line, you're creating an urgency for recipients – especially actual last-minute shoppers.
5. Merry Christmas From All Of Us At [Brand]!
Now, you might consider using "Merry Christmas, "Merry Xmas," or "Happy Holidays" in your subject line.
However, "Merry Christmas" is used more often than the other two.
In fact, many marketers will tell you that "Christmas" is much more popular to use in a subject line than "Holidays."
6. Seasons Greetings From [Brand]
The phrase "Seasons greetings" is good at helping you connect with your recipients on a deeper emotional level, especially at the end of the year.
In fact, a simple Christmas greetings subject line may be all that you need. This lets you share the joy, tug on some heartstrings, and set the mood.
So, if you want that special connection with your customer, then a "Seasons greetings" subject line is the way to go.
This will allow customers to respond "because it's Christmas," not to be baited to buy something from you. Again, you're setting the mood, and tugging some heartstrings.
Biggest Takeaways for your Christmas Subject Line
So, when crafting your Christmas email subject lines, it's important to keep the following objectives in mind:
Urgency matters. Power words like "last minute," "delivery by Christmas," etc. will make waves, and cause recipients to react.
Customers like special offers, where in the form of discounts, freebies, etc.
Use "Christmas" in your subject lines, since that word is used more than "holidays."
Conclusion
So, now that you have plenty of inspiration for your Christmas email subject lines, it's time to make your move!
Consider A/B testing a couple of the subject lines discussed in this article; and you'll see which ones work the best for your emails.
We hope that this list will not only greet Christmas cheer to your marketing endeavors, but you'll also spread the cheer to your customers will great subject lines!
We also recommend to read:
---
Author bio
George J. Newton is a writer and editor at Originwritings and Nextcoursework. As a business development manager, he helps companies set their priorities and manage workflows.