Employ your powerful emails
Increase sales and engagement by sending your well-designed emails with Sender.
Get Started For Free
Around this time of the year, regardless of the size of your online business, you're likely gearing up for one of the biggest holiday sales events — Christmas!
Everyone says a killer Christmas newsletter could boost your quarterly sales without spending a penny more. But how do you craft a killer Xmas newsletter campaign that draws in sales while also giving your customers a chance to soak up the warmth of this blessed season of joy?
The good news is that you don't need to wrestle with complicated AI writing software or empty your already strained wallets on expensive copywriters to send a few awesome Christmas emails.
Here are some killer Christmas newsletter ideas and examples that we hope inspire your next blockbuster Christmas email campaign.
Christmas Newsletter: 3 Stages of December Emails
While sending a custom-branded Happy Holidays newsletter is a nice thought, it will not be enough to help you enter the new year with the satisfaction of having pulled bulging sales over the holiday season.
It helps to optimize your Christmas email and campaign's performance by spreading it across three distinct phases:
Pre-Christmas
During Christmas
Post-Christmas
The biggest change across these phases would be your marketing message and how it gently guides the prospect toward becoming a paying customer.
Pre-Christmas
Over 68% of consumers start their Christmas winter shopping before or at the beginning of December.
Assumingly that is even partly true, its easy to see that a huge chunk of sales can be made by simply asking the prospects before someone else does.
Use these types of emails to:
Generate desire;
Build anticipation;
Raise brand awareness;
Bring in some pre-sales;
Types of Christmas newsletters you are likely to send in this phase:
Early bird discount emails;
Special offers to previous/ loyal customers;
Wishlist emails, gift guide emails;
Advance sale announcement emails, coming soon teaser emails.
The idea is to be creative, if not funny, and to create enough desire to motivate action through unbeatable offers and easy-to-understand messaging.
During Christmas
No matter which niche you are operating out of, or the type of specific prospect you are trying to sell to, Christmas days are family times, and as such, are likely to be very busy for them.
Best kept short and offer-focused, these emails are best-written weaving below persuasive elements:
Scarcity;
Urgency;
Exclusive deals for e.g. FREE shipping upgrade;
Wondering what type of a Chrismas newsletter would fit in on the d-day? Here are some December ideas for email topics.
Christmas wishes emails;
Thank you post-purchase emails to buying customers;
Exclusive special offer emails;
Deadline reminder emails; "It's not too late" emails (with special shipping upgrades);
Abandoned cart sequences;
Other promotional emails include upsells, downsells, and cross-sells.
Post-Christmas Emails
It is a given that many of your prospects missed your once-in-a-lifetime offer simply because they were building snowmen with their children instead of glancing at their inboxes.
An end of year post Christmas newsletter helps you target both those who missed the Christmas boat and those who are waiting to finish their shopping during New Years.
You will be sending the following types of emails to your prospects and customers:
"Did you miss this offer" emails;
Discount emails;
Thank you post-purchase emails to customers;
Upsell, downsell, and special upgrade emails to existing customers;
New year offer emails; Year-end special deal emails;
Abandoned cart emails.
Remember the adage, "if you never ask, the answer's always no!"?
While this phase is not likely to be as high-performing as the others, it will still keep your brand top-of-mind and add extra revenue.
During holidays like Christmas, you should consider using an easy-to-use email and SMS automation tool to help you save time in tough and busy holiday times. See how you can automate your emails with Sender: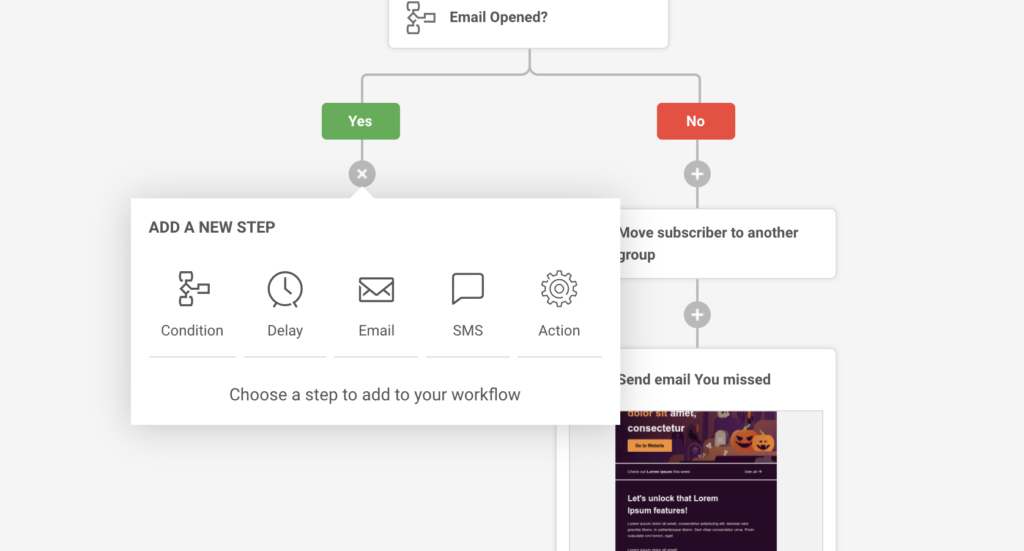 Fun fact: Americans are estimated to be spending nearly $6.6 billion on Christmas trees alone in 2022. Despite tough economic times, Christmas cheer seems to be alive and kicking!
Christmas Newsletter Examples by Popular Brands
We gathered the best examples of Christmas-themed email newsletters. Some are outright funny, while others just focus on conveying the season's greetings. But take our word for it; they all made a strong impression on us.
Here are our best December newsletters to inspire your creativity.
Merry Christmas Newsletter
If your company looks at the Christmas newsletter as just another business email that simply wishes your prospects and customers, it'll not work. Instead, it must be a genuine expression of joy and care in a way that makes your reader feel touched. And there are a lot of different ways you can do that.
Fossil, an American watch, accessories, and lifestyle brand, does it in a fun way through its email down below.
Subject line: From All Of Us At Fossil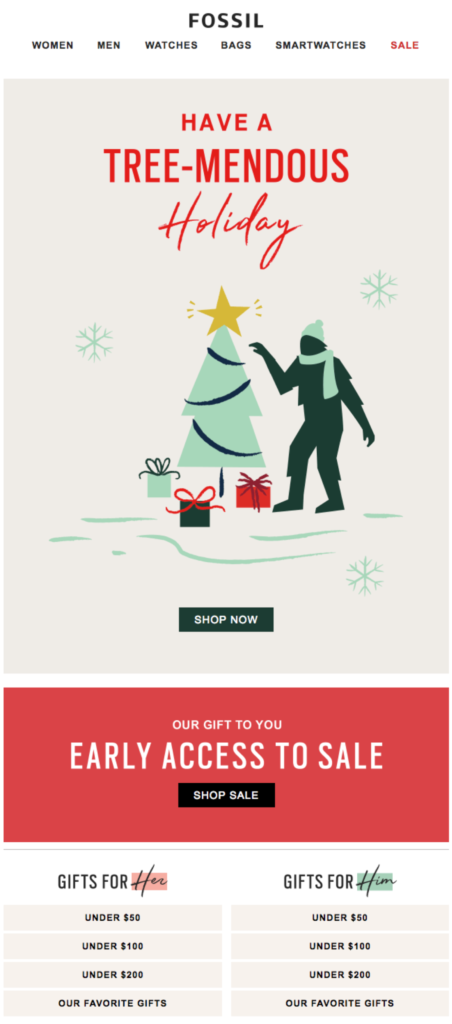 As many as 40% of Christmas shoppers started buying as early as before the end of Oct (2021). So you might as well stop wasting time and offer your prospects and loyal customers early access to the sale. And that's exactly what Fossil is doing via this email.
What we loved:
An apt choice of a simple yet attention-grabbing creative;
Admirable use of wordplay (the word "Tree-mendous") in the headline, making it fun to read;
Clean typography;
Neat & elegant email design.
What could make it even better:
Including a more intriguing subject line, preferably with first name personalization;
Highlighting the FREE standard shipping offer through a banner at the top of the email.
Santa Claus Newsletter
Quick question.
Why did Santa's helper visit the doctor?
Because he had a low "elf" esteem! 😆
Your emails don't have to start and end with "ho ho ho" or carry silly jokes like the one above, but they must definitely imbibe the Christmas spirit in leaps and bounds.
Rifle Paper Co, a stationery and home decor accessories brand, shows us its picture-perfect way of doing this.
Subject line: Black Friday: 30% Off Everything!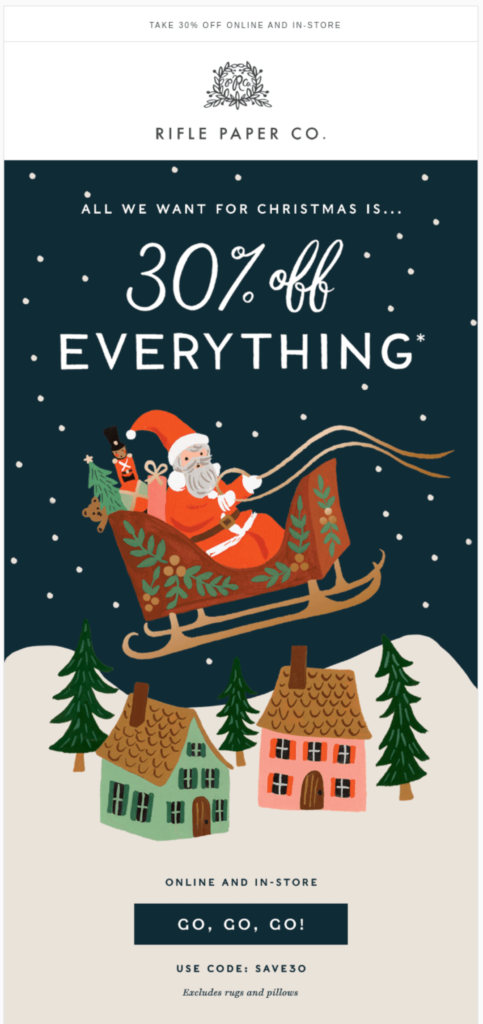 More often than not, your prospect only cares about your offer, and when you have an incredible deal, you don't necessarily need an amazing copy or outstanding creatives to support your message.
Rifle Paper Co's email is all about the offer — 30% OFF everything, online and offline. And their email makes this crystal clear.
What we loved:
Offer focused email with a fantastic creative to boot;
Ingenious call to action (CTA) (Word/ phrase "Go Go Go" instead of "Ho Ho Ho");
Color coordinated, eye-catching email design
What could make it even better:
Personalization in the email body. E.g., Marie, all we want for Christmas is…
Merry Christmas Holiday Season Greetings Newsletter
It's not always about dollar discounts and freebies for yourself when it comes to Christmas deals. Giving precedes all receiving, and that is the spirit of Christmas.
Language learning platform Memrise does its bit to remind us about the joys of gifting.
Subject line: Did someone say 3 months free this Christmas?! 🎄
Preview text: Tis the season of giving, and we're giving you a gift to generously give to your friend…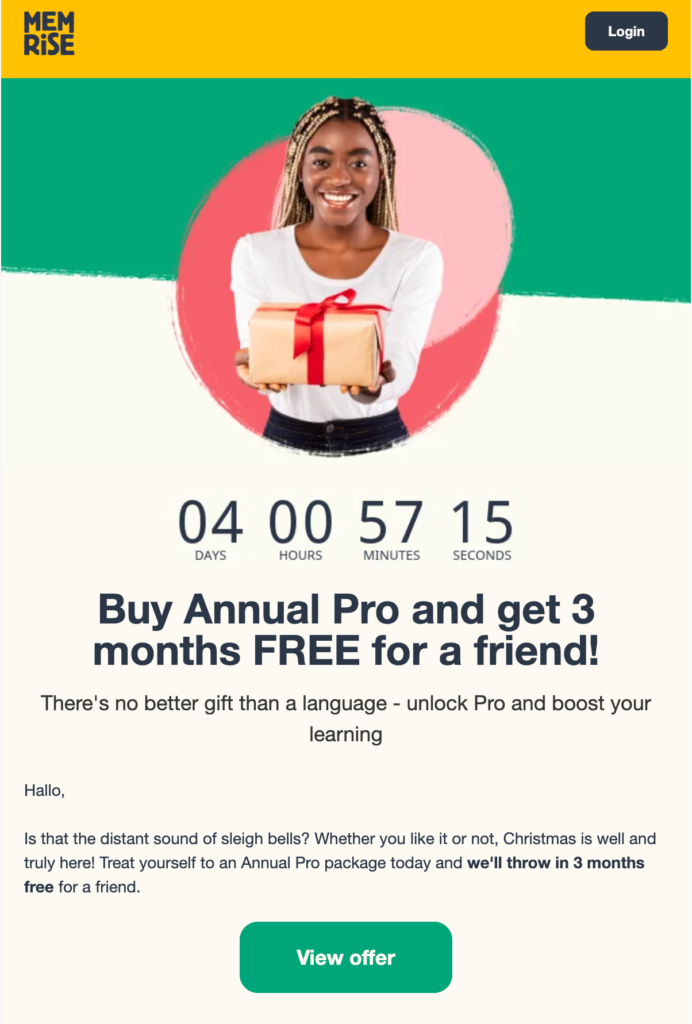 With Memrise's email campaign, users are nudged to upgrade to the Annual PRO plan and are rewarded with 3 FREE months to share.
What we loved:
Use of a countdown timer to inject a sense of urgency into the reader's purchase action;
A clear, benefit-driven headline that communicates the offer as-is;
What could make it even better:
A stronger CTA. For instance: "Master a Foreign Language Now";
Optimized preview text, its far too long;
Optimized typography for the body paragraph text in terms of font choice and bigger size (between 16-18px);
Creative Christmas Newsletter
Christmas is that time of the year when your prospects read and introspect more than usual. This also presents an almost-perfect opportunity for your business to get creative without limits because no one's judging you 😍
1973 Ltd, a B2B digital marketing agency, took a larger-than-life, altruistic approach with its email below.
Subject line: A Christmas message to bring us together…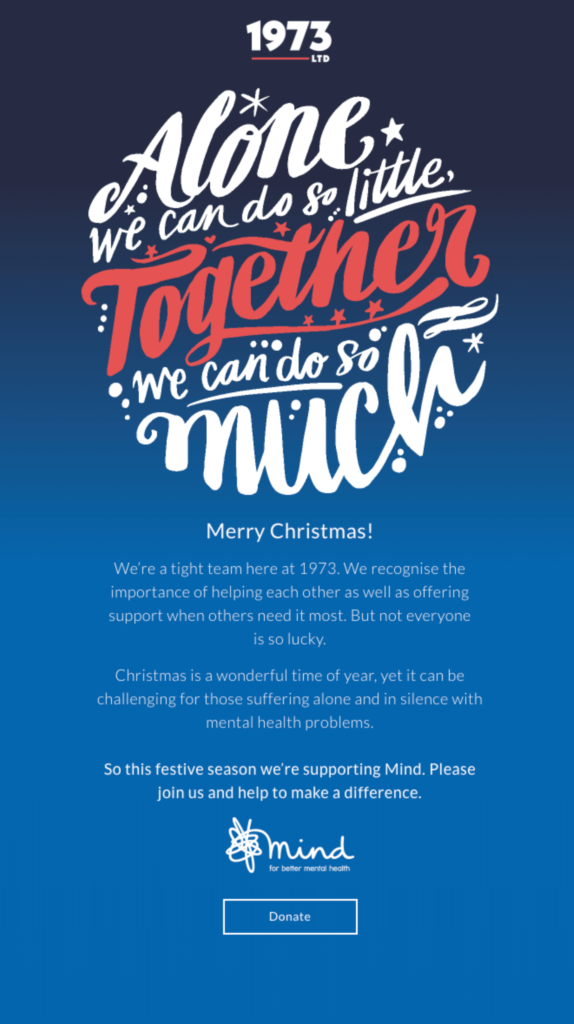 While every other digital marketing agency approached their Christmas newsletter campaigns with the hopes of adding new high-value leads to their sales pipeline, 1973 Ltd decided to impress upon their list the importance of giving.
They used their email to solicit donations for a mental health charity called Mind. We're sure this hit home with many readers who possibly went through difficult times of a related nature, either themselves or with any of their loved ones.
What we loved:
Thoughtful and creative, circular word wrap design towards the top;
Simple messaging explaining the context of the email;
Simple and elegant email design with a great choice of background color that makes the text highly readable.
What could make it even better:
Using first-name personalization within the email body text may yield better results by making it look like a very specific ask.
Christmas Wishes Newsletter
Having a stellar email campaign in place for the holiday season, starting from Thanksgiving all the way to New Year, is a must.
Preparing well in advance is another must because it not only gives you a chance to rope in more prospects who've started Christmas shopping already but also a chance to test out everything.
Birdy Grey, a bridesmaid and groomsmen wedding wear and accessories specialist, comes out with this innovative email campaign.
Subject line: Color coordination 💯
Preview text: And 25% off for 🐶👧!

This email doesn't just promote their usual bridesmaid and groomsmen collections but also, very smartly, matching accessories and wear for kids and pets. It goes to show you that when you market your service the smart way, every market is a blue ocean, no matter the niche or the season.
What we loved:
An apt subject line, especially the smart use of emojis here and in the preview text as well;
Beautifully crafted email design that looks so pleasing to the eye;
The use of relevant creatives of real people and pets goes to show they've definitely put a lot of effort into getting this email right.
What could make it even better:
If this email were personalized with the reader's or their pet's name, this would be even more endearing to them.
Christmas Sale Newsletter
Ecommerce sales for the holiday season are estimated to touch $239 billion in 2022. So safe to say cometh the season, and suddenly everyone's a buyer.
If you performed well during BFCM, Christmas presents an equal, if not more important, opportunity to blow through your sales & revenue targets for the year.
Natural dog vitamins & supplements retailer Finn's Christmas newsletter is worth taking a quick look at!
Subject line: Oh no! Christmas is only 10 days away

Christmas brings good tidings and plenty of joy and peace. However, it can also be a very frantic time with family and friends joining in.
So, if you are one of those pet owners who hasn't been able to properly take care of your pets or spend a lot of time with them, Finn's email will definitely make you feel better. Instead of the usual, "hurry up, we're running out of stocks, and you, out of time…", Finn puts you at ease, telling you there's still time and that you can still make it alright.
What we loved:
The subject line—because that's how a real person would say it;
Simple messaging that conveys the offer as it is;
Great mobile-friendly email design;
Attractive product visuals.
What could make it even better:
Including emojis in the subject line or personalization in the email body text. At this point, we've likely lost track of just how many businesses take this tiny yet important detail for granted!
Happy Holidays Newsletter
Greeting your prospects and customers with the best deals and holiday discounts is an excellent way to make their holiday season extra special. However, sometimes what your subscribers need is more than the intent to buy, but rather, clarity on what to purchase.
Directing them to gift guides with ideas for purchase and gifting is one of the simplest ways to help them with their Christmas shopping. In their email below, Moment, an online retailer of photography accessories and equipment, illustrates this.
Subject line: The 2022 Gift Guides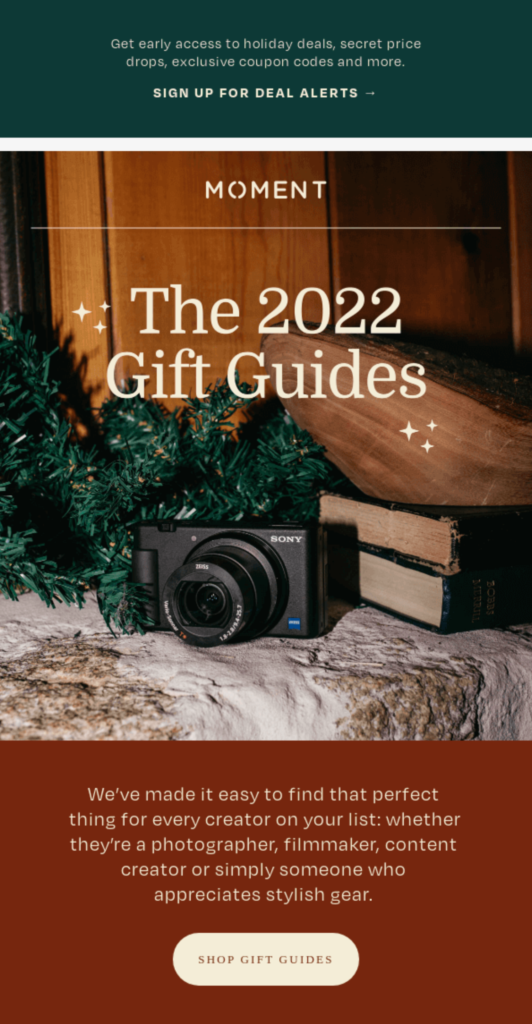 Moment's primary audience is a mix of photographers, filmmakers, and mobile content creators. Unfortunately, because there is so much overwhelm caused by information overload, most of these creatives often have a hard time choosing what they need.
Moment's gift guide aims to educate the prospect so they can make smart and guided choices with minimal effort.
What we loved:
Smart creatives that are incredibly on-brand for Moment;
Exquisite email design;
Mention of brand USPs just above the email footer.
What could make it even better:
Including personalization;
Incorporating social proof in the form of testimonials;
Injecting a sense of urgency as to why they should download the gift guide now?
Christmas Work Newsletter Ideas
You can do so much in that Christmas newsletter you've planned for December. From announcing special deals and free shipping to providing gift cards and holiday gift guides, you have more than just a few ways to make your prospects and customers happy.
Handmade home decor, gifts, and jewelry retailer Novica steps up its game for the holiday season.
Subject line: Gifts Sale… along with 50% off Express Shipping!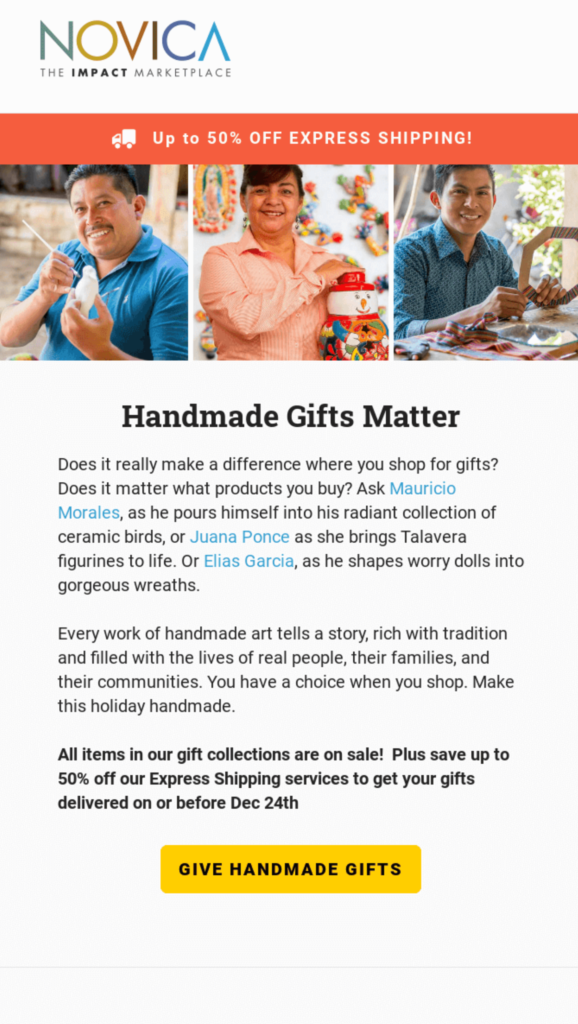 Image source: Novica
Novica stands out as a marketplace because it primarily aims to strengthen the bond between you and over 2000+ global artisans by enabling you to buy handmade products directly from them.

Their email is more than just a promotional email asking for a sale. After telling the uninitiated as to why handmade gifts are essential, it helps you connect deeply with the artisans creating your products through authentic images and storytelling.
What we loved:
The Clear 50% off express shipping offer mentioned on the banner;
Real day-to-day pictures of artisans in action that help you strengthen your deeper sense of why you would like to purchase from Novica;
Storytelling approach that tells you more about who's making it and why
What could make it even better:
Adding a tinge of urgency or scarcity could do wonders to the engagement;
Merry Christmas Promotional Newsletter
Your promotional Christmas newsletter doesn't have to be earth-shatteringly weird or downright crazy to stand out inside your subscriber's inbox.
A great offer that's rare to find at other times of the year, plus simple messaging that conveys this effectively to your target audience, is all you need.
In its email below, leading online gaming platform Chess.com invites readers to think beyond themselves and gift a subscription to someone who needs it.
Subject line: Looking for The Perfect Chess Gift This Holiday?
Whether you are a grandmaster or just starting out, chess.com needs no introduction. The email comes with a compelling subject line and looks eye-catching as well. It explains in detail as to how someone could benefit from a gift subscription before telling you how easy it is to gift one to your closest family and dearest friends.
What we loved:
We love planting the thought of gifting a subscription inside your reader's head—it's likely they'll get sales from this email, so why not let them be new subscribers? Great idea!;
Concise explanation of benefits that the new subscriber will receive;
What could make it even better:
Use of personalization to make the email sound more personal and relatable;
Make the offer a discounted one, include a deadline, and then use an animated countdown timer to emphasize the need for action.
Funny Christmas Newsletters
Your Christmas newsletters don't have to be as rib-tickling funny as the scenes where the bad guys get beat up in the movie Home Alone. But they can definitely be fun and make your readers smile. And that'll only cost you a tiny bit of imagination and nothing else.
Software reviews and rating marketplace G2 came up with a fantastic poem-like composition requesting the reader to review their favorite softwares. Check it out below.
Subject line: Happy Holidays from G2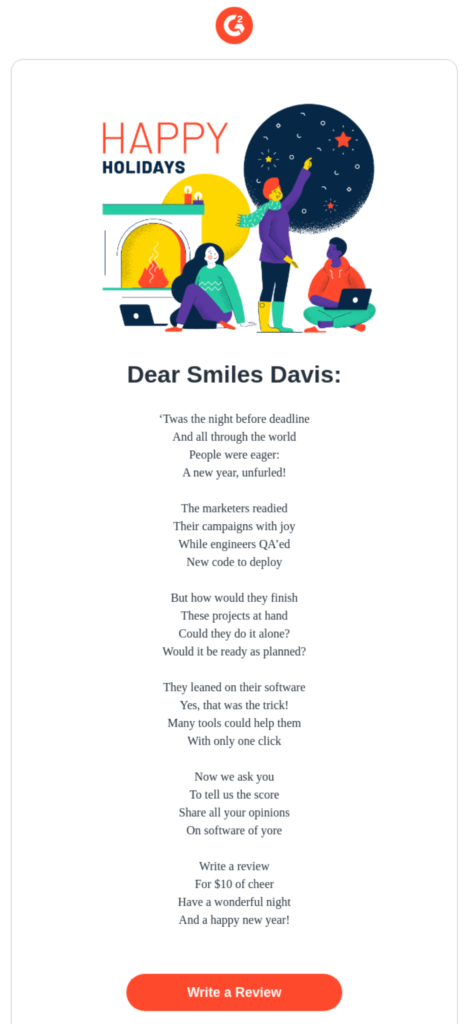 Image source: G2
G2 relies on the community and users sharing their extensive experience working with SaaS software across all domains. G2's regular email campaigns adopt more of a 'carrot' approach, offering a small cash incentive in lieu of an honest and detailed review. They decided to change how the content was presented in this case, and we loved it!
What we loved:
Innovative & fun content with a poetic structure against a highly readable white background;
Personalization inside the email header using the reader's complete name;
Apt and welcoming CTA—'Write a Review'.
What could make it even better:
Nothing we'd like to change here. The simplicity of the email is just amazing;
Light-Themed Christmas Newsletter
​​Light-themed newsletters look beautiful and can be a great addition to your Christmas email marketing strategy. You can use a bright-colored theme in your Christmas newsletter and grab attention through themed vectors. Have a look below: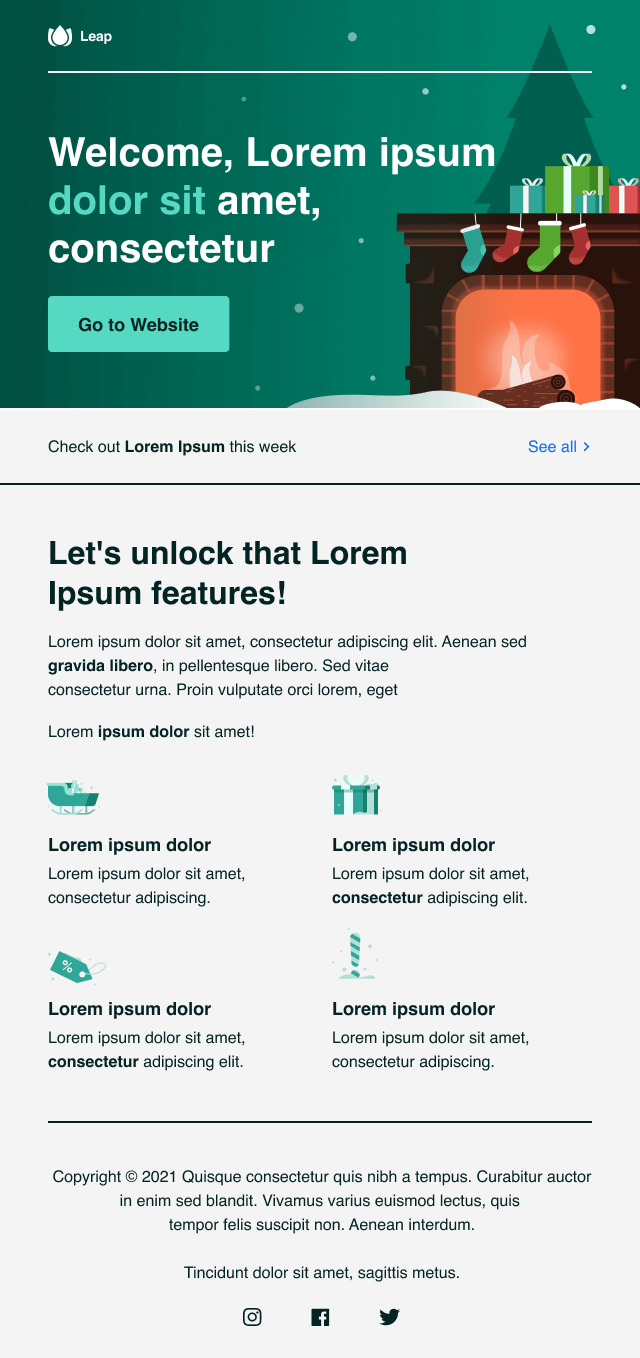 This Christmas newsletter template has ample space to greet subscribers and share a special holiday deal (or product). The header section image is warm and cozy, appealing to the Christmas shoppers. Plus, using icons associated with holiday deals, Christmas, and the festive mood adds to the Christmas spirit.
What we loved:
Use of Christmas colors and icons;
Block design and a clear CTA button;
Use of Christmas graphic in the email header.
What could make it even better:
Compelling copy could make it a great email for introducing Christmas deals or products.
Dark-Themed Christmas Newsletter
Dark themes are often associated with tech products and web apps. But it can be attractive for your following Christmas email, too. It appeals to many shoppers who like a twist and will also help you highlight Christmas colors in your email.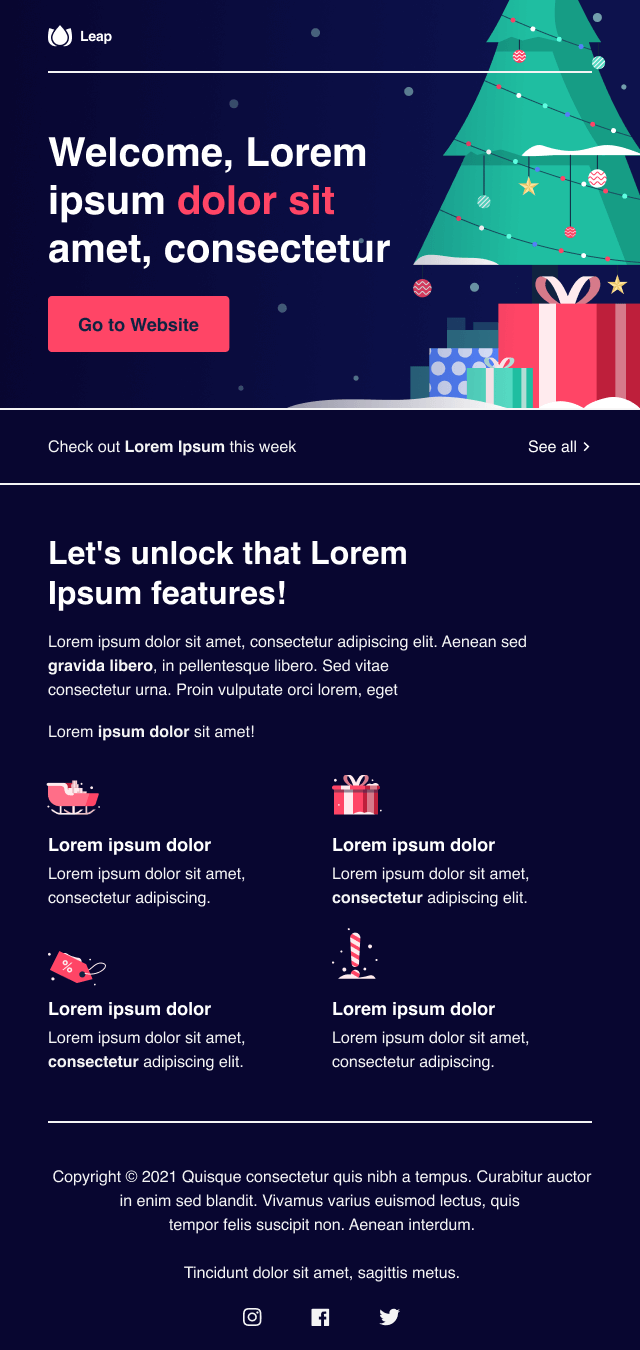 The dark background works as magic for the Christmas illustrations and icons. They appear beautiful and bright, highlighting the Christmas spirit at a glance. The colors red and white undoubtedly give the 'Santa' vibe, making it an excellent template for your Christmas gifting emails.
What we loved:
Red-colored elements on a dark background;
Sectioned layout for different bullet points;
Use of Christmas-themed icons.
What could make it even better:
A center-aligned Christmas-themed header with a large image would make a better impact.
7 Christmas Newsletter Ideas For Business
There is no such thing as an easy promotion. Particularly those centered around the holiday season that's also expected to generate tons of December sales amid intense competition and challenging economic times.
The one question then on every business owner's mind is how to start a Christmas newsletter. But don't worry; we won't let you succumb to the writer's (or, in this case, the creatives') block!
Here are some creative ideas to ensure you always have enough topics to create the perfect December newsletter that crushes sales.
1. Announce Upcoming Christmas Deals
One of the best ways to combine emails with any business activity is to use them to announce deals. Since most businesses will have some special discounts or offers for the Christmas to New Year period, newsletters can be used to announce them.
Additionally, many customers and clients will be looking for deals, especially in the retail and ecommerce sectors. Buying presents is, after all, a major part of the holidays.
Christmas Designers, a 40 yr old Florida and Texas-based Xmas decorations and lights retailer, shared their best Christmas deals using the below email more than a month in advance.
Subject line: Deck the Halls With Up to 25% Off Greenery!
Preview text: From wreaths to starburst trees, find your favorite way to…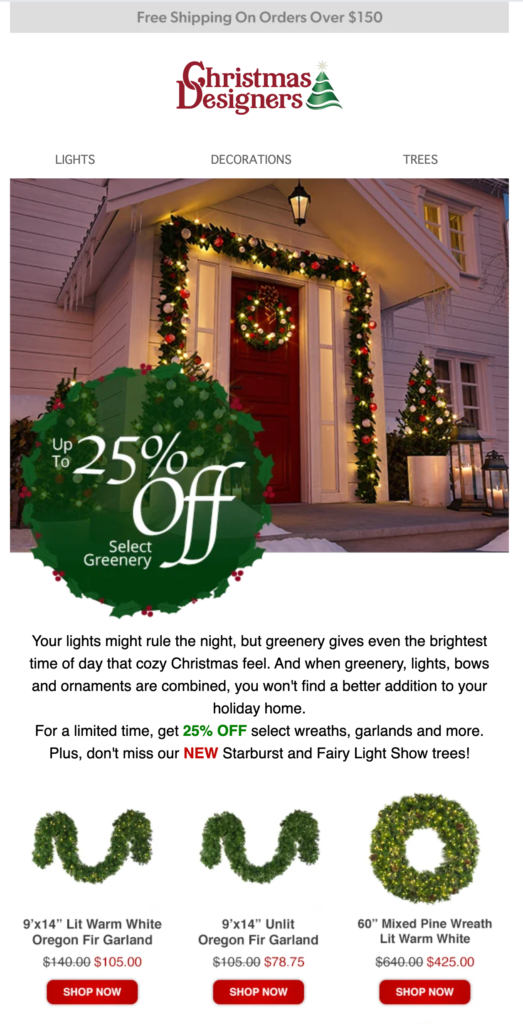 What we loved:
Benefit-driven subject line that's upfront about the deal;
An amazing main creative that gives you a warm feeling of Christmas;
Simple design that emphasizes the catalog items through the use of a whitespace background and simple or no border.
What could make it even better:
Better highlighting of the FREE shipping offer on top;
More concise text towards the beginning;
Inclusion of an attention-grabbing headline.
2. Offer Christmas Holiday Gift Ideas Gift
Holiday shopping is one of the most stressful activities of the year for many people. Figuring out the perfect present doesn't come easy for people you know well. As such, topics like the best gifts for parents, loved ones, children, etc. resonate with many audiences.
It isn't even that hard to make a holiday gift guide. Simply pick out the most popular products or services, double-check them against reviews, add a couple of Santa's and related images, and you already have a great template for a guide.
Silver Mushroom, a family-run business offering homeware, kitchenware and well-being products and accessories, shows us how to send an amazing Christmas holiday gift guide.
Subject line: The Coffee Lovers Gift Guide 🎁🎄✨🎅
Preview text: Beat the rush with these amazing new gift ideas.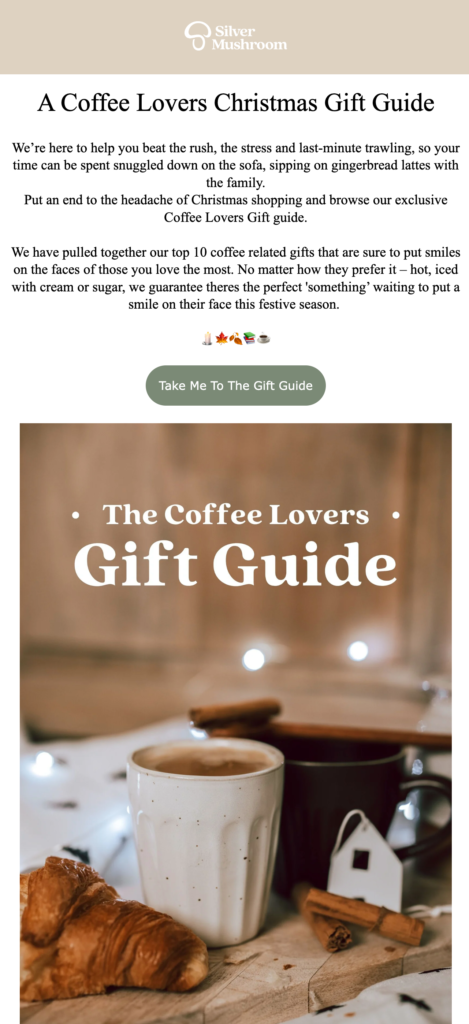 What we loved:
A simple subject line that immediately segregates the cooler-than-thou java drinkers from other beverage lovers;
Showing the reader a "Sneak Peak" of what's inside the gift guide instead of just trying to get blind curiosity clicks;
High-quality images and creatives of coffee-related accessories that intensify the desire to keep reading;
What could make it even better:
A curiosity-injected preview text would've added a silver lining;
Rearranging the main creative towards the top portion of the email would immediately capture attention.
We are positive that with an email this good, some non-coffee drinkers definitely considered changing tracks.
3. Offer Last-Minute Christmas Deals
Holidays are often about treating yourself to something you'd normally not allow during any other part of the year. As such, it's the perfect opportunity to send some last-minute deals to people who might still be looking for something special.
Ugly Christmas Sweaters is an online retailer specializing in readymade and custom Christmas wear, such as onesies, pajamas, and warm wear for men, women, and kids.
Their email below wishes its subscribers well but also reminds them that they've only a couple of days to catch up on the special offer.
Subject line: friend, Only 2 days left!
Preview text: Cyber Week Deals Almost Over!
What we loved:
A simple creative that outlines the special deals on offer;
A countdown timer that visually re-emphasizes the subject line's call for action before the deadline;
Catalog list of their top-selling items, so you know what the others are seemingly buying right now.
What could make it even better:
Use of first name personalization in the subject line instead of the generic term "friend".
Let's just say that this email from Ugly Christmas Sweaters stays on point with its branding because it isn't exactly the prettiest email in the world. But it also drives home the point that you don't have to come up with the best-looking emails to get sales; just what gets the job done.
4. Thank Your Customers
While it doesn't directly deliver something of value, some companies frequently send their thanks during holidays. There are some benefits to it.
First, some communication and content is still being sent to your valued customers, making them feel a little more like family. You're, at the very least, staying on their mind.
Second, it doesn't cost you anything outside of some time. You can even use Christmas email templates to make the process faster if you don't want to get creative.
Earth Animal is a brand that deals with all-natural pet products, including pet foods, treats, formulations, remedies, supplements, and more for both dogs and cats.
Their email shows the fine virtue of being grateful to their customers who drive them.
Subject line: We're Thankful for YOU 🧡 🦃 🍂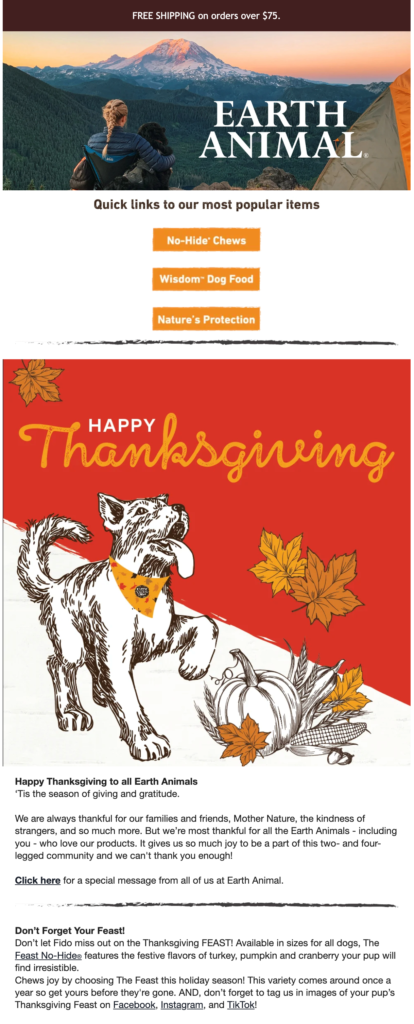 What we loved:
Well-highlighted FREE shipping banner to the top;
Amazing, compelling creatives throughout the email content, holding your interest in the right spots for just the right amount of time;
Prominent links to top-selling items towards the top;
Relevant Call to Action (CTA) elements in the right sections.
What could make it even better:
Inclusion of a preview text that compliments the subject line;
Embedding some form of personalization that includes the reader's first name or location (collected through a form earlier);
Making the text in the lower half of the email more concise and to the point, especially the part where the offer conditions are being explained.
Well, that's a Thanksgiving your pet is not likely to forget till Christmas, for sure!
5. Give Away Timed Christmas Coupons
Nothing inspires a company's customers more than getting some free coupons for discounts. Luckily, coupons and discounts can work for any business and any industry.
All you need to do is add some discount code to your newsletter and have it delivered. It's most appropriate, however, to deliver them sometime earlier during the advent period rather than close to Xmas. Most people will have finished their shopping spree by then.
Online gifting and snacks retailer Popcorn Factory decided to put the next 24 hrs to good use by offering an exclusive FREE shipping offer, valid only for the said time interval, through the use of a coupon code.
Subject line: ⚠️ Last day – free shipping on gifts delivered by December 1, 2022.
Preview text: Use this chance to wrap up your holiday shopping early.

What we loved:
A thoroughly professional-looking email design with stunning creatives;
Simple yet effective copy and messaging that drives the point home.
What could make it even better:
More prominently viewable call to action (CTA) buttons;
Use of an animated countdown timer.
Popcorn Factory's email made quite a few readers smack their lips, and hopefully, more clicked and gifted their loved ones.
6. Descriptive Christmas Newsletter
Sometimes, people just want to keep reading when you write the right words. Especially when you are in their world, talking about the things that interest them the most.
LittleBird is a UK-based business specializing in events and occasions, including family days out, theater shows, parties, and other fun yet affordable moments in life.
The email below enthralled us to no end.
Subject line: Christmas Activities at London Transport Museum | Winter Festival at Museum of Home | A Gingerbread City and A Dinosaur Show
Preview text: Plus Peppa Pig's Best Day Ever up to 34% off + more Black Friday Theatre sale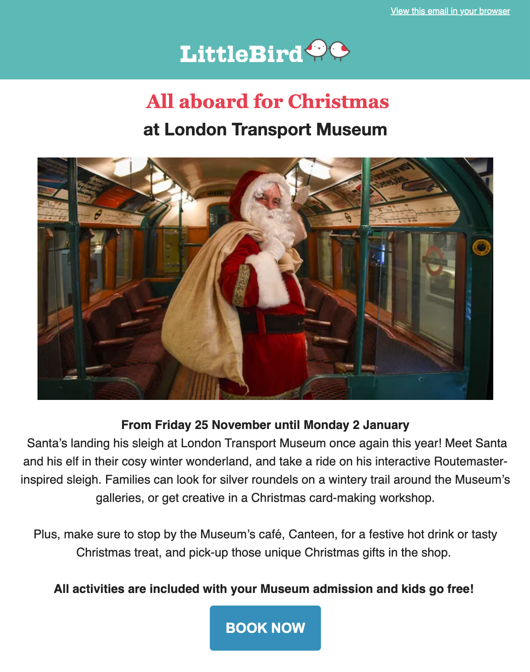 What we loved:
Appeals to the core desire of readers to have fun through being a part of upcoming events and activities;
Simple yet effective messaging that focuses on being clear over clever;
Apt and rightly sized creatives that hold your attention for a split second before directing your focus back to the text matter.
What could make it even better:
We wouldn't want to change anything about an email that tells beautiful stories like this one does, but, if anything the font size could go up a size or two and get centered to ensure easier reading;
In addition, we know a preview text this size won't display, no matter what size the screen is, but since we love the email so much, we'll allow it.
7. Happy Holiday Greetings Newsletter
Getting great sales is nice, but it's more important to remember that it's ultimately about the joyous Christmas season for your reader. Don't forget to send them a happy holidays newsletter and make the occasion memorable.
Tervis, a drinkware brand offering tumblers, mugs, water bottles, and other accessories, does get its Christmas wishes spot on.
Subject line: NEW! Special Edition Grinch Design
Preview text: Here only for the holidays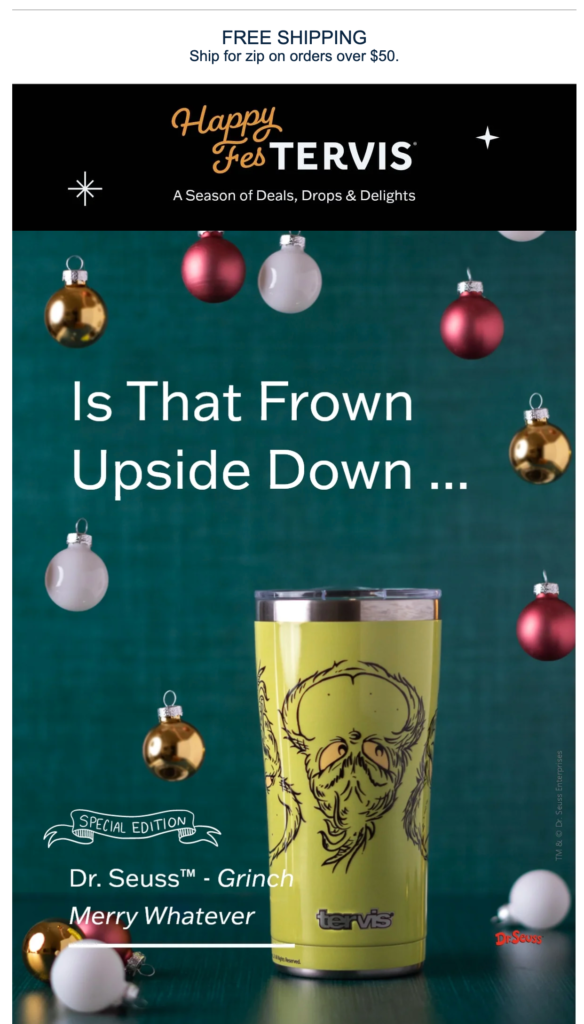 What we loved:
A subject line that makes the email a must-open;
Neat preview text that conveys the limited time factor elegantly;
Concise copy that the elements of pun and fun in equal measure;
Simple creative that puts the spotlight on the product.
What could make it even better:
Text centering, line spacing, and typography changes for some of the lower sections;
A better choice of "30% Off Everything" creative.
If the above samples only whet your appetite, we have many more of the best Christmas newsletter examples to inspire you.
8. Christmas Themed Newsletter
When you're in Rome, do as the Romans do.
Undoubtedly true for your email newsletters that'll definitely be themed around Christmas and all the joy and peace it brings along as we approach the last two to three months of the year.
Not only the choice of colors but also the overall design, including the background and border, plus the use of relevant images and creatives, etc., and finally, of course, your email content—make everything about Christmas, and you can't go wrong.
Beds, mattresses, and accessories retailer Frank Loft & Bunk beds tries to go this route with their email below.
Subject line: How many bunk beds can fit in Santa's sleigh?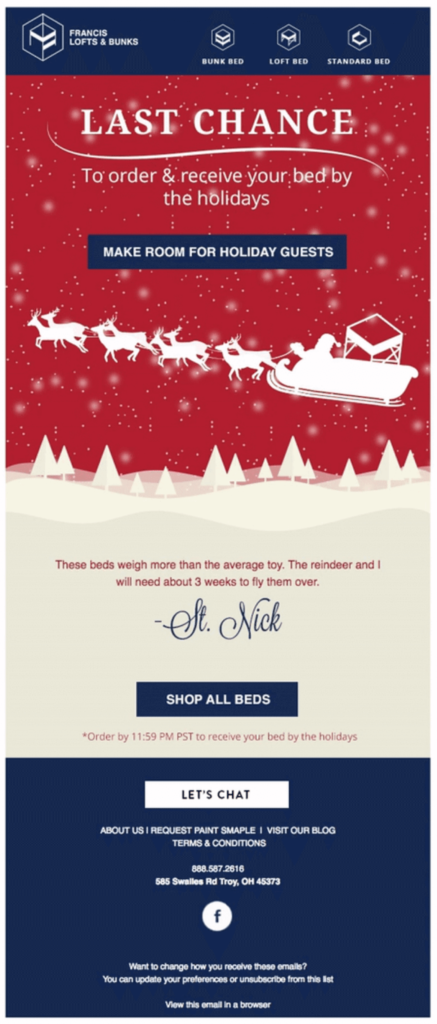 This email is likely one from a sequence where multiple announcements and reminders have gone out to the target audience. This is one of the closing emails that tries to pull in some sales by injecting some urgency.
What we loved:
Compelling subject line;
The overall email design with the main creative featuring Santa on the sleigh, which really is what the subject line was talking about;
A really thoughtful & fun CTA—"Make Room for Holiday Guests";
Clear headline communicating urgency to the reader in case they wish to have their beds delivered well before Christmas.
What could make it even better:
Including personalization in the subject line or the email body text;
Incorporating a countdown timer that could visually show the time remaining. This can have a surprisingly positive effect on sales when done right.
9. Advent Newsletter Ideas
The advent calendar is a way for businesses to market their products and services each day leading up to Christmas.
Many businesses don't take this seriously enough, but if you strategize well, you can rake up a surprising amount of sales with minimum effort in the run-up to Christmas.
Rawpowders, a food and wellness supplement company, sent the following email to its subscribers as its week 2 Advent deals.
Subject line: New Advent deals ⛄️
Preview text: New deals everyday in Advent calendar.

Now, as far as the implementation of your advent calendar marketing strategy is concerned, you could do it one of two ways:
Daily – Email them daily with your offer of the day; OR
Weekly – Email them weekly once or twice, sharing the deals of that week;
Here are some advent newsletter ideas that you could implement for your campaign:
Daily special discounts on specific product lines;
FREE shipping offer;
FREE gifts over a particular dollar purchase amount;
Product or service bundle special deals;
Email subscribers only, exclusive deal;
Giveaways, contests & quizzes;
Loyalty rewards & schemes to older customers;
Special deals for different segments. For instance: men, women, and children's clothing special offers;
Sharing user-generated content (UGC) & testimonials;
Frequently asked questions (FAQs) about products, services, ordering, deals etc;
Content marketing in various formats including text & video.
When done half right, you'll have your target audience hooked onto your daily emails promising them exciting experiences through better deals.
Wrapping Up Christmas Newsletters
When planning Christmas email campaigns, your core focus should be on a memorable Christmas newsletter idea or an unmissable deal. Email subject lines should also be your top priority during the Christmas season. Other than that, here are some things you should remember:
Always think of a Christmas deal your customers won't want to miss;
Use scroll-stopping Christmas subject lines with an attractive and responsive newsletter design;
Think of sharing personalized coupon codes with your loyal subscribers as Christmas gifts;
Plan in advance and automate your Christmas email campaigns using marketing automation software.
Here's to more profitable Christmas newsletter campaigns!

Also read: