To be honest, many brands omit marketing campaigns dedicated to Father's Day.
It's still not so popular in comparison with Mother's Day, Easter, and, for instance, the Fourth of July in the US that are widely celebrated during the Spring-Summer festive season. These holidays definitely take the lion's share of marketing teams' efforts.
However, people are getting used to celebrating Father's Day, and partially this is due to marketers. Anyway, it's definitely worth creating special Father's Day email marketing campaigns to remind customers about the important date and make some appealing proposals.
People will be grateful and glad to please their beloved fathers (and your business will stand out of the crowd as well).
So, Father's Day is on the third Sunday of June, or on June 20, 2021. Here we'll consider Father's Day email examples and discuss several ideas on how to compose an attractive newsletter for the holiday.
10 Father's Day Email Subject Lines
So, let's get it started with the very first message that users see when opening their inboxes. There are tons of letters that we receive every single day, but only catchy ones could force us to click on them.
Here are some excellent examples with various hooks:
"Dad, I am flying to see you! And flying with you is 50% cheaper" (Austrian Airlines). Touching and offering a tempting discount.

"Don't Worry, We Know What Dad Wants" (DTLR). Promising a gift selection full of worthwhile options.

"Here are the World's Greatest Father's Day Ideas!" (Freeosk). Prompting some fascinating ideas for celebration.

"FLASH SALE STARTS NOW + FATHER'S DAY GIFT GUIDE?" (Banana Republic). Giving a discount plus a gift guide.

"10 Things Your Dad Really Wants this Father's Day". (a concise gift guide).

"Father's Day Gifts Under $20, $50, $100". (a conveniently organised gift finder).

"The gift for the dad who has everything". (sounds appealing).

"30% Off For Father's Day" (simple yet effective).|

"Send a Gift to Dad in Time – Order Before 12 PM PST". (a message urges one to open the letter).

"Daddy cool – stylish gifts for Father's Day". (a catchy song title is used that sounds really cool).
Also, we'd recommend experimenting with adding some emotional or hilarious comments and emojis. But before sending, check out how these subject lines look on different devices and browsers. Ideally, the phrase should be fully visible before opening, and every emoji must be rendered across all platforms.
In the screenshot below, you can see how wittily Product Hunt approached one of their Father's Day send-outs.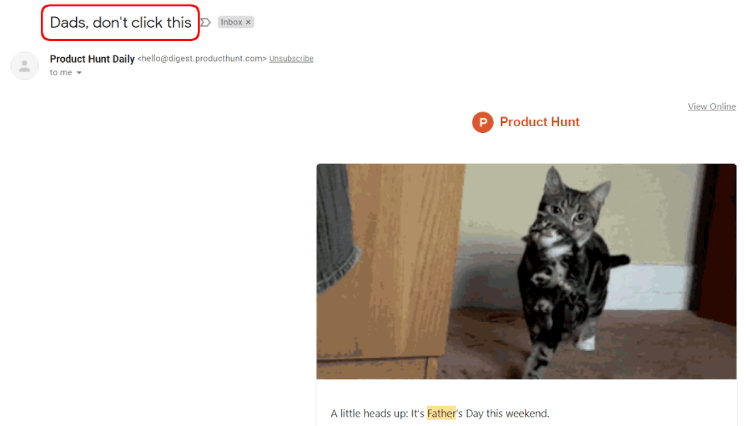 Also read: Best Email Subject Lines to Increase Sales (with Examples)
Simple Fathers Day Email Reminders
Sometimes we even don't remember the date of birth of our closest relatives, not to mention numerous "Days" with floating dates. Therefore, emails that remind your subscribers about upcoming holidays are always a good idea.
Certainly, you should also provide something useful for users and potentially profitable for your store.
There can be just a link to a relevant category page, as it's seen in the screenshot from the newsletter by Lush. This is an easy way out for brands that can't brag about having a wide range of suitable goods for men.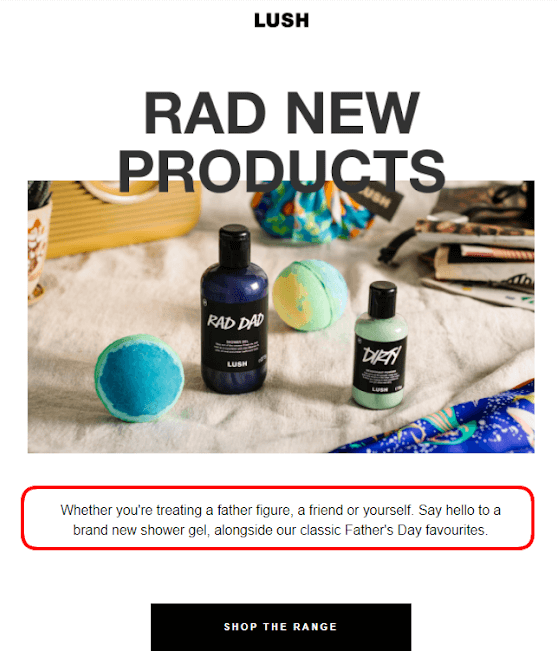 Unfortunately, Lush forgot to mention the date to orientate customers whether they have to hurry up with purchasing or not.
Certainly, the message itself can be far more detailed, vivid, creative, captivating, and convincing. We'll take a look at such examples further.
Also read: 14 Reminder Email Examples For Every Situation
Gift Selection For Fathers Day Newsletter
If you offer particular items straight away (in the email newsletter), you're more likely to gain orders than those who don't use this option. You can either simply list appropriate goods with prices or create something more personal and warmer.
In the screenshot below, there is an example from the Mother's Day send-out by Huckberry that can give us many wholesome insights.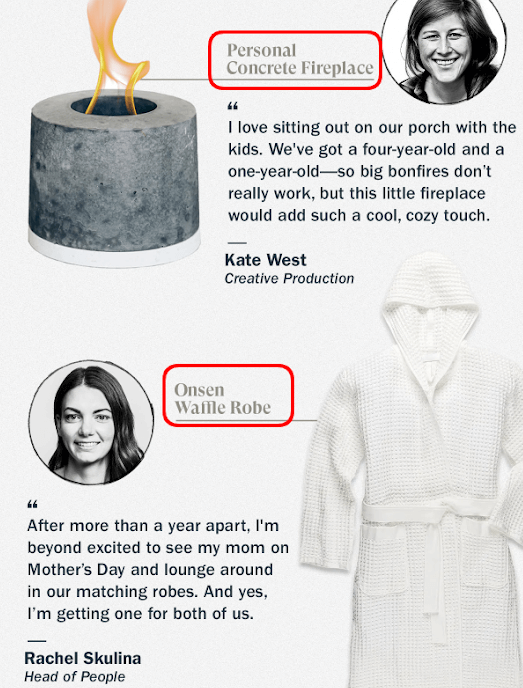 Special Happy Fathers Day Promotional Email Campaign
It goes without saying that discounts are one of the strongest incentives to buy. Thus, use them as well. Have a look at the screenshot from the send-out by Mountain Khakis.
It's a pretty clear call to action, and no explanations are needed. Just don't forget to mention the discount in the subject line.
Subject line: Last Day for 25% Off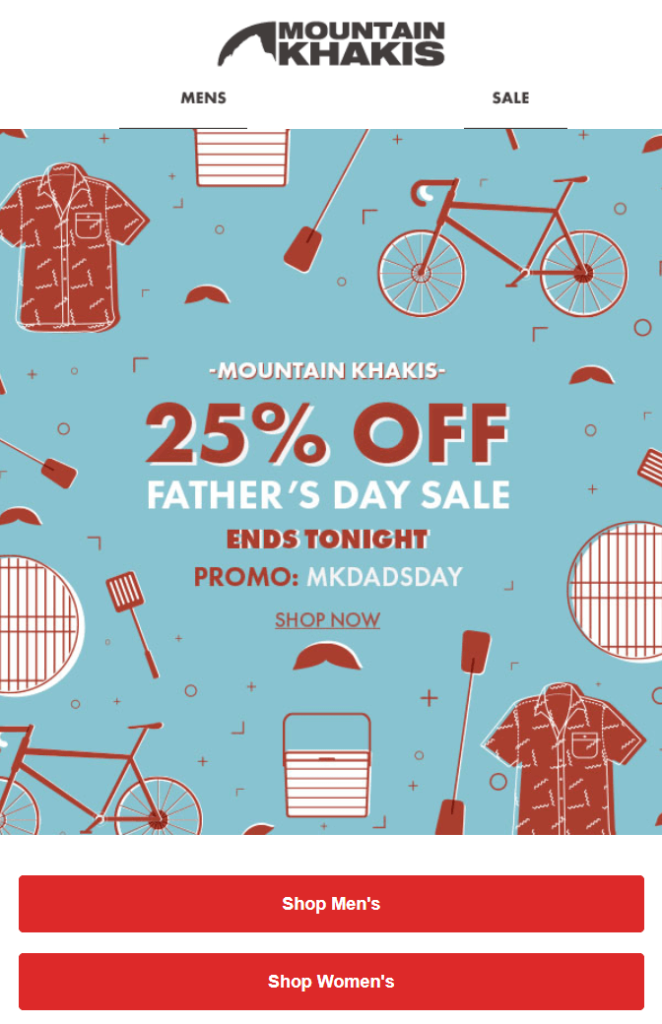 Email Marketing Messages with the Sense of Urgency
Push your customers a bit by saying that it's high time to make a purchase. In the screenshot below, there is a part of the newsletter by Fragrance Direct. At first glance, the circled block seems to have some excessive text, but all this info turned out to be important.
Subject line: Treat him to an extra special gift this Fathers Day!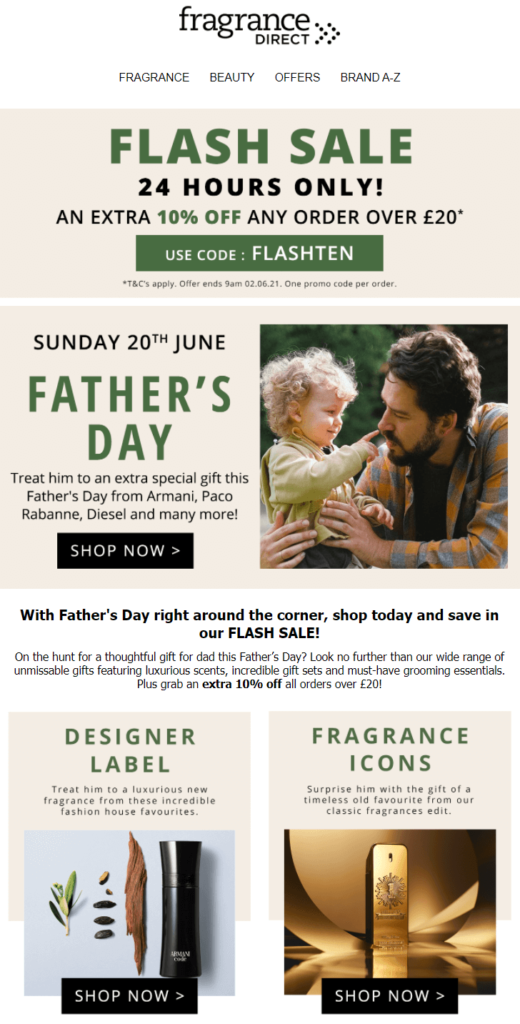 The brand reminds the date of Father's Day and underlines the number of days that remained for ordering. Frankly speaking, the third line is confusing.
Perhaps, the brand offered special conditions if people ordered by a particular date. In this case, the conditions themselves must be also written here to eliminate guessing.
Fathers Day Gift Guides
This versatile concept really fits every brand and occasion because it's so handy to navigate through a structured piece of content with specific sections.
The most popular ways to organize a guide are to sort commodities by price or buying personas. In our case, we'll see how brands built their Father's Day email campaigns on determining dad personas.
The first instance is from the email by Product Hunt (in the screenshot below). You can opt for presents in line with dad's primary preferences.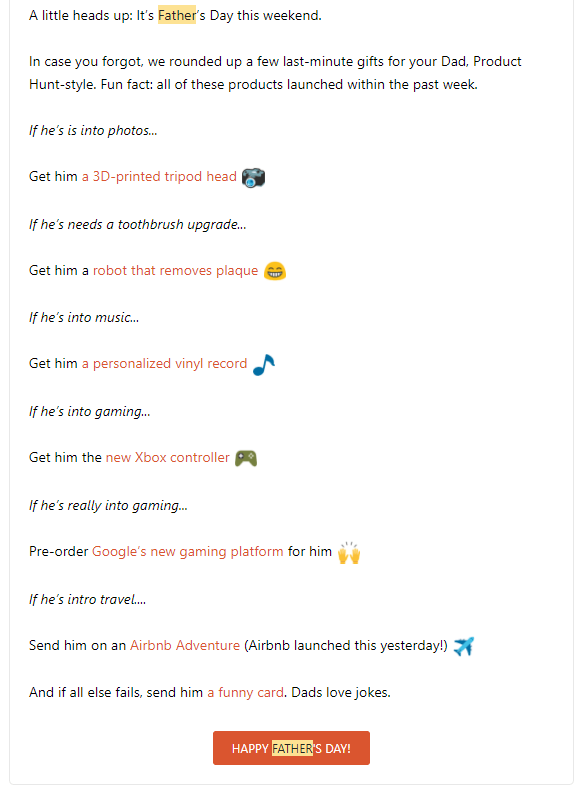 The second one is from Puma's letter. The brand ideated several categories of dads: classic dad, sporty dad, rad dad, and weekend dad. Sounds so cool!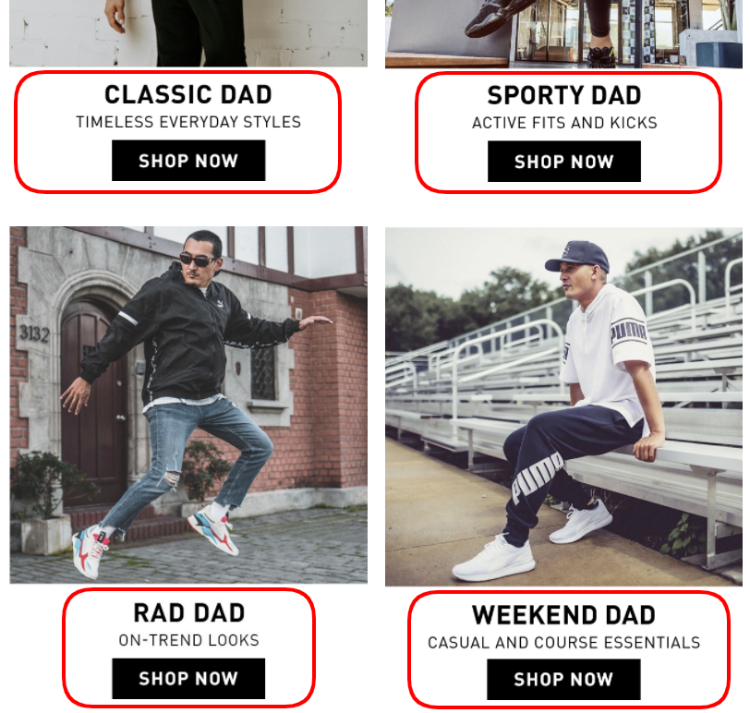 BTW, Use Catchy CTAs
Your "Happy Father's Day" email can be further improved by unusual call-to-action buttons. Take a look at the screenshot from the send-out by Orvis. The brand substituted customary CTAs like "Shop now" with the following ones: "Pick perfection", "Catch one", "Get manly", and "Start packing". These calls underpin and logically continue the main ideas of each paragraph.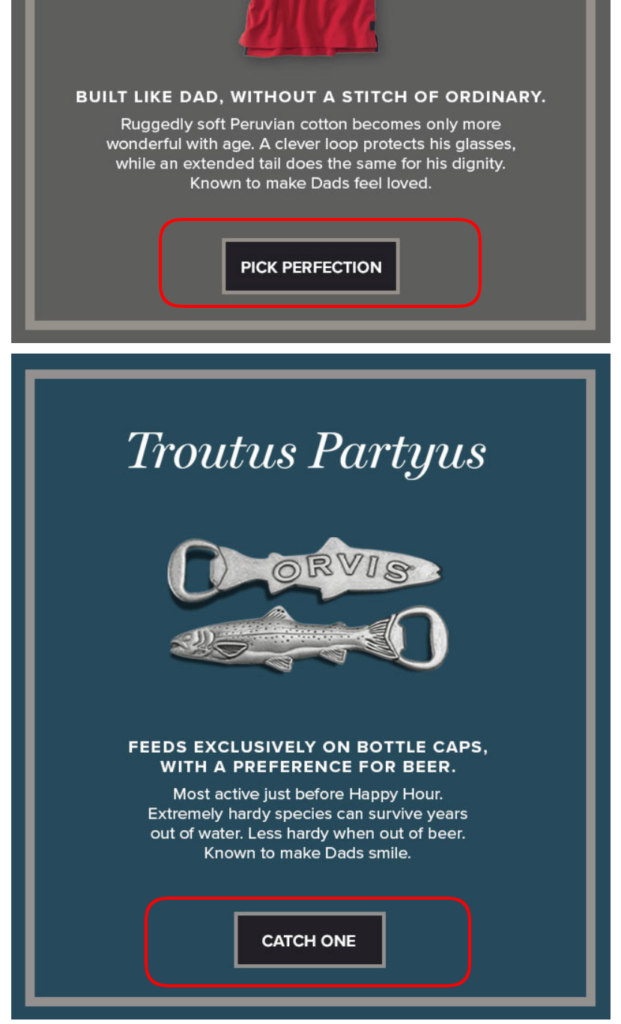 Is Your Website Optimized Really Well?
An impeccable email campaign and a qualitative product are not enough to convince people to place orders. Every newsletter redirects a prospect to your online store, where the successful final largely depends on such parameters as the loading speed and responsive design. As more than 50% of letters now are opened on mobile phones/tablets, handy navigation and high performance have been becoming crucial matters for online shop owners.
That's why businessmen and their dev teams explore subjects like how to convert the Magento website to PWA or opt for launching a mobile app. Both solutions allow you to efficiently tackle the speed and UX/UI issues.
We think that eventually, every online retailer who wants to remain sought-after will have to choose either the former or the latter option.
To Conclude: Create Powerful Fathers Day Email Marketing Campaign
There are many more nice concepts for Father's Day emails: prompt your clients how to celebrate, give them a holiday menu, use good-old "dad jokes", and so forth. Test bold design ideas, subject lines, CTAs, and the content itself so that your email marketing campaign brings about fruitful results to your company as well as wonderful purchases and plenty of joyful moments to your customers' families.
---
About author
Kate Parish – Chief Marketing Officer at Onilab, with 8+ years in Digital Marketing and eCommerce web development promotion. Kate constantly upgrades her knowledge to stay fit in the progressing online world. Her areas of professional interest are SEO, branding, SMM, and Magento 2 PWA development.
Like what you read?
Apply it in practice with Sender.net - the most cost-effective email marketing solution in the market.
Try Sender for free