Knock, knock. You got a new client. How's the feeling?
Surely it must be amazing. Your entire team finds it great to have a new customer.
It's time to celebrate as you gain victory in this hugely competitive market – many congratulations on that.
But it's time to get your heads down to do enough homework to make your clients' beginning journey more pleasing.
Let's understand this concept by the famous quote of John Jantsch:
If you hold a customer's hand for 90 days, they'll be loyal for life.Click To Tweet
Here comes the role of onboarding. For that, you need to frame the first collaborating layer as potent as possible to improve the communication channel with the customers. It works as your first working impression in front of the clients and should get completed seamlessly.
A new client onboarding survey questions are the most appropriate way to know about their requirements and, accordingly, helps in developing a potent and most suitable outline that matches their requirements.
Developing a list of questions is the fastest and most effective way to get knowledge about the new customers. In this article, we will get better insight into the new client onboarding survey questions.
Feeling excited to know about it? Then let's get started by firstly understanding the term itself.
Content menu:
What is the client onboarding survey questionnaire?
Why is it necessary?
What kind of questions should be added to the client questionnaire?
Here you will find onboarding survey questions for:
Social media client onboarding
Financial advisor client onboarding
Web design client onboarding
Ad agency client onboarding
Also, these examples and practices will help you to prepare questions for e-commerce, SaaS, or others niches.
What Is The Client Onboarding Survey Questionnaire?
The term itself represents that it is a set of questions asked during onboarding to the customers. This client form is a digital survey shared with the customers to get the necessary details before taking further steps in the project.
The primary motive behind performing the client onboarding process is to get exceptional knowledge about the clients with whom you are about to start work. It includes information related to:
Their company
Targeted customers
Their budget
Their prospects and vision
Contact details and many more as per your requirement
But please do not convert this survey into a large volume of questions that gets out of the bucket. This increases the frustration of answering unnecessary questions, and it may result in losing them.
Therefore, client surveys must remain straightaway and precise that they find it impressive to fill. It works as a potent source for the team to work in a proper flow as per clients' requirements.
Why Is It Necessary To Develop a Client Survey?
This question might be knocking in your head. The answer is to increase the onboarding stage's level, and quality as about 63% of the customers consider the onboarding program before purchasing.
New clients are about to take their step towards your company. Presently they are entirely unknown, and to convert this situation into a known format, such surveys are important.
This question might be knocking in your head. The answer is to increase the onboarding stage's level, and quality as about 63% of the customers consider the onboarding program before purchasing.
New clients are about to take their step towards your company. Presently they are entirely unknown, and to convert this situation into a known format, such surveys are important.
On the other side, concerning your business, there is equal importance of organizing such client onboarding survey quizzes. The points below show the significance of the same.
To Gain Complete Knowledge About The Customers
Each customer separates out from others. What information you got from the previous client and the working approach you followed cannot be wholly reused here. That's why as you get new customers, knowing about them is pretty essential to complete the project successfully.
Already you got some information at the time of initial conversations. In addition to this, in-depth analysis will frame an exact picture of the new client. It works as a bridge that eliminates all the gaps that the team was suffering from in the initial stage to know the customers.
Also, it abets to gain confidence about the ability to onboard new clients by following a predefined process and helps to increase the percentage mentioned in the figure below: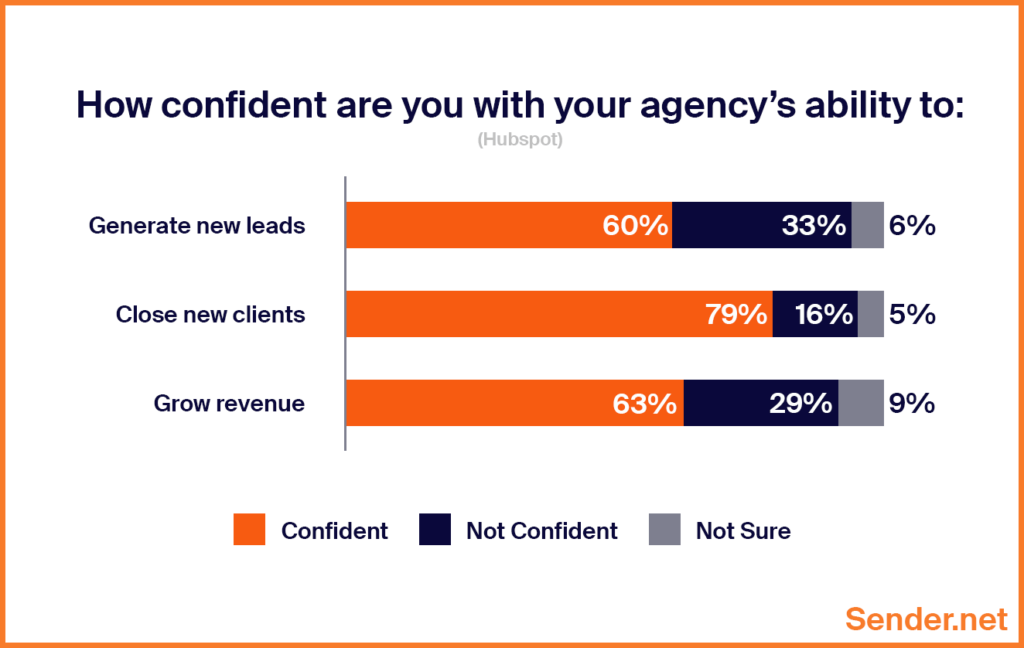 The more you concentrate on it, the better it helps you stick to the goal and prove yourself loyal and trustworthy.
Works As A Time-Saving Approach
It is rightly said that time does not wait for anyone. And it runs so fastly when you get a new job. Isn't it so? Indeed all of us have experienced this at some level.
But what is the reason for it?
It is the factor called 'unknown' as you are about to work with a new client with new strategies. Gathering information about them demands more time, and the figure below shows it:
You might be following the tactic of segmenting it into different stages like personalized emails, phone calls, meetings. But have you ever calculated how much time it takes?
If you have, then the figure must be prominent and surprising for yourself as well. How will it remain to bring them all together in a single client questionnaire form which you may give a name – onboarding quiz.
It saves you a great amount of time and effort, which you can utilize in serving them.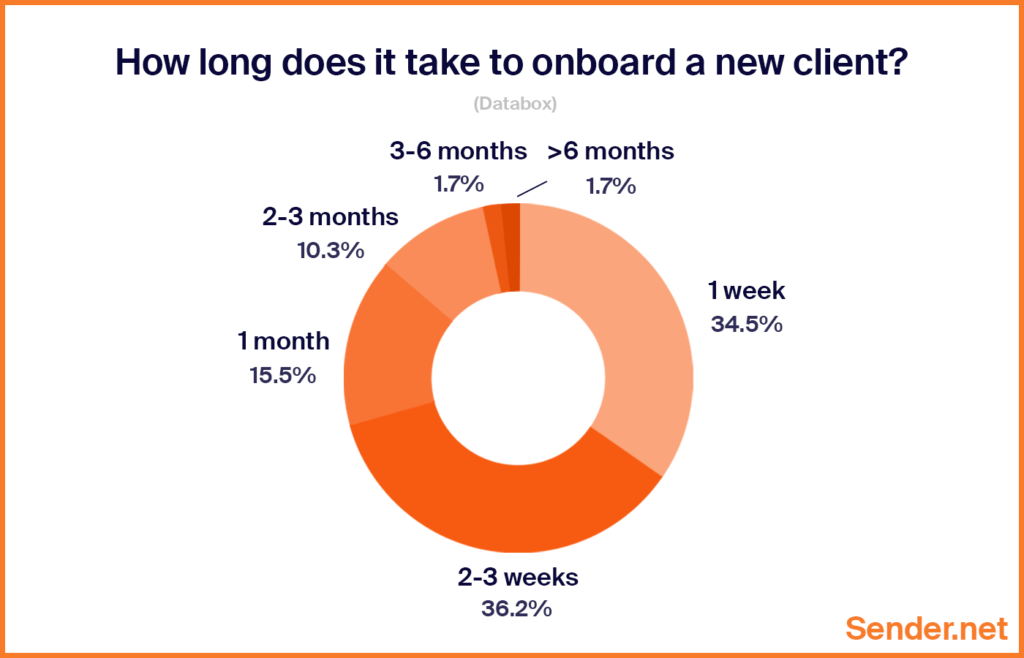 Works As A Source Of Proof
Many times there comes a situation where the customers feel unsatisfied with the services of your business. If they claim that you have not served them as per their requirement, you can directly show the saved file instead of trying to prove yourself innocent.
This helps settle down the situation at the early stage, reducing the occurrence of conflicts with them.
What Kind Of Questions Should Be Added To The Client Questionnaire?
Blindly forming strategies for onboarding clients is sure of no use. Are you doing the same for your in-house management?
Absolutely not.
Multiple tactics and systems are used to handle all employee-related tasks to keep the workers happy and satisfied after considering all the aspects that relate to them.
Similarly, when it comes to customers, you need to develop crystal clear strategies, which is possible by forming a questionnaire. Doing so will give the assurance of generating more insightful details about themselves.
In addition, it will improve the chances of serving them in the most appropriate manner to make them come back to you. A similar case applies to your in-house team recruitment process.
Where, as per the research of factoHR.com, managers that consider the pre-employment questionnaire found a reduction of about 39% in the turnover rate.
Similarly, when it comes to customers, you need to develop crystal clear strategies, which is possible by forming a questionnaire.
Also, gathering all the information at the prior level is pretty necessary. The below list of questions you can add to the form to ensure that you have all the details related to them.
Based on the type of channel used, the set of questions differs. Let us understand a few of them in detail in the below points:
Social Media Client Onboarding Survey Questions
For every marketing agency, it is necessary to know about the customers, and converting them into a fun and loving Q/A format is always appreciated.
Below mentioned are a few sets of questions you can ask:
What is your brand?
What is your paramount focus on social media?
Who are your target clients and their geographical location?
What type of content (images, videos, blogs, infographics) will your audience prefer?
What kind of tone do you prefer to use on social media?
What are your expectations from us?
How frequently do you want social media reports?
Financial Advisor Client Onboarding Survey
Another leading sector in the market is finance. Being a Financial advisor is a difficult job yet a promising role among your clients. Hence, gaining their trust means a lot.
Thus, make sure you ask them the right set of questions as shown below:
Have you worked with another financial advisor?
How far are you reaching your objectives?
What are your greatest money warriors, and how do you expect me to solve them?
How will you measure your financial investment portfolio?
What about your retirement plans?
What is your current overall budget?
How are you managing your cash inflow and outflow?
Web Design Client Onboarding Survey Questions
It is necessary to define some aspects before creating questionnaire templates. And it differs as per the focused project of the customers. Let's now look into the web design questionnaire:
How do you reach us?
What type of product or service is given by your company?
Is your web content ready?
Tell us about the pages you want to add to your website?
What is your timeline to launch the website?
What is your budget for this project?
Which type of website do you like?
What features do you expect to have on your website?
Ad Agency Client Onboarding Survey Questions
To increase the brand awareness of your client's business, it is indeed required to gather detailed information about their company to enhance their sales. Few questions are shown below to assist in this process-
When did your business start?
What are your values and beliefs?
What is your key concerned area?
What are the core values of your organization?
To whom do you have tough competition?
What is unique in your company that separates out from others?
What are your current marketing metrics?
Which approaches do you follow to handle clients' complaints?
Build Relationships Using Onboarding Survey
Greeting your new client in the best manner helps to build relationships with them on a long-term basis. And the first and most prominent step for it is developing client onboarding survey questions.
To perfectly formulate this process, asking the right set of questions at the right time is indeed essential. It will help develop a complete layout, keeping in mind their preferences, budget, target, and future vision.
The above set of information will help you understand the client questionnaire's importance and will assist in giving the best experience and services to them.
---
About author
Meet Vara is a passionate content writer and an avid reader, having expertise in creating various ideas for creative writing. He is passionate about researching and exploring blogs, checking out the latest trends, and replicating his expertise in crafting exclusive content. His approach and readiness towards writing quality content are exceptional.
Like what you read?
Apply it in practice with Sender.net - the most cost-effective email marketing solution in the market.
Try Sender for free