User onboarding is crucial for converting new users into highly engaged customers. And email plays a big role in the process of successful onboarding.
No wonder welcome emails have a 91.43% open rate.
User onboarding email can help you introduce your products to your new customers or let them understand their value if they are not well-versed with them yet.
12 Powerful Tips for Your User Onboarding Emails
Here is a list of twelve tips that will help you create high-impact user onboarding emails.
1. Know your audience
You will have to know why your customers are using your products. To do that, conduct some surveys and learn why your customers choose your brand and the things they like about it.
Along with that, find out what your customers are like.
Make sure to focus on the following things when you're finding out about your potential customers:
You will need to find out their demographics.
The pain points they have that your product can solve.
The length of time they have been your customer.
The kinds of features they have already used.
Reasons that could possibly make them stop using your product.
And at what point in your sales process are have stuck.
2. Segment your users
You can segment your users based on how they interacted with your brand previously. Use your segmentation to make sure you are providing people with content they are interested in and can benefit them.
Use the past behavior of your customers to envisage what they are looking for and what they need.
Look at the amount of time they have spent in the app or the number of tasks they have accomplished.
Then, you can send experienced users in a different direction than new users who are not sure what to do next.
3. Use an opt-in email
When a user signs up for the list, send an email allowing him/her to confirm his/her intentions. Likewise, you can greet everyone who signs up for a product free trial by sending an opt-in message.
Make the email short and precise. Ensure to add a verification link to allow asking him/her to confirm his/her decision.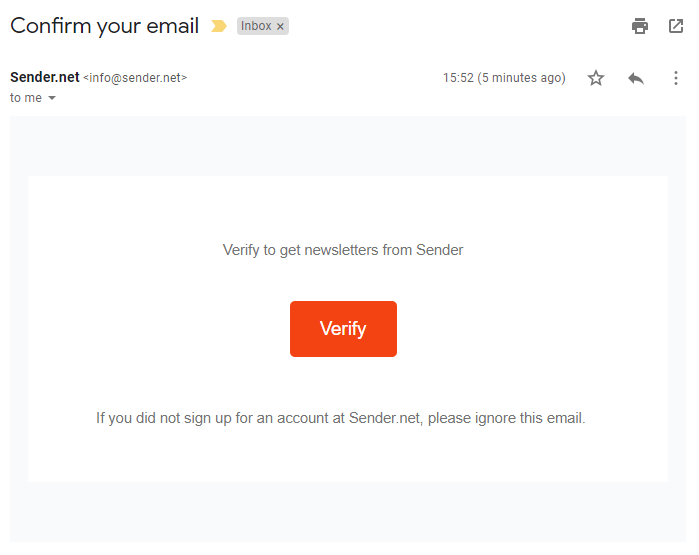 4. Write a welcome email
Do you have a welcome email template? A welcome email can make your reader feel warm and let them know what you have to offer. Since it is the first email, you don't have to add any promotional value to it. Create an email that will make your brand to show its voice, values, and mission.
Here is how Asana does it.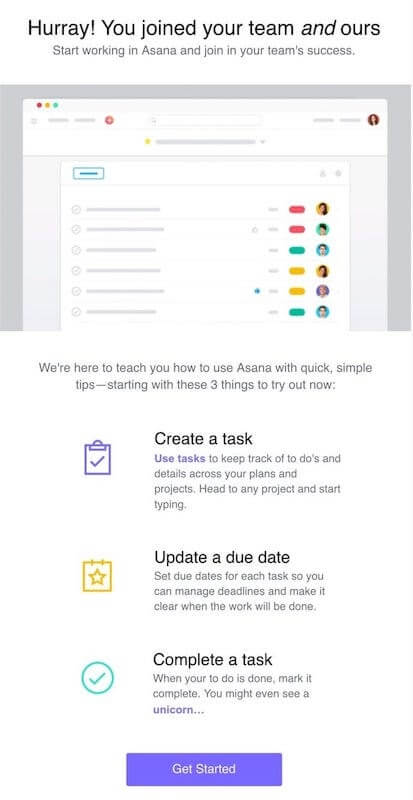 In their email, they effectively establish their brand and provide a clear CTA at the end of the email. Their value proposition is shown clearly without requiring any design skills, and it speaks to their audience.
Your welcome emails should not be different from the rest of the emails in terms of formatting or layout. It should be a sneak peek of what users will be getting.
Also, it is a way to show your company cares about everyone on the list. Have a clear CTA, social proof, and personalize it.
You can create a welcome email template for new customers and use it whenever any new user signs up.
5. Create how-to emails
Once your customer has chosen your product or service, you need to anticipate questions and concerns and decide what steps to take next.
Here is an example from Oyova, how can look your how-to email: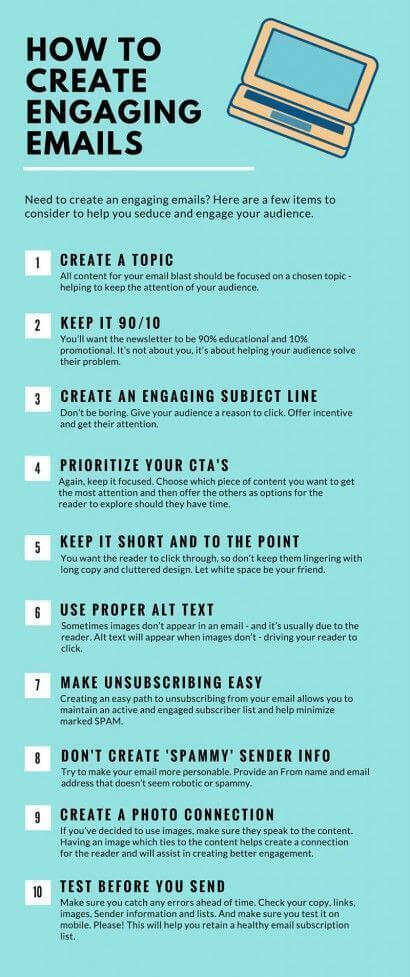 You can add a how-to email in your onboarding program explaining how the product works. You can also provide a step-by-step guide on how to get started and answer the common questions.
Since it is going to be a guide for your customers, make it short and concise, skimmable, and easy to navigate. Alternately, you can also gather links to valuable guides or demo videos if you find no way to walk a user through the product properly.
The user will click on the links for a complete manual.
6. Use a single CTA
It is not a good idea to multitask with your trial users. So avoid using multiple call-to-actions in the same email. Instead, send a simple plain text email with a single CTA since it has a better chance to land in the primary folder.
What's more, sending personal emails can also increase conversions. And you can also keep track of how your CTAs are working out.
Luckily, there are tools out there to help you to create and track CTA's performances that will let you know which CTA is working and which isn't and the reasons why it isn't working.
7. Insert a face on your emails
It is a good idea to show a real face in your email. It will have more positive results than emails sent from a faceless account as the users will feel more connected.
Use an avatar on your email address, and it is better not to send messages from a no-reply email address: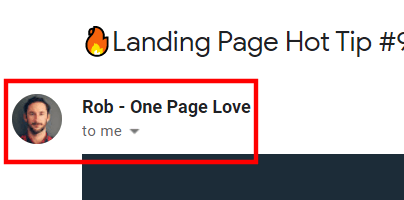 Or in the email content: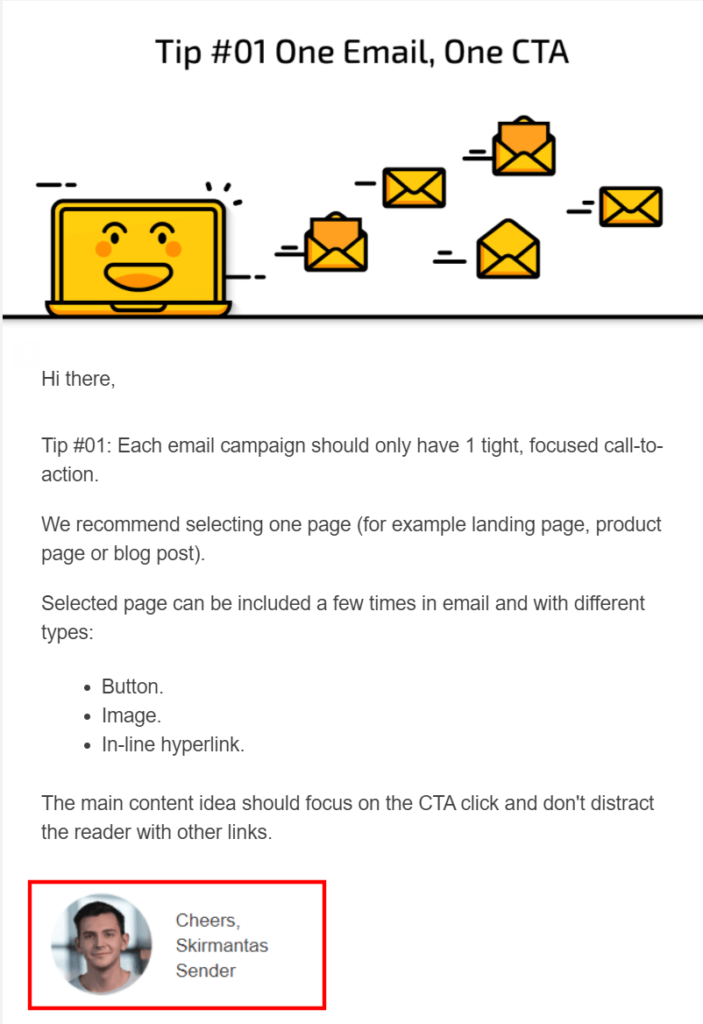 8. Always keep communicating
Keep communicating by sending emails to trial users. It may not convert immediately, but it is good for the long run.
Look at how Skillshare does this without nagging their users.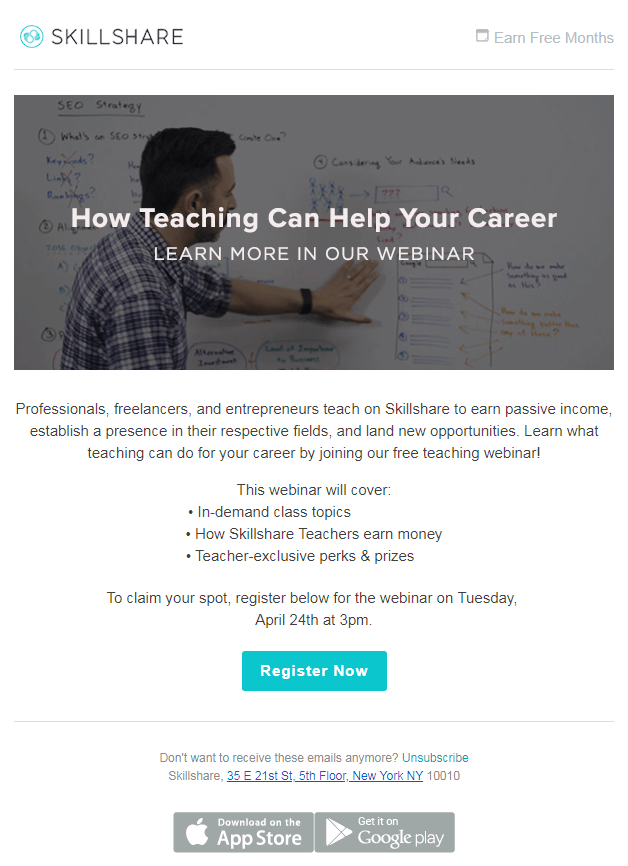 Skillshare keeps sending valuable emails inviting people to webinars and informs them of new classes though it doesn't convert them. You can try this until users unsubscribe.
You can also use user onboarding platforms like Whatfix, Userpilot, Appcues to engage new users, personalize the onboarding experience, and improve user retention.
9. Write copy that persuades users
To write a persuasive email copy, you can write stories that show rather than tell.
You can use screenshots and testimonials to show and use the copy to tell in your onboarding emails.
Plus, you can clearly tell your new user what your product does and how using it will add value to their life and tell them a story to fortify that idea.
Consider using humor as it can break down user resistance, use you more than I or we so that it will be more relevant to them, and also use emotions so as to compel customers to use your product.
10. Write concise and simple emails
An effective user onboarding email is simple yet precise. Avoid pointless ramblings and get straight-to-the-point.
For instance, you can use an informal tone as Neil Patel does in this email: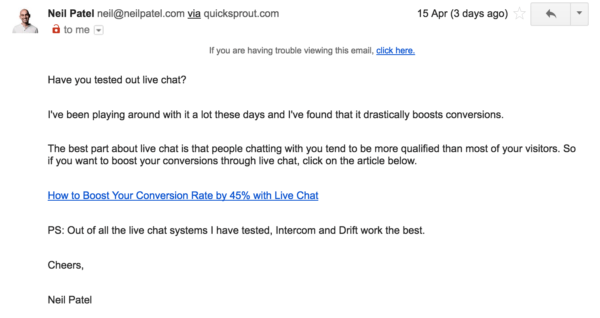 11. Throw in an incentive
Incentives can encourage and send the message that signing up with your brand has real benefits.
You can use incentives like credits, discounts, and other offers. Just ensure to use it now and then.
The incentives you offer will depend on what your products or services and what you know your customers will be motivated by.
12. Stay true to your brand
Last but not least, stay true to your brand. Good branding can fetch in new people and also build loyalty that will keep your customers coming back.
People get accustomed to a certain brand image and experience. So keeping it consistent is the key.
But it doesn't mean that you should remain static since your brand will constantly keep evolving. But make all decisions, including your onboarding emails, by asking yourself whether it is consistent with the brand.
Winding-Up
Many B2B and B2C companies implement these strategies to create high-impact user onboarding emails.
Implementing these strategies will ensure that your brand gets higher engagement rates, increased revenues, and you will be able to provide a better customer experience.
---
Content contributor
Hazel Raoult is a freelance marketing writer and works with PRmention. She has 6+ years of experience in writing about business, entrepreneurship, marketing and all things SaaS. Hazel loves to split her time between writing, editing, and hanging out with her family.
Like what you read?
Apply it in practice with Sender.net - the most cost-effective email marketing solution in the market.
Try Sender for free