Like what you read?
Apply it in practice with Sender.net - the most cost-effective email marketing solution in the market.
Try Sender for free
An email broadcast is the process of sending an email message to a large number of readers in your mailing list.
These are incredibly effective for companies to get more significant revenue, and bloggers use it to get more traffic to their new traffic.
In this blog, we will demonstrate how to do an email blast the proper way as well as share some examples.
Whether you're launching new merchandise, announcing a spring campaign, or promoting your e-book, you're probably starting with an email blast service.
What Is an Email Blast?
An email blast is an email message that is sent to a whole email list or many email lists all at once.
These email blasts target all contacts primarily in a mailing list, making these email blast campaigns have a broad reach.
Email blasts are also known as mass emails, broadcast emails, or bulk emails. Here are some reasons why marketers have a bad opinion about email blasts:
Emails are sent to as many people as possible, no matter if the sender had the right permissions;
Emails are usually not part of a broader strategy aimed to build a long-term relationship with the customers;
It usually doesn't matter who is on the receiving ends; what matters is the number of clicks.
Email Blasts Vs. Email Campaigns
You must be confused about the difference between an email blast and an email campaign. Both sound similar. But there are some striking differences between the two.
Email campaigns are part of your email marketing strategy that's personalized, customized, and sent at a strategic time. Basically, a lot of thought, planning, and insights go into creating and sending an email campaign.
On the other hand, email blasts are more like mass emails sent to the entire email list without personalization or segmentation. You can think of them as mass-market promotion that is for everyone to receive and make use of.
Email Blasts
Email Campaigns
1) Emails are sent to the entire email list, in batches or all at once;
2) Emails are not segmented and personalized;
3) Sent at the same time to everyone without considering where the readers are located.
1) Sent to a targeted or segmented audience;
2) Personalized to reflect the subscribers' needs;
3) Sent according to the recipient's time zone and according to their past behavior.
Are Email Blasts Old-Fashioned?
Email blasts are famous for delivering messages to many people; some consider this an old-fashioned way to receive communication.
Blast emails can sometimes be highly irrelevant and useless to the recipients. As we all know, having a great relationship with subscribers is by giving value to them.
Due to some reason, the email recipients may mark the email as spam and finally unsubscribe from the list.
Here are the main reasons why subscribers don't like email blasts services:
Email Blasts Are Unexpected
Email blasts are different from action-based, which people on your mailing list expect to receive from time to time.
Blast emails are unexpected and can breed natural resistance from the recipients. Therefore, People get hundreds of emails every day, so if they have something they don't expect to see, they automatically delete the email.
Email Blasts Are Unsegmented
When sending email blasts, most companies use entire mailing lists without putting the recipients in given segments. They fail to recognize the differences existing among subscribers. Therefore, they fail to target the recipients' personal needs and interests.
Companies can modernize e-blasts by seeking to serve the individual needs of members of the audience.
Email Blasts Are Not Personalized
Who doesn't love to read a message that personally speaks to them?
Since they're crafted as mass messages, email blasts lack personalization features such as the recipient's name. Such emails end up feeling disengaged from the recipients. Therefore, they're likely to have low open and engagement rates.
Email blasts are not dead and are still the most secure form of communication globally. There are better ways to do email blasts with new email providers to reach your goals.
We will demonstrate how to send an email blast correctly.
Also read: 7+ Email Personalization Practices with Real Examples
How to Do an Email Blast Correctly?
Companies are still using email blasts in their promotional email marketing strategies to promote their product, discounts, etc. Primarily because they're cheap and do the job of passing the message across.
If you're not a professional marketer, you need handholding to create and send a successful email blast. Here is a step-by-step explanation of how to prepare an email blast that will engage your subscribers:
Step 1: Select an Email Blast Service
The first and obvious step is choosing a reliable email blast service provider with all the necessary features. There are hundreds of service providers such as HubSpot, Mailchimp, Omnisend, Moosend, Sendinblue (and many more) that you can use to create and send email blasts.
Sender is one of the best and probably the most affordable email marketing solutions with in-built marketing tools that make it a breeze to quickly and efficiently create engaging emails, SMS and popups. Omnichannel automation feature that supports SMS and email makes it an excellent solution for businesses trying to create compelling customer journeys and boost conversion rates.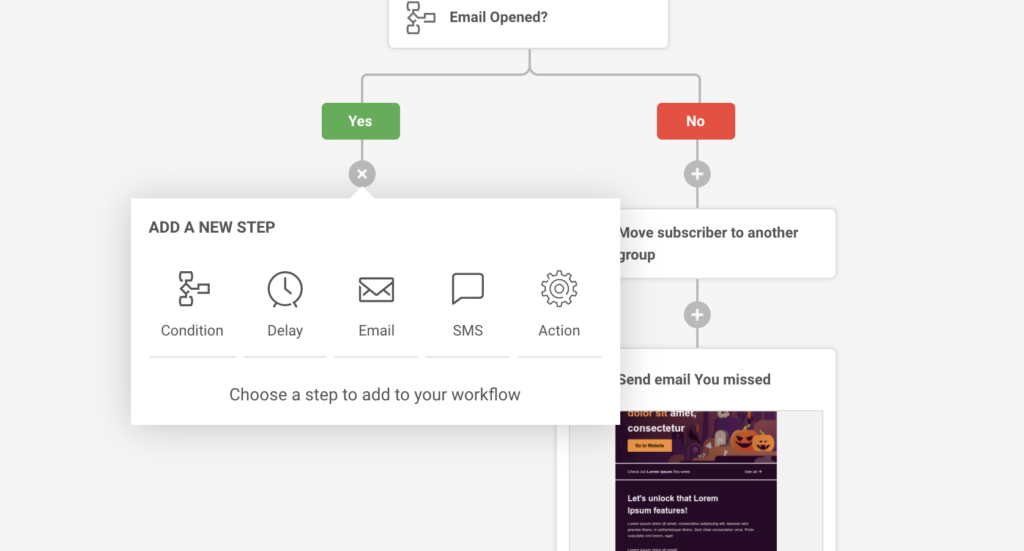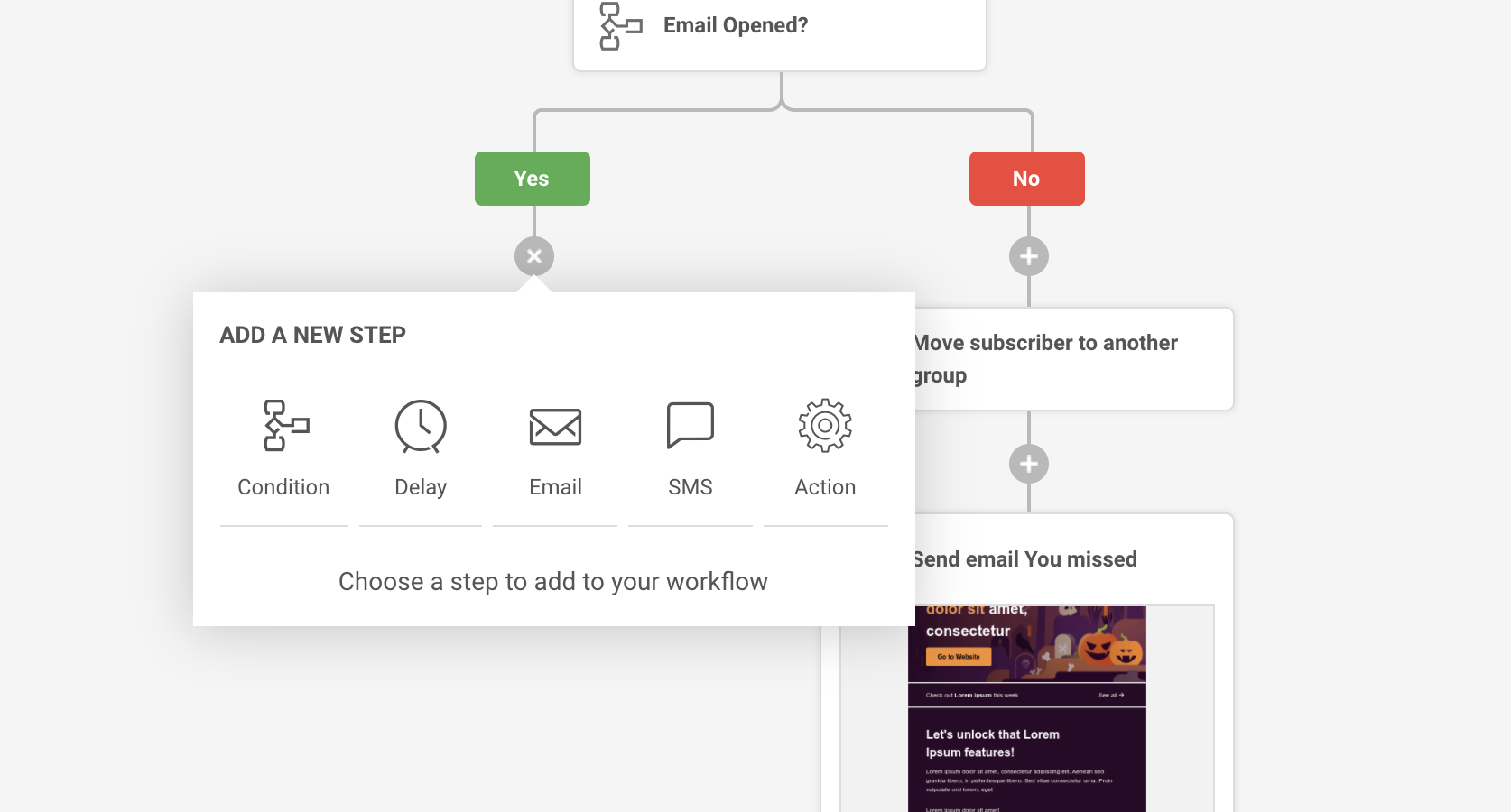 Step 2: Create an Email Blast List
An email list is simply a list of email addresses of your subscribers.
Insert email using text, excel, or just copy/paste method. Don't forget to add subscribers' names and last names.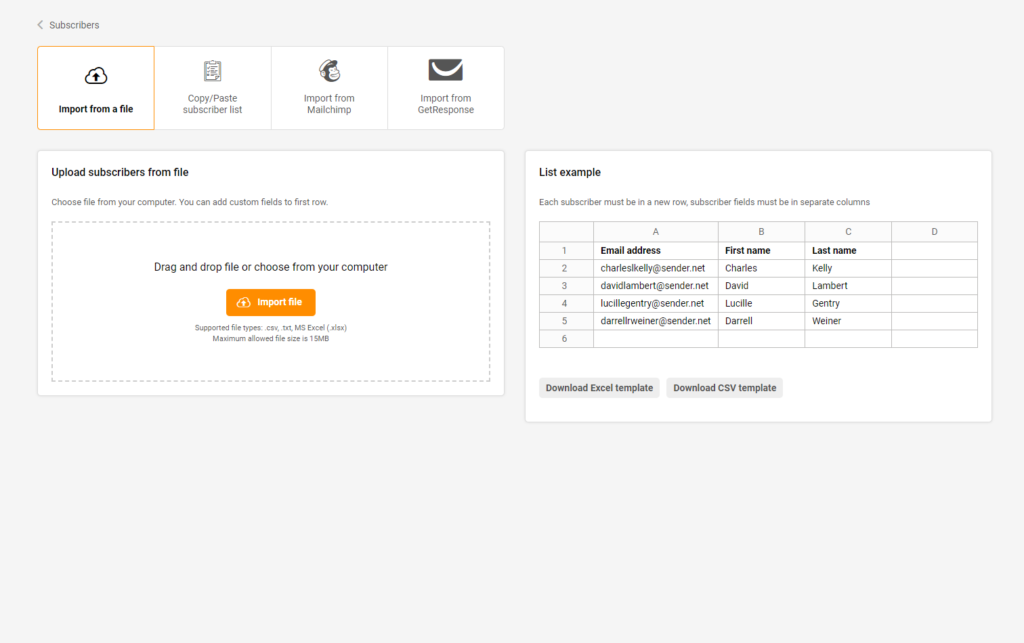 Also read: 7 Email List Building Strategies To Grow Your Business
Step 3: Target Your Email List
Email targeting is the most crucial aspect of doing a solid email blast. Email targeting is dividing your email readers into smaller groups. You can target your email subscribers based on age, geographical location, gender, purchase history, etc.
For example, a spa may create different segments for couples, parents with kids, with different emails.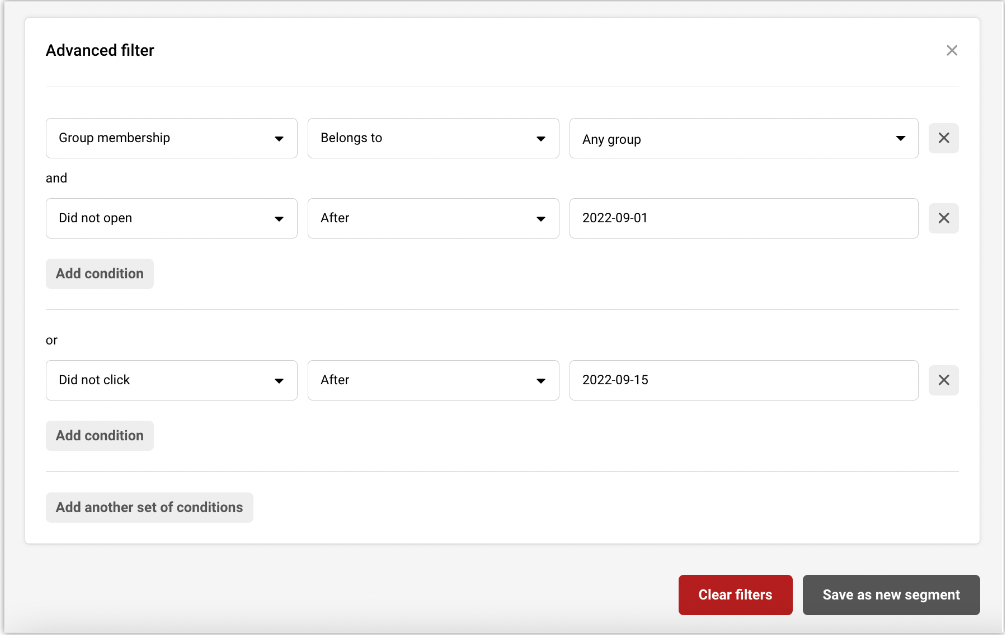 Step 4: Create a Targeted Newsletter Blast
After creating targeted audiences, it's time for a message; the next task is to create a targeted email campaign. There can be different ways you can create an email depending on the discount offer, promotion, and others.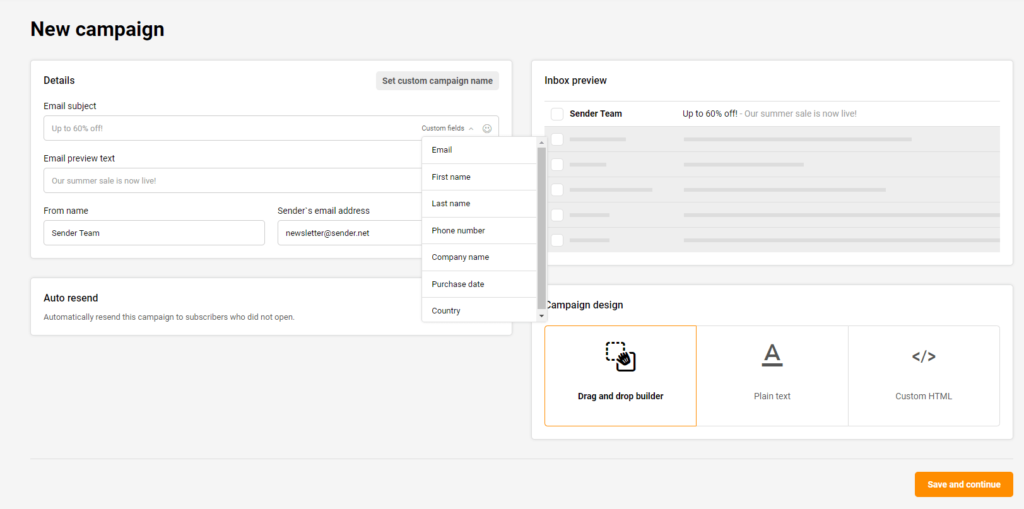 Step 5: Spend Time on Creating Catchy Email Blast Subject Lines
Your email should grab attention, not just go into a dark hole of unread emails in your subscriber's inbox. So, the email blast needn't be completely generic. Instead, you can send a personalized email blast by focusing on the subject lines.
A compelling subject line grabs attention and persuades a user to open your email. Spend a lot of time writing strong, clear, and convincing subject lines. Because if the user doesn't open your email blast, all your efforts go to waste.
Your subject line should be catchy, attention-grabbing, and meaningful. Avoid cliché phrases and overly generic one-liners. Instead, write a subject line that makes the recipient curious or gives them a reason to respond.
Step 6: Send Email Blast Campaign
After creating a targeted newsletter blast, conduct tests for spam and deliverability.
You can catch spammy content in good time and prevent unsubscribing. Carry out a delivery test, ensuring it displays correctly in the receiver's inbox.
Schedule email delivery to maximize the impact of the email blast. Once you have everything right, preview the newsletter and send it. That ensures that you leave no loose ends as you hit Send.
Step 7: Measure Results
Sending an email does not mean that your work is complete. After sending your email campaign, you need to measure your results and see how the recipients reacted.
The difficulty of email blasting is deliverability.
Here are some proven methods to improve email deliverability:
Update your email list time and remove invalid email addresses etc.;
Maintain the frequency of your emails;
Create catchy subject lines;
Make your emails useful, relevant, and engaging.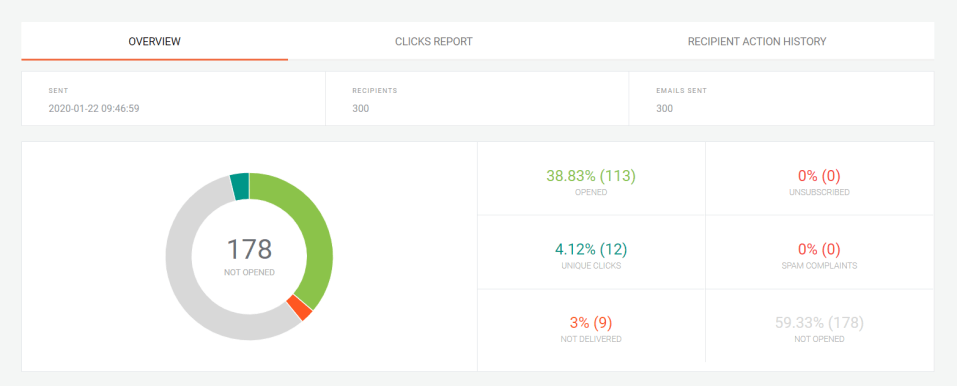 Step 8: A/B Test Your Email Blast Campaigns
You've spent so much time, energy, and effort creating the perfect email blast. You don't want it to go in vain. Right?
A/B testing helps you get the most out of your email campaigns by tweaking a few elements and finding winning combinations. A/B testing involves splitting your list into two segments to test your campaign effectiveness by tweaking the subject line, email copy, design, timings, etc.
You can send emails to one group and then analyze campaign performance, like open rates, click-through rates, etc. and decide the changes to make in your subject line, email copy, subject lines, content, and more, to improve performance.
Marketing automation tools like Sender simplify the process of performing A/B tests without any manual effort. As a result, you can run multiple campaigns simultaneously, test one campaign against another, and track changes to see what works best. You can also compare a wide range of variables in a single automation flow.
For example, you want to find out which one of two images appeals more to your audience. All you need is to assign a variable for the two variations of the image for two different audiences. With Sender, you can easily automate this process and track results.
Email Blast Best Practices
Email blasts can be an excellent opportunity to engage with your existing subscribers and create a solid brand recall. If you're looking for tips and examples of how to get the most out of email blasts, here are some best practices:
Find the best day to send an email blast before scheduling. According to industry standards, Tuesday, Wednesday, and Thursday work great. But you can A/B test your campaigns.
Craft an attention-grabbing subject line. Keep it short but impactful. You can even personalize the subject line with the recipient's name for better impact.
Add only one single CTA per email blast. You should be clear about what you want the subscribers to do. Don't add multiple links within the emailer and create a clear CTA based on the goals of your email blast campaign.
Spice up the preview text. Preview text is visible along the subject line without opening the email. So, make it intriguing enough to make a person want to open your email.
Add images to your email blast. Don't be boring, and add lengthy paragraphs. Use an eye-catchy layout and add relevant images to make your email more engaging and fun to read.
Pick a responsive template. Email statistics show that most of your audience uses mobile devices to open emails and people get more frustrated by unresponsive emails than ever. So, always send mobile-friendly email blasts that offer a great user experience, irrespective of the device.
12 Best Free Email Blast Templates
Email blasts are an effective way to broadcast your message with your customers and prospects. The best way to send an email blast to many people is by templating your email blast.
When thinking of an email blast template, remember there are essentially two types of email blasts: General email blasts and triggered emails.
The triggered emails are automated emails sent to the subscribers following their action. For instance, you can send a triggered welcome email after a user subscribes to your list or after the first purchase.
General email blasts are not like triggered emails. You can create an email blast campaign using a drag-and-drop builder and send them to a large segment at once. The right template will help you speed up the process of sending the same message to every subscriber on your mailing list.
Here are the best template examples for email blasts:
1. Sale
If you offer a flash sale to your subscribers, you can send mass emails to inform them. Blasting sales emails helps you save time and instantly connect with a jaded audience. Plus it helps you keep your marketing budget in check.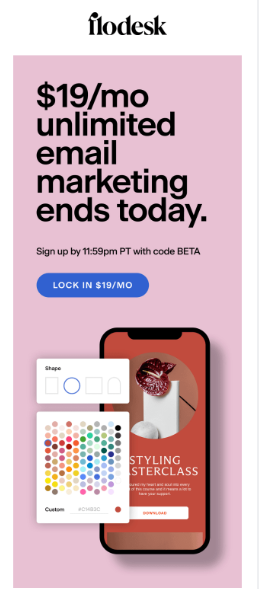 Image source: Flodesk
The Flodesk example above highlights the basic information you need to include in a sales blast email. Few tips: make your subject line bold and intuitive, include incentives, use images and finalize with a catchy call to action.
Here's the complete guide for the best email subject lines to increase your sales (with examples).
2. Event Information
If you manage online webinars for your subscribers, you can send mass emails to inform your subscribers about the upcoming event.
A couple of email subject lines model for event information:
LIVE Training: 10 romantic steps to women's heart
Join our LIVE tomorrow at 11 AM

Image source: Eventbrite
The EventBrite reviews a client's events for the year. It provides a summary of the number of tickets the client sold in the year, and their followers on EventBrite. Then EventBrite promises to do more for the client in the coming year.
3. New Product Blast
You can send an email blast if you start a new product. Still, it's better to segment your list into already existing customers and new subscribers so that you can send different campaigns, discounts, and promotions to them.

Image source: Monday.com
The email from Monday.Com provides the reader with products updates. It explains how the client can take advantage of the product updates offered by Monday.Com. The CTA it for the client to start a 7-day trial.
Also read: 5 Powerful Promotional Email Examples
Also read: 10 New Product Launch Email Template Examples
4. Newsletters
They are the most common type of email blasts. Magazine websites, news, business, non-profit organizations, or news send newsletters to inform subscribers about the latest blog posts.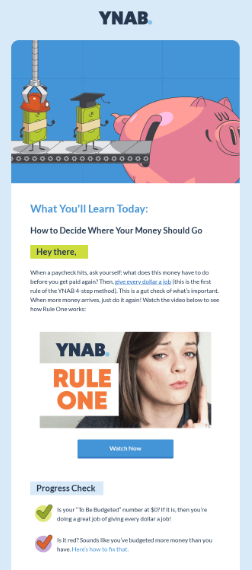 Image source: YNAB
The YNAB email introduces the latest video, which readers can watch after clicking the attached link.
Also read: Email Newsletters: The Ultimate Guide with Best Practices
5. Real Estate
Email blasts can be an excellent way for players in the real estate industry to market their products. With the suitable real estate email blast template, you can quickly craft messages and send them to your audiences within the shortest time possible.
Real estate email blast templates may include the following:
Newsletters
Welcome emails
Buyer lead emails
Open house lead emails
Online inquiry emails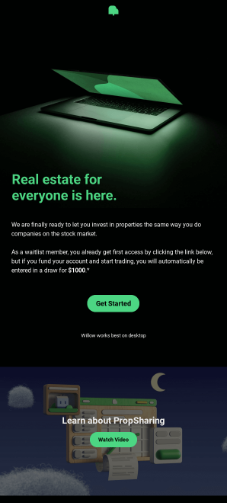 Image source: Willow Real Estate
The email about the real estate market in Toronto, Canada makes an exciting investment proposition to the reader. Joining a waitlist, readers can trade on real estate assets like they do on the stock market. The CTAs are 'get started' and 'watch video.'
6. Valentine's day email blast
Valentine's Day is a celebration of love. It's the perfect time to send romantic-themed messages to your subscribers, clients, fans, or employees.
You could create a simple email with a heart emoji and a message like "We love you!" or go all out with a themed design or Valentine's day email template. You can even top up the email blast with an SMS campaign. Here's a great mockup to help you get started: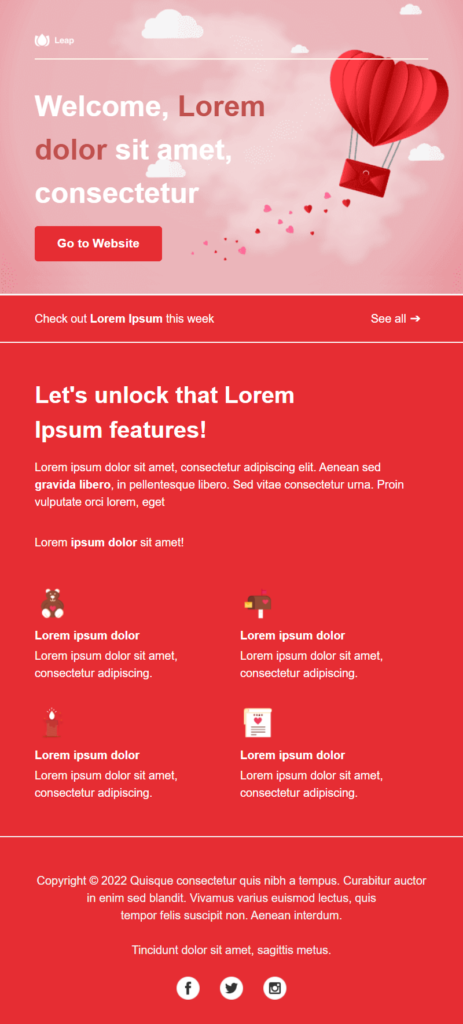 Source: Sender
You can use different variations of the same email to send to a segmented list of your subscribers. Add interesting images or information about your Valentine's day offers, special collections, or even a link to your Valentine's Day gifting guide to this email blast.
7. Mother's Day Email Blast
Mother's Day is a great time to invoke nostalgia and remind your subscriber's about their childhood and the special place their mothers have in their lives and give them an idea to pamper them with a great gift.
You can get creative and share Mother's Day celebration ideas or just wish all the mother's in your email list on this special day.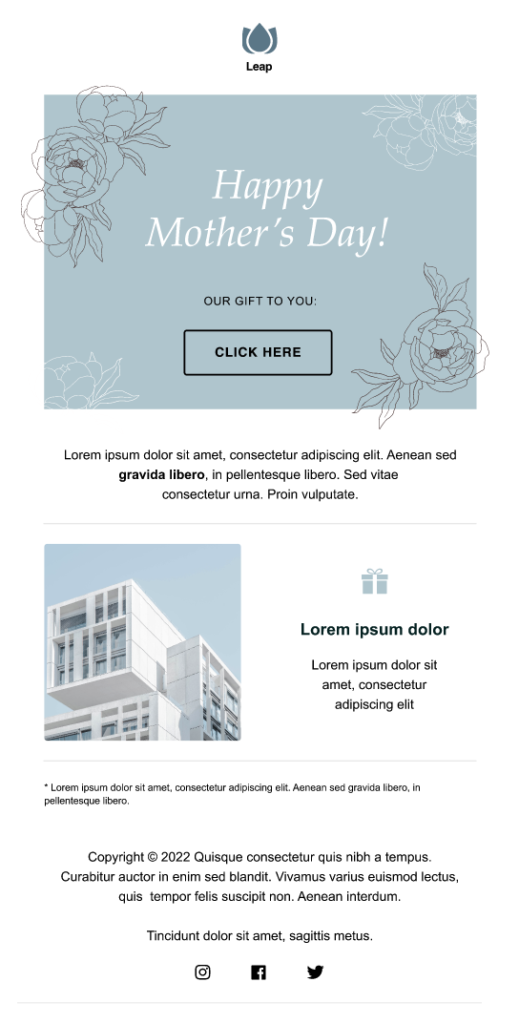 Source: Sender
The email layout above is an excellent example of how to keep it simple yet unique. Keep your email tone subtle and warm, just like a mother's touch and gift them something via email, like a special voucher or announce a special sale, especially for mothers, like the template above suggests.

Also read: 8 Mother's Day Email Campaign Templates + Subject Line Ideas
8. Birthday Email Blast
What better way to reach out to a user than to send a heartfelt, personalized, and warm wish on their birthday? Birthdays can be a great way to engage with users, make them feel special and valued, and create a personal relationship.
You can segment your email list based on their birthdate and set up a birthday email automation with a beautiful email blast template to get going. Here's a template to get started.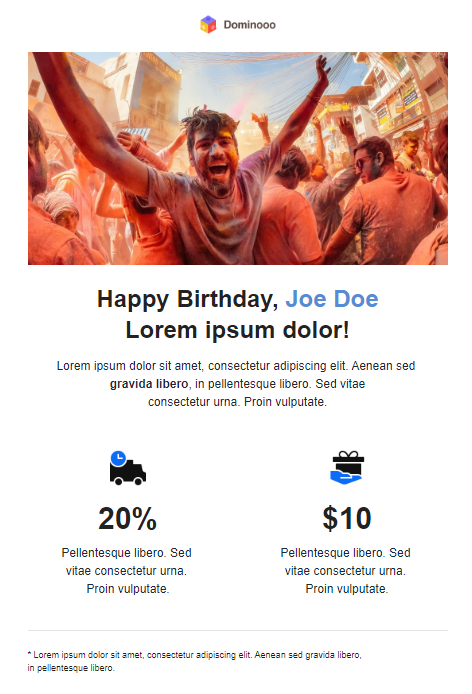 Source: Sender
You can personalize the responsive email layout to share all the special rewards they can claim on their birthday — a great way to make them feel special. You can further personalize the email with a special note at the end, sharing information about their relationship with your brand since their last birthday.
9. Event Email Blast
If you're into hosting events, webinars, or special sessions, you should definitely use emails to notify your subscribers. An event email blast sends event information to your entire email list. It's also a great tactic to gauge interest and ask people to reserve a spot in case of a limited event. Here's a useful template to help you start sending event email blasts: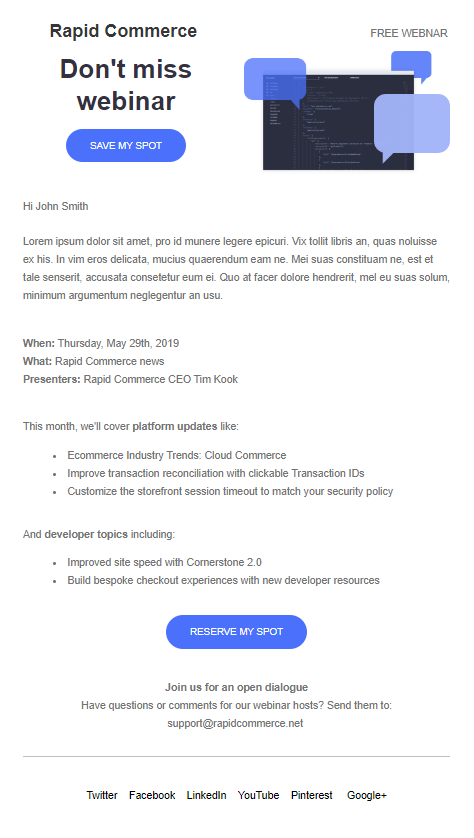 Source: Sender
The template can be used by content creators, digital marketing companies, event planners, realtors, and anyone who has an email list and is hosting an event in the coming weeks.
10. New Product Launch Email Blast
Launching a new product is a lot of work. So, you naturally expect to make the product launch successful. Sending an email blast to announce your new product can be a great way to bump up sales revenue from day one.
Companies like H&M, Sephora, and others send regular email blasts announcing their new collections and product range. You can also send a targeted email blast to your existing subscribers, telling them about the launch. Here's a mockup to help you send a new product email: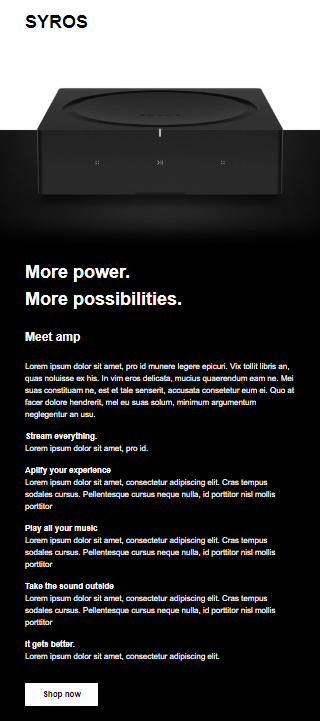 Source: Sender
Notice how simple yet appealing the layout is. The email is one of the best examples of an informational email that introduces the reader to the new product. It also has a small checklist at the end as an attention-grabbing element that makes readers curious to open the product link and know more. You can use it to start your product marketing efforts in minutes using Sender.
11. Thanksgiving Email Blast
Thanksgiving is the perfect time to send an email in the holiday spirit. A thanksgiving-themed email blast can be designed to share seasonal deals, remind them of shopping for Christmas and send a thank you note for staying loyal to the brand. Here's a Thanksgiving email template to help you get this done quickly:

Source: Leesa
Remember to keep the email short and write a subject line that grabs attention instantly. As most subscribers will spend this time with their family, you can even plan an email blast in advance, reminding them to get gifts for their parents, siblings, and loved ones.
12. Black Friday Email Blast
Black Friday is the busiest time for a business owner or marketer. Shoppers wait a year to get their hands on Black Friday deals, which is a good reason to send an email.
You can tease your subscribers about the upcoming Black Friday sale or share exclusive offers. Here's a Black Friday email template that you can use: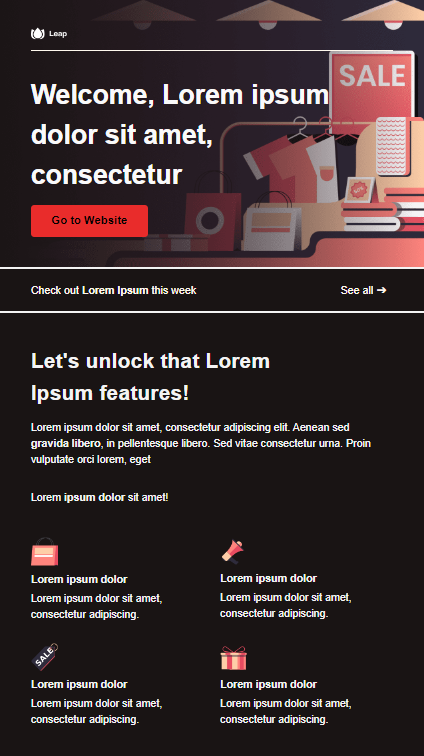 Source: Sender
Remember to create an engaging emailer and schedule it a couple of days before the actual day. It's a crowded time for email inboxes, so you better bring your A-Game to design and write a Black Friday emailer. Also, get creative with Black Friday subject lines for your email blast and try to grab maximum attention during this busy season.
Frequently Asked Questions
How to Do Email Blasts?
An email blast is a quick way to reach all your subscribers with a single email. With an email blast campaign, you can send information, promotions, and even invitations to everyone. All modern email marketing solutions can broadcast an email to your entire email list. All you have to do is pick an email template, design and write your message, personalize your subject line and email copy, and schedule the email blast from your email marketing dashboard.
How to Make an Email Blast?
You can plan, design, create and send an email blast using a marketing automation solution like Sender. Choose the audience you want to send the email blast to, use the drag-and-drop email builder to add email blast design and copy, and schedule it based on an event or pre-defined time to send automatically. You can even test different variations of the subject line and email design using the A/B design tool to optimize your campaign performance.
What is the Email Blast Cost per Thousand?
The email blast cost per thousand varies from one provider to another and depends on the pricing model. For instance, for up to 50,000 emails monthly, you can expect to pay anything from $20 to $335, translating to $0.4 to $6.7 per thousand emails. Unlimited packages may cost you between $1.25 and $7.55 per thousand emails. With Sender, an email blast with up to 15 000 monthly emails does not cost a thing. Why not try and see?