Like what you read?
Apply it in practice with Sender.net - the most cost-effective email marketing solution in the market.
Try Sender for free
Despite the emergence of several digital tactics, email marketing continues to be an indispensable marketing channel for any flourishing content strategy, and rightly so. After all, it delivers the highest ROI for marketers –  $36 for every dollar spent. Sounds incredible, isn't it? No wonder email marketing industry will grow to $59.8 billion by 2032.
But did you know that many email campaigns flop, witnessing a high unsubscribe rate?
Email marketing can be slightly complex owing to the many factors that affect it. And you certainly don't want to waste your precious time and resources on crafting an email that goes straight to the spam folder.
So, to help you out, we have whittled a list of the most common email marketing mistakes that marketers make. Avoiding these common errors will help you launch a truly successful email campaign.
Common Email Marketing Mistakes to Avoid
If you are witnessing low results in your email campaigns, you may have fallen victim to some of the common email mistakes. Read on to identify the most common email marketing errors and how you can avoid them.
1. Composing Poor Subject Lines
An average user receives tons of emails every day. Consequently, they quickly glance at the email subject lines before deleting all unwanted sales pitches. Did you know that 69% of recipients mark emails as spam after reading the subject line?
Many times, marketers use subject lines to promise impossible outcomes to users. Well, hyped-up email subjects often scream spam, making recipients instantly hit the delete button.
To craft attractive and clickable subject lines, follow the below-mentioned pointers:
Keep it short (fewer than 50 characters) and specific;
Use personalization, such as name or location;
Avoid using ALL-CAPS;
Create a sense of urgency;
Pose a compelling question;
Use preheader text;
A/B test your subject lines.
2. Not Using Personalization
Email personalization is the key to taking things a notch higher and creating emails that are highly targeted for certain segments in your list. According to statistics, 72% of customers are likelier to engage with personalized messaging. Yet many marketers forget it, resulting in failed campaigns.
Although there is no limit to how you can personalize your email, often, it's as simple as personalizing the subject line or adding the recipient's name.
Take time to learn about your email contacts, such as their age, location, job title, etc. Use this information to send personalized product recommendations or other dynamic content that is relevant to their needs.
Email personalization is super easy with Sender's smart segmentation. Not only you can add receiver's name, you can go further and segment your emails according to prospect's or customer's behavior.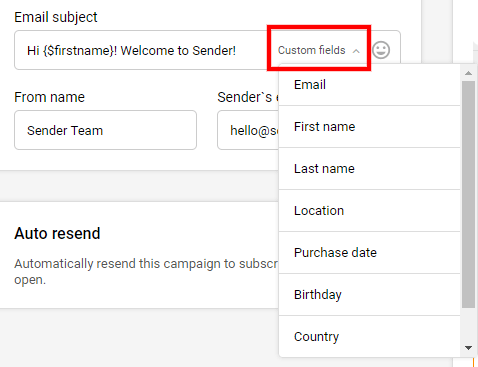 3. Not Utilizing Message Previews
A lot of marketers make the common email marketing mistake of not including email preheader text aka preview text. Essentially, this text is a bit of information that appears next to an email's subject line in the inbox and aims to provide extra insight into the email's content.
As per a study, almost 25% of respondents read the preview text before deciding whether or not to open an email. So every marketer must incorporate this into their emails.
Moving on, here are some tips for writing the best preview texts that entice the readers:
Grab their attention with a personalized call: John, Get Your Free Pair before the Stock Runs Out!;
Do not repeat the subject line's message in the preview text. Try to add value to this extra space;
Use emojis to add color and seize the reader's attention;
Conduct A/B test to boost performance.
4. Forgetting Mobile Users
One of the bad marketing practices is not optimizing your emails for your mobile users. According to eMailMonday, more emails are now opened on mobile than on desktops. Thus, marketers who are not optimizing their emails for mobile are missing out on a huge opportunity.
Formatting for mobile devices should be clean and simple, with text and images that read well on a smaller screen. With mobiles, the display area is restricted. So, it's important to keep the content aligned in a single column and images that are no bigger than 600 pixels.
It's advisable to always beta-test your emails across various devices to avoid quality and load time issues. This will ensure a good and seamless customer experience across devices.
Also read: What is Mobile Marketing? Definition, Strategies
5. Adding Unclear CTA
You're crafting an email for a purpose. Whether you want your customers to provide feedback on a recent purchase or follow you on Instagram, there should be a clear and concise call-to-action (CTA). It's extremely important to be clear about what you want your customers to do in order to have a successful email marketing campaign. Otherwise, you're only crowding their inbox.
Decide what action you want your customers to take, and draw their attention to it in the form of a big and bold button. At the same time, avoid overwhelming the recipients by adding too many different CTAs: order, subscribe, leave your feedback, etc. It will only confuse the recipients with endless streams of information.
Below is an excellent example of a clear CTA that encourages the readers to engage further.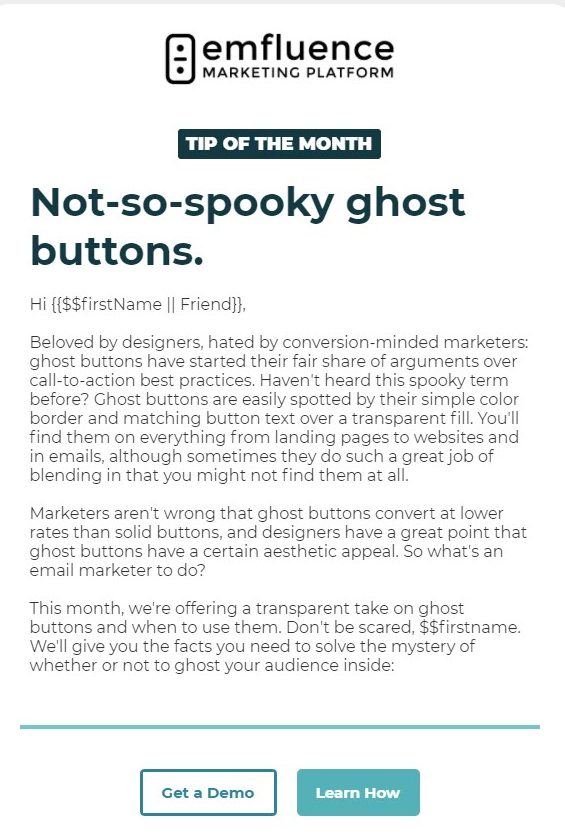 6. Using Too Promotional Slogan
Another one of the worst email marketing mistakes is clichéd and salesy messages. When you're emailing your customers, you must understand them well. This includes understanding their needs, desires, pain points, etc. This will help you nurture a relationship with them and eventually persuade them to buy from you.
For instance, if you have a home furnishing shop, you could send weekly email newsletters offering tips on decorating your home or office. Offer some valuable ideas that are neatly interspersed with relevant products from your business. This will help you engage your recipients and position yourself as an industry expert.
7. Avoiding Customer Segmentation
Did you know that segmented email campaigns witness 50% higher CTR than untargeted campaigns. It is indubitably one of the worst errors to avoid customer segmentation of your mailing list. People who receive unnecessary and irrelevant information are more likely to unsubscribe from your emails.
Essentially, customer segmentation means sorting your email recipients into smaller groups based on factors such as demographics, buying habits, geographic area, email engagement, past purchases, etc. When you send automated marketing emails directly targeted to these groups, the recipients are much more likely to engage with the content.
8. Neglecting Analytics
This is another common email marketing mistake that leads to failed email campaigns. As a rule of thumb, marketers must always track their email marketing campaigns to identify what works and what doesn't.
Several email tracking tools enable marketers to review analytics after each email. For instance, they can check out how many opens it received, which links got maximum clicks, whether the emails were forwarded to someone, etc.
Having a set of pre-defined metrics and comparing their results with previous distributions can help you pinpoint trends. Accordingly, you can revise your email marketing strategy and get better conversions.
Here is a list of the most common metrics every marketer must track.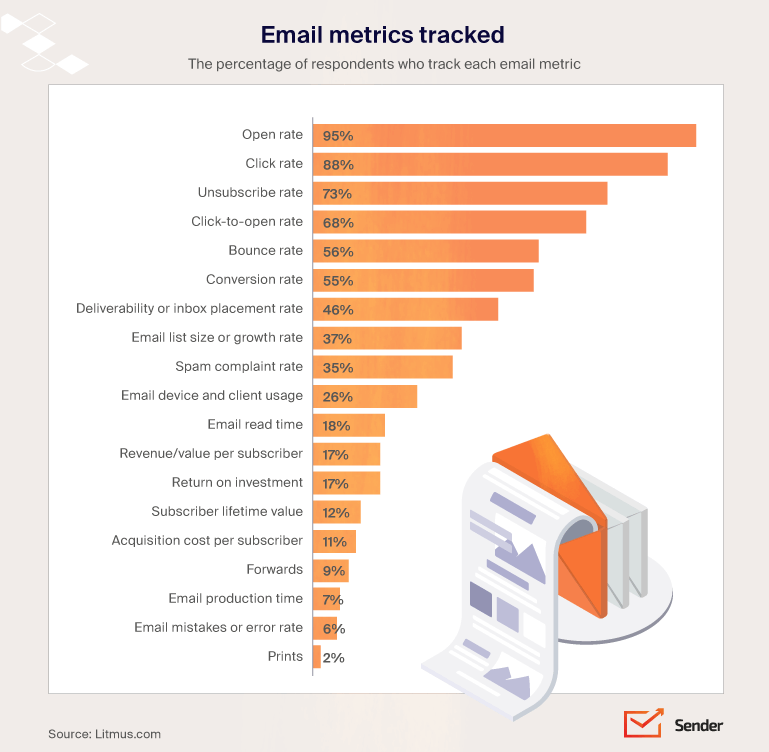 9. Sending Emails at the Wrong Time
As per a study, 9 – 11 am is the best time to send emails as they receive the highest open rates. Also, it's held there is peal at 10 am. The same study has also concluded that emails sent on a Thursday obtain maximum engagement.
These numbers don't mean that they will definitely work for your business. However, it's worth experimenting with different send times to see when your audience is most active. Also, it's a good practice to choose a time frame that makes sense for the type of content being pushed. For instance, if you're sending a newsletter, which is normally read before work, send it early morning so it receives high open rates.
10. Complicated Email Content
Using overly complicated language can destroy all your written communication. It creates the scope for misunderstanding. However, it's seen that most marketers use a lot of jargon and complex terms in their emails, making one of the greatest email marketing mistakes.
It's important to understand that if you write in complicated language, no matter how well your recipient knows you or your brand, you will run the risk of wasting time and energy, therefore keep email content straight forward and easy-to-understand.
11. Using Cliché and Sales-Heavy Language
The emails you send must add value to your recipients. It should inform them about a subject and help them in meaningful ways. Steer clear of clichéd and extremely sales-oriented content.
Make your copy, tone, and overall branding in a way that supports your brand's mission and message. If your email looks just like everyone else's or fails to reflect your brand's values, your campaign will not succeed.
12. Not Gathering Hot Leads with Popups & Forms
A common email marketing mistake occurs when businesses miss the opportunity to capture as many email IDs as possible at the various brand touchpoints. It's seen that most websites have their email signup option in the footer of their website. Although the footer is also a significant part of the website design, it often restricts the number of signups.
If you've got informational and high-value content on your website, you must create gated access for the users. For instance, they can only access the content after they sign up for your newsletter. Similarly, if you have an eCommerce store, you can offer a first-time discount to all those who subscribe to your newsletter. This will help you create an active mailing list that further boosts the success chances of your email campaign.
Also read: 12 Effective Newsletter Signup Examples & Popup Form
13. Ignoring Sender's Reputation
Ignoring or simply not knowing about your sender's reputation is a bad marketing practice that several marketers make. Essentially, sender reputation is a score given by internet service providers that are based on your everyday email volume, bounce rates, and unsubscribe rates. The more frequently your recipients unsubscribe from your emails or simply bounce off, the lower your score goes.
Below are the factors that affect your sender reputation score: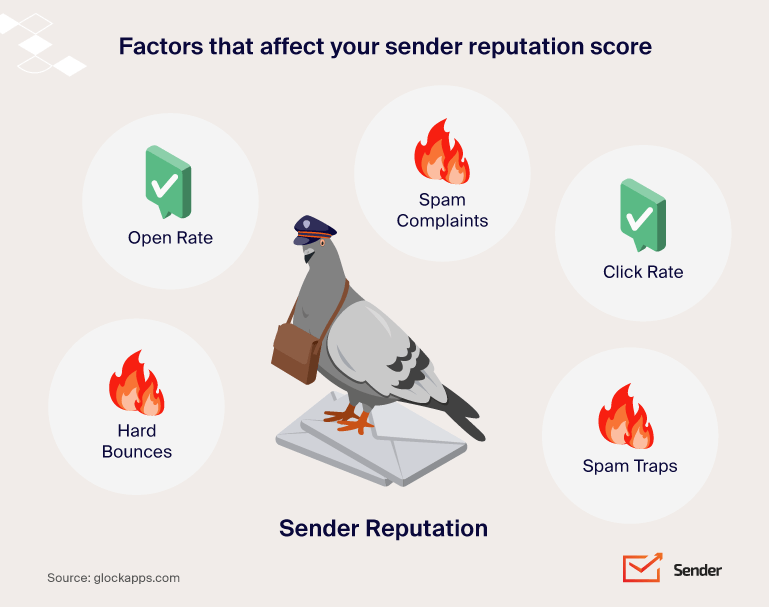 You can use several online tools to track your sender reputation score. Once you know the score, you can better track the success of your campaign as well as identify the elements that need improvement.
Conclusion on Email Marketing Mistakes
Whether you are a business owner or running email marketing campaigns for a reputed eCommerce website, it's easy to fall for these common email marketing mistakes. But thankfully, fixing them is not so hard.
The aforementioned tips will help you understand your errors and adjust your email strategy accordingly.
---
About author
Shane Barker is a digital marketing consultant who specializes in influencer marketing, content marketing, and SEO. He is also the Founder and CEO of Content Solutions, a digital marketing agency. He has consulted with Fortune 500 companies, influencers with digital products, and a number of A-List celebrities.