Employ your powerful emails
Increase sales and engagement by sending your well-designed emails with Sender.
Get Started For Free
Have you ever wanted to launch a newsletter for your business but never knew where to start? Or even worse, have you ever tried to make one and failed?
Here's the good news — there's no need to spend a fortune or waste time designing a stunning newsletter for your audience. There are hundreds of free email newsletter template websites online that can simplify your life.
In this blog, we'll share some popular newsletter template websites you can use to get started within hours. So read on and find the best way to your email marketing success!
What to Consider When Choosing a Newsletter Template
As a marketer, using design templates when creating email newsletters significantly eases your work. Email newsletter templates simplify the email design process by providing a solid blueprint you can customize.
But what should you look for when choosing your email newsletter templates for your next email campaign?
Here are some things to consider:
The template should match the content you want to send to resonate with your audience;
It should match your brand's style and look similar to other company communications;
A simple drag-and-drop email builder to easily include or remove different elements to the template (e.g., images, product listing, timer, reviews, etc.)
Various CTA (call-to-action) button options should be available to encourage opens and clicks in every newsletter you send;
The template should be responsive for a mobile-friendly experience.
12 Best Sites for Email Newsletter Templates
Email newsletters are a powerful medium to nurture your relationship with customers and increase conversions and engagement.
Lucky for all the marketers out there, today's technology has made it easy to create an email newsletter. So if you're ready to start building, look at the twelve websites we've selected as the best options for eye-catching newsletter templates.
1. Sender – Free Email Newsletter Templates
Sender is a top-rated marketing automation platform with raving reviews that offers an easy way to create a professional-looking email newsletter for your business.
Sender has many features to help you automate email and SMS marketing, create and send newsletters, and engage your subscribers. If you want to start your newsletter, here are some features that would be immensely helpful for you:
Advanced Design Builder — Sender has a drag-and-drop newsletter builder with an extensive library of premade, editable, responsive, and free email templates.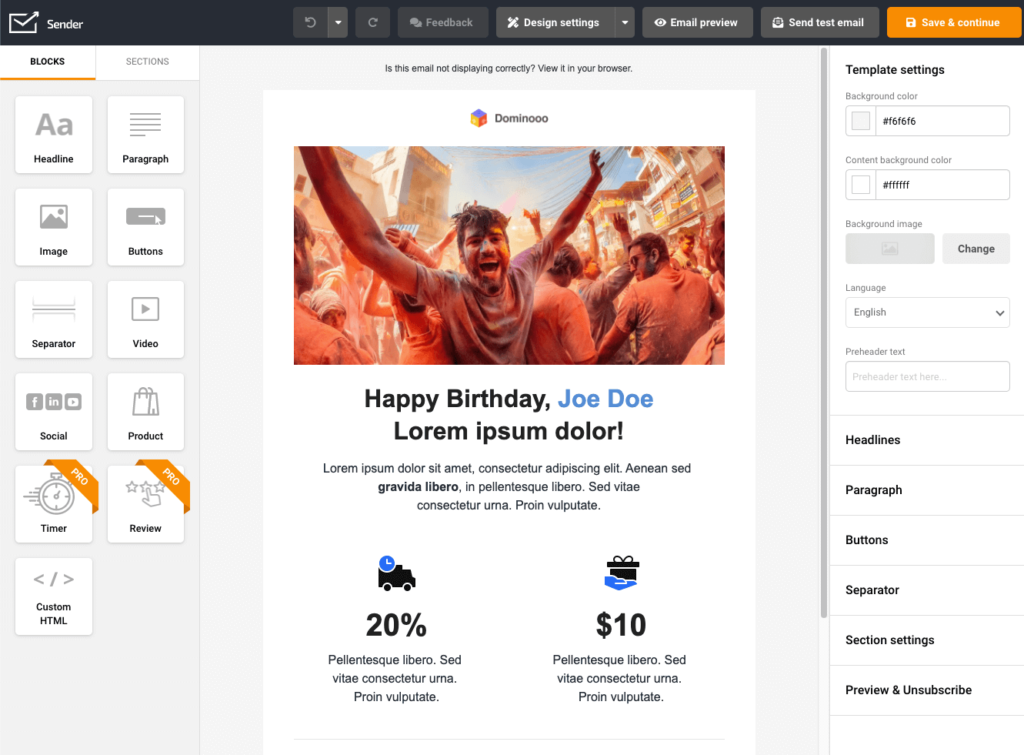 The builder supports plain text, HTML, and dynamic layouts, which are completely customizable according to your need and brand style guide. You can use Sender's email design builder to create a creative newsletter with graphics, product blocks, images, customizable backgrounds, font styles, GIFs, countdown timers, etc.
The editable design blocks give you complete creative control over your newsletter's look, feel, and layout.
Email Newsletter Template Gallery – Sender has a massive collection of fully-customizable templates designed specifically for businesses looking to create professional newsletters that are easy to set up and send.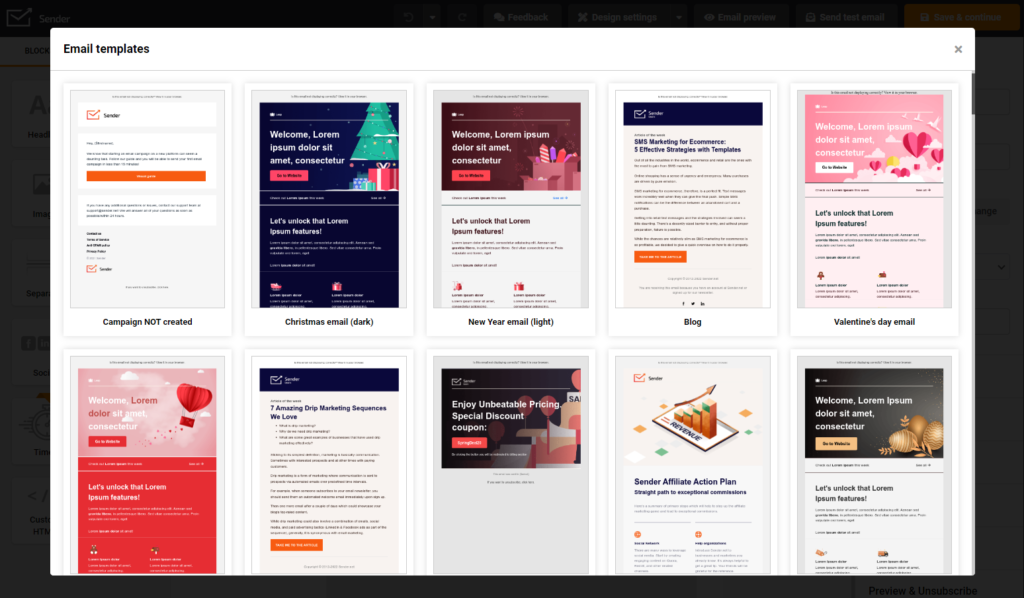 Each newsletter template in Sender is fully responsive and mobile-friendly. This means it will look stunning across any device, regardless of screen size.
You can easily design powerful, professional templates for your email marketing campaigns with a few clicks. The best part? Sender is free to use for businesses with up to 2500 subscribers.
Pricing – Free to use for up to 2500 subscribers without any limits or restrictions. Paid plans start at $8 per month.
---
2. HubSpot – Great Collection of Email Templates
You know HubSpot as a powerful CRM and marketing automation platform, but did you know it has a vast library of readymade email templates you can use for your newsletter?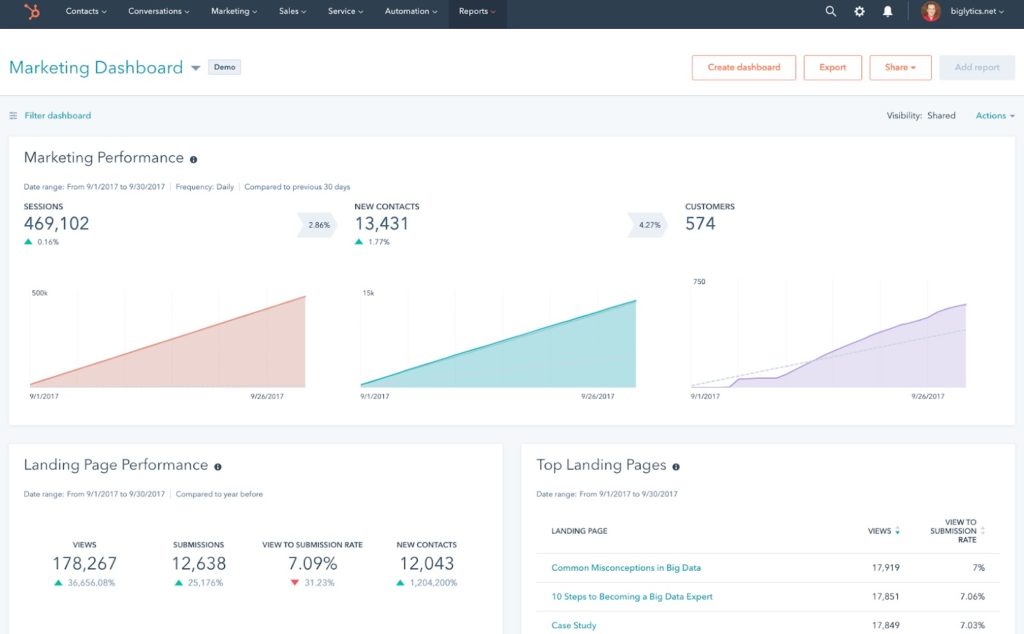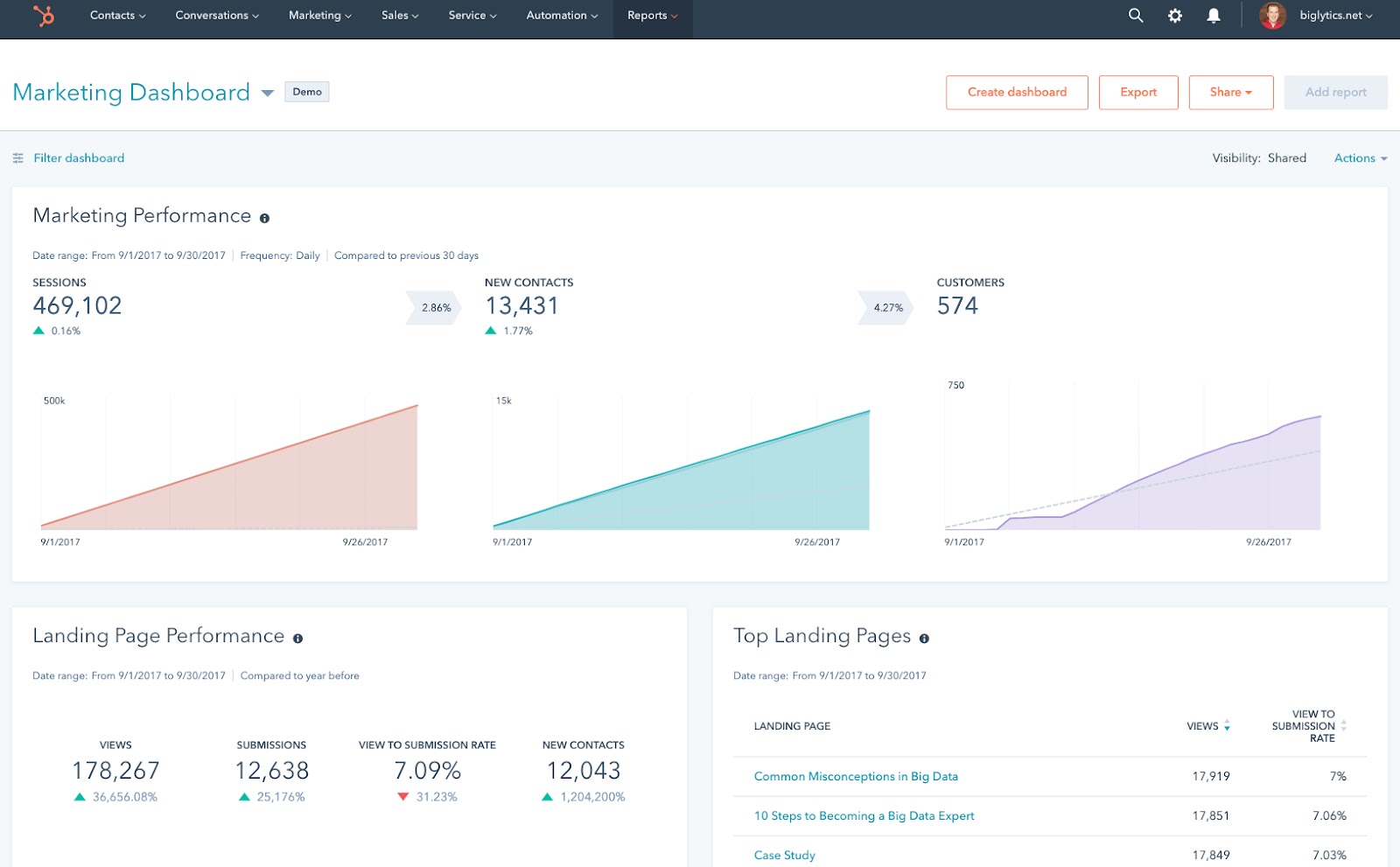 HubSpot's library has hundreds of interactive templates tested to drive engagement and delight your users. Plus, the drag-and-drop builder makes it easy for you to customize the template without any coding trouble.
You can even custom code an HTML template if you've got the skill, browse the HubSpot marketplace for inspiration, or buy email templates from other developers easily.
Pricing – Starts at $45 per month for managing up to 1000 subscribers.
---
3. Stripo – 1350+ Free Newsletter Templates
Stripo is among the top email template builders to consider for your first email marketing campaign. Its email template library is filled with 1350+ free newsletter templates for any occasion.
But there's a huge 'but' – unlike email marketing software like Sender, it can't be used for sending emails as it's only a template designer.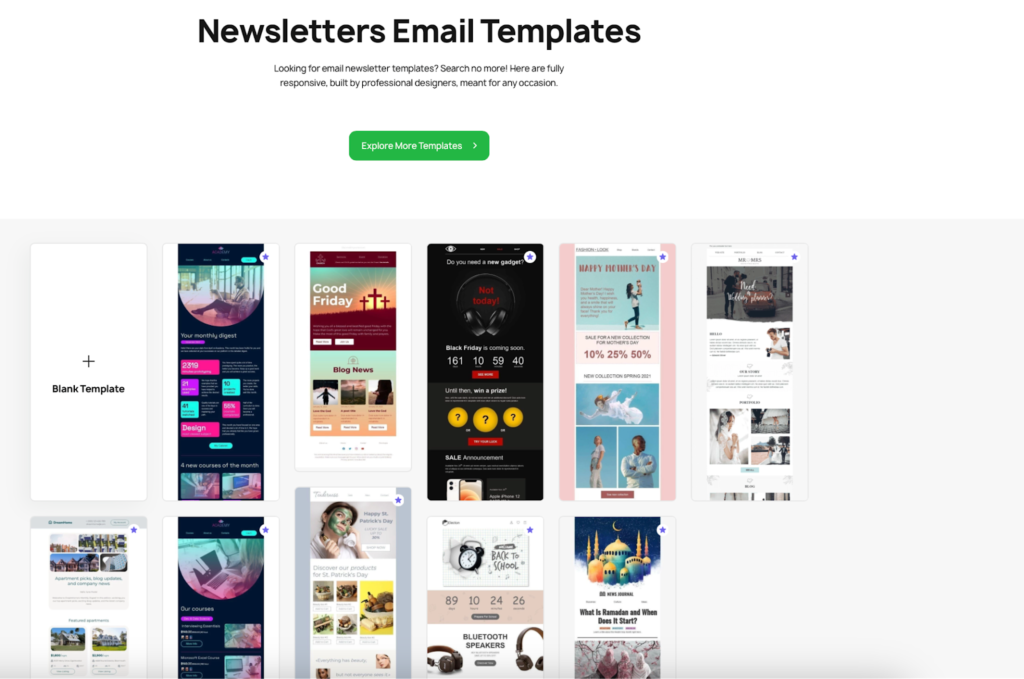 Stripo is extremely easy to use. So the most challenging part in creating a beautiful newsletter will be to choose from their vast library offering anything from a school newsletter template to a new movie announcement.
Another thing worth mentioning is Stripo's library of custom modules. It saves precious time and simplifies the whole process by reusing the modules you've already created.
Their email testing tool is an excellent addition to the already good deal – use it to send test emails and check how your design looks in the inbox.
Pricing – Free to use for up to 10 templates. Paid plans start at $15 per month.
---
4. Drip – Visually Pleasing Email Templates
What's the best word to describe email marketing service Drip's templates? Gorgeous. Each of their 50+ eCommerce newsletter templates is professionally designed and completely customizable to your needs.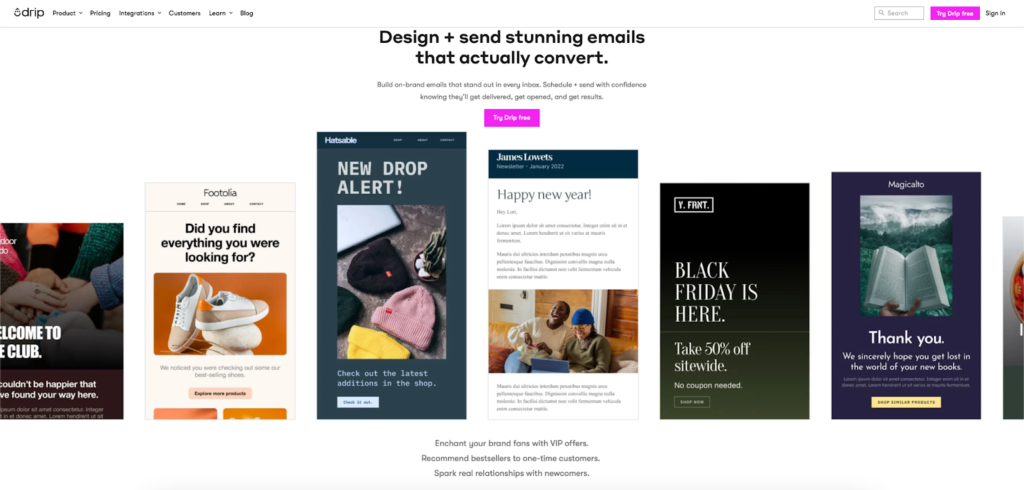 Drips's email builder is very intuitive, allowing you to create an attention-grabbing newsletter effortlessly within moments. Save time by pre-adding your brand style – syncing logo, colors, fonts, and more. And use their point-and-click builder to add your store products directly into emails, promote top-sellers to newcomers, and send dynamic content like cart URLs.
If you're still worried about your designer skills, however little they're needed with Drip, their team has you covered. They also have a pro services team that can do all the work for you.
Pricing – 14-day free trial. Paid plans start at $39 per month.
---
5. Brevo – 40+ Premade Email Templates
A free account at Brevo is already enough to gain full access to a template gallery of 40+ beautiful designs. Though the email templates are slightly outdated, Brevo's email editing tools, such as drag-and-drop, rich text, and HTML editor, allow you to reach solid results.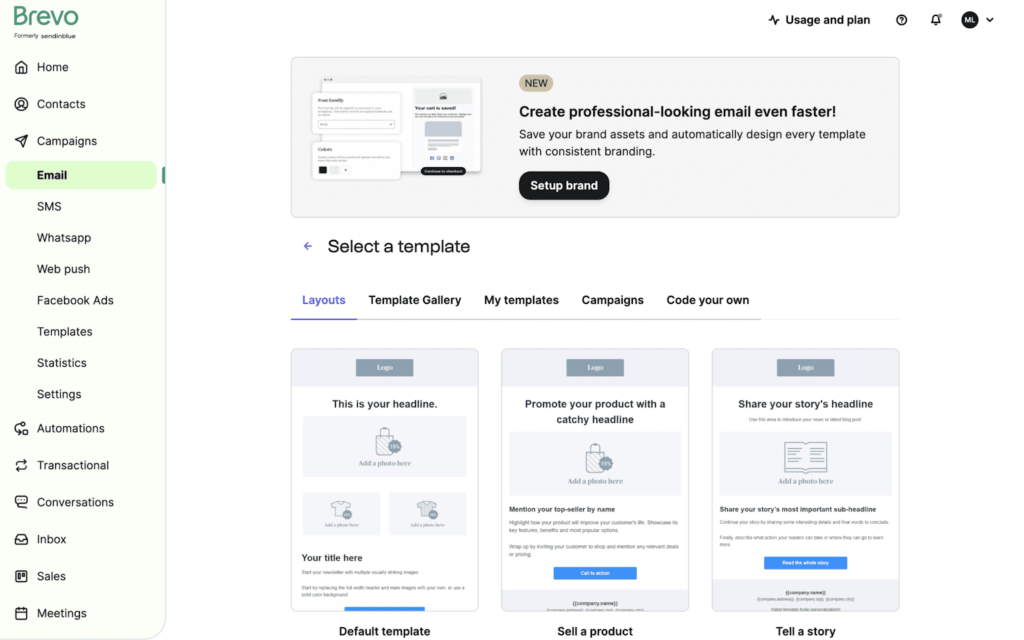 How would your newsletter creation look with Brevo? All you need is to select a template from the library and customize it to your need by dragging and rearranging the elements and then editing the text directly. If required, you can add email attachments as well.
Pricing – free for up to 300 email send-outs per day. Paid plans start at $25 per month.
---
6. BEE – 1200+ Professionally Designed Email Templates
Many online communities and forums mention BEE having a considerable email template library. The platform itself claims to be the 'be-all-end-all' solution in the email template builder category.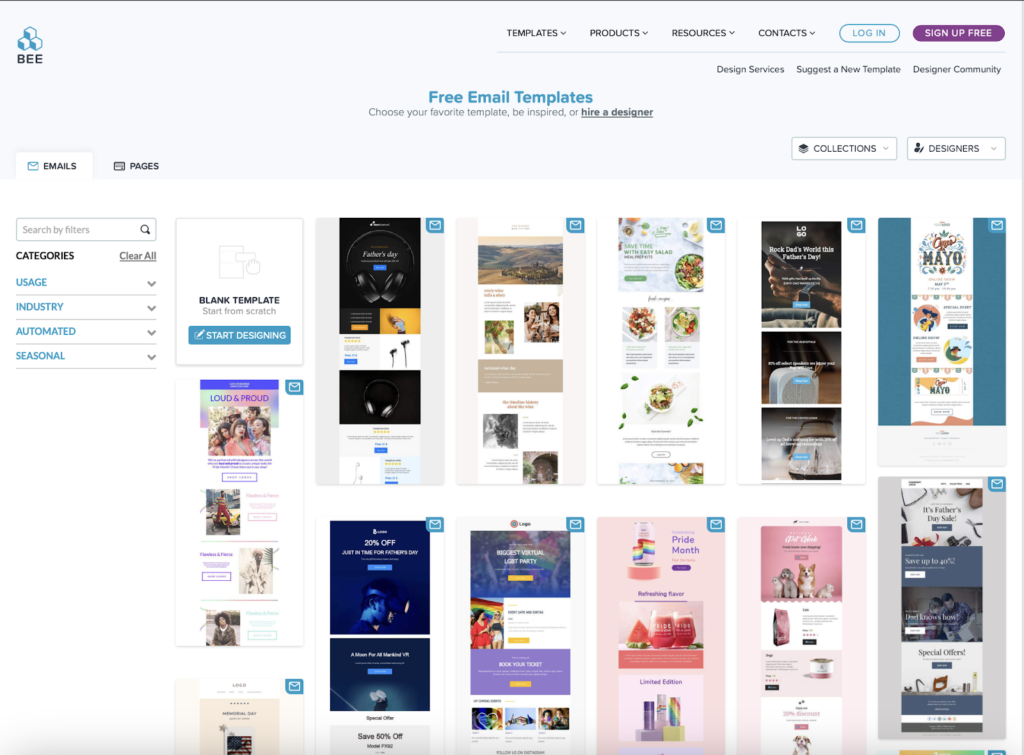 BEE holds 1200+ newsletter templates so any marketer can find something to their design taste. You only need to check off the boxes in their descriptive menu to find an ideal fit for your next email marketing campaign.
From there, as with most makers' premade templates, you can customize your choice with a drag-and-drop tool. Once you're done – the perfect newsletter is finally before your eyes – you can save it to a dedicated folder and easily find it for future reuse.
Pricing – free plan with limits on the number of email templates created and feature restrictions. Paid plans start at $30 per month.
---
7. Litmus – Best-Designed Email Templates
Litmus is an excellent solution for creating responsive emails. With a vast community of active users and a massive design library, Litmus offers hundreds of exciting templates for email newsletters.
It comes with a no-code email builder that you can use to customize an email template and supports HTML code and visual building. According to Litmus, its design library and templates save at least 3 hours spent on coding an email otherwise.
The design library within Litmus can be used to store reusable assets, snippets, and templates in a single place. So, you can use it to collaborate in real-time with team members and ensure a streamlined brand style across campaigns and newsletters.
Pricing – Paid plan starts at USD 99 per month.
---
8. Mailchimp – Effective Newsletter Templates
MailChimp is a popular email marketing vendor that lets you design beautiful and easy-to-use email templates and reuse them for future newsletters.
MailChimp has a vast library of email templates, making it easy for you to get started without needing to code.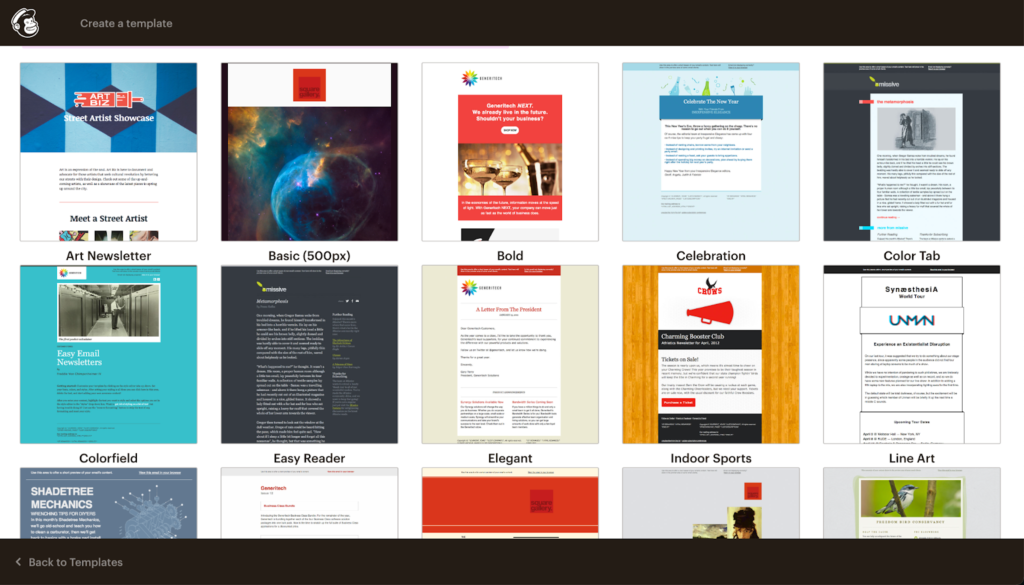 The template library is vibrant, with many options for multiple industries, niches, and occasions. You can use the email templates immediately or customize them according to your brand guidelines using the email editor. The drag & drop interface makes it an excellent solution for beginners who want to start an email newsletter without getting into technicalities.
Pricing – Starts at $14 per month for up to 500 contacts.
---
9. Constant Contact – Responsive Email Templates
Constant Contact lets you create and manage email newsletters and email campaigns easily. The cloud application has a wide variety of awesome templates for every type of business.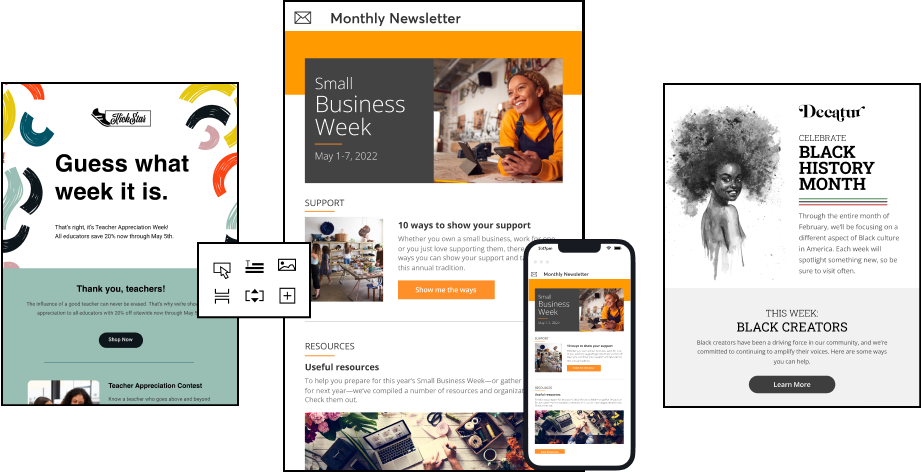 Constant Contact prides itself on a library of 200+ beautiful and mobile-friendly email templates that are easy to customize using a drag & drop editor. You can customize the templates with your logo and custom images and send a branded newsletter within minutes.
Pricing – Starts at $9.99 per month for up to 500 contacts.
---
10. Canva – Beautiful Newsletter Template
If you're reading this blog about email templates, it's highly likely that you already know about Canva. It's one of the most popular online graphic design tools that let you create cool designs with its drag & drop builder.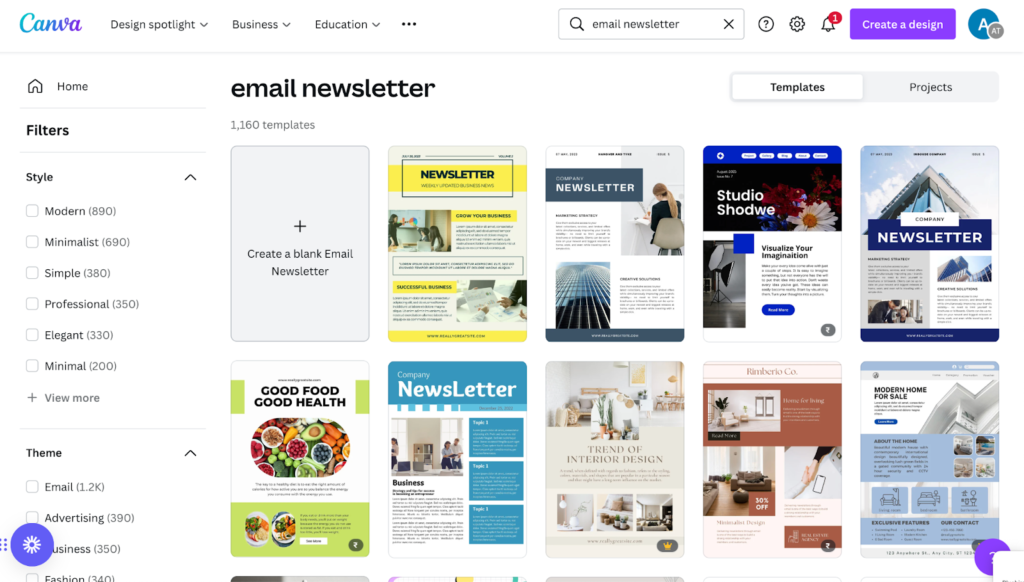 With thousands of readymade newsletter templates for every niche and use case, it's a powerful solution for businesses looking to start designing without wasting time or money.
An easy-to-use interface, millions of design elements, templates for almost every use case, and extensive customization options make Canva a reputable provider for anyone trying to get their hands on amazing email newsletter templates without hiring a designer.
Pricing – Free to use with limited templates and design elements. The Pro plan starts at USD 9.99 per month.
---
11. TemplateMonster — 300+ Email Newsletter Templates
TemplateMonster stands out from this list since third-party creators make all their templates. Here you'll find quality WordPress, website, and landing page templates — both free and premium.
There are also over 300 original email templates to choose from, with new monthly newsletter templates added regularly.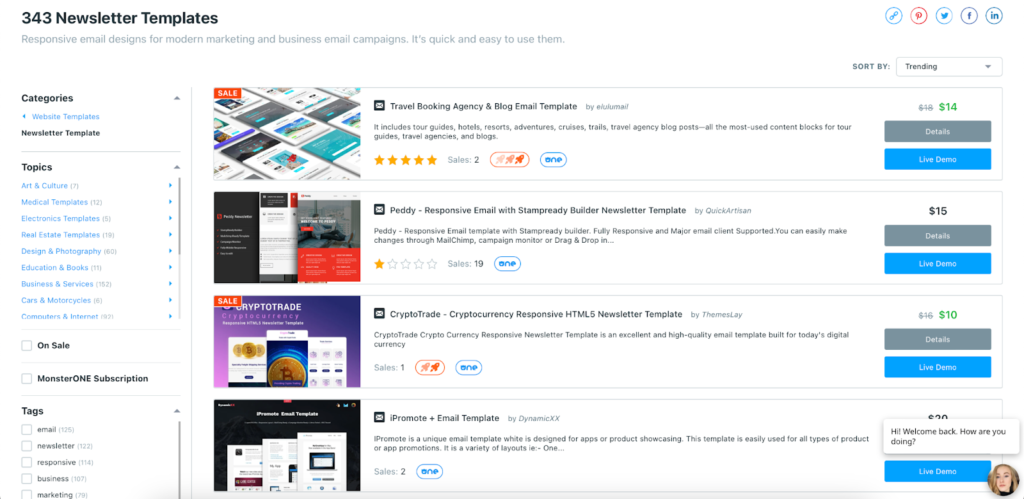 If you want to get started immediately with TemplateMonster, there's no need to register. Simply browse through the collection of free templates and pick out what you like.
However, there's a trick – first, to customize and later to use the template for a newsletter, you need to buy, download and sync it with the email marketing tool you use for send-outs.
Pricing – Some free downloadable newsletter templates. Paid versions start at $9 per template.
---
12. ConvertKit – Creative Email Template Platform
Closing out our list of email newsletter templates is ConvertKit. With its drag-and-drop editor, you can add lists, personalize headers, add CTA buttons, and more by selecting pre-made templates from its library and customizing them without any coding skills.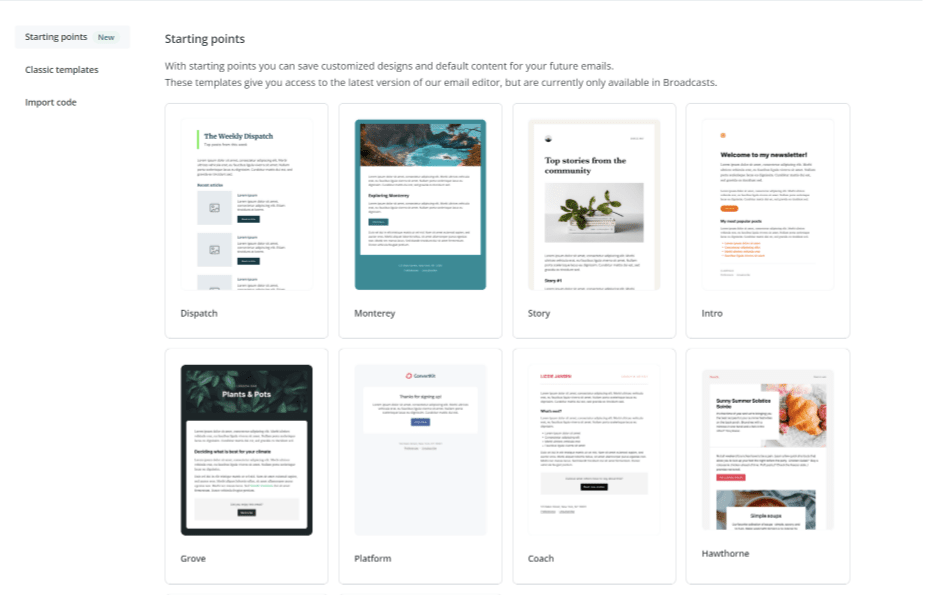 Know how to code? You can add an HTML box to customize a specific section of your content.
ConvertKit also provides an image library to store your commonly used images, like your logo, for quick uploading. It also integrates directly with Unsplash, which gives you access to a massive library of images.
Pricing – Free plan with limited features. Paid plans start at $15 per month for up to 300 subscribers.
Free Email Newsletter Templates
Once, it was unimaginable to create a newsletter without any technical or graphic design and huge costs. But, lucky for us, that's a thing of the past – today, anyone can create an effective email using free templates.
Here's an overview of the three most common types:
Brand Email Newsletter Template
Here's a real-time-saver – a branded email template. Once you create one that uniquely speaks your brand, the rest of the newsletter becomes just a walk in the park.
Start by looking for an email template close to your brand's visual. Once found, customize it with your brand logo, imagery, and fonts. Finally, when you have a message to pass to your subscribers, edit the text, and… that's it! Your email is ready to go.
Could you say the template below is actually from a fictional brand SYROS?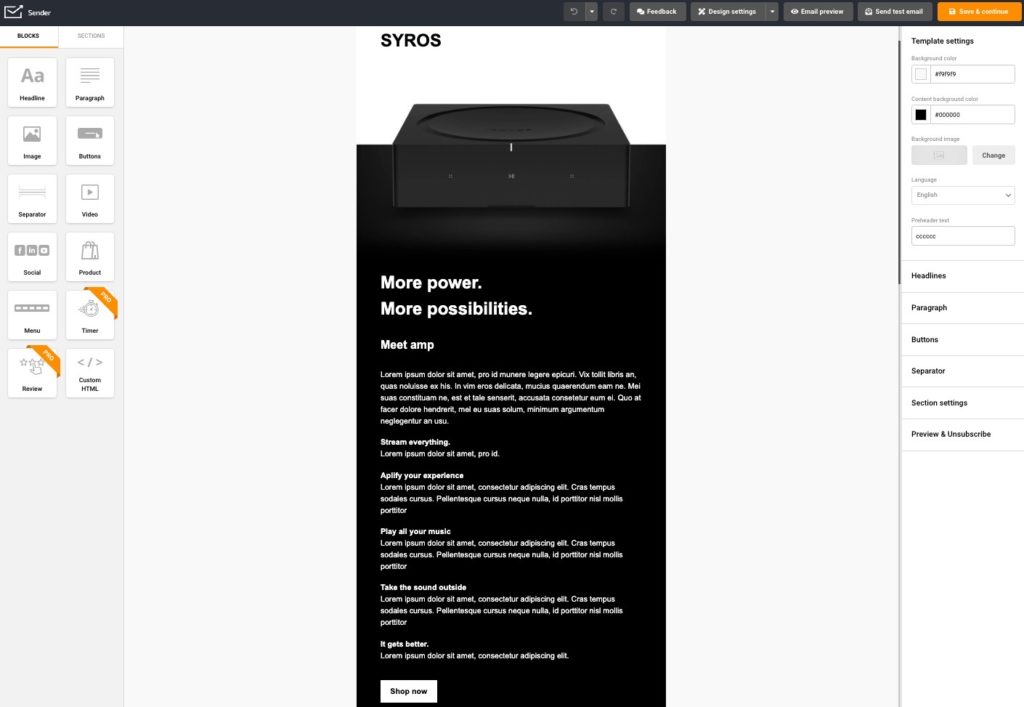 What you need to know:
First, think about how to use your brand's color palette in the email template and start placing branded images from there.
Given the situation, you might also want to include interactive elements, e.g., a timer, review field, or checkbox.
Even if you've created a perfect template for your brand, don't forget to update recurring elements, e.g., your customer support number might have changed, or you have a new social media account to be followed.
Themed Newsletter Template
Let's face it – with a huge holiday marketing campaign on the way, you already have much work on your hands: social media posts, banners, popups, promo videos, Facebook ads – you name it. During this time, you don't want to spend hours crafting an email. Good thing there are newsletter templates!
Find one that fits the occasion in the library, customize it using a drag-and-drop builder, and you're ready for the lift-off of your holiday email marketing campaign!
For example, this Mother's Day email template is just a few tweaks away from being ready to send: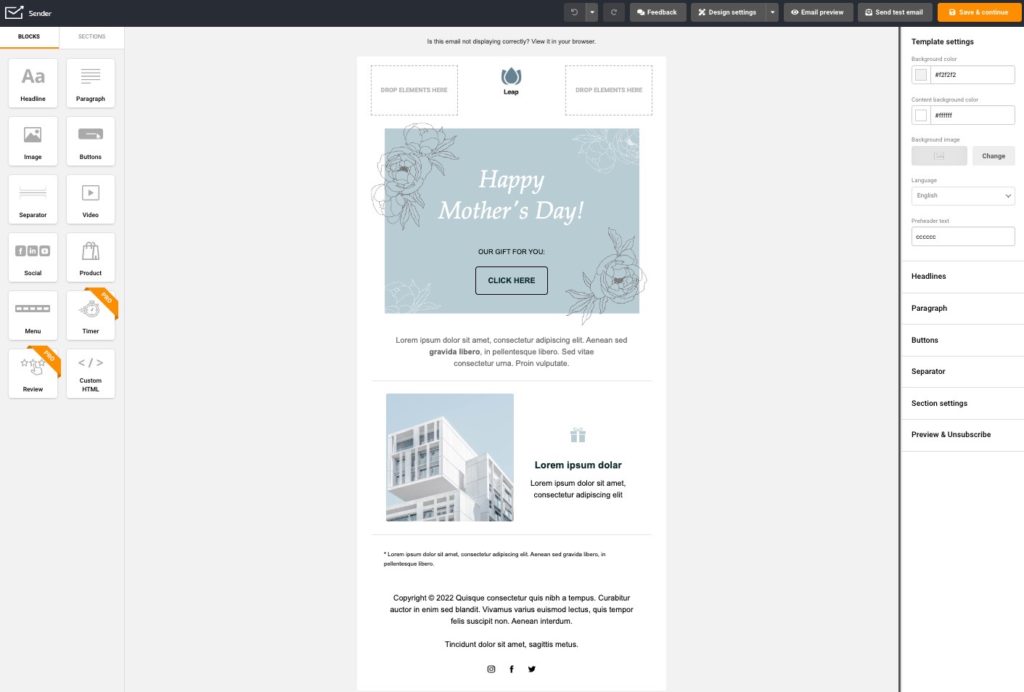 What you need to know:
Though holidays often have a particular, well-recognizable visual theme, your visual branding should also be noticeable in the design;
Don't be afraid to experiment to get the most out of the newsletter template;
Consider how you can customize the chosen template to be reused in the future.
Simple Email Design Template
There's only a little to gaze at in simple email templates besides a brand logo, CTA button, and, occasionally, an email header image. The reason is that the receiver focuses on a direct informational message. For instance, the welcome of a new subscriber, information about soon-to-be-deleted inactive campaigns, or current order status.
Here's a simple email template made as a welcome email: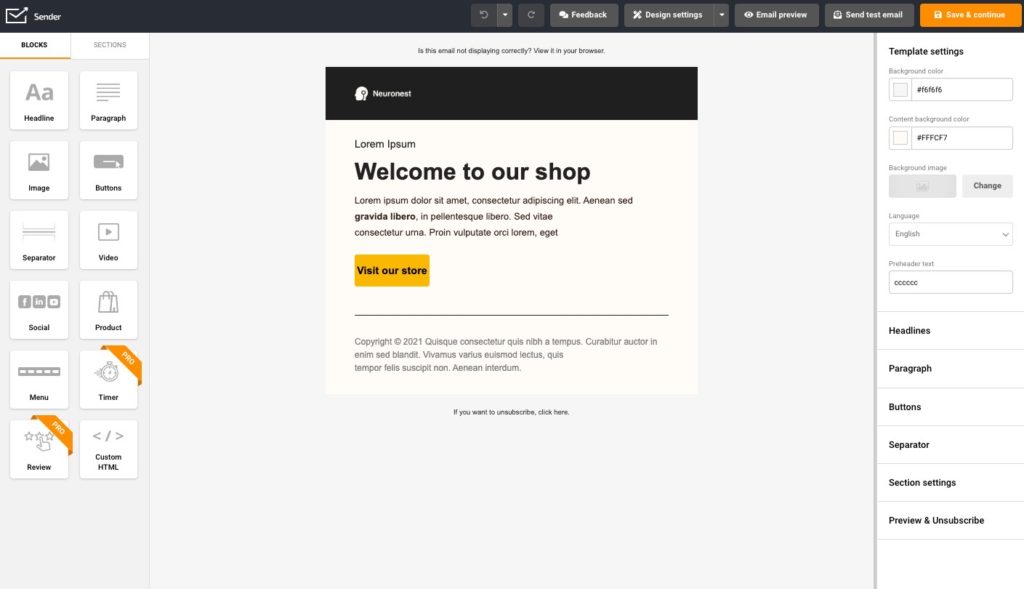 What you need to know:
These kinds of customizable email templates are best for short, direct messages informing subscribers about a point in their customer journey;
CTA isn't always needed; if you need your subscriber to make an action, ensure it's clear and the button is noticeable.
Your email has a better opening chance with first-name personalization included.
Engaging Email Newsletter Examples
Picking a design that suits your business style and requirement can take days, if not months. Even if you've got all the providers lined up, you will still have to shortlist evergreen designs that suit your subscriber's expectations, goals, and design expectations.
If you're searching for inspiration or examples of how to write a newsletter template, we've curated some awesome templates to help you get started.
Ecommerce Retail Newsletters
An ecommerce newsletter is a great way to keep your brand top-of-mind, engage with your customers, and boost your website traffic. Launching a newsletter as an eCommerce or retail business effectively attracts new subscribers and nurtures your prospect's interest.
A great email newsletter template has the potential to create an everlasting impression on your readers and make them want more from you. When sending a newsletter to your customers, ensure it's compelling and has a seamless theme/imagery.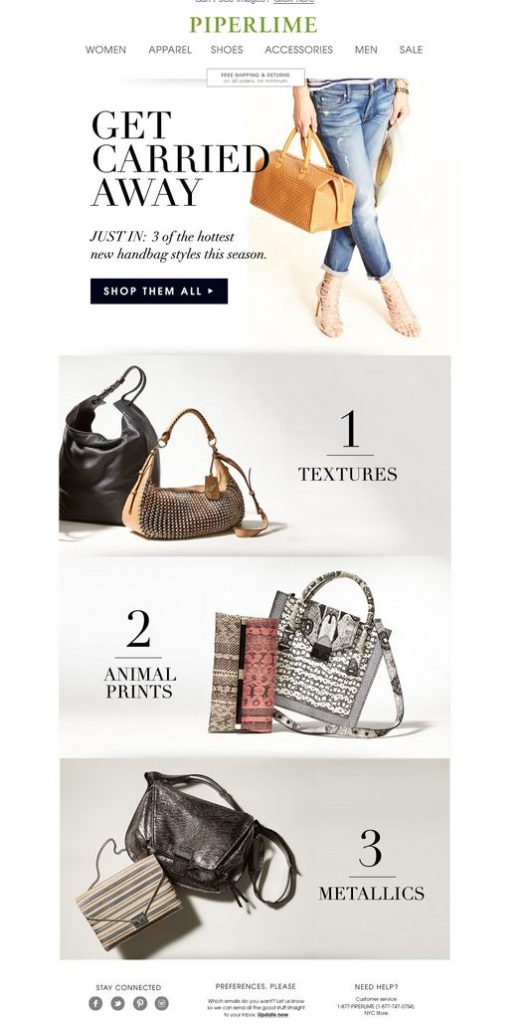 Notice how the whole newsletter is designed as a parallax catalog with a common theme — the spring season. The aesthetic tones and exciting images are pleasing to the eyes and can make anyone want to scroll more. You should ideally add information about your latest collections, offers, and deals, and you can also package your newsletter as a seasonal catalog like the one above.
Avoid including scattered or irrelevant information like non-contextual discounts and coupons. Instead, focus on personalized content, a clear call-to-action, and relevant and timely offers that justify the value of your newsletter subscription.
Useful design tips:
Use a bold and large header picture at the top of the emailer;
Use a clear and interactive call to action that entices the reader to click for more designs;
Focus on the email copy and email subject line;
Add details about your products in a dedicated product column, block, or section;
Follow the basic design hierarchy in your email. For example, use bullet points or nested headings to help your readers visually process the content;
Make sure the CTA button is placed strategically. If it's in the bottom right corner, it's too difficult to spot for new users.
Fashion Newsletters
Fashion newsletters are a great way to engage your target audience and update them with your brand offerings. There are many ways to 'talk' style and entice users to pep up their fashion sense via a newsletter.
You can create a newsletter around what's hot in the fashion world and how the reader can benefit from your experience to try out new trends. Check out the following fashion newsletter template by Canva:

The template offers space to share exciting styling ideas as a gallery. This template is suitable for fashion brands and influencers who want to showcase their expertise and experience to an interested audience.
Useful design tips:
Use short paragraphs or bullet points with complementing images to give a visual appeal;
Use subtle colors and complementary aesthetic tone that suits your brand style;
Never use stock images. Instead, focus on your brand designs and fashion sense to jazz up the newsletter;
Include a button or link to share the newsletter on social media in the footer;
Add a note of thanks for creating a personal connection with your audience.
Monthly Newsletters
Creating and distributing a monthly newsletter is a great way to build brand awareness, engage subscribers regularly, and add new prospects to your funnel. They help you keep in touch with your audience and provide a consistent way to share valuable content that helps them grow their businesses.
A monthly newsletter email can announce the latest updates, share exciting news, tell your subscribers how you plan to make their lives easier or share some general tips.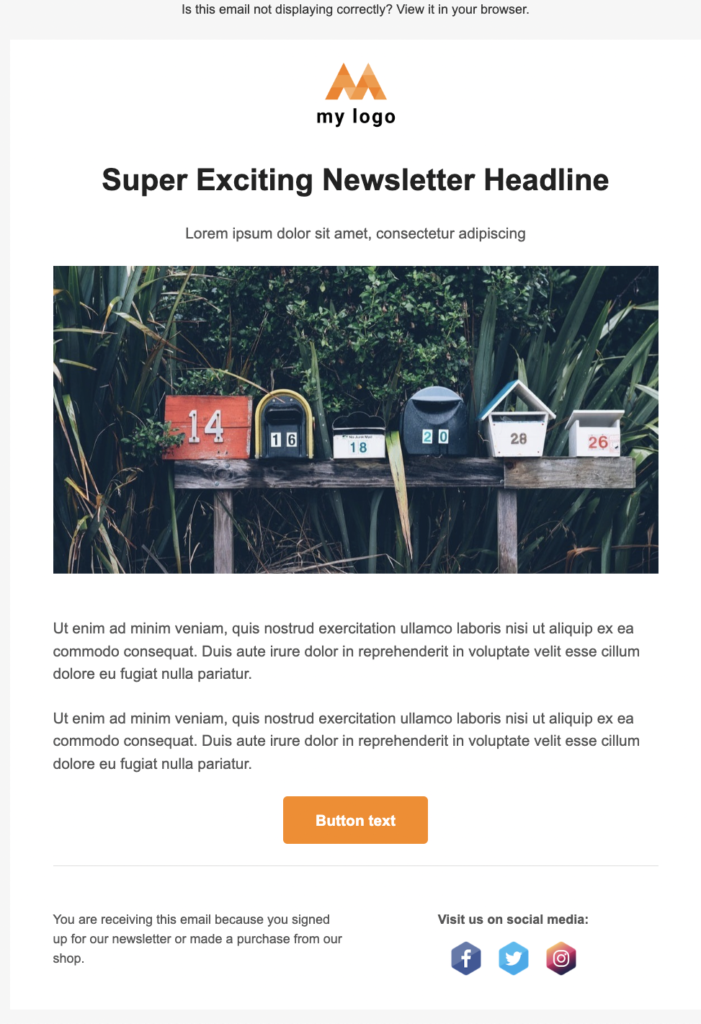 Look at the above template. It has an eye-catchy visual with enough space to share your thoughts, like a personal letter to each of your subscribers.
You can rearrange or add blocks to share blog updates or more information or write the newsletter as a personalized note with a CTA button that takes them to your website.
Useful design tips:
Add a healthy mix of informative information, quality visuals, and strategic call to action;
Optimize your email for mobile devices to reach your audience while they're on the go;
Add some personality to the email and personalize the subject line;
Remember to sign off personally and remind them to share or follow on social media.
Weekly Newsletters
While you're using the website, blog, and social media to post updates and product announcements, weekly newsletters are an excellent way to build rapport and a strong relationship with your target audience.
A weekly newsletter is your chance to boost customer engagement on your website or blog. Share relevant stuff with your subscribers, like the blogs you've published this week, helpful tips, useful information, or something else.
If you need more ideas for your newsletter, you can start by sending updates about the previous week's developments. But if you're not a writing fan, you can create an engaging weekly electronic newsletter using a pre-made template to share links to your recent blogs.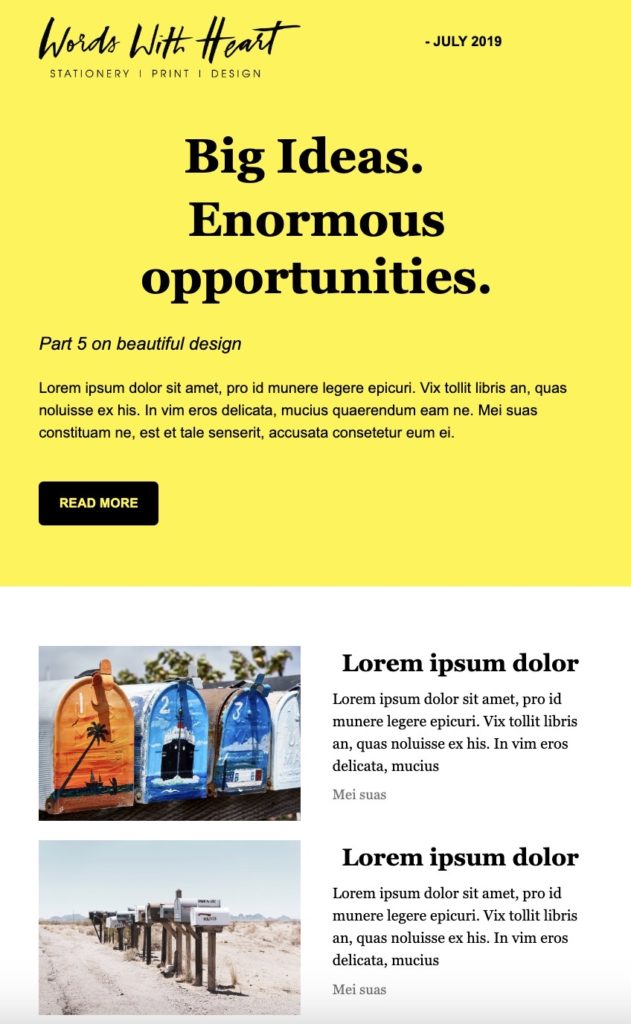 A weekly newsletter that doesn't include new items, updates, and fresh email content is a recipe for disaster. So, only include fresh stuff and automate weekly scheduling easily via Sender.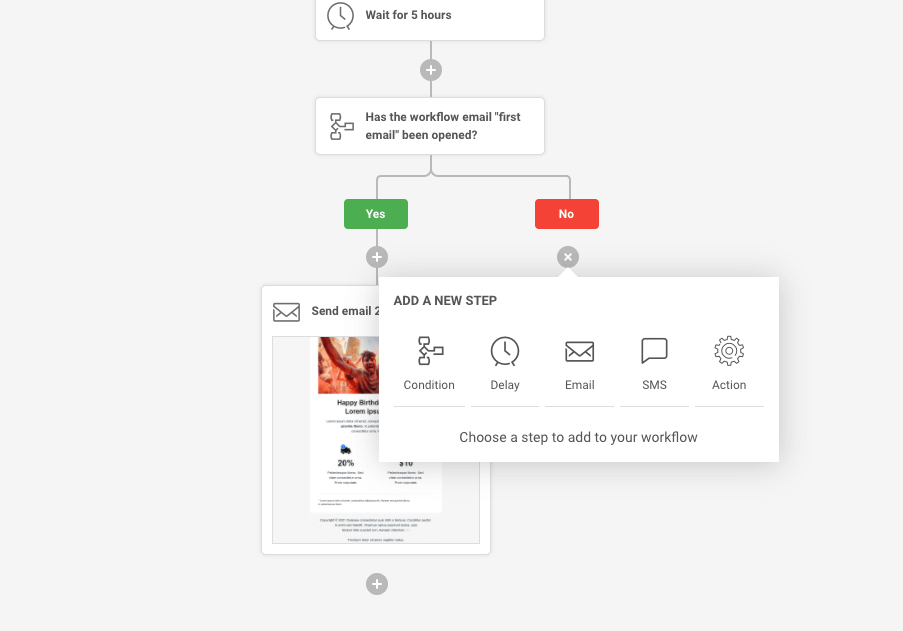 Useful design tips:
Keep it short. Don't add lengthy paragraphs;
Include links to only the latest tips, articles, and updates from your website or blog;
Add a call-to-action to your newsletter asking them to check out your latest blogs, services or solutions;
Always include a link to your social media profile.
Welcome Email (Signup Newsletter)
A welcome email or signup newsletter template should be warm and friendly and instill trust in a new subscriber.
Many modern marketers fail to leverage this opportunity by scheduling a generic automated welcome message and getting done with it. But you should spend some time crafting the perfect copy and design for newsletter signups. Look at the following signup newsletter mockup by Canva.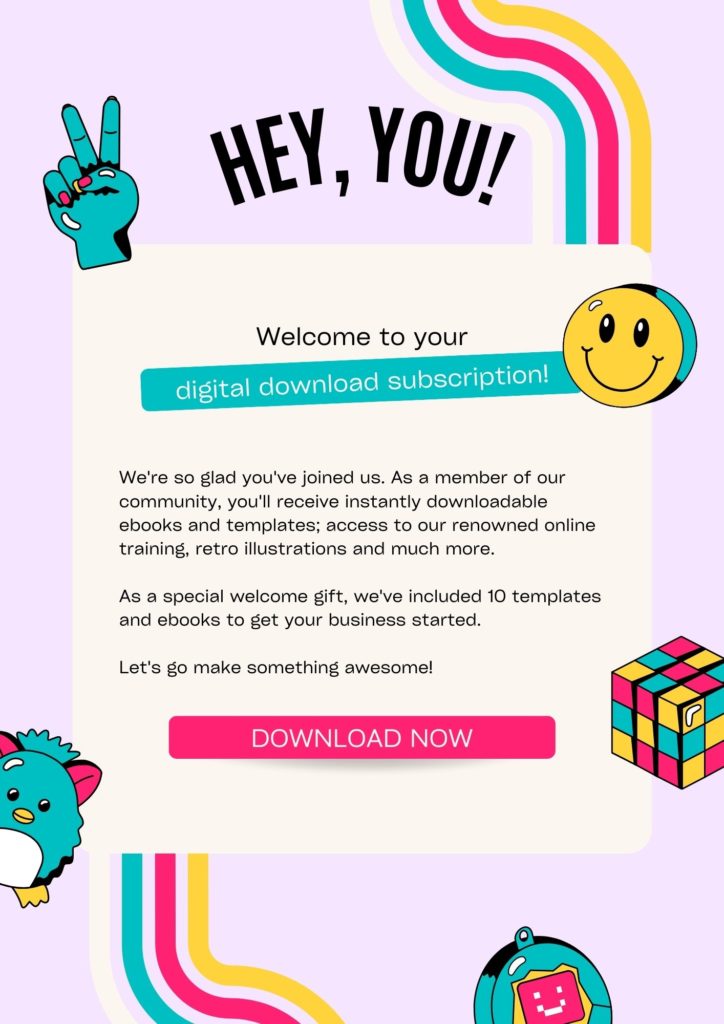 The email template above gives a friendly vibe to the new subscriber and shows how valuable they're to the business. Not only is it peppy and inviting, but it starts off the relationship on the right foot by providing access to valuable digital assets curated by the publisher instantly.
Include an eye-catching headline, inviting images, and compelling copy to draw attention and compel people to click the CTA button.
Useful design tips:
Personalize your subject line and email body copy;
Add information about what to expect next;
Keep it simple and straightforward;
If you've promised a lead magnet, share it with the signup welcome email;
Delight and surprise users with a special gift offer.
Business Newsletters
A business or corporate newsletter is a powerful engagement tool to tell others about the latest happenings around your company and nurture your brand image.
A good corporate newsletter template should allow you to share exciting updates and information about upcoming events or conferences, share internal news, show your corporate culture, share a report, or tell customers about what's new.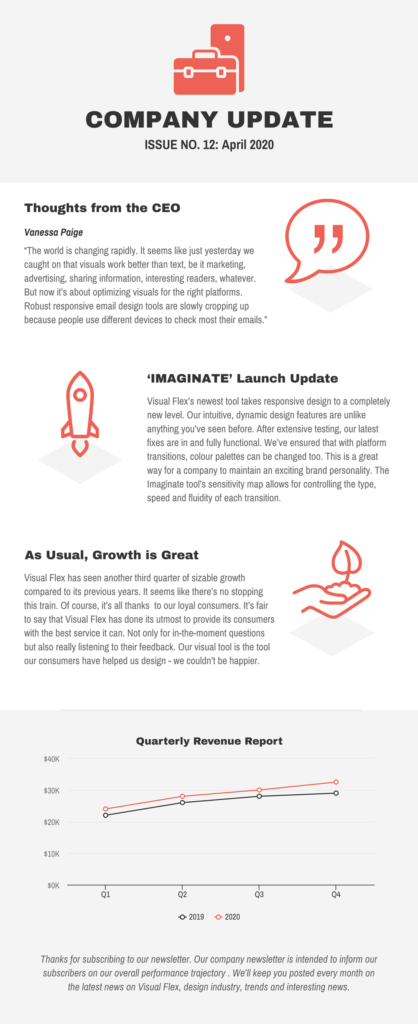 Remember to keep one newsletter edition around a single thought and a clear goal. Add extra value for the reader with a takeaway or a free downloadable based on their stage in the customer journey.
Useful design tips:
Stick to a serious and on-brand color/brand tone in the newsletter;
Always try to drive metrics such as clickthroughs and website visits by adding contextual links for users who want more information;
Don't bore the subscribers with corporate fluff;
Add an exclusive sneak peek or picture of your upcoming launch or service.
Real Estate Newsletters
Real estate email newsletters are a great way to excite potential clients about your current and upcoming property listings. You can start a real-estate newsletter for your area or region with a weekly frequency. Here's an exciting template to help you get started.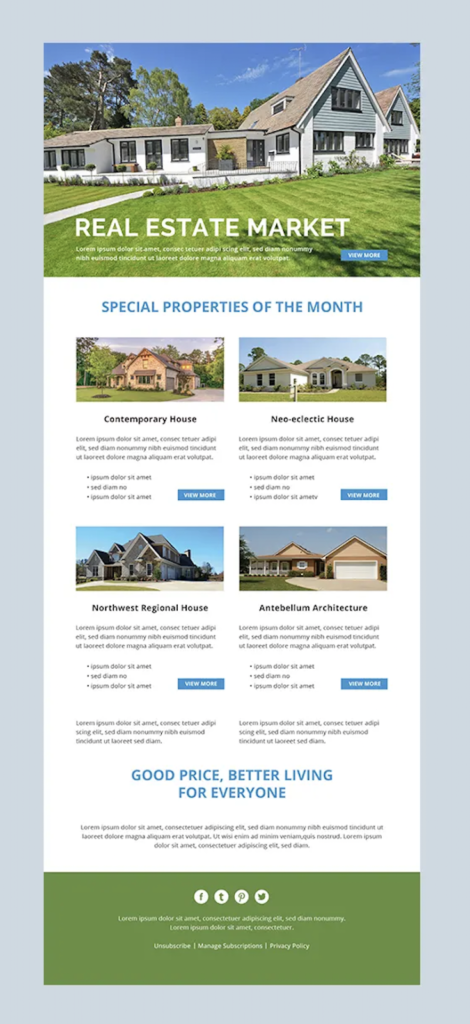 Observe the clean and compact layout with lots of whitespaces. All the sections have a contextual CTA to help the reader go directly to the listing on the website. You can also experiment and improvise with the property, interior, or facade images to make your newsletter more appealing.
Useful design tips:
Use a simple yet impactful header image;
Add a call-to-action button with every listing you share;
Personalize your subject line according to their interests. Segment your email list to make it possible;
Try to stick to a one-page layout as longer listing newsletters fail to engage readers;
Add a compelling yet brief description with every listing you share;
Add elements, patterns, or graphics that represent your brand and help you stand out;
Holiday Newsletters
We all love the holidays, don't we? So, why not send a holiday-themed newsletter that greets your subscribers, excites them for your sale plan for the holiday, offers gift suggestions, and more? Here is a stunning holiday template to help you get started: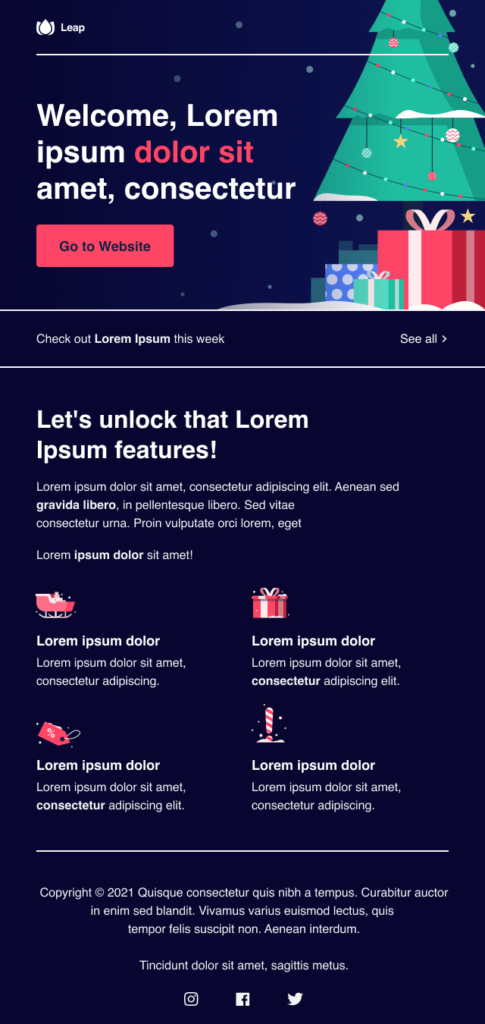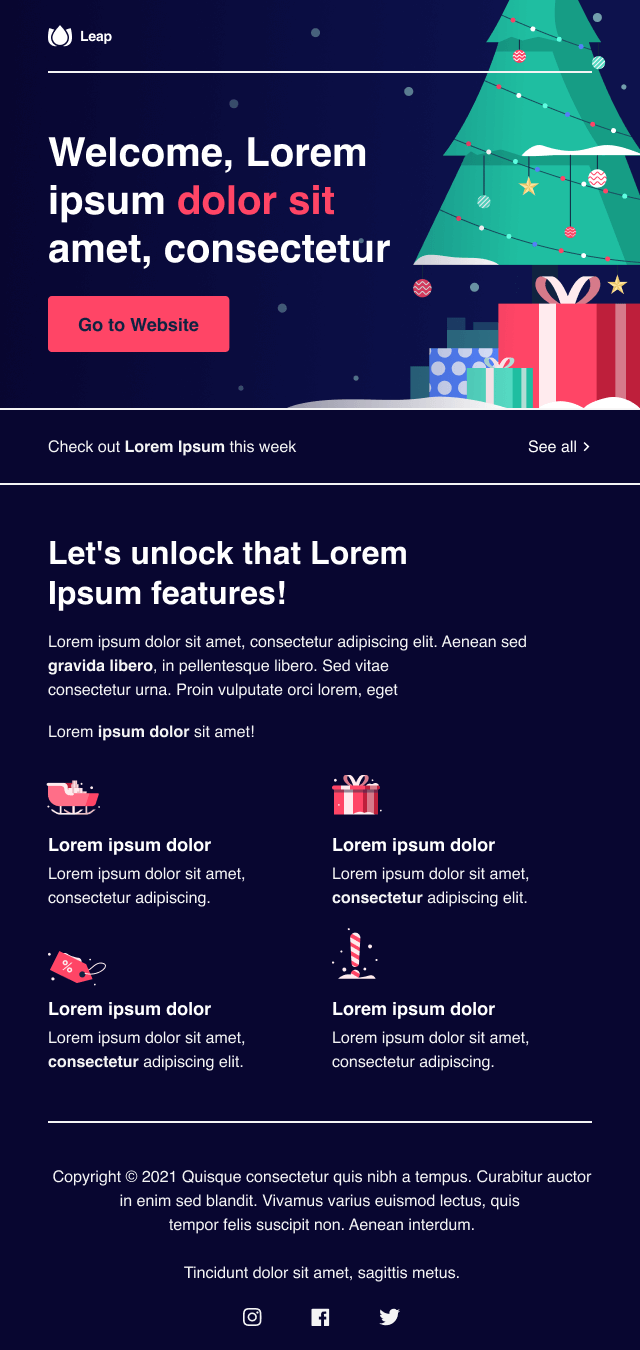 Useful design tips:
Design your email newsletter template using seasonal colors that match your brand's colors and brand identity;
Add holiday elements like Christmas tree, gifts, etc., to the newsletter;
Spend time on creating a fun and intriguing copy;
Share holiday-friendly assets like gifting guides or holiday idea blogs in the holiday newsletter.
Event Newsletters
An event email newsletter is an excellent way to get people excited about your next event. It's a great way to get your audience excited about an upcoming event they can attend. Event newsletters can promote an upcoming event, conference, or webinar. Here is a great event newsletter template to help you get started:
The email newsletter can be used as a teaser to get your audience excited about your upcoming event, provide details, and nudge your subscribers to reserve their spot, like in the above template.
You can also create a sequential email campaign by automating three emails — one before the event, one just before the event, and one a few days later with the takeaways.
Useful design tips:
Be clear and appear inviting in your email copy;
Add a calendar, embed a map, or a joining link with information about the event;
Add a CTA inviting them to reserve their spot by filling out an event registration form;
Include details about speakers, exclusive content, or information about what to expect.
Seasonal Emails
Most friends and families gather to celebrate during most seasonal events and holidays like Thanksgiving, Labor Day, and Christmas. And it often involves spending money on food, gifts, and decorations. During such times, people are prepared to spend cash and get promotions and offers from their favorite brands.
Therefore, use seasonal email newsletters to offer your customers promotions and take advantage of the season to boost your sales. Here's an excellent seasonal email newsletter template to help you get started: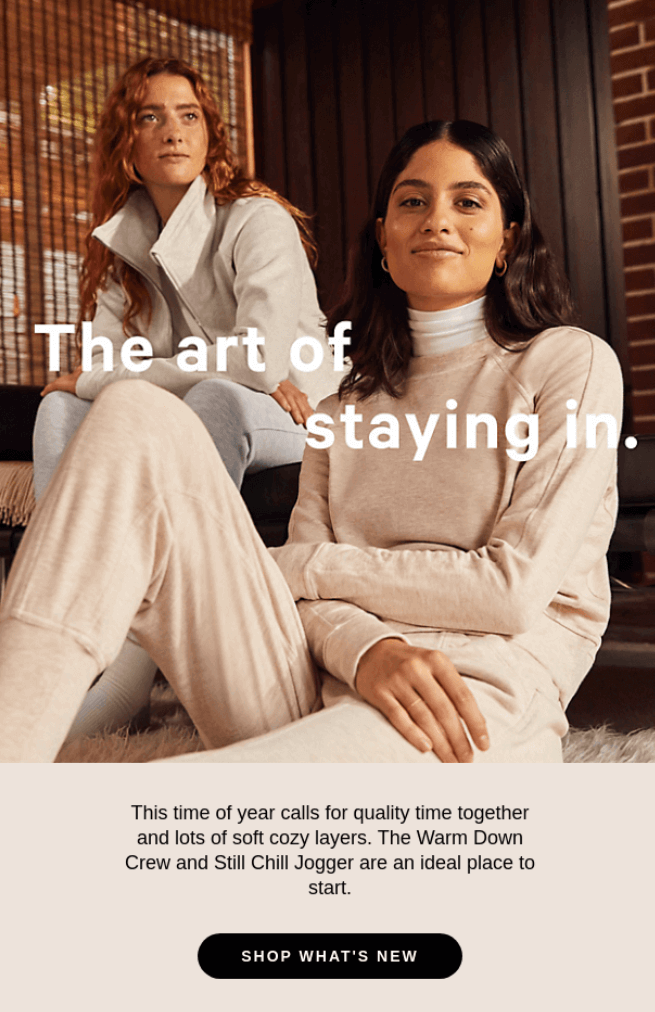 As you're designing the newsletter, remember your goals for the campaign and where different audience members are in the customer journey, then add CTAs that will most likely persuade them to purchase.
Useful design tips:
Use holiday-themed offers to attract subscribers;
Use "Buy Now" CTA buttons to make it easy for your subscribers to visit your website and make a purchase;
Create urgency with limited-time offers.
Business Email
When writing a business email, make your goal clear so your recipient understands why you're writing to them. Use a formal but friendly tone that speaks to the client directly.
Here's an example: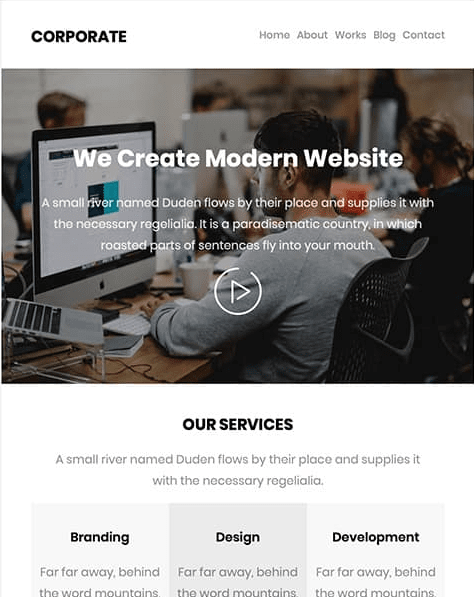 Useful design tips:
Keep the tone formal but friendly;
Make your value proposition clear;
Include some customer reviews.
Key Takeaways
Use an email marketing solution to speed up the process of designing email newsletter templates;
Pick a newsletter or email marketing program with a drag-and-drop builder and vast email template library;
Contextualize your email newsletter template based on your industry, customer behavior, and brand goals.
Also read:
7 Free Email Template Builders (HTML + Drag and Drop Editor)