Like what you read?
Apply it in practice with Sender.net - the most cost-effective email marketing solution in the market.
Try Sender for free
How often do you ask for customer feedback?
Many businesses understand the importance of customer feedback in improving their products and services.
As a business owner, marketer, or salesperson—you're probably relying on customer feedback to close more deals.
In fact, customer feedback is an effective way to uncover issues and retain customers. An interesting report by Outcry revealed that only one out of every 26 customers would likely raise their complaints. Meanwhile, the other 25 customers will simply find another business without a word.
Now, the challenge is to create surveys and generate responses from your target respondents.
How to get started? In this post, we'll discuss some strategies for asking for customer feedback.
1. Determine the Purpose of Your Feedback Form
The first step is to identify the overall purpose and objectives of your survey.
Do you want to determine the overall satisfaction level?
Do you want to gauge consumer perceptions about your newly-launched products?
Or do you want to send a customer feedback form to shoppers who recently fulfilled their purchase?
A customer feedback form must have a clear goal. All questions asked must be related to your main purpose. Avoid asking unnecessary inquiries and keep it short. Otherwise, your marketing researchers will have a hard time analyzing the data and making generalizations.
For example, this Amazon visitor survey form's aim is to gauge customer satisfaction by asking consumers to rate their experience simply.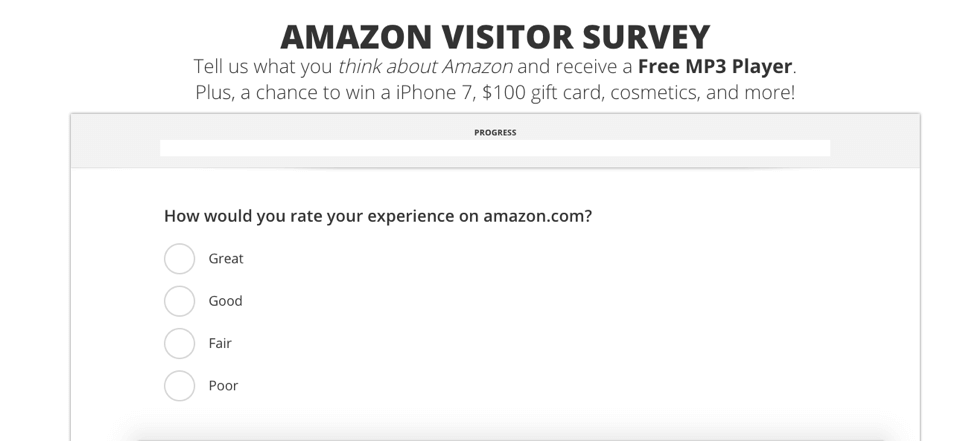 2. Ask the Right Questions in Your Customer Feedback Survey
Customers don't have the time to answer a long feedback form.
As a result, experts recommend that it should only take respondents around 3 to 3.5 minutes to complete the survey. Otherwise, your response rate would decline.
While the feedback form should be short and sweet, you also want to be direct. Brainstorm questions that will help you uncover valuable information.
If the goal is to ask about shipping feedback, you can ask them to rate the speed of the delivery, overall experience, friendliness of staff, and rates
It's very easy to ask, "Do you like our services?" but this may only lead to a yes or no response. Instead, you can ask, "What can we do to improve our product and services?" or "Rate what you think about XYZ" to uncover points of improvement.
Keep digging for positive or negative criticism because this is the key to improving your business.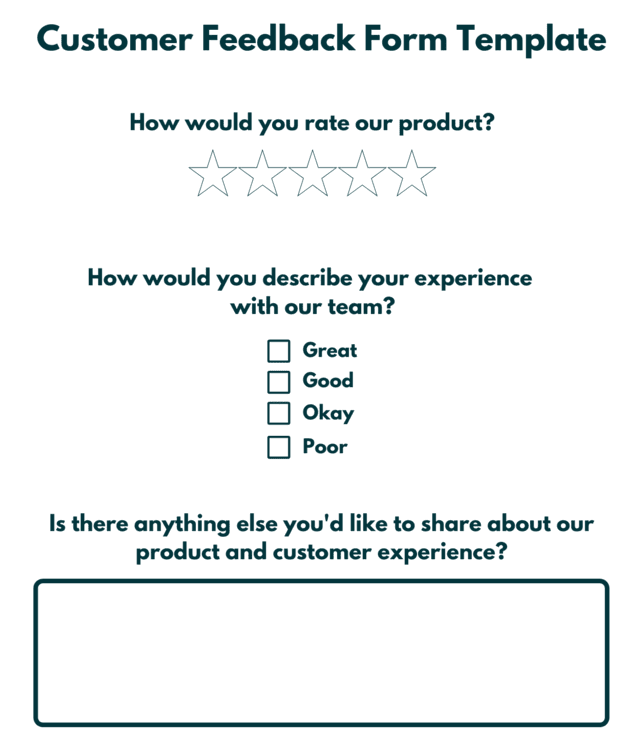 Recommended feedback form questions
Which coaches were your favorites?
Which training courses were your favorites?
Which exercises left the greatest impression?
Were there any barriers to learning?
Do you have any ideas on how we can improve training sessions?
What were the biggest challenges you faced?
Did the workout plan match your expectations?
Whether the number of members in the group was appropriate?
Was the amount of exercises and repetitions sufficient?
Whether the workout met your needs?
Evaluate your level of satisfaction with this event
Which things did you enjoy in the event the most?
Do you have any insight for this event?
Are you planning to attend our events in the future?
Are you going to tell your friends or colleagues about the webinar?
Did the seminar match your expectations?
Was the date of the event suitable for you?
Was the information presented and arranged in interestingly?
Are you satisfied with our recruitment process?
Would you recommend your friends to apply for this company?
Whether the recruiter responded to your answers during recruitment?
How can we improve the recruitment process?
Wasn't the job posting misleading?
What are your career goals?
Are you satisfied with the working conditions?
How successful are you in completing your work assignments in the last 6 months?
What kind of challenges do you face most often?
What achievements are you most proud of?
What motivates you the most?
What demotivates you the most?
Are there good conditions for your professional development?
Did you hear the information you expected during the presentation?
The main reason why you attended the presentation.
Would you recommend listening to this presentation to your friends?
Is the information presented in interestingly?
Are you satisfied with the quality of the food?
Are you happy with the waiters?
Did the restaurant ensure cleanliness and hygiene?
Was the food delivered quickly?
Does the relationship between food and quality satisfy you?
Evaluate your overall experience at the restaurant.
Does the price meet expectations compare to other options?
What did you like most about this house?
How do you think the open house selling process could be improved?
3. Pre-test Your Customer Feedback Form
A feedback form may be short—but you want to ensure you're asking the right questions. Once you've sent the survey to your customers, you can't redo it again. So, pre-test surveys before releasing it.
You can ask employees, family or friends to answer questions. Then, ask for their feedback.
Should the question be worded better?
Is the question understandable?
What kind of responses did you get?
Will these questions help you achieve your overarching goal?
Testing out the survey will help you avoid costly mistakes or errors, especially if you'll give incentives in exchange for responses. We bet you want to get the bang for your buck. So, know the right questions to help pinpoint what you need to know.
4. Create Email Feedback Forms
Email is one of the fastest and most convenient methods to get feedback
Every few months, you may want to check in with their customers. Their feedback can be used to gauge their perception of your products and services and improve your overall user experience.
Here's a positive customer feedback sample made via Sender platform. By using "review" block, you can easily survey the audience. The company asks customers to rate how great the latest webinar was.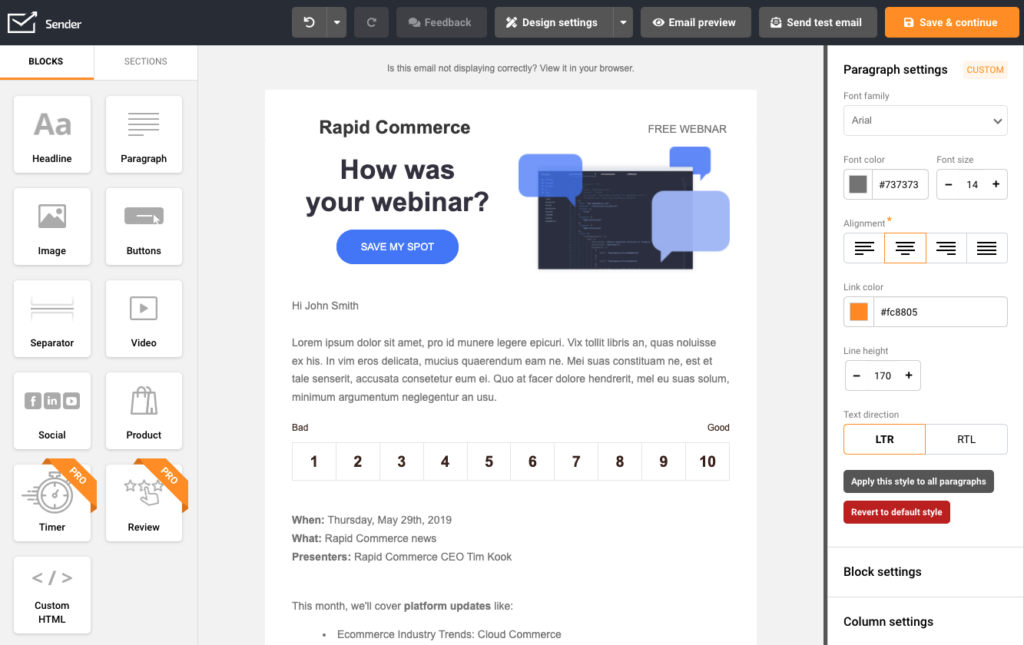 If they click an option, their vote appears on the campaign report section with the complete campaign's statistics.

Sender for a spin with zero financial commitment, the FREE Forever plan put forward 15 000 monthly emails, while still offering top-tier functionality, including email automation.
This approach lets businesses learn what customers think about their products and services. After all, we only give word-of-mouth recommendations to quality business because we want our loved ones to have a great time. You may get a variety of reasons behind the rating, but you may also uncover common issues that customers find problematic.
5. Provide Incentives to Get More Client Feedbacks
Clients receive dozens of marketing emails per day. Hence it's unlikely that they will answer your survey immediately.
According to Fluid Surveys, the average response rate for email surveys is at 24.8%. Of this number, the average completion rate was at 78.6%.
To get more responses, you can provide incentives like cash or gift vouchers in exchange for completing the client feedback form. Businesses with a small budget can also host a giveaway as an incentive. You can also place a time limit to pressure respondents to answer immediately.
For example, this Path Magazine feedback form template rewards one lucky respondent with a $100 Amazon gift card, while three runner-ups could get a $25 gift card.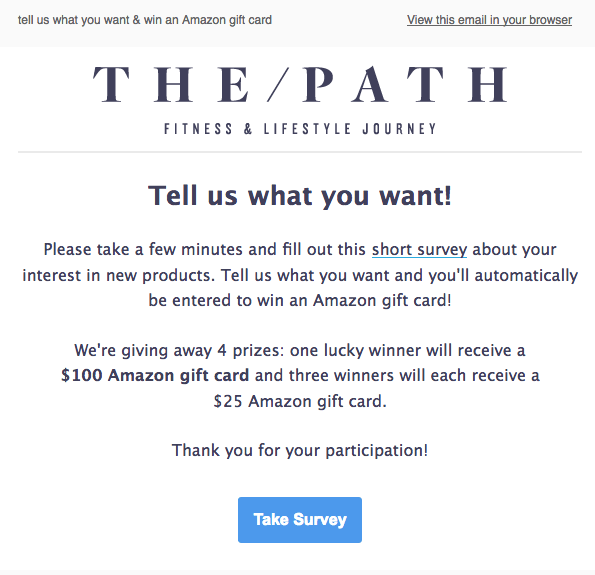 The opportunity to receive an Amazon gift card is a small yet effective incentive that could help you generate more responses. It's also an affordable email marketing tactic for small businesses with hundreds of customers in their email list.
6. Determine the Right Time to Ask for Feedback
A crucial factor in getting feedback is asking at the right moment.
When it comes to collecting data, timing is everything. Knowing when to ask your customers for their much-valued feedback on their experience with you can mean the difference between getting an amazing response and none at all.

CEO of Elevation Marketing Scott
Imagine if you'd like to ask for customer feedback, which instances would likely garner more replies?
Asking for customer feedback immediately after the order has been completed.
Asking for customer feedback a week after the order is completed.
The first scenario is more likely to gain responses because the customer experience is still fresh.
Having said that, here are some of the best times to ask for customer feedback:
After a transaction or live chat interaction – Asking for immediate feedback can lead to a more honest and detailed response. It may also help you improve customer retention or capture your leads.
After a customer leaves – We previously mentioned that only one out of every 26 customers will likely raise their complaints—and the rest will leave quietly. Hence, asking past customers or leaving customers will help you identify the problem or let you reply to customer feedback to resolve specific issues.
After an abandoned cart – According to Barilliance, the average cart abandonment rate was around 77.13%. The amount of missed opportunities to close the deal is absolutely shocking. Hence, send a customer feedback email to ask the reasons for abandoning a product.
After a product demo – Virtual selling and live product demos are part of the "new normal" in the age of social distancing. To improve the online sales process, consider asking for a short feedback or evaluation about the demo.
During product usage – Getting customer feedback from current customers is absolutely crucial. For instance, if you build online courses you may want to request feedback from students periodically throughout the course.
7. Thank Customers For Their Feedback
What happens after the feedback form generates valuable insights? Without a follow-up, you're missing out on an opportunity to make customers feel appreciated for speaking up.
That's precisely why your business should send a follow-up to thank customers. This can include a small coupon code to thank customers for the time and effort. Alternatively, you can give a brief round-up of the feedback results to satisfy their curiosity.
For example, Revolution Tea's feedback thank you email lets respondents know the results and they offer a 10% off coupon code.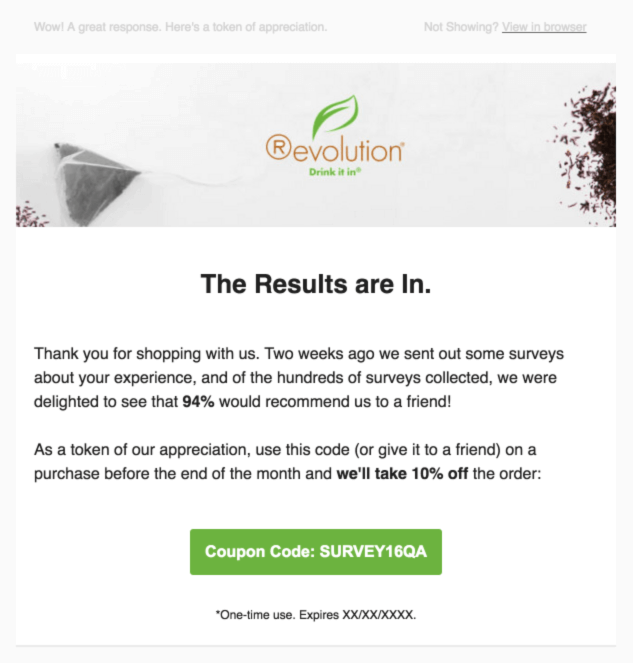 This small yet powerful gesture makes customers feel valued. It could also encourage them to keep answering future surveys which can help your business grow.
You can send automated thank you emails with Sender automation feature.
8. Collect Regular Feedback
When it comes to asking for feedback, consistency is key. Again, getting regular feedback will help you uncover issues about your product or service. What is more, not only does it help to understand your customers' needs and wants, but it also helps to win more clients as they are more loyal to brands that put them first.
However, don't collect regular feedback too often. While you don't want to pester customers with forms or surveys, you'll want to get updated information about their customer experience quarterly or every 6 months.
9. Get Analysts to Analyze Client Feedback Data
Ideally, to get most out of your customer feedback survey, you can also get in touch with different departments and teams. Client-facing employees, such as salespeople and support teams, may be able to identify common issues with your services and identify questions to ask customers.
You can also take advantage of a suitable reporting tool to manage your data visually and make it more practical.
It's easy to get some answers. However, data analysis will be key to understanding the information and uncovering insights. Hence, get in touch with analysts and consumer researchers who can interpret the data and handle customer feedback management. After you've successfully gathered the insights, you can use this information to grow your business or improve your product line.
Ready to Ask For Customer Feedback?
There are a lot of factors to consider when asking for customer feedback.
Nevertheless, pre-testing your feedback form, providing incentives, identifying the right time and collecting regular feedback is key to gathering key insights from your consumers.
Now, how can you create customer feedback forms? Sender is a tool that provides customer feedback email templates, survey templates, and customer feedback analysis so you can understand your consumers better.
How will you gather real time customer feedback from your customers?
We also recommend to read:
---
About author
Raul Galera is the Partner Manager at ReferralCandy and CandyBar, two tools helping small and medium businesses run customer referral and loyalty programs. He's been working in the tech sector for the past seven years and regularly writes about marketing, ecommerce and tech.