Like what you read?
Apply it in practice with Sender.net - the most cost-effective email marketing solution in the market.
Try Sender for free
Nowadays, we experience extreme popularity of online marketing, and companies work hard on increasing their brand awareness and boosting sales.
People spend almost all their time with their smartphones, so marketers use different ideas and technologies to draw the attention of potential customers.
Email marketing is one of the most personal channels for communication with brands. Many consider it the most effective way of business promotion and would rather give up social media than email marketing.
By the way, in 2020, there were around four billion email users worldwide, and this number is expected to grow to 4.6 billion users in 2025.
The question of a last chance subject line is crucial for email marketing campaigns. It can really help to increase sales if only created properly.
While seeking inspiration for the last chance subject lines, you can review the best portfolio websites available, seeing as such websites also need to properly structure the essential information, correctly define the visitor's needs and call to a particular action.
Sometimes, marketers underestimate the subject line power, but it's an essential element for customer engagement.
In this article, you'll find more about last chance subject lines and learn how to use them in the best way to achieve success.
40+ Last Chance Subject Lines to Get Inspired From
We prepared for you ten shining examples of last chance subject lines and analyzed them so you can create your lines following these rules and principles.
There's still time to save on these exclusives
Violet Grey subject line indicates that people have time to check the offer, so it makes them open the letter and sees what they might have missed. The author used persuasive words to underline the uniqueness of the offer, its low cost and gives subscribers' the hope that they are fortunate to take advantage of the discount.
The item on your wishlist is almost sold out!
As a rule, marketers use a similar subject line if a person has already visited their site. But very often people do not remember what sites exactly they opened and wanted to buy. Use this Guess last chance line to make people think and recall, but then they definitely will open your website and find something interesting.
Stop EVERYTHING! Up to 50% off ALL Dresses 🚨👗
Miss Selfridge company offers subscribers a specific piece of clothing, so be aware of a person's gender if you want to use this template. The initial phrase creates a feeling of urgency and capitalized letters make people draw attention to the line.
The discount sum is quite compelling, and it'll not leave anyone cold. Bright emoji perfectly complement the text and create a balance of urgency of the initial message and relaxing enjoyment of the final words.
Members can rent a car for less today only!
Using this Hotwire Exclusive last chance subject line, the author tried to specify that a person receiving an email is their member or needs to join their community as it gives them some privileges. Exclamatory sentences always work well in this case, and the time frame forces people to act immediately.
48 hours left: 1 year of Beacon Unlimited for free
Here we can observe the Beacon brand voice in the subject line. Marketers added the name of the company to specify the offer. The timeline at the beginning of the sentence shows the importance of the proposal and hurries receivers. If you can afford it, use the word combination "for free" as it's usually a win-win solution.
LAST DAY Save $600/year on Instapage
Having the name of the email receiver dramatically increases click-through-rate and your chances for success. A person sees that the company addresses them specifically and can not resist opening an email. Here we also see that it's the last chance to benefit from a lucrative offer and save a considerable amount of money. You need to specify how much it's possible to save as people like to see real numbers.
And 34 more subject lines that deserve attention:
READ: we've prepared this just for you!
Why are you afraid to save?
Stop!
Let's do it together.
Do not do this!
The information is now free until the end of April.
Get them before they run out.
Too many cool ideas: don't stop.
On Monday you will pay twice as much for this.
We have closed the COVID topic.
This is too good a deal to miss.
We know you are going on vacation, catch a -10% discount on leisure goods!
If your texts don't work, we go to you.
Didn't you like this movie either?
Get a course of lectures absolutely FREE!
Get it now before the time runs out.
Manage to pick it up before someone else picks it up.
Why HE and not YOU ?!
You are missing "___".
Stunned!
We will solve your problems with a 15% discount on all product groups.
Hurry up to grab the bonuses by the tail!
Discounts are pouring through your fingers.
Where to take a copyright course.
You can afford to do this.
Say goodbye to the 20% discount offer.
Your bonuses miss you.
Give yourself a holiday, and we will give you a discount.
Rather put out your bonuses!
Only today, $ 5 discount when ordering from $ 10.
Buy one item and get a bonus/gift.
If you want to give your child the best toy for Christmas, save now on household goods.
Free shipping if you buy today.
We know that you have nothing to wear, so we give you a discount on the dress.
Take The Best Last Chance Subject Line
Now you understand how essential subject lines are for email marketing and have discovered the power of last chance line type. It is valuable due to calling to action by creating a feeling of urgency. People cannot stand opening the email and exploring why the offer is targeted at them.
Curiosity moves our behavior, and this email marketing strategy is built on this psychological trick. Do not try to experiment and be creative as people always notice if the subject line was written by a real person or is a simple replica of standard phrases.
If you're looking for a powerful solution for moving your marketing means to the next level, consider Sender – the world's most affordable and easy-to-use email marketing platform, with all top-tier features, including email, SMS automation.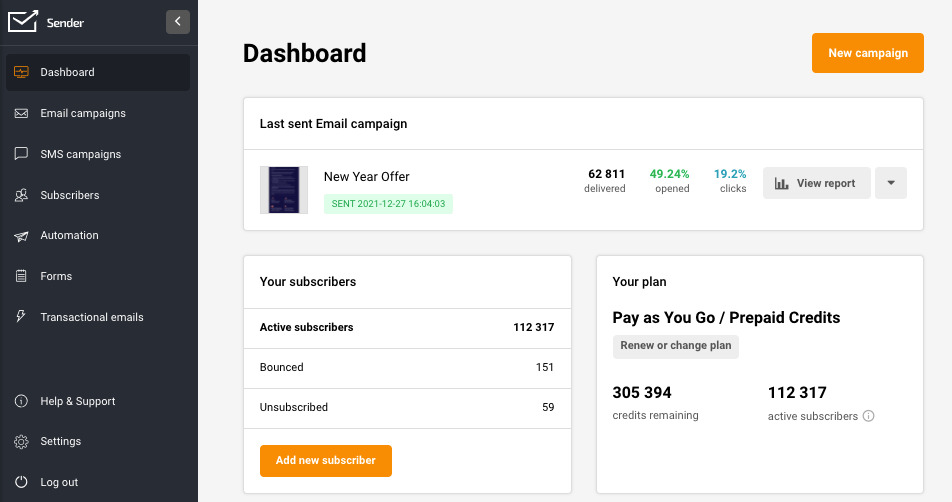 Start with zero financial commitment, the FREE Forever plan can help you do just that. Send up to 15,000 emails a month to up to 2,500 contacts absolutely free of cost!
---
About author
Stacey Wonder is a content marketer who enjoys sharing best practices for self-development and careers with others. In her free time, Stacey is fond of contemporary dance and classic French movies.