Employ your powerful emails
Increase sales and engagement by sending your well-designed emails with Sender.
Get Started For Free
If you thought that the customer journey of your ecommerce business ends at the checkout — think again.
The reality is that post-checkout is where the real challenge begins: how to keep new customers and current ones engaged, satisfied, and returning for more.
Post-purchase emails are an untapped goldmine that can boost customer experience and conversions.
Done right, these friendly yet authoritative messages can build customer loyalty and skyrocket customer lifetime value.
The question then is, how can we effectively use post-purchase email campaigns? In this article, we'll unlock 13 innovative post-purchase email strategies to elevate your ecommerce game to new heights with post-purchase messages. Let's get started!
What are Post-Purchase Emails?
Post-purchase email campaigns are communication strategies businesses use after a customer buys a product or service.
These emails serve different purposes, such as expressing gratitude, providing order details, getting customer feedback, and more. The ultimate goal is to turn more customers into recurring customers.
For instance, consider an email from an online bookstore right after you've purchased a novel. This email might thank you for your purchase, provide details about the shipping timeline, and even recommend similar books based on your recent purchase.
This is a classic example of a post-purchase email flow that improves customer experience. A good post-purchase process will also boost sales.
Later, you might receive another email asking you to review the book once you've had a chance to read it. This not only helps the business gather feedback but also encourages you to revisit the website, driving further purchases.
What Makes Post-Purchase Emails Essential?
Understanding the significance of a post-purchase email can empower your ecommerce marketing strategy. Let's delve deeper into why you should send post-purchase emails:
Build Trust with the Customer: Post-purchase emails reassure new and existing customers about their purchase and increase their trust in your company. They create a channel for communication, showing customers that you're there to support them even after the transaction.
Enhance Customer Experience: Thoughtful post-purchase emails can improve the overall customer journey. For instance, an email with a personalized subject line attracts customers and shows that you're professional. Such post-purchase campaigns will delight customers and increase engagement.
Opportunity for Cross-Selling and Upselling: By recommending complementary products in your post-purchase communication, you can increase sales. Use your buyer's purchasing history, preferences, and other details to support this.
Collect Feedback and Review: Make a feedback request and ask for reviews in a post-purchase email to signal that you value your customer's opinion. Use their feedback to improve your product or service. These reviews can also act as social proof via user-generated content to create returning customers.
Encouraging Repeat Business: A post-purchase email series can inspire people to make additional purchases. Special offers, loyalty programs, or showcasing new arrivals might ignite the customer's interest.
Building a Relationship: Repeat customers are only possible through consistent post-purchase emails. These help build long-term relationships with loyal customers.
Reducing Product Return Rates: Proactively addressing potential issues and providing necessary product information during the post-purchase flow can help reduce product return rates. For example, a tutorial on how to use the product properly can prevent frustration and possible returns.
Now that we've recognized the power of a post-purchase email to enhance customer experience and spur conversions, it's high time to leverage these strategies. In the next section, we will dive into examples to inspire your ecommerce brand.
13 Post-Purchase Email Ideas (+ Real Brand Examples)
We've covered the importance of a post-purchase email; now, let's unlock how to use them effectively. The following examples and ideas will provide practical strategies and examples from successful brands. Get ready to boost your email marketing game with these insightful tips!
1. Order Confirmation
Order confirmation emails are the immediate response a customer receives after completing a purchase.
This type of post-purchase email reassures customers that their transaction was successful and provides essential details like the order number, items purchased, total cost, a tracking link, and estimated delivery time.
This email not only validates the purchase but also serves as a reference point for customers to track their orders. This simple, informative communication enhances customer trust and paves the way for future purchases.
Here's an example of an order confirmation form by Nestasia, a lifestyle ecommerce brand.
Some notable aspects of this confirmation email include:
Simplicity — it gets straight to the point and tells the buyer that their order is confirmed;
It uses the company brand colors and logo;
It offers relevant details like the order number, amount paid, shipping details, product details, and payment details.
Ecommerce businesses need to create such post-purchase emails to increase customer lifetime value and get frequent customers to buy more.
2. Shipping Confirmation Emails
Shipping updates serve as a direct line of communication to assure customers that their purchase is on the move.
These emails are packed with necessary information such as tracking details, estimated delivery window, courier's name (sometimes), and the shipping address. Shipping notification emails offer transparency and reassurance and build customer relationships.
Also, a shipping confirmation email is different from an order confirmation because it informs customers that their product is on its way to them.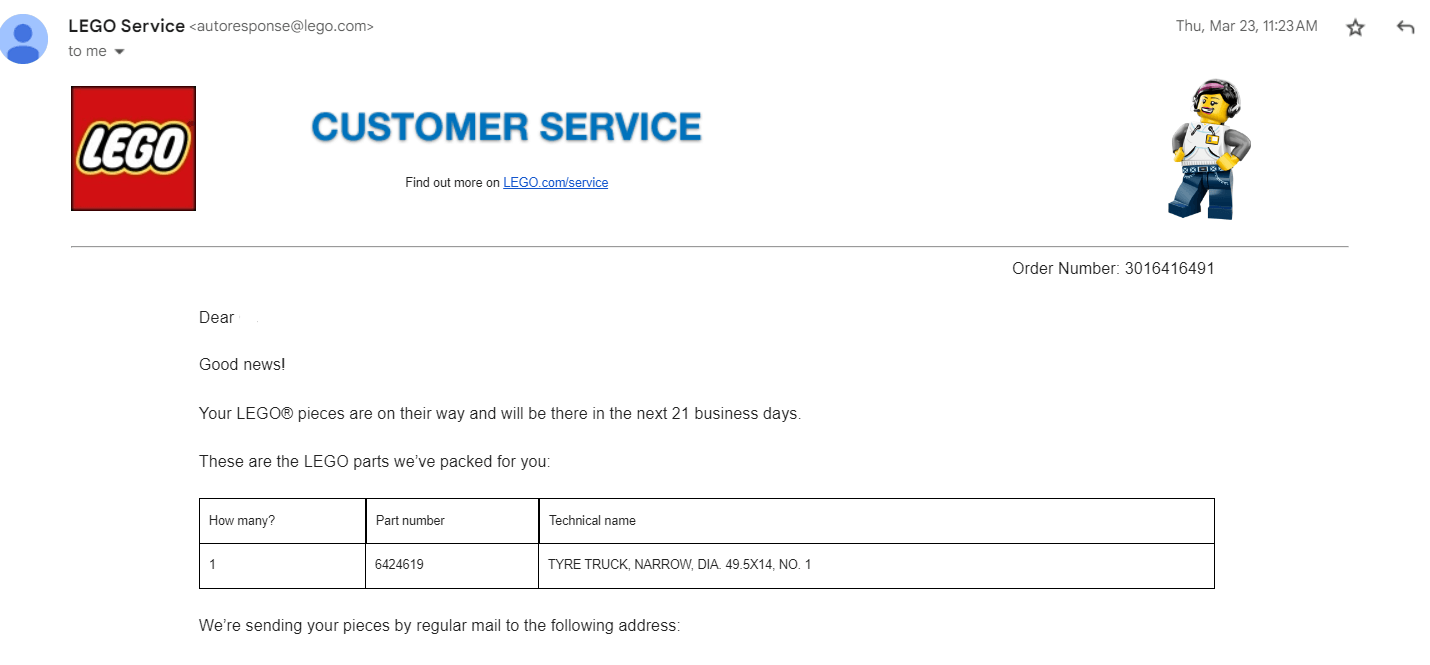 Here, we see a shipping confirmation email from LEGO. It does a great job of setting expectations and keeping the customer informed.
Note that it has a personalized greeting and starts with an opening that says 'Good News!'.
It also clearly outlines the quantity and type of product it's shipping to the customer. It also confirms the delivery address and invites the recipient to reach out if they need something else.
Such information creates confidence and creates peace of mind — ensuring that you get a repeat customer who trusts you.
3. Delivery Confirmation
Delivery confirmation emails are another critical post-purchase email type a business should set up.
This email is an important touchpoint, informing the customers of the successful delivery of their order.
But it can go beyond just a delivery notification. A well-crafted delivery confirmation email can enhance the shopping experience, reaffirm customer trust, and open opportunities for engagement and future orders. For example, by asking customers to share their experience, give a review, or by offering related products.
Check out this delivery confirmation email by Swiggy.
It works well because:
It concludes a transaction with the customer;
It documents the transaction to prevent issues;
It offers basic information like the delivery time, order time, etc.
This is a powerful example of using post-purchase email automation, and every business should implement it. In fact, this is something you can easily do with an email marketing tool like Sender.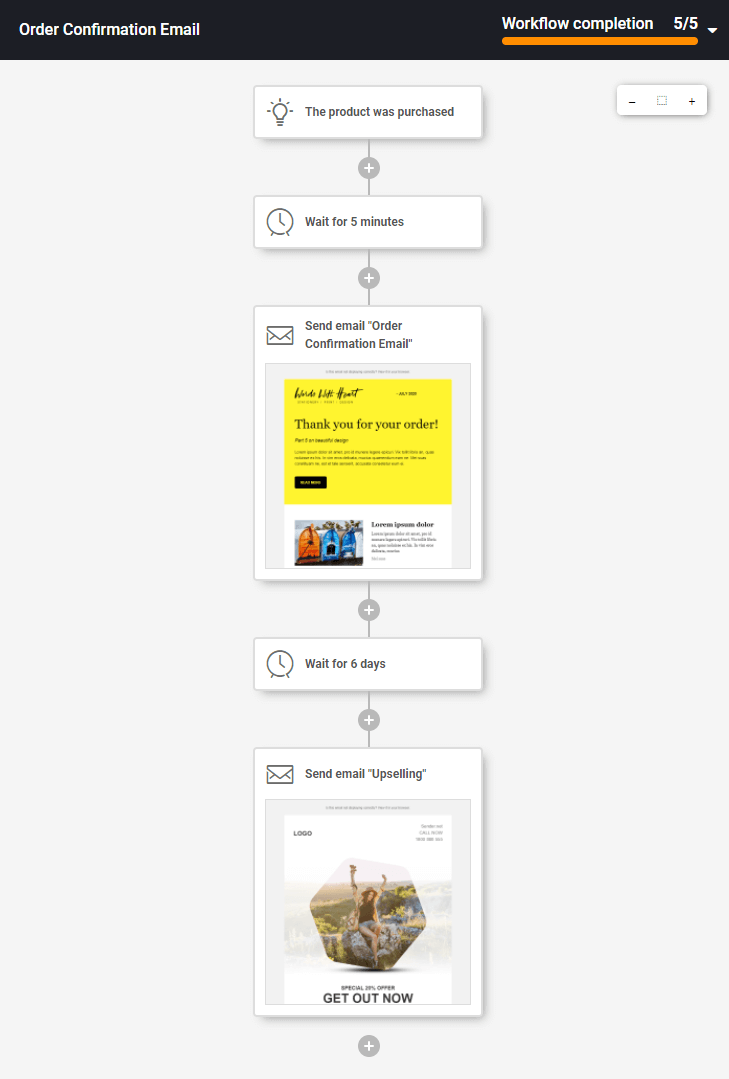 4. Thank You Emails
A simple "thank you" email goes a long way in making your customers feel valued and appreciated. This type of post-purchase email is an excellent opportunity to show gratitude, build a relationship with the customer, and encourage repeat business.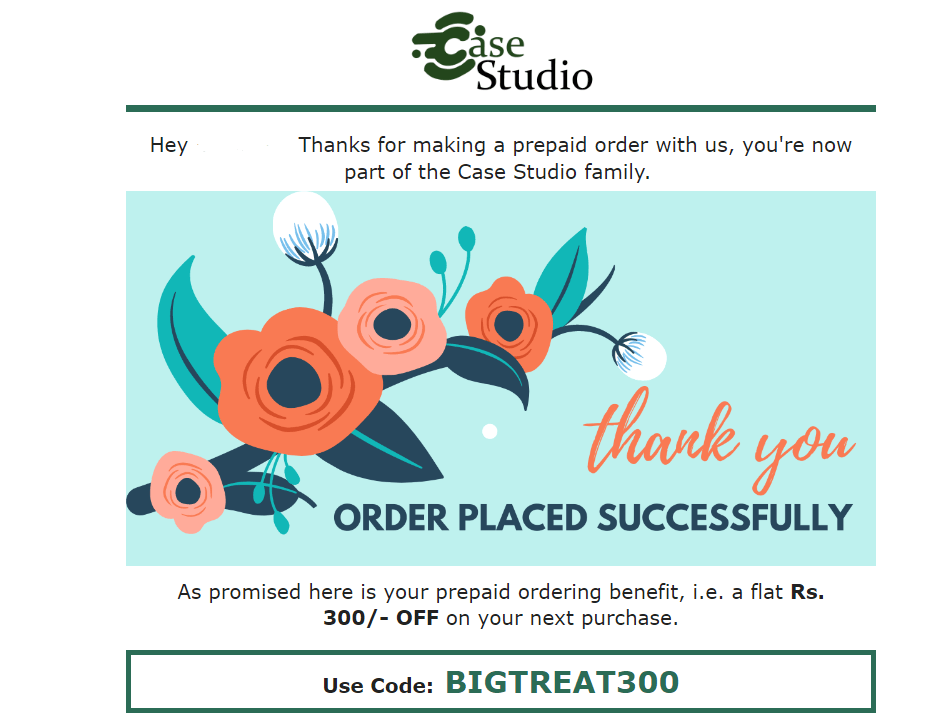 Here's an email from The Case Studio combining a thank you email with the order confirmation message.
Some of the interesting features are:
Its vibrant graphic that really expresses gratitude;
The use of cursive for 'Thank You' and;
A discount code for the next purchase.
This type of email is certain to repeat sales even if this is the first purchase a customer has made.
5. Educational Emails
Educational post-purchase emails add value for customers. They could include tips, tricks, or tutorials on using the product, maintenance advice, or fun facts about the item purchased.
Not only do these emails provide useful information, but they also showcase your brand's expertise and dedication to customer satisfaction.
They are also a great way to drive traffic to your website or blog.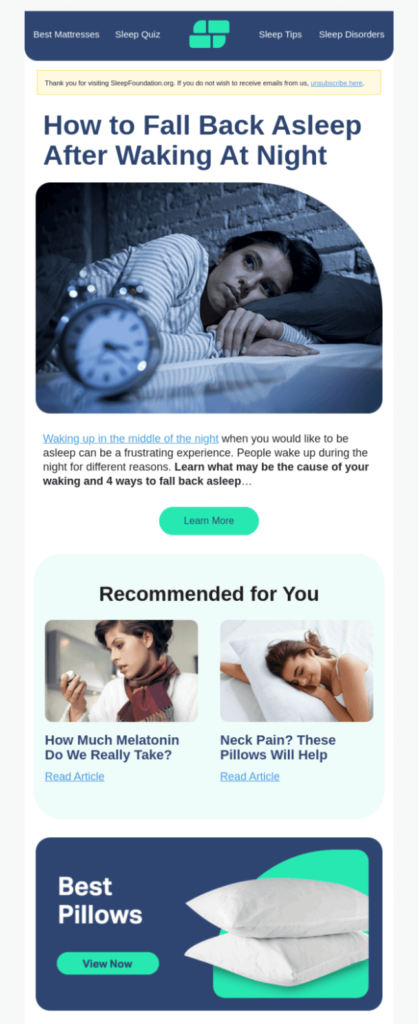 The above image is one of the best post-purchase email examples in my list. It's from The Sleep Foundation. 
Here's what it does well:
It starts with a topic that clearly impacts its audience, i.e., going back to sleep after waking up at night. 
It engages people after the post-purchase experience.
It uses great imagery.
It shares other relevant information.
The email includes a transitional link to 'best pillows', which drives people to take action. 
The email is clearly part of a post-purchase series and helps people achieve their sleep goals. It provides useful information and also leads to more sales without appearing intrusive or pushy and is a great example to use.
6. Loyalty Program Emails
Customers love to feel special and acknowledged.
Nothing does that better than offering them exclusive deals, store credit, and discounts through a loyalty program email.
These emails invite them to join a rewarding loyalty program or a reminder about the benefits they could avail of as members.
It's not only a fantastic way to promote customer retention but also a subtle nudge to encourage them to make more purchases. When crafting a loyalty program email, it's essential to highlight the perks and how easy it is to accrue and redeem points.
Check out the following example from a well-known hospitality group, ITC Hotels: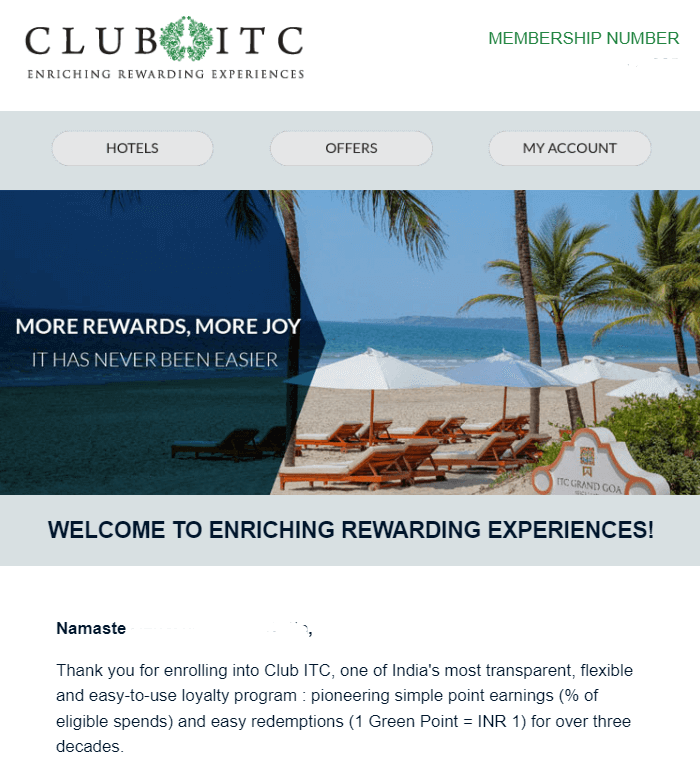 It starts with a powerful image that instantly conveys a relaxing, energizing holiday that suits its theme.
It informs existing customers about its rewards program and how to use it. And it provides clear information on how to upgrade and get better deals. Overall, it's an attractive and compelling post-purchase email that surely reminds customers about the brand.
7. Referral Emails
Word-of-mouth is one of the most powerful marketing tools. Referral emails tap into this human tendency to share positive experiences with others. By offering referral incentives, businesses can encourage customers to spread the word about their products and services.
These types of post-purchase emails not only help drive customer acquisition but also foster a sense of community and brand loyalty.
We love the following example from WeWork: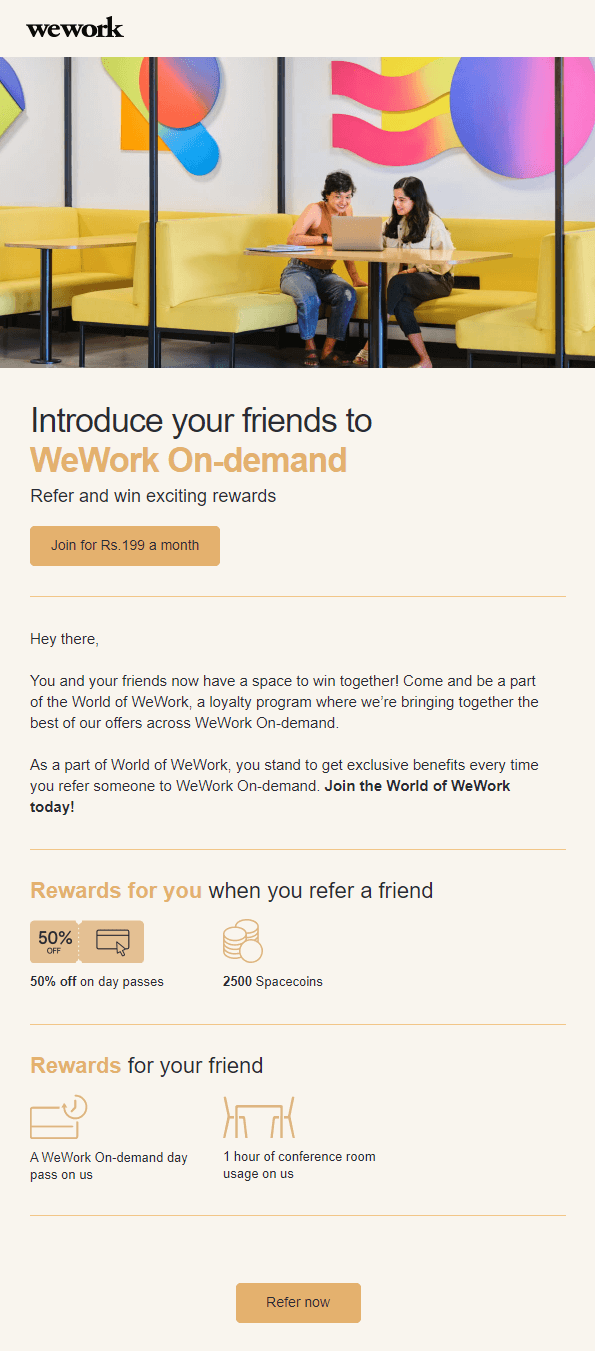 Here's what it does right:
It goes directly to the point. No beating around the bush;
It has a clear call to action;
The email uses a contrasting color for its button. It also uses icons to reinforce its messaging.
This simple but impactful post-purchase campaign will encourage its current users to bring around new customers.
8. Review Request
Reviews are crucial for building trust and credibility with new customers. Review request emails prompt customers to leave feedback on their experience, whether through a third-party review platform or directly on your website.
Not only do these reviews help potential customers make an informed decision, but they also provide valuable insights for businesses to improve their products and services.
This post-purchase review email by Graza is a powerful example.
It gets straight to the point at the very top where it says 'Do You Love It?'.
It uses its brand colors and politely asks the recipient to leave a positive review. It also motivates the reader by saying that their review might impact others to take action too.
Associating an action with a larger impact is a powerful motivator. By understanding a few psychological strategies that compel people to take action, you can collect feedback and reviews successfully.
9. Up-Sell and Cross-Sell Emails
These emails present customers with recommendations of products that complement their purchase or are a higher-priced alternative.
By doing this effectively, businesses can increase the average order value and improve the customer's overall shopping experience. Using data-driven algorithms for personalized suggestions can significantly enhance the effectiveness of these emails.
Let's not forget that these communications should be tailored carefully to resonate with the customer's needs and preferences.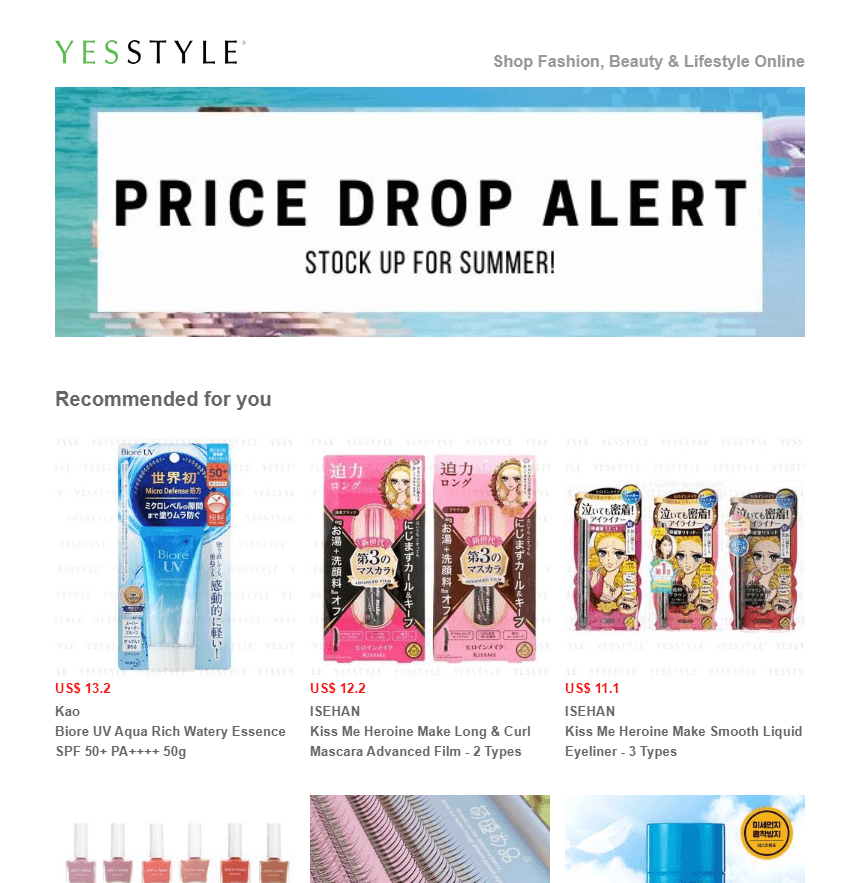 The image above is from a cross-sell campaign by Yesstyle, an ecommerce cosmetics store. It uses previous purchase information to suggest products. And it sweetens the communication with a price drop alert, ensuring that readers are excited to buy.
Make sure you use your CRM (Customer Relationship Management) systems to enable similar personalization in your post-purchase emails.
Using a CRM makes it possible for you to segment customers according to their past behavior and to personalize your content further.
10. Reorder or Repurchase Reminders
For products that have a consumable or regular use, reorder or repurchase reminders can be highly effective in driving repeat business.
By reminding customers to restock their favorite items before they run out, businesses can increase customer retention and enhance their brand's top-of-mind recall.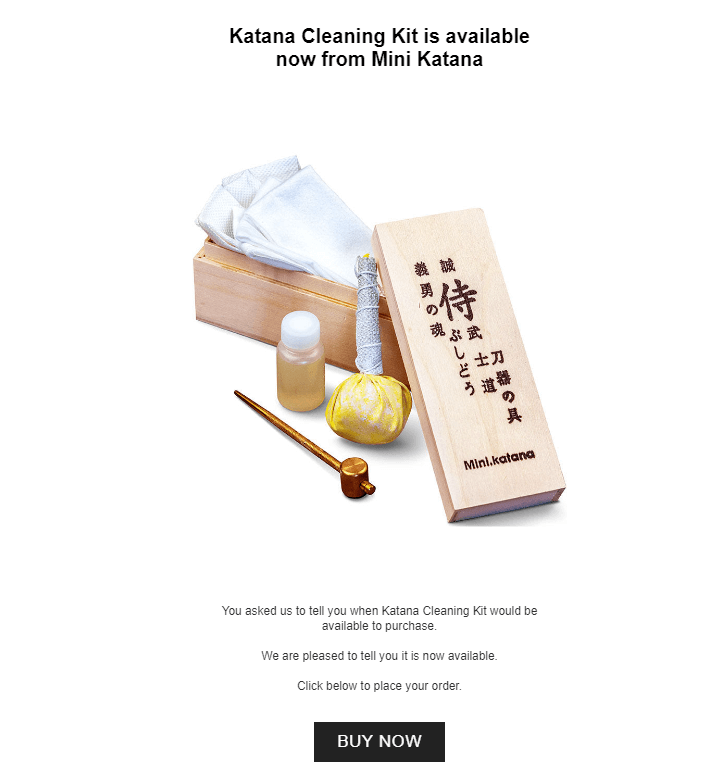 This email by Mini Katana is one of the most helpful post-purchase emails you can send.
It does the following well:
Uses a relevant image of its product;
Focuses on the main point;
Has a simple but clear call to action.
This type of email shows that you don't have to be elaborate when sending post-purchase emails. Get to the point and serve your customers valuable information, and that's all you need. 
11. Feedback or Survey Requests
Feedback and survey request emails are an essential part of any customer-oriented business.
These requests offer customers an opportunity to express their opinions about their shopping experience, the quality of the product, or any other aspect of your service they wish to comment on.
This direct line of communication allows businesses to identify strengths and areas for improvement. More importantly, feedback is an invaluable resource for understanding customer needs and expectations, helping to tailor your services and products to suit your target audience better.
Ultimately, these emails help establish a relationship with customers based on trust and transparency, fostering customer loyalty.
Let's consider a simple review or feedback request email from H&M.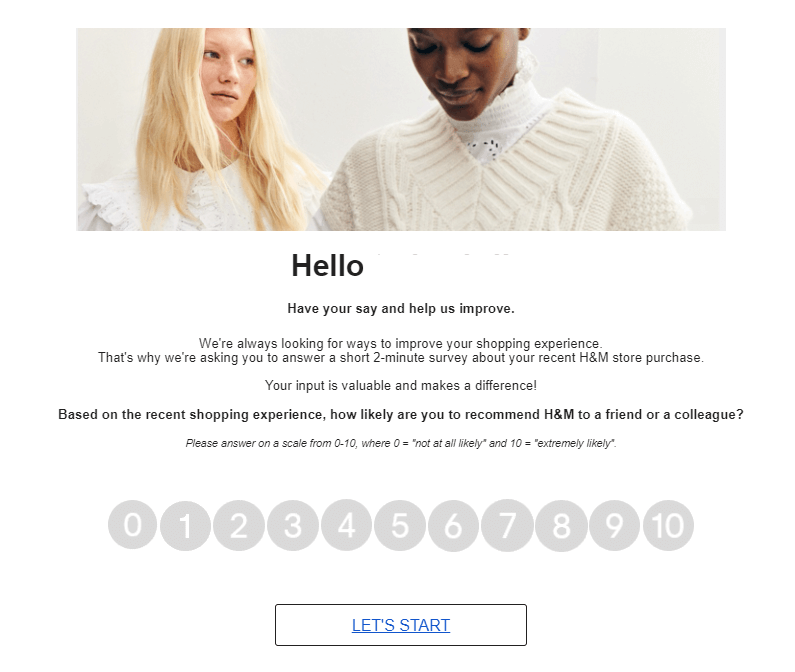 This email has a personalized beginning (name removed). It informs the reader that the survey or feedback is short. It's clear about the score rating. And different elements on the email are clickable.
This makes it a simple but appealing feedback request that many will respond to.
Want to see other ways to measure customer satisfaction? Check these 9 survey email templates & examples.
12. Product Recommendations
Similar to cross-selling and up-selling emails, product recommendation emails use data-driven insights to suggest other products that may interest the customer based on their purchase history.
These types of post-purchase emails not only increase the likelihood of repeat purchases but also help businesses showcase their range of products and services.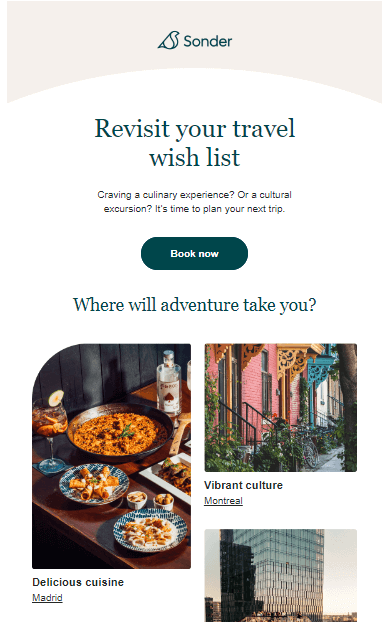 Here's a recommendation by Sonder Hotels to a guest. It recalls the customer's wishlist and recommends other places to visit and stay.
It does a great job with its design, use of brand colors, and exciting imagery.
13. Warranty or Guarantee Information
For products with a warranty or guarantee, it is crucial to provide customers with all the necessary information about these policies. This not only assures them of the quality and reliability of the product but also serves as an important reference in case they encounter any issues or need to make a claim.
By providing this information in a post-purchase email, businesses can ensure that their customers are well-informed and confident in their purchase decisions.
Check out this extended warranty offer by Clive Coffee: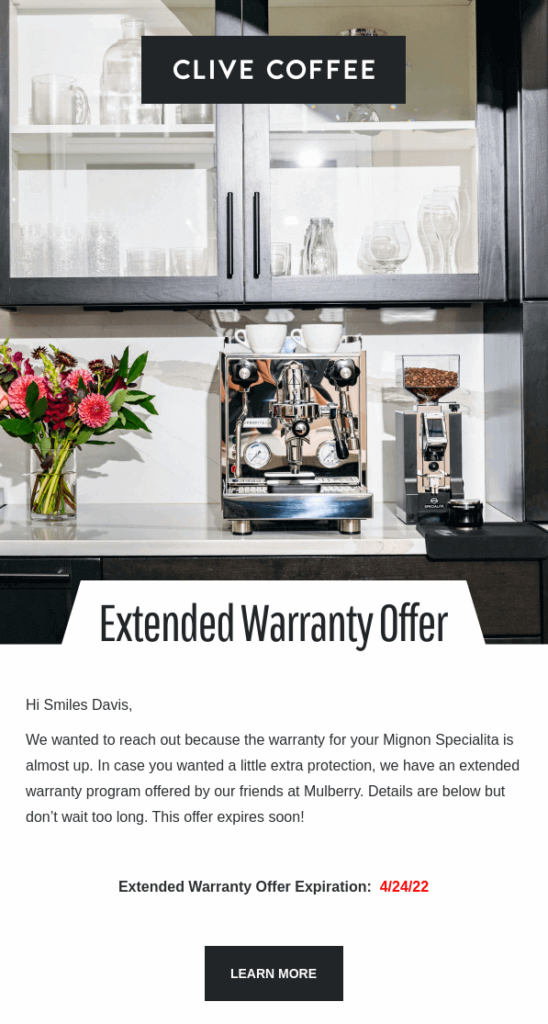 This email does an excellent job of highlighting the key terms 'Extended Warranty Offer' at the top.
It also leverages the emotion of FOMO (fear of missing out) in the copy by saying 'Details are below, but don't wait too long! This offer expires soon.'
The clever wording makes you want to click the Learn More" button right away.  
7 Post-Purchase Campaign Tips from the Pros
To enhance the effectiveness of your post-purchase email campaign, consider the following tips from industry professionals:
Prioritize compelling copywriting. Crafting engaging and persuasive content can significantly influence the recipient's actions. Ensure your message is clear, concise and communicates the value your product or service provides;
Ensure customer satisfaction post-purchase. Excellent customer service should not end at the point of sale. Continue to provide support, answer queries, and handle any issues promptly to build trust and encourage repeat purchases;
Embed real-time order and delivery details in emails. Giving customers real-time updates about their order status and delivery details can enhance their shopping experience and alleviate any anxieties related to their purchases;
Design tailored flows for global customers. Customize your email campaigns to cater to the specific needs, preferences, and cultural nuances of customers worldwide. This could include translating content into different languages and personalizing offers based on regional events or festivals;
Optimize the timing of email dispatch. The timing of your emails can significantly impact their open rates. Conduct tests to determine the most effective times to send emails to your various customer segments;
Guide customers on subsequent steps. Provide clear and concise instructions on what customers should do next, whether it's how to use the product, how to join your loyalty program, or how to leave a review. Guiding customers can enhance their overall experience and engagement with your brand;
Categorize customers by their interactions. Segmenting your customers based on their interactions with your emails (e.g., opens, clicks, and purchases) allows for more personalized and relevant communications, enhancing conversion rates and customer loyalty.
As we navigate through the intricacies of post-purchase email marketing, it's obvious that these strategies will foster customer loyalty and boost sales. Now, let's look at some final insights.
Wrap-Up
A well-planned post-purchase email strategy is key in today's ecommerce landscape. This strategic approach extends the customer relationship beyond the transactional stage, leading to deeper customer engagement.
The role of such strategies goes beyond just reinforcing the brand's value. They are integral to enhancing the overall customer experience.
Ultimately, these post-purchase email strategies will drive growth and success by creating loyalty, customer retention, and positive brand impressions. So, make sure you use them!
If crafting amazing emails is your passion, give a read to these articles, too: 
---
Author bio
Syed Balkhi is the founder of WPBeginner, the largest free WordPress resource site. With over 10 years of experience, he's the leading WordPress expert in the industry. You can learn more about Syed and his portfolio of companies by following him on his social media networks.