Employ your powerful emails
Increase sales and engagement by sending your well-designed emails with Sender.
Get Started For Free
There are so many reasons to show your appreciation and send a thank-you email.
So checking in email subject line ideas is a great way to get ready for any occasion in advance.
Since most people prefer email communication over any other form of communication, all of us write and receive emails daily. No matter what is the purpose of your email, you have to show appreciation to your recipient from time to time as it's a part of email etiquette.
We send thank you emails after job interviews, receive valuable feedback, communication with a hiring manager, get donations, help, introduction to a new partner, or receive birthday wishes.
In short, there are so many reasons to send this type of email in your email marketing campaign.
However, it can be difficult to make up a thank you note subject line that helps to draw the attention of your recipient, and encourage people to open, read and reply to your email. Only the best-thanking mail subject titles cut through the noise.
In this post, we will share various creative ideas for thank you email subject lines so that every person can draw inspiration for the next 'thank you' email. Let's dive in!
Thank you Email Subject Lines: Examples and Ideas
A quick heads up, to upgrade your 'thank you' emails you should definitely write personal emails. Therefore, it's crucial to have email marketing tool that has personalization feature.
See how easy it is within Sender platform: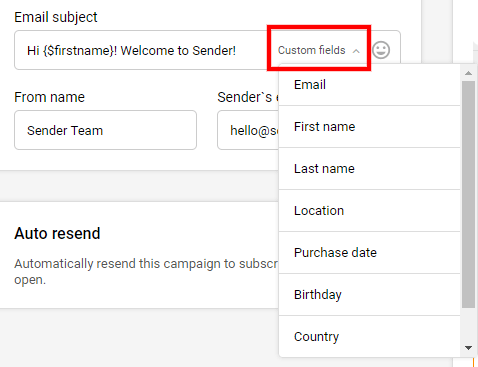 No matter what is the purpose of your thank you email, whether you want to show appreciation to your boss, partner, client, or customer, here you can check out the list of subject lines for thank you emails for any occasion:
After Event
Glad to see you on our [event name]
Thanks for your being with us yesterday
We did it! Thanks for being a part of [Event name]
Hope you liked our webinar – Thanks for being with us!
Here's the copy of presentation information-Enjoy!
Review [brand name] presentation you watched yesterday!
How to Win at Event Marketing (Step-by-step)
To Professor
Thanks for replying to my mail
"I like a teacher who gives you something to take home to think about besides homework." – THANKS a million!
Subject line for thank you email after job interview to candidate.
For Job Recruiters, Candidates
After informational interview:
Thanks for applying for a [job name] position
[Interviewer's Name], thank you for the [job title] interview
Appreciate your time and advice, [Interviewer's Name]
After law firm interview:
[Law firm name] – Thanks for the great interview!
After internship interview:
The internship position at [company name] – Thanks for considering me
After phone interview:
Thanks for the phone interview yesterday
After multiple interviews:
Thanks for the second interview!
Before interview:
Thanks for the requested information – Waiting for the job interview!
To recruiter after meeting:
I enjoyed learning more about [Company Name]
After final interview:
[Interviewer's Name], thank you for making it happen!
Job offer acceptance:
Job Offer Acceptance–Welcome to the Team!
After rejection:
Thanks for being a great candidate for [job title]
After career fair:
We hope you found our fair handy!
For promotion:
Congratulations on a promotion–you deserve it!
To coworkers:
Happy to be a part of our team
Thank You Email Subject Lines for Meetings, Partnerships, Networking
Here you will find more than 30 thank you email subject lines, which you can use for meetings, partnerships and networking.
Thank you email message subject lines for meetings
That was a cool meeting on [date]!
[Meeting name] – Your participation is much appreciated
It was great meeting you today!
Let's make the most out of this meeting!
Thanks for the [idea/opinion] you shared
It's been great seeing you!
After sales meeting:
[Name], thanks for that meeting
Thank You Subject Lines for Partnership, Networking
Your recommendation means a lot to me, [partner's name]
Appreciate our collaboration, [partner's name]
Thanks for being a part of my professional network
Glad to see you among my partners, [name]
You've put much effort into your business-Love it!
Glad to be useful and thanks for being a great partner!
After meeting with client:
It was a pleasure having lunch with you!
Thank you for your time subject line:
I really appreciate your time, [partner's name]
For recommendation:
Your recommendation means a lot to me, [partner's name]
For referral:
Wow! Thanks for the referral!
You earned $15 for your referral
Thank You Email Subject Lines for Business
Here you will find more than 20 thank you email subject lines for B2B, B2C business and e-commerce.
Thank you for your feedback
[Brand name] values your feedback!
We Want To Say Thanks for Your Feedback
We asked, you responded, and we listened – THANK YOU!
For appreciation:
I've received your update–Thanks a ton!
Thank you for your order
Thanks for the purchase–it's on the way to you
Our thanks: $12 faves & deals on top sale picks
Thank you for your donation
Your contribution matters! Thanks for the donation
We received your payment-thank you!
Thank you for subscribing after signing up
Thanks for subscribing! Now what?
Glad to see you on our mailing list!
A thank you: we're giving you 50% off our favorite gift ideas
THANK YOU (We're Shouting). Bonus Coupon Inside!
Thank you to customer
It is an honor having you as a customer, [name]
Welcome aboard – now you're registered
Thanks for visiting! Come again for 15% off
Welcome and Thanks for Being with Us!
Other thank you email subject lines for business
For respond:
I am thankful for your timely response
For inquiry:
Thanks for keeping me posted, [name]
Got your update – just want to thank for letting me know
Other Thank You Email Subject Lines
To boss:
Thanks for being the best leader!
[Boss name], you motivate me!
For reference:
[name] — Thank You for the Reference
For baby shower at work:
Thank the whole team so much for making my baby shower so special
For help:
Your help means the world to me! THANK U!
To mentor:
Your mentoring motivates me – much valued!
For scholorship:
Appreciation for the Scholarship Offer
To investment banking:
You're so special–wish your investment bring you growth!
After training:
Thank you for providing me with amazing training
Also read: 10 B2B Email Marketing Examples
Tips on Creating Eye-catching Thank You Email Subject Lines
A well-written thank-you email helps to improve relationships with the recipient, increase brand awareness, and even track leads. Obviously, having a great email subject line is important, but knowing how to create an eye-catching email matters, too.
Here's a good example of a thank-you note from Clinique.
Subject line: From us to you: Thank you!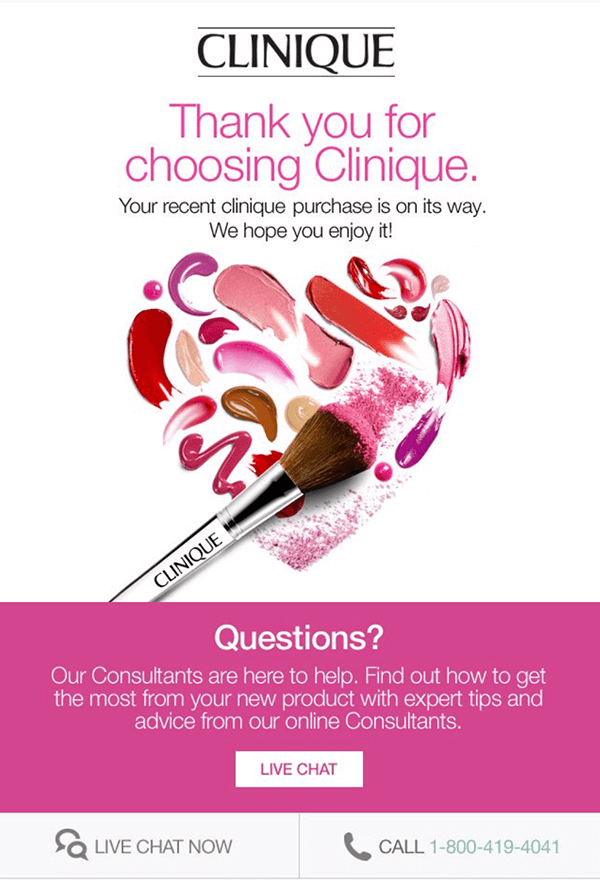 What worked well?
Show appreciation in the email subject line.
Include a brand logo in the picture.
Identify the reason for being grateful.
Add contact information.
So, wouldn't it be great if you could create a similar thank-you email that stands out from the crowd? To create an amazing thank you email, take into account the following tips.
Segment your email list
From time to time, you have to send bulk emails to recipients. Although personalization matters, you can segment your email list to create the right thank you email marketing campaigns for the same audiences.
As specified in Webopedia, targeted email marketing is a modern technique that
identifies a specific audience for a personalized email campaign and helps you create the right message for a group of people.
Use powerful words
With the right words in your subject line and email, you can encourage readers to open it, learn more about your company, and increase clicks. It's psychologically proven that powerful words can improve your email marketing effectiveness.
Include emojis that show appreciation and evoke positive emotions
Most people are visual learners with a short attention span, so using simple visual elements like emojis help to evoke emotions and create a bond with recipients.
Here are the most popular emojis for thank-you email subject lines:
😇 – face with halo
🤗 – hugging face
👏 – clapping hands
🙌 – raising hands
🙏 – folded hands (for donation and non-profit organizations)
🤝 – handshake (for partnership emails))
Test several subject lines
You never know what can work best for your audience. Thus, A/B testing is a good option when it comes to writing great subject lines. What is more, it's a good idea to create a separate thank you follow up email subject line when sending additional emails after no-reply.
Be creative in showing appreciation for recipients
Having a well-written thank you email subject line is great, but you can also show your appreciation in an email signature as it can leave the reader with positive emotions.
Your Turn with a Thank You Email Subject Line
The email subject line is the first thing your email subscribers see when they receive an email from you. It doesn't take much time for people to scan it and make a decision whether they want to open your email or not.
When it comes to writing thank-you letters, it's highly important to hook your reader's attention with the right thank you email subject line. Thus, it's your turn to analyze your audience, make up several subject line ideas, and test what works best for your audience.
If you are someone who wants to take it for a spin before shifting over from your existing email tool or want to start with zero financial commitment, Sender's the FREE Forever plan can help you do just that. Send up to 15,000 emails a month to up to 2,500 contacts absolutely free of cost!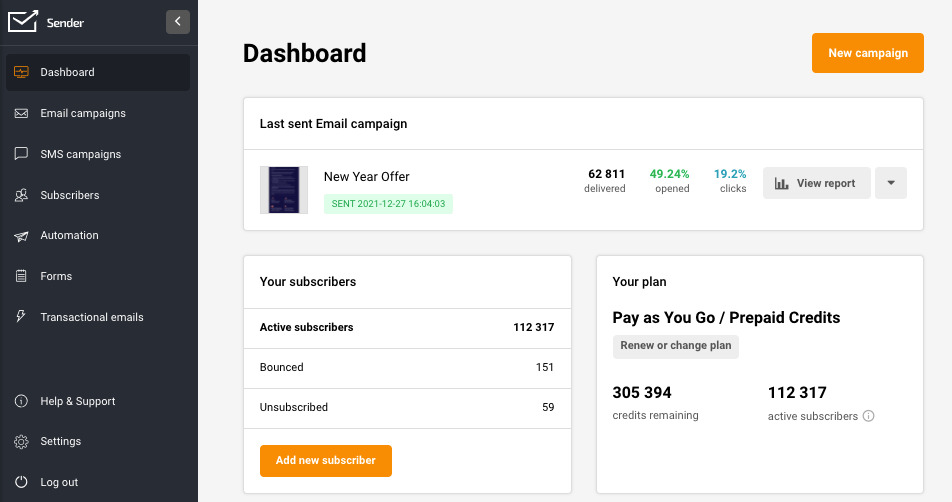 Also read: 27+ Appointment Email Examples
---
About author
Hugh Beaulac is a content strategist behind MC2Bid4Papers blog who has 7 years of digital marketing experience. Hugh also helps small businesses promote their products and services on social media and contributes to marketing blogs to share his tips and tricks.