Profit from your knowledge
Apply email and SMS marketing strategies you already know to see the best results with Sender. It's free. It's easy.
Get Started For Free
According to the National Retail Federation, Americans spent $21.8 billion on Valentine's Day in 2021. In 2022, the spending soared to $23.9B.
So, no wonder you're as excited for Valentine's day as for Black Friday and Cyber Monday seasonal sales! In a highly competitive 'store-eat-store' world, the only way for your business to stand out is to get your holiday email marketing strategy on point. Read on to get inspired by a quick breakdown of some of the best examples from popular brands and businesses.
Best Valentine's Day Email Marketing Examples
A great email is clear, concise, and to the point. It should have a specific purpose, and the language should be professional and appropriate for the intended audience.
Here is a collection of interesting emails to help you get going with your Valentine's Day newsletters. Use these Valentine's day email marketing ideas to fuel your own marketing strategy.
Sender — Happy Valentine's Day Celebration
The first email example is actually a template to help you get started. Look at this Valentine's day email template from Sender:
Look how beautiful the email header is — the heart-shaped hot air balloons look so lovely. There are ample design blocks and spaces for you to write your heart out in this email template.
You can use this template by adding your logo and changing the text, and your Valentine's day campaign is ready.
What did we love?
A beautiful and eye-catchy email header;
Well-segmented design blocks for your product placements;
CTA Button that stands out.
Nordstrom — Valentine's Day Gift Guide Example
Nothing makes someone's day more special than getting a warm, heartfelt wish and a gift. One of America's top luxury department stores, Nordstrom, understands this and built their Valentine's day campaign around a 'Happy Valentine's Day' wish. Have a look:
Subject Line: Luxe jewelry gifts that say "be mine" in this case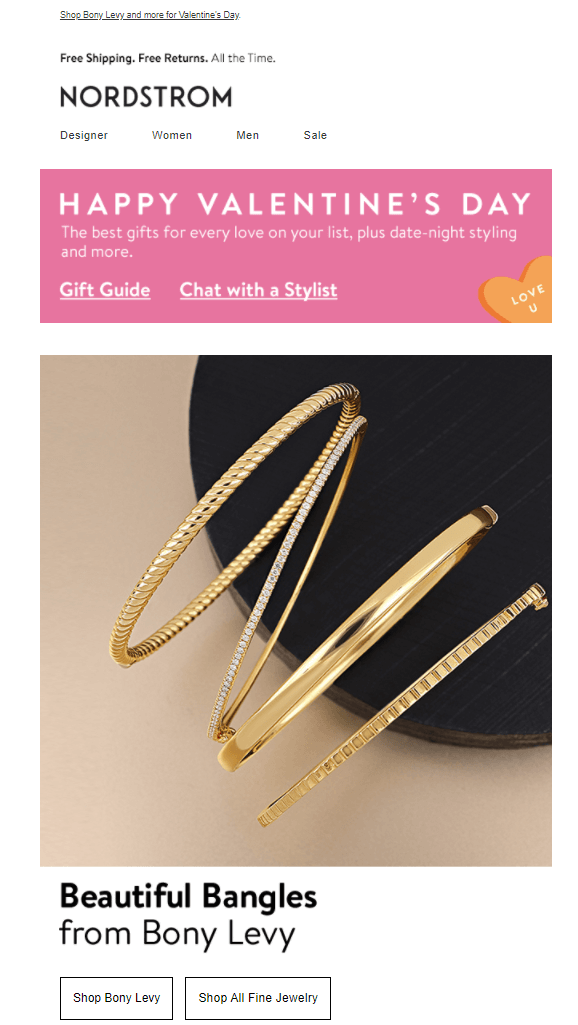 The email came with a Valentine's Day gift guide and an option to chat with a personal stylist and finalize a gift for a loved one. A nice and personalized approach. Plus, the offers like Free Shipping and Free returns were a nice add-on.
Nordstrom got everything right in this email — the standout being a great offer! A luxury brand with a great offer that includes Free Shipping and Free Returns (like they say, "All the time") has got to be an irresistible combination.
What did we love?
Interesting and attention-grabbing subject line;
Personalization top-up with an option to chat with a stylist;
Appealing product photography;
Option for readers to browse trending gift ideas;
Clean and minimalist design.
Habrok — Valentine's Day Special Discount Blast
Discounts appeal to everyone, no matter what month of the year. But when they come with Valentine's day email, you can be sure of a bump in sales revenue.
Habrok Sports, an eCommerce company specializing in sports goods, used discounts as a lure in their Valentine's Day emailer. Have a look: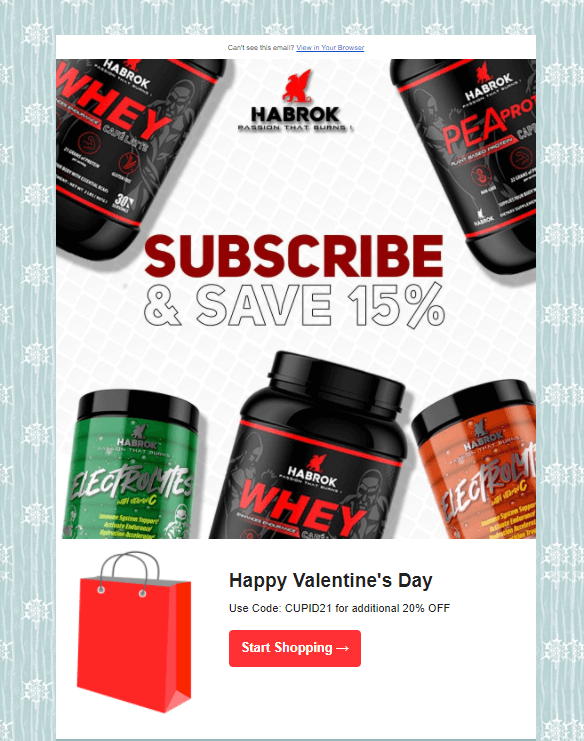 It's no secret that any sports supplement business cannot sustain profitably over one-off purchases. Habrok understands that and used Valentine's day to promote its 15% OFF offer for subscriptions.
The call to action (CTA) stands out clearly, and the product photography is decent. The extra 20% off on Valentine's is a cherry on top.
What did we love?
Clear, simple, and straightforward email copy;
Exciting offer (+ extra off);
A CTA that stands out over the creative.
Coach Outlet — Valentine's Day Sales Email
Coach outlet is an American leather goods online store catering to the mid-luxury segment for handbags, luggage, and ready-to-wear accessories. They've made Valentine's an excellent opportunity for being relatable to all the 'singles' out there in their email blast campaign:
Subject Line: Give Yourself The Perfect Valentine With An Extra 15% Off!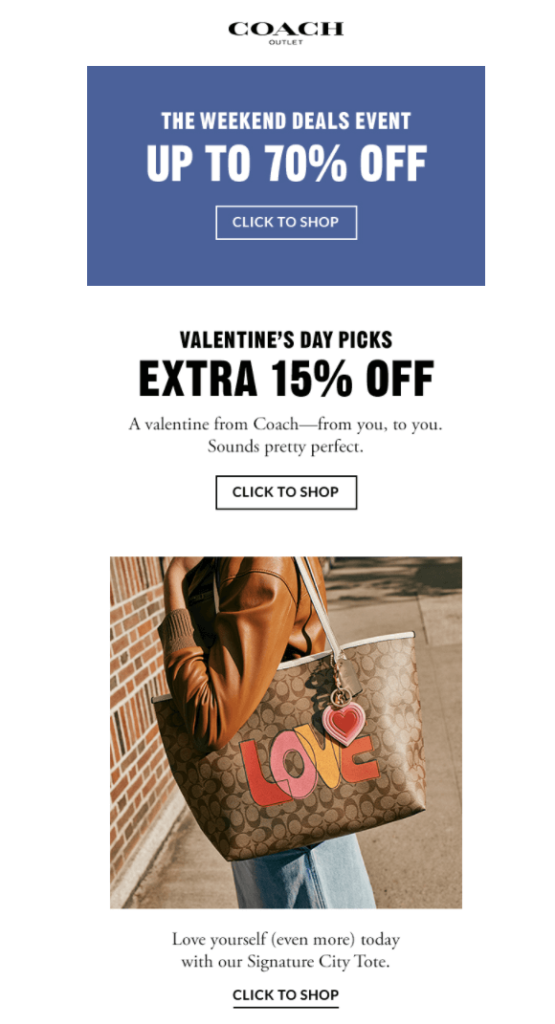 If this email was a movie, the offer is undoubtedly a superstar. Not only is the weekend deal of up to 70% OFF compelling, but the extra 15% OFF on account of Valentine's Day is the icing on the cake. Plus, the beautiful product image is the perfect reason to try out the product yourself. The CTA elements are simple yet stand out enough to garner interest from the reader.
What did we love?
Beautiful, non-stock product imagery in a natural setting;
Double offer to hook the reader into buying the product;
Effective CTA placement.
Charity: Water — Nonprofit Valentine's Day Email
Nonprofits can leverage Valentine's day to send a warm and lovable email that reminds subscribers and appeal to their consciousness about making a bigger impact. Charity: Water, a nonprofit dedicated to providing safe and clean drinking water to people in developing nations, did the same in their Valentine's day email: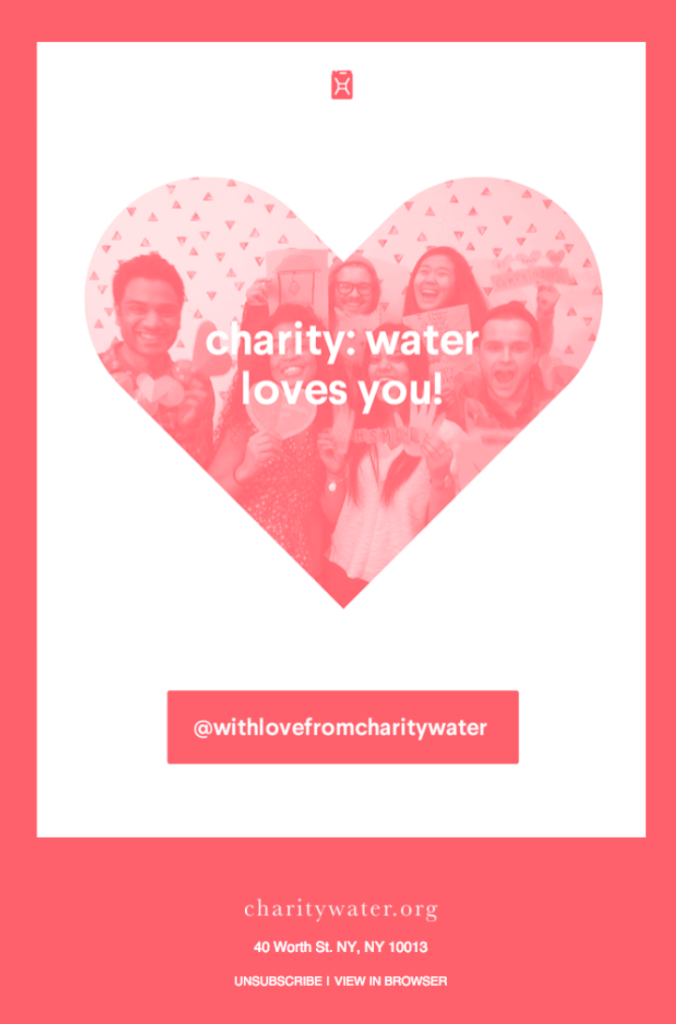 The simple email with a hearty team picture says a lot without too many words. It feels like a greeting card while emphasizing the perception to keep team Charity: Water in their hearts.
The call to action button — for their Instagram handle, plus the URL in big font, serves as a great reminder to show support for the nonprofit's cause. If nothing else, this email reminds us to wish our customers and subscribers every now and then.
What did we love?
Simple yet impactful email design;
Contextual picture, speaking a thousand words without any email copy;
Contextual messaging.
Anya Lust — Romantic Valentine's Day Email
Valentine's is the season for couples! So, why not step it up and make them feel special?
Anya Lust, a luxury and fantasy lingerie brand, had their own take on sending out the perfect Valentine's Day campaign:
Subject Line: Happy Valentine's (Night) 💋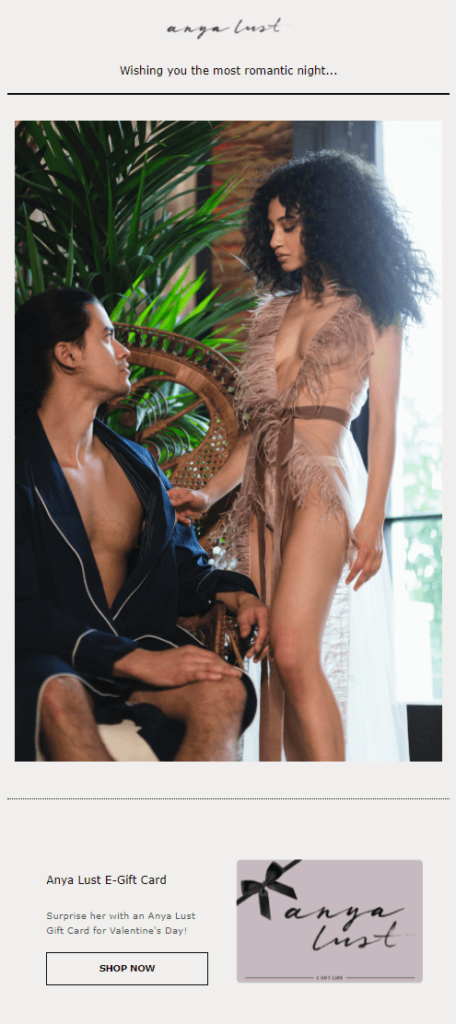 The subject line is much more unique and fresh than generic Valentine's campaigns. The emoji makes it clear that this is a must-open. Instead of focusing on just the product, getting a Greek god (and goddess) like models to show up the way they did, is eye candy. After all, rather than just beating around the bushes about the features, you want to convey the benefits and experience to your prospect so they can dream about it.
The copy targets men very smartly, asking them to consider gifting this to their partners, thereby surprising them on the special occasion of Valentine's day. The suggestive gifty CTA at the end would have got so many clicks.
What did we love?
Suggestive yet secretive subject line tempting users to click;
Bold imagery and central photo placement;
Contextual messaging and a single CTA (or offer).
Cute Nutrition — Sweet Valentine's Day Email Campaign
If it goes well with your brand voice, a cute or funny Valentine's day email can work wonders for sales. Cute Nutrition — the women's fitness and health supplements brand, did exactly that. Their Valentine's Day email is designed to be, as their name suggests, "cute."
Subject Line: It's your last chance, Cutie🙉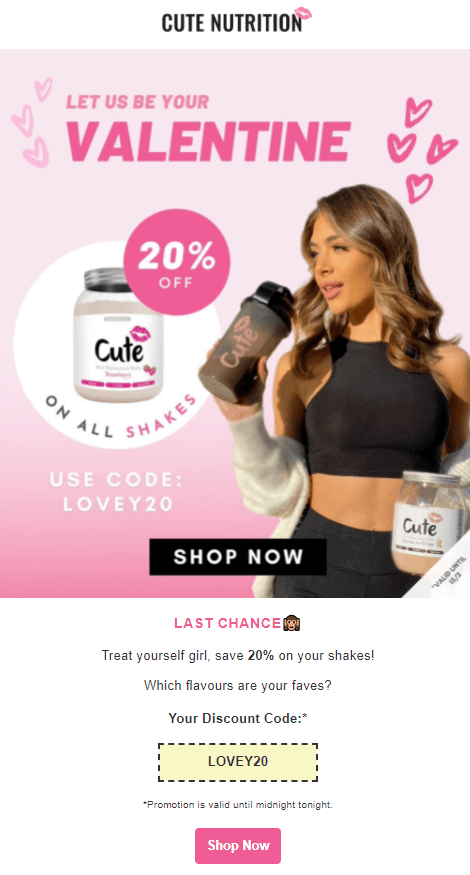 Instead of beating around the bush, they tempted users to give them a shot. Showing a fit version of their customer avatar sipping on the product evokes a strong desire. Prospects, who are just on the fence, start relating themselves to the model in the picture. The call-to-action is well laid out, as is their online store catalog below. The casual tone of the copy is intentional and highly converting, given that it's in line with their brand voice in general.
What did we love?
Cute, casual, and funny tone without being overly creepy;
Prominent discount code placement;
Urgency reminder that prompts users to click the CTA button;
Lomography — Creative Valentine's Day Newsletter
Who stops you from getting creative on the day of St. Valentine's for your Valentine's newsletter? In fact, it's the perfect time to let your holiday marketing ideas go wild.
Check out this creative Valentine's day email newsletter from famous camera manufacturer — Lomography:
Subject Line: It's Never Too Late to Say I Love You

The catchy subject line reels the reader in, and the quirky offer does the job of converting a subscriber. This brand has perfectly adapted the evergreen BOGO (Buy One Get One Free) offer in the spirit of Valentine's day! The email content is interesting and tempts the user to at least click the CTA button and see what's on the cards.
What did we love?
Clever BOGO deal contextual to the occasion;
Intriguing subject line;
Large image and offer placement.
Kiss My Keto — Last Minute Valentine's Day Gift Email
They say it's not over until the fat lady sings. This applies to Valentine's day too!
What if you forgot? You can always make it up to your partner if you're sincere and as long as you remember before the clock strikes midnight on February 14th! Kiss my Keto reminded its subscribers exactly the same in its Valentine's email:
Subject Line: Panicking about a last-minute V-Day gift? 🍫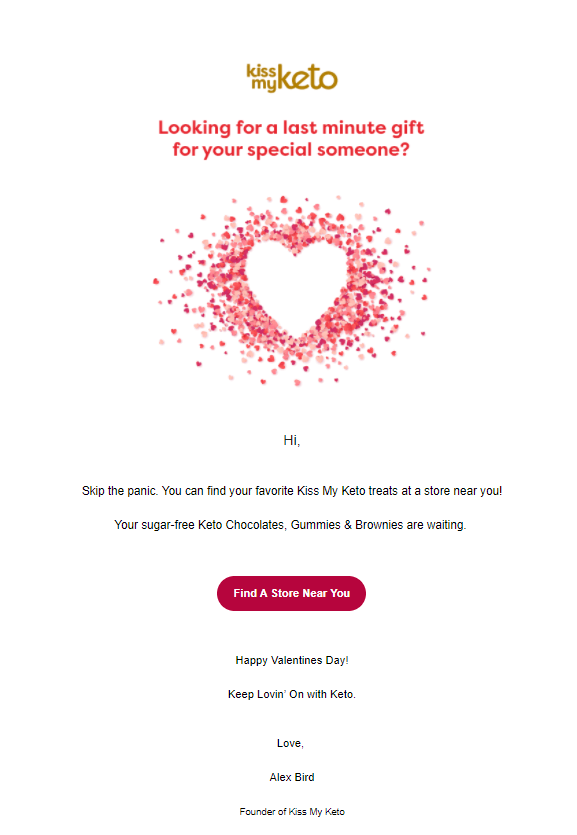 Kiss My Keto is a fitness supplements company that makes ketogenic diet-friendly snacks, supplements, and food. Its product portfolio definitely has a lot of interesting products that are great gifts for Valentine's. It used a clever CTA alongside a personal note-type copy that will surely ring some bells. We all know it's not possible to receive delivery last minute, so why not help the subscriber find a nearby store?
The design and creativity both sit nicely with the occasion on hand. Plus, a headline that reminds you of your Valentine's duties!
What did we love?
Contextual reminder designed for last-minute shoppers;
Great email design and copy;
Relevant subject line to the reader's pain point.
Hulu — Funny Valentine's Day Email
It's hard for your prospect to pay attention to you on February 14; that's essentially a day to celebrate with their soulmate! So, you really need to get outside of the box and add a dash of creativity and/or humor — whatever brings attention back to you.
When done right, humor and creativity can help make your brand memorable (and even viral). Hulu usually gets it right more often than not regarding all things marketing. Here have a look at their funny Valentine's day email:
Subject Line: Spend Valentine's Day with Our Favorite Couples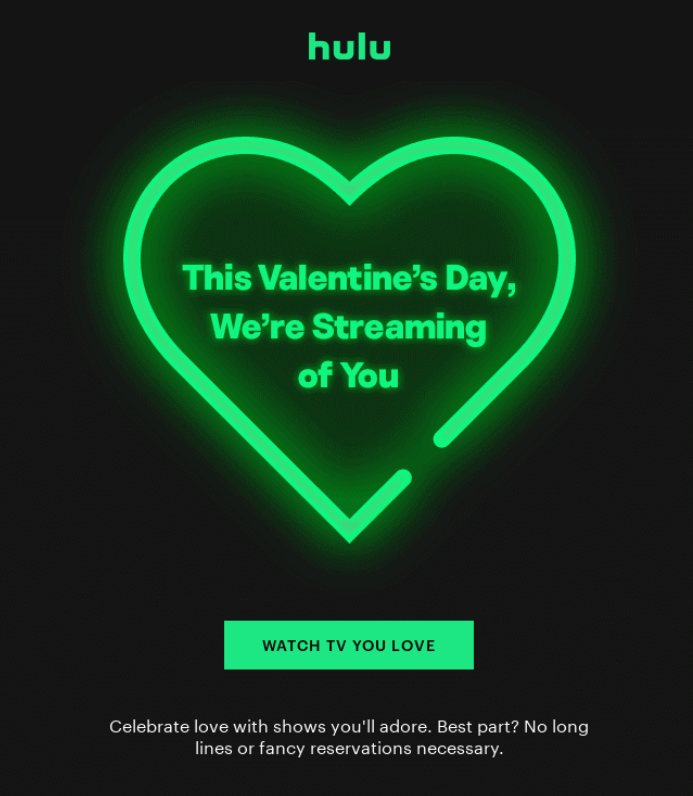 The subject line piques curiosity and screams to open and check out what's inside. The overall color palette and the call to action ("Watch TV You Love") form an unmistakably attractive combination. The central creative — This Valentine's Day, We're Streaming of You is also amazing. The copy does an unbelievably good job of closing out the reader, too.
What did we love?
Beautiful and eye-catchy creative;
The interesting and scroll-stopping subject line and copy;
Humorous closer (one-liner below CTA).
Unsplash — Personalized Valentine's Day
Email personalization is probably the most rewarding strategy for nurturing your email list. And why shy away from email personalization on Valentine's day? Unsplash, famous for free stock photography, teamed up with the dating app Match, and this is how their Valentine's day email looked like:
Subject Line: Fall in love with Match's Curated Collection 😍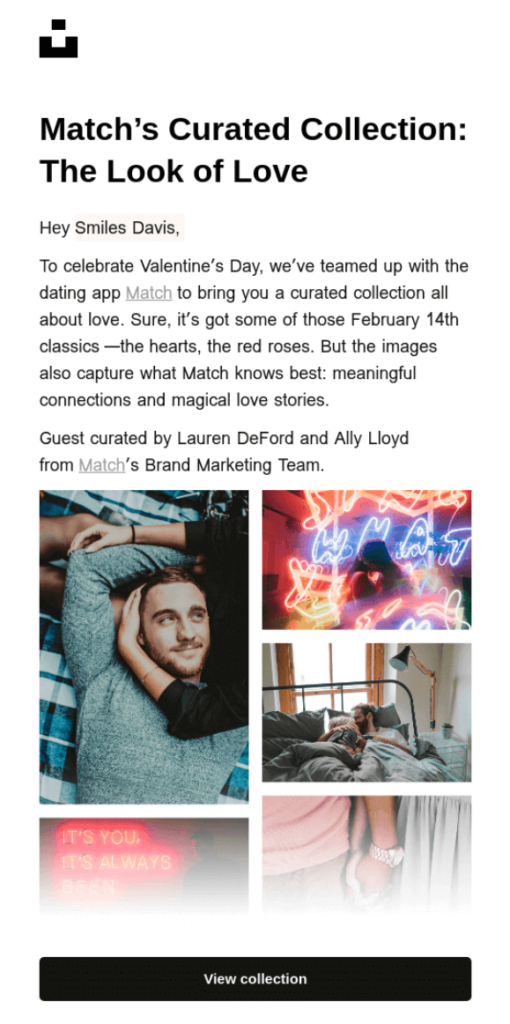 The initial greeting includes the subscriber's full name. Nothing is better than reading out your name on the screen. It feels like this one was sent out just for you. The subject line is personalized, too, filled with just the right amount of wordplay without going too far out. The personal note (and collab announcement) feels like the brand cares about making the reader's Valentine's special.
What did we love?
Personalized email copy;
Contextual collaboration in Line with Valentine's vibe;
Interesting imagery (to promote the curated image collection on the platform).
UGG — Valentine's Email to Customers
UGG, the popular footwear company, sends interesting Valentine's emailers just before the actual day. Their emails serve as a timely reminder that the reader should probably plan a gift for their loved one. Have a look:
Subject Line: Valentine's Day is almost here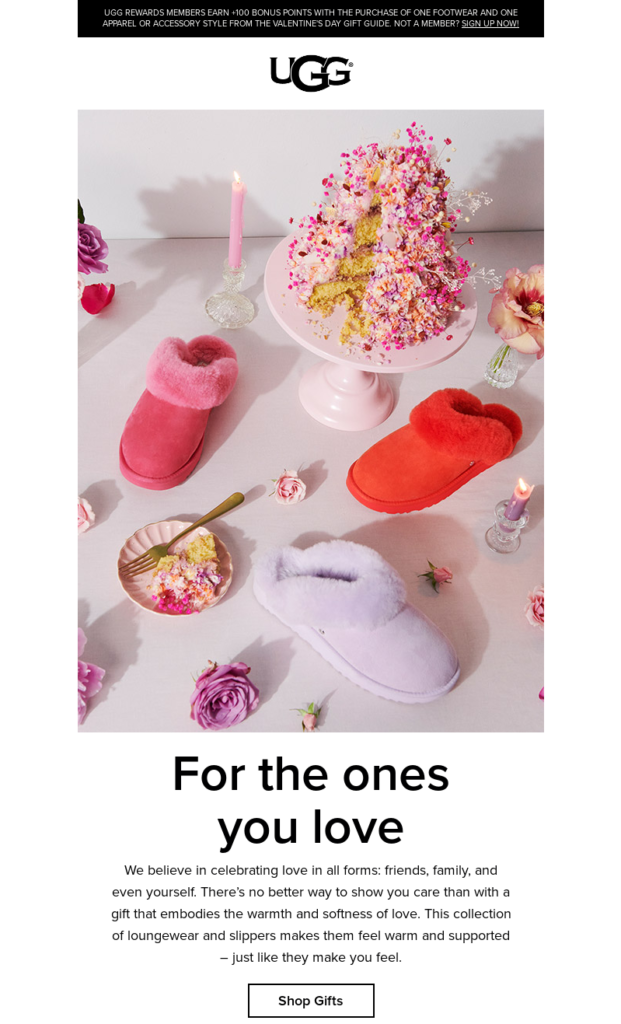 The clean email template with large image blocks and suggestive copy about the spirit of love and gifting is on-point. The pink-themed product or model images are a subtle hint that the season of love is right around the corner. A subtle yet memorable emailer from UGG, for sure.
What did we love?
Simple and subtle emailer design;
Reminder-type subject line;
Large gifting idea imagery throughout the emailer.
Carbon38 — Valentine's Email Campaign for Singles
Valentine's Day campaigns shouldn't be just about couples. Singles, too, deserve some love. When others are busy promoting the 'couple offers', you can stand out among your subscribers who are single on Valentine's. Carbon38 did that with their Valentine's day email for singles. Check it out:
Subject Line: BE YOUR OWN VALENTINE 💘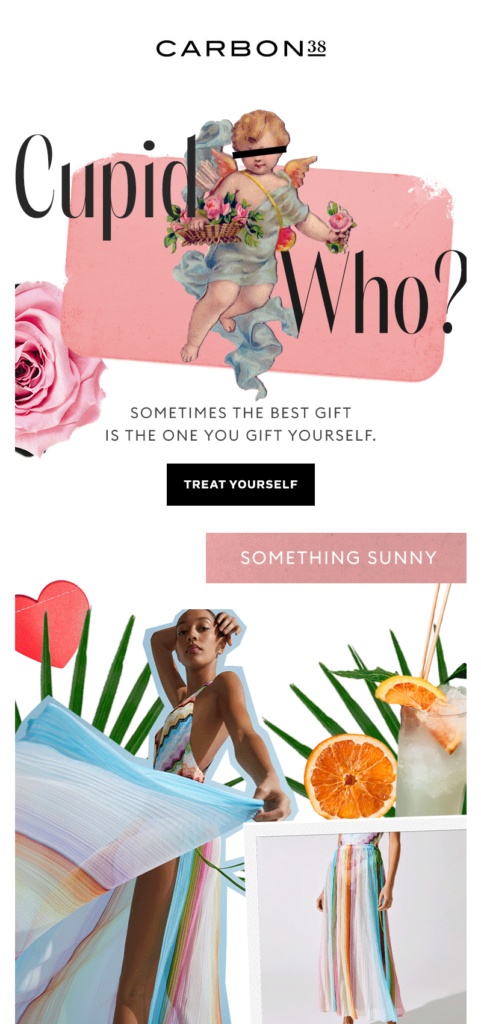 The subject line and the email's header — 'Cupid Who', together are a pleasant reminder about the importance of 'self-love'. The shopping choices to pamper yourself would surely make many stop and think of buying from Carbon38. Clever wordplay plus an attractive email design goes a long way to boost conversions.
What did we love?
Attractive color tone and email theme;
Unique subject line;
Aesthetic email layout.
Kate Spade — Valentine's Day Gifts Recommendation Email
We all know Valentine's is all about pampering and gifts. So, sending a recommendation email with handpicked gifting options is a great idea. Kate Spade, an American fashion house, used Valentine's to recommend gifts for loved ones. Have a look:
Subject Line: open me: you have Valentine's day gifts waiting!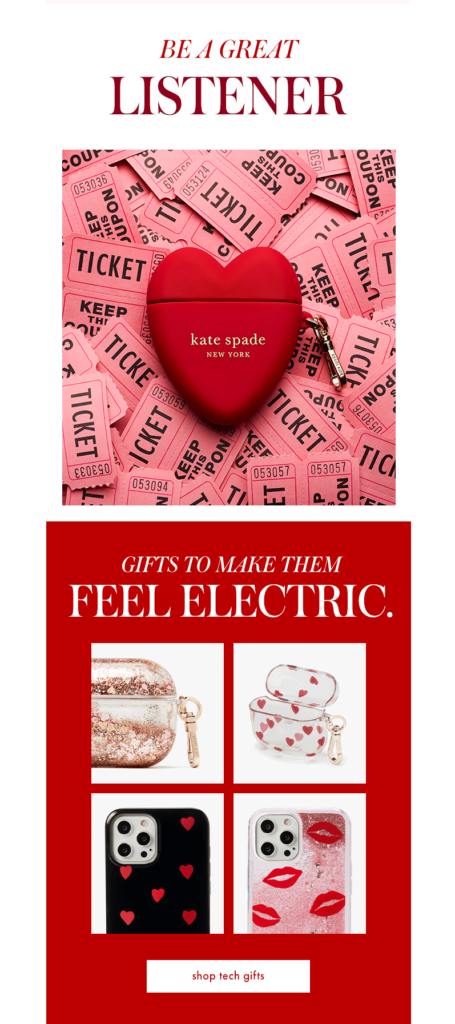 The color theme and heart imagery look so beautiful together in this email, and it almost feels like love is oozing out. The subject line invokes curiosity to open the emailer. The final CTA is a great example of enticing readers to shop for Valentine's day gifts. If you read carefully, the whole email feels like a journey — from the header to the final CTA.
What did we love?
Thematic emailer design with beautiful images;
Flowy email copy invoking desire to click the final CTA;
A clever subject line that grabs attention and boosts open rates.
Myntra — Valentine's Day Promo Email
Myntra is an Indian apparel eCommerce brand that improvised for their Valentine's day email campaign. Instead of sending a 'standard' promo emailer with product images and offers, they thought of sharing real love stories depicting different shades of love. Have a look:
Subject Line: 😍Love in real life

The emailer shows the different forms of love — love between couples, love for your pet, love between same-sex couples, and shared images of real people. They strategically asked these couples their favorite picks from the brand store, adding CTA links below every couple block. Well, that promo email didn't even feel like a promotion and would have surely made readers scroll till the end.
What did we love?
A unique approach to Valentine's day picks and promotions;
Real love stories with contextual brand placement;
Beautiful email layout and design.
Valentine's Day Email Template Ideas
If you're excited about the prospect of reaching out to your customers on Valentine's, here is something you should remember. You don't need a big budget or fancy designs to make someone feel special. Here are a few simple ideas to help you create the perfect Valentine's day template:
Send a Simple Wish a Valentine's Email
Even if you have no budget for a quick treat or a giveaway, simply wishing them all a Happy Valentine's Day and thanking them would help them connect with your business more profoundly! They'd appreciate an honest email.
Write a Valentine's Day Gift Guide and Promote it via Email
Curate a list of the perfect valentine's day gifts from your eCommerce store and create an email marketing campaign promoting it among your subscribers.
Send a Personal Love Letter
Show your love for your subscribers by writing a personal love letter. You can add your emotions, appreciate them, thank them, or even send e gift cards to make them feel special.
Help Them Pick the Perfect Gift
Extend a helping hand by telling them you are ready to be their personal concierge to help them pick the perfect gift ideas from your eCommerce store. You can improve the offer by providing free add-ons like free gift wrapping, free shipping, and adding a surprise valentine's treat to save them time and effort.
Send a Digital Gift Card
Make them feel really loved by adding a romantic gift or a digital gift card that they can use themselves or gift to their loved ones so that they can pick the ideal gift themselves.
While you create your Valentine's Day email, here are the three things you must keep in mind to create the perfect Valentine's day email template:
Valentine's Day Email Headlines
How you present your valentine's day email headlines determines their open rate and conversion. One of the major tricks to help you achieve this is headline personalization. Try inputting your customer's name. Doing this makes them feel you are directly speaking to them.
Besides adding personal touches to your headlines, other tricks help you execute an apt valentine's day email headline.
Keep it short and descriptive. With the tons of emails your customers receive daily, you need a short and descriptive headline to grab their attention.
Be straightforward. Keeping your headline short also means going straight to the point—no beating about the bush. Hit the nail on the head, or else you kill the urge for your customer to read further.
Valentine's Day Email Signature Ideas
An email signature ends your Valentine's Day email campaign on a personal note. See it as an opportunity to appear warm, friendly, and approachable to your audience while still promoting your business name and brand.
Sending an email without an email signature is like submitting your exam answer sheet without a name.
Don't know how to create an email signature? Follow these steps:
State your name, company, and position. Show your audience who you're and what you do. This gives your audience a sense of security that they know who the email is from.
Include your contact information. When they read your email and have further inquiries, whom do they reach out to? Include the link to your website/blog, customer care number, or company phone number.
Add a logo design if you have one.
Add social media icons. Seize the chance to onboard your email subscribers onto your social media platforms, including your company's social media links.
Note: Don't include the email address you're sending from in your Valentine's day email signature.
Key Takeaways: Valentine's Day Email Marketing
Make your Valentine's day emails relatable, warm, and intriguing;
Always focus on your subject lines and header copy to drive open rates;
Get creative and try to add humor or creativity to your Valentine's Day emails;
Spread out your Valentine's day campaign through weeks before the actual day;
Use a marketing automation tool to schedule your v day campaign emails in advance to avoid last-minute goof-ups.