Customer onboarding plays a vital role in building strong customer relationships.
And one of the most important parts of a good onboarding process?
Your welcome email series.
A welcome email is essentially the first impression that you create on your customers.
You must strike a good chord with your new customers right from the start. Hence welcome, emails must be carefully crafted with your goals in mind.
Through this post, you'll get a fair idea about a few different ways in which you can design your welcome email.
You'll also find examples of some successful businesses who have mastered the art of welcome emails.
1. Lyft – How it works email to new customer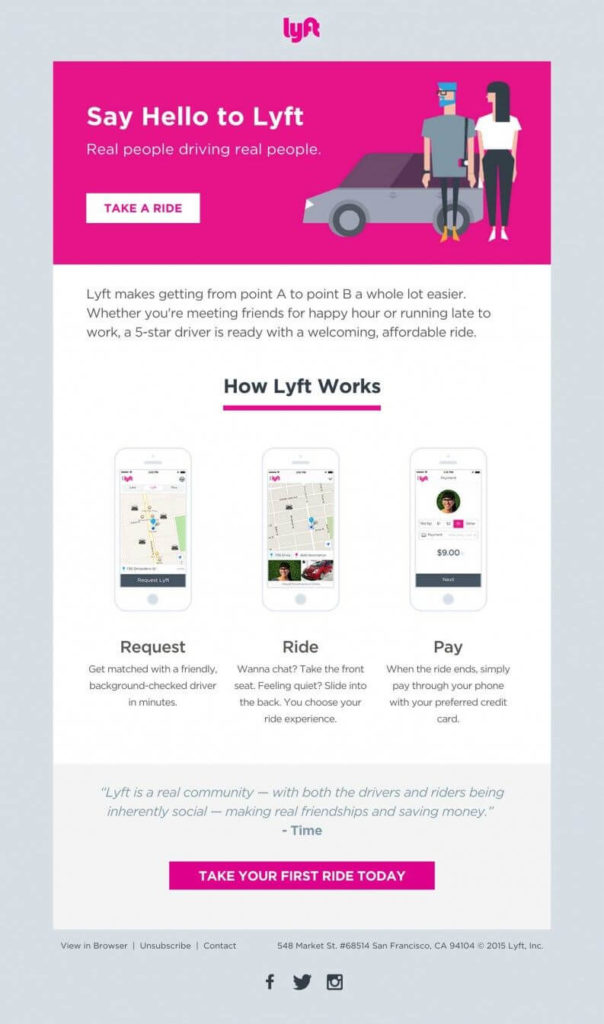 The welcome email that Lyft uses perfectly aligns with their product design.
The email starts with a clearly stated benefit that scores high on relatability with their target audience.
"Request", "Ride", and "Pay" are short and clear headlines that help the customer understand how Lyft works and how easy it is to use Lyft.
Next comes the social proof by Time. Social proof has the power to impact the minds of your customers in a way that builds trust with them.
Finally comes the prominent CTA in a bright color. The CTA contrasts the whole layout and catches your attention instantly.
Key takeaways from Lyft's welcome email:
State key benefits of your product. Use a crisp and clear copy that directs the customer on how to start using your products or services.
Include social proof to build trust through your welcome email to new clients.
Make your CTA button prominent and catchy.
2. Welcome to Airbnb Email – Before Starting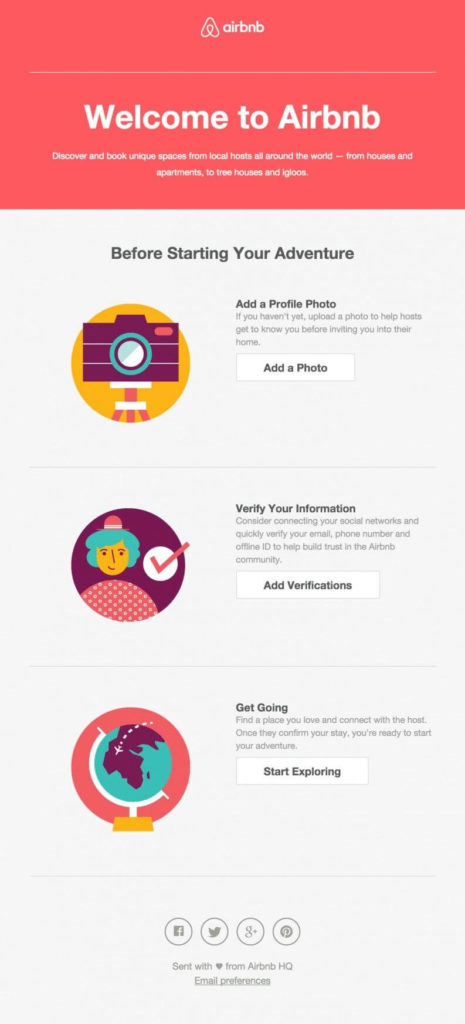 Airbnb's welcome email is a perfect example of a template that is both catchy and effective. The first line instantly catches your attention with the phrase "from houses and apartments, to tree houses and igloos".
Airbnb mostly comprises audiences who are travel enthusiasts. Hence, this line perfectly speaks to their taste.
Following this, the email lists down a series of steps to take "Before Starting Your Adventure". Each step assists you to complete a task using a clear call to action button.
The last step especially catches your attention with a CTA that asks you to "Start Exploring". This is something that will urge Airbnb's new customers to complete all the steps and get started with the journey.
Key takeaways from Airbnb's welcome email:
Start your email with a warm and friendly welcome message.
Thoroughly analyze what resonates with your ideal customer persona and use this in your email copy. This way, your email will instantly catch your customers' attention.
State all the steps that users need to follow in a short and precise manner. Imagine if Airbnb's welcome email consisted of a boring and long list of tasks to follow. Or consisted of huge walls of text! I'm sure most people will skip going through the email.
3. Welcome email after order Spotify Premium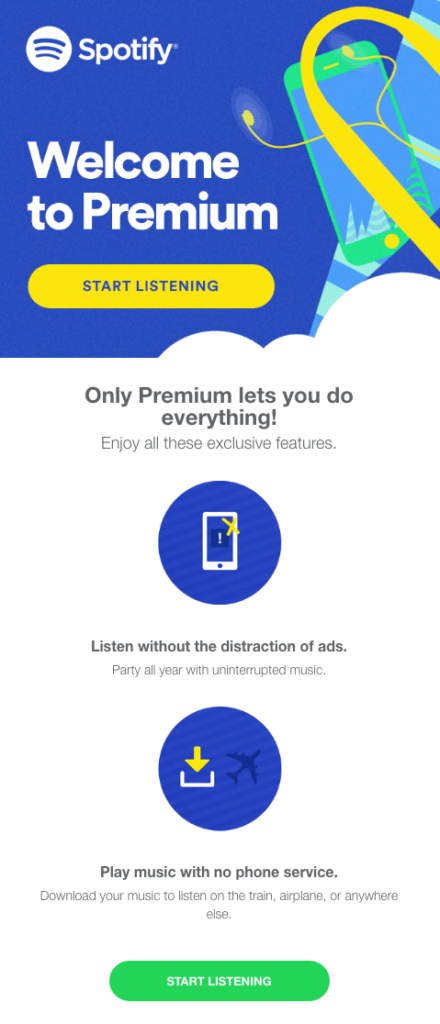 Spotify's welcome email is the perfect example of something that makes their customers feel proud of opting for their premium service. This largely helps with customer satisfaction.
The email starts with a welcome message and a call to action button, which is again in a contrasting color to the email layout.
After this, Spotify lists down all the amazing benefits that customers get after becoming their premium subscribers. It includes listening without any distracting ads, playing music on the airplane, enjoying HD sound – all the benefits that are super-appealing to their target audience.
Such an email copy would work great for increasing your trial-to-paid conversions.
Customers who have opted for the Spotify trial would still be half-minded about paying for their subscription. But, by designing such a welcome email series, customers would understand the value of the product and would be pushed more towards paying for the Spotify subscription.
Key takeaways from Spotify's welcome email:
Always list down benefits rather than your features. For instance, instead of saying "ads removed", Spotify says "Listen without the distraction of ads". This messaging adds a lot of appeal and desirability to your product.
Convey the value that you are adding to your customers through the welcome email. This should especially be effective when you offer a free trial for your product.
4. Dribble – email introduction to new customer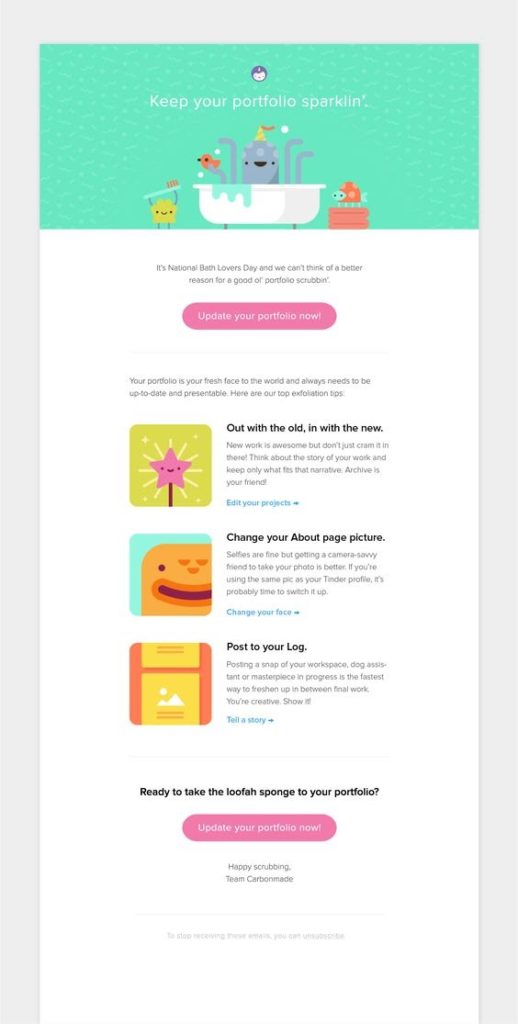 The Dribble's welcome email is a super-fun and creative one. This makes sense because this welcome email is directed to all the creative designers who want to showcase their work on the platform.
The email starts with a humorous message about "Bath lovers' day" and "portfolio scrubbing". Such messaging would definitely intrigue any readers' interest. In fact, the whole email is based on this common theme which makes it even more eye-catchy.
Next comes the steps that users need to take for updating their portfolio. The email copy directs its users to take action even while sounding interesting. Each step also consists of a call to action button.
The email ends with a bright pink CTA button which I'm sure users wouldn't dare to miss. The best thing that stands out related to this welcome email is the quirky graphics and illustrations.
This welcome email from Dribbble is addressed to customers who have signed up as Designers. The platform is also used by individuals who are looking to hire designers. Hence the welcome email template that would be sent to these people would be different. This can be achieved through email segmentation.
Using a CRM tool such as SuperOffice, you can create target lists based on the types of customers, their customer journey stages, demographics, etc. Email segmentation is vital if you want your emails to have a profound impact on your customers. Using SuperOffice would massively improve your email marketing outcomes.
Key takeaways from Dribble's welcome email:
Think about a quirky and creative hook for your welcome email and stick to the hook throughout your email. You can even add humor if it resonates with your brand voice just like Dribble has done in this case.
Complement your welcome email with colorful and quirky illustrations that are hard to miss. Ensure that your illustrations or graphics match your hook or theme.
Use word-play to sound way, way more interesting than you would otherwise do.
Lastly, try to resonate with your target audience. For example, in Dribble's welcome email, you can find millennial lingo that is relatable to their audience. You can see them talk about "Tinder profile", "posting a snap", etc that are relevant to their relatively younger audience.
5. Baboon – Welcome Email After First Purchase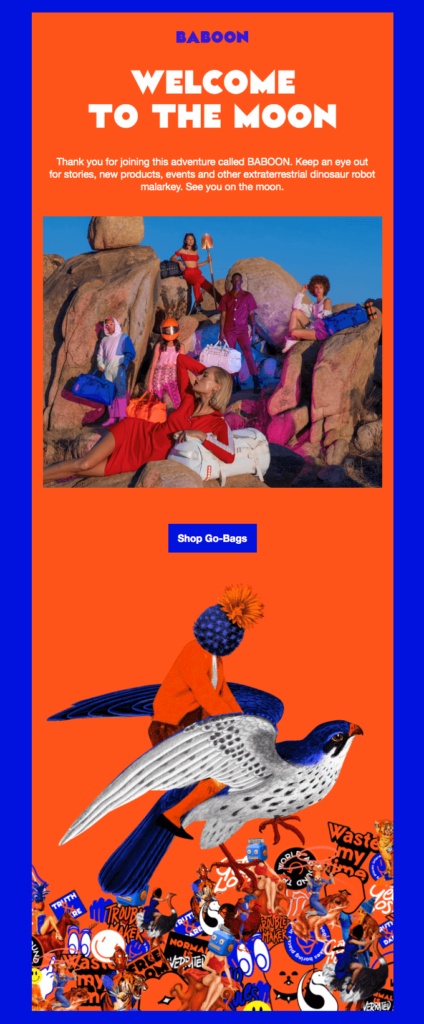 Baboon is a company that sells adventure and travel bags. Their tag line is "Baboon to the Moon".
If you see their email copy, they stick to the same messaging by saying "Welcome to the Moon". This is a great display of branding consistency and cohesive messaging, ultimately resulting in increased brand affinity.
In the first few lines of the welcome email, Baboon talks about what customers should expect from them. They say things such as "stories", "new products", etc. This will get their customers excited and they will look forward to receiving more emails from Baboon.
Next comes a cool picture that looks like an apt representation of their messaging. It shows adventurous people, sitting on something that looks like the moon, with Baboon's bags.
They end the welcome email with a catchy illustration followed by a very attractive call to action button.
Key takeaways from Baboon's welcome email:
Have consistent brand messaging across all your marketing platforms, your website, and your emails. This will increase brand awareness and customers will instantly recognize your brand's colors and messaging whenever they come across your brand.
Images speak louder than words. Hence, if you have a killer idea for an attention-grabbing image, then use it to get your users' attention right from the first email.
Create hype about your next few emails by getting your readers excited about what types of fun content that they can expect in your future emails.
Conclusion
By now, you would have gotten a fair idea about the different types of welcome emails you can design.
Through these examples, you can get tips on how to optimize your emails in a way that feels welcoming, while urging them to take the desired action.
Start today. Take inspiration from these brands who have aced their welcome emails and remember to add your unique touch to it.
We also recommend to read:
---
About author
Gaurav Belani is a senior SEO and content marketing analyst at Growfusely, a content marketing agency that specialises in content and data-driven SEO. With more than seven years of experience in digital marketing, his articles have been featured on popular online publications related to EdTech, Business, Startups, and many more.
Connect with him on Twitter at @belanigaurav.
Like what you read?
Apply it in practice with Sender.net - the most cost-effective email marketing solution in the market.
Try Sender for free