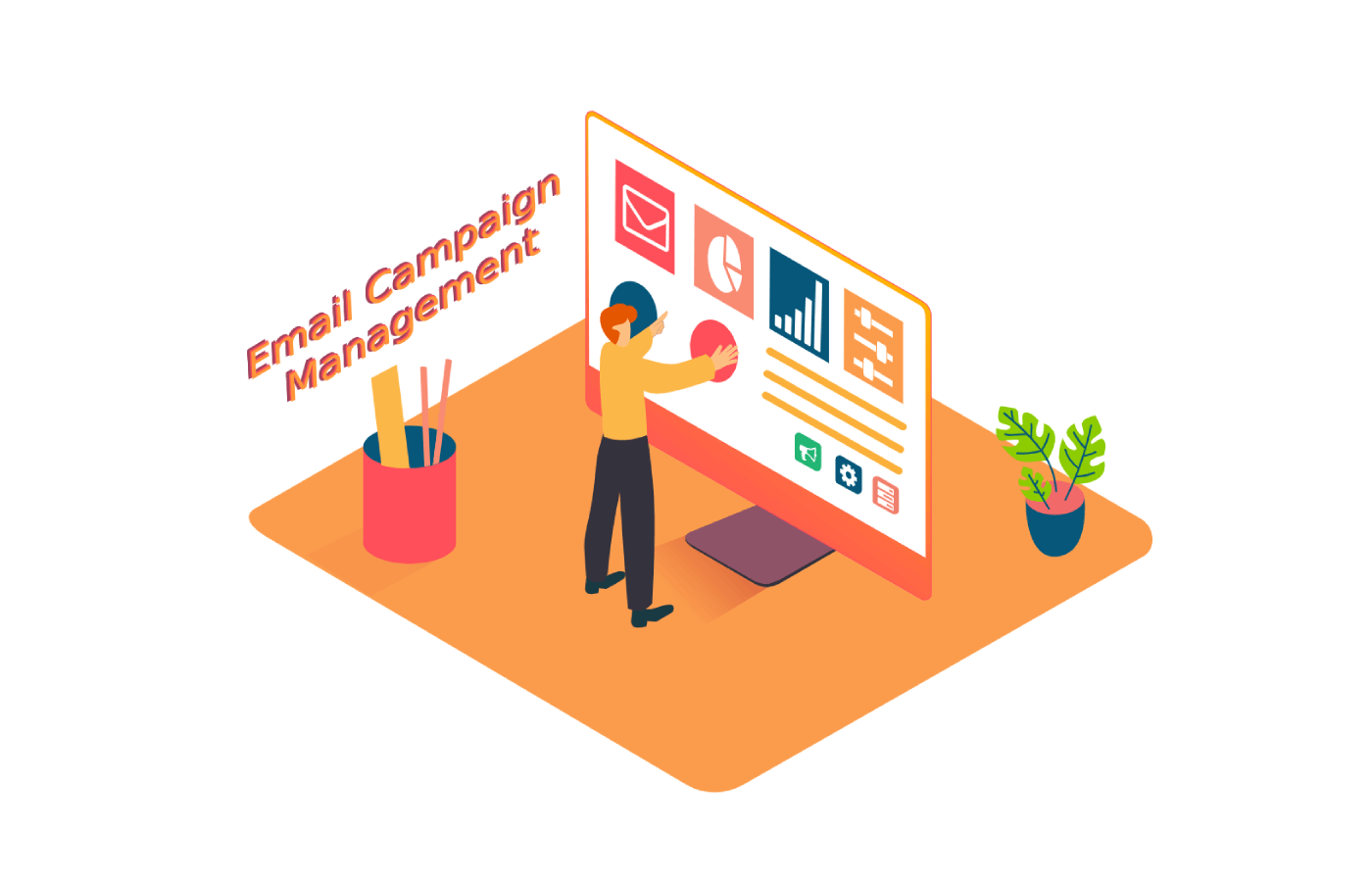 Email Campaign Management Practices
Email campaign management enables companies to execute email marketing strategies effectively.
Without implementing effective management techniques, it's challenging to impact customers' minds and hearts significantly.
Email campaign management starts by populating lists through lead generation tactics, building a gripping message, sending the email at the right time, and lastly, measuring the impact of the campaign.
Before executing an email marketing campaign, it needs to go through a series of validations and confirmations.
And once it receives a go-ahead, the company should deploy emails according to the specified guidelines.
Email campaign management techniques help companies gain a 360-degree perspective of their email marketing campaigns.
They allow monitoring the campaign 24/7 and provide valuable suggestions if the campaign appears to drift from its intended purpose.
This article sheds light on the nitty-gritty of email marketing campaigns — how you can execute them in a controlled manner and derive the necessary benefits.
Find the purpose of email campaign management
At first, it's necessary to ascertain the purpose of building the email marketing campaign.
If you know what you are doing and why you are doing it, then everything flows in order.
The "Why" is the most important thing you have to keep in mind.
Following are a few questions you should ask yourself:
Are you trying to build product awareness?
Are you looking to increase service subscriptions?
Are you striving to build brand loyalty?
Once you are sure about "why" you want to build the email marketing campaign, you can take the right action.
The actions can be any one of the following or a combination of them:
Increase conversion — the prospect to customer ratio — and achieve higher product sales.
Build brand loyalty and generate good word of mouth.
Increase website traffic and improve your rank across search engines.
Improve click-through rate and reach more people.
Get brand evangelists and drive business growth.
Spread awareness on critical issues — dealing with the environment, society, etc.— and build momentum.
Channelize public sentiments positively.
For example, you are looking to increase your website traffic and improve your rank across search engines.
In such a case, you will write exciting blogs, create eye-catchy infographics, make visually stimulating videos, and produce engaging podcasts.
Producing and deploying email campaigns
Here are seven steps that companies should keep in mind for producing and deploying the best-quality email campaigns.
1. Make an email calendar
It's essential to build an email calendar at the beginning of every week/month/year and update it periodically. Everyone in the marketing team should have access to the calendar and strictly adhere to it.
The calendar should have a separate section that lays down the appropriate target segment, the guidelines to be followed, and the deployment date regarding every campaign.
When is the Best Time to Send an Email Blast (Specific Schedule)

Our recommendation.
2. Create an eye-catchy landing page
A well-crafted landing page creates a positive impression on your audience. Suppose it has stunning designs, communicates the message clearly, and has beautiful infographics and animations.
In that case, there is a higher chance that the customer will like to deal with you.
A landing page is a great way to encourage your audience to share their details with you.
But don't disturb their sense of privacy. If the customer thinks that you are demanding too much information, they will most likely leave the process and walk away.
3. Segment the email list appropriately
It's essential to send the right message to the right person at the right time.
Thus, you need to segment your email list based on various parameters, a few of which are listed below:
Geographic details.
Demographic details.
Behavioral details.
Psychographic details.
Past purchasing pattern.
Purchasing frequency.
Point of purchase.
Suppose you run a big garment manufacturing company that deals with men and women's clothes.
You are thinking of running a Diwali sale offer and provide a 50% discount on men's Kurta.
So you create an email marketing campaign and send it to all your customers. Can you think about the impact it will have on your female customers?
More importantly, if you continue doing the same, a huge chunk of women will unsubscribe you.
So create detailed segments before starting the email campaign.
4. Create the email copy
Once you have made the calendar and done customer segmentation, you should start writing the email copy.
Try creating the maximum impact in minimum words. Write about what your audience wants to read.
Stick to the description of your products and service and don't waver.
And at the end of the email, mention Call To Action (CTA) to direct people to the payment gateway.
5. Ensure that the email looks aesthetically pleasing
After you have written the email, forward it to the designing team.
Remember that an aesthetically pleasing email makes a powerful impact.
The design team will put relevant pictures, infographics and embed necessary videos.
Besides, they also rectify programming limitations and file-size problems. The coding team ensures that the email is pixel perfect and renders on all machines.
6. Test the email before the final launch
Before sending the email to its intended recipients, it's critical to test it more than once.
By testing the email, you may find discrepancies in any of the following:
Subject line.
Pre-header.
Day or Time.
Call To Action (CTA).
Content.
Pictures/infographics/animations/audio.
Testing helps you provide the finishing touches to your email before you send it out.
7. Sending the email and checking the metrics
The last step for a successful email campaign management system is to monitor the metrics after sending the message.
You must pay keen attention to factors like:
Click-through rate.
Number of subscribers.
Number of unsubscribes.
Time spent per email.
Number of clicks on the CTA.
The metrics will tell you about the good and bad points of your emails.
They will provide you reliable data that you can use while brainstorming strategies.
Conclusion
Email campaign management is essential for every business. Unfortunately, if humans carry it out, it can be a mess.
A better alternative is Customer Relationship Management (CRM) software. CRM software will automatize all email functions and monitor the metrics efficiently. It also sends error messages if there are discrepancies in the email.
Moreover, it also provides suggestions to improve the email's quality so that you create a powerful impact on your audience.
If you plan to take your email campaign management to greater heights, you should invest in high-quality CRM software.
---
About author
Nishant likes to read and write on technologies that form the bedrock of modern-day and age like Web Apps, machine learning, data science, AI, and robotics.
His expertise in content marketing has helped grow countless business opportunities. Nishant works for Sage Software Solutions Pvt. Ltd., a leading provider of CRM and ERP System to small and mid-sized businesses in India