A good marketing strategy determines how successful the business will be.
Organizations are doing everything they can to stand out in the competitive market. With most of them moving to online advertising and sales, gyms and fitness brands are no exception.
Since there are many tools to use for marketing, you have to find the one that will work. To achieve maximum results, increase sales and ROI – email marketing might be something you've been looking for.
Follow up as we are about to tell you how to create the best fitness newsletters in the industry. You will receive a boost of ideas and some examples so that you could jump to the email marketing game without any hesitation.
What to Start With In Fitness Newsletter?
Before you can start creating content, you must have a good plan and strategy. Preparation is the key to success, so here are a few steps you might want to follow before tackling your fitness newsletter:
1. Write down your goal
It is necessary to have a specific purpose for your newsletters because different goals change how you create and design them. Think about what you genuinely want the particular purpose of your fitness email marketing to be and start working on it.
Here are a few examples of goals you might want to choose:
To increase website visits.
To increase download rate (nutrition/fitness plans, e-books).
To increase contact form submissions on your website.
To increase the number of calls.
2. Think about your target audience
Your knowledge about the audience, such as interests, location, and other demographics, might be a great help since you will target your customers in the best manner possible. Defining who you're talking to enables you to deliver the most engaging and consistent content.
A general newsletter can work, but if you have a bigger mailing list, consider audience segmentation. Here is a list of the most popular segments for fitness email marketing:
By age:
By gender:
Other segments:
Sports type.
Exercise frequency.
Experience.
Physical condition.
Diet and food choices.
Management of segments might look difficult and complicated, but if you use Sender as your email marketing tool, you can check how to manage your segmented audience here.
Also read: Email List Segmentation: The Definitive Guide
3. Plan the frequency
No matter how often you send your newsletter, consistency is the key! Plan ahead how many emails you will send, what times, and what type of content. Preparing in advance will save you time and hustle, so you will be ready to amaze your subscribers with top-notch fitness newsletters.
Content Ideas for Your Fitness Newsletter
It is challenging to design and develop valuable and engaging content, but here are 10 ideas that will hopefully help you create a spectacular newsletter no one would deny.
Share tips on motivation and wellbeing: Being fit and living a healthy lifestyle is not easy. Offer some tips and guidance which will help your subscribers stay motivated and focused.
The latest news on health, wellbeing, and fitness: Share some valuable news related to your industry. Communicate it to your clients, so they are always up to date.
Share the news from your fitness club or gym: Do not forget to send some information to your customers about exciting announcements and developments happening in your gym or club. Share the upcoming events, work hours or inform people of any changes.
Tips and tricks to avoid or treat injuries: Accidents happen all the time, but it is best to be prepared. Inform your audience about practices to help avoid injury and share the benefits of warm-up before the workout.
Share success stories: Keep your audience motivated by sharing great stories from people who have achieved excellent results in health and fitness. Share before and after pictures, tell about their weight loss journey and give further guidance to make people believe they can do anything.
Give promotions and special offers: Your gym's membership is on sale? A special trainer is coming to teach a master class? Let your customers know about it! Email is the best place to do that, for sure.
Staff introduction: Build trust and relationships by showcasing the staff members to your subscribers. Tell their stories, ask them about motivation, favorite workouts, and what they do to keep up with a healthy lifestyle.
Share the best techniques and home workouts for maximum result: Tell your email list how they can use their time to improve their workout practices to enjoy better results.
Show 'behind the scenes': People love to see how things come to life. Do not be afraid to show the ugly side, too; this way, you can connect with your audience even better. They need to understand that sometimes things might not go according to plan.
Give guidelines on diet and healthy eating: Nutrition is probably the most crucial thing for balanced health and fitness. Share some advice to help your customers eat clean, healthy, and stay motivated.
Fitness Newsletter Examples
Now, once you have created a strategy and got some content ideas, it is time to look at some examples of fitness newsletters to give you some further help and guidance.
Fitness Newsletter Example – New Year, New You
Suggested Subject Line: What's your New Year resolution?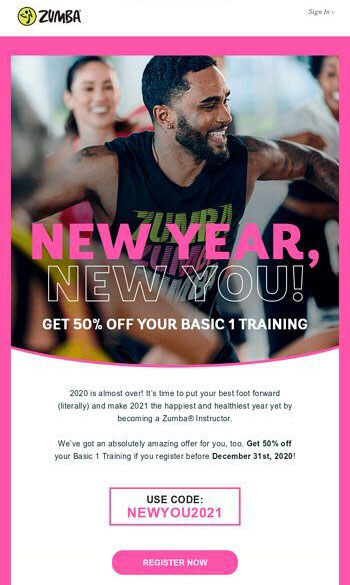 Gym Newsletter Example with Special Discount
Suggested Subject Line: Have you mastered your summer body yet?

Health Newsletter Example with Tips for Diets
Suggested Subject Line: Food for thought!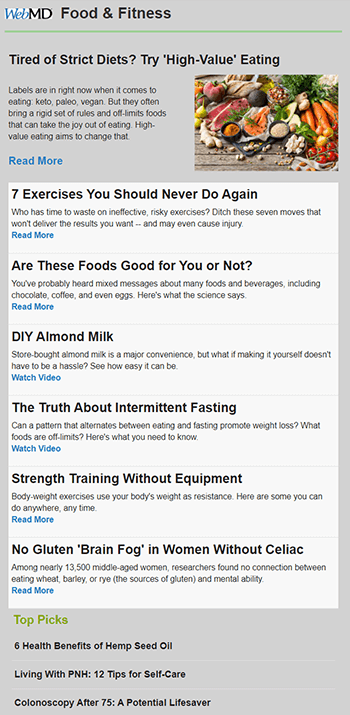 Crossfit Newsletter Example from BodyBuilding
Suggested Subject Line: You will not believe she "only" lost 6.25 Pounds!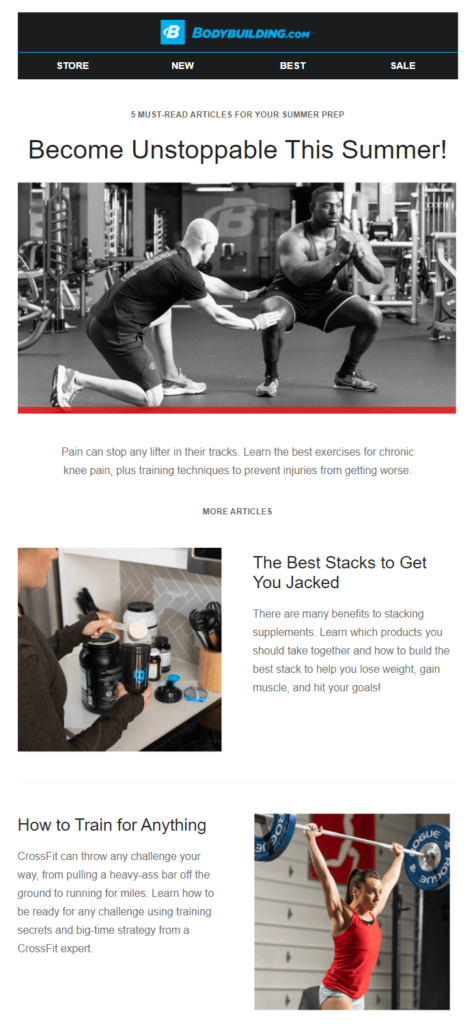 Fitness Newsletter Tutorial – How To Do Exercises From Home

Daycare Newsletter Example
Suggested Subject Line: Protect your child against Covid-19!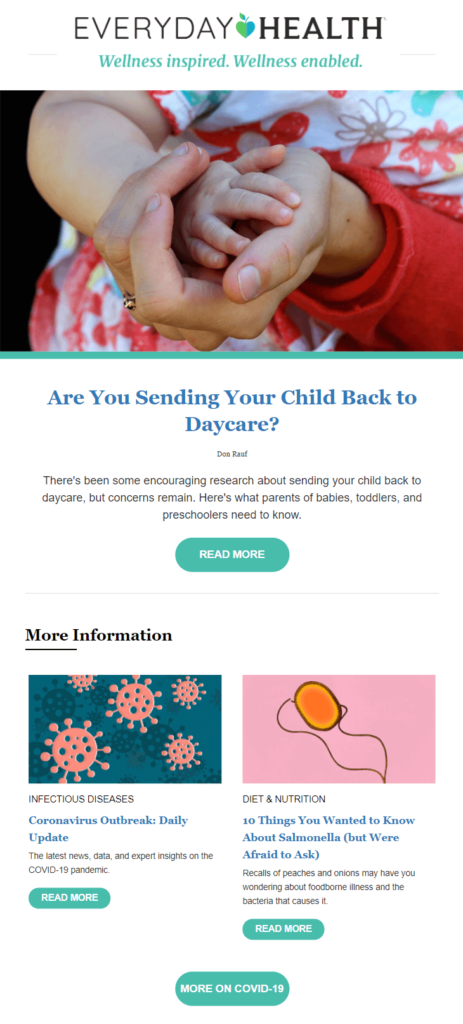 It's a Wrap: The Best Fitness Newsletters
We have given it all, now is your turn to start tackling your fitness newsletters, but before you do that, let's recap some of the most important things to consider:
Start with strategizing your goals and objectives. Once you clear this out, carefully think about your audience – segmenting your customers might be an excellent solution to achieve maximum results. Also, do not forget to decide on the time and frequency of your newsletters, as consistency is the key!

We have provided 10 content ideas which you can use for your fitness newsletter. Talk about diet and healthy eating, give some guidance on exercise techniques, share the news and updates from your industry and your gym, present the success stories, motivation, wellbeing, and don't forget to showcase the staff members!

Lastly, 6 fitness newsletter examples were presented with some suggested subject lines. This is a great way for you to understand better what needs to be included in your email and the best ways to design and develop a fantastic fitness newsletter!
Also read:
---
Article contributor – Erika Klisonyte
Like what you read?
Apply it in practice with Sender.net - the most cost-effective email marketing solution in the market.
Try Sender for free