There is no denying that email marketing is taking over most of the marketing strategies nowadays.
However, with hundreds of emails reaching recipient's inboxes, there is a massive need to distinguish yourself from others.
Advertising newsletters are no exception. No one wants to read an email that looks spammy and unattractive.
Do not worry – we will help you out!
Follow up and learn more about email newsletter advertising. Besides that, we will also present some examples and templates that will help you understand email marketing even further!
How to Write an Advertising Newsletter?
Whether you are a school or advertising agency, your newsletters need to be top-notch.
Before we move to the content and ideas on what to include in your advertising newsletter, let's check some essential parts of writing the best newsletters so they wouldn't be trashed or sent to spam.
Decide on clear goals
First things first – always decide on your objectives and what your advertising newsletters want to accomplish? If you don't know the answer, how are the subscribers supposed to know it?
Before you dive into creation and design, figure out the goals, so the message you send is straightforward and doesn't confuse the audience. Some of the advertising newsletter objectives might include:
To promote a new product or service
To increase social media presence
To drive sales
To drive traffic to a landing page
To download an e-book or e-magazine
You might want to set any other goals, but use one of the suggestions to get you started if you struggle.
Start with an exciting subject line
Did you know that 35% of emails are opened purely based on the subject line?
Use this chance to increase your opening rates and craft an enticing subject line no one could deny.
In order to drive higher click-through rates, a personalized message is considered to be most effective.
Use a recipient's name or any other details that might help to customize the subject line and attract the reader's attention. Another technique you might want to use is adding some 'power words' to boost the interest.
Here are some examples:
Urgent
Jaw-dropping
Alert
Breaking
Mind-blowing
Important
Amazing
Also read: Best Email Subject Lines to Increase Sales (with Examples)
Don't forget about the opening line
Although most of the time, the subject line is an eye-catcher, depending on its length, the first few sentences might also be visible. This is an excellent opportunity to prove that your email is worth reading.
Again, you might want to address the recipient by their first name to add more personal touch. Introduce the point of the email fast – this is the last chance to keep the readers interested and earn respect, so make sure you provide them with valuable content.
Your advertising newsletter's body
Once your goals are settled, you have a catchy subject line and a killer opening line; it's time to move to the main body. This is the time and opportunity to connect with your readers and present your newsletter ads' main points.
The main body should be short and simple, do not overload it with text and irrelevant information. Break your text into short and consumable paragraphs to make it easier to read.
Besides, add some visuals to back up your message, as not everyone will want to read every word of your text. Consider adding some graphs, charts, or pictures – it will help your audience resonate with your message easier and more comfortably.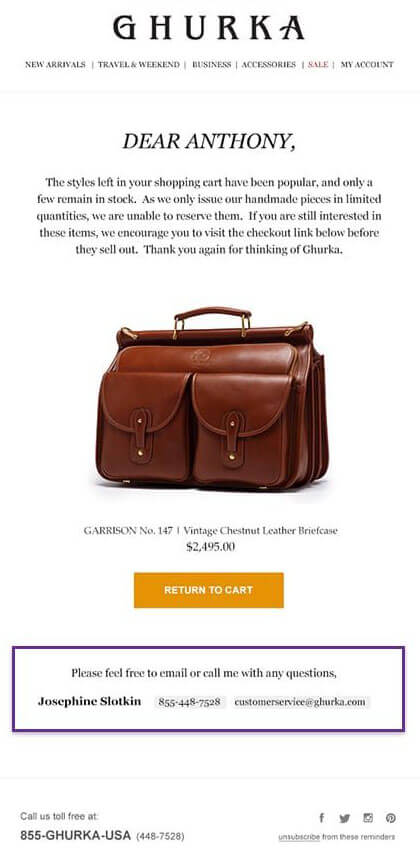 Content Ideas: Email Newsletter Advertising
Email newsletters can include many things such as weekly updates, client testimonials, industry news, or quotes. Still, when it comes to promotion, you want to create content that would match the level of professional advertising agency newsletters.
Here are a few content ideas which you can apply to create the best advertising newsletters regardless of your industry:
New product or service launch
Customer deals and promotions
Upcoming events or sales
Back to school ads
New training or employment opportunities
Let's look at some examples of email templates for each of these ideas:
New product launch
J. Crew perfectly presents its new collection by showcasing the top products and providing suggestions. Besides, the brand encourages shopping by offering extra discounts.
An excellent example of how the business can combine two strategies: increasing awareness of a new product and boosting sales by offering a special discount.
Also read: 10 New Product Launch Email Template Examples
Customer deals and promotions
Look at this newsletter – Rifle Paper Co. offers a 25% off to a particular product category. The message is clearly stated, and the visuals are backing up the statement well.
In general, deals and promotions are very common in advertising newsletters, so make sure the deal is highlighted and the numbers are distinguished so the recipient could be intrigued.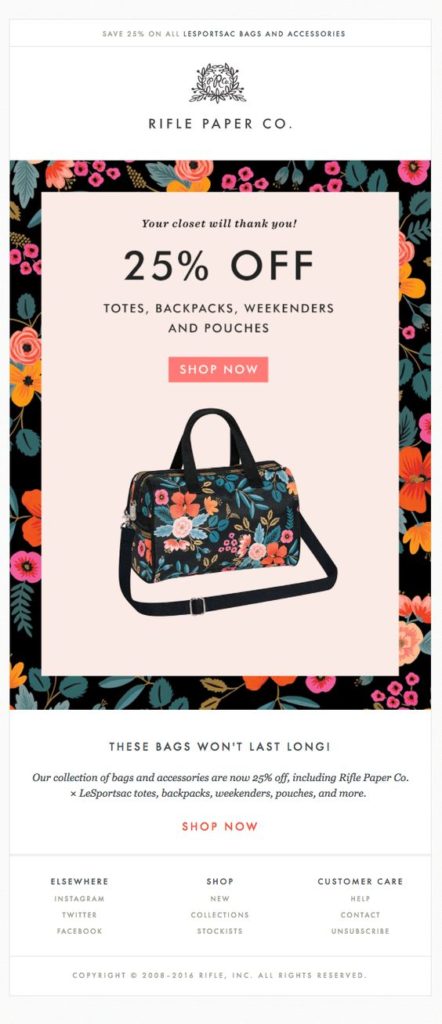 Also read: 5 Powerful Promotional Email Examples
Upcoming events or sales
Look how well Birchbox is presenting the upcoming Facebook event! The brand ensures that the readers are aware of it, clearly states the date, and gives some teasers to encourage participation – a great way to attract people and present the information which doesn't look spammy.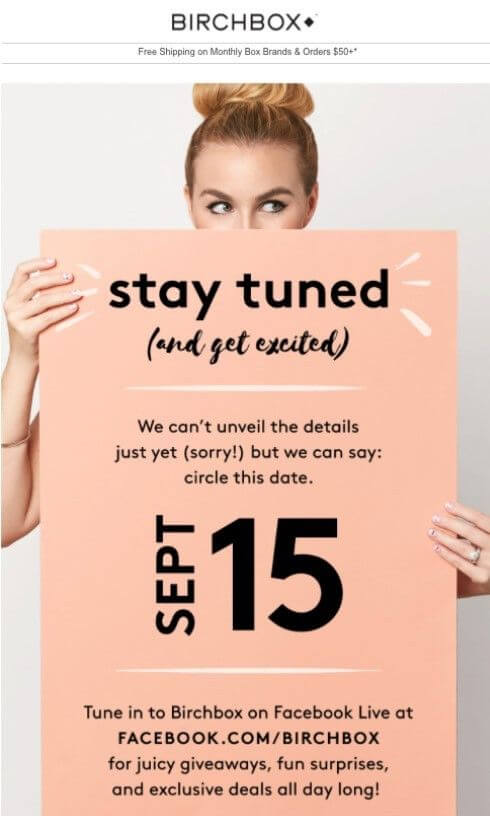 Back to school ads
Even though your business is outside of the education sector, this is an excellent opportunity to promote your products or services besides advertising school newsletters.
Take a look at the great example from Sport: the brand uses back to school time to offer the clothing, provides some suggestions and new products, and even gives a discount for this occasion. Definitely a good way to increase some sales during this season!

New training or employment opportunities
Besides just increasing your sales and revenue or brand awareness while using newsletter ads, you might want to promote your company's training and employment opportunities. The newsletter template from JobFinder presents a great example of how this ad could be executed.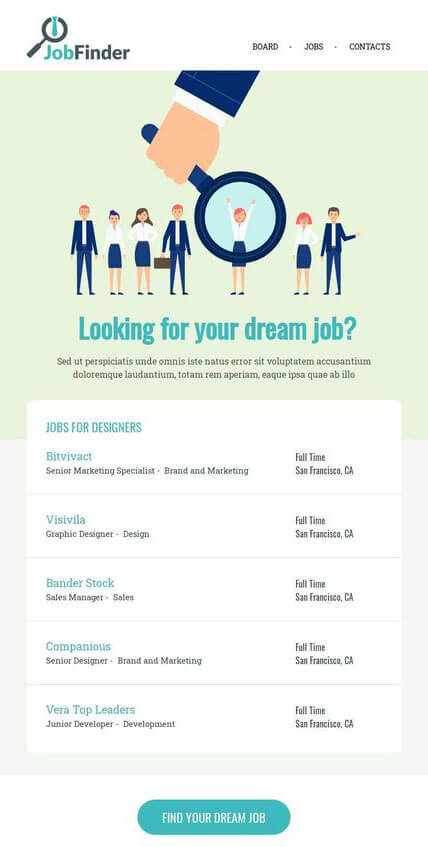 Wrap Up: Advertising Newsletter Tips and Tricks
We have covered some best advertising newsletter writing practices and presented some examples of email templates with content ideas. Let's briefly review them again:
When writing an advertising newsletter, make sure you have clearly defined your goals and aims.
Once this is done, ensure you have an engaging subject line to capture the attention.
Remember, sometimes it is possible to see the first few lines of the email's body, so be sure your opening line is crafted and attractive.
When structuring the main body, design it in short paragraphs, so it is easy to read. Also, add some visuals to support the message of the email and make the newsletter more engaging.
When creating advertising newsletters, you might want to consider the following content ideas:

Product or service launch
Deals and promotions
Upcoming events or sales
Back to schools ads
New training or employment opportunities

The examples and email templates provided show how these content ideas can be applied to different brands and advertising newsletters can be designed.
---
Article contributor – Erika Klisonyte
Like what you read?
Apply it in practice with Sender.net - the most cost-effective email marketing solution in the market.
Try Sender for free