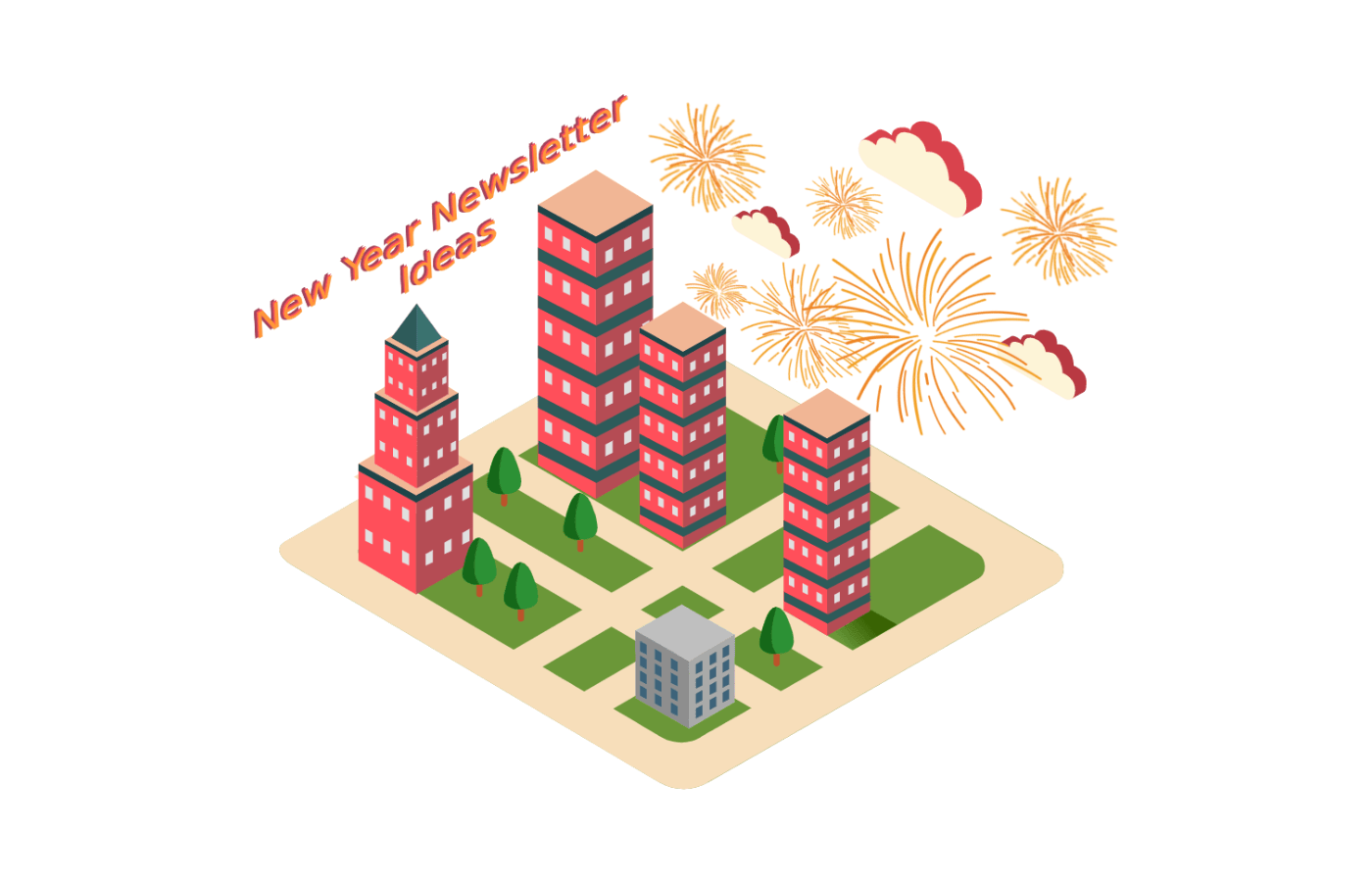 7 New Year Newsletter Ideas to Amaze Your Leads
It might be that time of the year again but this time it will be different from any of the new year celebrations, for obvious reasons.
It won't be an uphill task for marketers to grab the attention of their leads as most of them will be busy celebrating indoors. Social media and email boxes will be their go-to platforms to keep them occupied.
According to Hubspot, email marketing strategies have yielded better results post-pandemic. The open rates have increased by 32% compared to pre COVID times.
This is the BEST time to cut the mustard and tap into the festive cheer with holiday emails. How to keep your creative juices flowing?
Take your cues from new year's newsletter ideas curated just for supercool marketers like you to inspire action from your subscribers.
I have categorized the newsletter design ideas into two sections –
One for non-designers and the other for those with designing skills or support.
New Year Ideas You Can Implement with a Email Design Builder
If you're one of those marketers or business representative who would want to add a professional touch to your new year newsletters, you can help your designers with some of the coolest design templates readily available online.
If you don't, then a lot of free design templates are available online to help you drive visually appealing outcomes.
Whether you want to highlight your products, send free giveaways, announce special offers or simply send best wishes – you should be clear about the newsletter objectives and place your Call-To-Action messaging accordingly.
Check out the list of new year design ideas to keep you inspired.
New Year Discount for New Subscribers
For obvious reasons, if your users subscribe to your email newsletters, they would expect product-focused updates, special deals announcements, or any other informational content that would be beneficial for them.
You can add a splash of fresh ideas and color to make it all the more engaging.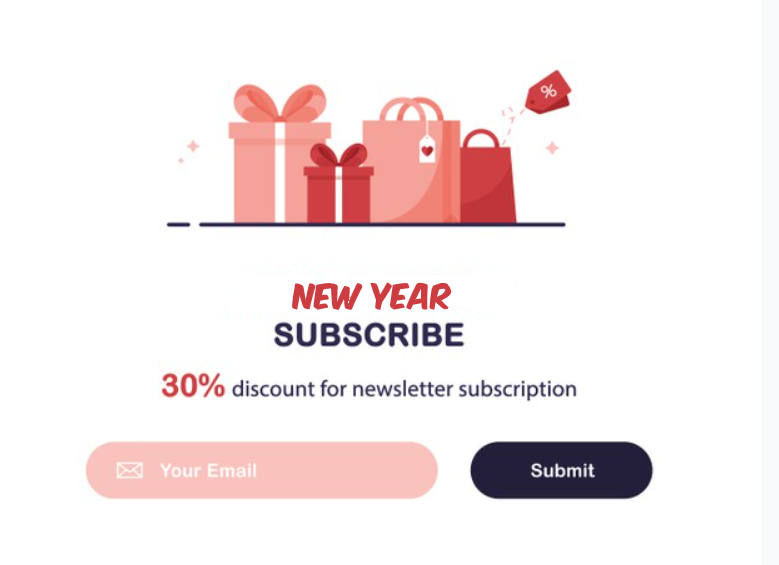 Special Deal in New Year Email Newsletter
Although almost everyone is now aware of 'special-deal' marketing gimmick, people still prefer purchasing products that come with a slashed price tag.
You just have to make the offer more eye-filling with innovative designs and patterns.
This should help you get a fair deal of response from your customers or prospects.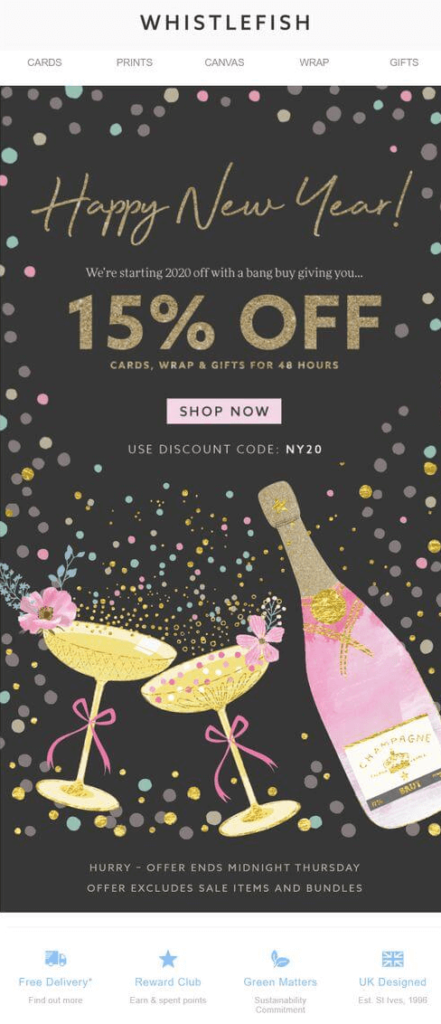 Source: Whistlefish.com
Special New Year Event
Email marketing is one of the most effective ways to inform your B2B prospects about the upcoming events, and you know it. Why make it drab when you can make it fab!
Whether you want to show it in a boxed or simple header-body-footer pattern, don't forget to add a CTA with relevant contact information.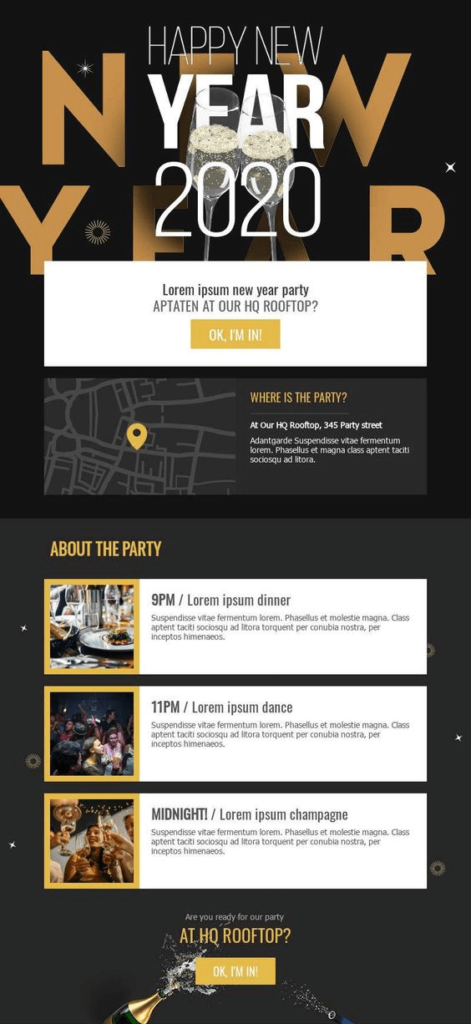 Source: Beefree.io
Product Pitch
Let's face it, brand awareness and user engagement might be the primary objectives for marketers but it ultimately boils down to sales at one point of time.
Although many brands refrain from the practice of product pitch during the holiday season, a lot of B2B marketers actually wait for this season to talk about their products.
Quirky one-liners with snapshots or a video demo of your products can work wonders if you plan to do the latter this season.
For instance, if you work for a telecommunications or a cloud telephony company, your core focus should be on the product demo and how it can help the users in streamlining their call-center operations.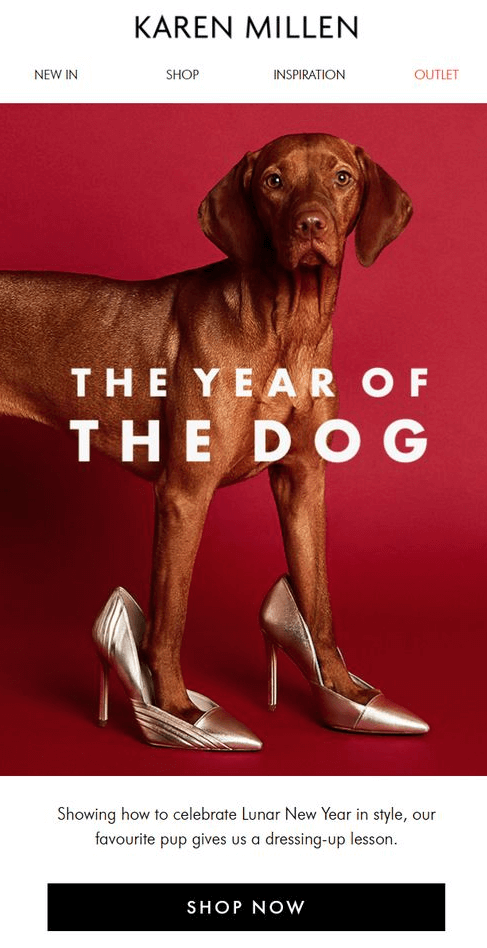 Source: Karen Millen
New Year Newsletter to Existing Customers (or Employees)
So you've planned an awesome campaign to reach your leads, both hot and cold, and it's all set to shoot. What about your existing or previous customers?
You can surprise them by taking a sneak peek into their inbox with lots of colors, good words, and warmth. Whether you want to talk about your products or simply send a wish, that's up to you.
If you ask me, I would not talk much about the products as they are already aware of it. I would rather use words and visuals that would make them feel good and add a note that would connect with them instantly.
This is a great way to hold back your paid customers and sometimes restore the old ones as well.
And of course, do not forget to wish your dedicated employees as well to make them feel extra special. Surprise them with some unique in-house newsletter designs.
Here are a couple of template ideas to stun all of them like never before.
New Year Newsletter Follow-ups
The holiday season is short-term but what happens after the celebration is over?
Following up with both the interested and non-interested leads should be a part of your marketing campaign.
Keep a close eye on the email openers and non-openers and make a blueprint accordingly.
Instead of pitching your products directly, make sure you talk a little about the updates and how your products will be useful to them in some way or the other.
Conduct polls in newsletter
There must have been times when you have been reaching out to your prospects but it's not always possible to gauge what's going on in their mind.
Once you're done with the rush, you can schedule a survey or poll using creative and graphics support.
This is a great way to interact and understand if you're going in the right direction. It also helps you improve in a lot of business processes that often go unnoticed.
You must have noticed a lot of e-commerce brands doing the same. Why not do it for your brand as well?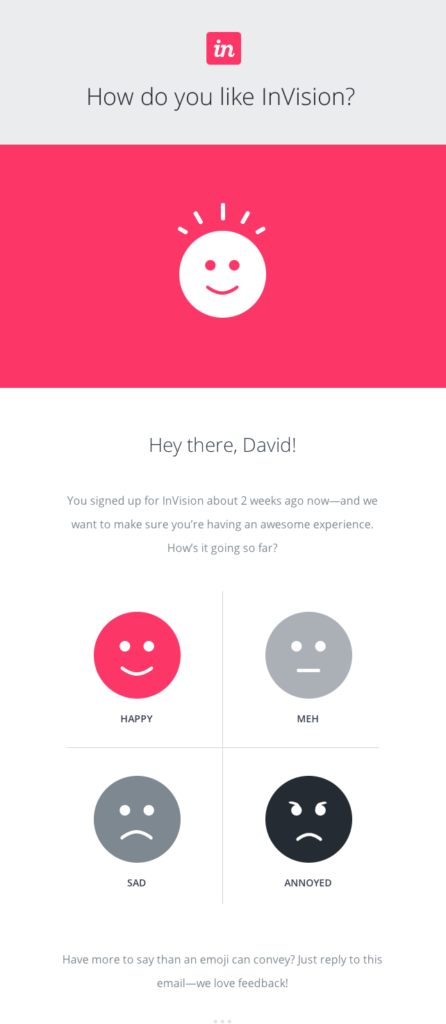 Source: Dribble
So there you go! We will keep adding more and more content and designing tips to help you with your marketing or email marketing initiatives. Keep watching this space for more.
Do you have suggestions/feedback to share? We would wait for them in the comment section.
And if want to create a splendid newsletter campaign right now in minutes, you can get started here for free.
We also recommend to read:
---
About author
I am a journalist turned content marketer, currently working as a content lead at MyOperator. An OTT content fanatic, I mostly juggle between professional writing and occasional graphic designing.