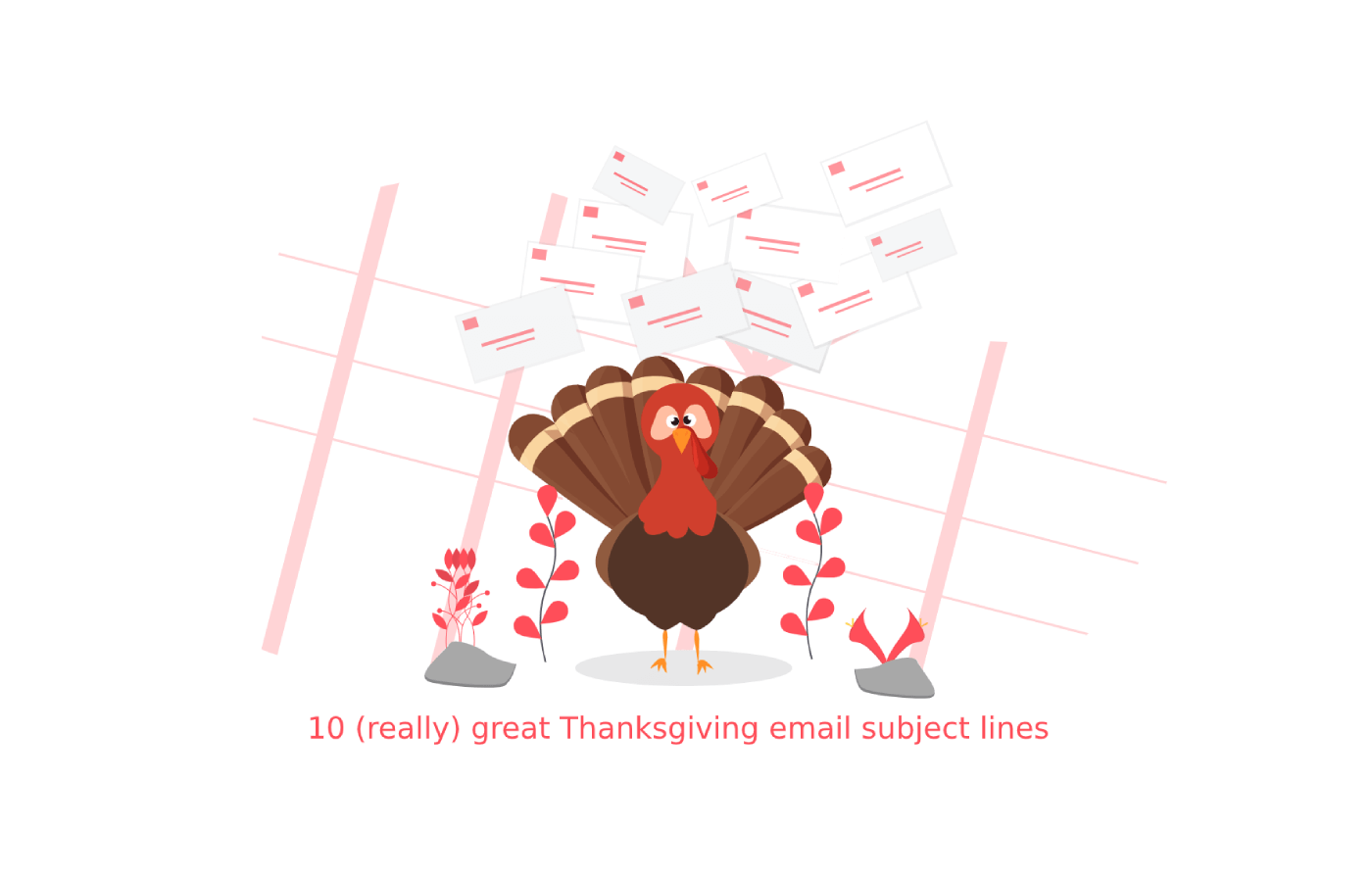 10 (really) great Thanksgiving email subject lines
Thanksgiving is just around the corner, isn't it?
This amazing time of year is, unfortunately, likely to look a bit different in 2020. However, some aspects of this celebratory period will almost definitely remain unchanged.
One of these is the amount of shopping for gifts (as well as food!) that people will do, even if it is mainly online this year.
It should be remembered that the move from purchasing in brick and mortar stores to e-commerce was already a growing trend pre-pandemic though, and will continue to be when life returns to normal.
This is why promotional emails will come in handy to raise the profile of your brand and your offerings during the 2020 holiday season, in the future, and at other times of year too.
While you may already have an idea about what to write and/or offer, it could be that funny Thanksgiving email subject lines haven't crossed your mind yet.
So how should you title your emails in order to ensure the highest deliverability and bring the desired results in terms of your sales?
Keep reading to check out our recommendations.
Thanksgiving email subject lines: where to start?
Verify and analyse your base
You may be able to come up with the catchiest Thanksgiving email subject lines, and the best copy to go with them, that have ever been written.
But if your database of existing and potential customers is not up to scratch, then don't be surprised if the impact of your marketing campaign on sales doesn't deliver as you had hoped.
Make sure that your database is up-to-date with verified email addresses by checking open and bounce rates, for example.
Once this is in order, it's a good idea to check what kind of emails/subject lines work best for the people in your list. It is also worth investing the time to segment your database based on these findings, or other details such as age, gender, and location.
Do certain users react best to email subject lines that begin with a number, contain some emojis, are rather humorous, or create a sense of urgency?
Identify the purpose of your campaign
Before you can get round to writing your promotional messages and corresponding Thanksgiving email subject lines, you first need to define the goal of your marketing campaign.
Many brands use the holiday period to advertise their seasonal offerings with special deals, and they may also show their appreciation to loyal customers in particular by providing them with unique promotions.
Considering the answers to the following questions will help you to identify the real purpose of your campaign. Is your goal to:
Increase sales by offering discounts on certain products/services?
Reward your most loyal customers with extra special promotions?
Tempt inactive users back to your store by sending them tailored offers?
Define your strategy
You're almost ready to start drafting your promotional emails, but before you get to that you need to think about when it is that you're going to send your messages and what they will actually contain.
How far in advance of the exact holiday date do you want to start your marketing campaign, and is there a specific time of day to send your emails at which they tend to perform better?
Crafting the wording of the emails then usually comes straight after picking the exact topics, but before picking from countless possible Thanksgiving email subject lines.
For these you should:
refer to your message copy in the subject line,
make sure it's consistent with your overall marketing strategy (for example, with your social media posting or webinars),
communicate the value in your message through the header too.
Consider automating your emails
Sending a lot of emails manually is incredibly time consuming, so much so that it's virtually an impossible task. It is a much better idea to find the right tool to assist you with this process by automating the sending of many emails to your various groups of customers.
Not only will this automation ensure that you don't forget to send some emails, or miss out some segments of your client database, but it will also take some of the pressure off your staff.
Instead of spending ages on the tedious task of manually sending emails to your entire list, the right tool will free up time for your staff to provide the best customer service that they possibly can.
Thanksgiving email subject lines: examples
Now let's move on to the heart of the matter, which is showing some examples of email headers that can inspire your own promotional campaigns.
These have been broken down into three groups, so that you can choose the best approach for your brand according to the analysis of your base, purpose of the campaign, and strategy that you have identified after following the above guidance.
Our 10 best Thanksgiving email subject line examples have been organized into different categories which:
Directly reference Thanksgiving
Emails with this type of subject line should be clear and concise, with a neutral rather than promotional type email that mentions the holiday and sends greetings to your customers without being overly (or at all) salesy.
For example:
By the way: Happy Thanksgiving
Season's greetings
Wishing our loyal customers a happy holiday
10 Holiday Email Marketing Tips to Drive Maximum Conversions

Our recommendation.
Play on traditions of the holiday
These are headers that reference themes or customs of the season to make creative and/or funny Thanksgiving email subject lines. Examples of this type include:
Don't be a turkey – grab your discount now
We've cooked up some tasty offers
Gobble up these deals
Open up our gift of [X]% off everything
Communicate seasons greetings with a special offer
This group of Thanksgiving email subject lines kill two birds with one stone, by wishing customers a happy holiday and informing them about promotions at the same time, such as:
Happy Thanksgiving, now let's go shopping!
New arrivals for the holidays
Last few hours of our Thanksgiving sale
Good practices for crafting email headers
These tips can be applied to various marketing campaigns, not only Thanksgiving email subject lines, so they should be considered when planning your strategies all year round.
The best subject lines should fulfill at least one of the following four criteria:
Creates a sense of urgency, encouraging recipients to open the email immediately (see example 10).
Is unique and helps your communication stand out in a crowded inbox (see examples 4 to 6).
Let's the reader know what the email is about without having to read the entire message (see example 7).
Very specific and clear about the purpose of the communication, without confusing the recipient (see example 3).
Finally, it's always a good idea to keep your subject lines to fewer than 50 characters in length.
Thinking out of the box is always a good idea: if you don't know what Thanksgiving email subject headers to use, it may be worth asking your colleagues.
Combining brainstorming with employee engagement may result in very creative ideas that are relevant to the brand.
(Gift) Wrapping up
With the advice in this article about analysing your customers, defining your strategy, and how to craft great headers, you should now be ready to write the best possible Thanksgiving email subject lines for both your business and your clients.
Hopefully they will help to drive sales in your store at this special time of year, and not only. Good luck!
We also highly recommend to read:
---
About author
Andrew Edwards, Content Manager at Brainy Bees. He claims that insights are everywhere!