Profit from your knowledge
Apply email and SMS marketing strategies you already know to see the best results with Sender. It's free. It's easy.
Get Started For Free
Do you know that the 'now defunct' computer manufacturer DEC naively ran the first email marketing campaign in 1978?
Though the campaign was criticized by the recipients for being spammy, that's the first instance of email advertising in human history.
To date, email advertising remains one of the most effective methods for attracting new customers, retaining current customers, and keeping your existing customers happy.
Email advertising strategy is easy to implement and promises engagement and phenomenal results when done correctly.
Let's take a look at how email advertising works and the benefits that it brings to your business.
What is Email Advertising?
Email advertising is the art and science of marketing your products and services through emails. Email marketing advertising allows you to stay in the minds of consumers, explain your business' value in their lives, and attract new business.
If you ask any marketer to explain email advertising, they will probably confuse you with a lot of jargon. But fundamentally, email advertising is a way to build customer relationships, make them aware of your products and scale your business revenue.
With an email advertising campaign, you can send highly targeted emails to specific segments within your audience and maximize your marketing effectiveness. With targeted email advertising and a personalization strategy, any business can reach its target audience with relevant offers and promotions.
Types of Advertising Emails
Brands use different types of advertising emails to achieve different goals. Here are the most common types of advertising emails:
Promotional emails. Designed to promote products, services, and/or offer discounts to encourage readers to buy something;
Informational email. Generate awareness about a product, feature, or benefits with an intention to move them further towards making a purchase;
Re-engagement emails. Sent to inactive recipients or customers with the intention to revive their interest in your brand's products and offers and buy from you again.
Welcome emails. This is the first email you send to subscribers introducing them to your brand and offerings and sharing what to expect next.
Abandoned cart emails. Sent to shoppers who forgot to check out after adding items to the cart. These emails try to make them complete their purchase by adding 'extra' offers or incentives with a countdown timer or element to invoke FOMO.
You can send such emails with the email marketing tool that has a marketing automation feature. Do it with Sender — without a hassle and absolutely free!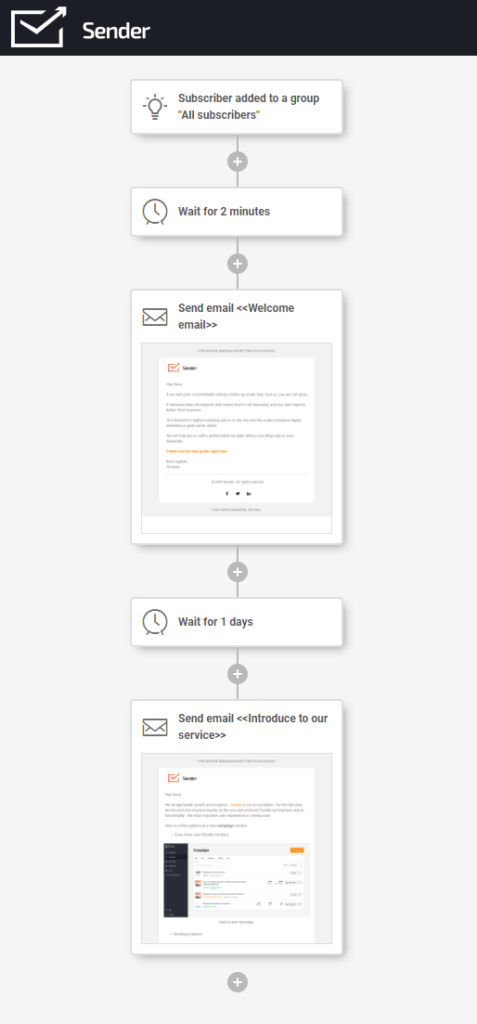 How Effective is Email Marketing Advertising?
Email marketing is a proven way to connect with your audience and drive leads and conversions. It works because you deliver highly personalized content at the right time for your audience. Here are some advantages of using email advertising for your business:
ROI-driven and Cost-Effective
Email marketing is more affordable than traditional forms of advertising. It doesn't require expensive branding or promotional efforts. Moreover, you can track your email marketing ROI using an analytics dashboard. This gives you complete control over your marketing spending and grows your revenue simultaneously.
Target Audience Through Segmentation
Unlike general ad campaigns like billboards and magazines, email advertising supports streamlined and personalized messaging to a pre-selected audience. Just so you know, email marketing is relevant, timely, and engaging when sent to a clean, targeted list.
Meaning if you want to see marketing get mad over outcomes, segment your audience and send genuine, personalized mail to a targeted subset.
High ROI
If you didn't know, every $1 spent on email management is expected to return $38 in revenue. Sponsored, timely and targeted emails can help you reach millions of consumers at meager rates. That's almost free; email advertising allows you to forge new connections and tactically attract superfans to your brand.
Easily Measurable
Email campaigns help marketers turn cold leads or prospects into reoccurring buyers with ease and efficiency. Marketing automation and analytics ensure that every effort made on email advertising adds something to the bottom line.
Email advertising reveals the success rate of ad campaigns, strategically helping brands pinpoint the advantages and disadvantages of an existing strategy.
Customizable
Indeed, email marketing allows you to segment your audience to send personalized messaging. But it doesn't stop there. Email banners are customizable.
You can include the name, age, gender, and myriads of other custom features to make consumers know that you care deeply about their buying decisions, still at a minimal cost.
Best Email Advertising Examples
If you want to use email for advertising your business, you have several ways to do so. You can place ads in email newsletters, launch your own newsletters, send promotional ads through email, or think of something completely unique. Here are a few email advertising examples to tinker your mind:
Newsletter Ad by Lashify
Sending an advertisement in the form of a newsletter is a popular marketing method used by thousands of brands around the globe. Some even run periodic email newsletters that integrate ads natively within the content. Here's an example by Lashify:
Subject line: LIGHTS. LASHES. ACTION ✨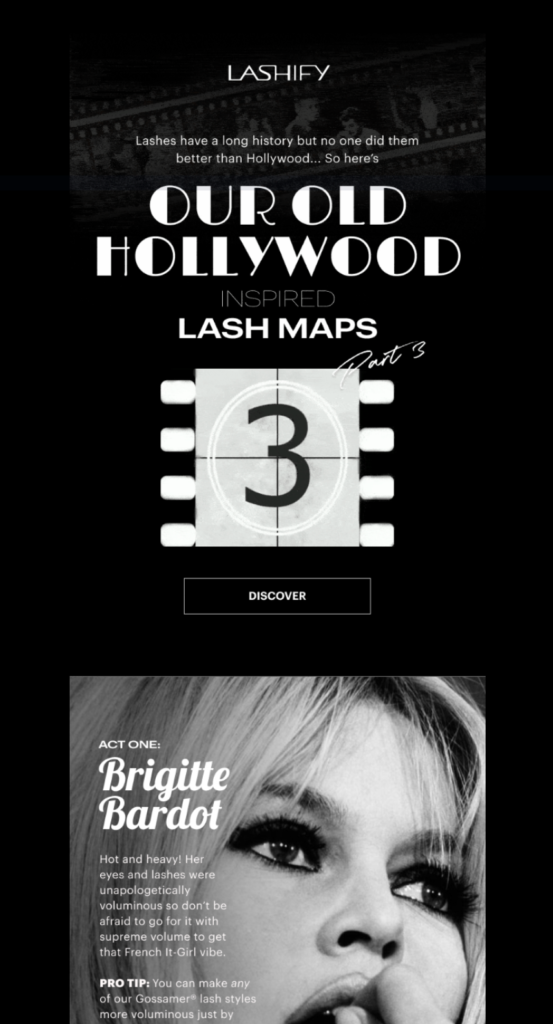 The email's design theme and pattern are appealing. Combined with the enticing subject line in all caps, the email makes an immediate impact on the reader. Starting the newsletter with an interesting discussion grabs attention. The rest of the newsletter is all about sharing different types of products along with a direct CTA to compel users to add items to the cart.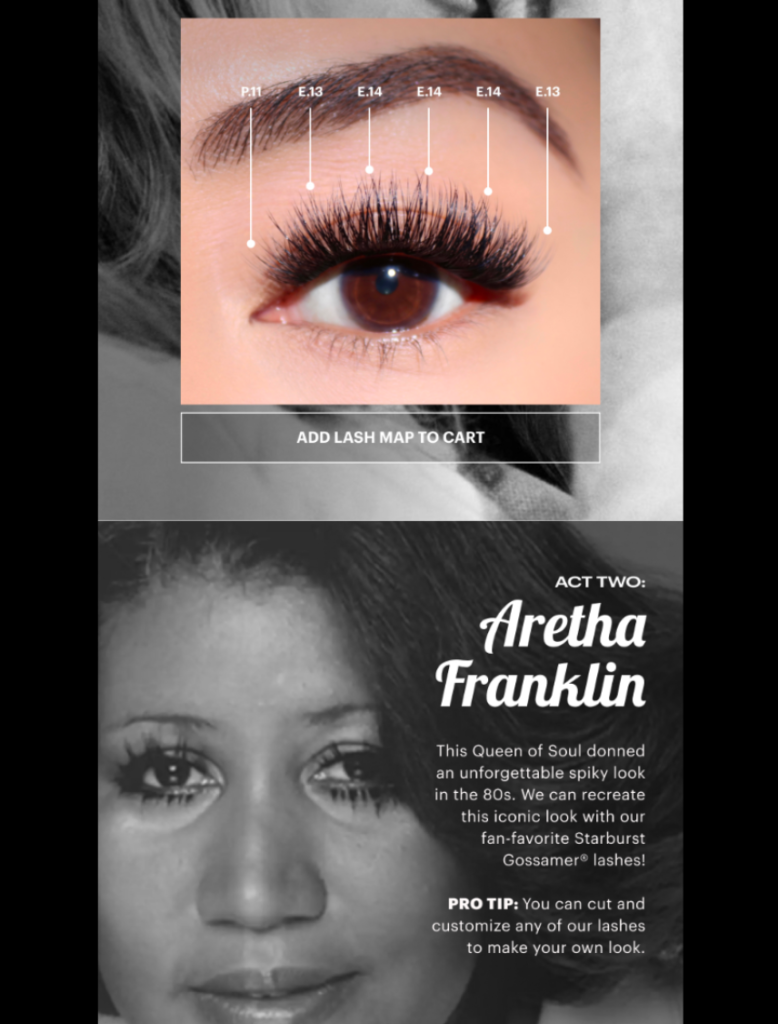 The newsletter is a smart move on the brand's part, as everyone who clicks the link but doesn't end up buying will then be nurtured using an automated abandoned cart email, increasing the chances of conversion.
Key Takeaways
Create an appealing and click-worthy subject line (without being clickbait);
Divide the newsletter into multiple sections for readability and easy 'scrollability';
Add relevant CTAs to drive conversions.
Promotional Email Ad by RVCA
A promo email ad is usually sent to promote a sale or launch of a new product. Promotional ads are accompanied by a limited-time offer that a brand's currently running. Here's a promotional email from RVCA:
Subject line: New To Sale ⚠️ Up To 60% Off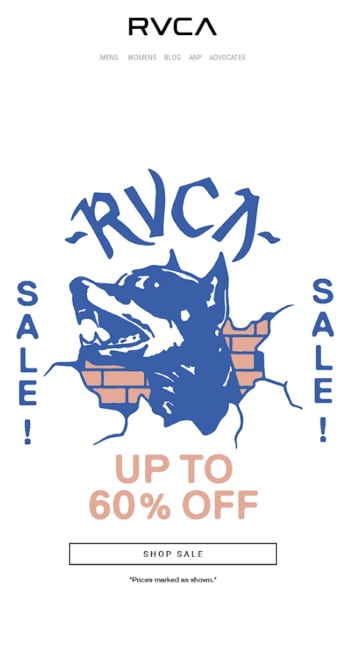 The minimalist email ad with a prominent graphic and offer looks so neat and attractive. The use of duo-tone colors is interesting for a promotional email. The CTA button stands out from the color theme. They could have designed the CTA button in a solid color instead of an outline though.
Key Takeaways
Always add a CTA in a contrasting color that stands out from the rest of the email ad;
Keep your email minimalist and focus on the promotional offer;
Create a no-brainer offer and mention it in your subject line.
Abandoned Cart Advertising Email by OUAI Haircare
You can use emails for advertising your product or outreach to the prospects who visited your website and added items to the cart but didn't check out. Abandoned cart emails are known to increase eCommerce revenue and improve your bottom line. Take a look at the following abandoned cart email by Ouai Haircare:
Subject Line: Forgot your OUAI?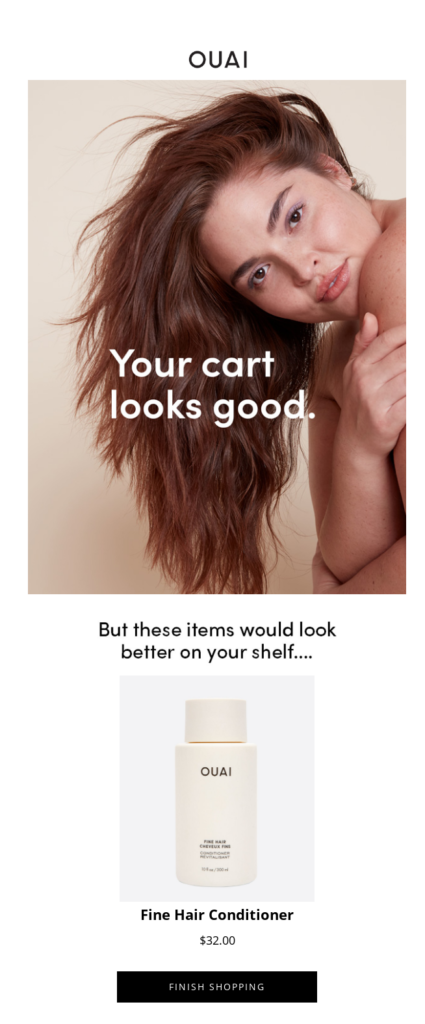 The email has a simple yet effective template. The large image with the one-liner creates an instant recall and connection with the reader. The product block at the bottom of the email reminds users about what they left behind. Such an email, when sent at the right time, can instantly bring the shopper's attention back to whatever they thought when they were on the website. They're highly likely to complete the purchase this way.
Key Takeaways
Schedule your abandoned cart emails using an email marketing tool or marketing automation solution;
Keep your abandoned cart email template simple and straightforward;
Place a prominent CTA that brings the shopper back to their cart or your website.
Ad Email by Mitchell & Ness Nostalgia
The best kind of email advertising is when a brand sends a promotional email to an interested list of subscribers. Many brands run daily campaigns to send ads via email to their email list. Take the example of the following ad email by Mitchell & Ness Nostalgia:
Subject line: Just Dropped | NBA Reversible Bucket Hats & Melton Patch Snapbacks 🏀🧢

The email is a new product announcement in a promotional email ad. The simple layout of the email serves the purpose right — telling the user that the store has something new for them and persuading them to click on the CTA with a simple email copy at the top.
Key Takeaways
Keep the layout simple and pleasing to the eyes;
Use emojis in the subject line;
Add product images and USPs in the email layout.
Newsletter Advertising Example by H&M
Running periodicals and branded newsletters is a great tactic to excite users about your latest offerings, collections, deals, and discounts. If you want to make the most of the email advertising opportunity, you can take inspiration from H&M, which runs a newsletter suggesting the latest fashion trends.
Subject Line: This '90s jeans trend is back 👖

The emailer, in the form of a newsletter, shows the reader how to use the new collection to flaunt the trendy style that's making a comeback. If you read further below, you will see the newsletter has a dedicated section about creating your own style with a CTA that takes them to the collection's page: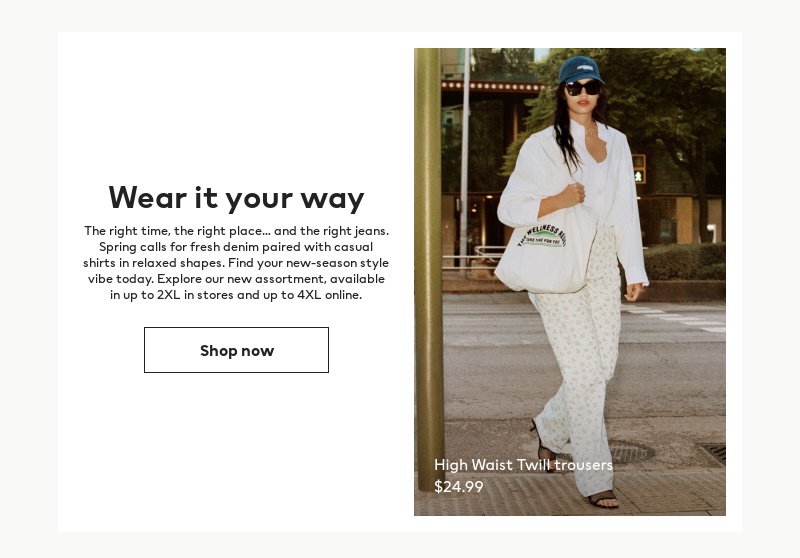 Key Takeaways
Create longer emails in case you are creating a newsletter;
Always stick to a particular theme; in this case — fashion trends;
Send newsletter email ads at regular intervals.
Winback Email Advertisement by Martha & Marley Spoon
Sometimes, despite your best efforts, some customers choose to forget you. Or let's say they don't need you anymore. Reengagement emails work wonders for a brand or business in such a situation. Winback or re-engagement emails invokes nostalgia, offer a comeback discount, and urge the customer to give you a second chance. Look at the following email by Martha & Marley Spoon:
Subject Line: Brian, we miss you!
The email is sent to customers who ordered once and didn't reorder again. The emotional email copy, along with a special offer, will make users want to come back and give the brand a chance again. They did a good job with the personalized subject line too.
Key Takeaways
Create a nostalgic and emotional email copy;
Personalize the subject line;
Add a really useful offer or special discount.
Promo Ad Email by Bark Box
Sending promotional offers via email is a great email advertising strategy for a growing eCommerce brand. When you send a contextual and limited-period offer, you can attract your email audience to buy more from you. Here's an example of a promotional advertising email by Bark Box:
Subject Line: Unleash 2X The Toys And Treats 🐶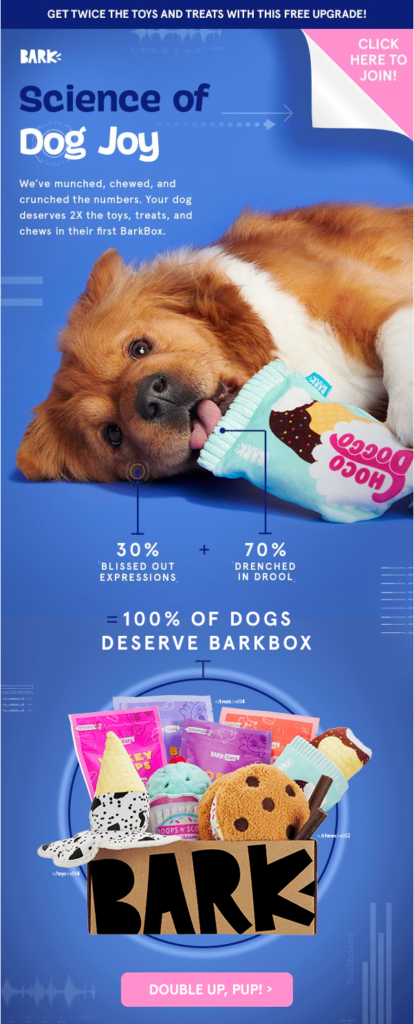 The beautiful background with a large header image instantly grabs the reader's attention. The offer, which was teased in the subject line, is also clearly explained above the scroll. One will surely appreciate the brevity and simplicity of copywriting in this email. The last section reassures the buyer that anything they buy is customized for their dog's liking — definitely an additional selling point.
Key Takeaways
Add offer details in the subject line;
Create a responsive email blast design;
Experiment with unique CTA placements.
How to do Email Advertising?
You can also easily create an email ad campaign using marketing automation and email marketing tools like Sender.
Sender's drag-and-drop email design tool makes it a breeze to build emails quickly and efficiently. Here's how to use Sender for creating and sending email ads:
Step 1: Create/Upload Your Mailing List
Create a signup form on your highest traffic pages and ask users to sign up for your newsletter. Use the data to create a mailing list for your email ad campaign.
Sender's built-in form builder allows you to start populating an email list on autopilot. You can even segment your email list based on age, occupation, location, time zone, etc.
Alternatively, you can upload your existing email list to Sender, map the fields and start creating an email advertising campaign.
Step 2: Start a New Campaign — Create a Subject Line and Populate Campaign Details
Go to new campaigns under email campaigns and start by adding details about your advertising campaign. Write a catchy subject line and pre-header. You should brainstorm in advance and create an attention-grabbing copy for your email campaign.
Why?
Because according to Statista, about 333.2 billion emails are sent daily. This means the average person receives over 100 emails per day. You really need to grab their attention and stand out in the inbox.
Use the inbox preview feature to see how your email will appear in someone's mailbox.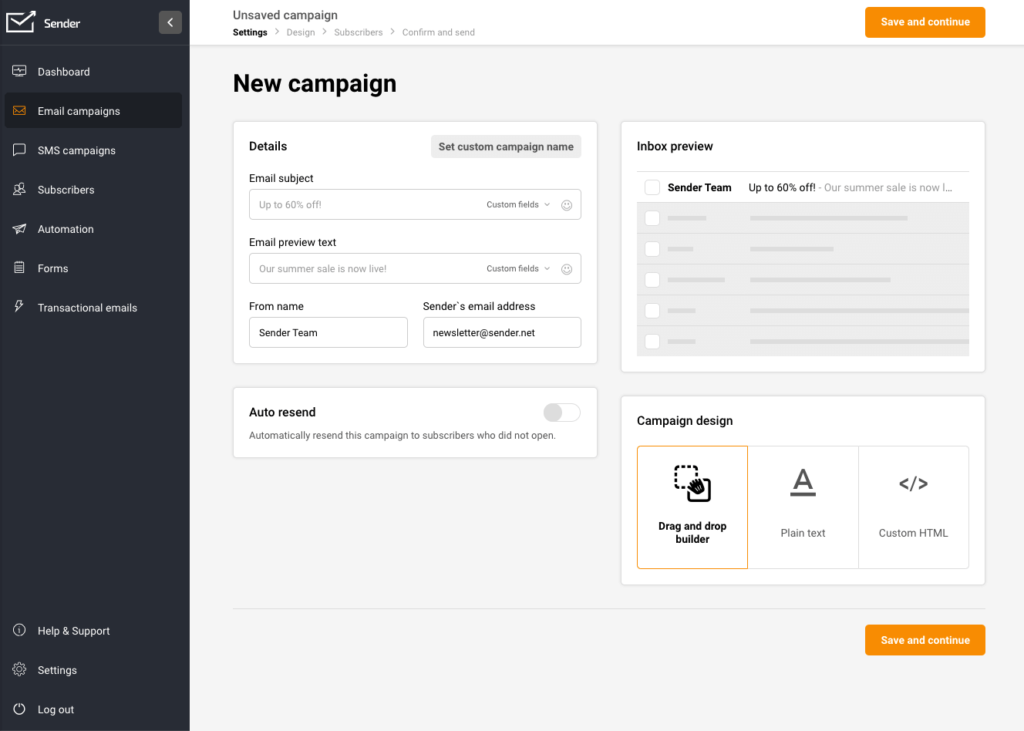 When you are happy with your subject line, click Save and Continue.
Step 3: Use the Drag and Drop Builder to Design an Engaging Email Campaign
Use Sender's drag-and-drop email builder to create a beautiful email template for your email marketing campaign.
The email builder allows you to customize your email template by adding your design/color theme and peppering it up with unique design elements.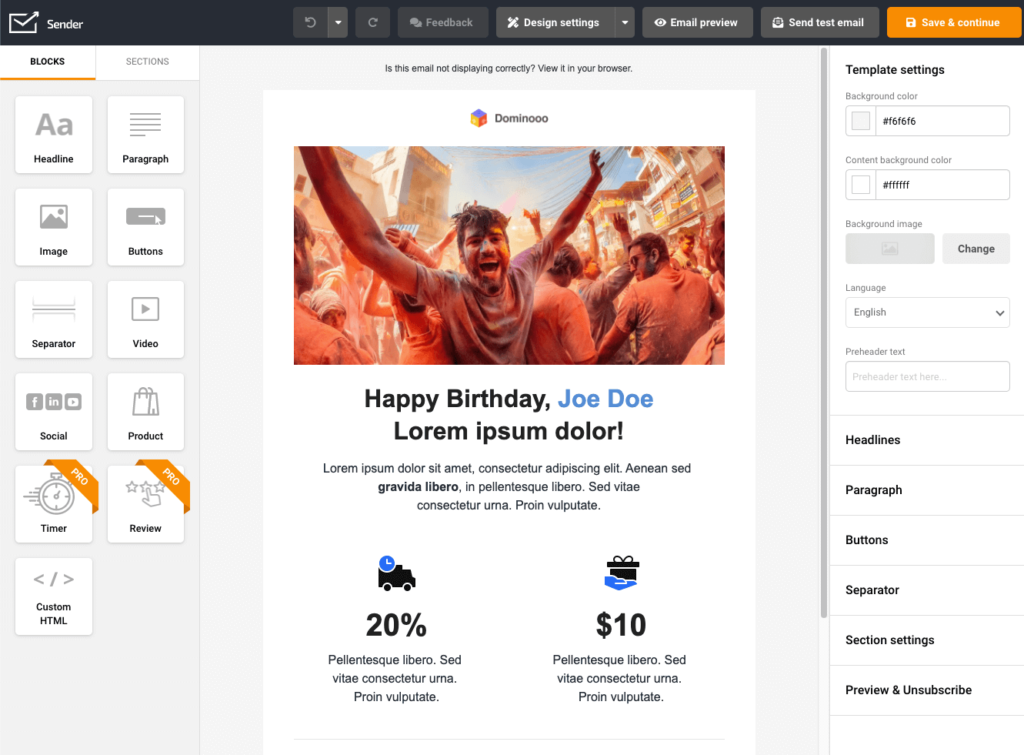 Create an intuitive emailer using the drag-and-drop email builder, and if you get stuck, use the in-built template library to import a high-performing emailer design and customize it to your liking.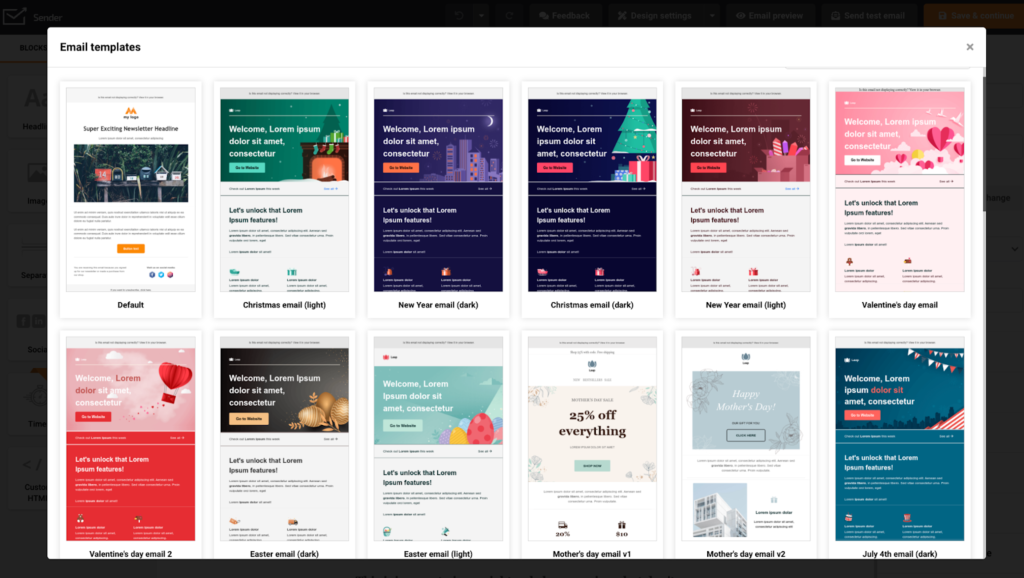 Step 4: Personalize your Email Content
Producing unique and awesome advertising emails depends on your ability to customize an existing email template. You should create engaging email content and contextualize your design to make it eye-catchy and appealing.
Use the email builder to add unique design blocks, add your brand's personality or set up custom tags to personalize the email copy.
When happy with your design, send a test email to yourself to see how it looks, and if everything's fine, just click Save and Continue.
Step 5: Send Advertising Email and Track Results
The final step is to select the email list and send your mailing ad to your subscribers. Sender has a deep analytics dashboard that allows you to track performance from a single dashboard.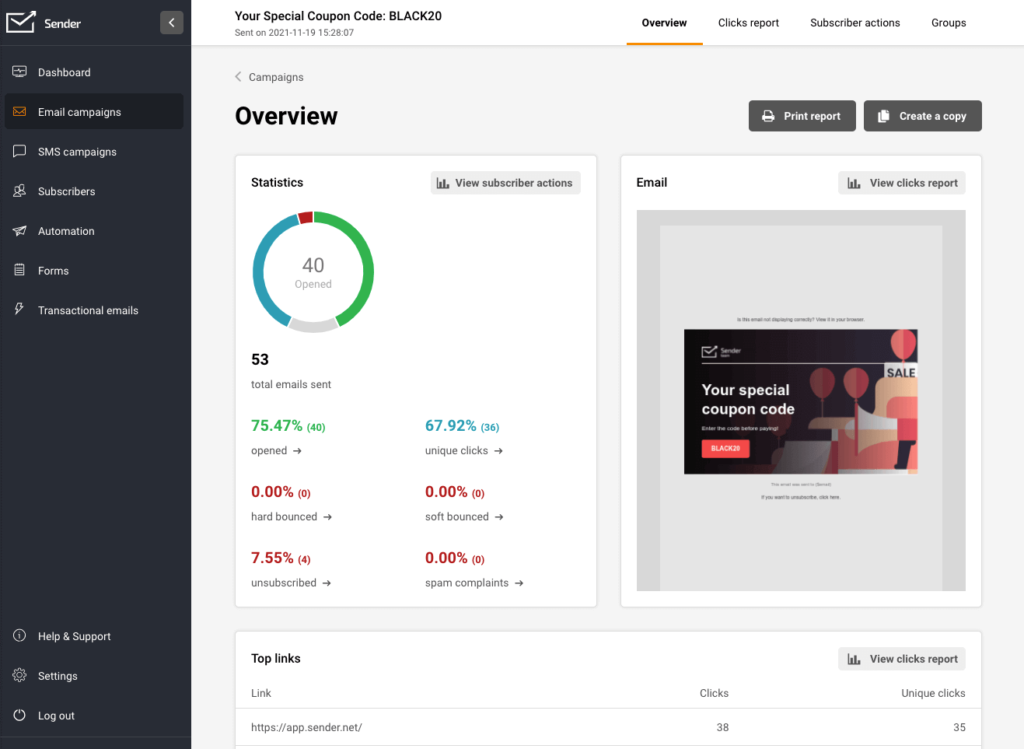 Use the insights to improve your future email campaigns. You can even A/B test your email campaigns using the available features or automate your campaigns using the workflow builder.
Sender's generous Free Forever allows you to test all the premium features and functionalities for up to 2500 subscribers. You don't need to pay a penny to send your first email campaign when you choose Sender.
Email Advertising Tips to Get You Started
Your email campaigns should aim to build solid customer relationships, driving customer loyalty. If you are thinking of leveraging email advertising, here are a few tips to help you get better results:
Make the Subscription Process Easy
According to Tower marketing, the average online user's attention span is 8 seconds. So, you need to simplify signing up for your email list. Irrespective of the marketing channels you use to promote your email list or newsletter, your signup process shouldn't take more than a few seconds.
Introduce clear CTAs on relevant blog posts or website pages that help visitors sign up with a single or a few clicks.
Always Use Double Opt-ins
Double opt-ins confirm that you have a new subscriber and verify that the subscriber signed up with a legit email. Plus, it's a standard best practice for email signups post-GDPR.
Make your double opt-ins straightforward, short, and easy to read, with a clear "confirmation" button allowing subscribers to issue their explicit interest to receive emails from you.
Optimize Your Email Subject Line, Preview Text, and Sender Name
Your email subject lines and preview text are the first thing someone notices about your email campaign. So, you really need to give your best shot at creating a compelling and attention-grabbing subject line. Your preview text should be a teaser that compels the reader to click as well.
Don't forget that your sender name should be professional and clear, too. It shouldn't be deceiving or cryptic. Always pay special attention to these three elements while keeping copywriting best practices in mind.
Use Segmentation for Your Email Lists
Segmentation is one of the most important aspects of email marketing. Use customer segmentation to target the correct audience, add value, and gain trust. It helps you tailor your email ad campaign to the likes of your target audience. This helps increase open rates, click rates, and improve your marketing ROI.
You can segment your list based on any relevant demographics, interests, behaviors, and other relevant data. When segmenting your list, make sure your segmentation logic is:
Relevant to your business goal;
Helps you target a specific need, desire, or pain point without generalizing a campaign;
Flexible enough to fit any changes in your target audience.
Practice Personalization
Personalization is the most crucial aspect of a successful email marketing campaign. Personalized emails bring back the same level of interest as a handwritten letter and are known to grab the attention of your reader.
Every single email you send should be tailored to your customer's needs and personalized using their data. Use first names, locations, or any other data point to personalize your emails. Here are a few ways to personalize your emails to help you succeed:
Send a personalized welcome email every time someone signs up for your email list;
Use dynamic content tags or fields that are personalized based on the actions taken by your customers.
Personalize your subject lines and CTAs to catch their attention and make them click through.
Send a personalized coupon code based on their purchase history.
Avoid Spamming
Let's say you've attracted many subscribers to your newsletter; what's next? It's time to engage them. Emailing is good for engagement, but emailing irrelevant stuff can flag spam filters. So, avoid the following mistakes in your mails to prevent landing in the spam folder:
Don't send direct mail to users who didn't sign-up.
Check for typos and grammatical errors.
Include an "unsubscribe" button and a brand's physical address.
Avoid stereotypical or threatening words in the headings.
Avoid requesting too many personal details.
Strategically Schedule Your Emails
Engaging audiences comes with a "perfect timing" rule.
Send emails at an appropriate time—schedule "emailing" times regarding time zones—mainly if your brand deals with an international market.
Some tips for 'perfect timing' include:
Identifying your target audience
Knowing what they do for a living
Pinpointing their main problems
Drafting personas about what a typical day in their life looks like
In general, we suggest you send emails between 9 am & 11 am because those are office hours – research shows that we've subconsciously developed a habit of checking emails during work hours.
Also read: Best Time to Send Emails in 2021: By Email Type
Split-testing Does the Trick Too
Take split-testing as "not putting all your eggs in one basket".
With split-testing, marketers can strategically decide which ad format, CTAs, sample content, send time, or signature format works best.
Try new campaign ideas and weigh customer reaction – highlight delivery rates, open rates, click-through rates, etc. Split testing allows you to optimize your company's reoccurring campaigns for success.
Also read: A/B Testing in Email Marketing [Best Practices]
Key Takeaways
Add regular promotional emails and email ads to your email marketing strategy;
Segment your audience to create effective email marketing campaign;
Always let your audience know the intention of your marketing emails;
Pick a reliable email marketing service or software that allows you to schedule an automated email campaign.
Also read:
---
Author Bio
Anmol Ratan Sachdeva is a content marketer and small business consultant who has a strong grip on topics like marketing automation, research, email marketing, and content marketing. He loves to write about starting, improving, and growing a business.