In the golden age of e-commerce, browsing for products online has become somewhat like window shopping, but in this case – it's even more convenient because you don't even need to leave your home for it.
People can mindlessly scroll on their phones, adding products of interest to the cart but never making a purchase. If this were a regular shopping environment, a sales agent would spot this browser and, using smart sales techniques, could successfully end up with a paying customer.
When it comes to online shopping, however, there are no sales assistants to help businesses increase their conversion rate, which begs the question:
What can be done to help close that sale?
Online shopping cart abandonment statistics are difficult to measure because they depend on many factors, although various sources suggest a range of 60%-80% across different industries.
According to the latest Statista report, 88.05% of online shopping carts were abandoned globally in March 2020 alone.
Start getting back your potential customers with powerful abandoned cart email examples.
Best Abandoned Cart Email Practices with Examples
While the shopper may have been browsing without intending to buy the product, they showed enough interest to go the extra step of adding the items to their cart. And that interest is exactly what you could use to your advantage.
Abandoned cart emails have been around for a while, and for a good reason, too – like that sales assistant, an abandoned cart email is giving your customer a gentle nudge needed to make a purchase.
These email can be an immense help for your conversion rate increase – and here are some tips of the best practices to increase your chances even further:
1. Good Subject Line – Here's What You Left Behind
To optimize the chances of an abandoned cart email working, you need to make an excellent first impression. The subject line is the first thing a user sees on their email, so it needs to intrigue the user, prompting them to open the email and read further.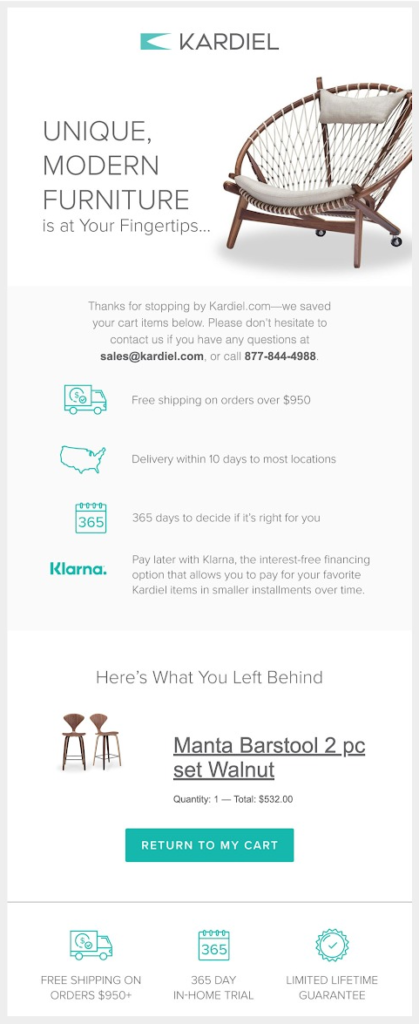 Kardiel uses the FOMO strategy – by announcing the quick sell-out rate of their popular products, they urge the customer to complete the purchase before the product sells out.
Abandoned Cart Email Subject Lines
This product in your cart is going fast
You left something in your basket – can we help? 👀
Hey, [Customer name]. Complete your purchase in just two clicks
To add your customer name in the subject line automatically for every individual subscriber, during the email campaign creation process, select "Custom fields", as shown in the photo: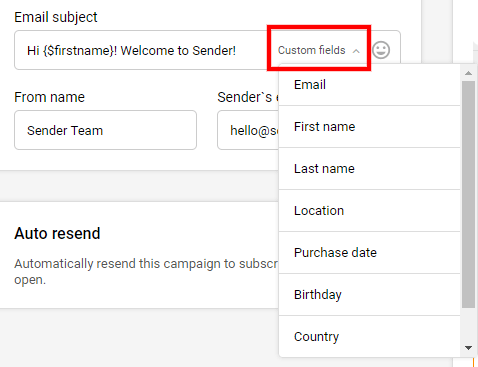 2. Impeccable Timing to Send Abandoned Cart Email
You can have the best product and beautifully crafted abandoned cart email – coming across as pushy won't help your cart recovery.
The best practice is to send no more than 3 emails at predetermined time intervals, and the sequence should look something like this:
The first email, triggered within an hour, should notify the customer about the fact there are products left behind.
It is recommended to wait at least 24 hours before triggering a second email. This follow-up should aim to induce urgency.
If, after the second email, the customer still failed to purchase the product – a third email could be sent, but it should be delivered no sooner than 48 hours after cart abandonment.
As this is your last chance at conversion, incentivizing is a good practice – offer your customer an exclusive discount or even free samples.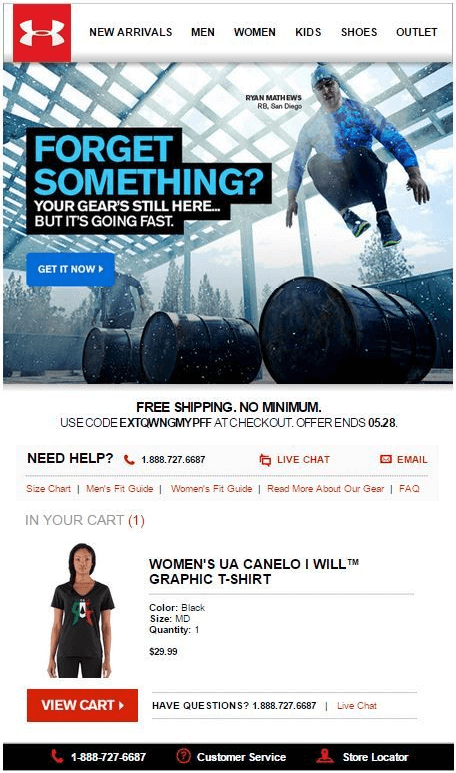 Look at how Under Armour offers an exclusive code for the customer to get free shipping. The added incentive might be exactly what was keeping the customer from making a purchase.
Here is the instruction how to setup your abandoned cart email sequence on drip automation:
Login to Sender app and click on "Automation".
Select "A cart is abandoned" trigger.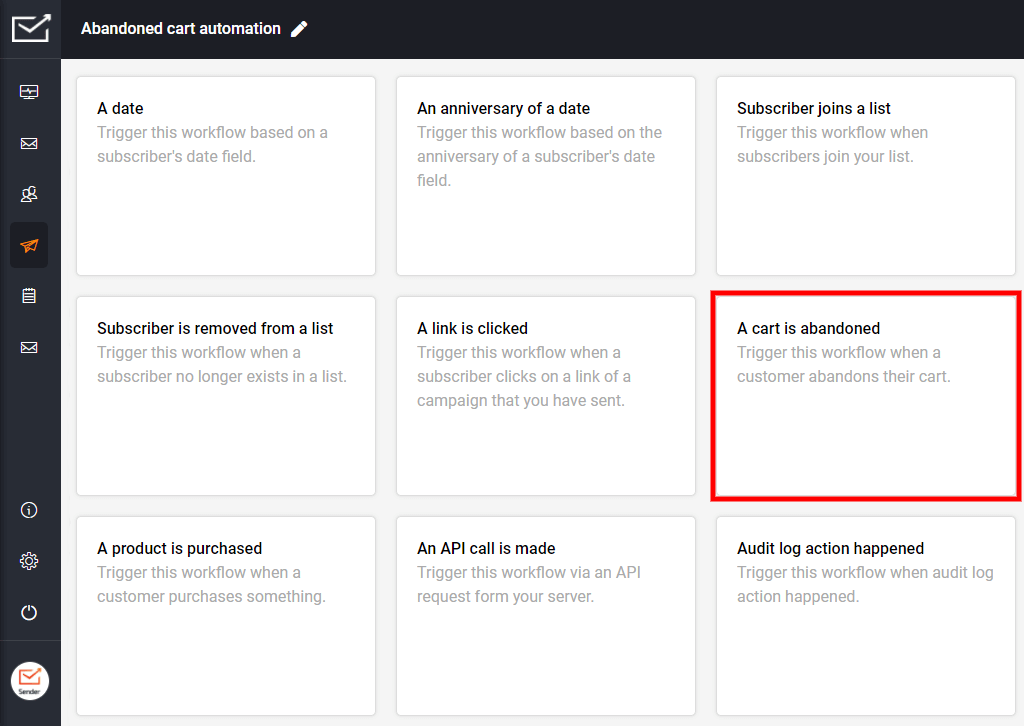 Setup your abandoned cart automation and create design.
Here's how the whole process looks in motion:
3. Eye-catching Abandoned Cart Email Design
The content of your email needs to grab the attention and keep the customer engaged long enough for them to make a purchasing decision. One of the ways you can do this is by having a simple, aesthetical design as well as straight to the print copy, thus preventing the email from looking bland and cluttered.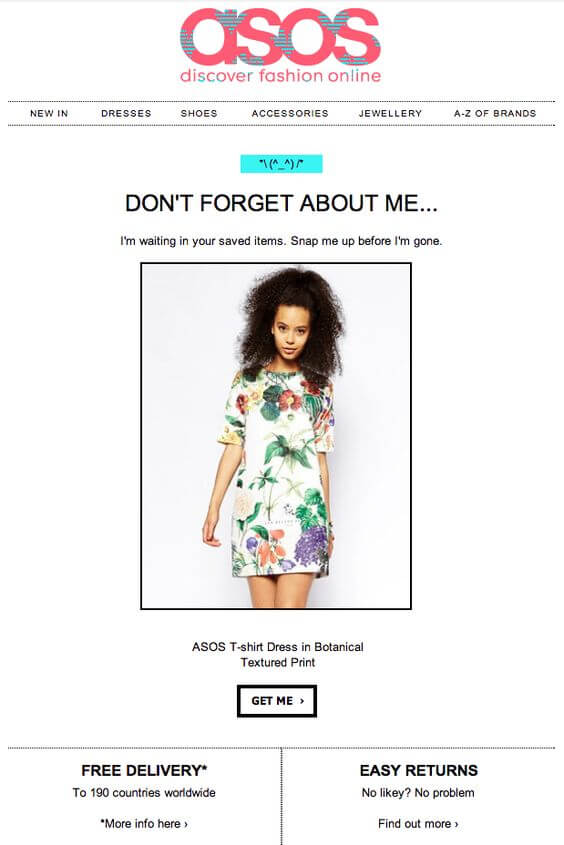 Looking at Asos, we see a well laid out email showcasing very little text and a single picture that gives the email a clean look.
The email is formatted in a consistent way with both their app and their website design, which further builds brand recognition.
To create your abandoned cart email design:
Click on "Campaigns", fill in your email campaign information, and select the email creating method – Drag and drop builder.

Click on "Save and continue" button.
When you will be redirected to Sender email design builder.
Now you can create your individual abandoned cart email design.
We recommend to start with our already created email template "Abandoned cart":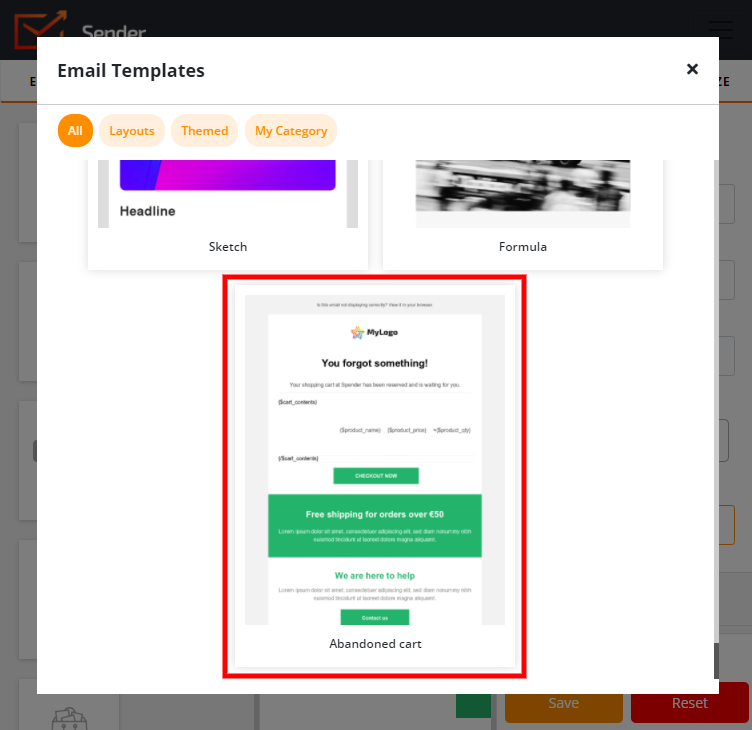 In this email template you will find HTML code, which will automatically take your visitors abandoned cart products: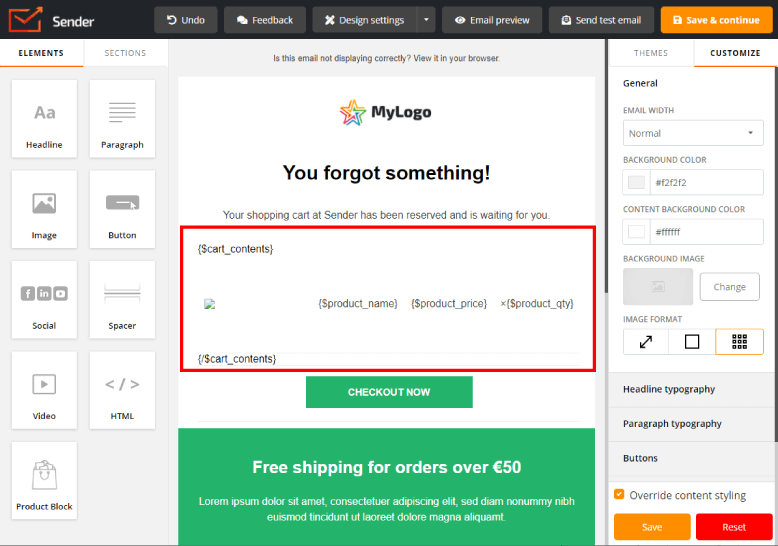 Also, the "Checkout Now" button redirects to an individual cart.
4. Addressing concerns
There can be many reasons why customers choose to abandon carts, some of the most notable being: a complicated checkout process, the need to create an account, as well as the lack of payment options or payment security concerns.

By assuring the payment is secure and credit card details are encrypted, Moschino addresses potential apprehension a customer might have. They also mention easy returns, so the customer unsure of the product knows they are not inclined to keep it if they change their mind after purchase.
5. Build Brand Trust with Abandoned Cart Email
One of the ways a brand can build trust is social proofing.
Web users are savvy shoppers and tend to rely on the opinions of others before deciding to make a purchase.
Having a good overall rating and positive reviews can highly increase sales overall, making it an even better strategy to use when seeking an abandoned cart recovery.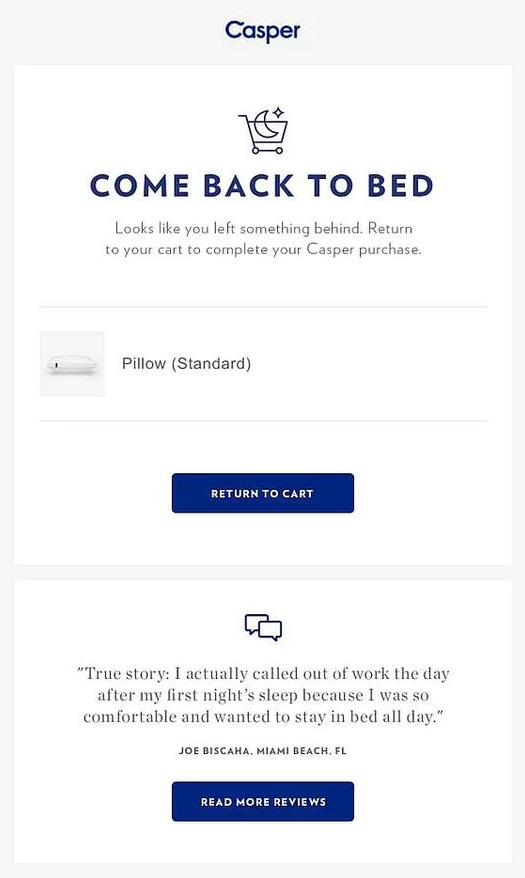 One of the companies using social proof is Casper – they have embedded a customer review in the email to show that other customers recommend the product, thus building trust.
6. Being transparent to your potential customers
Many customers are careful with their spending, so it's no surprise the product price can contribute to cart abandonment. Displaying the value of items left behind in a shopping cart shows transparency.
This way, the customer is aware of the shopping cart's transactional value before continuing to your site, which prevents the customer from getting discouraged from buying when they see the cart total on your website.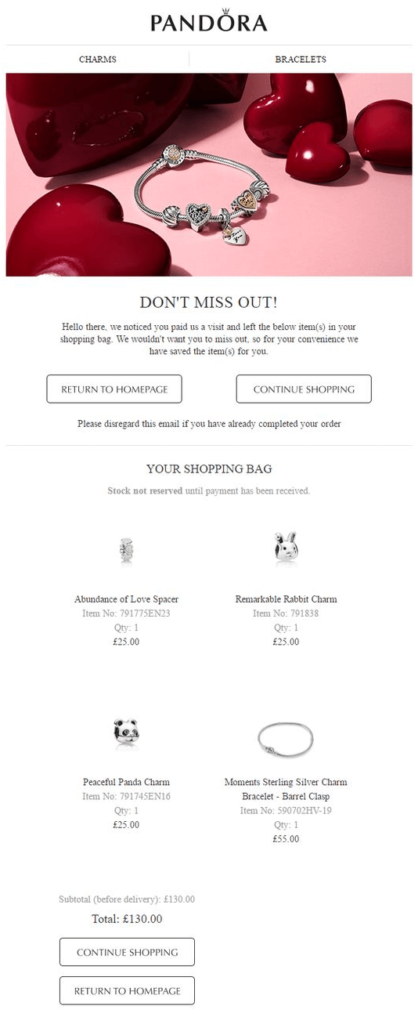 Pandora, for example, shows the full shopping cart, including the total. They also give their customers options to either checkout or browse for other products. Once the customer clicks on either of the buttons and continues to site, they are consciously aware of the amount of money they plan to spend.
7. Tailoring – Make the Customer Feel Special
Tailoring is not only for bespoke suits. The customer needs to feel special. When sending an abandoned cart email out to your customers, you need to ensure they feel the email is crafted for them as an individual rather than a faceless consumer.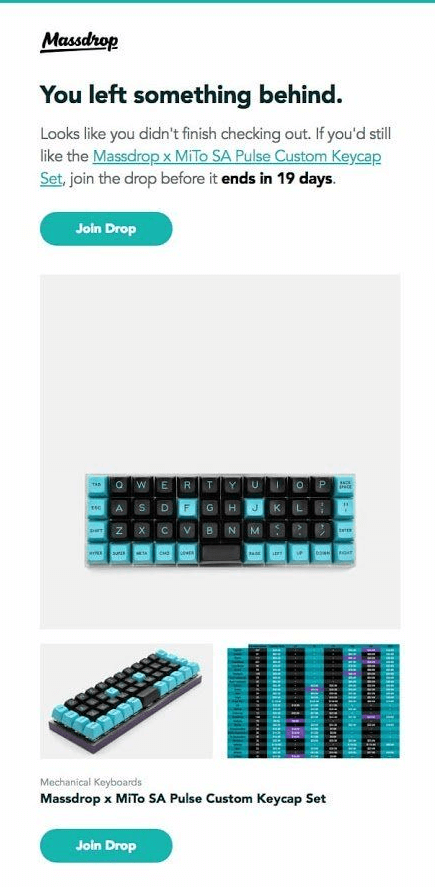 One of the ways to do this is by highlighting a specific item left behind. For example, Massdrop shows their customers the product they abandoned when sending an email. When the shopper sees the product they have already showed interest in, they are more likely to convert into being a customer.
8. Personalize Your Abandoned Cart Email
Adding some personal information, such as the customer's name, creates a connection. If this shopper is a returning customer, this can also be achieved by using data points you already have, like their location or the last product they bought.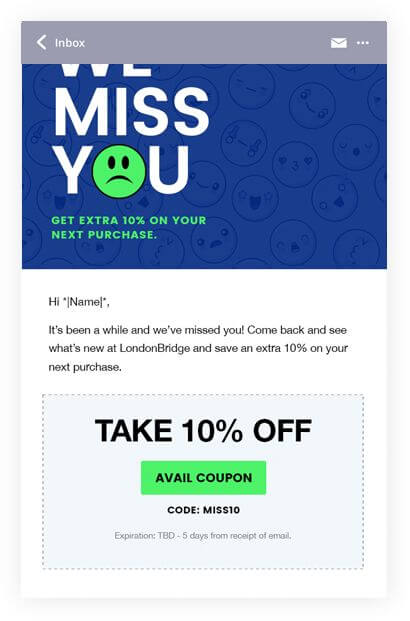 Magneto abandoned cart example source: Targetbay.com
Here's an abandoned cart email template example from London Bridge where they not only address the customer by the name but also builds empathy by bringing emotion into play, thus making the customer feel important. It is then further personalized with a special incentive.
If you want the customer's name to be added to the email automatically, follow these steps:
During the email design creation process, click on text space, where you want to include personalization.
Click on "Custom fields" icon:

Select custom field, in this case – First name.

In the result you will see this:
When you will send an abandoned cart email, for every subscriber will be added a first name.
9. Add the Human Touch to Your Abandoned Cart Reminder
One thing that online shopping lacks is a human connection. If you are able to show that although there is no direct interaction, you still empathize with the customer and want what's best for them, you have a high chance of closing that sale.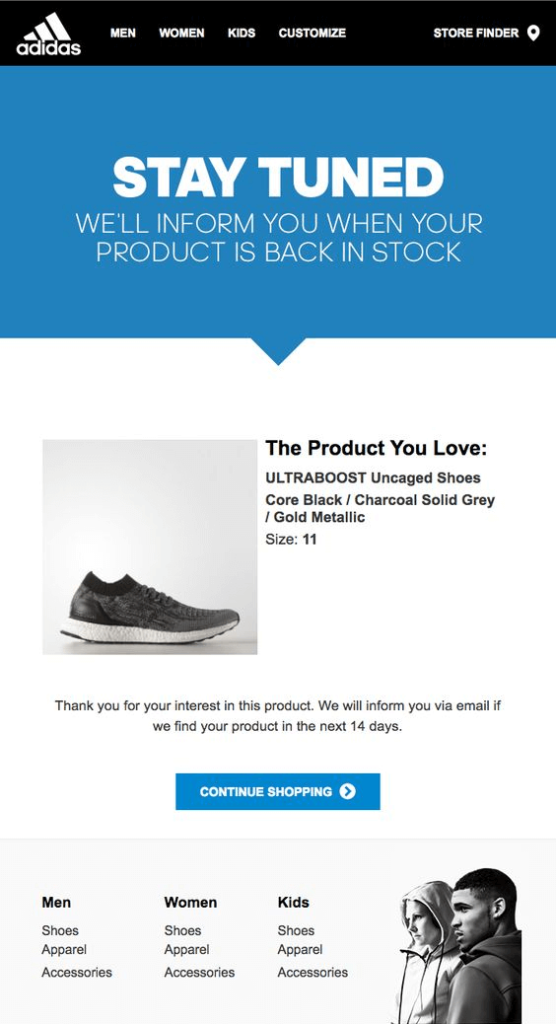 Here's a great example of Adidas showing the customer that they care. By saying they are looking for the missing product and promising to contact the shopper within a time frame – they are assuring the customer that they are not forgotten.
10. Up-selling and Cross-selling in Your Abandoned Cart Emails
Another popular reason for abandoning a shopping cart is the available plethora of choices. The customer often wants to see if they can find the same product for a more favorable price or just find an alternative they like better, it is called up-selling and cross-selling.
Showcasing similar products can give the customer a needed push to check out more items in your store and, if done right, can even result in up-selling or cross-selling.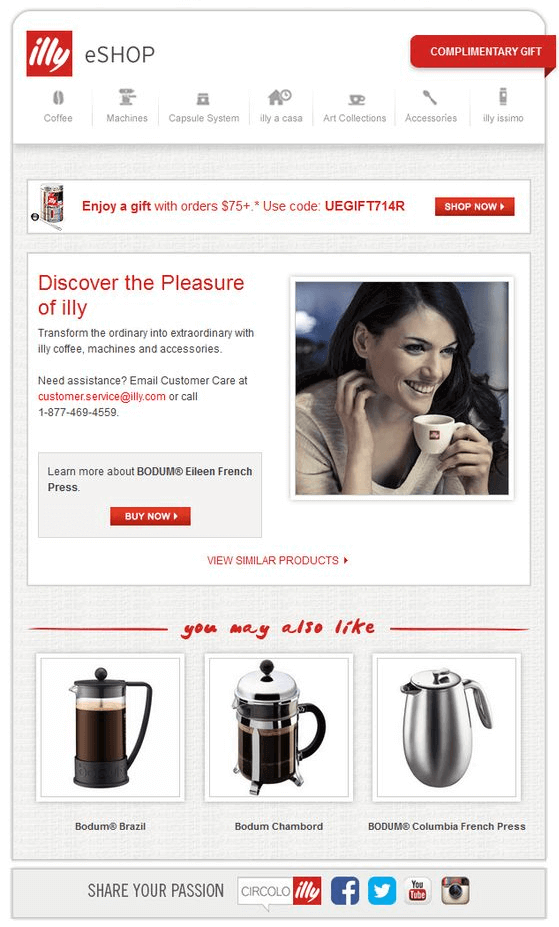 In their email, Illy shows other available products. The customer may not have been convinced when they added the product to the cart and may not have seen other products they may like.
Showing similar products is an excellent strategy, especially when the store has a wide range of products.
Automated Abandoned Cart Email Sequence
Here are the recommended abandoned cart email sequence: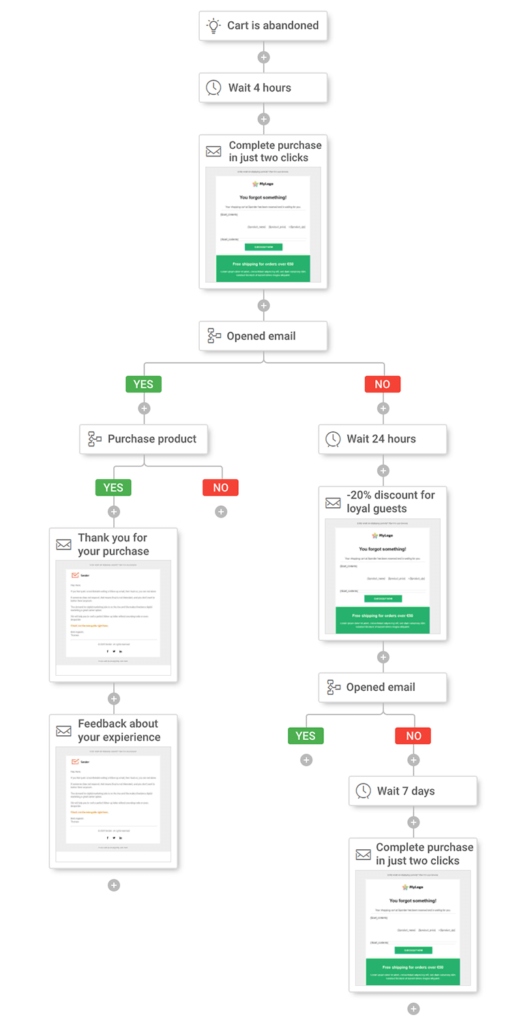 You can create this abandoned cart automation series with Sender tool.
Abandoned cart tips in infografic
We want to present infografic specially designed for that article:

Infographic was created by Easelly
Implementing the Abandoned cart Strategy
All in all, there is no good reason to give abandoned cart emails a miss.
Easily set up with email automation tools, a low amount of maintenance required, and an average success rate of 8.24%, you can see why many businesses choose to implement this strategy.
Regardless of the platform, your store is built on, there are many tools that can help companies successfully carry out an abandoned cart email strategy.
Sender, for example, helps with email automation and, among other functions, allows for abandoned cart email set-up. It is easily integrated with all major players such as Shopify, Magento, and BigCommerce, to name a few.
Can you really afford to lose additional sales?
Try Sender for free and see how it can help your business.
---
Content contributor
Rugile Zilinske
Like what you read?
Apply it in practice with Sender.net - the most cost-effective email marketing solution in the market.
Try Sender for free