If you are an ecommerce store owner wondering why 3 out of every 4 people who add something to their cart leave without paying you, read on.
In what follows, we address the elephant in the room (aka abandoned carts) and give you picture-perfect abandoned cart email examples to use from the get-go!
What Is Cart Abandonment?
Cart abandonment is when a user adds one or more products to their shopping cart but fails to check out.
By adding items to their cart, customers have expressed a clear interest in their products, but something has stopped them along the way.
This happens way more often than you can imagine (think 7 out of every 10 visitors).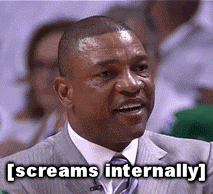 Numbers Never Lie!

The average cart abandonment rate across all industries is just under 70 Percent.
Unfortunately, that's the good news.
The bad news is that mobile users have an even higher abandonment rate of 85.65 Percent.
In total, ecommerce stores lose about 18$ billion in sales per year because of cart abandonment alone.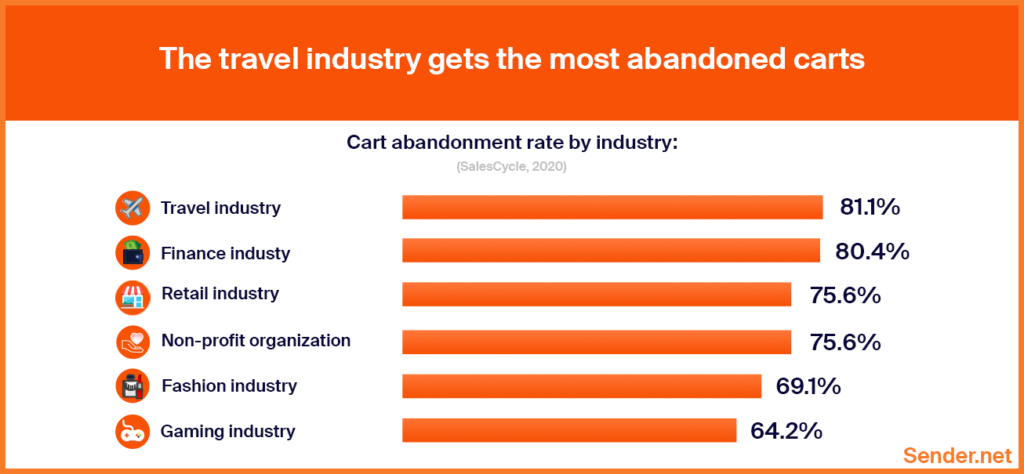 Why Does Cart Abandonment Happen?
For a whole lot of different reasons. Check out the latest data from prominent e-commerce research and audit agency Baymard Institute on major reasons why people abandon their carts.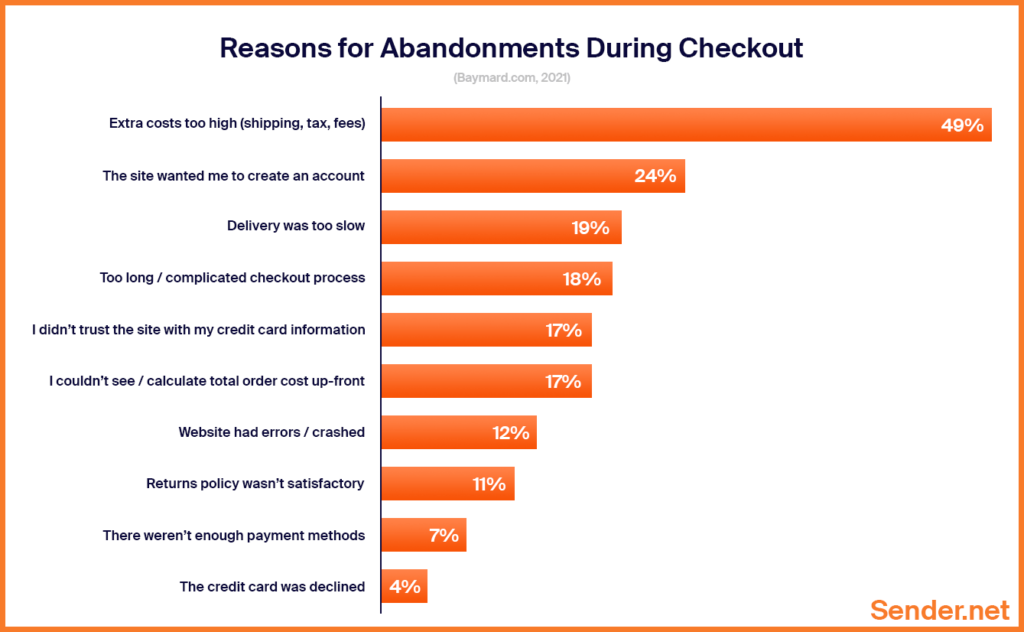 Best Email Marketing Practices to Reduce Cart Abandonment
What is Abandoned Cart Recovery? Is there a Quick Growth Hack to do this? At Zero Cost!
Abandoned cart recovery is the process of reaching out to potential shoppers and gently nudging them to complete their checkout. Shopping cart recovery is a way to get back already interested 'hot' prospects who are already halfway through.
While there are a number of cart abandonment solutions doing rounds in the market, the easiest way to do it would be to send out cart abandonment emails. When done right, abandonment recovery emails can convert at up to 10%.
Cart abandonment emails are a drip sequence of emails that gets triggered when a prospect abandons their checkout.
Designing an email template for abandoned cart situations doesn't have to be as painful as learning HTML or coding. Also, none of this has to be done manually or repeatedly.
You can create an array of cart recovery email templates easily using professional-grade email marketing tools and set them up on automated drips.
While the average e-commerce email open rate is around 42%, cart abandonment email is a different beast altogether:

42% Opened the emails
9.5% of these Clicked through the links
6.33% of these completed their purchase!
If you are not sending out cart abandonment emails yet, you are leaving FREE money on the table. Who wants to do that in an extremely competitive market? Start planning out your abandoned shopping cart email sequence with the below examples.
17 Abandonment Cart Email Templates
The best abandoned cart email templates are simply ones that work. They convert lost shoppers into revenue for your store.
If you are wondering how to design email templates for abandoned cart scenarios, worry not we've got you covered. Below are some high-quality abandonment cart email samples that you can get inspired with.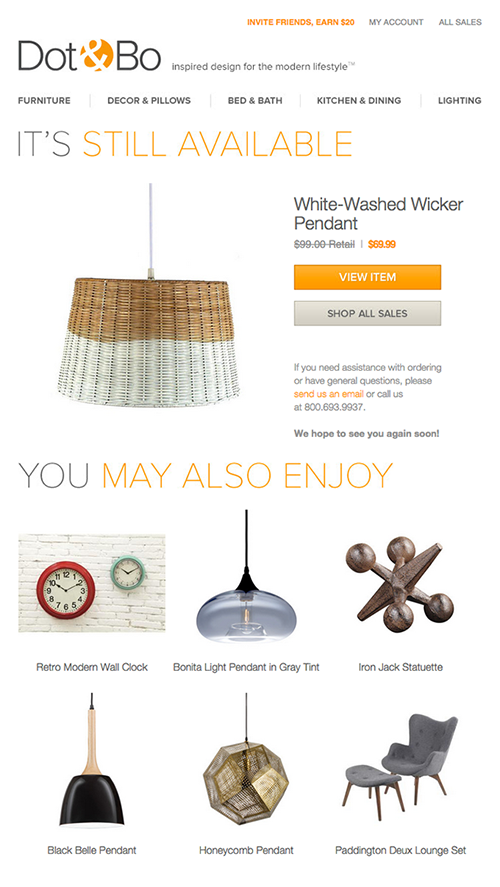 The reason we love this one is because it subtly reassures the reader that their chosen item is still in stock. Secondary recommendations related to the primary product are also provided in one view, to entice the shopper to make it back to the site again. All of this without being too salesy. Well done!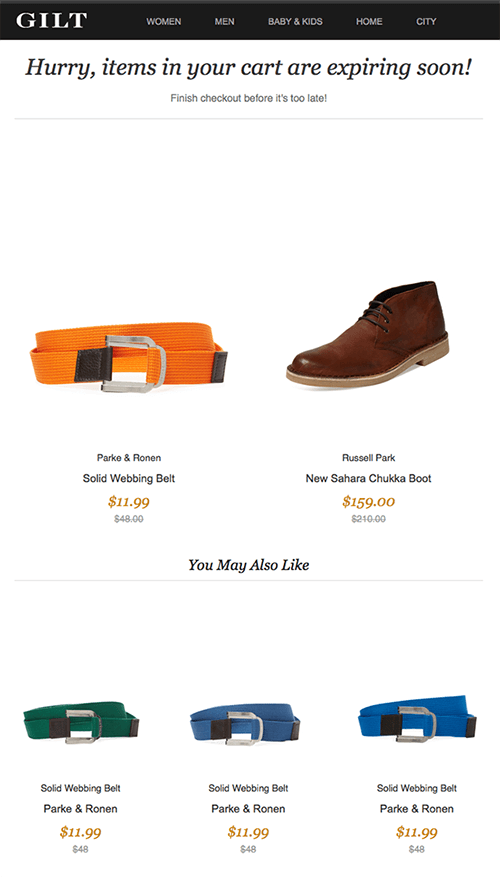 This abandoned cart email not only tries to persuade the user to complete the checkout based on a sense of urgency but it also tries to upsell other current items and previously on sale items that the shopper is likely to be interested in. The product visuals are compelling, with clear discount pricing mentioned below the respective products.
We love the wordplay going on in here in the header section. The product visual is simple yet highly prominent and conveniently placed CTA buttons at multiple points make it easier for the user to navigate.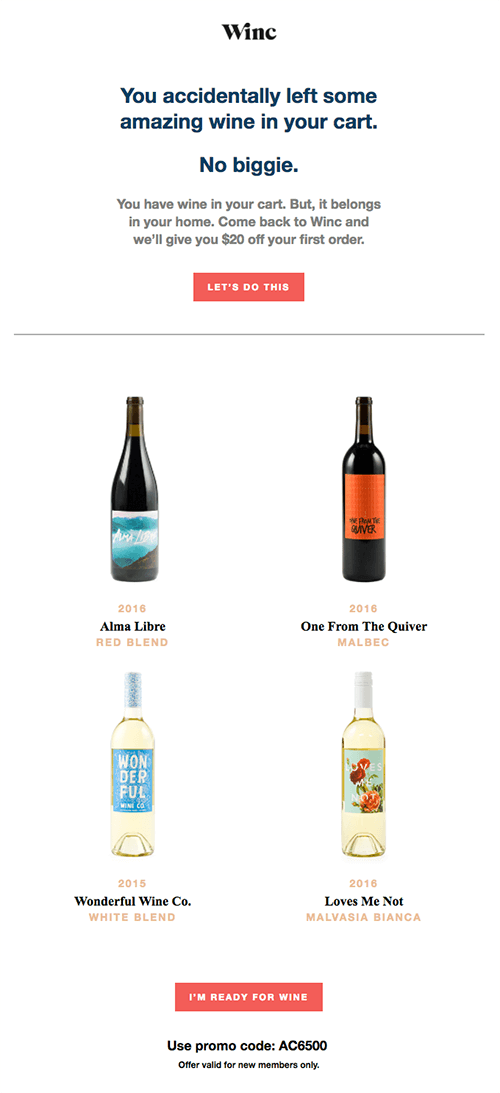 Plenty of whitespaces accentuates the product photography here. Well-written, friendly brand copy with a great CTA towards the bottom. Also, the Promo code mentioned at the bottom increases trust.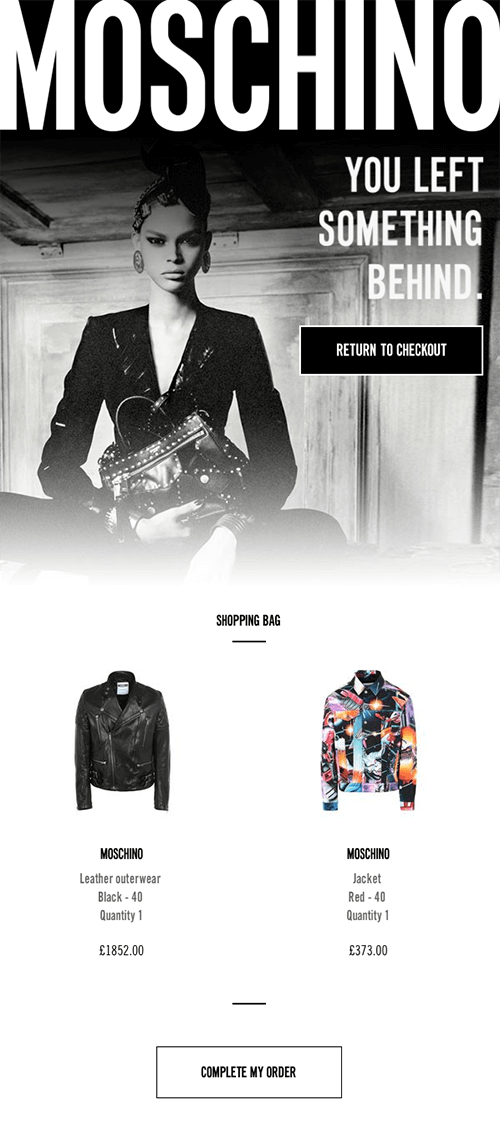 The visual looks super attractive, as it rightly should. It mentions the details of the cart items including their size and quantity. It also tries to reassure the user about the high standards of security maintained during transactions, and the ease of returns. All in all, providing compelling reasons to click and head back to the store.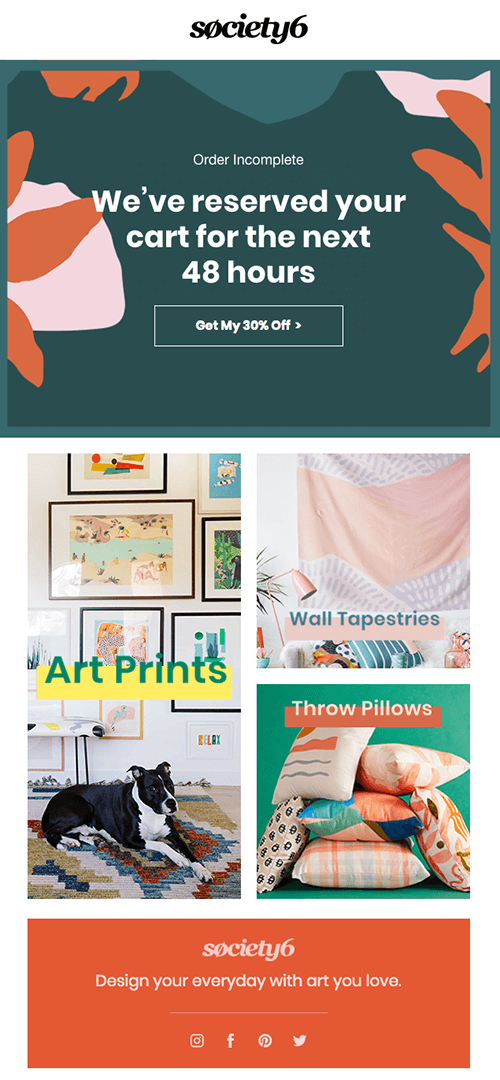 Why do we love this one?
First up, stunning visuals which is a must to sell a product of this type. Secondly, it reassures the shopper that their cart is safe for the next 48 hrs. And at the same time, it tries to create desire by sharing a 30% Coupon button right above the fold.
It clearly states that each part of each purchase goes to the artist, echoing brand values.
Social proof at the bottom of the email emphasizes the public trust invested in the brand.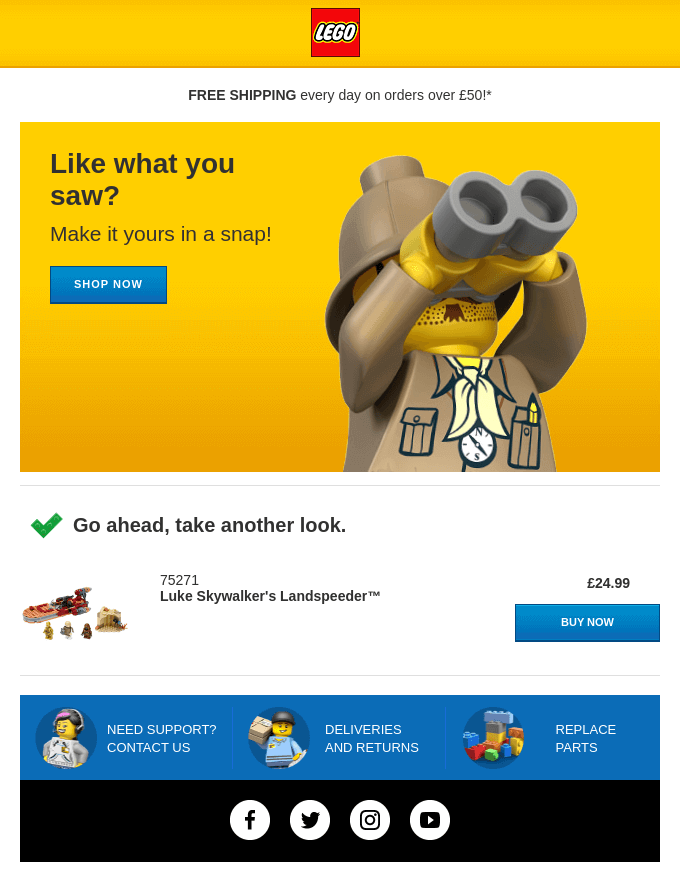 Great illustration coupled with gentle and apt copy written in the right brand tone, that simply urges the user to "take another look".
Needless to say, the prominently placed CTA button in more than a single place provides clarity to the user in terms of what they need to do next.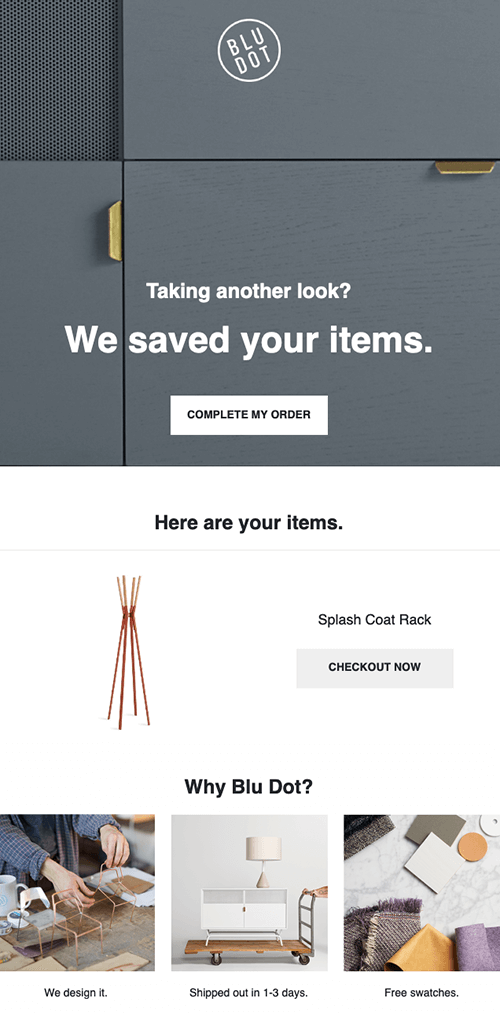 Simple copy that reassures the shopper that their cart is still alive and kicking. The cart item is prominently displayed to provide visual reinforcement. Lastly, compelling reasons are provided as to why Blu Dot should be their number one choice for online shopping.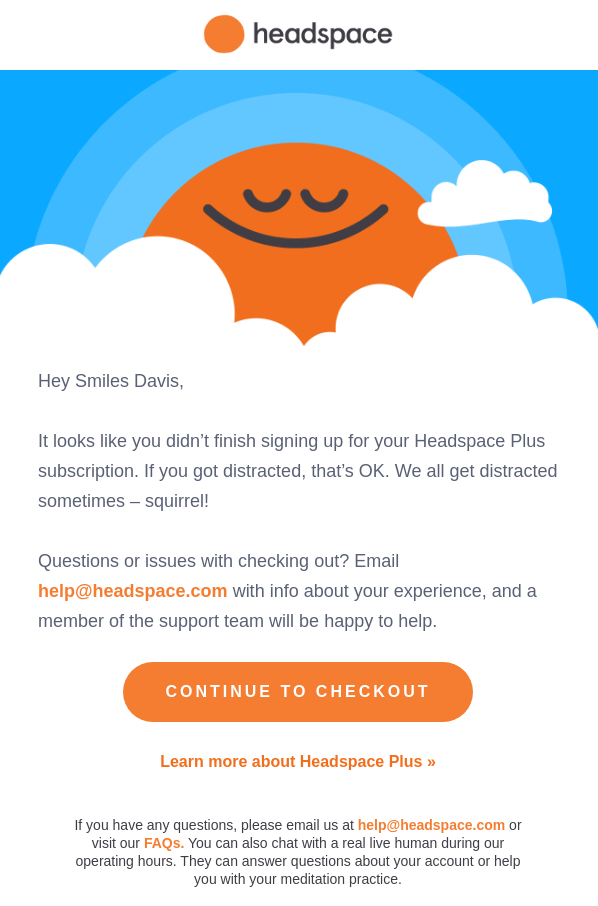 Nicely designed graphics with funny, brand-voice humor with a single, highly emphasized CTA button keeps it simple. And sometimes, simple is all ya' need.

A centrally placed product image that garners all the attention and then a discount offer placed on top of it that is very likely to attract clicks. We love the simplicity of this.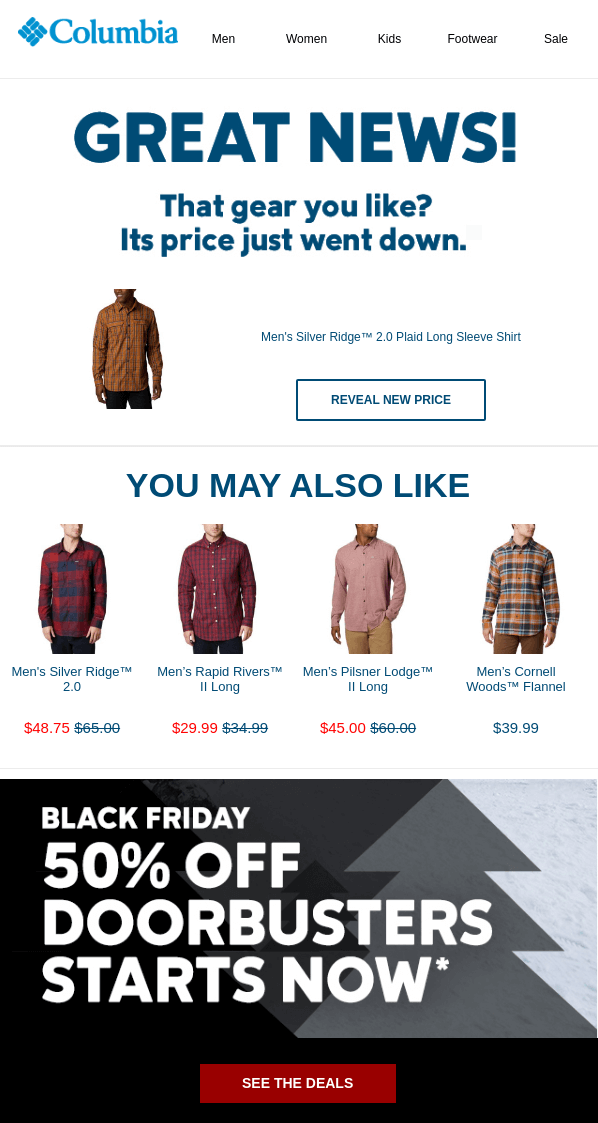 This one ticks all the right boxes. A price drop announcement to the user who just placed this product inside their cart is likely to inspire them to take the right action of checking out.

The 50% Black Friday special offer at the bottom along with FREE Shipping makes it even more compelling. All in all, well designed. Would we click? Absolutely, yeah!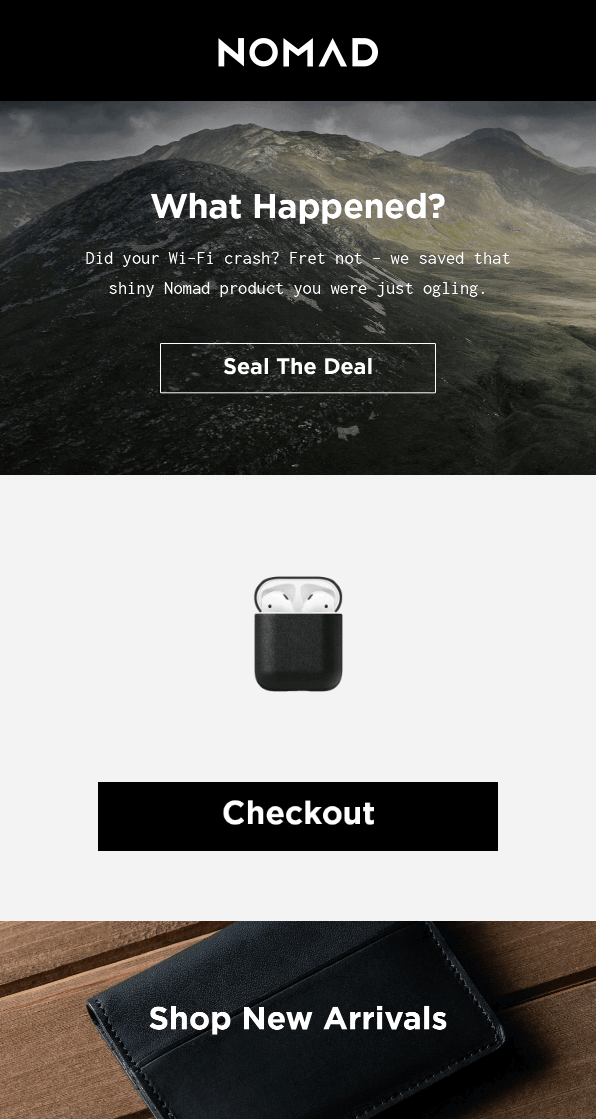 What results when you mix compelling visuals with great brand copy? A product that likely sells. A lot. Nomad Gear has got this spot on.

Clearly placed CTA button makes it easier for the shopper to act…

Reassurance of service and quality is provided towards the bottom of the email through clearly worded returns/ exchange and warranty terms respectively.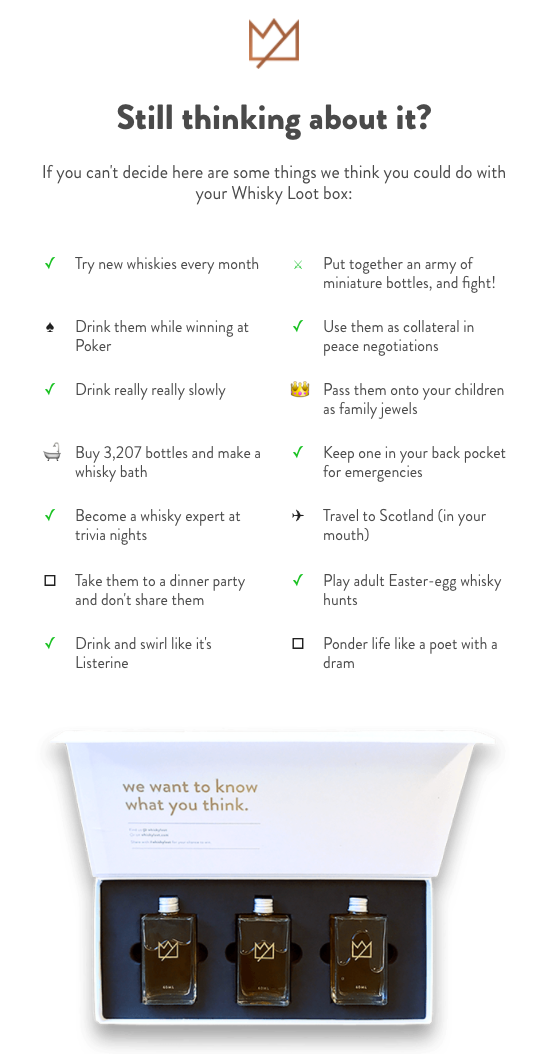 Benefits driven copy takes the pressure off sales. It simply works. And when you couple it with humor in a consistent brand voice, you get a product that rocks in branding, recall and sales.

Knowing that the average shopper is likely to have questions about the product, FAQs have been provided to handle objections. We really like this one.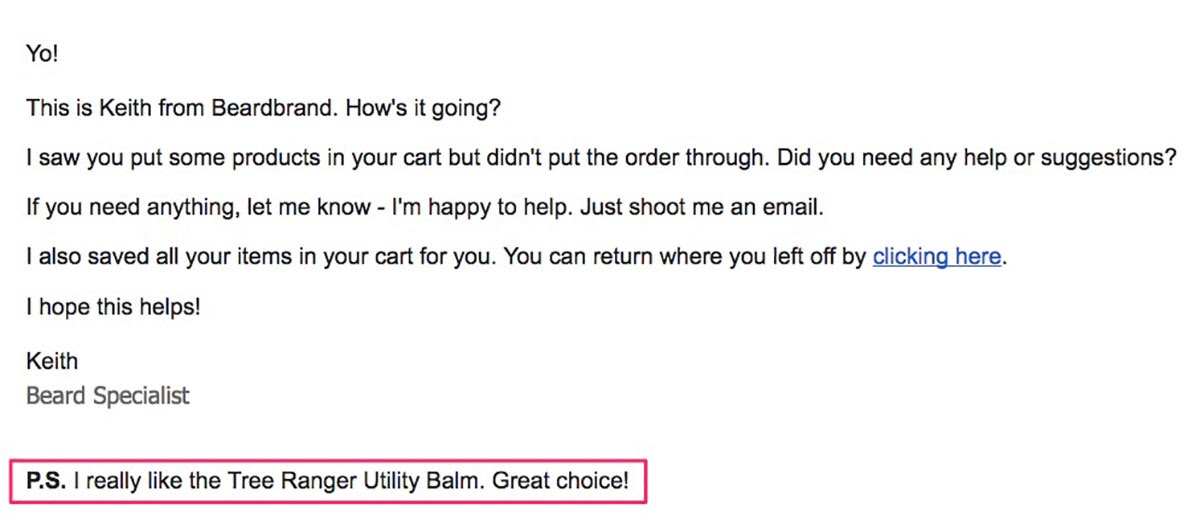 This one's a classic example of how when you get your messaging spot on, chances are that you don't need supporting graphics and visuals.

What we really like about the email above is just how personalized it is, almost like it's coming from a friend. Highly readable content writing in friendly, 100% non-salesly language.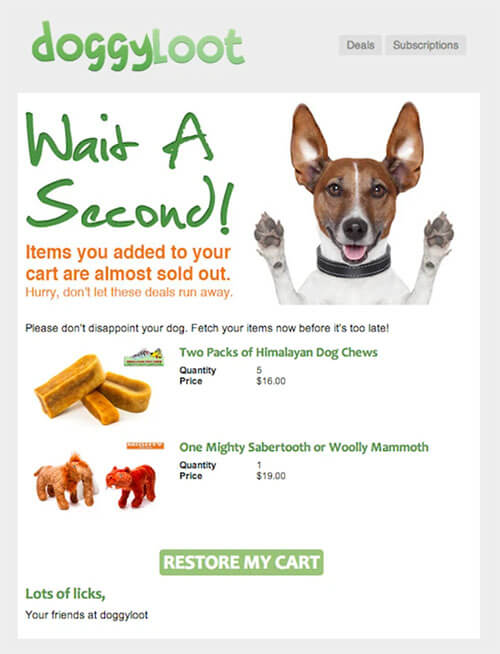 If you are a pet owner, it would be mighty difficult NOT to get wowed over by the copy.

The visual elements are simple yet compelling and usage of the terms "don't let these deals run away" and "fetch your items" are a nice contextual addition to a pet product purchase.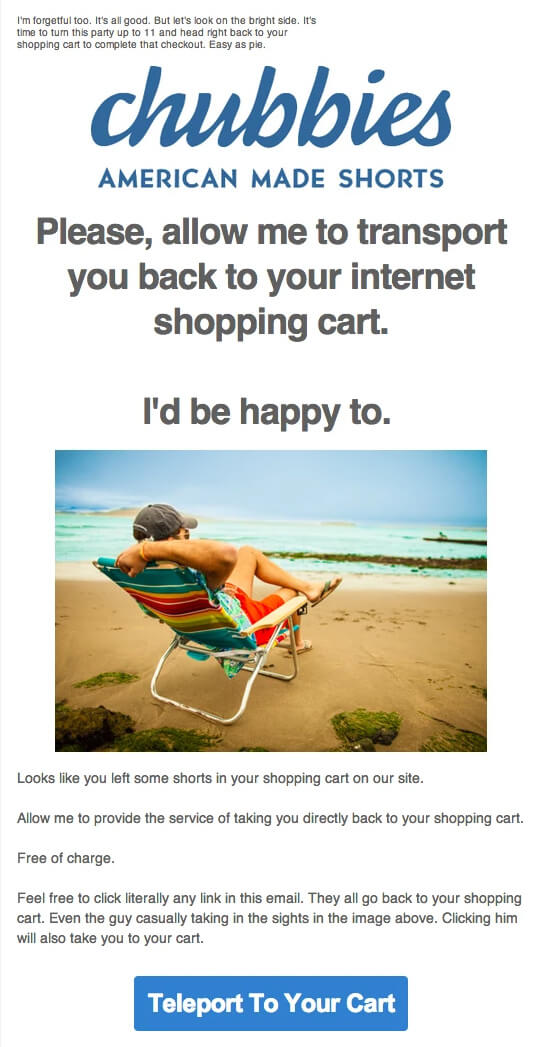 Why do we love it? Because it's well-written friendly copy complements the compelling visual inside the email body and the product being sold. The micro-copy on the big and bold CTA button carries the context over beautifully.
Abandoned Cart Emails Best Practices
Do not just send out a single email and wait to hope for conversions to ring through. Aim for a drip sequence of between 2-3 emails to achieve higher conversions.
With abandonment emails, the sooner you get in front of them the better. Send out the first email within the 1st hour of abandonment to maximize chances of conversion.

A sample email drip sequence:
I. Cart reminder email no 1: If the customer doesn't return to checkout within 1 hour, send a reminder.

II. Follow-up reminder email no 2: Send this email 24 hours after the first email is sent or after the abandonment. If you are running a sale, add a sense of urgency to it.

III. Promotional incentive email no 3: This final email should be sent up to 48 hours after the cart was abandoned. If shoppers still haven't come back to buy, include a discount offer to save on items already in their cart.

Design a mini-infographic for the above points based on the below inspiration. Data on the infographic should be similar to below but it should say +1h, +24h, +48h.


Include coupon codes in your email – Shoppers love deals. Abandoned cart emails that included a coupon code had an above-average open rate (44.37%) and click-through rate (10.85%)
E.g.s: Discount by %age, dollars, or FREE shipping.

Have a killer subject line that evokes emotion – curiosity, joy, fun, or even FOMO (Fear of Missing Out). Having something creative here is a must.

Have a big and easy see, Call to Actions (CTA) button.
For e.g. Go to the basket, Claim my item, Go to cart

Write in a friendly, conversational tone.

Do not try to get the reader to do too many things in this email sequence. The only objective should be to get them to checkout and complete the cart transaction.

This is probably the most important one – Personalize the subject line. For e.g. add the prospect's first name or mention something related to where they work or what they do.
Best 30 Abandoned Cart Email Subject Lines
According to researches, 64% of people decide if they will open an email based on the subject line.
Some great subject lines that we think will fit right into your abandoned cart message template:

Personalized Subject Lines
[Name], Complete your purchase of [Product]
Did you forget this, [Name]?
Still thinking it over, [Name]?
Hey [Name], Complete your purchase in two-clicks
[Name], 20% discount on your cart
Hey [Name], Did you want [Product]?
[Name], We saved your day …. and your cart!
[Name], it was always yours, to begin with!
Your cart is ready for you when you are!
[Name], Your cart came looking for you ❤️
Please never abandon me like this ever again!
Sorry [Name] it's our fault! We should've been nice to you (Coupon inside) 🙂
[Name], Are you sure you wanna miss out on these?
[Name], Your cart's lonely. Mind givin' company? 🙂
[Name], Your cart is searching for its soulmate!
Uh-oh! Looks like you did forget something.
[Name], Please don't break up so soon? (Your Cart)
[Name], You never showed up. So we did…
Discount or Offer Based Subject Lines
[Percentage] Discount off of [Product]
Save [Percentage] when you complete your purchase
Free shipping, just for you [Name]
A quick announcement about Price Drop [Name]
[Discount %] Off, Only if you Commit Now!
Urgency and Scarcity Subject Lines
[Product] sold out in just under 4 days the last time!
[Product] is a fast-selling item. Completing your purchase now?
FREE Shipping (only for Purchases made today)!
[Name], Wake up before Stocks run out!
Buy [Product] now to receive free shipping
Easy-Peasy Subject Lines
Two clicks and [Product] is yours!
Complete your checkout in two easy steps
Where do we ship [Product]?
Your abandoned checkout email subject line is probably going to be the major deciding factor in your conversions. Because it strongly determines the open rate, it's important to get this right through continuous and extensive testing.
Best Email Marketing Tools to Create Abandoned Cart Follow-up
Whether you are looking for a Woocommerce abandoned cart email or a Magento 2 abandoned cart email, plenty of tools are available to create these abandoned cart email sequences and templates. We list below some of the most used.
Sender
Sender offers a highly customizable drag&drop recovery cart email template for abandoned cart email designs that are as high conversion as they are responsive. You get to set powerful automation sequences and everything else you need to create and manage successful email marketing campaigns from one convenient place. Its generous free plan is probably right up there with the best.

MailChimp
MailChimp is an email marketing tool that helps businesses connect with customers and grow. Their web-based software lets you design, send, and track email marketing campaigns from a single easy-to-use interface.

Klaviyo
Klaviyo is one of the world's most powerful email marketing tools for eCommerce, offering automatic personalization in real-time, advanced targeting capabilities, and A/B testing to help you increase revenue & sales. It offers powerful abandon cart email sequences that set your recovery process on auto-pilot.

AWeber
It is one of the oldest and most popular email marketing tools. It offers a wide range of tools for small and medium-sized businesses to manage their email marketing.

ActiveCampaign
ActiveCampaign is a flexible email marketing tool. It helps you grow your business by sending newsletters, automating campaigns, tracking conversions, and creating targeted email lists.
Start to Create Powerful Abandoned Cart Email Sequences
If you are running an e-commerce business, you should already be running a shopping cart abandonment email drip sequence to arrest cart abandonment leaks.
If not, use the above ideas to set up a powerful abandoned cart email sequence that gets smiles back to your customer's faces and 'em dollars back to your store!
---
Author contributor – Santosh Balakrishnan
Like what you read?
Apply it in practice with Sender.net - the most cost-effective email marketing solution in the market.
Try Sender for free