Just like there's a perfect time to call customer service support, there's the best time to send email campaigns.
But while with the first one, you're merely ensuring no time is wasted on waiting, the second has a direct correlation with the success of your email marketing.
We're talking about click-through rates, click-to-open rates, and open rates. These performance-measuring trackers can offer you a whole lot of information about whether your EDM marketing is working or if it's just sucking money out of your business.
So, how do you bulletproof your mass email marketing method so that your audience is a) hooked from the get-go and b) ready to hit that CTA button without further nurturing?
You figure out when your online community is most likely to engage with your email depending on:
The message's type and purpose.
The audience's time zone and digital behavior.
The Right Timing Can Make Your Email Marketing
The truth is – everyone's email inbox is packed with a bunch of useless stuff. In fact, an average U.S. worker has about 199 unopened emails, as reported by the results of the 2000-workers-large survey.
This means that many emails go unnoticed. Add the common perception that messages at the top of the inbox are the ones that are the most likely to be viewed, and you've got a good idea about the likelihood of your email getting a high opening rate.
Here's where the right email send-out time [and date] comes into play.
The sending schedule you're planning to adopt will depend on whether your company is classified as a B2C or B2B organization, too.
That is, Tuesday and Wednesday turned out to be the most optimal days for both B2C and B2B companies for sending business emails that yield good results. Sunday, in comparison, is claimed to be the least effective day as told by 55% of B2B brands.
Read on to learn when is the best time to send an email marketing campaign to get a response you want.
Best Time To Send Newsletters: Gerneral Results
The general consensus seems to be that:
People prefer to receive emails during the daytime (=late night campaigns might not perform as expected even if the content is top-notch).
Mondays, Saturdays, and Sundays are a no-go – the former is for getting into the busy workweek mode and the latter is for, well, resting before the said busy workweek.
Tuesdays, Wednesdays, and Thursdays at 9-11 in the morning and 1-3 in the afternoon perform the best for everyone.
Now, this is a generalization. If we dive deeper, we'll find that the best time to send newsletters is between 8 and 9 AM on a Thursday. Emails sent within this time period get a 25% opening rate.
Not too shabby for an email marketer.
If you're wondering what time you should steer clear from sending your weekly newsletter, that would be anywhere between 8 and 10 AM on Tuesdays and Wednesdays. This will give you a less-than-favorable open rate of below 5%.
The above advice should be taken with a grain of salt if your target audience is a) young (under 25), b) mobile-device-driven, and c) unevenly spread across the world (hint: time zones). The entertainment industry with its ever-active public that tends to check their email on a Friday evening is also an exception.
Best Time To Send Email Campaign Blast
Different from the over-the-counter newsletters that are neatly crafted in advance, email blasts are known to be much more sporadic.
There are pros and cons to them – it takes less time to create them but there's a certain schedule-related strategy you need to follow for them to actually work.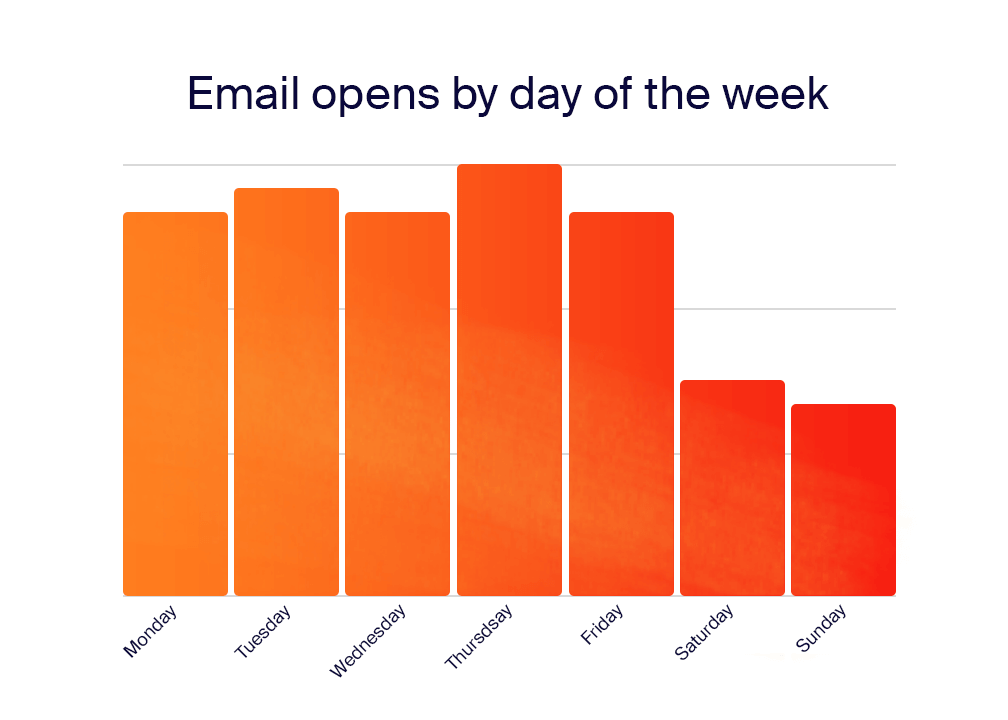 As you can tell by looking at this graph, the period between Monday and Friday is the email-blast-friendly time. Saturday and Sunday aren't off the table either if your customers are active during these days too.
This might seem counterintuitive – isn't there supposed to be a set date that performs best? But with email blasts, the time of the day matters more than the day of the week. Check this statistic created by Sender down below: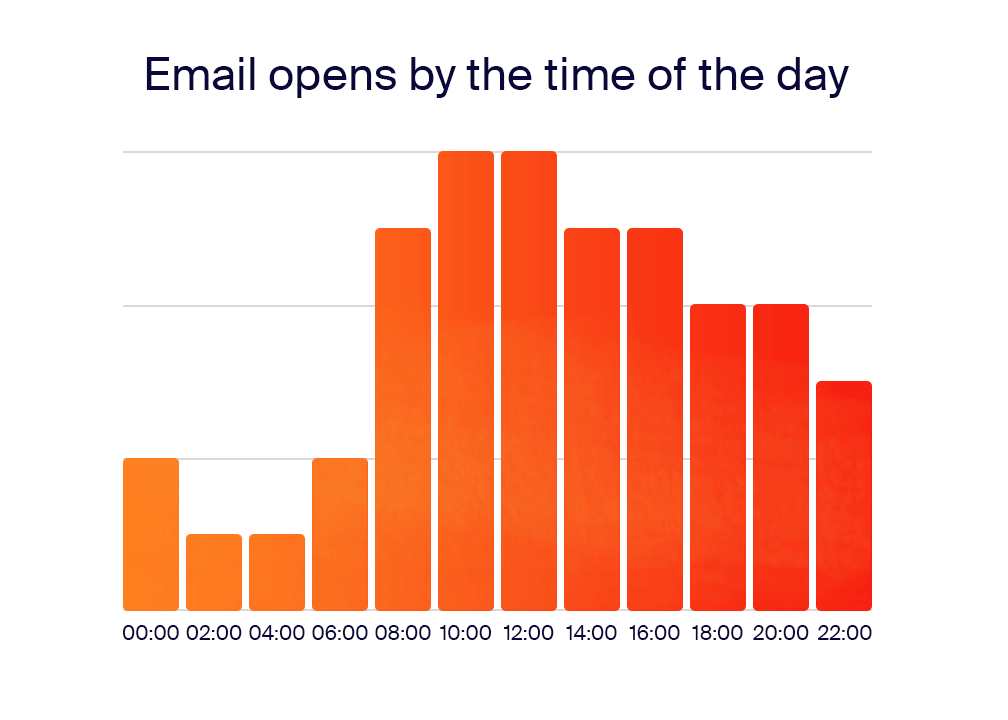 The peak time for sending email blasts, as it becomes apparent, is between 10 and 12 in the morning. This is when most people start feeling the need to take that mid-afternoon break and check their inboxes.
Your time to shine can be prolonged up to 4 PM, but once the clock hits 6, your chances of getting noticed start to decrease.
Does this mean the rest of the day you can't be sending to your audience those artsy sales ads or posters about the next-week event? Not really. You can still dispatch them as you wish if you know they'll get opened and clicked through.
Or, if you're not sure, there's always the A/B testing that will help you understand the behavior of your customers better. Apply it to every email type discussed in this article and you'll get your results sooner than anticipated.
Recommended Time To Send Transactional Emails
When one says 'transactional email', he implies those emails that follow, as you've guessed it, some kind of a transaction. This could be an abandoned cart event, an order confirmation, or a self-help type of email that helps the customer reset his password.
They appear to be self-explanatory – you send them out as soon as the customer has interacted with your business. But what if we told you this isn't always the right thing to do?
Since marketers put a big emphasis on open rates by day, it's not surprising that engagement ranks the highest among the motives for adopting the practice of sending transactional emails. It makes sense – a customer that's engaged is bound to stay loyal to your brand.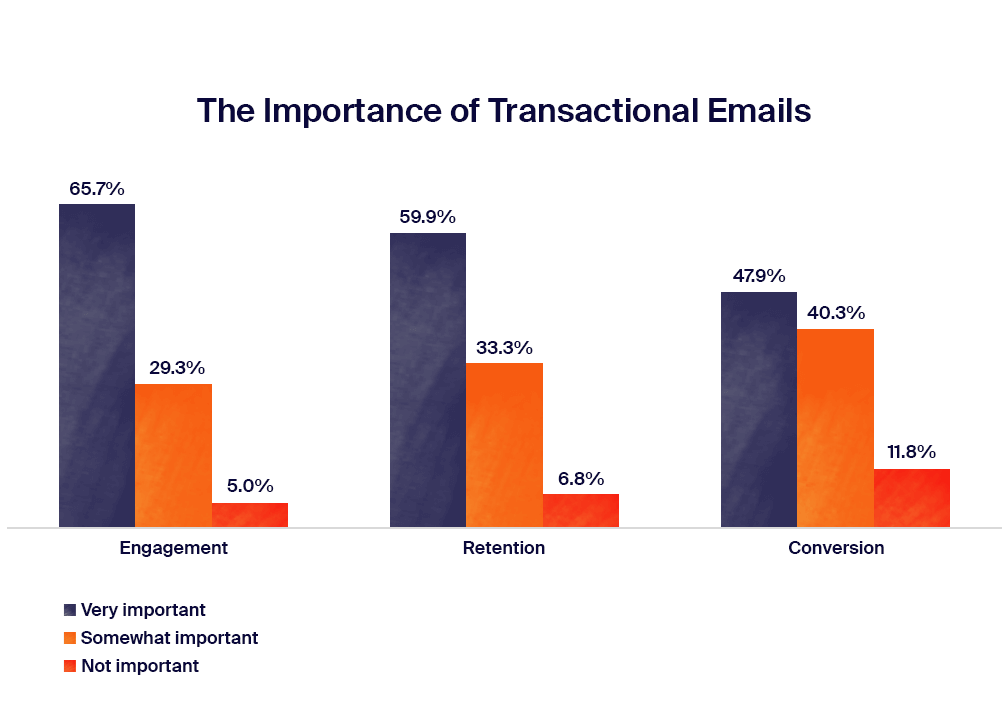 That said, it's easy to overdo it when hoping to engage, retain, and convert the potential client. The 'everything goes' approach can lead businesses to come off too strong and scare these customers away with emails that are sent too quickly or too often.
Fair – sending a 'thank you for your order' email right after the customer has purchased something from you should be your standard practice. The same goes for a password reset email timing. Abandoned cart, on the other hand, can wait a little. 
With the former, it's clear that the customer is already interested in your offer. But there was either a lack of trust, a high cost of shipping, or a payment/technical issue that stopped him from making the order. In this case, your best bet would be to:
Send your first transactional email within a few hours of the abandoned cart as a reminder.
Send the second one 24 hours after the event to give him some time to 'sleep on it'
Send the final email a week after the event with a discount to lurk him in
Below is an example of the first bullet point.
Best Time To Send Welcome Emails
Making the right first impression can be tough. It's even tougher if you're in a competitive, cut-throat industry that doesn't tolerate mistakes.
The silver lining is that welcome emails tend to get some of the highest open rates. The average 15-25% here turns into a whopping 50%. According to Marketing Sherpa, they turn out to be 86% more successful than newsletters.
This should give you some peace of mind that comes from knowing that you can shoot high with these emails.
But just how high exactly?
For welcome emails to work, it's recommended that you adhere to the following 3-step process:
Send out your first welcome email straight after the prospect has signed up/subscribed to your newsletter/service. You have to use this time to your advantage because your brand is still fresh on his mind.
Depending on whether or not the prospect has made the purchase after the initial email, you should either lead him on by sending a second one from the welcoming email series or resorting to the transactional email if the purchase is already made.
P.S. Don't forget to remove your newly-acquired customers from the welcoming flow of emails so that they don't become annoyed with all the spam coming from your company.
The third and final welcoming email should reach the prospect's inbox about two days after the original email. By including the appropriate content and sending it at a later time, you ensure that he receives the intended message and [finally] converts into a customer.
If, for some reason, this didn't happen, you should add him to a different email sequence designed to persuade prospects to make the purchase.
Granted, this advice is suitable for e-commerce companies whose offerings are simple to understand in the course of 3 emails only.
This means that if you are, say, a tech startup or a payment processor app, you might need more than just these 3 emails to fully convey the message and not leave out anything important.
So, decide on the number of welcome emails at your own discretion and follow the aforementioned step-by-step guide to time them appropriately.
Best Time To Send Follow-Up Emails
Lastly, we have follow-ups – the most time-sensitive type of emails that, when schemed out well, can yield great results.
You'd be shocked to find out how many businesses stay away from sending follow-up emails to their prospects. In fact, it was reported that out of 1000 companies, less than 3% follow up with their potential customers.
This is staggering – just imagine how many opportunities these companies waste! Whether it is the lack of patience or, more likely, the lack of a well-defined strategy, the losses continue to accumulate when you don't factor in for the busy people who might've simply not had the time to even open up your email. And you've already given up.
To not be one of those 1000 companies, consider appropriating these email follow-up tips:
If it was the customer who reached out to you, a prompt response is vital. If it's the other way around and you still haven't received the response, waiting 3-4 days before sending a follow-up email is mandatory.
Mondays and Fridays are off-limits. You should not be following up with your prospects during these days.
Tuesdays and Wednesdays at around 10 AM work best for sending out these types of emails. People are considered to be the most productive these days, so it makes sense that they would check their inboxes with intention more frequently.
Saturdays at 10 AM and Sundays at 8 PM are acceptable for clients who happen to be entrepreneurs themselves and those who plan their weekly schedule ahead of time.
It was found that the chances of your follow-up email getting opened actually increase after your 5th email. The 27% response rate for the 6th follow-up email speaks volumes about why you should persist.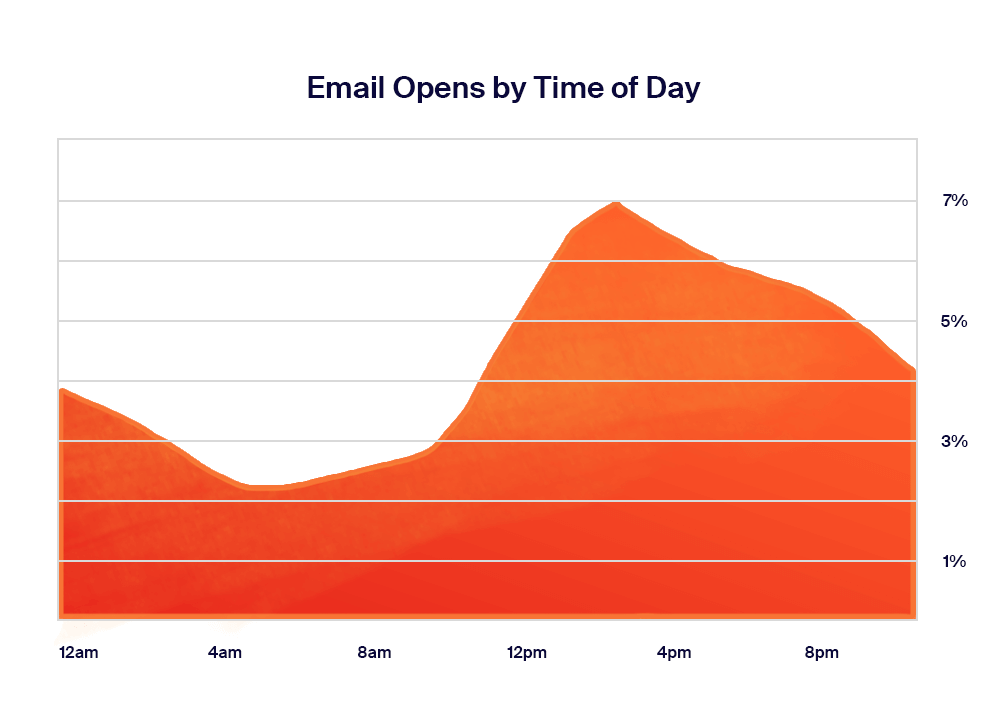 Insider Tip: Employing email scheduling software can help you with figuring out the right time to send follow-ups and other emails when unsure about your customers' behavior.
Once you get more insights, you can use this software to mitigate some pressure from your customer service reps by planning your emails in advance.
Focus on testing, which time works best for you
The biggest takeaway is that there's no one-size-fits-all when it comes to the so-called right time to send out emails. There are a lot of variables that come into play – your company's type, your customers' behavior, your product/service – that will affect the time schedule most suitable for your brand.
What helps is to get to know your customers better – i.e. their needs and wants – and tailor your emails to them accordingly.
Don't blind-test either – invest in A/B testing tools. They will guide you in the right direction so that no matter if you send out that newsletter on a Tuesday morning or on a Friday evening, it will get opened. This way, you'll be able to find the best time to send email campaigns much quicker.
References
---
About author
Mikkel Andreassen – Customer Experience Manager at Dixa. Mikkel is passionate about customer experience in every color of the beautiful customer engagement spectrum. He loves building great connections with his customers, which often lead to meaningful friendships that last a lifetime and inspire his work. Driven by the genuine belief that CX is the pivotal force that drives a successful business, he is currently at the helm of Dixa's customer experience strategy.
Like what you read?
Apply it in practice with Sender.net - the most cost-effective email marketing solution in the market.
Try Sender for free